Please join us in our Midwestern backyard as my husband and I host one of the best backyard parties we've ever hosted! Our "Midwestern Style" low-country boil will forever go down as one of my fondest family food memories.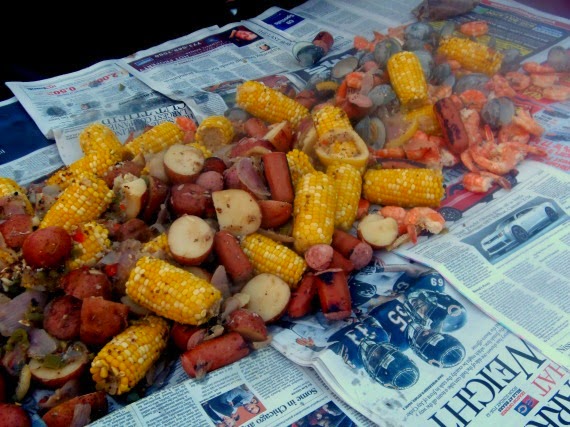 *Please Note - This post is not a specific recipe, but more of a method of how our low-country boil was put together. Should you have any questions, please don't hesitate to contact me.
A little over a month ago my husband and I hosted our first ever low-country boil in our backyard. It wasn't something I was planning on blogging about so I never took specific notes on what I'd used as far as ingredients, or how much.
That being said; I thought you still might enjoy seeing our photos and hearing about our experience in case you ever want to host your own low-country seafood and sausage boil.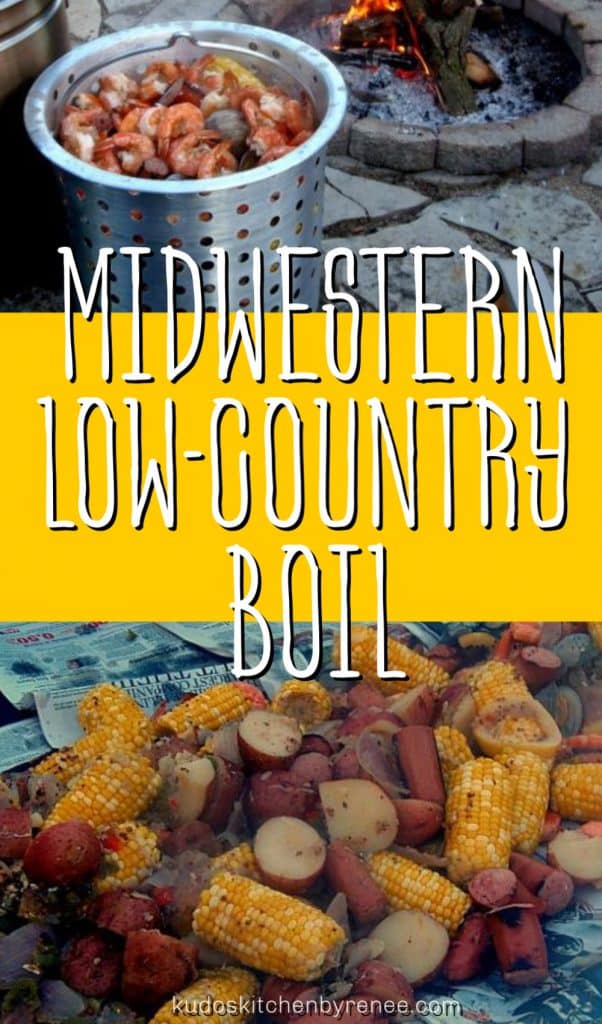 Let me start off my story by telling you that my husband LOVES to build fires out in our firepit. Loves it!
It was because of him, that I'd had my idea to cook an entire meal completely over the fire so he can feed his primal need to fan the flames, and I can feed my primal need to feed the people.
Once we'd settled on the idea of hosting a low-country boil we decided it would be best to do it as the seasons changed and when we'd be moving into fall (my favorite time of the year).
After all, if you're going to cook around a firepit all day, you don't want it to be 95 degrees and blazing hot.
As the summer wore on, I got busy on the internet making plans and placing orders so we'd have all the proper equipment for the big day.
Amazon, you are my dearest friend, and sometimes my biggest enemy. Can anyone out there relate? LOL
Here is a little size comparison photo to give you a better idea of exactly what I mean. Better behave yourself, Ivy! LOL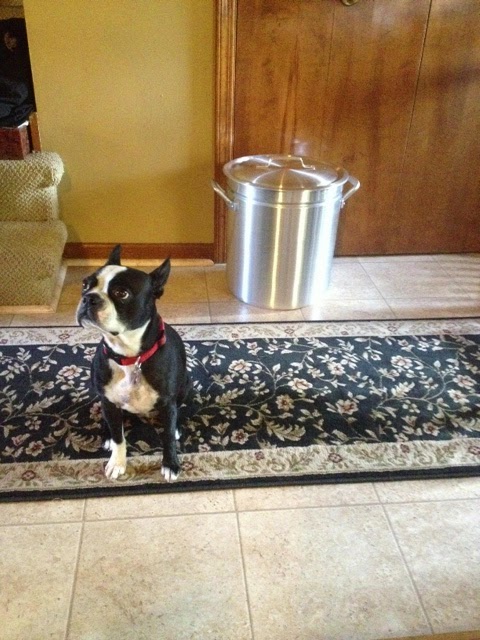 The summer flew by in the blink of an eye. Here in the Midwest (we live just outside Chicago) it was unseasonably cool and nothing like the sweltering hot summers we've had in the past.
We chose the second Saturday in September to host our party, and as our date neared, we crossed our fingers that the weather gods would be kind to us.
The weekend before, it was cold and rainy. The weekend after, it was unseasonably hot and humid. On the day of our party, the weather was cool and crisp (high in the sixties) with little to no wind.
The sun smiled down brightly in the sky that day, and from time to time it would dodge behind an occasional puffy white cloud, which came as a welcome relief after sitting in front of a bonfire all afternoon waiting for our dinner to cook.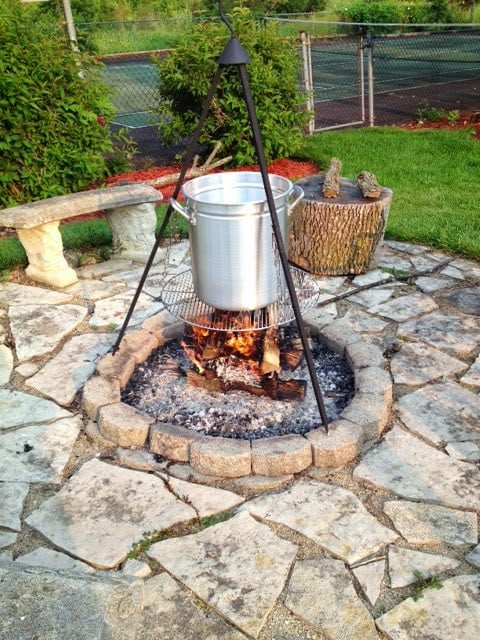 Since I don't have a proper recipe to share with you, I'll share the general ingredients and methods I used for putting our Low country boil together.
I'm sorry I don't have any of those step-by-step photos, but I'll try and be as descriptive as possible.
Please be aware, that we fed over 20 people and the pot was completely filled to the brim with food.
Of course, you can adjust the size of your boil to feed as little or as many people as you like. Just adjust the quantity of food and the size of pot you use.
Also, if you're using a smaller pot that you can comfortably fit onto the burner of your indoor stove...go for it, and then the weather won't have to play a factor in your good times.
The ingredient list:
Filtered Water
Beer
Old Bay Seasoning
Louisiana Low-Country Boil Seasoning Packet
salt and pepper
Red Potatoes, cut into chunks
Polish Sausage, cut into 3" pieces
Smoked Sausage, cut into 3" pieces
Corn on the Cob, cut in half
Little Neck Clams (making sure they're all closed)
Shrimp in the Shell, deveined
Onions
Green Bell Peppers
Lemons
As I mentioned earlier, the amount of ingredients you use is totally dependent on the number of people you're feeding.
Plus, this is just a suggested list of ingredients. If you don't enjoy littleneck clams, leave them out. If you LOVE them, add more.
This meal is totally customizable so enjoy yourself.
Tips for making the best tasting low-country boil:
Make sure to brown the sausages on all sides before adding them into the pot for that extra element of flavor.
I also sauteed the onions and bell peppers but that step is totally optional and you can leave them out altogether if you're not a fan.
Add the cut-up potatoes to the pot (it's best to use a pot with a strainer basket) and add in enough water to cover.
Season well with salt and pepper. Pour in the beer, and add the Old Bay, and the Louisiana seasoning packet.
Put the pot on the flame and bring it to a low boil. Add in the sausages and the corn.
Allow everything to simmer together until the potatoes are fork-tender. *Note - the time this will take is totally dependent on the amount of food and water you're using.

Lastly, add in the clams and shrimp and continue cooking until the shrimp are pink and opaque and the clams have opened fully.
Lift to drain the strainer basket and carefully and slowly (because you don't want any of that steaming hot food to fall off the table and onto your dog whose anxiously waiting for that very thing to happen), pour the contents of the pot out onto a newspaper-covered table. 😉
Grab a plate, and a cold beer, and dig in!
Here are a few photos of family and food from that day that I hope you enjoy: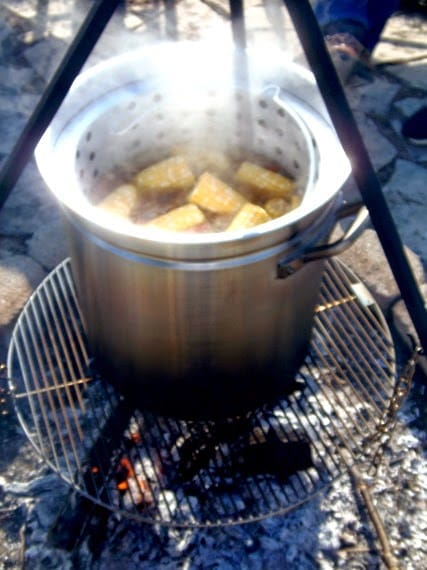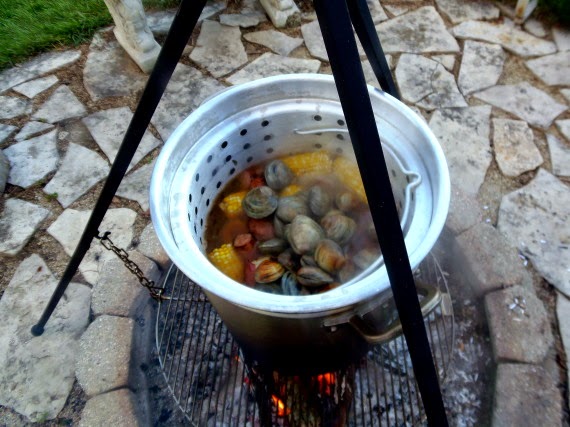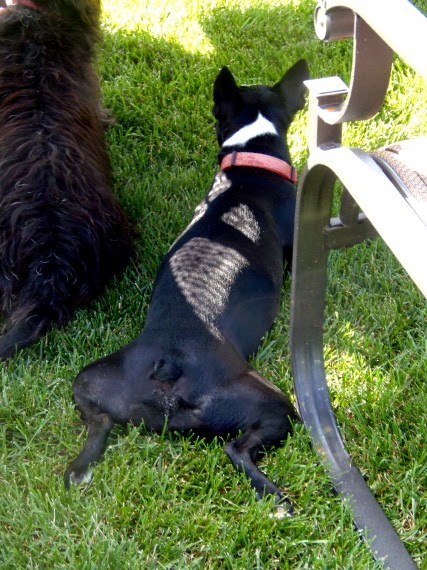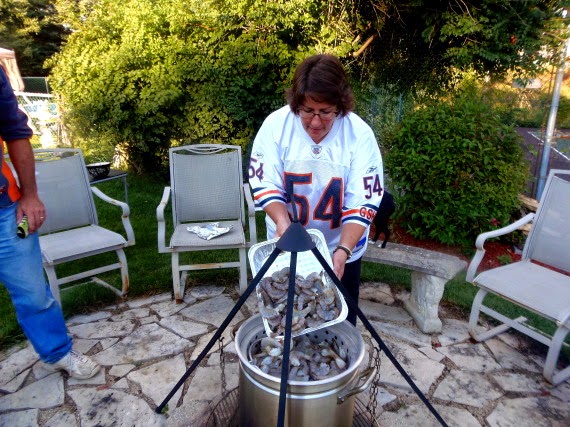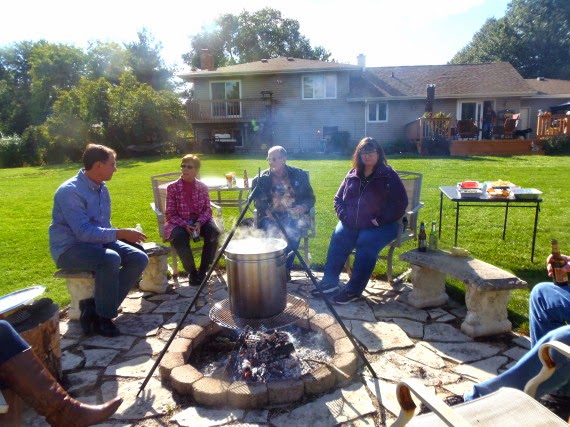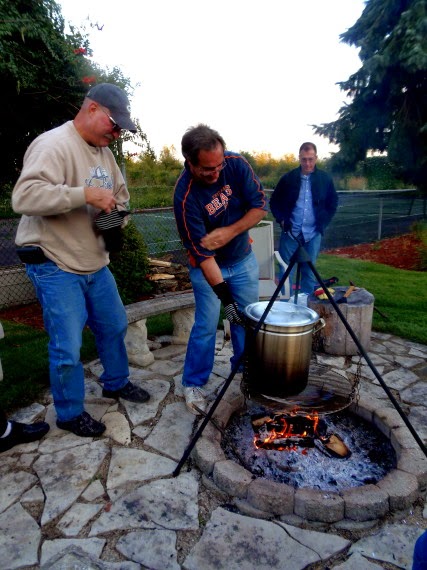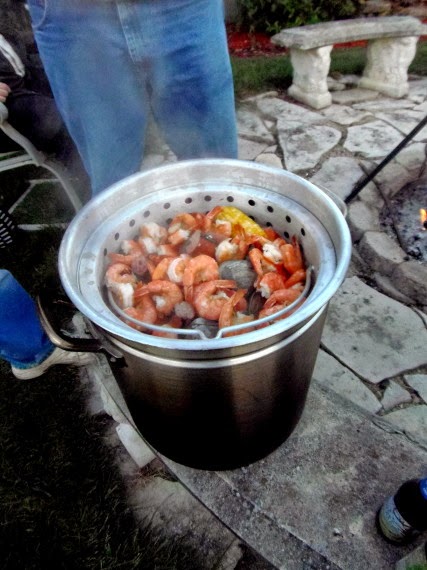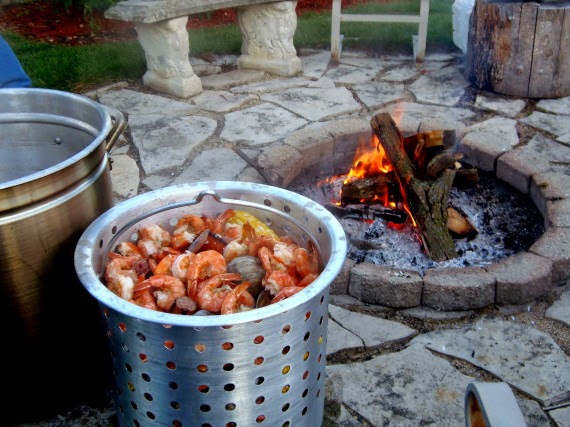 How long did it take to cook 25 pounds of food over an open fire?
We started cooking our boil at approximately 2 pm in the afternoon and at roughly 6 pm, just as the sun was starting to set, we all sat down to eat.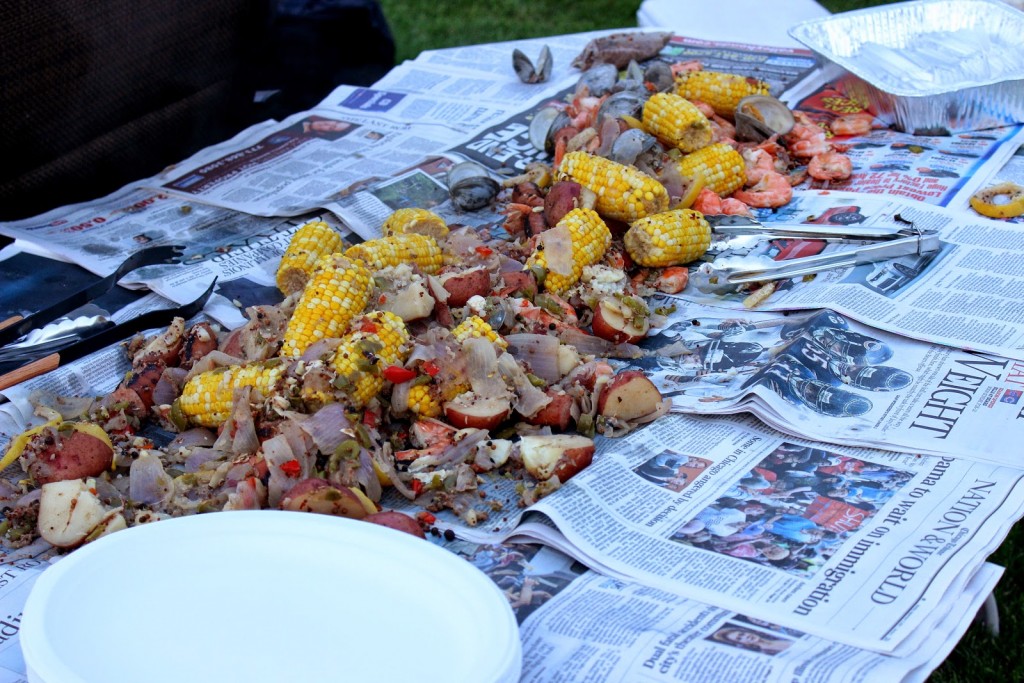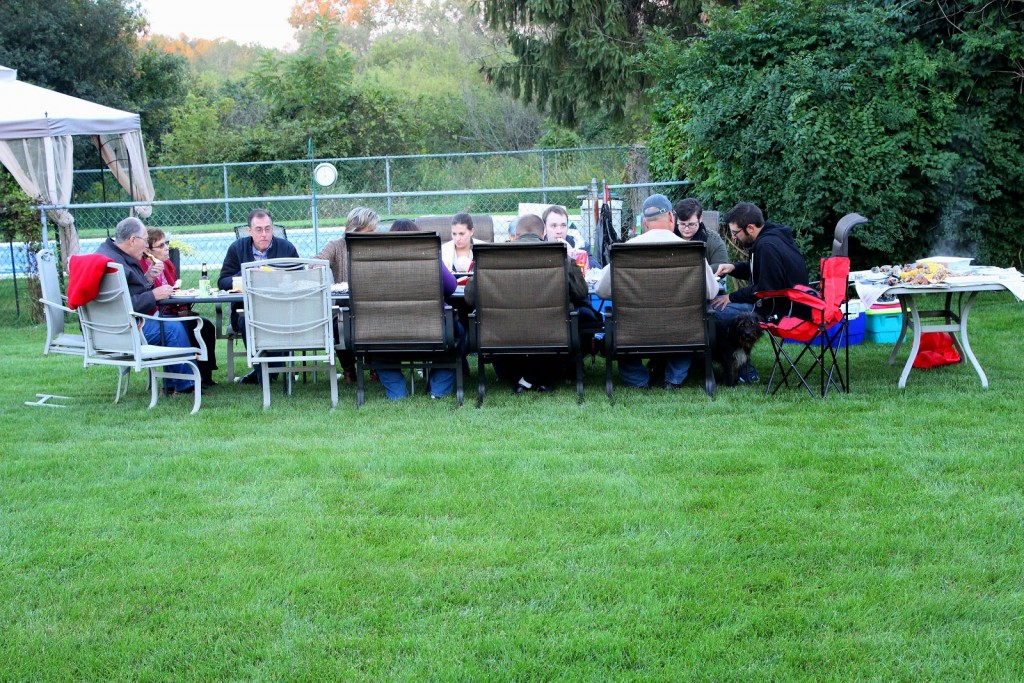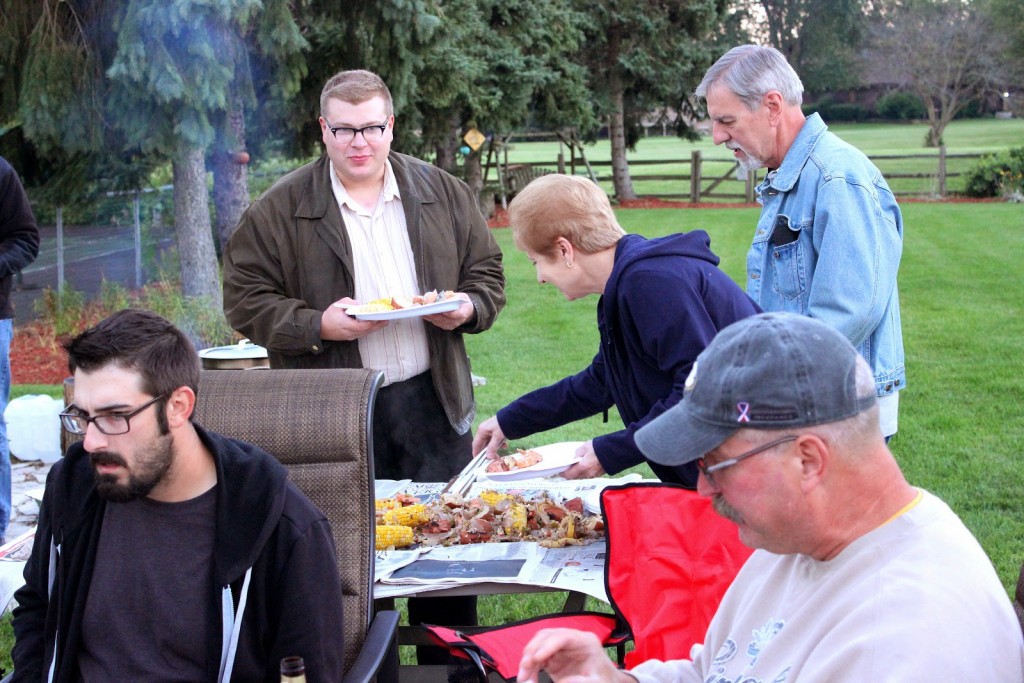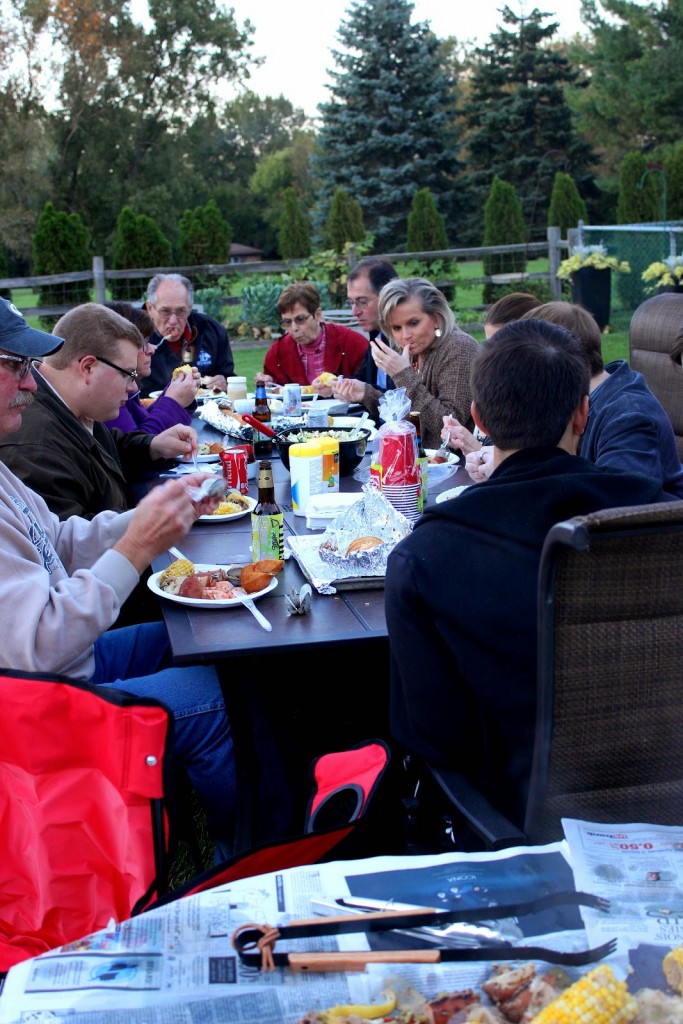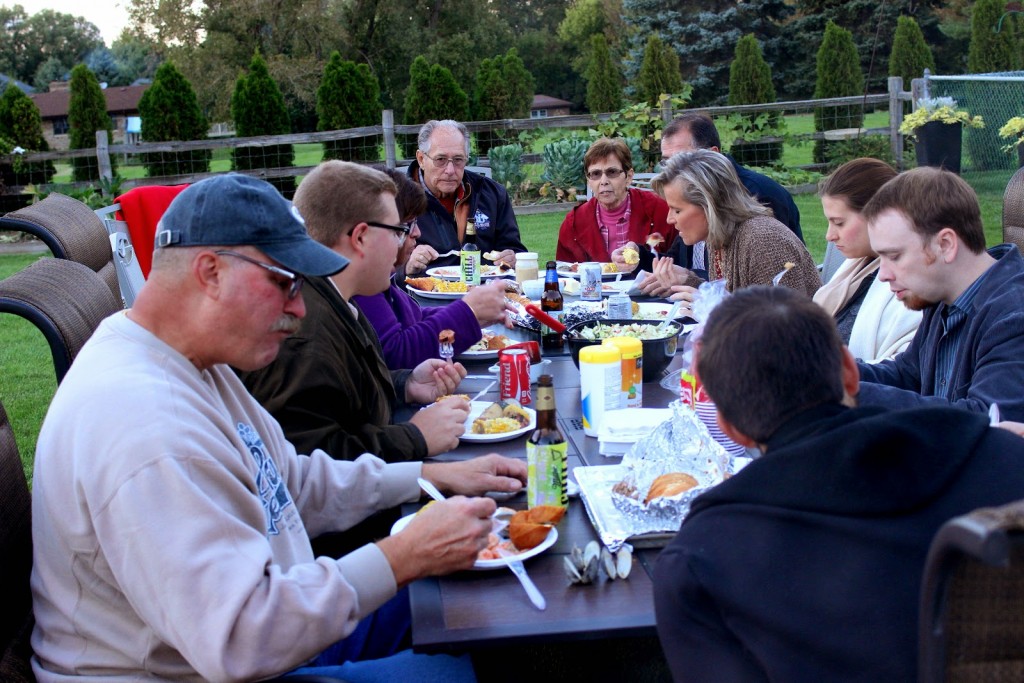 I would say we probably had about 25 or more pounds of food, not including the pasta salad my mom brought, the garlic bread my sister brought, and the 3 pies my brother and sister-in-law brought.
This was by far one of the most glorious days I've experienced in a long time.
My husband and I feel truly blessed to have been able to share this wonderfully communal meal with our amazing family and friends. It was truly quite delicious and something I don't think we'll ever forget.
Thank you so much for visiting me today in my Kudos Kitchen. I hope you found something you'll love and that you'll come back and visit me often. There is always room for you around my table!
Should you have any questions or comments regarding anything you've seen here on my blog, please don't hesitate to reach out to me. It is always my distinct pleasure to respond to you just as soon as I possibly can.