If you're looking for a fun new way to color eggs this season, why not try this easy method for Mayonnaise Tie Dyed Easter Eggs?
I had wanted to get an Easter egg post written and published long before now, but due to life's circumstances, this is the best I can do. However, it's better late than never when it comes to these Mayonnaise Tie Dyed Easter Eggs, and I hope you have as much fun with this method as I did.
I did this method more as an experiment than anything else. After searching for fun Easter egg dying ideas on the web, I ran across a few that interested me, any yet still seemed (to me) like they could be improved.
The first one I found is A Thrifty Mom's idea for marbling eggs using shaving cream and gel food coloring. This peaked my interest with the concept and look, but using something non-edible on something edible wasn't somewhere I wanted to go.
Searching on, I found this second concept of dying Easter eggs in whipped cream (same theory, different ingredients) via Spend With Pennies where she claims it's a "safer alternative" to shaving cream eggs. The look is very similar (which I love), but the thought of eggs and whipped cream made my palate cringe.
Not wanting to give up on the idea, I scoured my cabinets and fridge looking for something that is thick enough to suspend the gel food coloring and sticks to the eggs while they cure (at least 30 minutes). You see where I'm going here, right?
How many of you out there use mayonnaise in your egg salad, or when making deviled eggs? Pretty many I'd guess, so naturally when I spied the jar in the fridge, I knew I was on to something good!
Since mayonnaise already has vinegar as an ingredient, there is no need to add any additional vinegar as you do with most other egg dying techniques. Of course, since I was only experimenting when I made these, should you choose to stir a little vinegar into the mayonnaise before dying your eggs, your completed egg colors may turn out to be a little truer than what I achieved. I'm not certain of this, but I'm putting the suggestion out there if you'd like to try it.
As you'll notice in my photos, my completed eggs primary color's are sky blue, purple and pink. Very pretty, and very appropriate colors for Easter, but weird when you see that the actual gel food colors I used were also green, yellow, and orange. Very different from the end product indeed, and something that I didn't expect. I'm sure there is some sort of scientific explanation for the color change, but sadly for you, I don't have it. LOL
Here, let me show you:
In a shallow dish, spoon out approximately ½ cup mayonnaise per every three colors of gel food coloring. Use a toothpick to swirl the color throughout the mayonnaise. As you can see, I used gel colors of pink, green, yellow, orange, purple, and red.
One at a time, add the hard boiled eggs into the colorful, swirled, mayonnaise and roll the egg to thoroughly coat the egg. *Note – wearing rubber gloves may be a good idea if doing this with children. Once the eggs have been swirled through the mayo, set them aside and allow them to cure for at least 30 minutes before washing off the mayonnaise.
After the Mayonnaise Tie Dyed Easter Eggs have cured for at least 30 minutes, wash them off under warm, running water, rubbing them to make sure all the mayonnaise comes off. Blot the eggs dry with paper towels. Once dry, rub them with a bit of canola oil (if desired) to make them shiny and bright.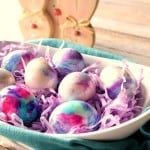 Mayonnaise Tie Dyed Easter Eggs
Mayonnaise Tie Dyed Easter Eggs is a fun new way to color hard boiled eggs.
Ingredients
hard boiled eggs

as many as you like

½

cup

prepared mayonnaise

per every three colors of food coloring

gel food coloring

your choice of colors

canola oil

optional
Tools
shallow dishes

toothpicks or skewers

paper towels
Instructions
Place ½ cup mayonnaise in a shallow dish.

Drop random colors of gel food coloring onto the mayonnaise (3 colors per every ½ cup of mayo)

Swirl the colors through the mayonnaise using toothpick or skewers.

Roll one hard boiled egg at a time through the colored mayonnaise.

When completely coated with the colored mayonnaise, allow the eggs to sit at least 30 minutes.

Wash each egg off under running warm water to reveal the colorful eggs.

Blot each egg dry with paper towels.

When dry, rub each egg with a dot of canola oil for bright and shiny eggs.
Recipe Notes
Feel free to stir a touch of white vinegar to the mayonnaise if you'd like to experiment with colors.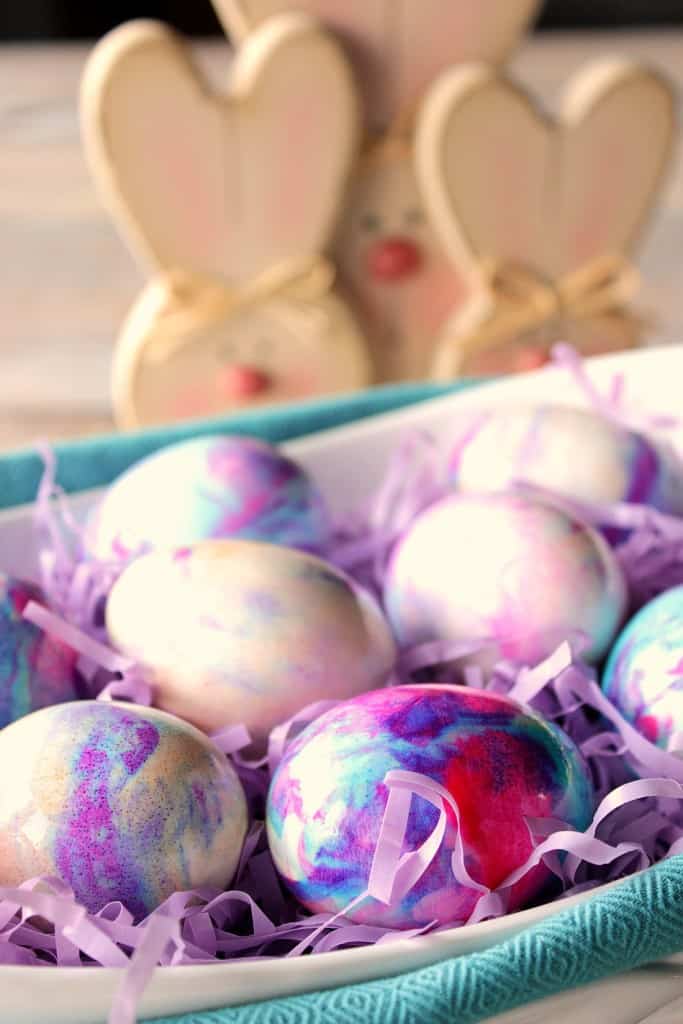 Wondering what to do with all the hard boiled eggs you may have leftover after the Easter bunny has left? What about these following ideas…
Angelic Eggs (the counterpart to Deviled Eggs):
Right away when I knew I was going to share this recipe for Mayonnaise Tie Dyed Easter Eggs, I knew I had to coordinate it with this "Bunny Bag" coffee mug that I painted for my mom a couple of years ago. Every year, when her grandkids were little, my mom used to make Bunny Bags for each of the kids using grocery store brown bags. Naturally she'd fill them with candy and trinkets for each grandchild, and needless to say, it was something they each looked forward to year after year. Even now, with all her grandchildren being grown (some even having kids of their own), the bunny bags are still talked about every year with great fondness and love. This is the exact mug I painted for my mom to commemorate those special bags, my extraordinary mom, and her loving grandchildren. I'm proud to say, she uses it still. Every, single day.
If there is ever anything I can paint for you, from glassware items to fabrics (aprons and tea towels), please don't hesitate to contact me by clicking on the little envelope icon found at the top of my site (on the right hand side), or by visiting my shop on Etsy and/or Wazala. Custom orders (like the one shown here), are always welcome and I will happily paint and design from any photo, description or memory you send my way.
Kudos Kitchen by Renée ~ Where food, art, and fun collide each and every day!
Until we eat again, I hope you have a delicious day!