A Scotch Egg is a perfectly cooked hard-boiled egg that is surrounded by pork sausage and then pan-fried for a crunchy outside and a soft center.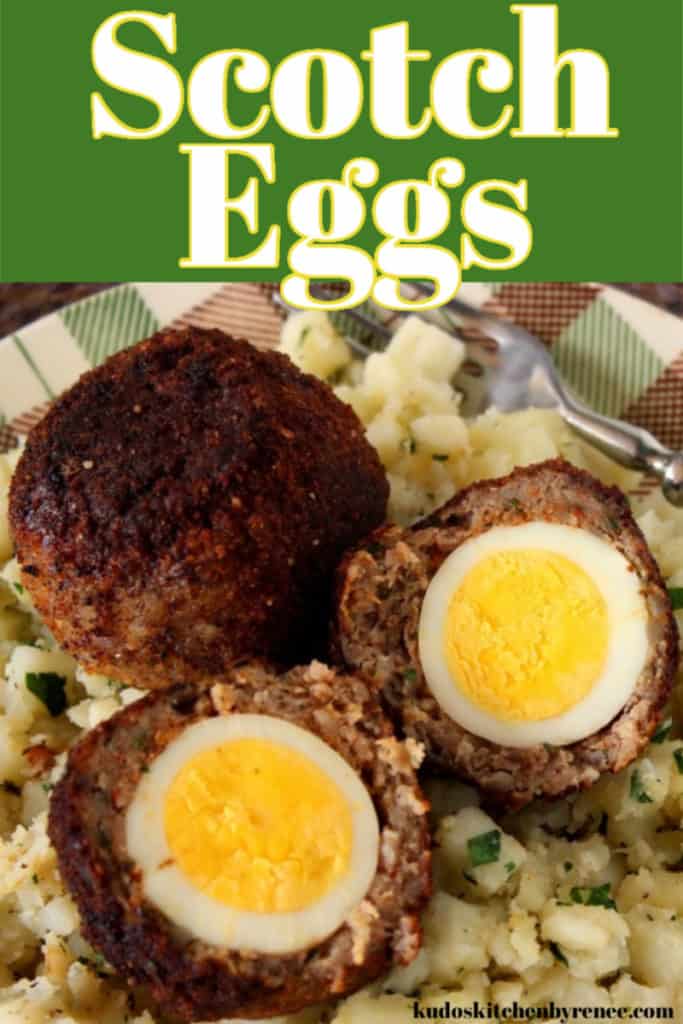 Sausage wrapped hard-boiled eggs make a perfect on-the-go breakfast or lunch item with plenty of good protein to keep you full and energized all day long!
**Please Note - The printable recipe card with detailed instructions, complete ingredient measurements, and nutritional information for making Scotch Eggs is available at the end of this post. OR you can hit the "jump to recipe" button (found above) to be taken directly to the recipe.
The ingredient list:
**Note - The following lists of ingredients plus kitchen tools and equipment contain affiliate links (highlighted in blue) for your consideration and shopping convenience. #CommissionsEarned
hard-boiled eggs
pork breakfast sausage
garlic powder
fresh parsley
canola oil
Kitchen tools and eqipment needed:
shallow dish for breading (a pie plate works great)
Inspiration at work:
Little did I know (and unbeknownst to my conscious mind), this method for stuffing a hard-boiled egg inside of something else apparently inspired me to enter the 47th annual Pillsbury Bake-Off with this fun and easy recipe that I've named "Breakfast Bundle Surprise."
Here, I'll give you a little sneak peek at my entry. Shhhh...Don't tell!
But, let's get back to the Scotch Eggs and their delicious flavor and ease of preparation...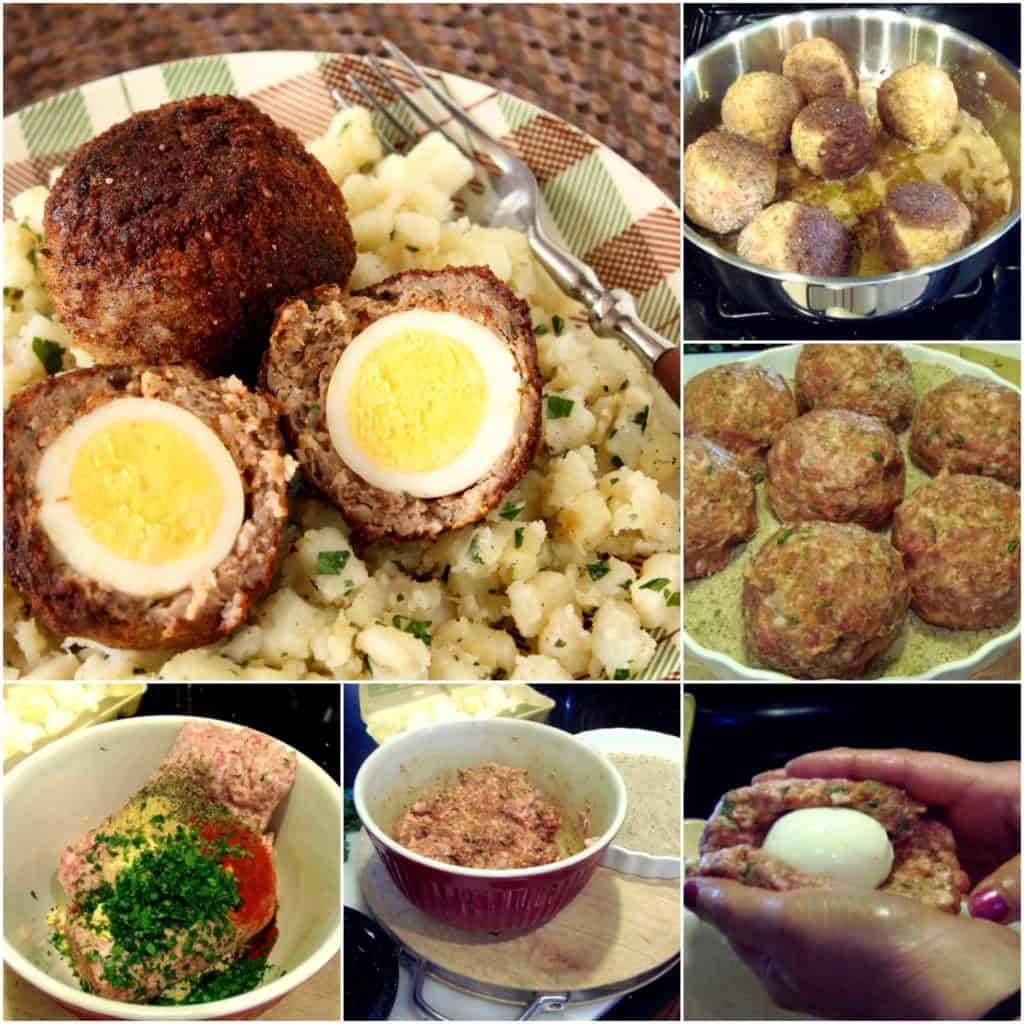 Can sausage-wrapped hard-boiled eggs be made in advance?
Yes, but they're best eaten the same day they're made.
How long will Scotch eggs keep in the refrigerator?
Stored in an air-tight container, Scotch eggs will keep for up to 7 days.
Can Scotch eggs be frozen?
Yes. Cool them completely after cooking and then flash freeze them for 1 hour in a single layer the freezer to harden slightly.
Once partially frozen, re-package them and store them in a freezer-safe container for up to 2 months.
How to reheat sausage-wrapped hard-boiled eggs from frozen?
Thaw the Scotch eggs at room temperature until thawed.
Wrap them lightly in foil and bake in a 350-degree preheated oven for 15 minutes, or until heated through.
The origin of Scotch Eggs:
Did you know that Scotch Eggs originated in the UK in 1738 and since that time they've been widely known as picnic food items? They are frequently sold individually in markets, corner stores, and gas stations
Here in the states, Scotch Eggs are popular menu items in British Style pubs and restaurants and are usually served along with gravy, dipping sauces or dressings.
I did not make a gravy or dipping sauce for my Scotch Eggs, but looking at these photos I can see them just crying out for a little brown gravy!
The taste, however, is superb just as they are!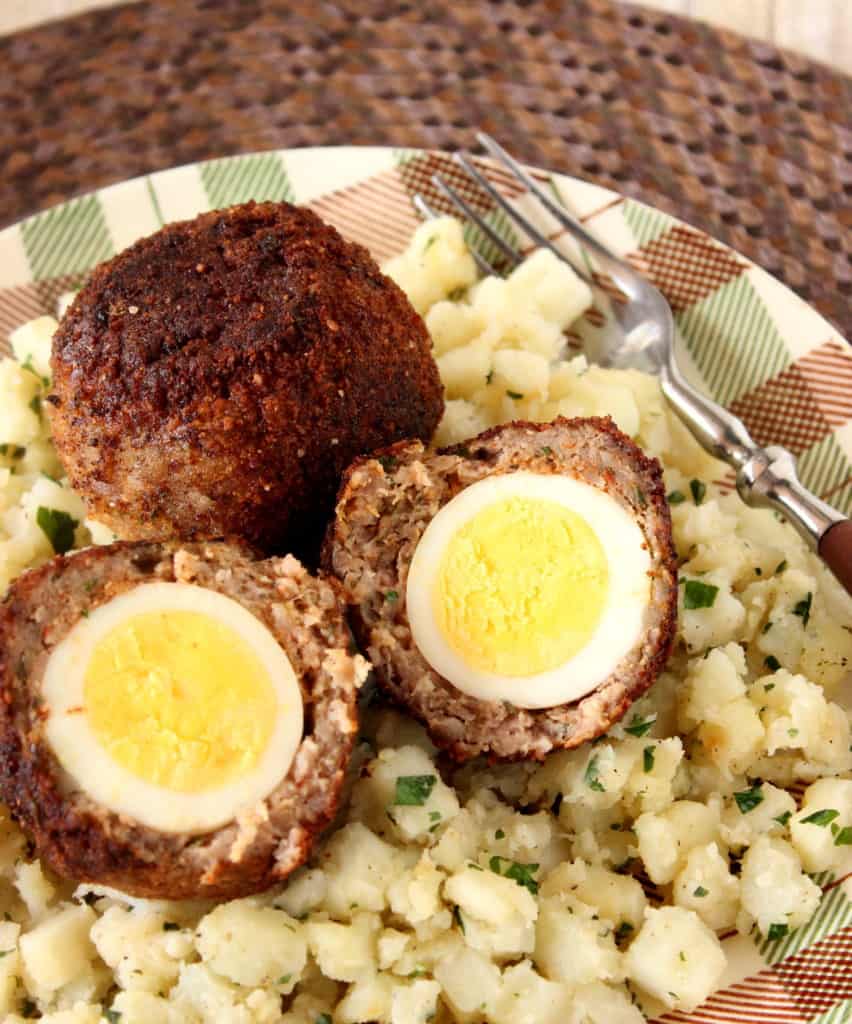 How to make Scotch Eggs:
Combine the pork breakfast sausage, spices and seasonings in a large bowl and mix to combine thoroughly.
Wrap a liberal amount of the mixed sausage around each hard-cooked egg, pressing gently yet firmly to make sure there are no open areas.
Roll each sausage-wrapped egg in seasoned breadcrumbs and fry them on all sides in a large skillet with canola oil until golden and crispy.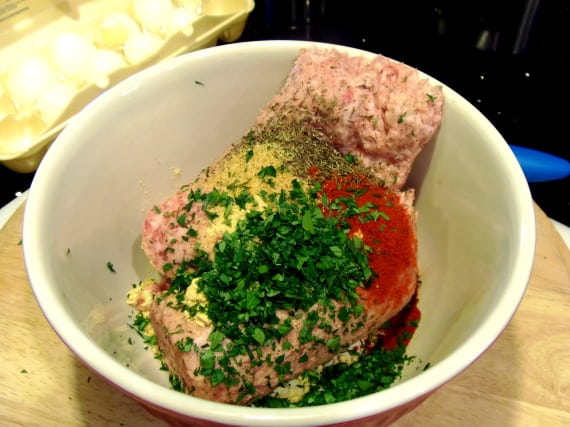 Additional hard-cooked egg recipes:
*Deviled Ham and Eggs (shown below)
Whether you choose to serve these easy to make deviled Dijon ham and eggs for breakfast, brunch, appetizers, or a hearty snack, you just can't go wrong!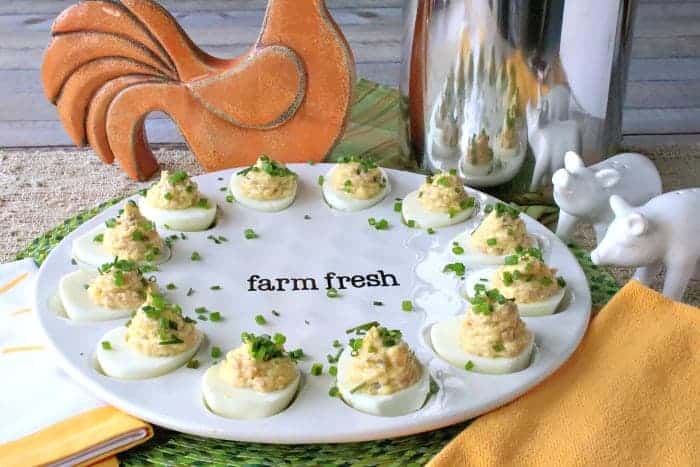 *Creamy Egg Salad Canapes (shown below)
With a little preparation the night before, you can serve mom breakfast in bed on Mother's Day in only a matter of minutes with these easy Creamy Egg Salad Canapes.
*Hard-Boiled Egg Stuffed Biscuit (shown below, and in the featured video)
These easy-to-make Egg Stuffed Biscuits with Ham & Cheese can be made in a matter of minutes with the help of a few supermarket convenience foods. They're the perfect grab-and-go breakfast that will please the entire family!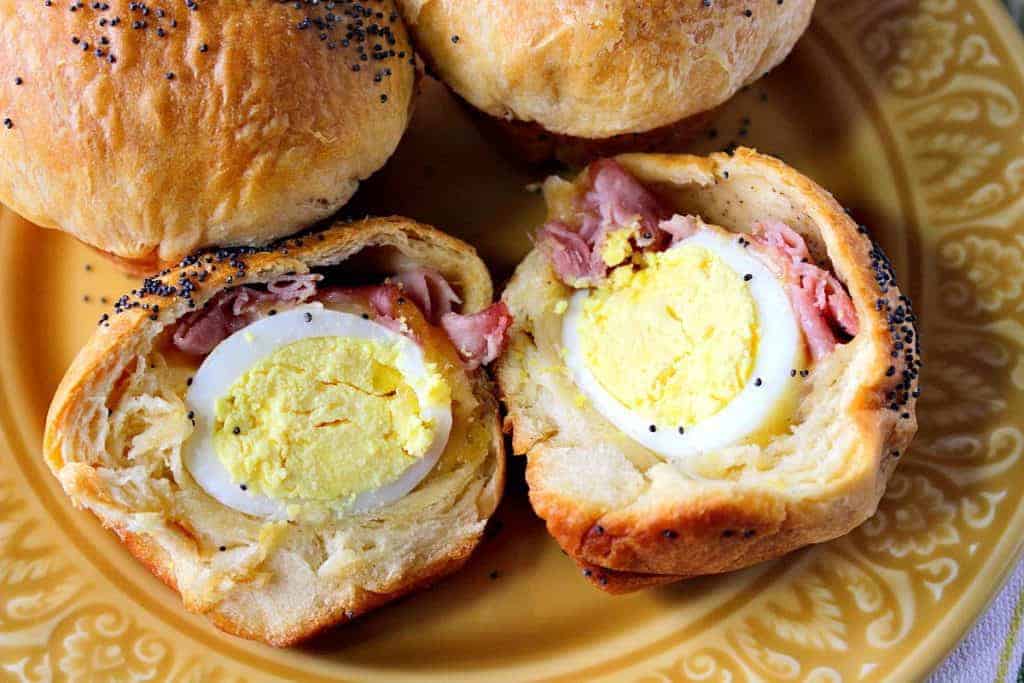 *Scotch Eggs (shown below) THIS IS THE PLACE!!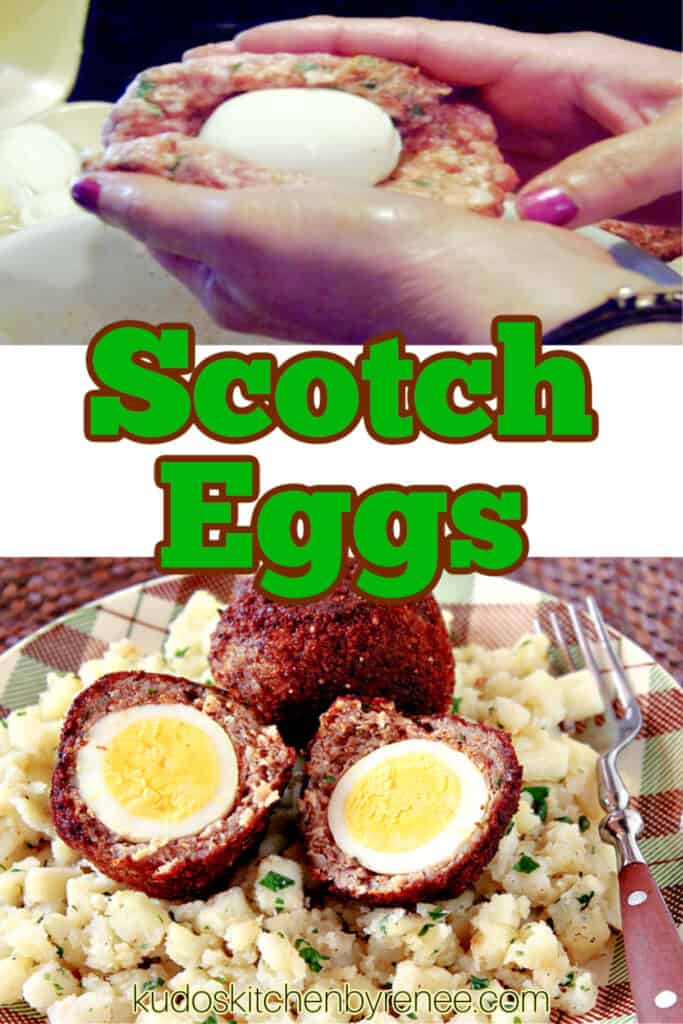 Below is the printable recipe card along with the exact ingredient measurements and nutritional information for making today's delicious Scotch Eggs.
If you've made this recipe, or are excited to make this recipe, I'd appreciate it if you'd take a moment to leave it a star rating on the recipe card, along with a comment if you're so inclined. Thank you. 🙂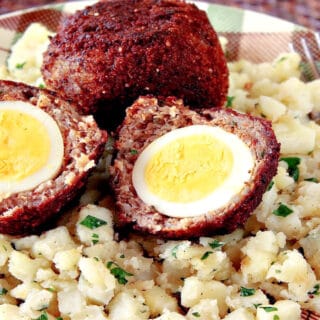 Scotch Eggs
A Scotch Egg is a perfectly cooked hard boiled egg is surrounded by pork sausage which is pan fried for a crunchy outside and a soft center.
Ingredients
8

hard boiled eggs

2

pounds

pork breakfast sausage

1 ½

teaspoons

smoked paprika

2

teaspoons

dried thyme leaves

2

teaspoons

ground mustard

1

teaspoon

garlic powder

4

tablespoons

fresh chopped parsley

2

cups

fine breadcrumbs

½

teaspoon

salt

½

teaspoon

black pepper

canola oil for frying
Instructions
-In a large bowl, mix the pork sausage, salt, pepper, paprika, thyme, mustard, garlic powder and parsley until well combined.

-Place the breadcrumbs, salt and pepper into a shallow dish. Stir to combine.

-Wet hands with water (to prevent excessive sticking) and form about ¾ cup of the sausage mixture into a 4" flattened disc.

-Place an egg in the center of the sausage disc and use your hands to form the pork sausage up and over the entire egg.

-Gently place the sausage egg into the prepared breadcrumbs.

-Continue with the remaining eggs.

-In a large skillet, over medium/high heat, add enough oil to cover the bottom.

-Carefully add the Scotch Eggs into the skillet and fry on all sides (about 2-3 minutes per side) to a deep golden brown.

-Reduce the heat to low, cover and allow the sausage to cook through for about 5 minutes.

-Drain on paper towels and serve them hot, over hash brown parsley potatoes.
Nutrition
Serving:
2
eggs
Calories:
544
kcal
Carbohydrates:
22
g
Protein:
28
g
Fat:
37
g
Saturated Fat:
12
g
Cholesterol:
268
mg
Sodium:
1331
mg
Fiber:
2
g
Sugar:
2
g
I sincerely hope you've enjoyed today's recipe for Scotch eggs as much as I've enjoyed bringing it to you!