With a little preparation the night before, you can serve mom breakfast in bed on Mother's Day in only a matter of minutes with these easy Creamy Egg Salad Canapes.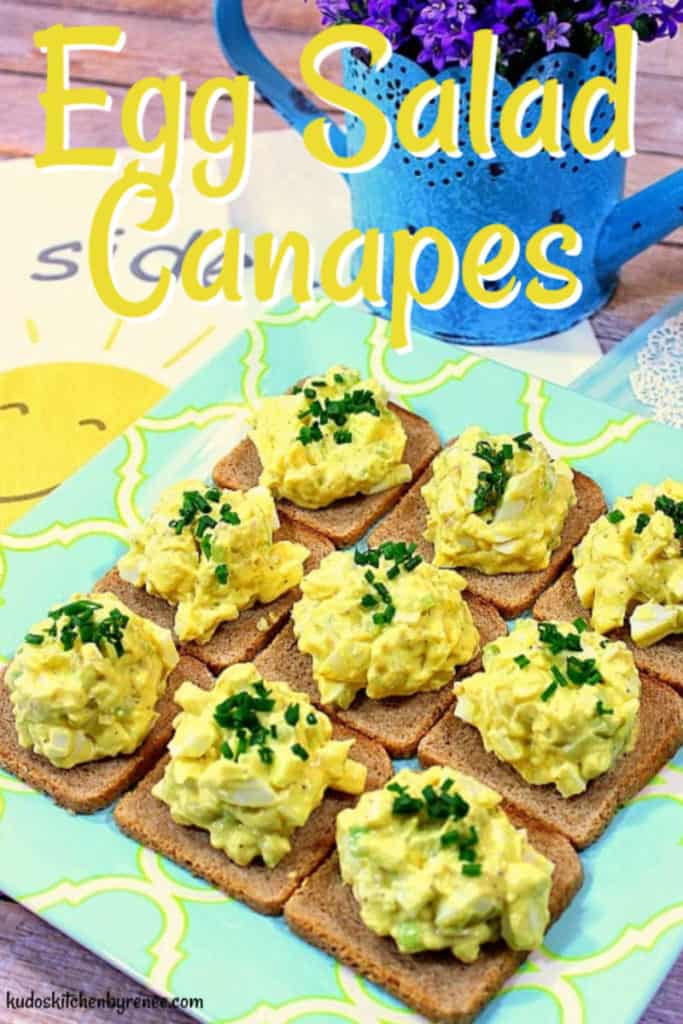 What makes these mini open-faced treats even more aPEELing is that the creamy egg salad can be made the night before and quickly scooped or spread on cocktail bread, toast, or baguette slices way before mom even has a chance to pop out of bed.
**Please Note - The printable recipe card with detailed instructions, complete ingredient measurements, and nutritional information for making egg salad canapes is available at the end of this post. OR you can hit the "jump to recipe" button (found above) to be taken directly to the recipe.
The ingredient list:
hard-boiled eggs
celery
minced shallot
mayonnaise
dijon mustard
yellow mustard
salt and pepper
cocktail bread or baguette slices
chopped chives (for garnish)
How this recipe came to be:
My mom was the inspiration for this recipe. Not because I'm going to make her breakfast in bed this year for Mother's day (we're going out to brunch), but because she makes the best-deviled eggs!
This egg salad recipe is my riff on my mom's deviled eggs.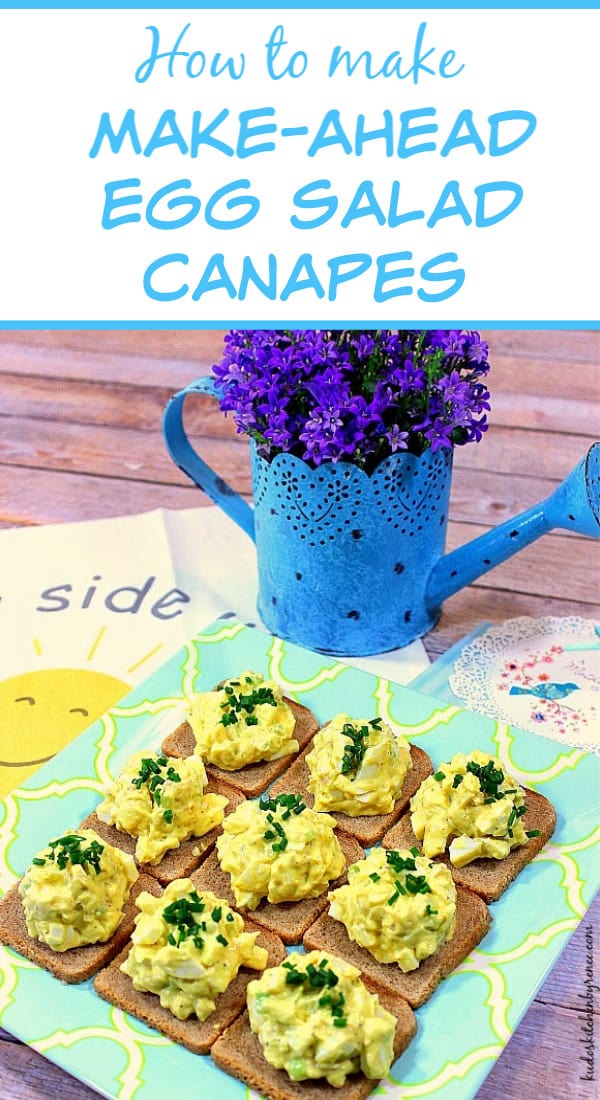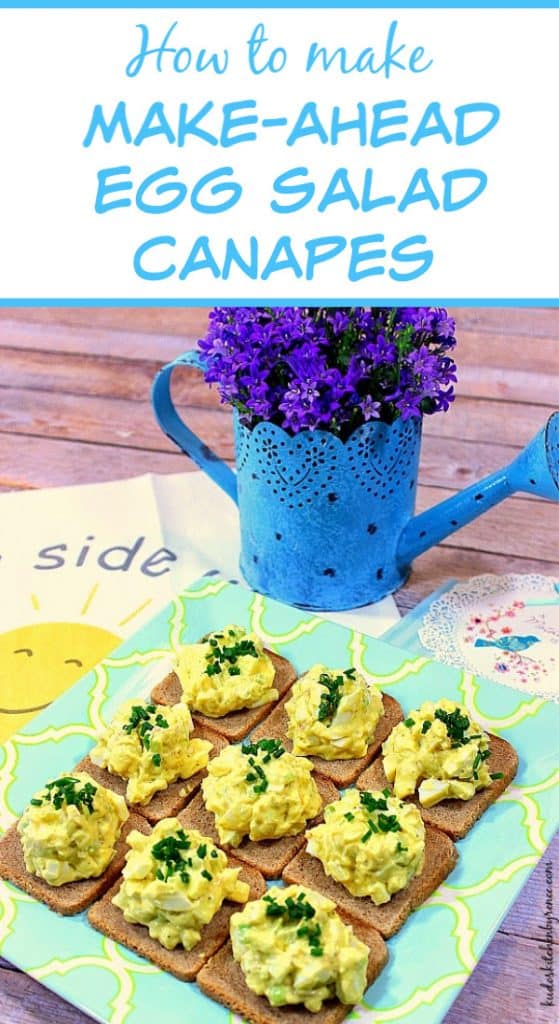 Do you struggle with peeling hard-boiled eggs?
I've always struggled with cleanly peeling hard-boiled eggs. Maybe you have too. If this is also your story, today is a game changer!
I'm excited to share a few little tips and tricks I've learned along the way that will make your life SO much easier. Especially when you're making these cute little deviled egg salad appetizers.
So say goodbye to the difficulty of peeling hard-boiled eggs, and say hello to no more stressing when it comes to making egg salad appetizers.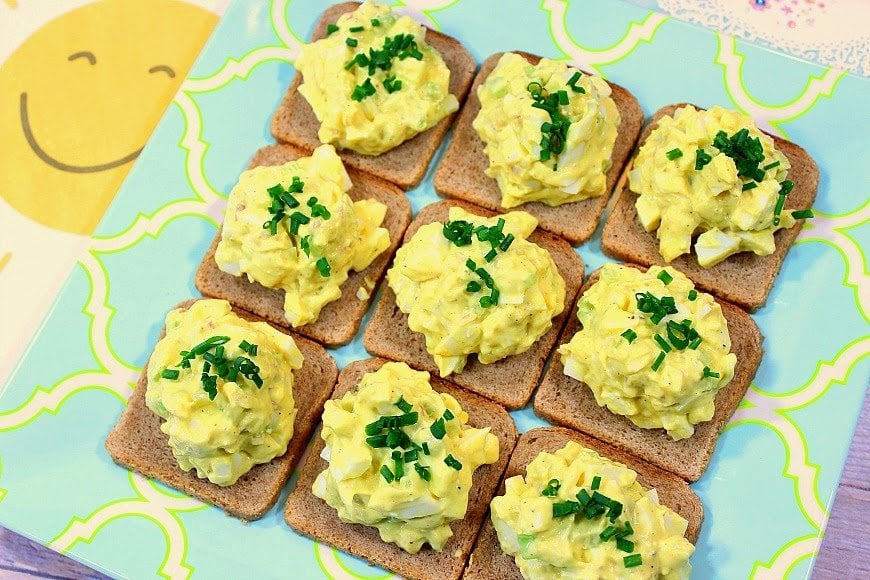 How to cook hard-boiled eggs for easy peeling:
Make sure that the eggs you choose for boiling are not freshly purchased from the market.

The best eggs for hard boiling are the slightly older ones. Eggs you've had in your fridge for a few weeks.

It may seem counterintuitive, but those are the ones that work the best.

Use the smallest pan possible to fit the number of eggs you've chosen to boil. This way as the water boils, the eggs don't have room to bounce around into each other, which will lessen the chance that they'll crack and break in the water.

Fill the pan with cold water to just above the eggs.

Turn on the heat and bring the eggs to a boil.

As soon as the eggs start to boil, turn the heat off and cover the pan. Allow the eggs to sit in the water for only 13 minutes (longer will result in that unsightly gray ring that surrounds the yolk).

Run the cooked eggs under cold water and easily peel them when you're ready to use.
Check out this easy-peel hard-boiled egg video from America's Test Kitchen:
Now that you know how to make easy-peel hard-boiled eggs, make the Creamy Egg Salad the night before you plan on serving the canapes.
In the morning when you're ready to serve, assemble the canapes. This will take only minutes, which makes them the perfect breakfast to surprise mom on her special day!
How far in advance can egg salad be kept in the fridge?
This egg salad can be made in advance and kept safely in the refrigerator for up to 4 days.
Keep it well sealed in an airtight container.
Can egg salad be frozen?
I wouldn't recommend it.
Due to the high-fat content in the eggs, and the mayonnaise, once the egg salad thaws the consistency will change from thick and creamy to watery and rubbery.
Not pretty, and not very appetizing.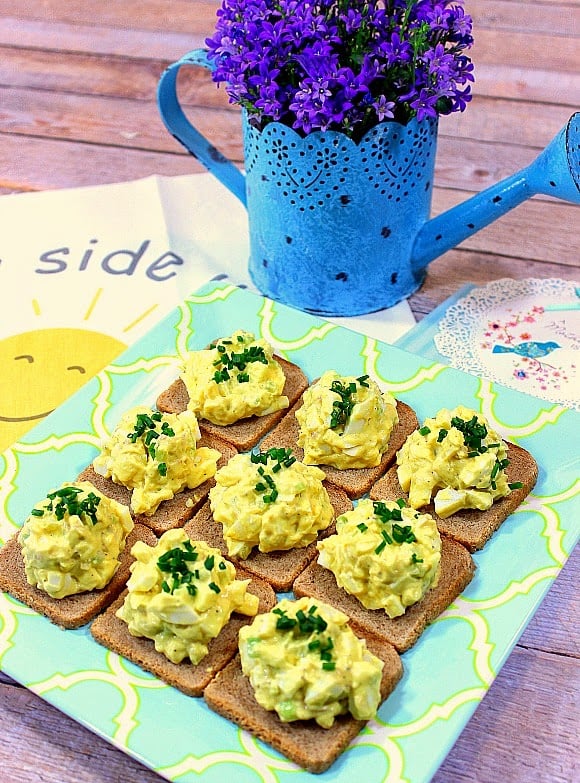 What are some other ways to serve deviled egg salad?
Here's the fun part. Serve it on top of, or with;
celery sticks

carrot sticks

crackers

tortilla chips

bagels

croissants

red pepper strips

hash brown potatoes

potato chips

baked potatoes

pretzels

cucumbers

avocados

toast

biscuits
You are only limited by your imagination.
Where do I find the little cocktail bread that is pictured in the photos?
I've been able to purchase it in the delicatessen department of my local grocery store.
It is also known as party bread.
There are several different flavors, made by a couple of different companies, Pepperidge Farm being one of them.
I'll be leaving an affiliate link down below for the party bread, so don't forget to look for it.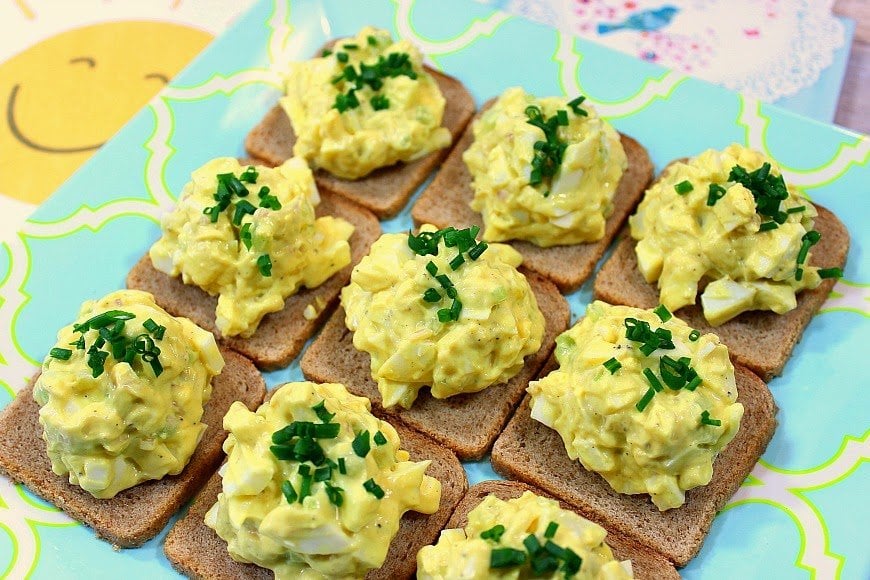 What occasions are best to serve these egg salad appetizers:
These Easy Creamy Egg Salad Canapes can also be served as tasty appetizers for any sort of party or gathering.
Think Easter, Memorial Day, birthdays, graduation parties, summer BBQs, picnics, Father's Day, Mother's Day, Sundays, Mondays, Tuesdays...You get the gist!
Just remember, if you're serving them outside during the hot summer months, make sure not to let them sit out too long in the heat and keep them properly chilled while serving.
The easy instructions for making deviled egg salad:
Peel the hard-boiled eggs and roughly chop them into bits.

Add them to a large bowl along with the minced celery, shallots, mayonnaise, mustard, salt, and pepper.

Stir well to combine.

Cover well and refrigerate for up to 4 days.

Scoop or spoon the deviled egg salad onto cocktail bread or toast points, serve and enjoy!


For additional tasty breakfast and/or dessert treats mom will enjoy:


Below is the printable recipe card for today's Deviled Egg Salad Canapes.
If you've enjoyed this recipe and look forward to making it (or have already made it), I'd appreciate if you'd take a moment to give it some feedback by way of stars near the comment section at the end of this post. Thank you so much!
Printable Recipe Card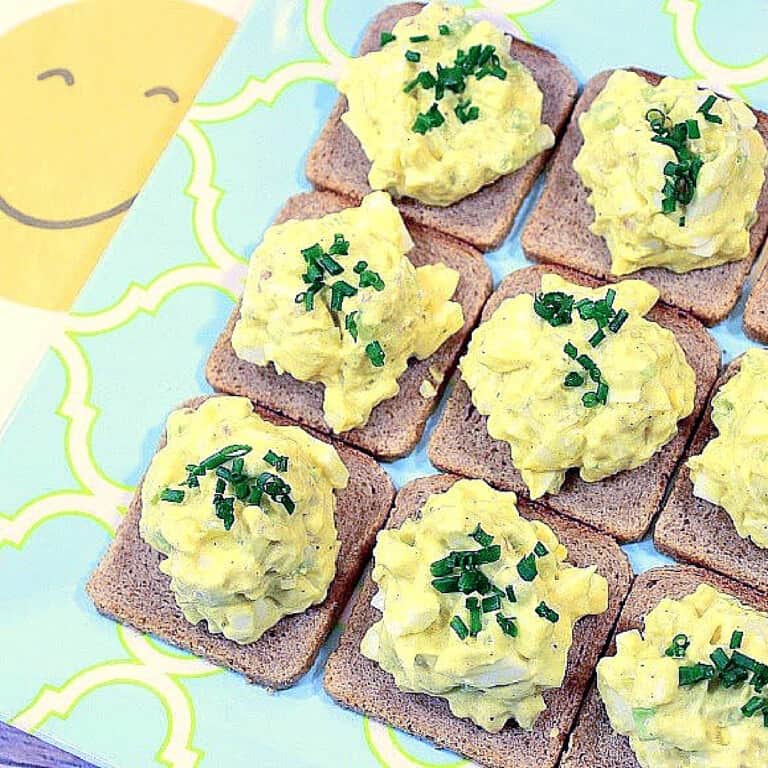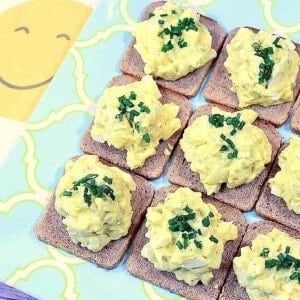 Easy Creamy Egg Salad Canapés
Easy Creamy Egg Salad Canapés are the perfect appetizer. If you love deviled eggs, you'll adore these easy appetizers. And the fact that you can make the creamy egg salad in advance makes them even more aPEELing!
Ingredients
1

dozen hard-boiled eggs

peeled and roughly chopped

2

ribs

celery

finely diced

1

large

shallot

finely diced

1

teaspoon

kosher salt

¼

teaspoon

freshly ground black pepper

½

cup

mayonnaise

2

tablespoons

Dijon mustard

2

teaspoons

prepared yellow mustard

1

cocktail bread

cut into slices or baguette slices

1

tablespoon

chives

minced, optional
Instructions
In a large bowl, stir together the first 8 ingredients. Cover and chill for a minimum of 4 hours or overnight.

To serve spoon a heaping tablespoon of egg salad onto each cocktail bread slice and garnish with minced chives.
Notes
tools and equipment:
large bowl, wooden spoon, egg slicer or chef's knife, cutting board, measuring spoons, measuring cups, medium saucepan
Nutrition
Serving:
1
serving
Calories:
122
kcal
Carbohydrates:
14
g
Protein:
3
g
Fat:
5
g
Saturated Fat:
0
g
Cholesterol:
12
mg
Sodium:
330
mg
Potassium:
54
mg
Fiber:
0
g
Sugar:
1
g
Vitamin A:
45
IU
Vitamin C:
0.4
mg
Calcium:
15
mg
Iron:
1
mg
I sincerely hope you've enjoyed today's recipe for Make-Ahead Creamy Egg Salad Canapes as much as I've enjoyed bringing it to you!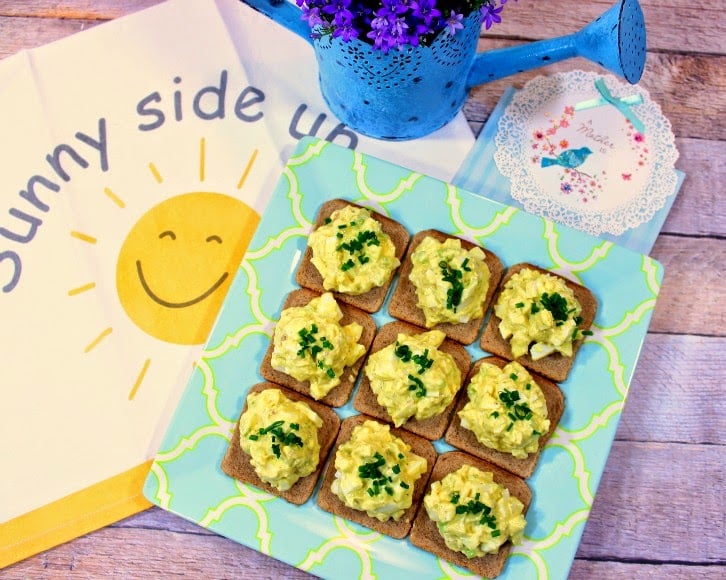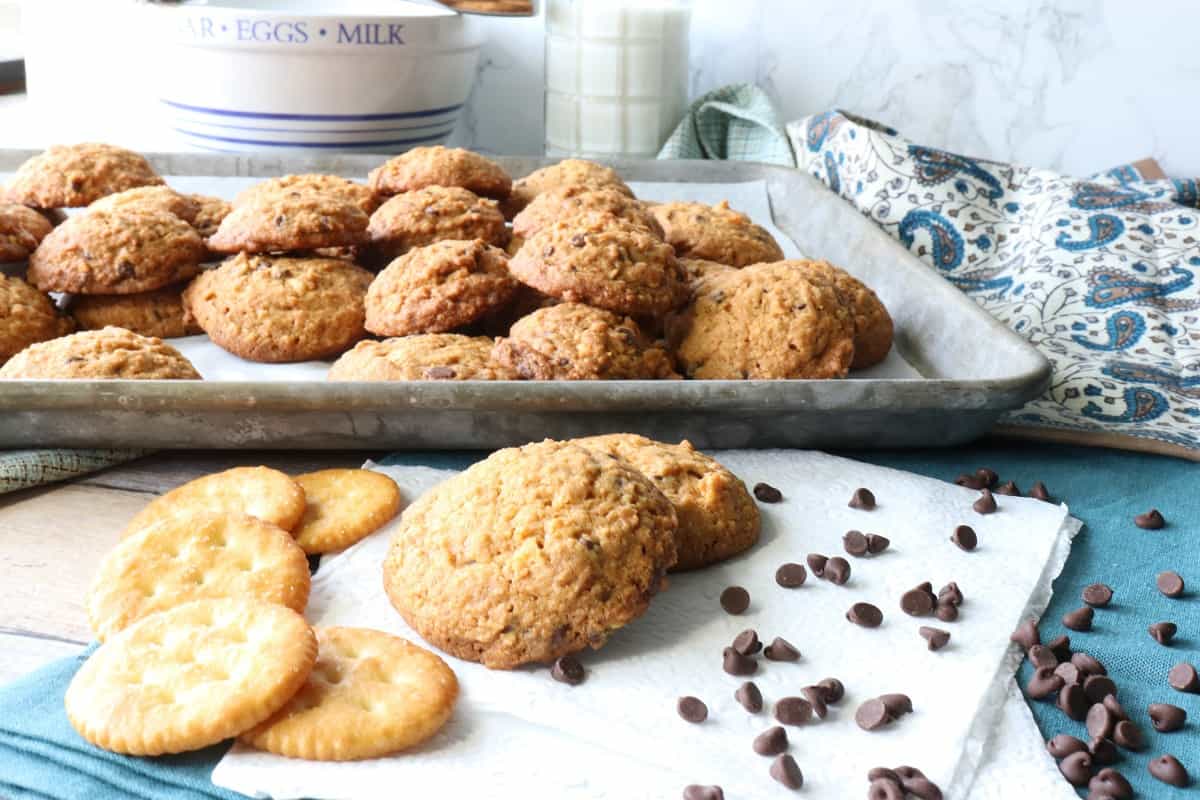 Follow me across my social media platforms and join in on the conversation: FACEBOOK, INSTAGRAM, PINTEREST, TIKTOK, AND YOUTUBE.
Thank you so much for visiting me today in my Kudos Kitchen. I hope you found something you'll love and that you'll come back and visit me often. There is always room for you around my table!
Should you have any questions or comments regarding anything you've seen here on my blog, please don't hesitate to reach out to me. It is always my distinct pleasure to respond to you just as soon as I possibly can.
Until we eat again, I hope you have a delicious day!!