Buttery Macadamia Nut Chicken Thighs are tender, meaty, rich in flavor, and great for a keto lifestyle.
This easy chicken dinner will soon become a favorite with its light crunch, and delicious buttery flavor (even if you could care less about eating keto)!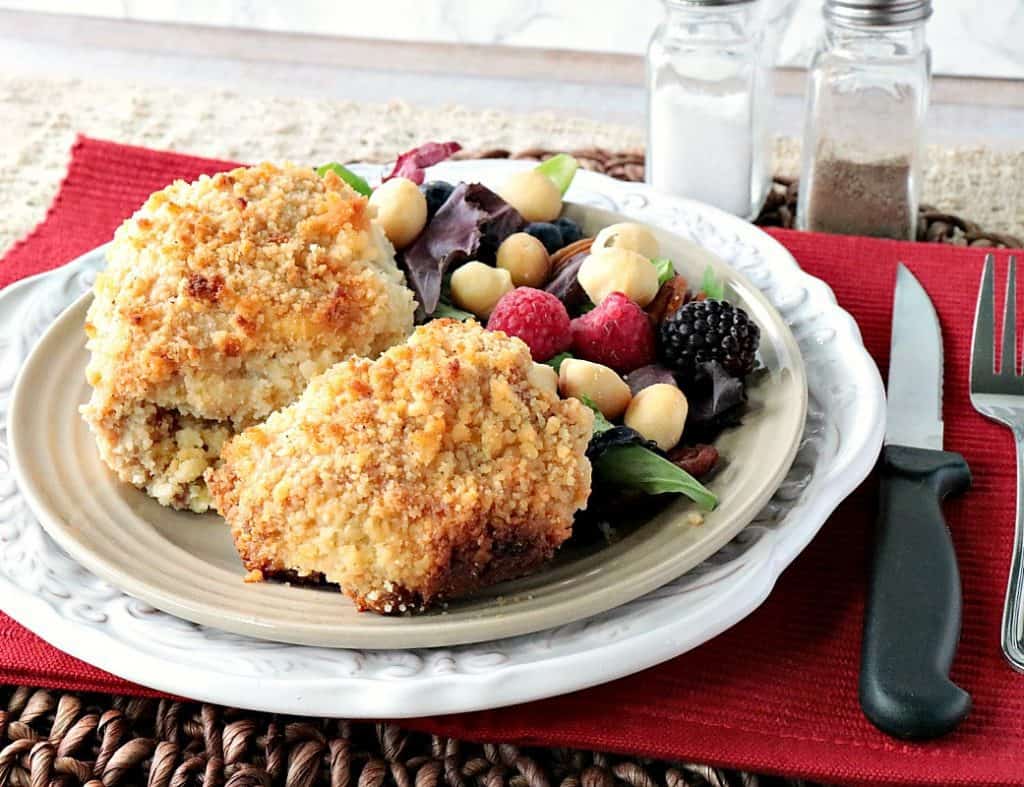 I've been on a Keto lifestyle, and macadamia nut kick lately. I can't seem to get enough of those little keto-approved nuts, but that doesn't bode too well for my pocketbook.
Sadly, smooth and buttery tasting macadamia nuts may be one of the most expensive nuts in the marketplace. That said, in my mind, they're also the most flavorful! Sorry, pocketbook! 😉
Eating keto? Then check out this easy keto appetizer recipe of Bacon Wrapped Broccoli Stalks;
**Please Note - The printable recipe card with detailed instructions and complete ingredient measurements for making Keto Approved Macadamia Nut Chicken Thighs is available near the end of this post.
Jump to Recipe
The ingredient list;
**Note - The following lists of ingredients plus kitchen tools and equipment contain affiliate links (highlighted in blue) for your consideration and shopping convenience. #CommissionsEarned
boneless, skinless chicken thighs
eggs
almond milk (or milk)
coconut flour, or all-purpose flour
butter
Kitchen tool and equipment needed;
Low-carb ingredient options;
I purposefully planned for this easy chicken dinner to be a low-carb/gluten-free option, so I used coconut flour instead of all-purpose flour in the macadamia nut coating.
However, if you prefer to use all-purpose flour instead of coconut flour, I back your decision 100% and I don't suppose it will affect the flavor significantly.
However, be aware that but using all-purpose flour, this will no longer be a gluten-free recipe option.
A dish for special occasions.
While this dish of Macadamia Nut Chicken Thighs may not be something you make and serve on a weekly basis because macadamia nuts can be costly.
That said, I hope you'll add this dish to your recipe repertoire for special occasions.
What are some other nut options to use for this recipe?
Cashews
Pine Nuts
Pecans
Filberts
Hazelnuts
Brazil Nuts
Almonds
Peanuts
**Please remember when using a different nut the nutritional information written for this recipe will be different than what is shown in the recipe card.
The easy step-by-step instructions for making this easy chicken dinner;
In a shallow pan, mix together the eggs, milk, salt, and pepper.
Pulse the macadamia nuts, flour, salt, and pepper in a food processor until it resembles coarse crumbs.
Add the boneless, skinless chicken thighs to the egg mixture and flip to coat both sides.

Add the nut-crumb mixture into a shallow dish and place the egg coated chicken in the macadamia nut mixture and press onto both sides of the chicken.
Place the crumb-coated chicken thighs in a large baking dish that has been sprayed with cooking spray.
Drizzle the nut coated chicken thighs with butter and bake in a preheated 375-degree oven for 30 minutes, or until the chicken is golden brown and the juices run clear.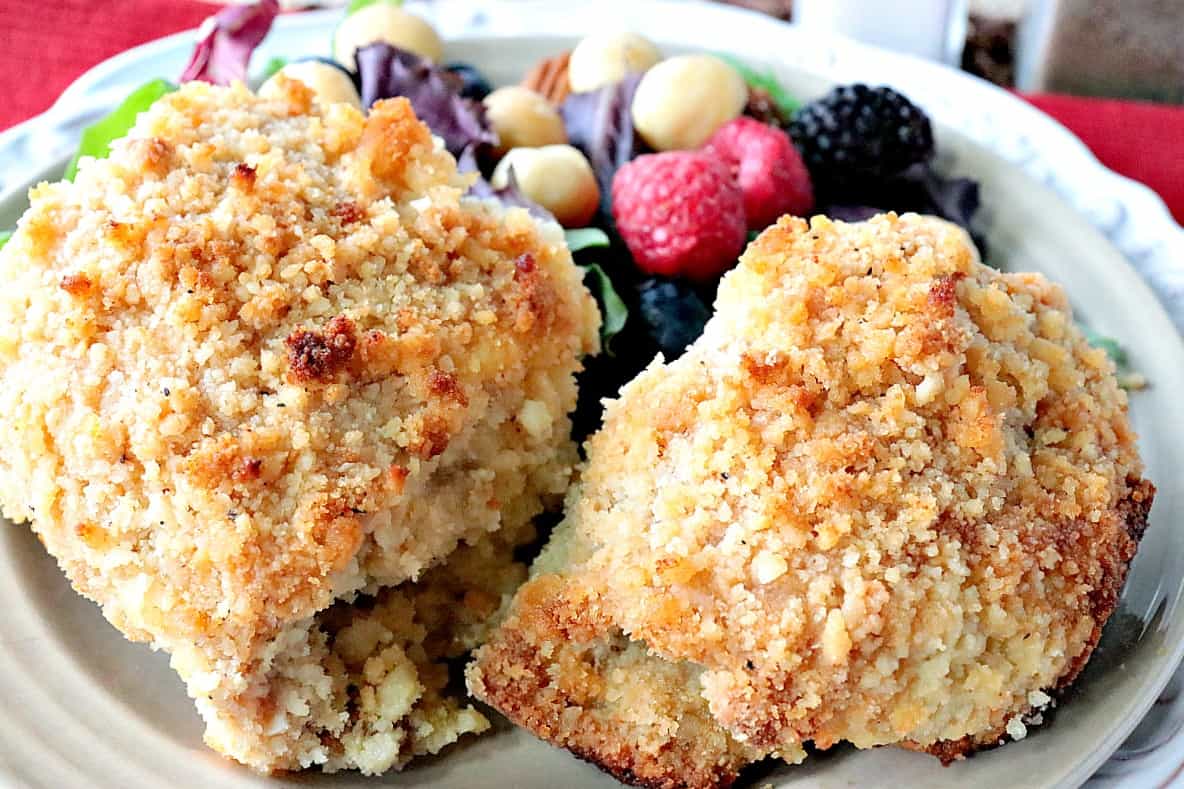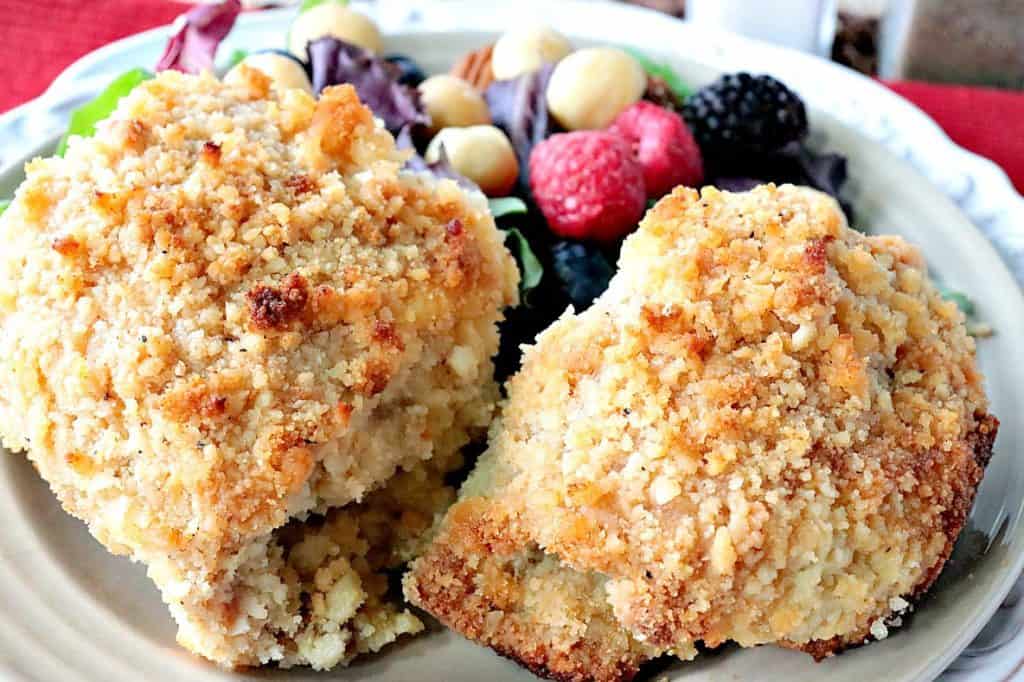 White or dark meat? What's your preference?
The thighs and legs are always my favorite part of any type of poultry. To me, the dark meat is far more flavorful and tender than the white meat.
That said, this recipe method will work for chicken breast as well.
Please adjust the cooking time if using chicken breast and always make sure the internal temperature of chicken (white or dark meat) reaches 165-degrees Fahrenheit on a meat thermometer before serving.
For more easy chicken dinner recipes (not necessarily keto), please click on these titles for;
"Crunchy Breaded Baked Italian Chicken Legs are moist and flavorful. Pack them in your summertime picnic basket and everyone will be happy!"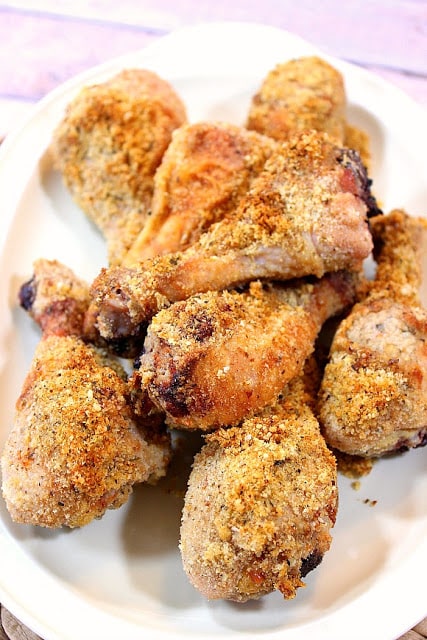 "Teriyaki Bacon Wrapped Pineapple Chicken Thighs are sweet and savory with a hint of smoke. You'll be hooked after your very first bite!"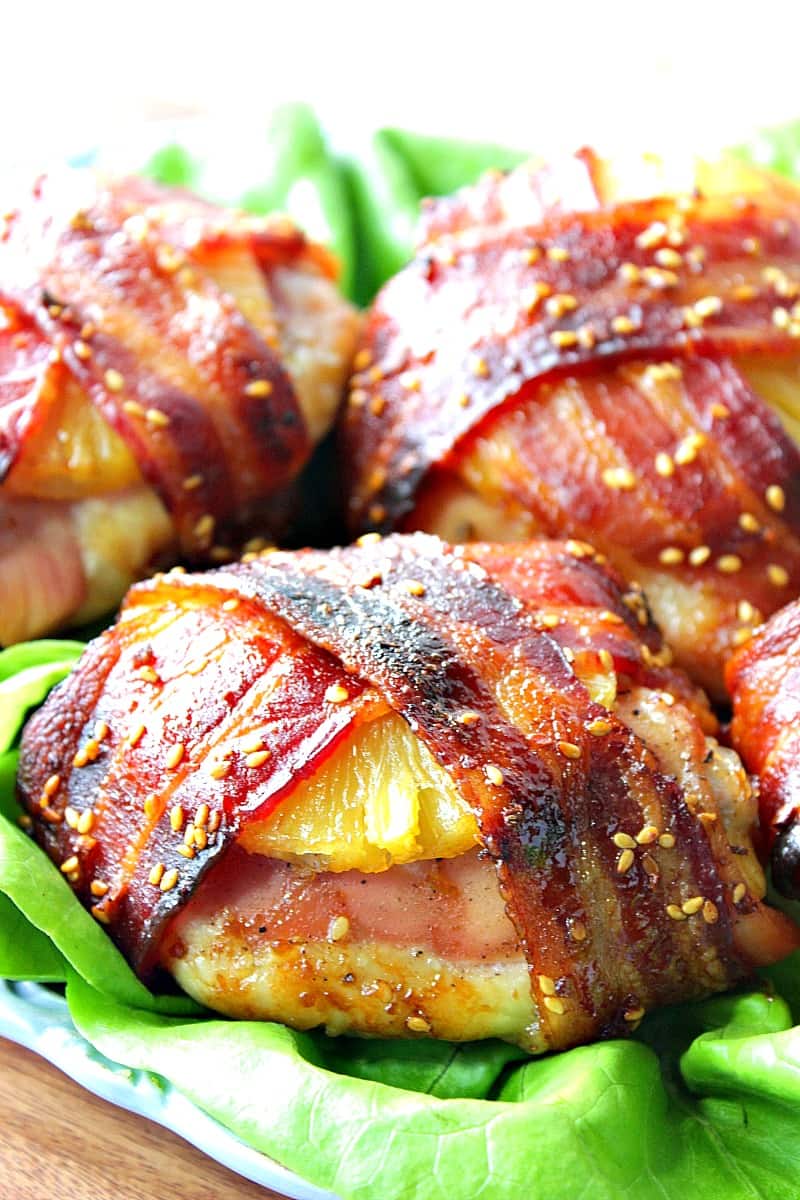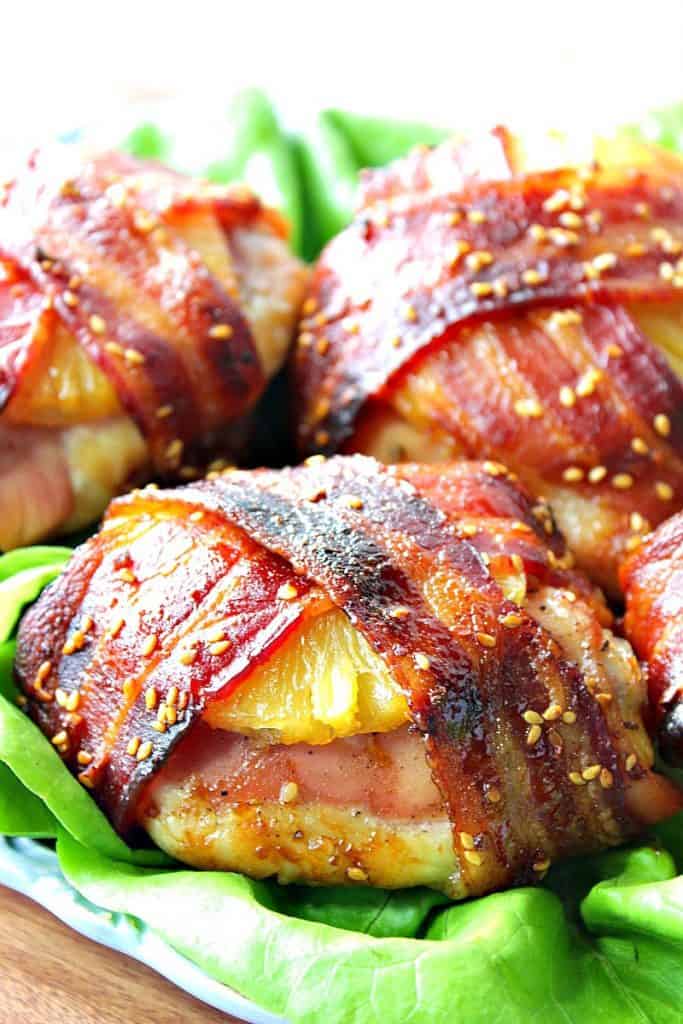 "This recipe for Skillet Chicken Thighs with Brussels Sprouts & Bacon was inspired by chef Michael Symon."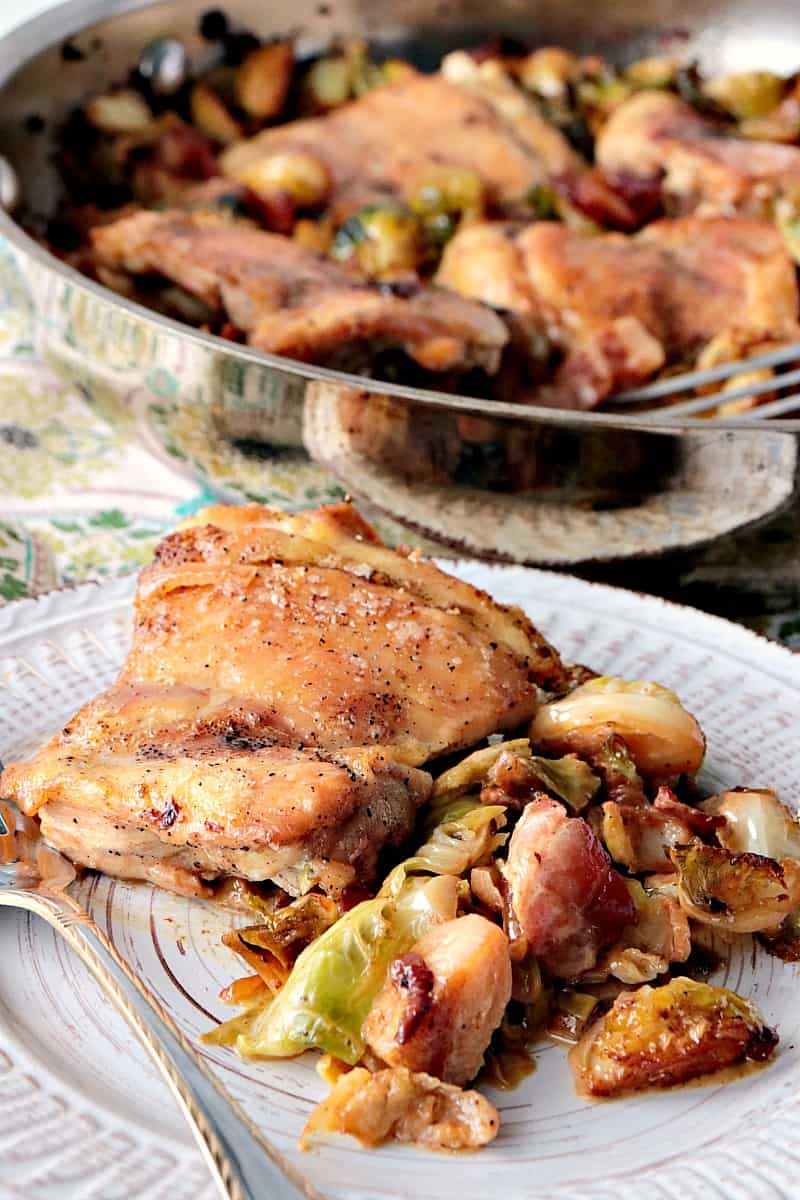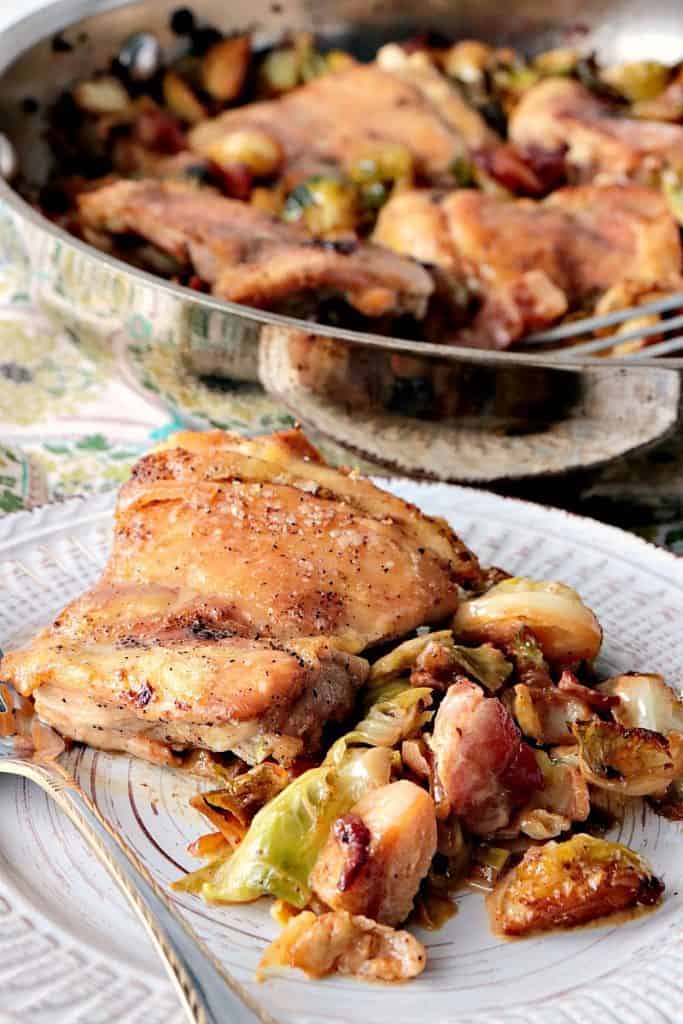 Want more easy keto recipes?
"The idea for these Bacon Wrapped Broccoli Stalk Appetizers came to me one night as I was preparing broccoli for dinner. I'm not normally a broccoli stalk eater, but disposing of them is awfully wasteful. That's when my lightbulb moment hit, and the results are utterly delicious!"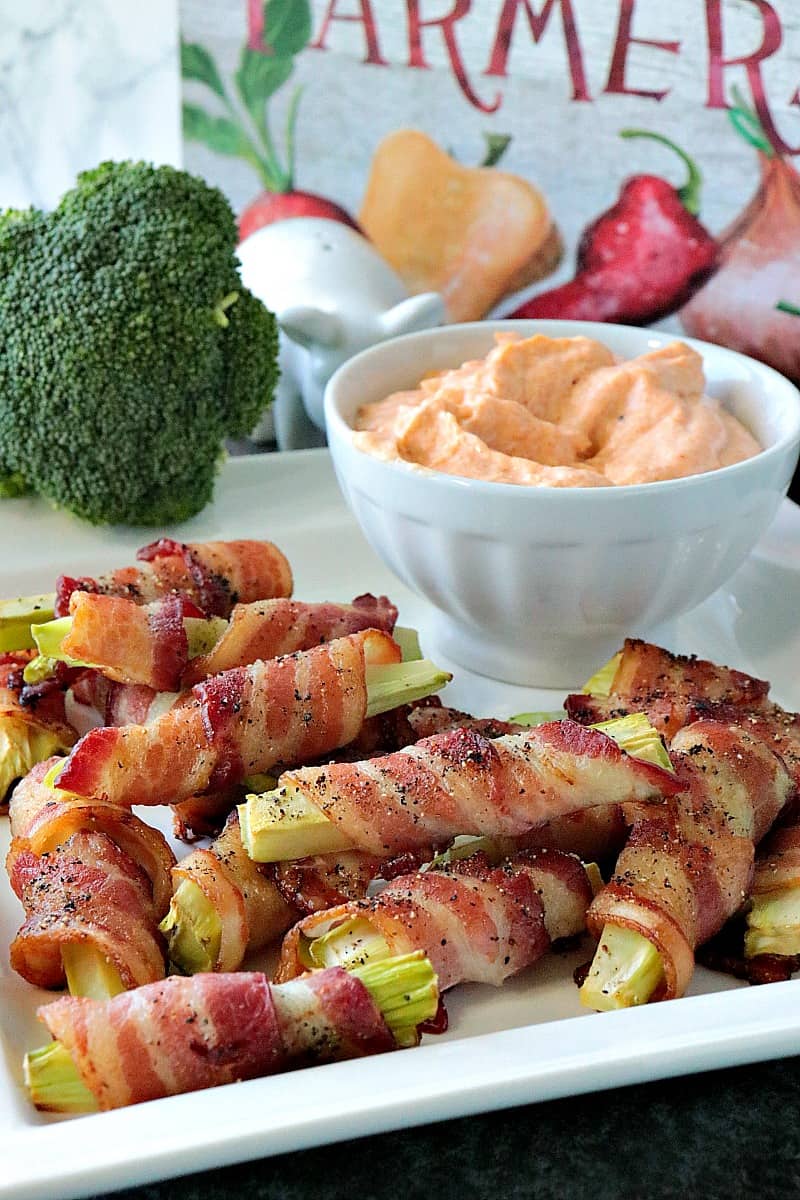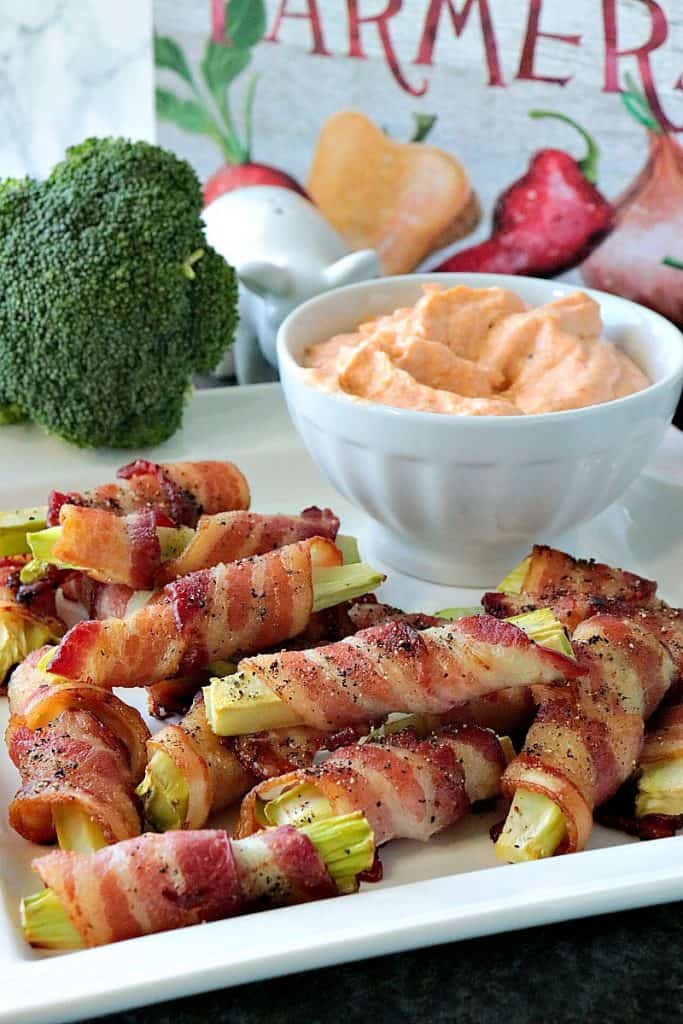 "With only six ingredients these Creamy Dreamy Strawberry Whipped Keto Pops are the perfect frozen treat for sticking to your keto diet plan, and for indulging in something deliciously sweet, but without all of those pesky carbs!"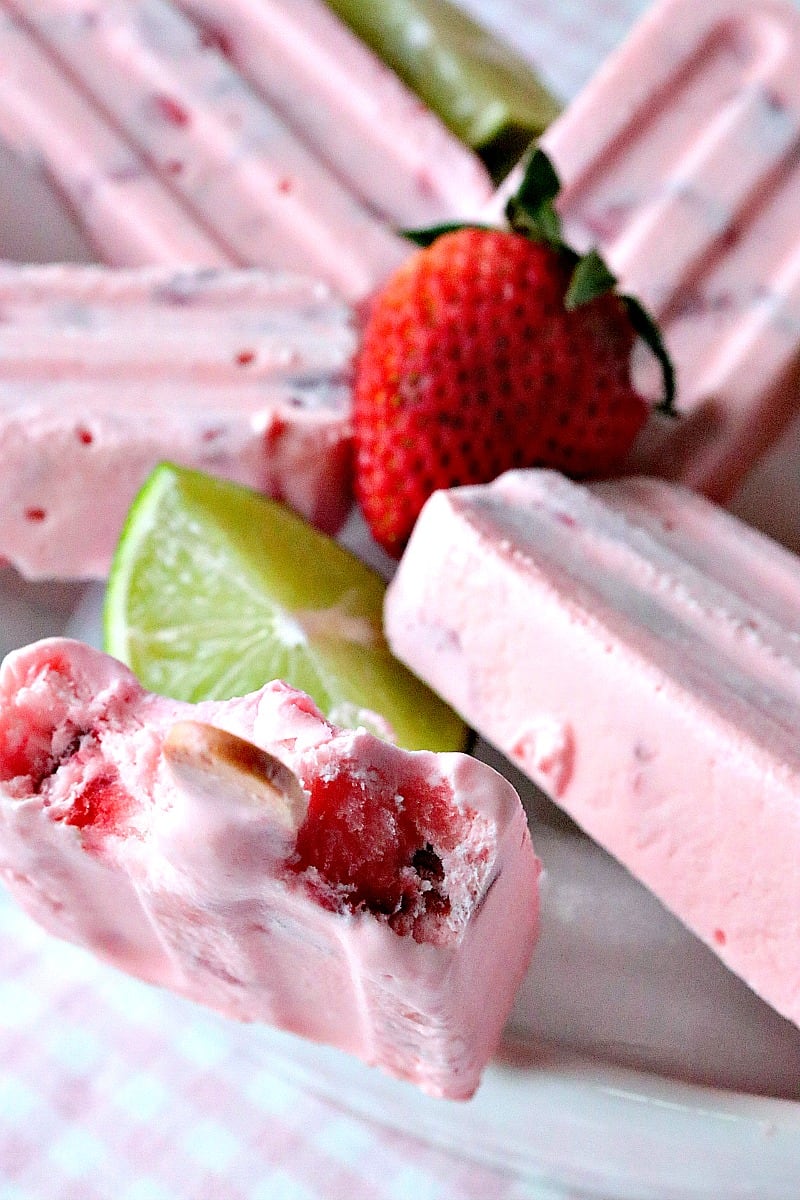 Easy Low-Carb Macadamia Nut Chicken Thighs (pictured below) This is the place!!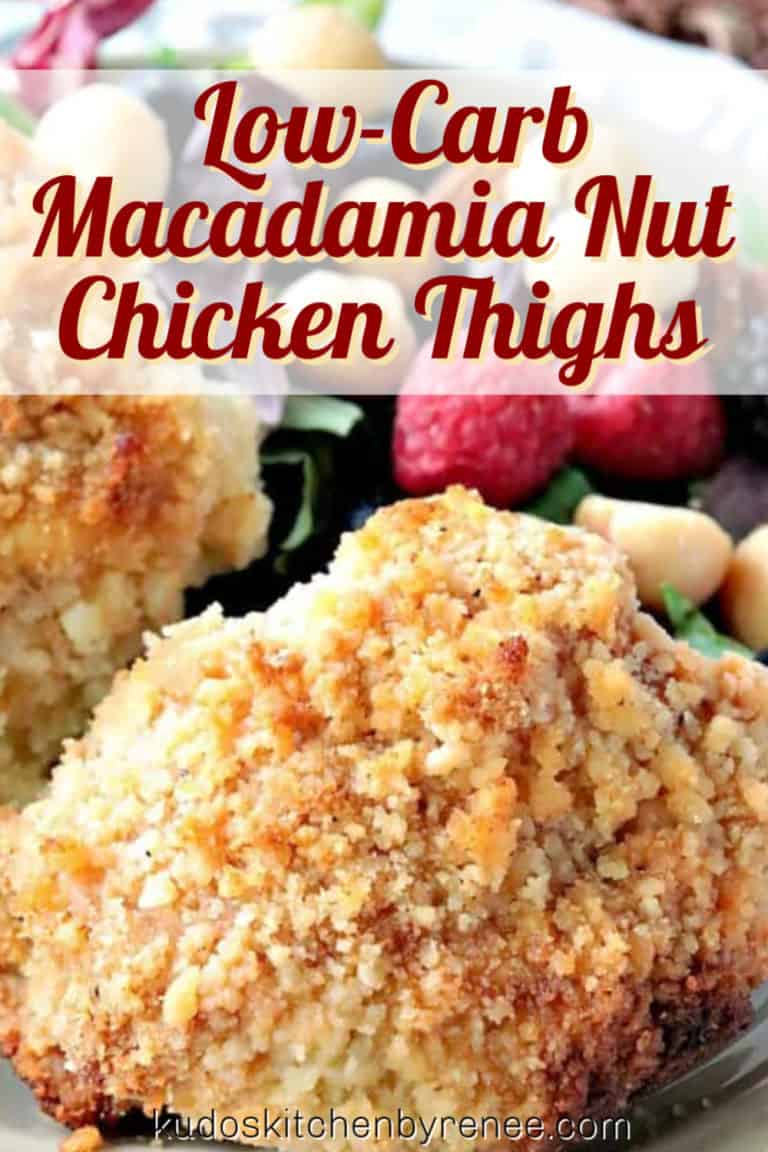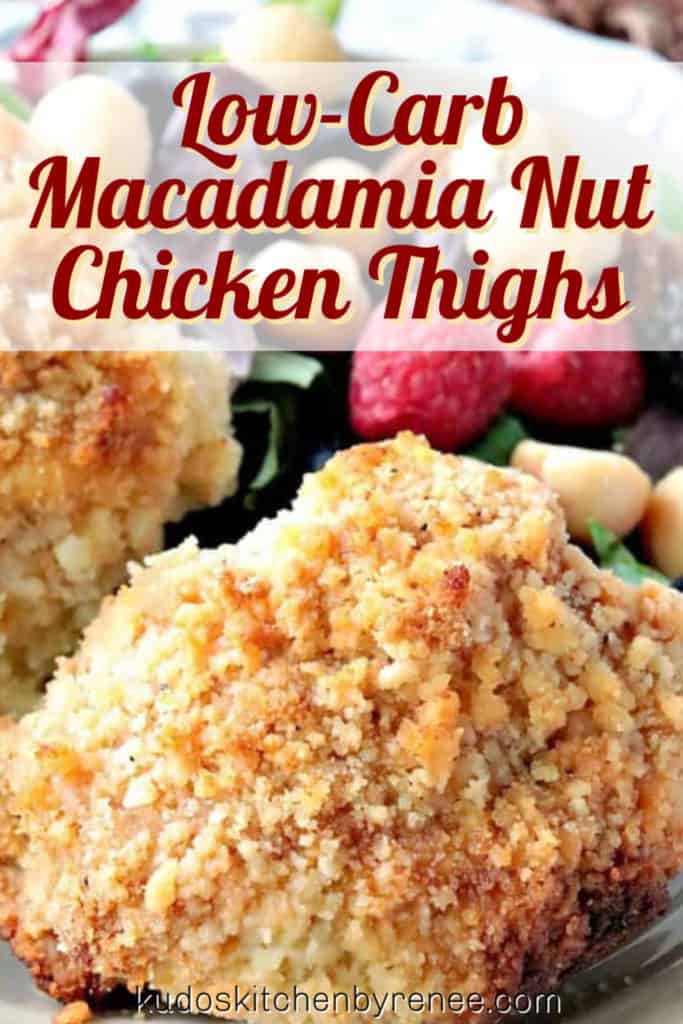 Whether you're working on a blue screen device or in the kitchen, the following affiliate products are ones I can highly recommend to save your eyesight and your sanity.
Below is a photo of my blue blocker computer glasses in action! I swear by them! I work at the computer for what feels like all-day, every-day, and these glasses have relieved a great deal of eye-stress and migraine problems for me.
A neurologist was the one who recommended I get myself some, and it was the best thing he could have told me to do, so now I pass that information on to you!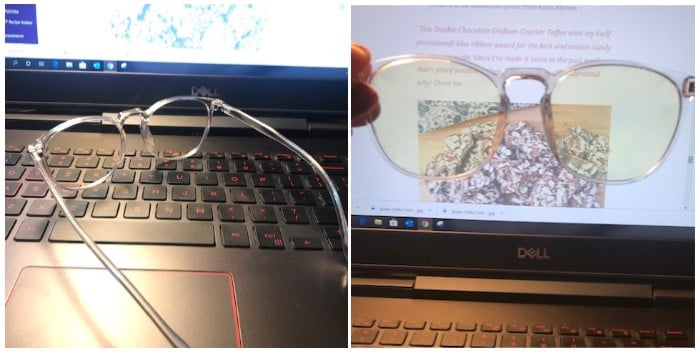 Below is the printable recipe card along with the nutritional information for today's Keto-Friendly Macadamia Nut Chicken Thighs.
Printable Recipe Card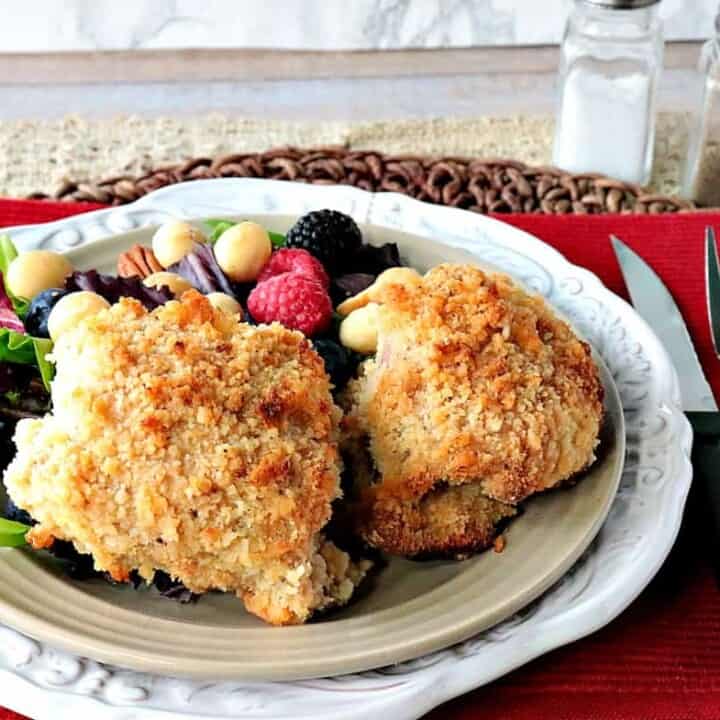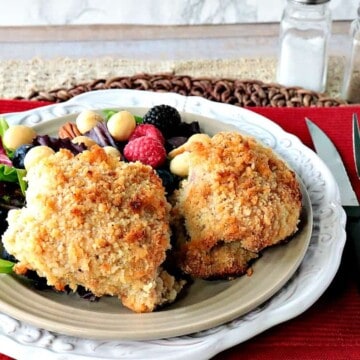 Buttery Macadamia Nut Chicken Thighs
Macadamia Nut Chicken Thighs are tender, meaty, and buttery rich in flavor. These will soon become a family favorite with their light crunch, and mildly tropical flavor.
Ingredients
12

chicken thighs,

boneless, skinless

3

large

eggs

¼

cup

almond milk,

unsweetened

2

cups

macadamia nuts

1

cup

coconut flour,

or all-purpose flour

1½

teaspoons

kosher salt

½

teaspoon

black pepper

4

tablespoons

butter,

melted
Instructions
Add the macadamia nuts and flour to a food processor and process until the mixture resembles coarse crumbs.

Place the nut mixture in a shallow pan and season with 1 teaspoon of salt and ½ teaspoon of black pepper. Set aside.

In a second shallow dish, whisk together the eggs, almond milk, ½ teaspoon salt, and ¼ teaspoon black pepper.

Add the chicken thighs, 2 or 3 at a time, to the egg mixture, flipping to coat both sides.

Add the egg-coated thighs to the macadamia nut mixture and press the crumbs onto each side of the chicken.

Place the chicken in a baking dish that has been sprayed with baking spray.

Sprinkle any remaining nuts evenly over the chicken in the pan.

Drizzle the macadamia coated chicken with melted butter and bake in a preheated 375-degree oven for 25-30 minutes, or until the chicken juices run clear when pierced, or when the internal temperature reaches 165 degrees.
Notes
Tools and equipment:
food processor, 9 x 13 baking dish, cooking spray, 2 shallow dishes, fork, tongs, measuring cups, measuring spoons
Nutrition
Serving:
1
serving
Calories:
778
kcal
Carbohydrates:
17
g
Protein:
53
g
Fat:
56
g
Saturated Fat:
16
g
Cholesterol:
327
mg
Sodium:
942
mg
Potassium:
752
mg
Fiber:
10
g
Sugar:
3
g
Vitamin A:
425
IU
Vitamin C:
0.6
mg
Calcium:
87
mg
Iron:
4.4
mg
I hope you've enjoyed this easy dinner recipe for Macadamia Nut Chicken Thighs as much as I've enjoyed bringing it to you!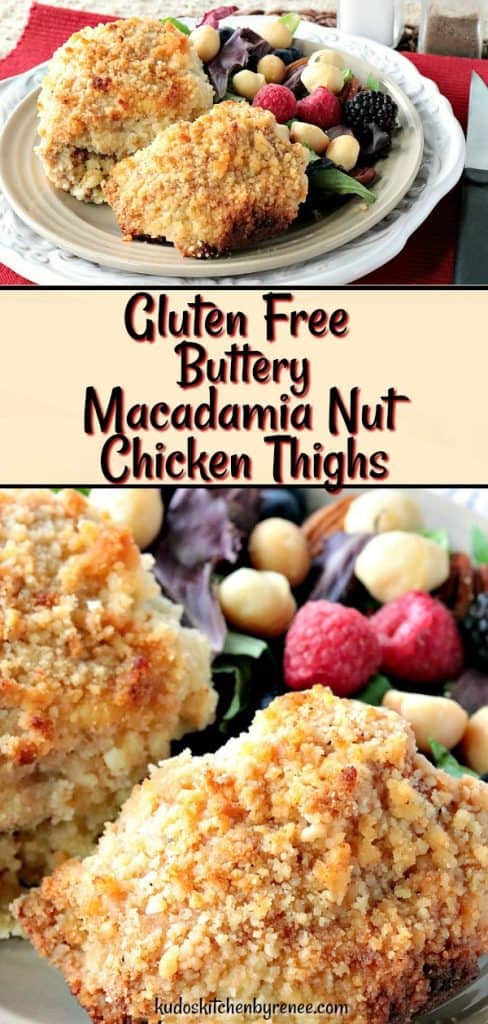 This post may contain affiliate links which won't change your price but will share some commission.
As an Amazon Associate, I earn from qualifying purchases. When I find a great product or service I like to share it with my readers. For additional information please view my privacy policy.