Crunchy Breaded Baked Italian Chicken Legs are juicy and flavorful. Pack them in your summertime picnic basket and everyone will be happy!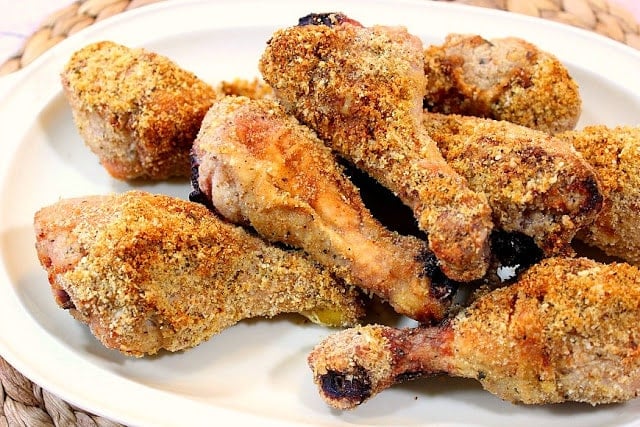 This is my updated riff on the old favorite of Shake 'n Bake chicken from when I was growing up.
The ingredients are put into a bag, the chicken is added, and then it's time to shake...and bake. What could be easier?
Jump to:
The ingredient list:
Chicken Legs (about 4 pounds)

Salt and Pepper
This recipe for Baked Italian Chicken Legs actually has nothing at all to do with the flavors of Shake 'n Bake (which were far too salty for my taste). It's only the preparation method that is the same.
A picture is worth a thousand words...maybe!
I'll be honest with you, sometimes trying to take mouthwatering "beauty shots" of the food I make for the blog is harder for me than the making of the food itself.
Some foods just don't want to cooperate with the camera, and these Breaded Baked Italian Chicken Legs are one of those non-cooperative foods.
Having said that, I realize that what's more important than how pretty the pictures are is how the food actually tastes, and how easy the recipe is to follow.
These Breaded Italian Chicken Legs are so moist and tasty, and the recipe is so easy to follow.
The fact that the pictures aren't exactly mouthwatering isn't bothering me all that much. Well, maybe just a tiny bit...but I'll get over it because this chicken is just so darned finger-licking good!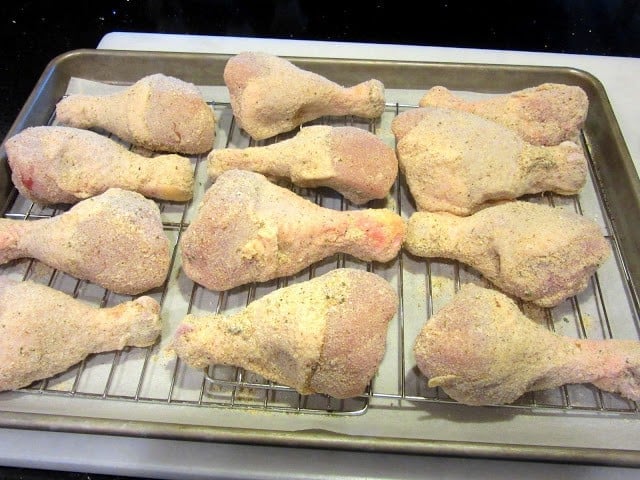 What is the proper internal temperature for cooked chicken legs?
The proper way to check the internal temperature of cooked chicken legs is with a meat thermometer inserted into the thickest part of the meaty leg, but without touching the bone.
The temperature should read 165-degrees Fahrenheit on an instant-read thermometer.
If the chicken doesn't read 165-degrees Fahrenheit (or 75-degrees Celsius), return the chicken to the oven until it reaches the proper temperature.
Is there a way to check the doneness of a chicken leg without a meat thermometer?
While a meat thermometer is always the best bet, another way of checking if the chicken is completely cooked is to pierce a chicken leg (to the bone) with a paring knife or skewer, and if the juices run clear without any pink colorations, the chicken is done.
However, IF the juices still show signs of pink return the legs back to the oven until it is completely cooked and can pass the "clear juices" test.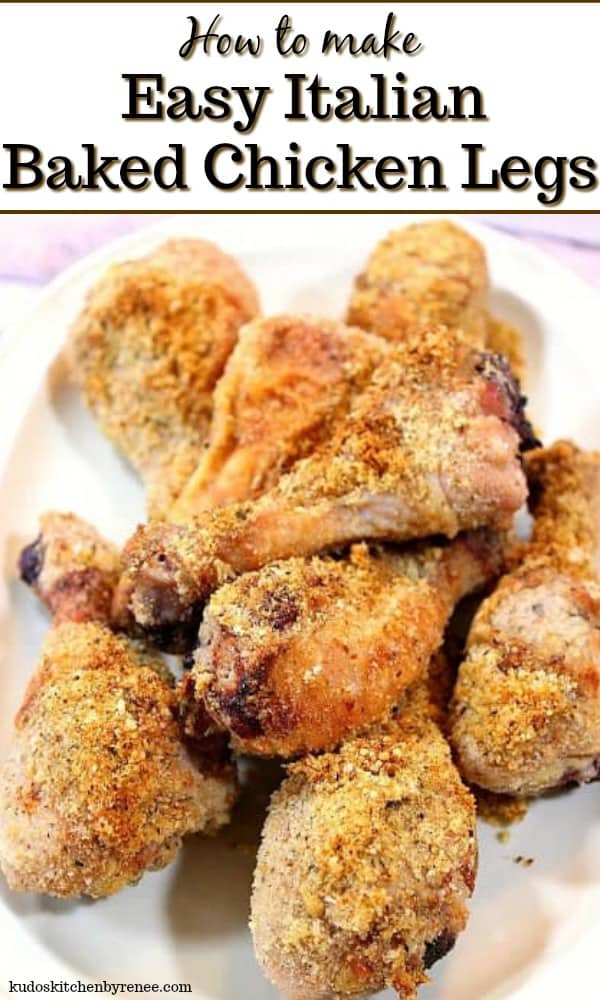 The easy instructions for making baked Italian chicken legs:
Add all of the ingredients (except for the chicken legs and olive oil spray) into a large zip-top bag.

Shake well to combine.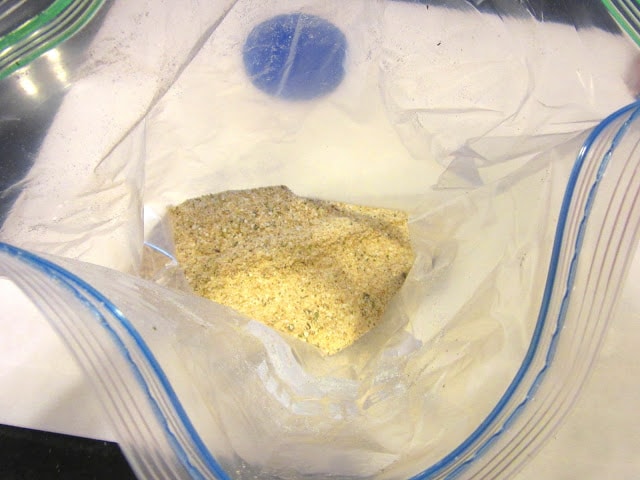 Gently rinse the chicken legs under slowly running water (to avoid splashing) and add them to the zip-top bag with the dry ingredients.

Close the bag and shake the legs gently to coat all sides.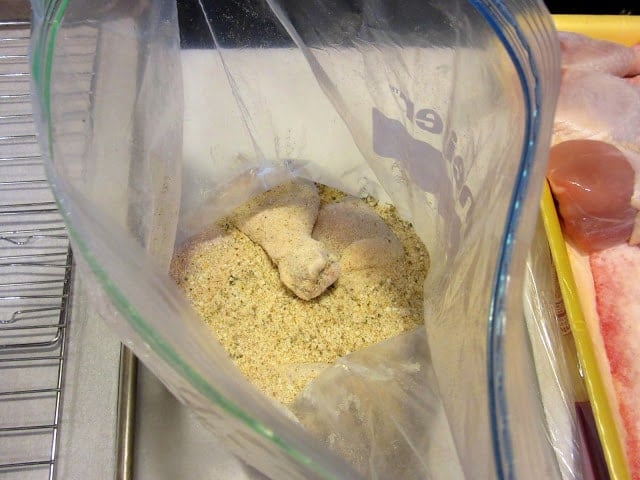 Remove the coated legs to a baking sheet lined with a rack (for better heat circulation and to crisp the legs on all sides).
Lightly spray each coated leg with a touch of olive oil spray.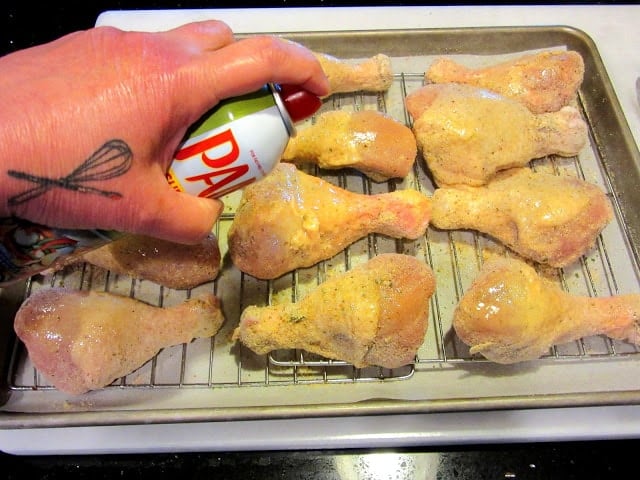 Bake the drumsticks in a preheated 350-degree oven for 45 minutes or until the juices run clear.

Remove the legs from the oven and cool completely and refrigerate, OR serve the legs hot or at room temperature. *Caution - Do NOT allow the legs to sit for more than 1½ - 2 hours at room temperature. If it's extremely hot outside, make sure the chicken won't sit out for longer than 45 minutes before being consumed.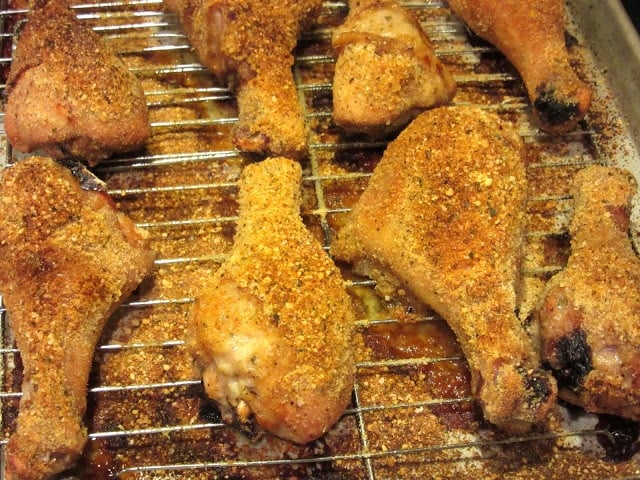 Make it a full meal:
Crunchy, healthy, and completely addictive. This Sunflower Crunch Kale and Cabbage Salad has it ALL going on!! Dig in! You're going to love this colorful salad!
Crowd-Pleasing Dijon Potato Salad will be the first thing to disappear from the picnic table this summer. It's cool, creamy, and refreshing with just the right amount of tang from the Dijon, and the perfect amount of crunch to balance all that creaminess.
They'll think you bought these delicious Puff Pastry Apple Turnovers at the bakery, but you made them at home, and it was quick and easy! TA-DA!!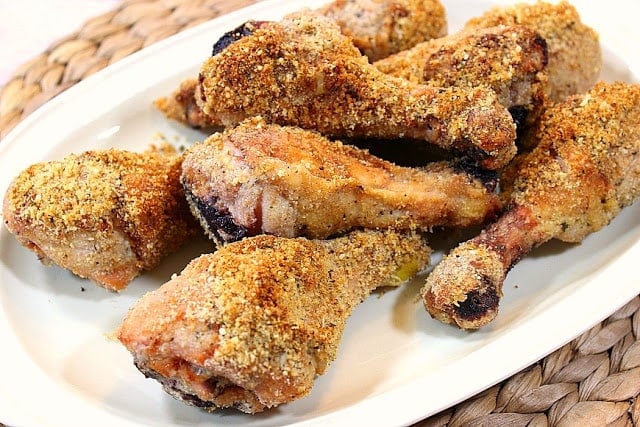 When you make this recipe, and I hope you do, I'd appreciate it if you'd take a moment to leave a star rating on the recipe card and briefly comment on why you rated it as you did. FYI - Google appreciates recipe ratings and, in turn, will share my recipes with more people. Thank you so much!!
Printable Recipe Card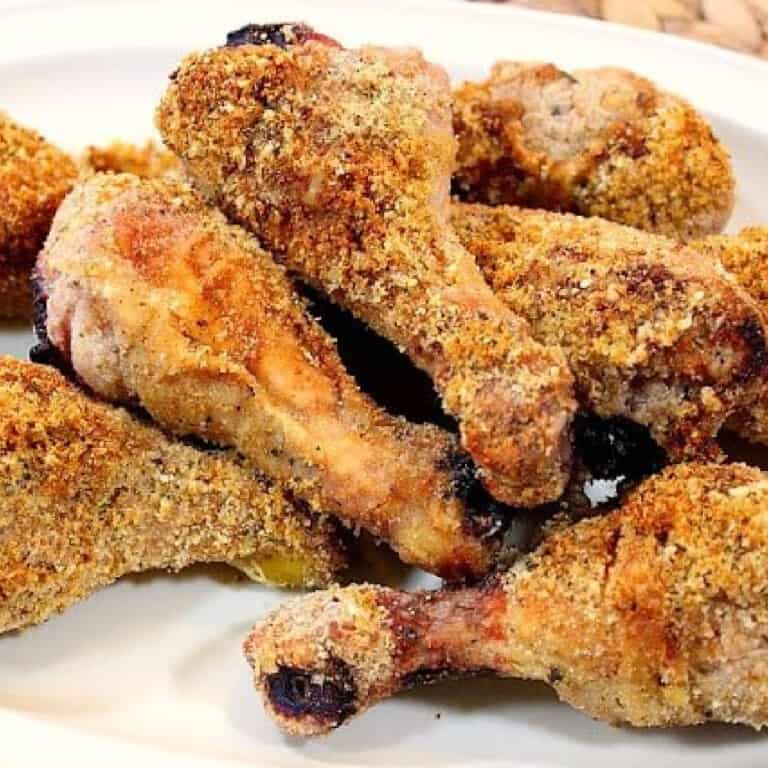 Breaded Baked Italian Chicken Legs
Breaded Baked Italian Chicken Legs are crispy and moist. They're the perfect picnic food because they can be served hot or cold and everyone loves them!
Ingredients
1

cup

seasoned breadcrumbs

1

cup

grated Parmesan cheese

1½

teaspoons

coarse salt

½

teaspoon

black pepper

1

teaspoon

dried basil

1

teaspoon

dried oregano

1½

teaspoons

garlic powder

12

chicken legs

skin on

olive oil spray
Instructions
Preheat oven to 350-degrees Fahrenheit (175 degrees Celsius)

Place the first 7 ingredients into a gallon sized zip-top bag and shake well to combine.

Rinse the chicken legs under slowly running water (to avoid splashing) and add them (3 or 4 legs at a time) to the bag with the breadcrumb mixture. Shake well to coat the chicken legs on all sides.

Remove the coated legs from the bag and place the chicken legs on to baking sheet fitted with a rack.

Continue the same process with the remaining legs and breadcrumb mixture.

Spray each leg with a light coating of olive oil spray.

Place the chicken legs into the preheated oven and bake for 45-50 minutes, or until the juices run clear. *Note - you can test this by piercing a leg with a knife or skewer into the thickest part of the leg.
Video
Notes
Once cooked through you can serve the legs hot or allow them to cool slightly and serve them warm. If you're planning on serving them cold, cool them completely before wrapping them well and refrigerating until ready to eat.
Never allow the chicken to sit at room temperature for more than 1½ - 2 hours.
If serving the chicken on a very hot day, don't allow the chicken to sit for more than 45 - 60 minutes before consuming, and then refrigerate any leftovers immediately.
Wrapped well, this chicken will last in the fridge for up to 5 days.
Nutrition
Serving:
1
serving
Calories:
78
kcal
Carbohydrates:
7
g
Protein:
4
g
Fat:
3
g
Saturated Fat:
1
g
Cholesterol:
8
mg
Sodium:
552
mg
I sincerely hope you've enjoyed today's easy chicken recipe for Baked Italian Chicken Legs as much as I've enjoyed bringing it to you!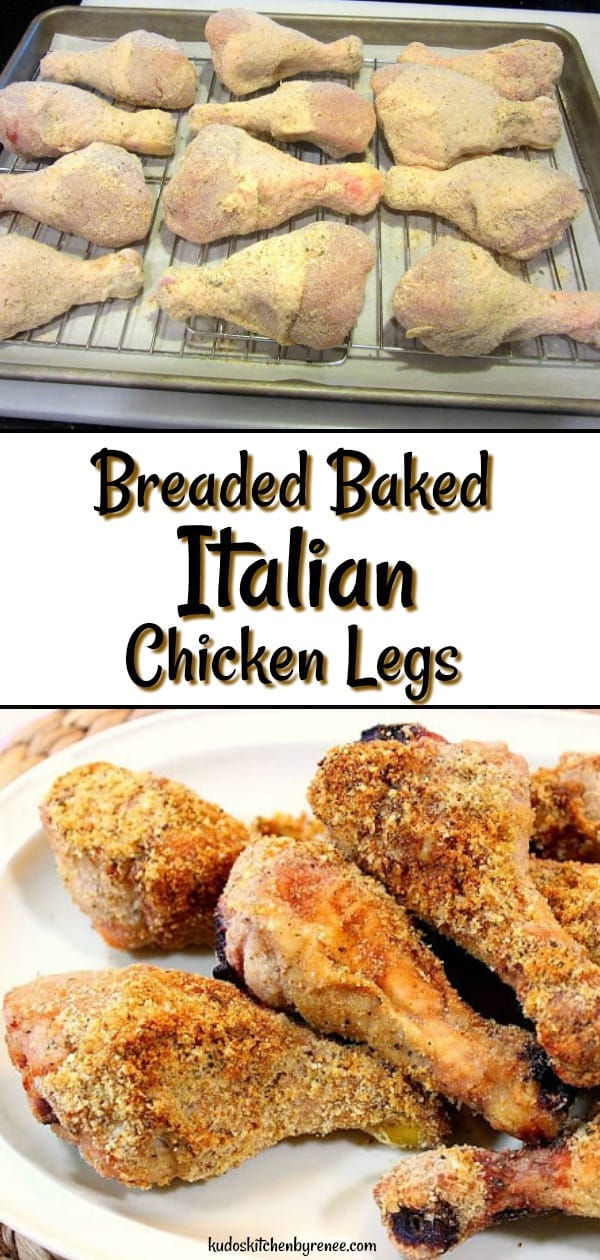 Follow me across my social media platforms and join in on the conversation: FACEBOOK, INSTAGRAM, PINTEREST, TIKTOK, AND YOUTUBE.
Thank you so much for visiting me today in my Kudos Kitchen. I hope you found something you'll love and that you'll come back and visit me often. There is always room for you around my table!
Should you have any questions or comments regarding anything you've seen here on my blog, please don't hesitate to reach out to me. It is always my distinct pleasure to respond to you just as soon as I possibly can.
Until we eat again, I hope you have a delicious day!!