This Homemade Almond Joy Candy is better than the original because of more nuts and more chocolate! JOY never tasted so good!!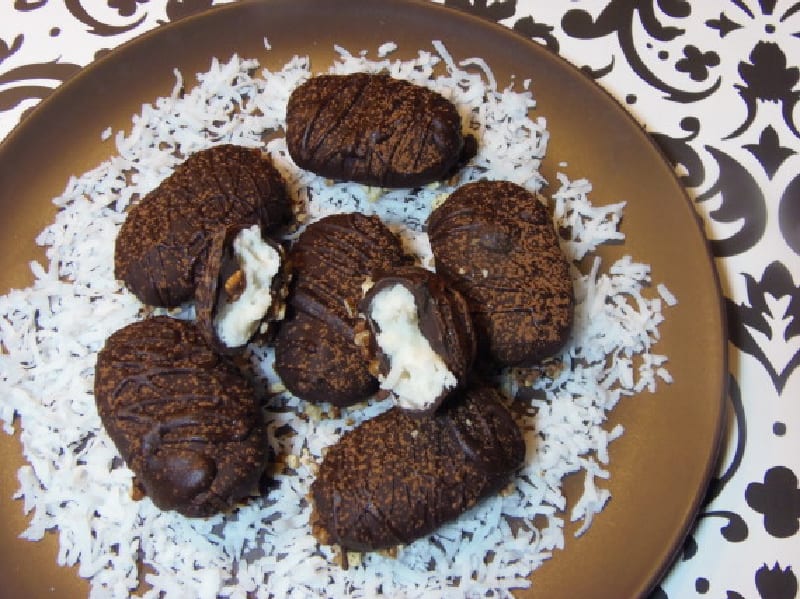 *Disclaimer: this post may contain affiliate links where I can earn commissions from qualifying purchases made through links in this post.
Want to learn how to make your own, better than the original, homemade almond joy candy bars? Stick close, this recipe will become one of your favorites!
**Please Note – The printable recipe card with detailed instructions, complete ingredient measurements, and nutritional information for making Homemade Almond Joy Candy is available at the end of this post. OR you can hit the "jump to recipe" button (found above) to be taken directly to the recipe.
*Disclaimer – This recipe was originally published in 2013. I'm working hard to update all my older recipes with recipe cards, new photos, and additional recipe information. But, getting to all of them will take time. Please bear with me.
In the meantime let me assure you that this recipe is still a winner, and one I'm sure you'll be well pleased with when you make it at home.
CLICK ON THIS BOX TO LIKE AND SUBSCRIBE TO MY KUDOS KITCHEN YOUTUBE CHANNEL. SEE YOU THERE! 🙂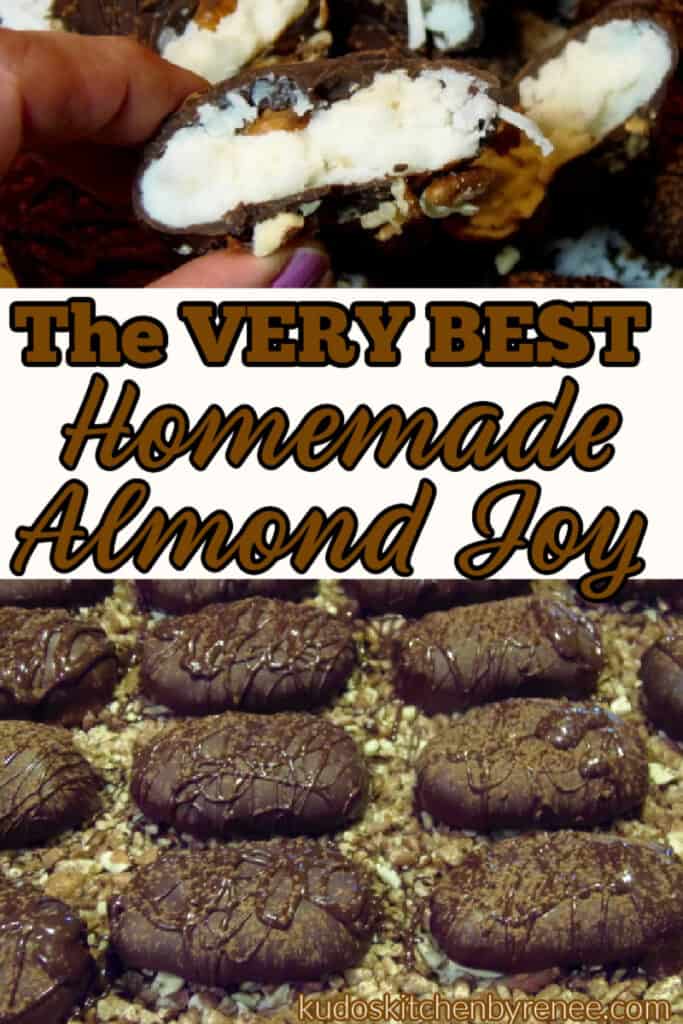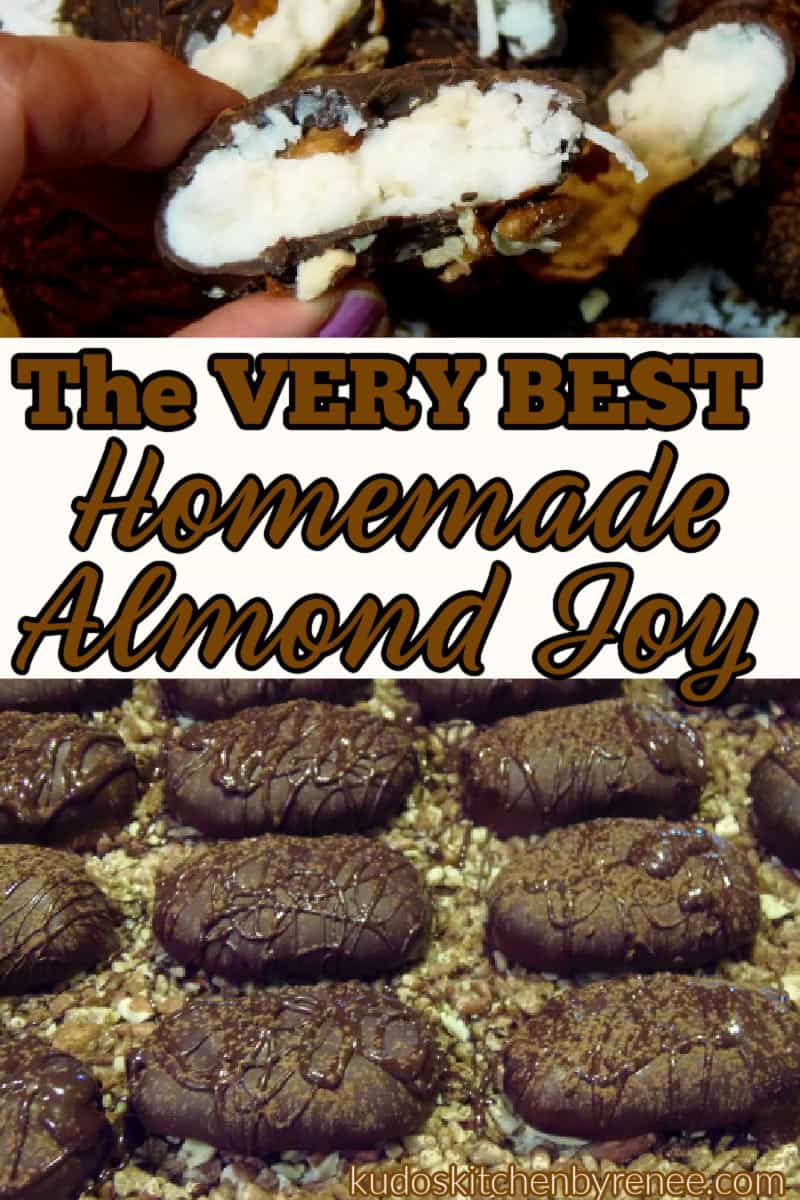 The ingredient list:
**Note – The following lists of ingredients plus kitchen tools and equipment contain affiliate links (highlighted in blue) for your consideration and shopping convenience. #CommissionsEarned
Kitchen tools and equipment needed:
Shop for the best nut and gift items:
Oh Nuts Candy Nuts Chocolate & Gifts
Why this recipe for homemade almond joy candy is better than the original:
The inside of these homemade coconut nut candy bars are creamy and coco-nutty with the undeniable taste of an Almond Joy bar.
Then they are enrobed in a coating of deep dark chocolate, sinful and yet full of antioxidants.
Then, I gilded the lily (who me?) by giving them yet another layer of chopped nuts by sitting them on top of a layer of chopped toasted nuts for a fabulously crunchy bottom!
If you're a nut for a nut (or know someone who is), then this chocolate and coconut almond candy is for you!!
How to store copycat almond joy candy:
Store the candy at room temperature in an air-tight container for freshness.
They should last for up to 2 weeks, but they won't. LOL
The instructions for making homemade chocolate coconut candy:
Place the coconut and whole almonds in an even layer on a baking sheet, and toast them lightly in a 350-degree oven for 5-7 minutes, stirring occasionally.
Meanwhile, sift confectioners sugar into a large bowl, and add the heavy cream.
Add the toasted coconut to the bowl along with the vanilla extract. Stir well to combine.
Reserve 40 of the toasted whole almonds, and set the rest aside.
Shape the coconut mixture into 2″ logs (roll them first into balls, using approximately 1 tablespoon of the mixture, and then shape them into logs).
Top each log with 2 whole almonds each, making sure to press each almond gently yet firmly into the coconut mixture.
Place the logs into the freezer for at least 30 minutes to harden.
Meanwhile, chop the remaining toasted almonds.
Add the chopped pecans and chopped almonds to a dry skillet and toast for 1 – 2 minutes over medium heat, watching them carefully so they don't burn.
Pour the toasted nuts in an even layer onto a parchment-lined baking sheet. Set aside.
Remove the almond joy candy from the freezer and dip them each into melted semi-sweet chocolate to coat.
Once each almond joy candy bar is coated with melted chocolate, place each one onto the layer of toasted nuts, and drizzle the candy lightly with any remaining melted chocolate.
Once the chocolate has fully dried, sprinkle a light dusting of cocoa powder over each candy, if desired.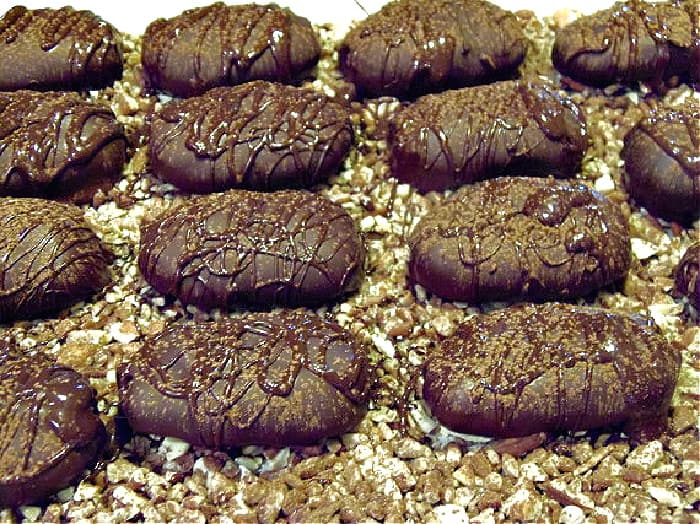 Additional homemade candy recipes:
*Copycat Payday Candy Bars (pictured below)
If you're a fan of Payday candy bars then you'll go NUTS for this fast and easy Copycat Payday Candy Bars recipe. After all, who doesn't love payday?!!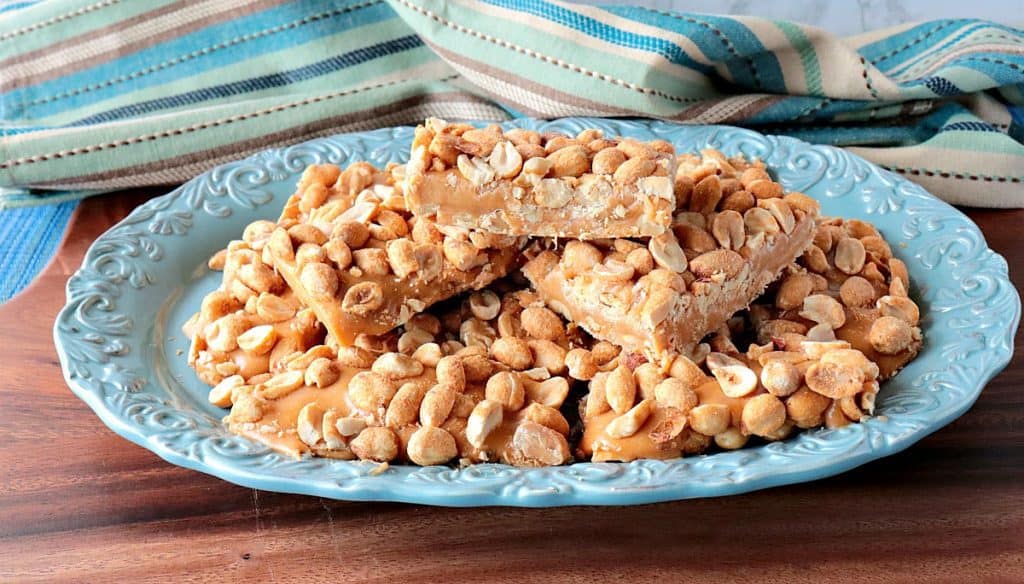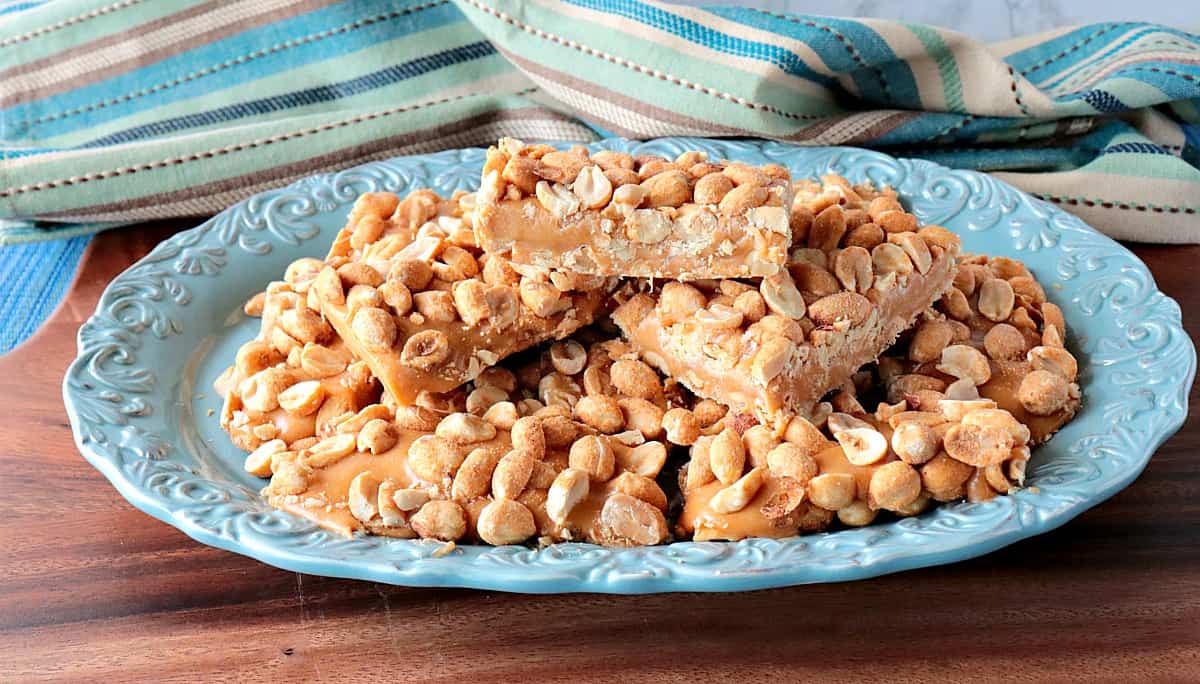 *Coconut Pecan Praline Candy (pictured below)
You can either thank me for this recipe of coconut pecan praline candy or curse me out! They're so good and so addicting you may eat them all by yourself! Sorry. Not sorry!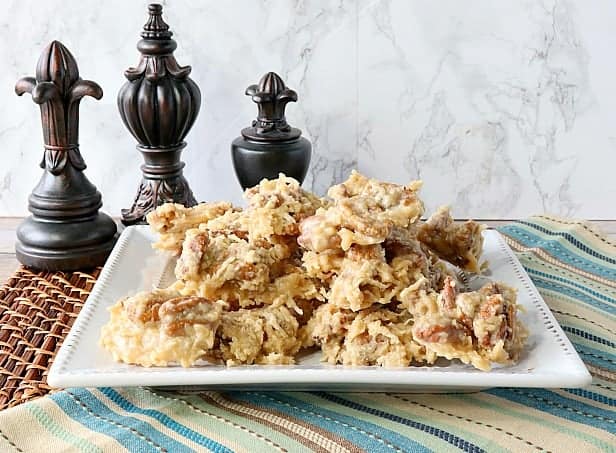 *Peanut Butter and Chocolate Granola Jumbles (pictured below)
This fast and easy recipe for Peanut Butter & Chocolate Granola Jumbles will satisfy your sweet tooth and give you a boost of energy which will last you all through the afternoon.
*Homemade Candy Recipe Roundup (not shown)
*Homemade Almond Joy Candy (pictured below) THIS IS THE PLACE!!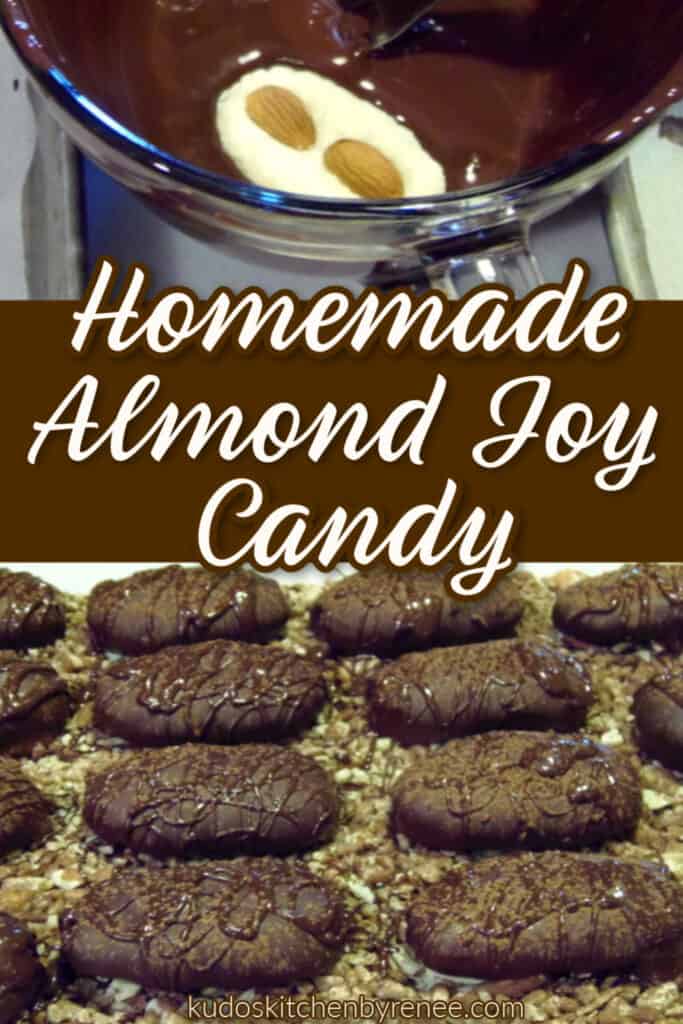 Below is the printable recipe card along with the exact ingredient measurements and nutritional information for making today's delicious sweet tooth recipe for Homemade Almond Joy Candy.
If you've made this recipe, or are excited to make this recipe, I'd appreciate it if you'd take a moment to leave it a star rating in the recipe card, along with a comment if you're so inclined. I thank you most sincerely! 🙂
Yield: 20
Homemade Almond Joy Candy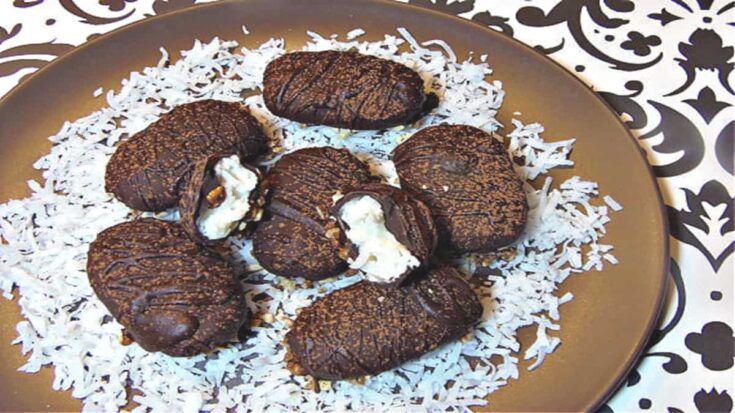 Additional Time
15 minutes
Ingredients
1 1/2 cups whole almonds
2 cups sweetened shredded coconut
2 cups confectioners sugar, sifted
5-6 tablespoons heavy cream
1/2 teaspoon salt
1 teaspoon pure vanilla extract
4 cups semi-sweet chocolate chips
2 tablespoons cocoa powder (optional)
2 cups chopped pecans
Instructions
Preheat your oven to 350-degrees.
Prepare a baking sheet by covering with aluminum foil or a parchment paper.
Spread the whole almonds on half the baking sheet and the shredded coconut on the other half.
Toast the nuts and coconut in the oven for 10-12 minutes (stirring occasionally), until lightly toasted, and watching carefully so they don't burn.
Remove and cool.
Reserve 20 whole almonds and set aside.
Chop the remaining almonds into small pieces. Set aside.
In a medium-size bowl using a wooden spoon, stir the sifted powdered sugar, and the heavy cream together to form a thick paste. *Note - Start with 5 tablespoons, and if needed, add the 6th tablespoon of heavy cream.
Stir in the toasted coconut, vanilla extract, and salt to combine thoroughly.
Line another baking sheet with parchment paper.
Shape the coconut mixture into 2" logs (roll them first into balls, using approximately 1 tablespoon of the coconut mixture, and then shape them into logs).
Top each log with 2 whole almonds each, making sure to press each almond gently yet firmly onto the coconut logs.
Place the logs into the freezer for at least 15 minutes (longer is fine too), to harden.
In a dry skillet, over medium heat, toast the chopped toasted almonds and pecans. Stirring frequently. **Keep an eye on these as they can burn easily**. Once you can start to smell them, they're done.
Place the toasted nuts in a single even layer on a parchment-lined baking sheet.
In a medium-size microwave-safe bowl, add the semi-sweet chocolate chips and microwave at 40-50% power at 30-second intervals, stirring between each interval. **NOTE - make sure that no water gets into the chocolate mixture at this point as it will seize and harden the chocolate, making it completely unusable. Stir and continue microwaving, at low temperature, until all the chocolate is completely melted and loose.
Remove the coconut candy from the freezer and using a few forks (or BBQ fork), drop the coconut candy in the melted chocolate, turning to completely cover.
Allow the excess chocolate to drip off and lay the chocolate coated candy bars on top the chopped nuts on the baking sheet.
Allow the candy to dry completely.
Use the remaining melted chocolate and a fork to drizzle chocolate over the candy and then sprinkle with a light dusting of the cocoa powder (if desired).
Recommended Products
As an Amazon Associate and member of other affiliate programs, I earn from qualifying purchases.
Nutrition Information
Yield
20
Serving Size
1 piece
Amount Per Serving
Calories

404
Total Fat

28g
Saturated Fat

11g
Trans Fat

0g
Unsaturated Fat

16g
Cholesterol

5mg
Sodium

134mg
Carbohydrates

42g
Fiber

5g
Sugar

34g
Protein

5g
The nutritional information and calorie count provided is intended as a guideline only and has been provided by third-party software.
Thank you so much for visiting me here today in my Kudos Kitchen!
I sincerely hope you've enjoyed today's homemade chocolate and coconut candy recipe as much as I've enjoyed bringing it to you!!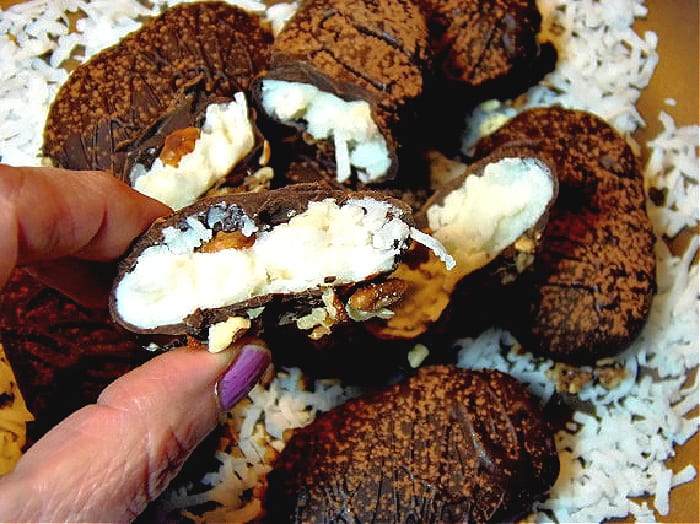 Should you have any questions or comments regarding this recipe or anything else you've seen on my site, please don't hesitate to reach out to me. It is always my distinct pleasure to get back with a reply just as soon as I possibly can!
For more Kudos Kitchen recipe information, please follow me on my social medial channels (listed below), and don't forget to TAG me @kudoskitchen with photos so I can view all your delicious recipe creations! It's exciting for me when you share them, so don't be shy!
Instagram, Pinterest, Facebook, and YouTube
Kudos Kitchen by Renee – BRINGING YOU EASY, ECONOMICAL, AND DELICIOUS DISHES TO FEED YOUR LOVED ONES!
Until we eat again, I hope you have a delicious day!
**Note – The post above includes affiliate links. As always, I truly thank you for your support!
When I find a great product or service I like to share it with my readers. For additional information please view my privacy policy.