All the delicious nutty flavor you love from a gooey pecan pie, only in bar form… and with chocolate. What's not to love? These Heavenly Chocolate Pecan Pie Bars from Joan, are everything!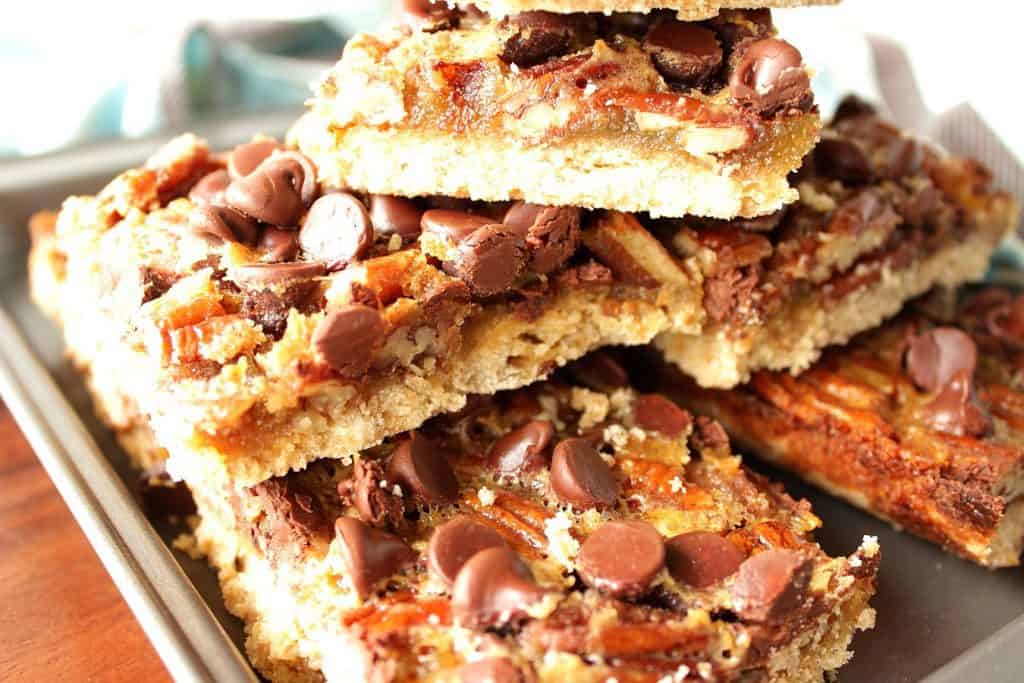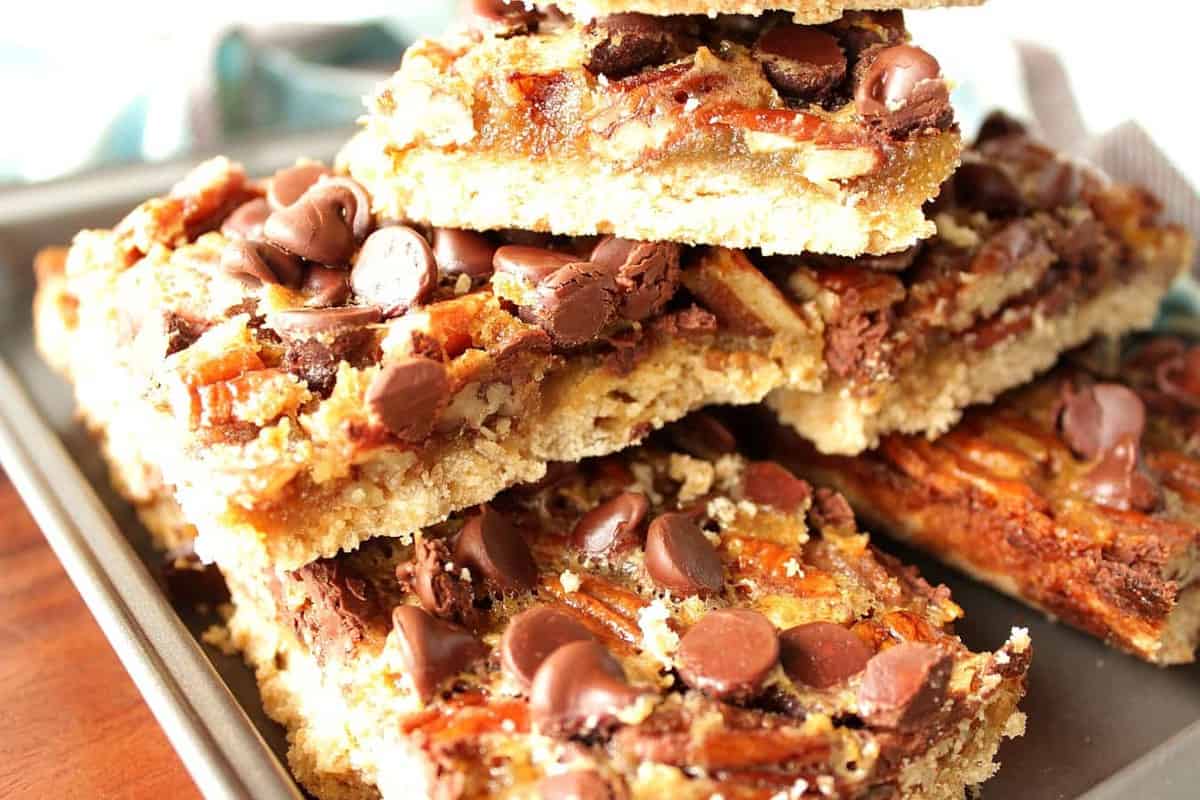 The recipe I'm sharing today for Chocolate Pecan Pies Bars is from fellow food blogger friend, Joan of Chocolate, Chocolate and More, who sadly died unexpectedly only a few short months ago. To say that the food blogging world was knocked off its axis into a world of shock and disbelief, is an understatement.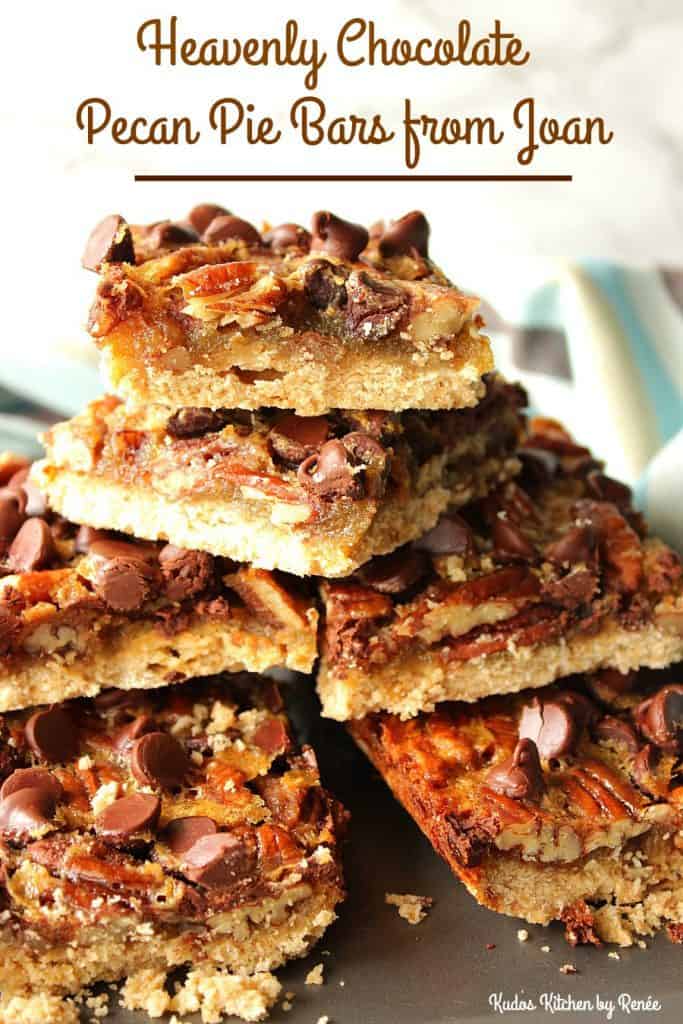 Today, September 24th, the day I'm posting this recipe for Joan's Chocolate Pecan Pie Bars would have been her birthday. Unfortunately, I didn't get a chance to know Joan very well, but what I do know, I respect. Joan was a very kind and giving woman, and mom, who was taken from this world, and her family, far too soon.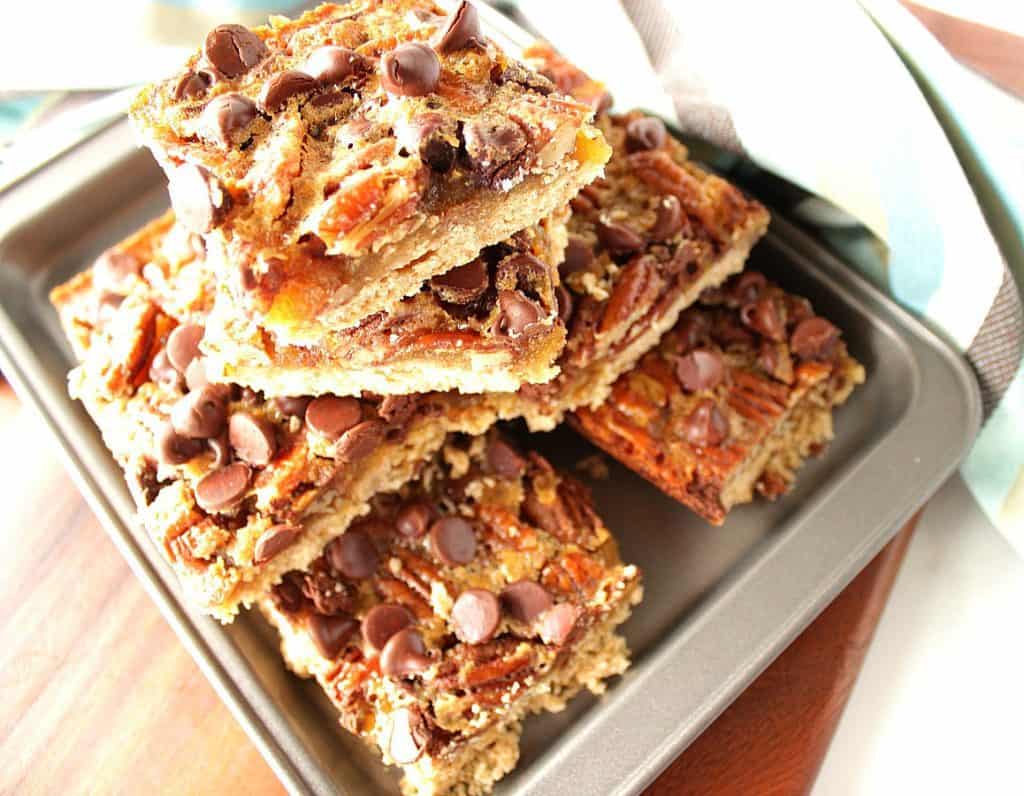 Joan's blog Chocolate, Chocolate, and More is a site that had (and still has) a huge number of readers and followers thanks to Joan's many close blogger friends who keep her blog, and her memory, alive. It's a true testament to Joan's character and a statement from her friends that they will do whatever they can to honor her memory, and help to raise money through Joan's livelihood (her blog) to help care for Joan's children.
If you've never been to Joan's blog, I urge you to go, look around, and make it one of your favorites. I trust it will be a place where you'll find hundreds of mouthwatering, and easy to recreate recipes, and where you'll get a feel for who Joan was, and why she was so special to so many.

I have some easy step-by-step photos for you that will help you make Joan's Chocolate Pecan Pie Bars. Ready to bake? Let's GO!
In a large bowl, mix together all-purpose flour and brown sugar with your hands to combine. Cube one stick of cold butter.
Add the butter pieces to the flour and sugar mixture. Use your fingers to squeeze the butter through the dry mixture until coarse crumbs form.

Add the crumb mixture into a 9″ x 13″ baking dish that has been sprayed with baking spray. Press the crumbs evenly into the bottom of the dish. Bake the crust in a preheated 350 degree oven for 10 minutes. Remove the crust from the oven and set aside. While the crust bakes, add eggs, granulated sugar, light corn syrup salt, pure vanilla extract to a medium bowl.

Whisk the ingredients together, and then add melted butter that has been cooled to the bowl. Whisk to combine. Stir pecan halves into the sugar and egg mixture and pour the pecan mixure over the prepared, partially baked crust.

Tilt the pan back and forth to evenly distribute the sugar and egg mixture over the entire surface of the crust and rearrange the pecans so they evenly cover the crust. Sprinkle with chocolate chips and cover the dish with foil and bake the bars in a preheated oven for 15 minutes. Remove the foil from the pan and continue baking the bars for an additional 25-30 minutes. Cool, cut into bars and serve.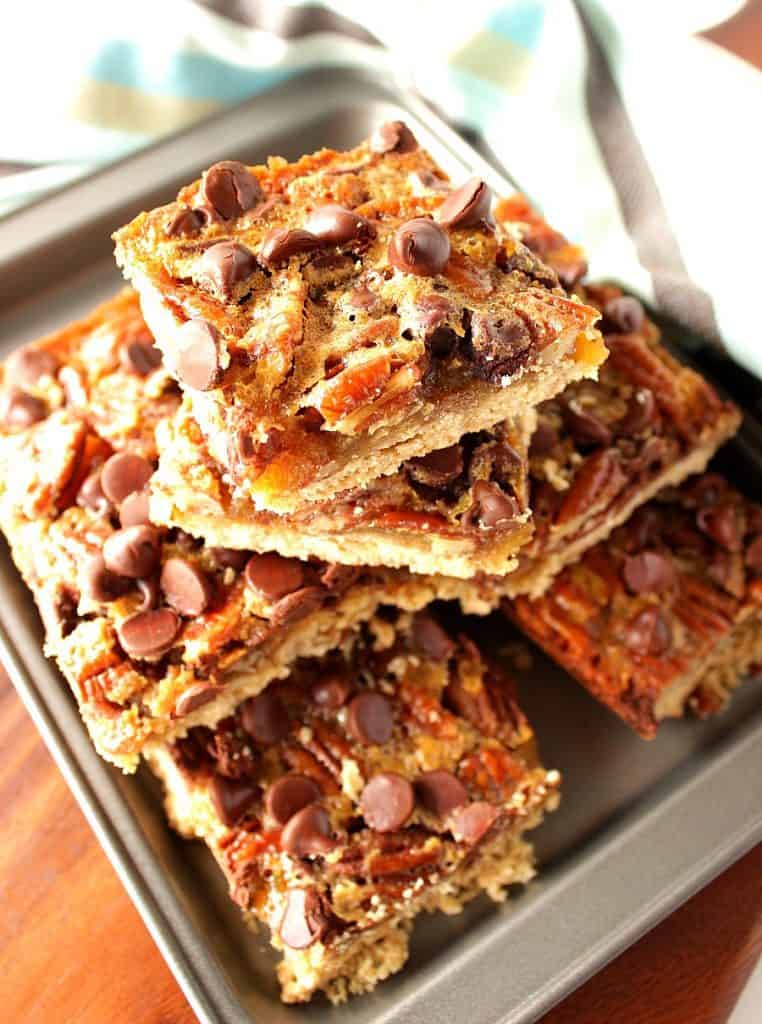 The following Amazon.com items are some suggested products I've chosen that will aid you in the making (and serving enjoyment) of these Chocolate Pecan Pie Bars, if needed. By clicking on the photos, you'll be taken directly to Amazon.com website if you're interested in purchasing any of these products. You are in no way required to do so, and you will not be charged in any way unless you decide to purchase a product.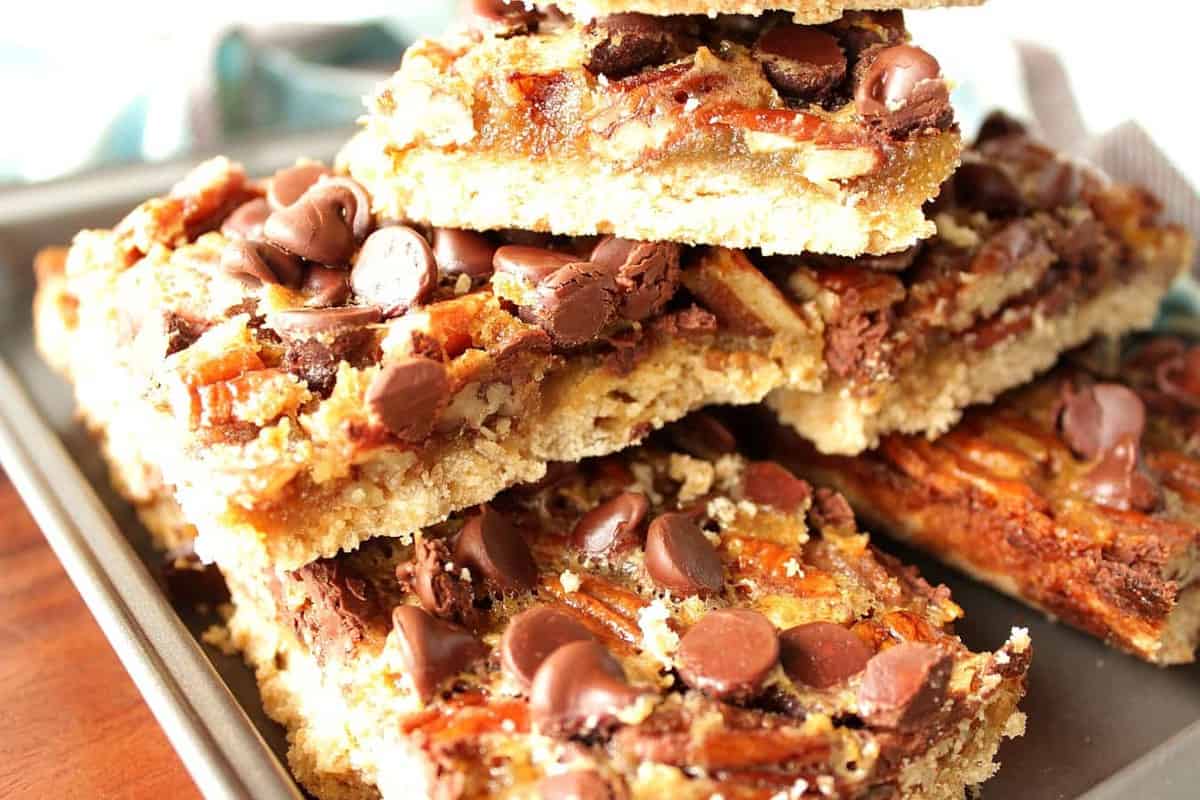 Heavenly Chocolate Pecan Pie Bars
Ingredients
For the crust:

2

cups

all-purpose flour

¼

cup

packed brown sugar

½

cup

1 stick cold butter, cut into small cubes

For the filling:

2

eggs

½

cup

granulated sugar

½

cup

light corn syrup

¼

teaspoon

salt

1

teaspoon

pure vanilla extract

2

tablespoons

melted butter

cooled

1½

cup

pecan halves

1½

cup

semi-sweet chocolate chips
Instructions
Preheat oven to 350 degrees.

Spray a 9x13 baking dish with baking spray. Set aside.

To make the crust:

Stir together the flour and brown sugar in a medium bowl.

Add the cubed butter.

Mix and squeeze the butter with the flour and sugar mixture until coarse crumbs form.

Press the coarse crumbs evenly into the bottom of the prepared baking dish.

Bake the crust for 10 minutes. Remove and cool.

To make the filling:

While the crust is baking whisk the eggs, granulated sugar, corn syrup, salt, and vanilla extract until thoroughly combined.

Whisk the cooled melted butter into the egg and sugar mixture, and stir in the pecans.

Pour the filling mixture over the crust mixture and tilt the pan back and forth to evenly distribute the filling liquid evenly over the entire crust.

Manually distribute the pecans evenly over the entire crust and then sprinkle the chocolate chips over top.

Cover the dish with tin foil and bake for 15 minutes.

Remove the dish from the oven, uncover, and return the dish to the oven to continue baking for an additional 30 minutes.

Remove from the oven, cool completely and cut the into bars for serving.
Nutrition
Serving:
0
Calories:
0
kcal
Carbohydrates:
0
g
Protein:
0
g
Fat:
0
g
Saturated Fat:
0
g
Polyunsaturated Fat:
0
g
Monounsaturated Fat:
0
g
Trans Fat:
0
g
Cholesterol:
0
mg
Sodium:
0
mg
Potassium:
0
mg
Fiber:
0
g
Sugar:
0
g
Vitamin A:
0
IU
Vitamin C:
0
mg
Calcium:
0
mg
Iron:
0
mg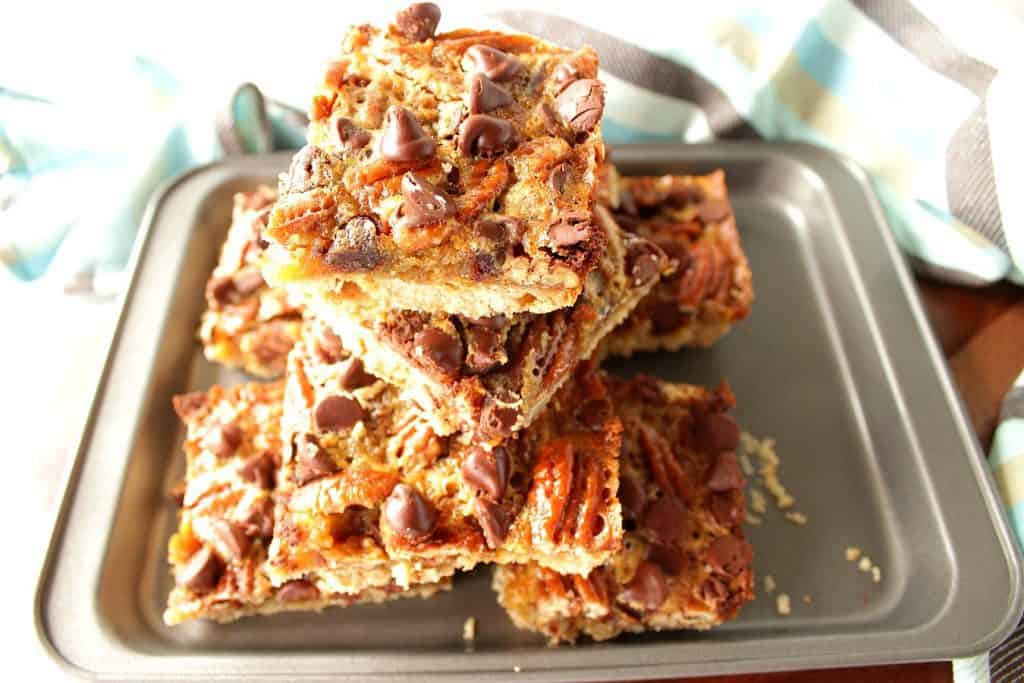 There are several other food bloggers who are coming together in honor of Joan's 50th birthday by baking something yummy from Joan's blog. Here is the complete list of bloggers, blogs and recipes they'll be sharing from Chocolate, Chocolate and More:
Anita from Hungry Couple is making Joan's Ding Dong Cake.
Coleen from The Redhead Baker is making Joan's Chocolate Peanut Butter Chocolate Chip Cookies.
Carrie From Frugal Foodie Mama is making Joan's Chocolate Peanut Butter Cracker Bars.
Lauren from Art and the Kitchen is making Joan's Mocha Fudge Cake.
Mary from Barefeet in the Kitchen is doing a tribute to Joan.
Christi from Love from the Oven is making Joan's Magic Turtle Bars.
Erin from Texanerin Baking is making Joan's Double Chocolate Fudge Tart
Lynne of 365 Days of Baking and More is making Joan's Chocolate Overloaded Brownies.
Carolyn of All Day I Dream About Food is making Joan's Coconut Pecan No-Bake Chocolate Bars.
Swathi from Zesty South Indian Kitchen is making Joan's Chocolate Chip Brownies
Miranda of Cookie Dough and Oven Mitt is making Joan's Chocolate Chip Cookie Dough Cheesecake Bars.
Jenni of Pastry Chef Online is making Joan's Triple Chocolate Cheesecake Bars.
Nancy of The Bitter Side of Sweet is making Joan's Lunch Lady Brownies.
Amanda of A Cookie Named Desire is making Joan's Caramel Apple Cookies.
Brianne of Cupcakes and Kale Chips is making Joan's Chocolate Pumpkin Spice Cake
Hayley of The Domestic Rebel is making Joan's No Bake White Chocolate Velvet Pie
Lauren of Lauren Kelly Nutrition is making Joan's Pumpkin Pie Spiced White Hot Chocolate
That's a whole lot of goodness, don't you think? As we all know, food brings the world together! So let's celebrate delicious food, and, in particular, delicious desserts. Thanks for the recipes, Joan!
It's only fitting that I coordinate her recipe for Chocolate Pecan Pie Bars with these fun and whimsical Chocolate Lovers martini and wine glasses which state around the bowl and base of each glass…"Chocolate is the answer…The question is irrelevant!" True that, and I think Joan would approve!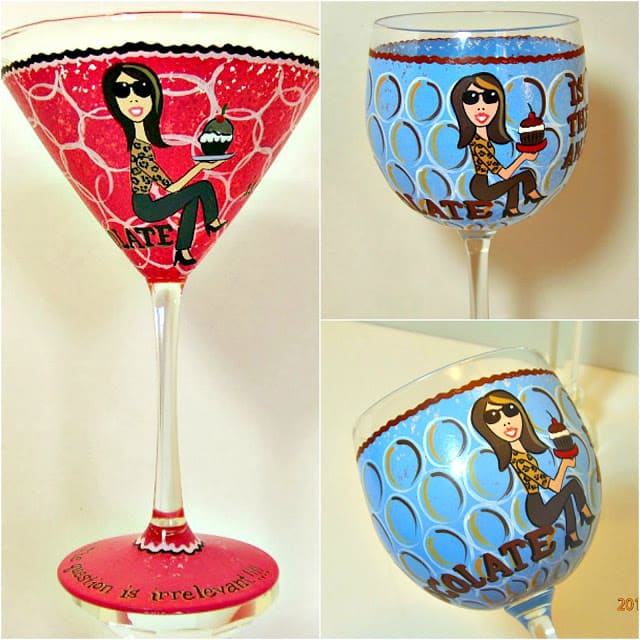 If there is ever anything I can paint for you, from glassware and ceramic tiles, to fabrics (aprons, tea towels and book bags), please don't hesitate to email me: info@kudoskitchenbyrenee.com or visit one of my shops on Etsy and Wazala. Custom special orders are always welcome and I will happily paint and design from any photo, idea or description you send my way.
Kudos Kitchen by Renée ~ Where food, art, and fun collide each and every day!
Until we eat again, I hope you have a delicious day!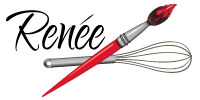 The post above includes affiliate links. When I find a great product or service, I like to share it with my readers. Sometimes I use affiliate links so I can earn commission for my recommendations. As always, I thank you for your support!