With just a few easy steps you can make THE VERY BEST ground short rib burgers you've ever eaten! You have my word on it!!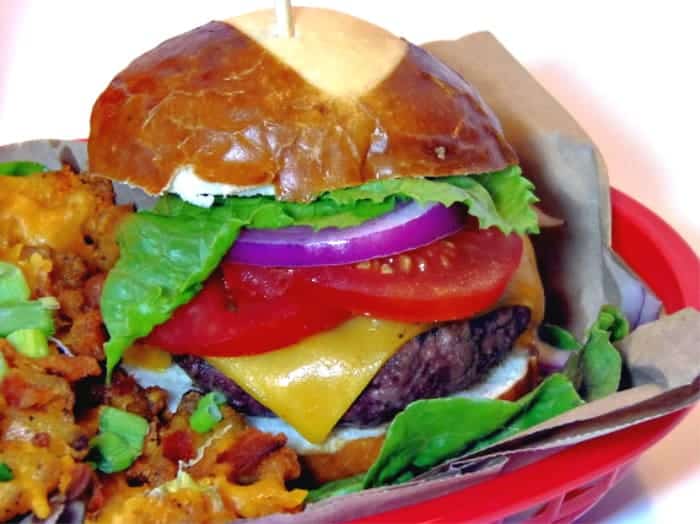 These homemade ground short rib burgers are juicy, super flavorful, and they have a combination of flavors that will knock the socks right off your feet!
Big claim? You bet!
Here's where you'll get the best of Kudos Kitchen side dish recipes shown in the featured video!
**Please Note - The printable recipe card with detailed instructions, complete ingredient measurements, and nutritional information for making ground short rib burgers is available at the end of this post. OR you can hit the "jump to recipe" button (found above) to be taken directly to the recipe.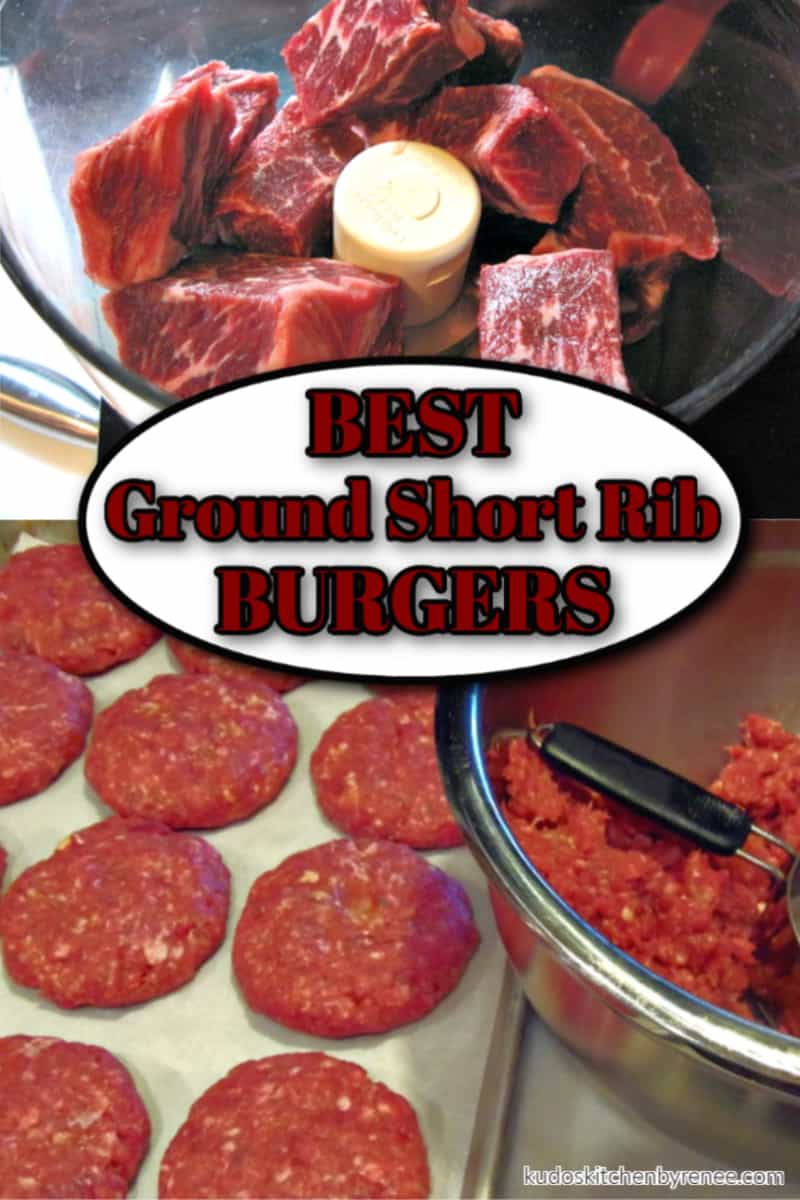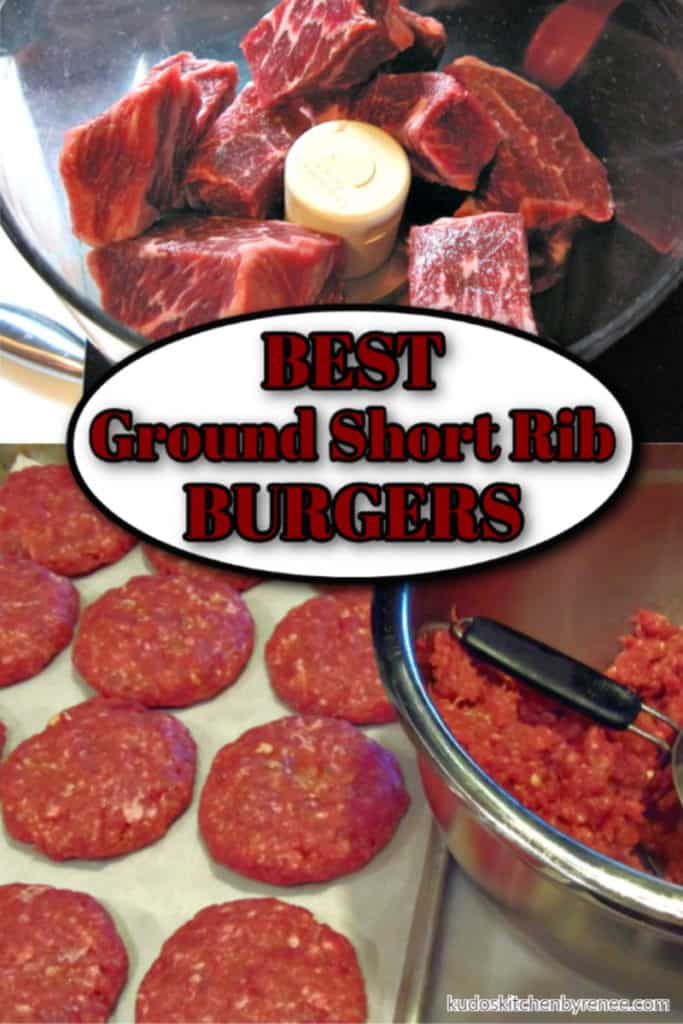 The ingredient list:
**Note - The following lists of ingredients plus kitchen tools and equipment contain affiliate links (highlighted in blue) for your consideration and shopping convenience. #CommissionsEarned
boneless beef short ribs
Italian sausage, (bulk or in casings)
minced garlic (optional)
precooked bacon slices (optional)
cheddar cheese slices (optional)
pretzel buns (or your favorite bun)
tomato (optional)
onion (optional)
lettuce (optional)
Kitchen tools and equipment needed:
large mixing bowl
outdoor grill, indoor grill pan, outdoor flat top grill (my preferred method of cooking)
spatula
*Disclaimer - This recipe was originally published in 2013. I'm working hard to update all my older recipes with recipe cards, photos, and additional information, but getting to all of them will take time. Please bear with me.
In the meantime let me assure you that this recipe is still a winner and one I'm sure you'll be well pleased with when you make it at home.
How this recipe came to be:
Whenever I want to make a burger that has incredible flavor, I always grind my own meat using boneless beef short ribs.
This time in order to take these short ribs burgers to a whole other level of flavor, I decided to add some Italian sausage into the mix.
Can I tell you something? I did myself proud, and I simply CAN NOT wait to make these burgers again!!!
Not cooking for a crowd?
No problem!
This isn't so much a recipe as it is a method for making homemade ground beef burgers.
If you don't need to cook for a crowd you can easily adjust the quantity of short ribs you use to suit your needs and budget.
I do encourage you, however, to make a little extra because you'll be wanting more of these burgers the very next day.
Don't want to add the Italian sausage?
That's perfectly fine. They're your burgers. You can make them however you like!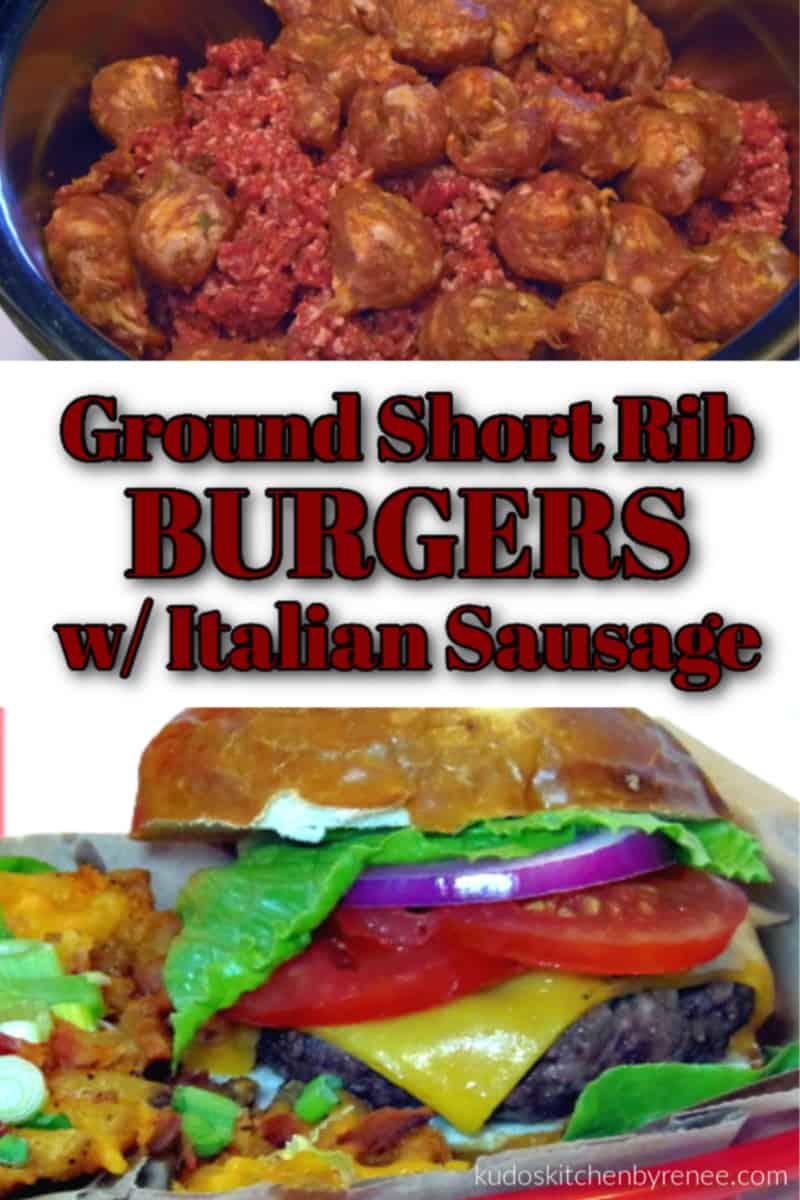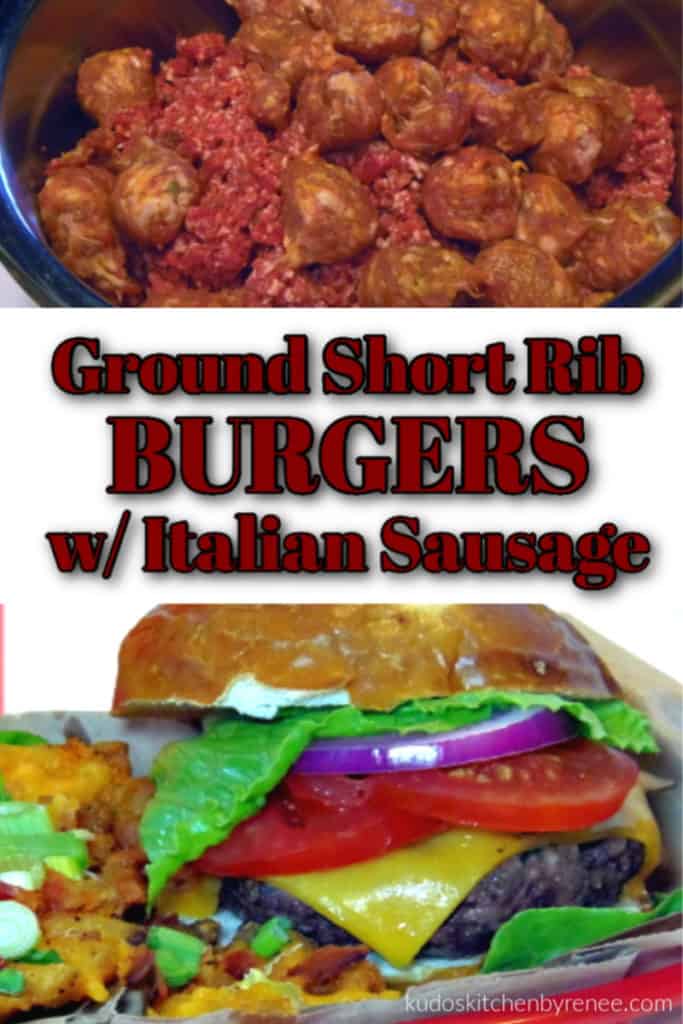 Tips for making the best ground short rib burgers:
Slightly frozen boneless short ribs will grind easier in the food processor than completely thawed raw meat
Cut the boneless ribs into 2" - 3" chunks
Pulse the processor (on, off, on, off) while grinding
Only process a few rib chunks at a time, and work in batches
Do not over-process the meat or it will become mealy
Grind only until no large chunks remain and the texture is somewhat coarse
Refrigerate ground short ribs after grinding (if grinding in advance)
Do not overwork the meat when adding in the Italian sausage
Use a ½ cup measure for uniform size burgers
Do not pack the patties too tightly when forming, or you'll have tough burgers
Place the formed burgers on parchment-lined baking sheets that have been sprayed with oil. The extra fat from the Italian sausage will make the burgers sticky
Season the ground short rib burgers liberally with salt and pepper
Allow the burgers to sit for 20 minutes after seasoning and before cooking
Preheat the cooking surface (high heat) for at least 5 minutes before adding the burgers
When the burgers no longer sick to the cooking surface, they're ready to flip
How to remove casings from Italian sausage:
You can either squeeze the sausage from the casings as I do (and as seen in the photos), or you can slit the casings and scoop out the sausage.
Discard the casings.
How to make ground short rib burgers with Italian sausage:
partially frozen short ribs work best for home grinding
cut the ribs into 2" - 3" pieces
grind only a few pieces at a time using the pulse method (on, off, on, off)
do not over process
remove the casings from the sausage and gently mix it into the ground short rib meat
form the ground meat into patties using a measuring cup for uniform size burgers
cook as desired, and to your desired doneness
What are the proper internal temperatures for ground beef burgers?
RARE: 120 degrees - 125 degrees (approximately 3 minutes per side)
MEDIUM RARE: 130 degrees - 135 degrees (approximately 4 minutes per side)
MEDIUM: 140 degrees - 145 degrees (approximately 5 minutes per side)
MEDIUM WELL: 150 degrees - 155 degrees (approximately 6 minutes per side)
WELL DONE: 160 degrees - 165 degrees (approximately 7 minutes per side)
Want some delicious bbq side dishes to go with your burgers?
*Best Popular BBQ Side Dishes Recipe Roundup (pictured below)
For me, a BBQ is just as much about the side dishes as it is about the main course. With the help of this BBQ Side Dishes recipe roundup, your BBQ menu will keep your family and friends very full, and extremely happy!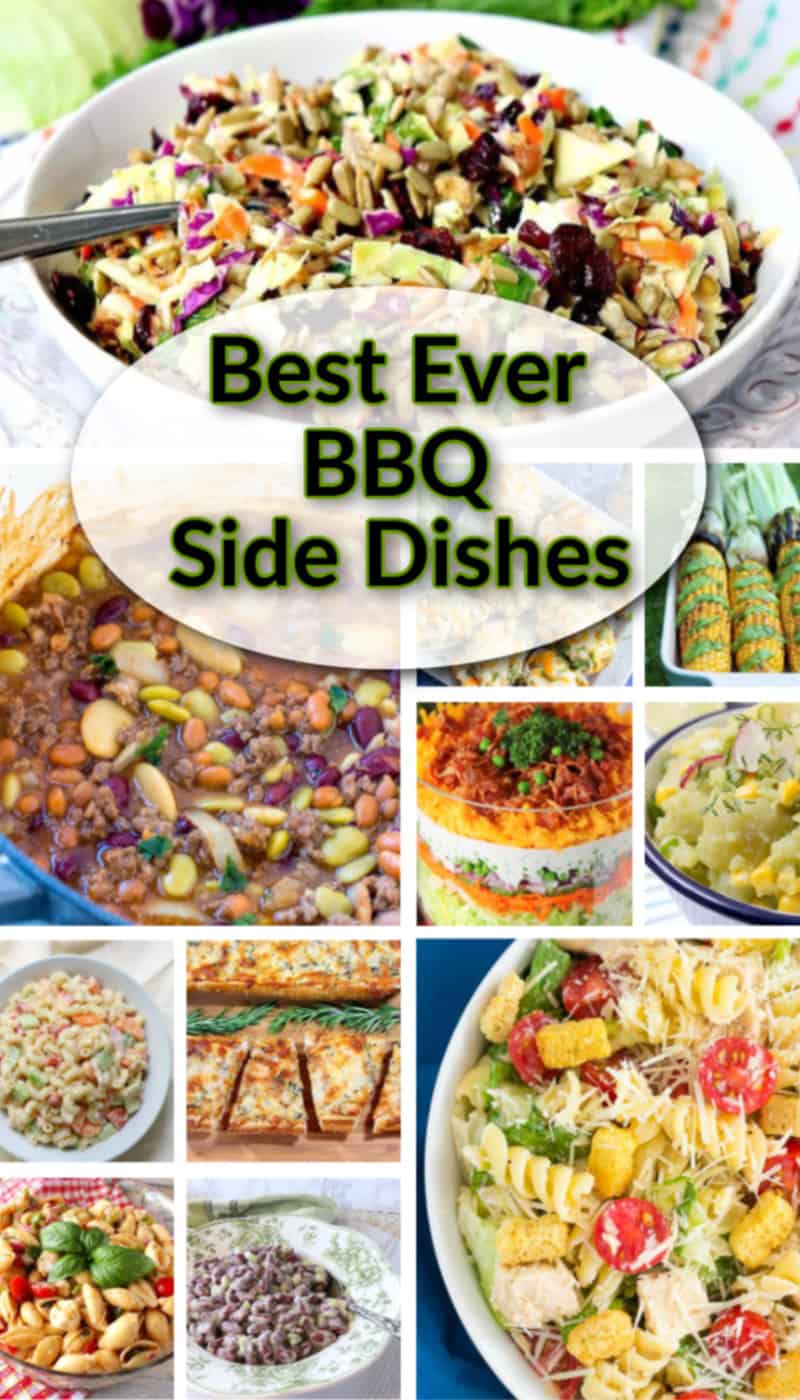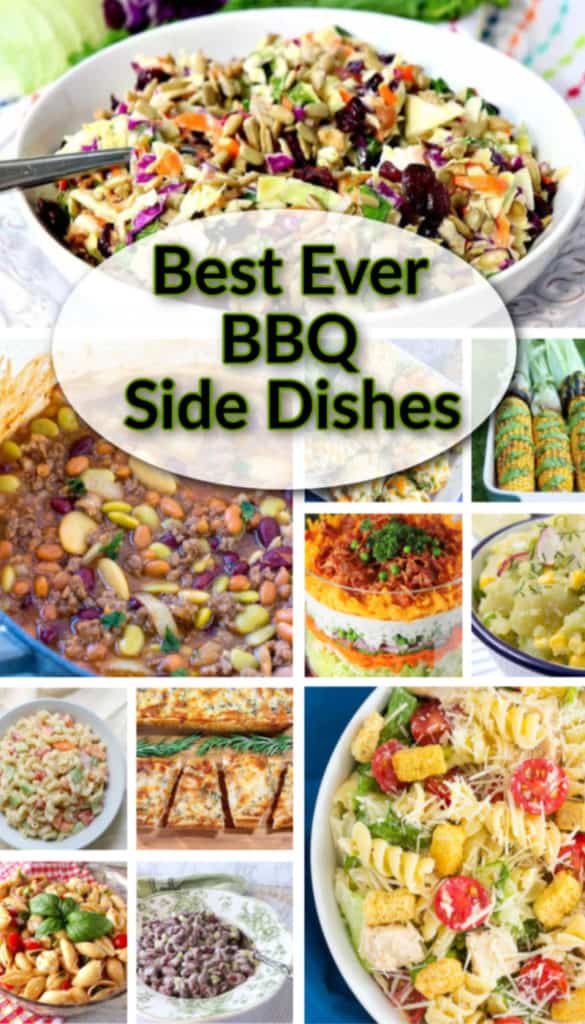 Below is the printable recipe card along with the exact ingredient measurements and nutritional information for making today's ground short rib burgers with Italian sausage.
Printable Recipe Card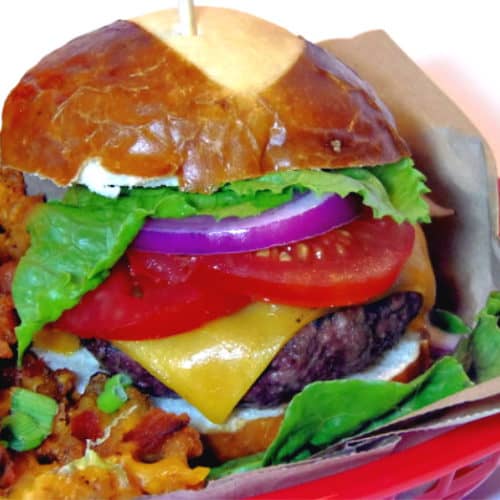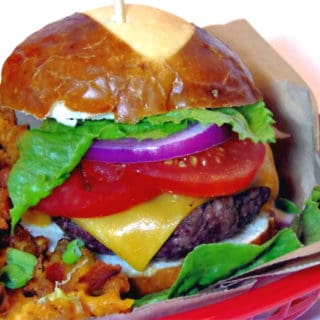 Ground Short Rib Burgers with Italian Sausage
Ingredients
4

pounds

boneless beef short ribs

slightly frozen to make the grinding easier, and cut into 2" - 3" pieces

1

pound

Italian sausage

bulk, or in casings (if in casings, remove the sausage and discard the casings)

4

cloves

garlic

minced

1

tablespoons

salt

plus additional for seasoning right before grilling

1

tablespoon

black pepper

plus additional for seasoning right before grilling

12

pretzel rolls

12

slices

of cheddar cheese

tomato slices

optional

bacon slices

optional

lettuce

optional

red onion slices

optional
Instructions
Using a food processor, pulse 4-5 chunks of the frozen short ribs at a time until ground (being careful not to over-process the meat and so you can still see a coarse texture).

Place the ground meat in a large bowl and continue until you've ground all the short ribs.

Add the Italian sausage (casings removed) in with the ground short ribs and the minced garlic.

Add the salt and pepper.

Use hands to mix the meat until just combined being careful not to over mix the meat which will cause tough burgers.

Use a ½ cup measure to scoop out some ground meat and form into patties.

Place each patty onto a parchment-lined baking sheet that has been sprayed lightly with cooking oil.

Continue forming patties until all the meat has been formed into patties. *Note - If you're making a lot of burgers, place parchment paper between the layers of burgers so they don't stick together.

Refrigerate until you're ready to grill.

30 minutes before you're ready to grill remove the patties from the fridge and allow them to come to room temperature.

Season the patties again with additional salt and pepper. *Note - Before you place the patties on the grill press your thumb into the center of each patty so you see the indentation. This will keep your burgers flat as they cook and will prevent them from having a dome top.

Cook the burgers over medium-high heat (flipping once) until they reach your desired doneness.

Add a cheddar cheese slice to each burger at the final moment of cooking and remove the burgers from the grill. Cover to keep warm.

Place each burger on a pretzel roll (I suggest grilling those for a minute or two also) and add the toppings and condiments of your choice...but don't forget the BACON!!!
Nutrition
Serving:
1
burger
Calories:
829
kcal
Carbohydrates:
28
g
Protein:
56
g
Fat:
55
g
Saturated Fat:
25
g
Polyunsaturated Fat:
30
g
Trans Fat:
2
g
Cholesterol:
201
mg
Sodium:
1543
mg
Fiber:
1
g
Sugar:
2
g
I sincerely hope you've enjoyed today's delicious beef burger recipe as much as I've enjoyed bringing it to you!