Healthy Grilled Peach Salsa takes full advantage of summertime's bounty of fresh peaches, garden cucumbers, and ripe plum tomatoes!
When I was asked to bring an appetizer to a friend's party recently, I decided I'd make a healthy and delicious fresh peach salsa.
The result is this amazingly fresh grilled fruit salsa recipe which can also pull double-duty as a fruit topping for cooked pork chops or even fish!
**Please Note – The printable recipe card with detailed instructions, complete ingredient measurements, and nutritional information for making Grilled Peach Salsa is available at the end of this post. OR click on the "jump to recipe" text (found below) to be taken directly to the recipe.
Jump to Recipe
CLICK ON THIS BOX TO LIKE AND SUBSCRIBE TO MY KUDOS KITCHEN YOUTUBE CHANNEL. SEE YOU THERE! 🙂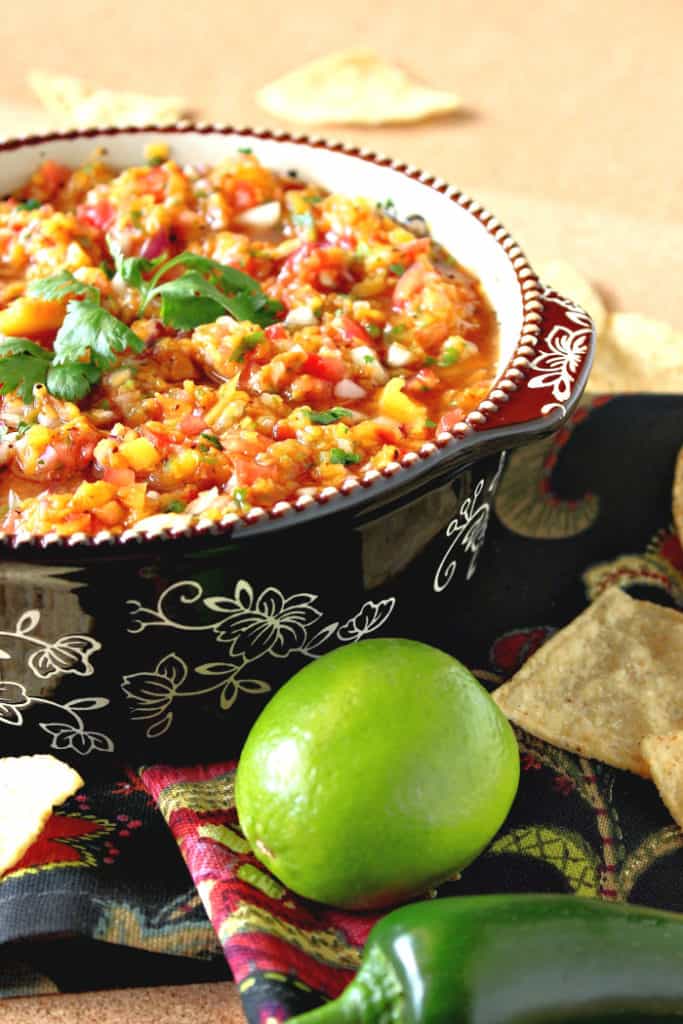 The ingredient list:
**Note – The following lists of ingredients plus kitchen tools and equipment contain affiliate links (highlighted in blue) for your consideration and shopping convenience. #CommissionsEarned
fresh peaches, stones removed and grilled (optional)

plum tomatoes, halved or quartered

red onion, roughly chopped

jalapeno pepper, seeded and roughly chopped

fresh cucumber, peeled, seeded, and roughly chopped

honey

salt and pepper

fresh cilantro, finely chopped

fresh lime juice

olive oil spray
Kitchen tools and equipment needed:
Why this peach salsa recipe works.
What I love about the taste of this salsa is the mix and complexity the sweetness of the grilled peaches provide along with the slight heat of the jalapeno, the bite of the red onion, and the mild background taste of cucumber, tomato, lime, and cilantro!
No one ingredient overpowers any of the others, and they all play very well together in the pool. Marco?!! 😉
So, you'd better grab a big bowl of chips because you're going to be one happy snacker!!
Additional options for serving peach salsa:
How about stirring this grilled peach salsa in with some cooked pasta for a chilled pasta salad and a new and unexpected taste sensation?
Then, while you're at it, why not add some cooked chicken to the peach pasta salad for a complete make-ahead meal that can be eaten on a hot summer night for dinner, or at a picnic or backyard BBQ.
And, if all that's not enough for you, if you have any peach salsa leftover (depending on how many people you're serving, and how hungry they are), this fresh fruit salsa will make an excellent topping for grilled fish or even seafood tacos. Gosh, that taco idea sure sounds good! Note to self!
Tonight I'm making some grilled tuna steaks and you can bet your bottom dollar this salsa will be liberally spooned all over the top of that tuna steak!!!
How will you serve your grilled peach salsa?
Please leave your ideas or suggestions in the comment section at the end of this post.

I'm excited to hear your creative ideas!!
Do the peaches need to be grilled to make this recipe?
Nope!
Grilling the peaches will add another dimension of flavor to the salsa, but it's not necessary to grill them if you'd prefer not to.
What does a grilled peach taste like?
Mellow and sweet.

Slightly charred and smoky.

Still peachy, but a touch sweeter, and caramelized.
Do I have to remove the peach skin when making this chunky peach salsa recipe?
I didn't, but that was my personal preference.
You can choose to remove the peach skin if you prefer.
How to easily remove the skin from peaches with no fuss (make that fuzz) at all!
Will nectarines work in this recipe?
Yes!
Nectarines will work equally well in the recipe.
Can a grill pan be used instead of grilling the peaches on an outdoor grill?
Yes! As you can see from my photos, I used a grill pan.
Remove the stones from the peaches and roughly chop each peach into large pieces.
Grill the peaches for 2-3 minutes per side over medium/high heat.
Turn the peaches and grill on the second side for an additional 2-3 minutes per side.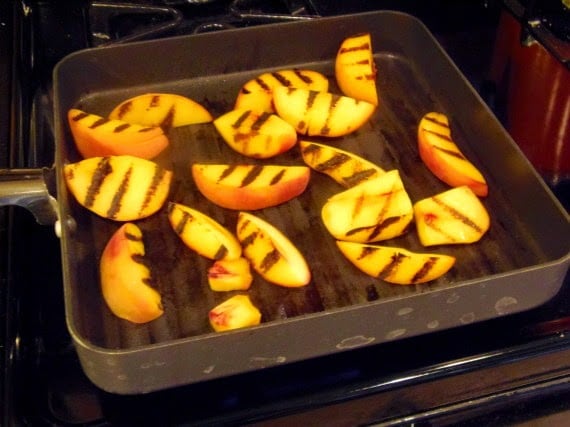 The easy instructions for making peach salsa:
Grill the peaches on both sides, and allow to cool completely.

In the bowl of a food processor, and working in batches, pulse the prepared peaches, tomatoes, red onion, jalapeno, and cucumber for 5 or 6 pulses so that they still have a nice chunky texture (or to your desired consistency).

Add the peach salsa to a bowl and stir in the salt, pepper, cilantro, honey, and lime juice.

Refrigerate at least 2 hours before serving.

Serve cold or at room temperature.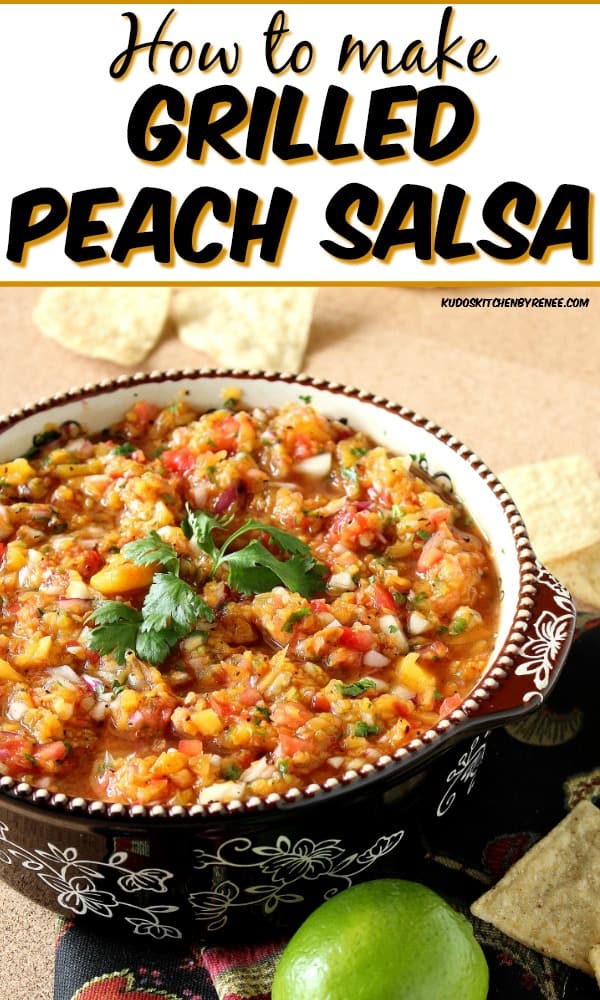 Additional peach and/or nectarine recipes:
*Peach and Blueberry Crisp (pictured below and in the featured video)
Easy to make Peach and Blueberry Crisp is a delicious dessert you're going to want to make time and again.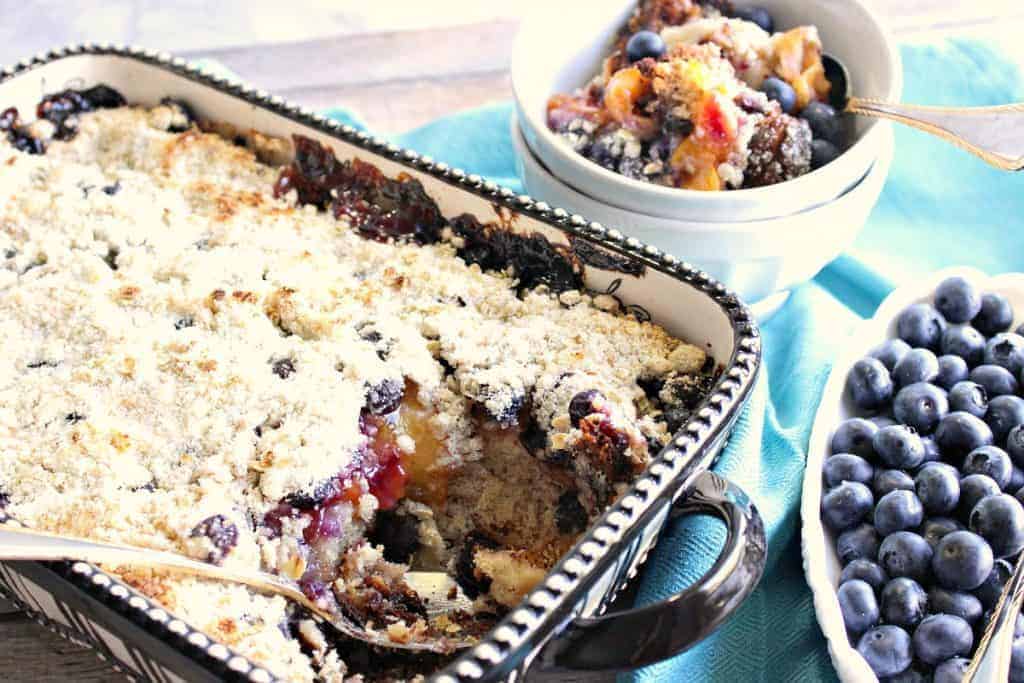 *Caramelized Nectarine Upside-Down Cake (pictured below)
Summertime's delicious bounty of fresh and juicy nectarines comes alive in this recipe for caramelized Nectarine Upside-Down Cake.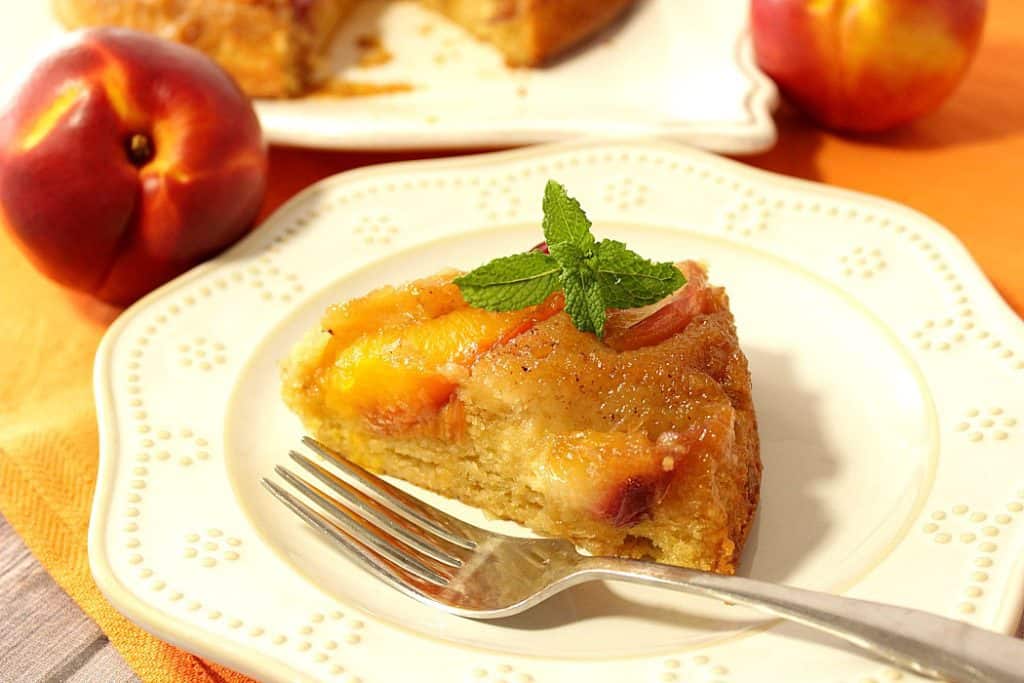 *Grilled Peach Salsa (pictured below) THIS IS THE PLACE!!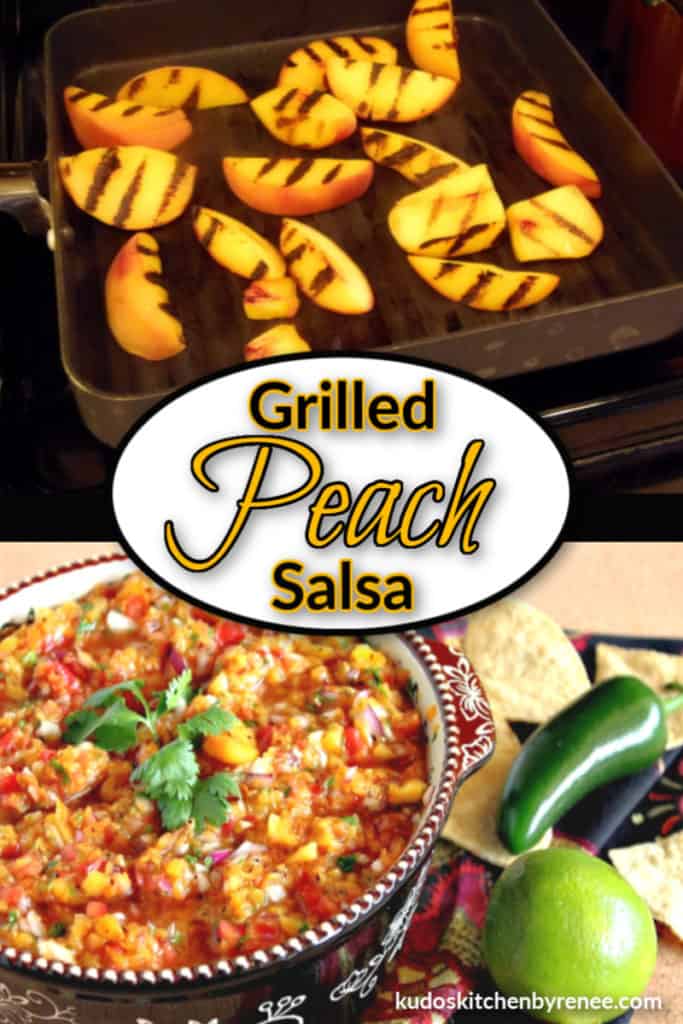 Below is the printable recipe card along with the nutritional information for today's grilled fruit salsa.
Thank you so much for visiting me here today in my Kudos Kitchen!
I sincerely hope you've enjoyed today's fresh fruit peach salsa recipe as much as I've enjoyed bringing it to you.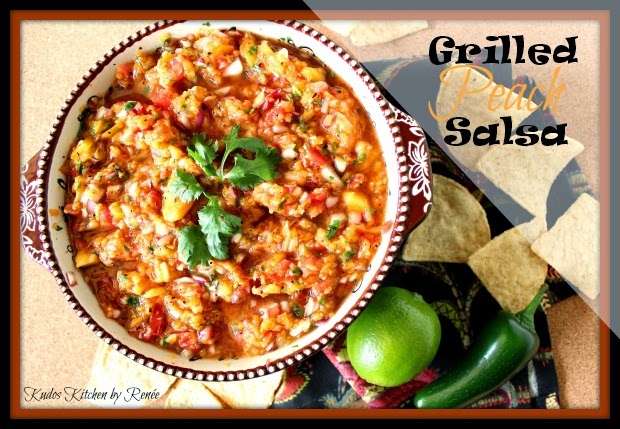 Should you have any questions or comments regarding this recipe or anything else you've seen on my site, please don't hesitate to reach out to me. It is always my distinct pleasure to get back with a reply just as soon as I possibly can!
For more Kudos Kitchen recipe information, please follow me on my social medial channels (listed below), and don't forget to TAG me @kudoskitchen with photos so I can view all your delicious recipe creations! It's exciting for me when you share them, so don't be shy!
Instagram, Pinterest, Facebook, and YouTube
Instagram, Pinterest, Facebook, and YouTube
Kudos Kitchen by Renee – BRINGING YOU EASY, ECONOMICAL, AND DELICIOUS DISHES TO FEED YOUR LOVED ONES!
Until we eat again, I hope you have a delicious day!
**Note – The post above includes affiliate links. As always, I truly thank you for your support!