If you love big, bold, Greek flavors, then these Greek Meatball Appetizers with Tzatziki Dipping Sauce are a must-make for your next party or gathering!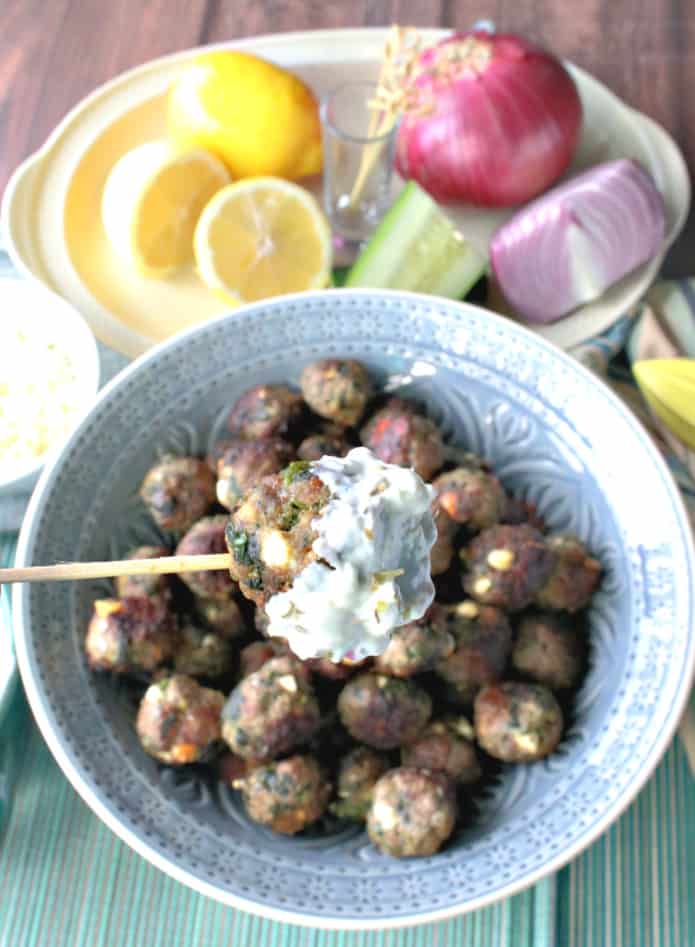 These Greek meatball appetizers will be the hit of any party or social function.
They're easy to make, too, and can be made in advance to help take some of the stress out of entertaining.
Or if you're the one bringing them to a party they're easy to transport and reheat, so take that! 😉
Bratwurst Bites are another popular appetizer recipe I know you'll love.
**Please Note – The printable recipe card with detailed instructions, complete ingredient measurements, and nutritional information for making Greek Appetizer Meatballs is available at the end of this post.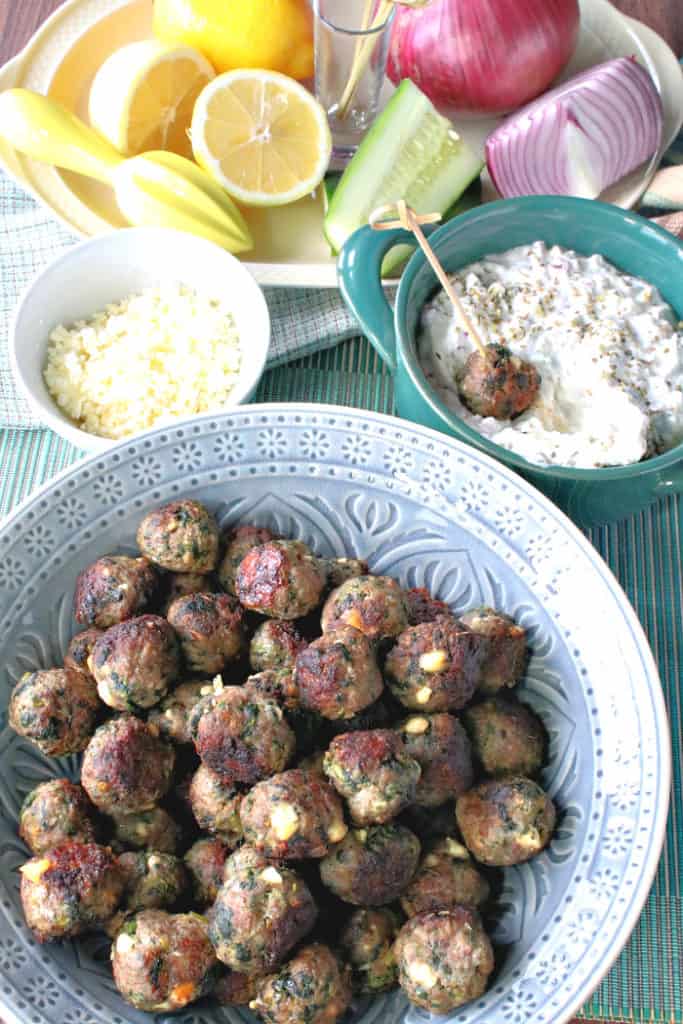 The ingredient list to make the Greek meatballs;
**Note – The following lists of ingredients plus kitchen tools and equipment contain affiliate links (highlighted in blue) for your consideration and shopping convenience. #CommissionsEarned
Ground Lamb
Frozen Spinach, thawed and dried
Lemon Zest
Crumbled Feta Cheese
The ingredient list to make the tzatziki sauce;
Cucumber, peeled, grated, and squeezed dry
Red Onion, finely diced
Greek Yogurt
Dried Oregano
Lemon Zest
Black Pepper
Garlic Powder
Kitchen tools and equipment needed;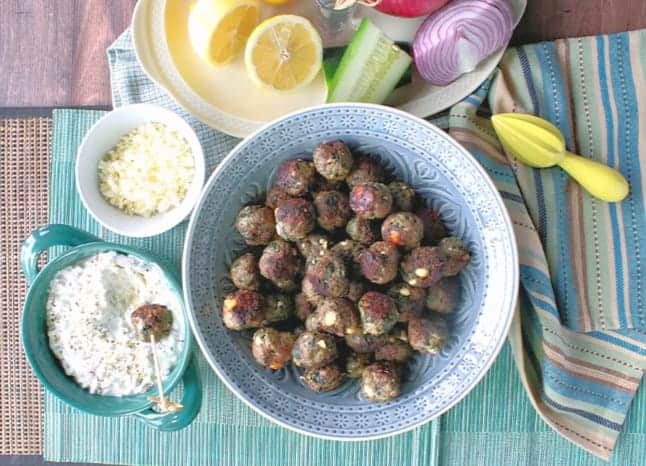 What is the best temperature to serve these Greek meatballs?
I like to serve these meatballs hot, with the tzatziki dipping sauce being cold. Something about the contrast of temperatures is really delicious and tempting to me.
However, these meatballs can also be served at room temperature, and they'll be equally as delicious!
How long can these meatball appetizers sit out at room temperature?
I'd suggest not letting them sit out for more than 2 hours at room temperature.
IF you need to have the meatballs out for a party for longer than two hours, I suggest keeping them warm in a crockpot or returning them to the oven to reheat after two hours' time.
Can ground beef or pork be substituted for the ground lamb in the recipe?
Yes, but that will alter the flavor, and ultimately remove the majority of the "Greek" aspect of these easy appetizer meatballs.
That said, this recipe will still work, and it will even work with ground turkey or chicken. Just be sure when using ground poultry that you cook the meatballs thoroughly (to an internal temperature of 165-degrees Fahrenheit) and do not leave them to sit at room temperature for more than 60 minutes.
Can these Greek meatball appetizers be made in advance and can they be frozen?
Yes. And yes!
Make them up to 3 days in advance and store them in a covered container in the refrigerator.
Cook and freeze them for up to 3 months in a well-sealed freezer container.
How many meatball appetizers will this recipe make?
As written, this recipe makes 58-60 mini-meatball appetizers that are approximately 1″ round.
Can these Greek meatballs be made larger, like dinner size meatballs?
They sure can!
If you'd like to make them larger, say golfball size or even larger, have at it. Just remember that you'll need to cook them longer because naturally they'll be bigger and require more cooking time.
How to make tzatziki dipping sauce;
Grate the cucumber and squeeze out the excess liquid in a paper towel to dry.
Add the prepared cucumber to a medium bowl along with diced red onion, lemon zest, Greek Yogurt, dried oregano, garlic powder, and black pepper.
Stir well to combine all the ingredients.
Cover well and refrigerate until ready to serve along with the meatballs.
The easy instructions for making Greek meatball appetizers:
Place the ground lamb in a large bowl.
Thaw the frozen spinach and squeeze out the excess water to dry.
Add the prepared spinach, bread crumbs, lemon zest, oregano, salt, pepper, garlic powder, and crumbled feta in the with meat.
Mix to thoroughly combine.
Preheat oven to 350-degrees.
Shape the meat mixture into mini meatballs approximately 1″ round.
Add the oil to a large skillet and brown the meatballs on all sides over medium-high heat (this will need to be done in batches).
Remove the meatballs to a baking sheet lined with parchment paper.
Bake the Greek meatballs in the oven for 10-12 minutes until cooked through.
Serve hot with the chilled tzatziki sauce.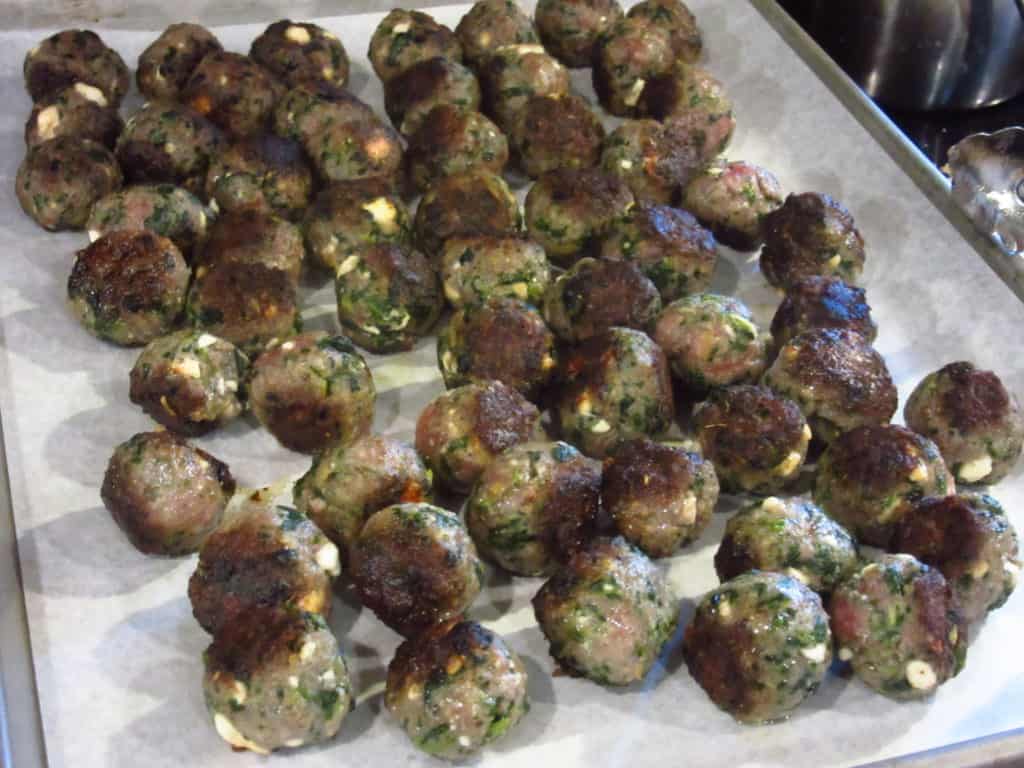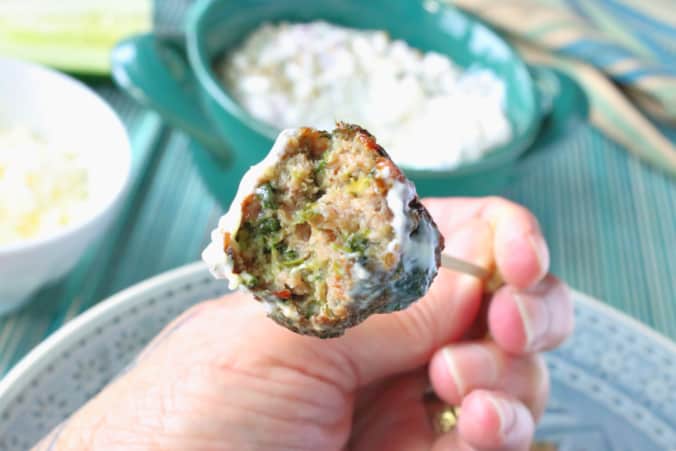 For additional easy appetizer recipes, please click on the following titles for:
*Brat Bites Wrapped in Crescent Rolls (pictured below and in the featured video) from (yours truly) Kudos Kitchen
"Easy Bratwurst Bites Wrapped in Crescent Dough with Sauerkraut Dipping Sauce are just the thing to serve during a party or for tailgating. They're also super simple to make and everybody loves them! Make some today!"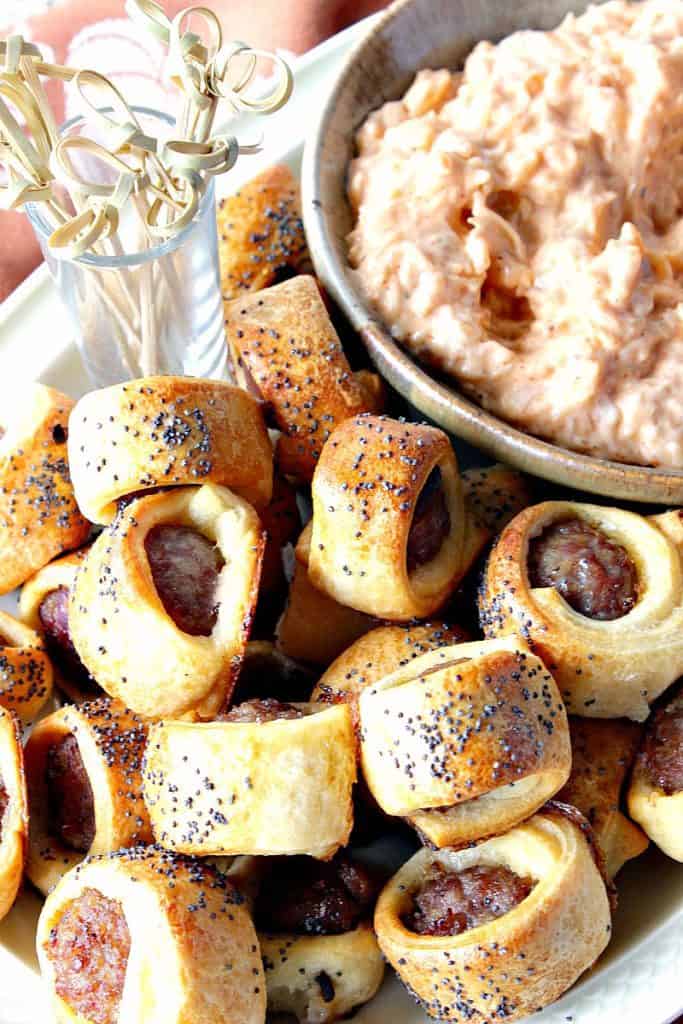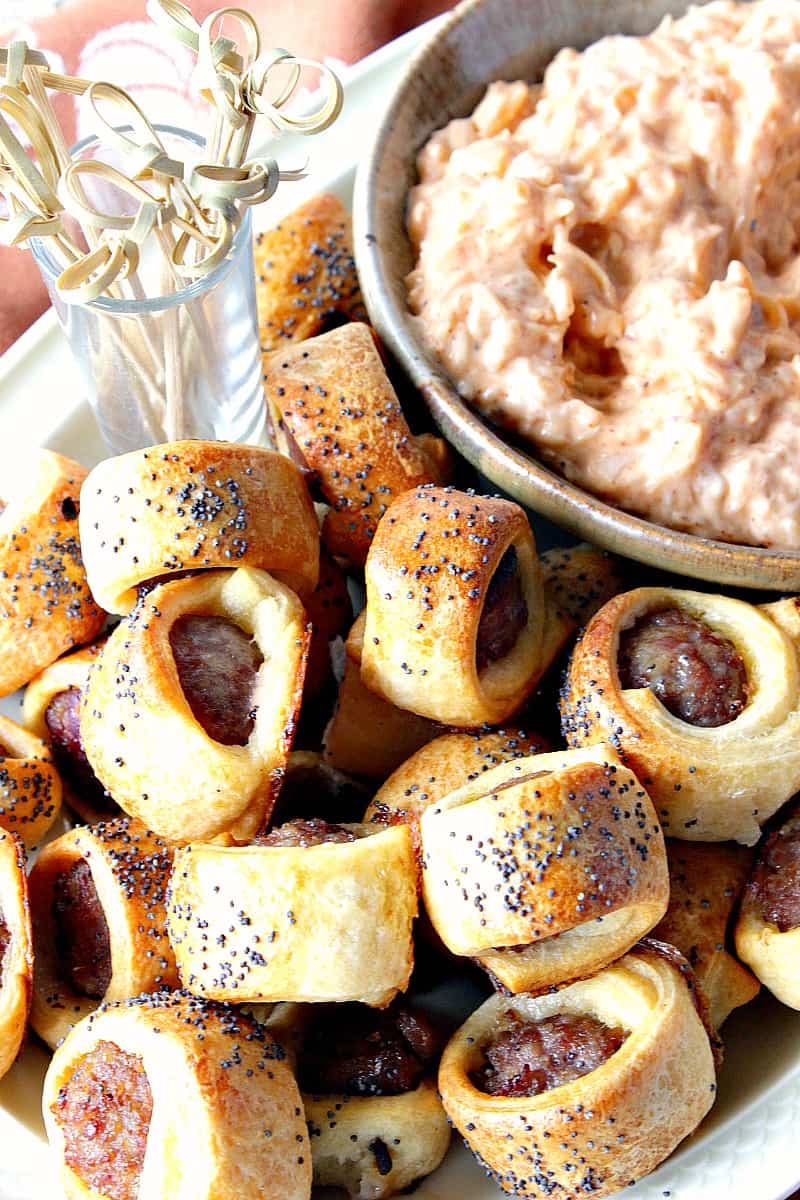 *Baked Pork and Nappa Cabbage Egg Rolls from Simply Seasonal
*Smoked Salmon Potato Appetizers from Homemade Yummy
*Parmesan Onion Appetizer Squares (pictured below) from (yours truly) Kudos Kitchen
"Parmesan Onion Appetizer Squares is a recipe I've been making for what feels like forever. Whenever I serve them, they're always a hit with their light oniony flavor, crispy yet creamy texture, and a tiny and unexpected touch of sweetness that everyone loves!"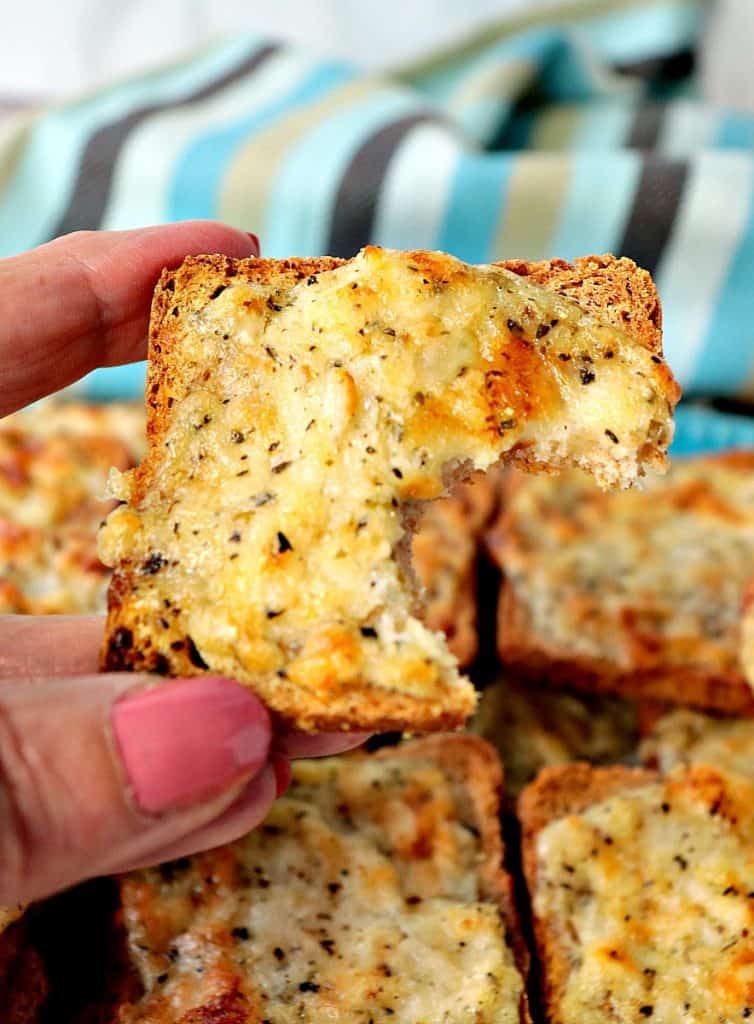 *Fried Brussels Sprouts with Parmesan and Panko from Practical Self Reliance
*Thanksgiving and Fall Appetizer Roundup from all around the web
*Creamy Salami and Dill Pickle Dip (pictured below) from (yours truly) Kudos Kitchen
"Crave-Worthy Cream Cheese Salami Pickle Dip is a quick and easy update of the salami and pickle pinwheel appetizers of the past, but this updated version is faster, easier, and has a bigger kick of flavor."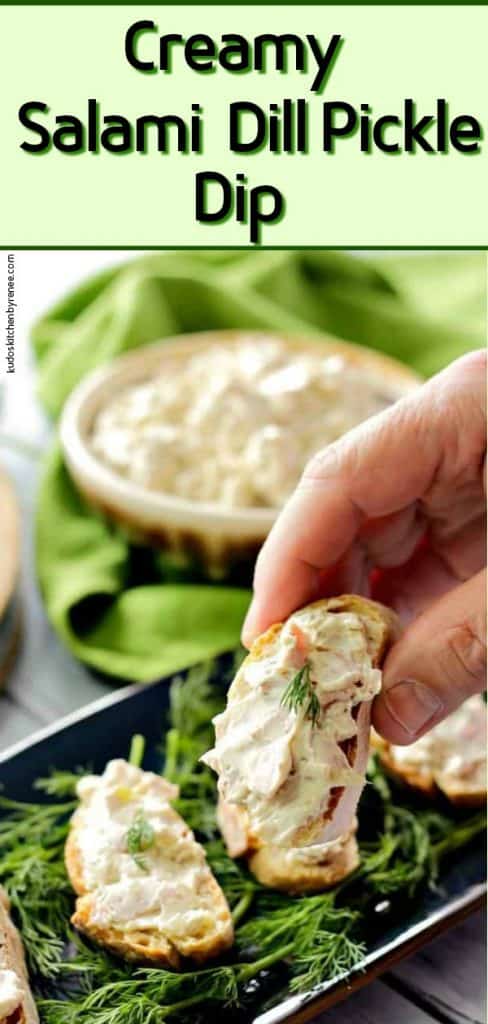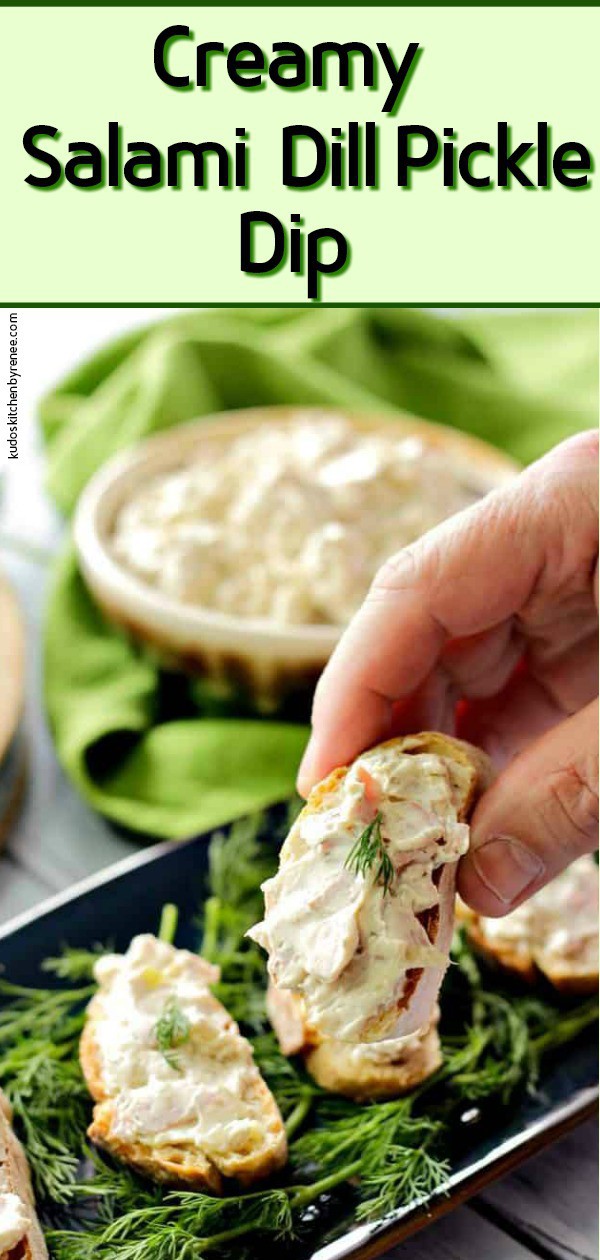 *Baked Sweet Potato Nachos from Fearless Dining
*Spinach and Artichoke Stuffed Mushrooms from Everyday Eileen
*Patty Melt Dip (pictured below) from (yours truly) Kudos Kitchen
"Everything you love about a patty melt is in this easy to make Patty Melt Dip. It's sure to be a real crowd-pleaser at your next party or celebration!"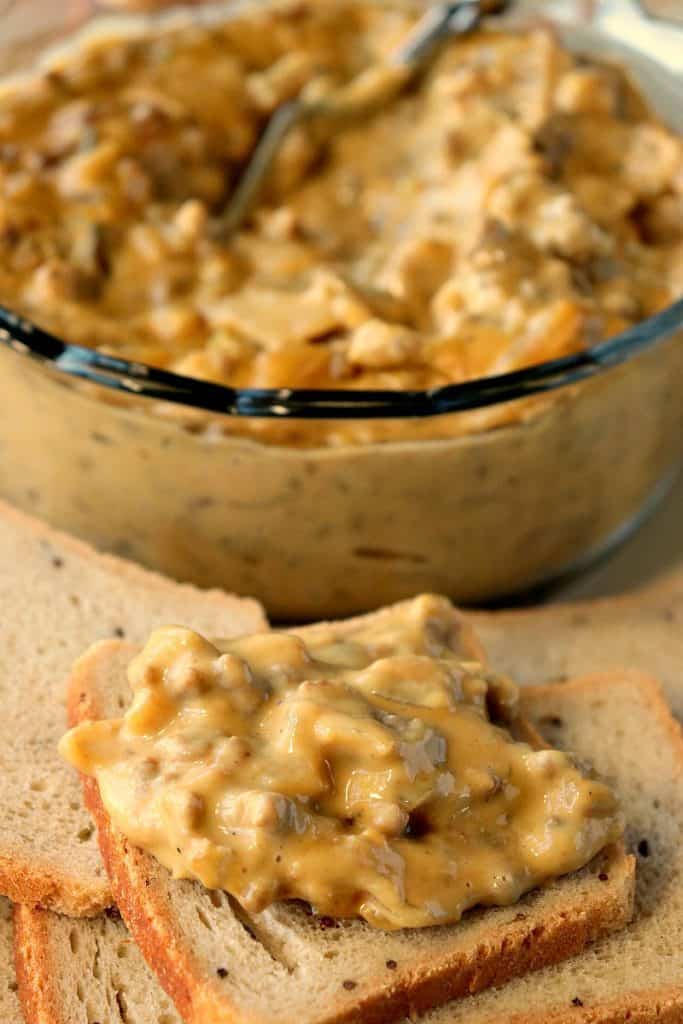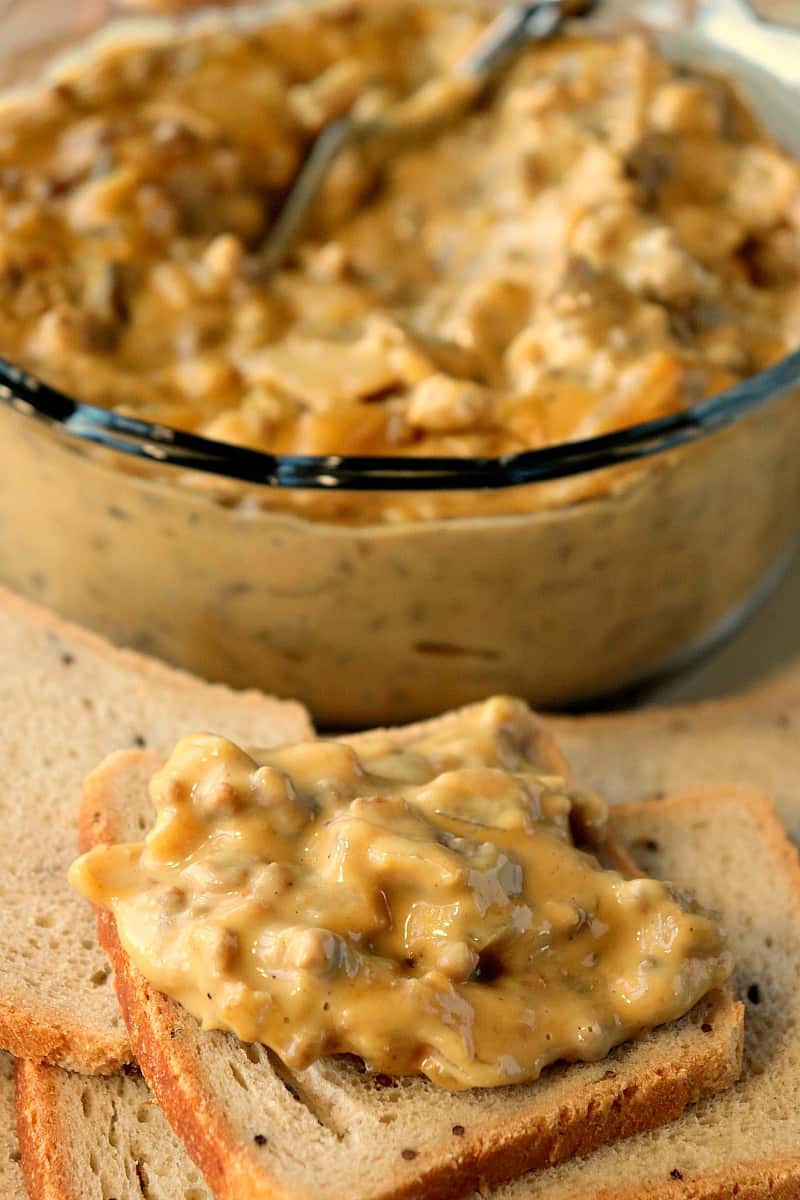 *Roasted Garlic Parmesan White Bean Dip from Stephie Cooks
*Chicken Parm Skillet Dip from The Moments at Home
*Greek Meatball Appetizers with Tzatziki Dipping Sauce (pictured below) This is the place!!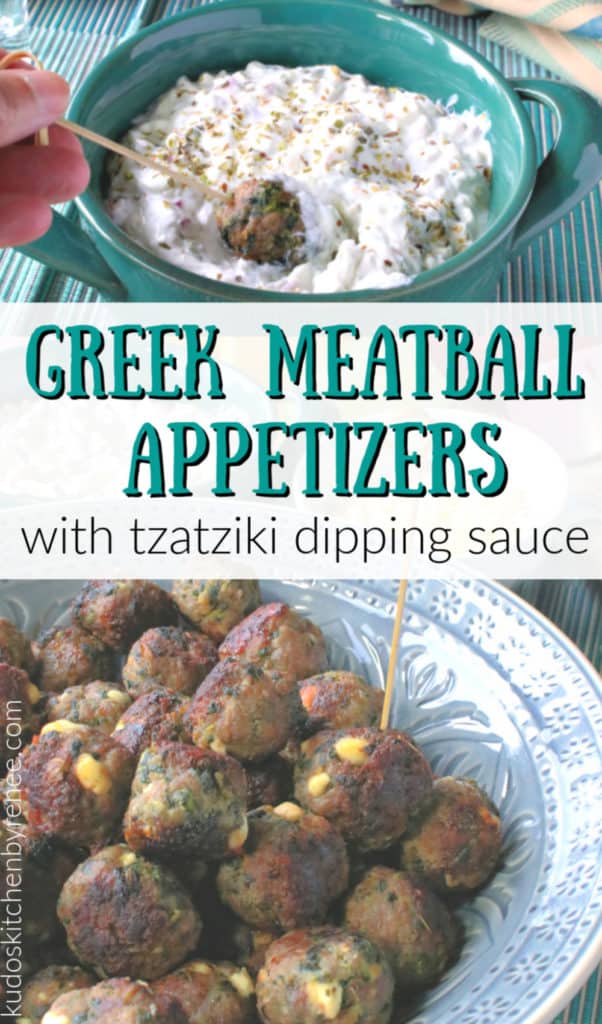 Whether you're working on a blue screen all day, or in the kitchen, the following affiliate products are ones I can highly recommend to save your eyesight and your sanity.
Below is the printable recipe card along with the nutritional information and instructions for making for today's easy appetizer recipe for Greek Meatballs with Tzatziki Dipping Sauce.
Yield: 60 Meatballs
Greek Meatball Appetizers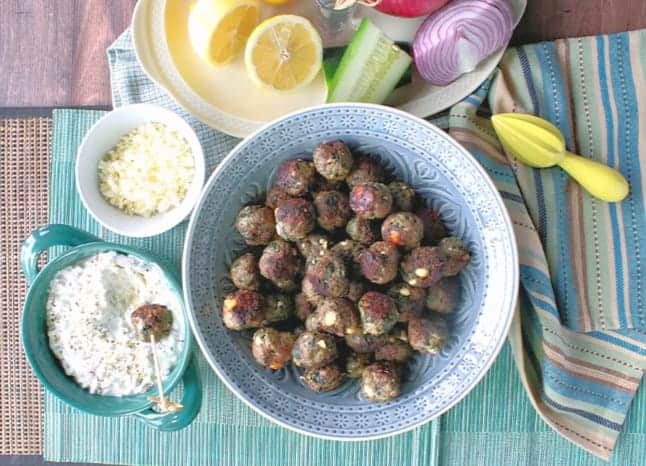 Big bold Greek flavors pair nicely in these delicious little appetizer meatballs. Compliment these meatballs with the cold and creamy tzatziki cucumber sauce and they're sure to be a hit at your next party or gathering.
Additional Time
10 minutes
Ingredients
To make the tzatzitki sauce;
½ cup grated cucumber, squeezed dry 
½ cup finely diced red onions
2 cups plain Greek yogurt
1 teaspoon dried oregano
1 teaspoon fresh lemon zest
1/8 teaspoon black pepper
¼ teaspoon coarse salt
½ teaspoon garlic powder
To make the Greek meatball appetizers;
2 pounds ground lamb
½ cup breadcrumbs
8 ounces frozen spinach, thawed and squeezed dry
2 teaspoons fresh lemon zest
2 teaspoons dried oregano
½ cup crumbled feta cheese
2 teaspoons garlic powder
2 teaspoons coarse salt
1 teaspoon black pepper
2 tablespoons olive oil
Instructions
To make the tzatziki sauce;
Place all of the sauce ingredients in a medium bowl and stir well to combine.
Cover and keep refrigerated until ready to serve.
This can be made up to 5 days in advance.
Do not freeze

To make the Greek meatball appetizers;
Preheat oven to 350-degrees.
Place all of the meatball ingredients (except olive oil) in a large bowl and mix until thoroughly combined.
Shape into 1" round side meatballs.
Add the oil to a large skillet.
Brown the meatballs (working in batches) on all sides.
Remove the browned meatballs and place them on a baking sheet.
Bake the browned meatballs in the preheated oven for 10 minutes.
Remove the meatballs from the oven and serve them in a bowl with appetizer picks and the chilled tzatziki sauce.
OR, add them to a slow cooker on "warm" to keep them warm for serving.



Nutrition Information
Yield
60 meatballs
Serving Size
1 meatball
Amount Per Serving
Calories

61
Total Fat

4g
Saturated Fat

2g
Trans Fat

0g
Unsaturated Fat

2g
Cholesterol

16mg
Sodium

116mg
Carbohydrates

2g
Fiber

0g
Sugar

0g
Protein

5g
The nutritional information and calorie count provided is intended as a guideline only and has been provided by third-party software.
I sincerely hope you've enjoyed today's recipe for Greek meatball appetizers with tzatziki dipping sauce as much as I've enjoyed bringing it to you!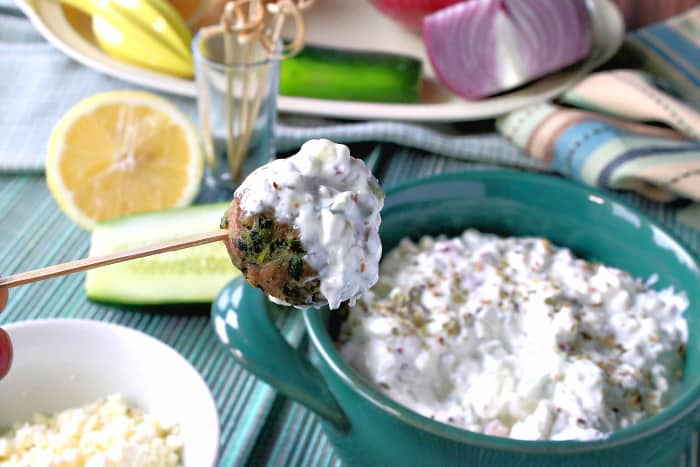 **Note – The post above includes affiliate links. As always, I truly thank you for your support!
As an Amazon Associate, I earn from qualifying purchases. When I find a great product or service I like to share it with my readers. For additional information please view my privacy policy.