Easy Bratwurst Appetizer Bites are just the thing to serve during a party or for game day. They're also super simple to make and everybody loves them! SCORE!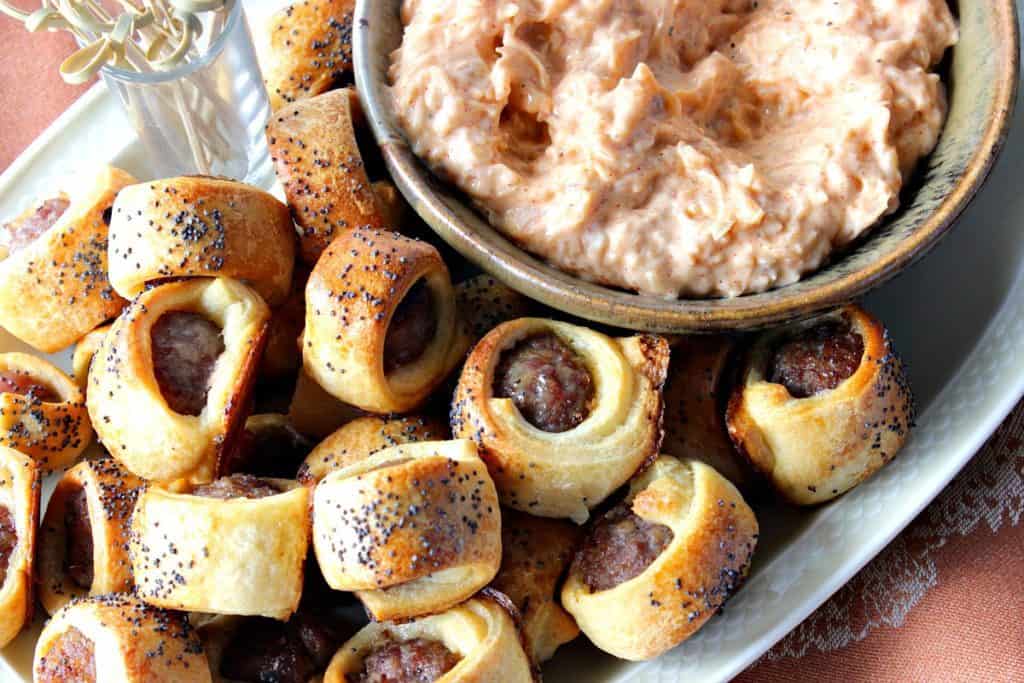 My family (well, me really) goes crazy for all things German. This simple recipe for Bratwurst Bites combines flavorful cooked German bratwurst which is then wrapped in store-bought crescent rolls, and baked again until browned.
The easy creamy sauerkraut dipping sauce is the perfect accompaniment to these tasty little German sausage appetizer bites.
Jump to: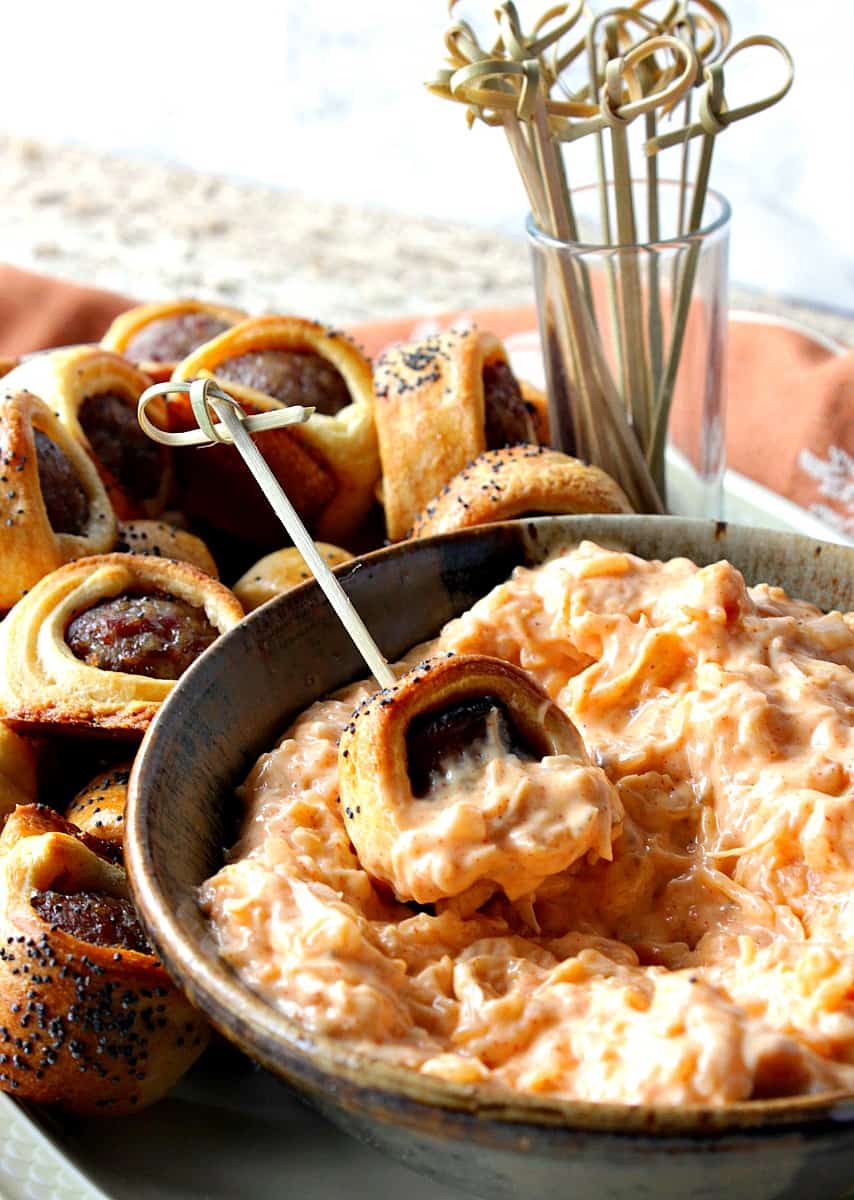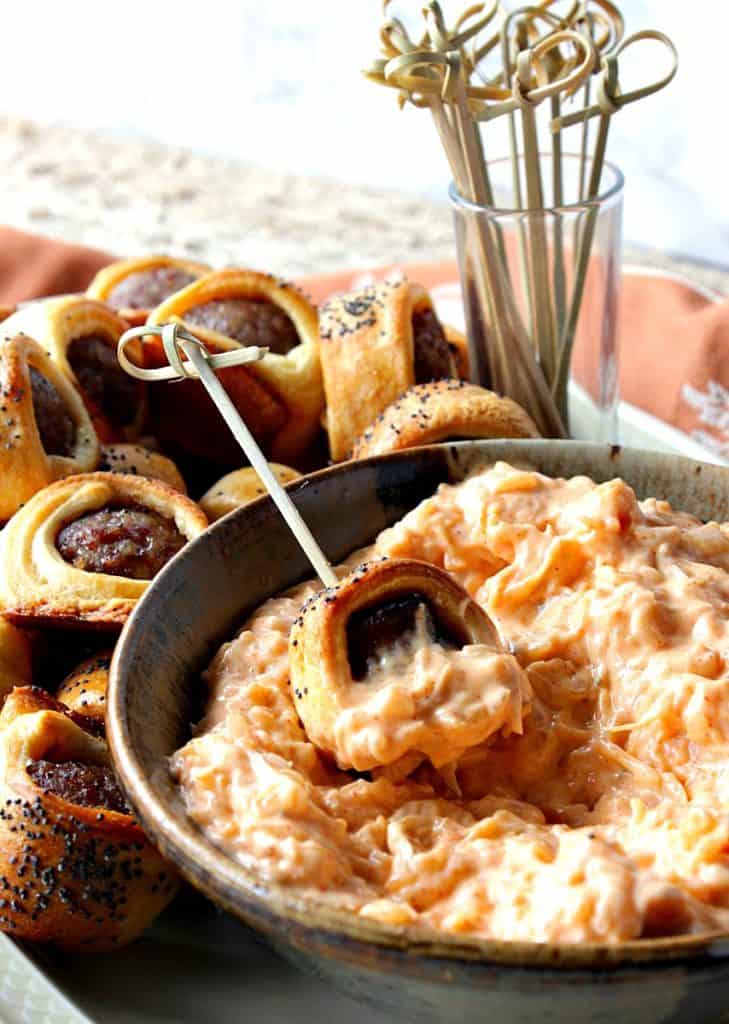 **Note - The following lists of ingredients plus kitchen tools and equipment contain affiliate links (highlighted in blue) for your consideration and shopping convenience. #CommissionsEarned
The ingredient list for the bites:
1 package (5 each) bratwurst

1 tube crescent rolls (I used the non-perforated sheets, or use the triangles and press together to form sheets)

one egg
The ingredient list for the sauerkraut dipping sauce:
Kitchen tools and equipment needed:
How many bratwurst bites does this recipe make?
As written, this recipe will make 25 bratwurst bites.
Want more? This recipe can be easily doubled (or tripled) as needed.
For the love of grocery store convenience foods!
I've said it before, and I'm sure I'll say again, store-bought tubed crescent rolls are one of my favorite grocery store convenience items!
I love to keep them on hand in my refrigerator on a pretty consistent basis. Especially during the holiday season, because you can never go wrong serving an appetizer where crescent rolls are part of the equation. At least not in my opinion.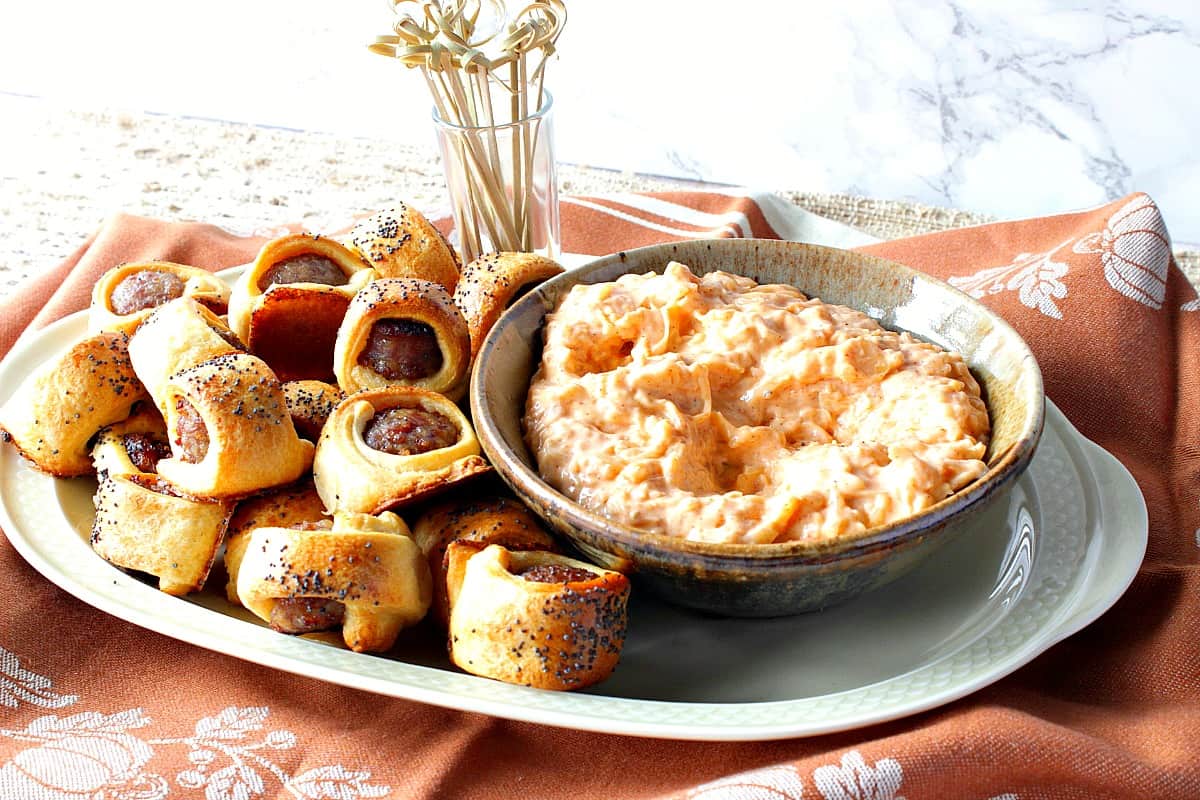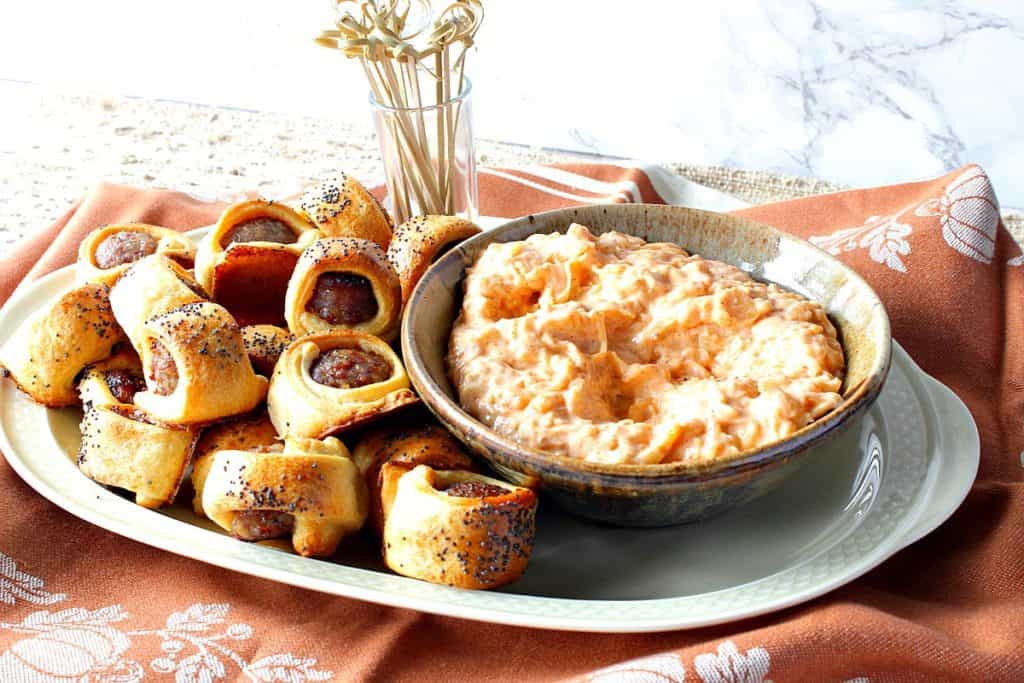 What if I'm not a fan of sauerkraut?
If you're not a fan of sauerkraut you can still make the crescent wrapped bratwurst bites and dip them in something else.
Alternative dipping sauce suggestions:
Maybe some whole grain German mustard mixed with a little honey.

Or what about a prepared onion dip?

Or a beer cheese dip would be extra delicious.

Here's a particularly amazing beer cheese dip recipe from Cook the Story that I think would make a tasty dip for these crescent wrapped bratwurst bites. So much so that I think I'm going to make the beer cheese dip the next time I make these bites because now I'm craving beer cheese dip! LOL
More about the sauerkraut dipping sauce:
Since my husband isn't the biggest fan of sauerkraut (but I still am), I decided to cut the bitterness of the kraut with a bit of mayonnaise and a touch of smoked paprika.
The result is creamy, slightly tangy, slightly smoky, and utterly scrumptious!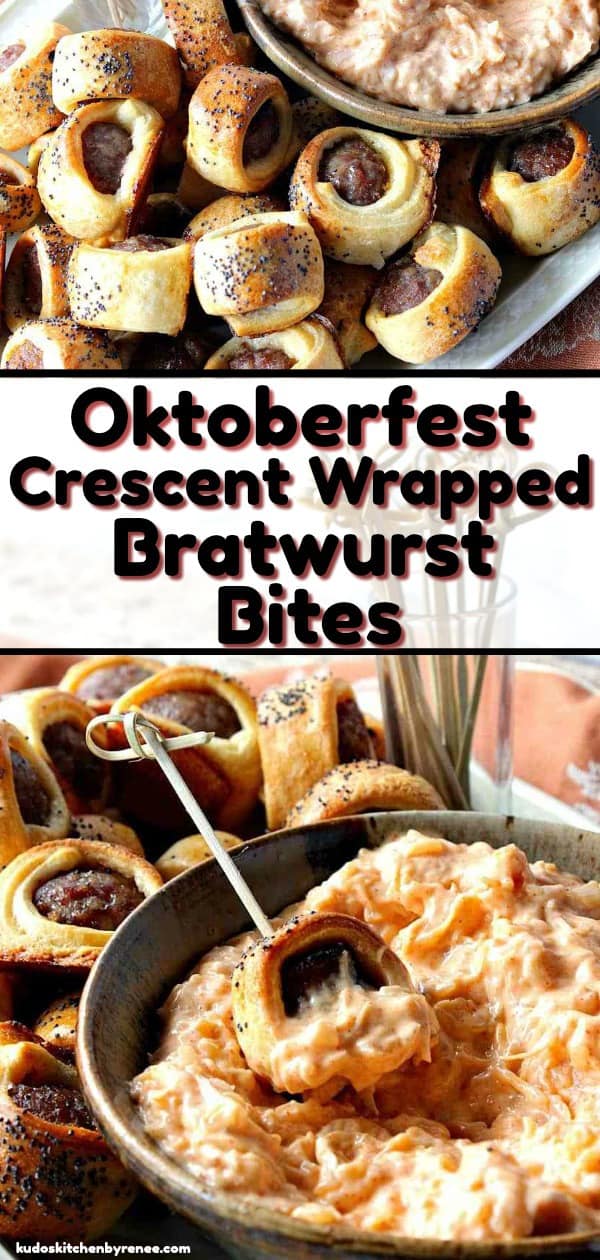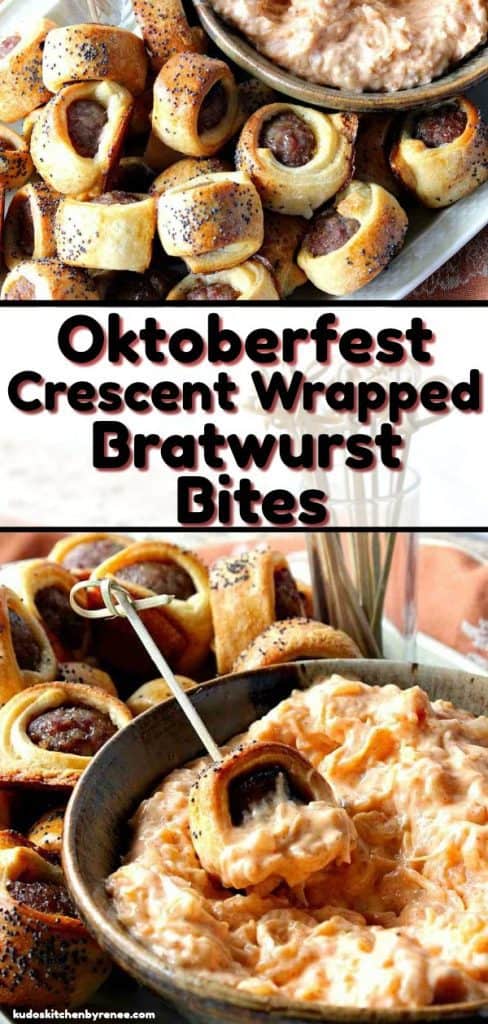 Can I make Bratwurst Bites in advance?
Y

es. Prepare the bites, as written, up until bake time.

Cover loosely in the fridge for 1 - 2 days and then bring them to room temperature and then bake as directed.
The easy step-by-step instructions:
Cut each bratwurst into 1" pieces.

Brown the brats in the oil over medium/high heat on all sides, turning occasionally.

Remove the cooked brats from the skillet and pat dry with a paper towel. Cool.

Unroll the crescent dough and pat it into a fairly uniform rectangle.

Use a knife or pizza wheel to cut the crescent dough in half width-wise, and then in ½" strips, lengthwise so you'll have 24 pieces total.

Roll up each cooked bratwurst in the crescent dough strips and lay each rolled brat, seam side down on a baking sheet that has been sprayed with baking spray, or lined with parchment paper.

Brush each brat bite with a tiny bit of egg wash (1 egg mixed with 1 tablespoon of water)

Sprinkle each bite with poppy seeds

Bake in a preheated 375-degree oven for 15-17 minutes, or until they're golden brown.

Meanwhile, mix ½ cup prepared mayonnaise with ½ cup drained sauerkraut, pepper, and ¼ teaspoon smoked paprika.

Chill until ready to serve.

Serve the crescent wrapped bratwurst bites warm, or at room temperature, with the chilled sauerkraut dipping sauce.

Enjoy!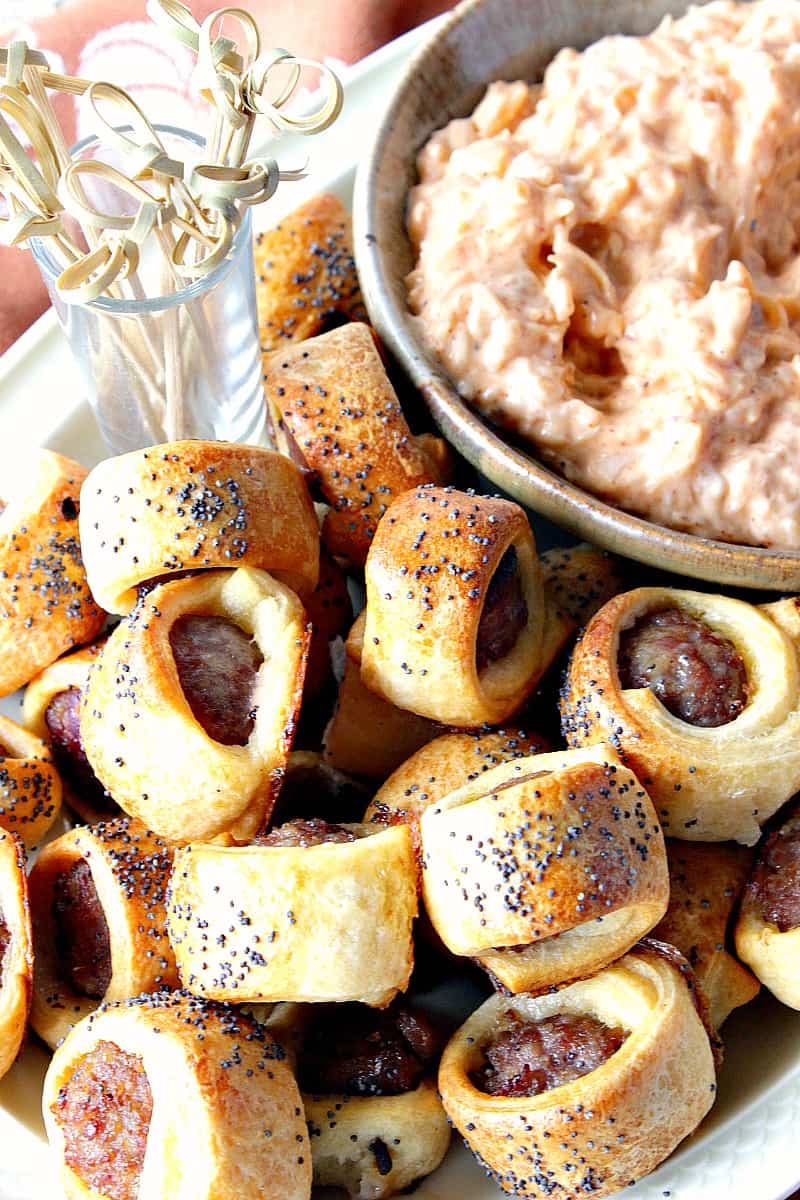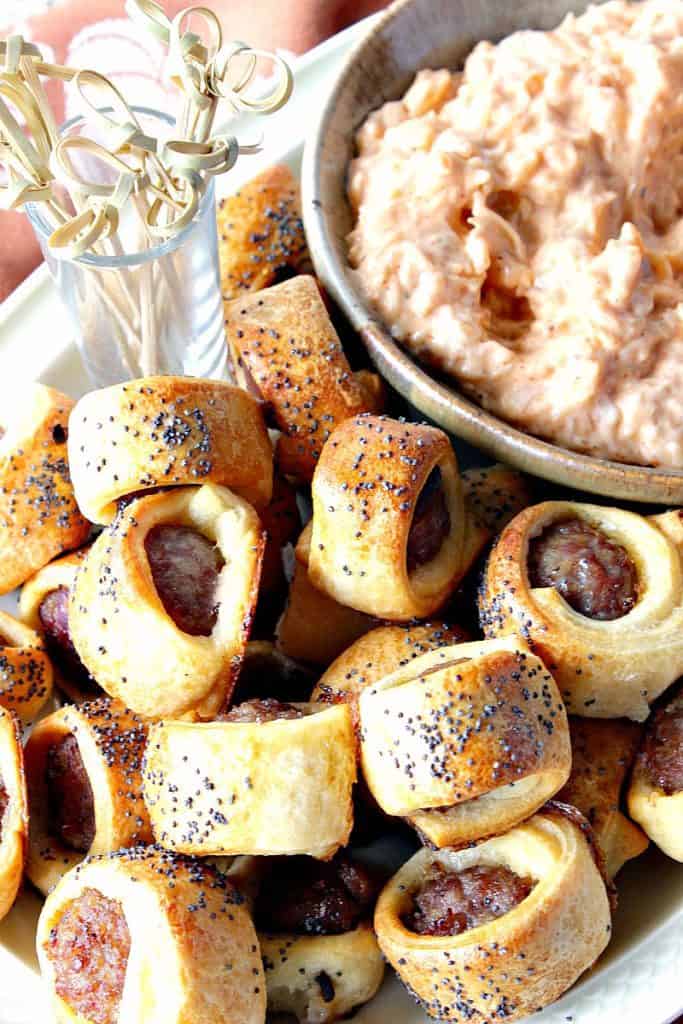 Additional German-inspired recipes:
"German Onion Soup has plenty of caramelized onions, beer, bratwurst and pretzel roll croutons which will soon become a family favorite! Surprise! I'll bet you didn't see that coming."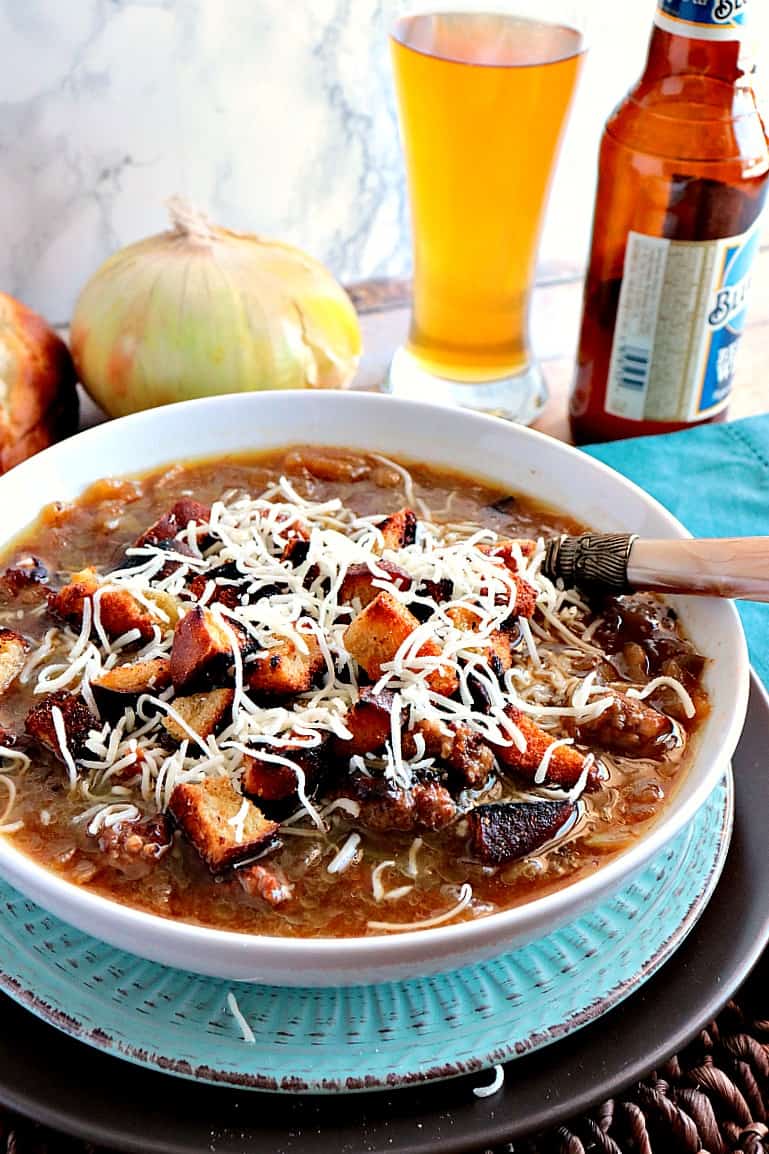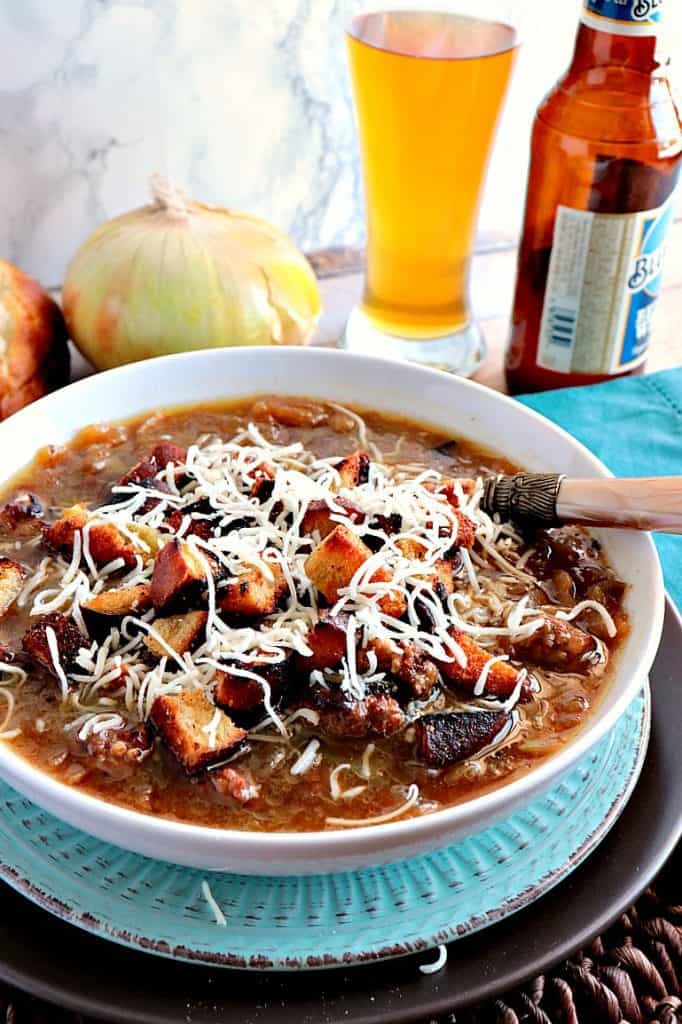 "Nothing speaks to the flavors of a German dinner more than pork and sauerkraut. This easy recipe for German Pork Ribs with Sauerkraut for the slow cooker brings the family to the dinner table with a minimum of effort."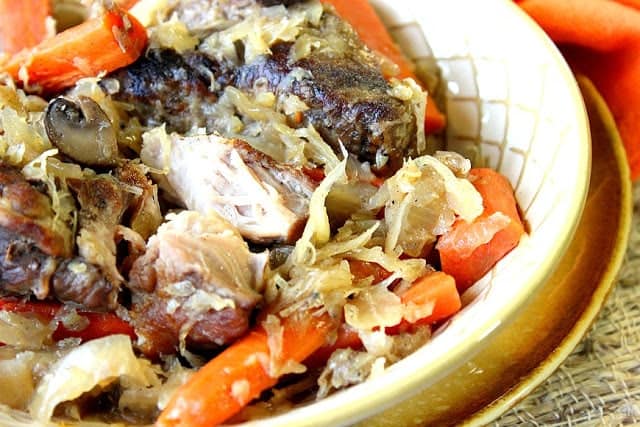 "Buttered German egg dumplings (spaetzle) are layered in a casserole dish along with shredded Gruyere cheese and crispy, crunchy onions to bring you this delicious recipe for Layered German Spaetzle Casserole with Cheese & Crispy Onions."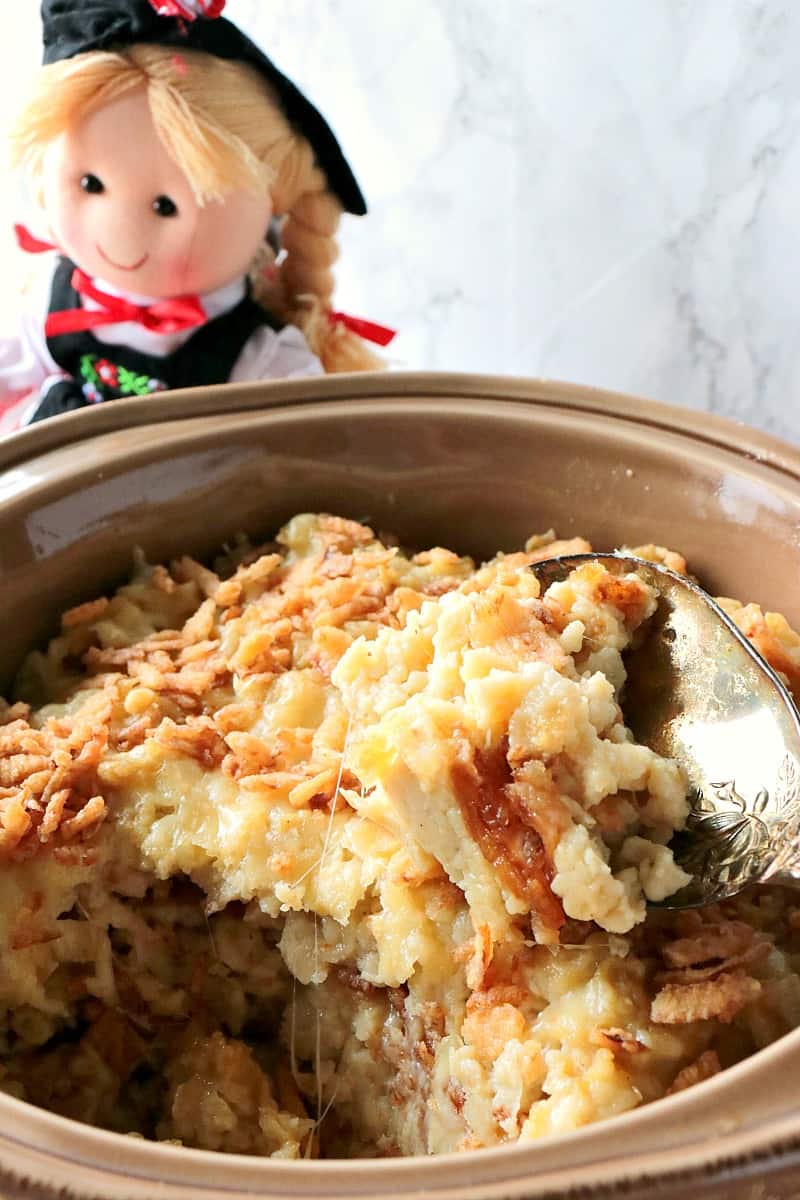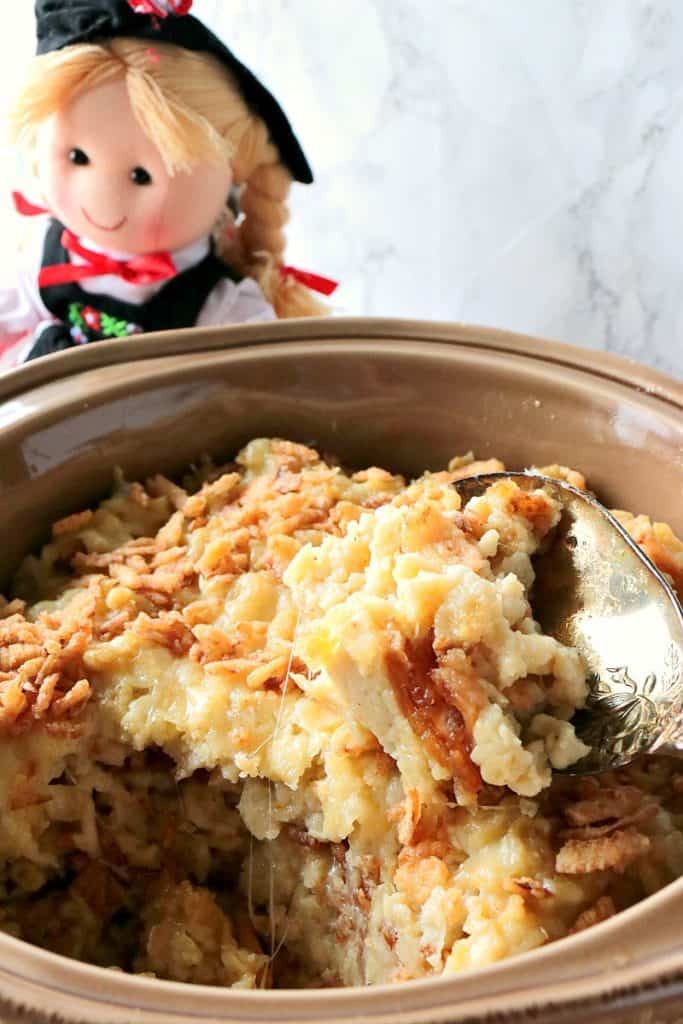 BRATWURST BITES WITH SAUERKRAUT DIPPING SAUCE

(pictured below) - This is the place!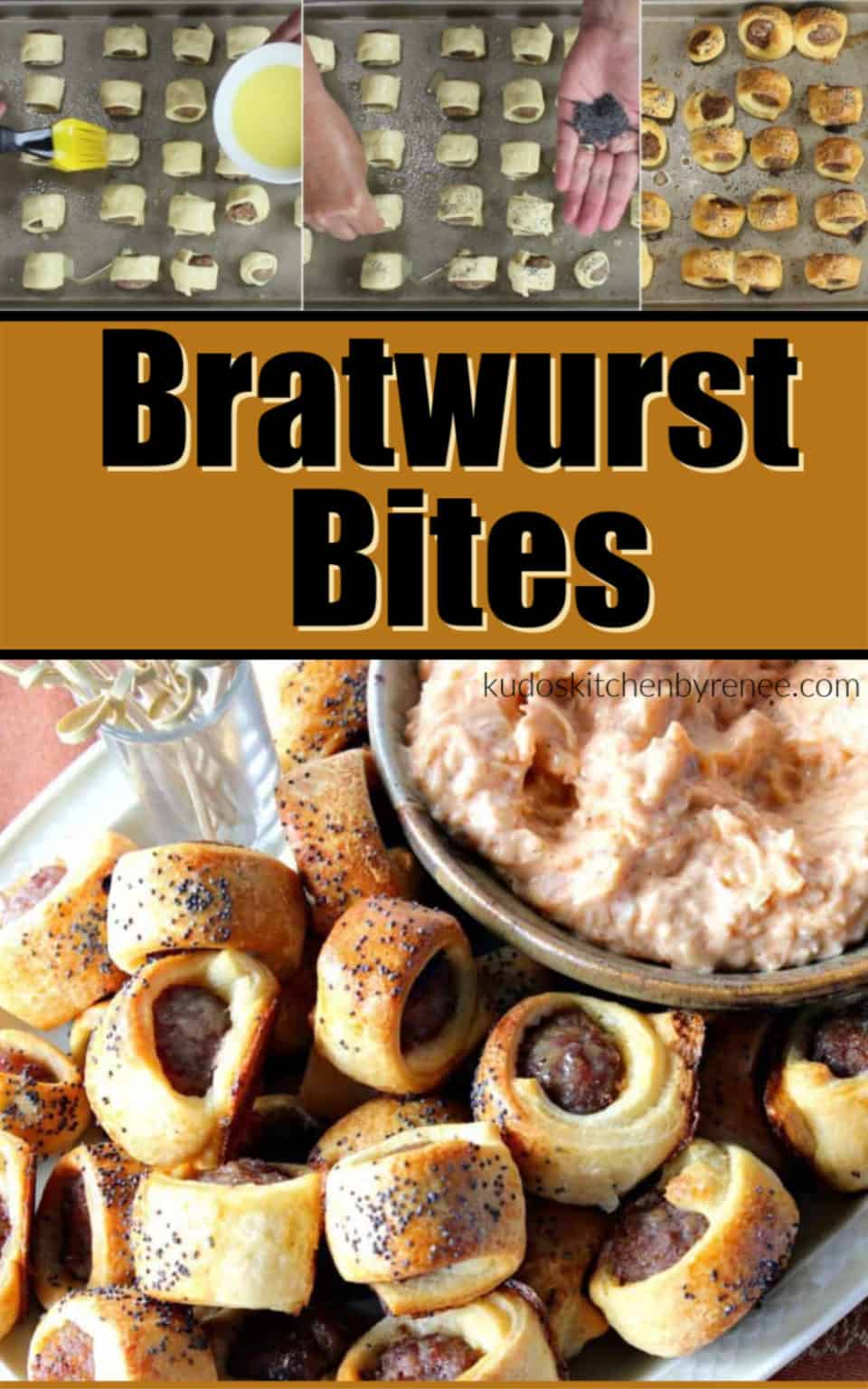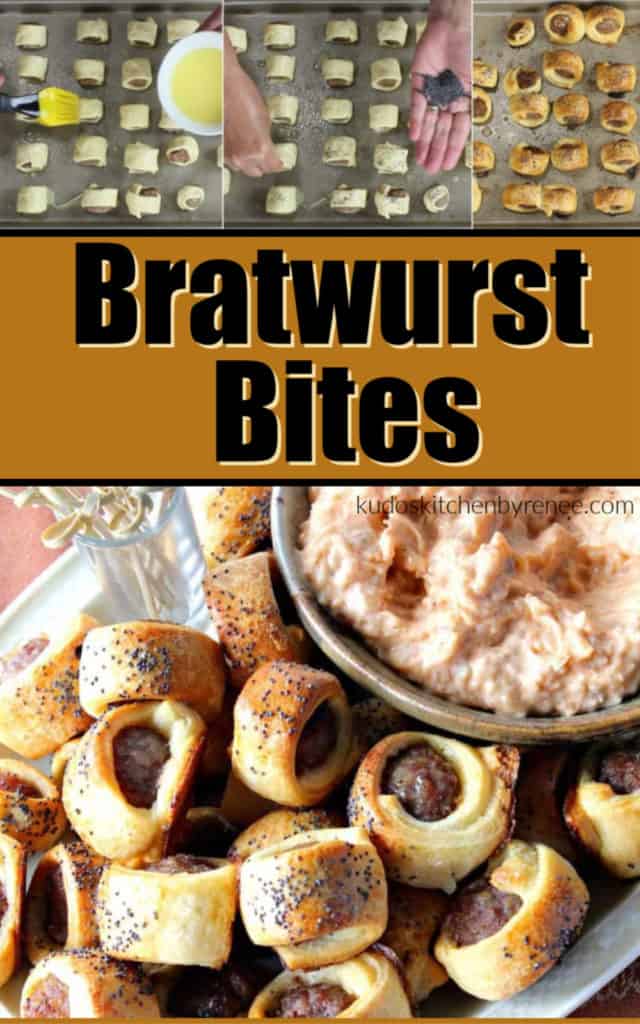 See? I told you I love German foods and flavors! 🙂
When you make this recipe, and I hope you do, I'd appreciate it if you'd take a moment to leave a star rating on the recipe card and briefly comment on why you rated it as you did. FYI - Google appreciates recipe ratings and, in turn, will share my recipes with more people. Thank you so much!!
Printable Recipe Card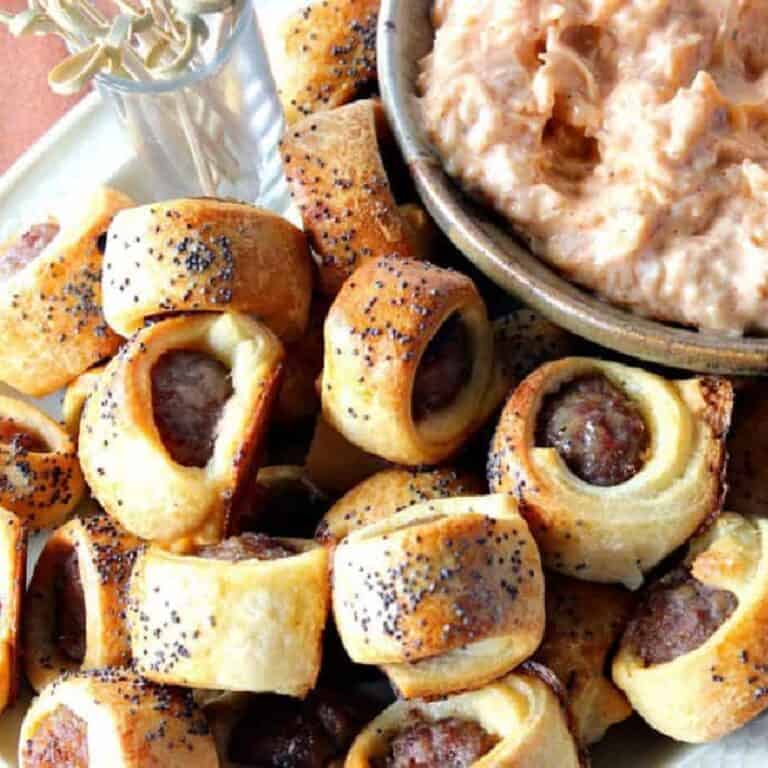 Bratwurst Appetizer Bites with Sauerkraut Dipping Sauce
Bratwurst Bites with Sauerkraut Dipping Sauce are just the thing to serve during a party or gathering. They're also super simple to make, and everybody loves them! Make some today!
Ingredients
5

bratwurst

1

tablespoon

canola oil

1

tube

non-perforated crescent roll sheet

1

large

egg

1

tablespoon

water

1

teaspoon

poppy seeds

½

cup

sauerkraut

drained

½

cup

mayonnaise

pinch

black pepper

¼

teaspoon

smoked paprika
Instructions
Preheat oven to 375-degrees Fahrenheit (190 degrees Celsius)

Cut the uncooked bratwurst into 1" pieces to make 24 pieces.

In a large skillet, brown the bratwurst pieces (on medium/high heat) in the oil until browned and cooked through, turning occasionally (approximately 10 minutes).

Remove the cooked bratwurst to a paper towel to drain and cool.

Pop and unroll the crescent sheet. Slice the sheet in half lengthwise and then slice into ½" strips to equal 24 - 6" strips.

Wrap each cooked bratwurst piece in one of the 6" crescent strips.

Place each wrapped bratwurst onto a parchment lined baking sheet.

In a small bowl, whisk together the egg and water.

Brush each crescent wrapped bratwurst with a bit of the egg wash, being careful not to saturate the bites as this will make them stick to the tray.

Sprinkle each bratwurst bite with poppy seeds.

Bake in a preheated oven for 15-17 minutes, or until the crescent rolls are golden brown.

Meanwhile, in a small bowl, mix together the sauerkraut, mayonnaise, pepper, and smoked paprika. Keep cold until ready to serve.

Serve the bratwurst bites warm (or at room temperature), along with the chilled sauerkraut sauce.
Video
Notes
Refrigerate leftovers in an airtight container for up to 5 days.
May be frozen in an airtight freezer container for up to 3 months.
Reheat uncovered in an oven or air fryer until hot for best results.
Nutrition
Serving:
1
bite
Calories:
78
kcal
Carbohydrates:
4
g
Fat:
6
g
Saturated Fat:
1
g
Cholesterol:
8
mg
Sodium:
125
mg
Sugar:
1
g
I hope you've enjoyed today's easy appetizer recipe for Brat Bites with Sauerkraut Dipping Sauce as much as I've enjoyed bringing it to you.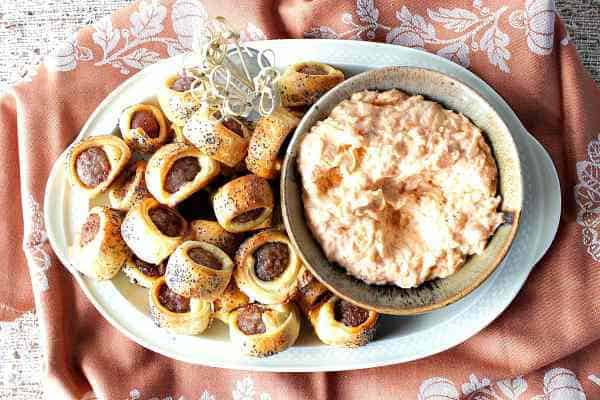 Follow me across my social media platforms and join in on the conversation: FACEBOOK, INSTAGRAM, PINTEREST, TIKTOK, AND YOUTUBE.
Thank you so much for visiting me today in my Kudos Kitchen. I hope you found something you'll love and that you'll come back and visit me often. There is always room for you around my table!
Should you have any questions or comments regarding anything you've seen here on my blog, please don't hesitate to reach out to me. It is always my distinct pleasure to respond to you just as soon as I possibly can.
Until we eat again, I hope you have a delicious day!!