When you want to kick up your hummus game, making this Eggplant and Chickpea Hummus is the healthy and delicious recipe you need.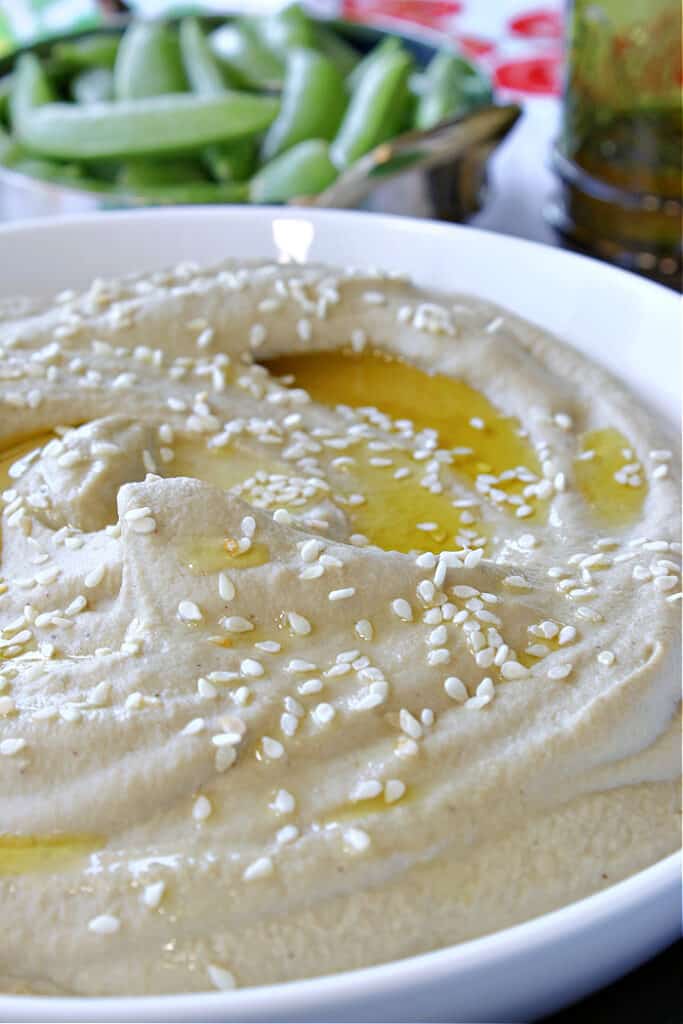 Deliciously creamy with a lightly roasted eggplant flavor. This roasted eggplant dip is a wonderfully healthy snacking option for all your dipping needs.
**Please Note - The printable recipe card with detailed instructions, complete ingredient measurements, and nutritional information for making Eggplant and Chickpea Hummus is available at the end of this post. OR you can hit the "jump to recipe" button (found above) to be taken directly to the recipe.
The ingredient list:
**Note - The following lists of ingredients plus kitchen tools and equipment contain affiliate links (highlighted in blue) for your consideration and shopping convenience. #CommissionsEarned
eggplant (approximately 2½ - 3 pounds)
canned chickpeas (drained, liquid reserved)
tahini (sesame seed paste)
garlic
sesame seeds for garnish (optional)
dippers of choice (vegetables, crackers, bread...)
Kitchen tools and equipment needed:
What makes this homemade hummus better than store-bought hummus?
Simple. The flavor!
The roasted eggplant's addition gives this hummus an incredible depth of flavor that stands heads and hands over a store-bought variety.
When making hummus at home, you get to control the amount of sodium and seasonings, and you get to choose the quality of ingredients with no preservatives added.
You also know the day it was made so you can keep better track of its freshness (although odds are you don't need to worry about that because it won't last for too very long).
What is the best type of eggplant to use in this recipe?
You can use whatever type is available to you as they'll all work equally as well.
As you can see in the how-to photos below, I used a Japanese eggplant variety we grew in our summertime raised garden bed.
Health benefits of eggplant:
You may be surprised to learn that eggplant are a tremendous source of vitamins and minerals.
They are a great source of vitamin C, K, B6, thiamine, niacin, magnesium, manganese, phosphorus, copper, fiber, potassium, and more!!
Find out more about the surprising health benefits of eggplant.
Can the skin of an eggplant be eaten?
Yes.
The skin of an eggplant is totally edible, however, it can sometimes be tough and bitter.
For this recipe, I chose not to add the skins into the hummus, so after roasting the eggplant I used a spoon to scoop out the cooked eggplant flesh and discarded the skins.
How much hummus will this recipe make:
Approximately 2 cups.
How long will this eggplant hummus take to make from start to finish:
Naturally, the roasting of the eggplant is what will take the most time when making this recipe.
As I mentioned earlier, I used a Japanese eggplant variety (long and slender), and, for me, the roasting time was 40 minutes in a 400-degree oven.
However, if you're using a different variety of eggplant, the roasting time will differ depending on your eggplant variety's size and thickness.
Once you can easily pierce the eggplant's flesh with a fork, you know it's cooked through, and it can be easily removed from the skin when cooled.
How to make roasted eggplant and chickpea hummus:
Preheat oven to 400-degrees.
Trim and slice the eggplant in half lengthwise.
Lay the prepared eggplant in a single layer on a baking sheet.
Drizzle the eggplant with olive oil and season with salt and pepper.
Roast in the oven for approximately 40 minutes (more for larger eggplant), until golden and a fork can easily pierce the flesh.
Allow the eggplant to cool until you can easily handle them.
Once cooled, scoop out the flesh of the eggplant with a spoon and set it aside.
Meanwhile, drain the liquid from a can of chickpeas (reserve it for later).
Add the drained chickpeas, roasted eggplant flesh, tahini, minced garlic, salt, and pepper to a blender.
Blend on high until creamy, adding some of the reserved chickpea liquid, as needed, to meet your desired consistency.
Spoon the eggplant and chickpea hummus into a bowl for serving OR place in an air-tight container and refrigerate until ready to serve.
To serve, drizzle with olive oil and sprinkle sesame seeds over top.
Serve with fresh vegetables, chips, bread, you name it!
Additional eggplant recipes:
*Crispy Eggplant Chips (shown below)
These delicate and Crispy Baked Eggplant Chips are packed with flavor thanks to light brushing of homemade basil-infused olive oil, and grated Parmesan cheese.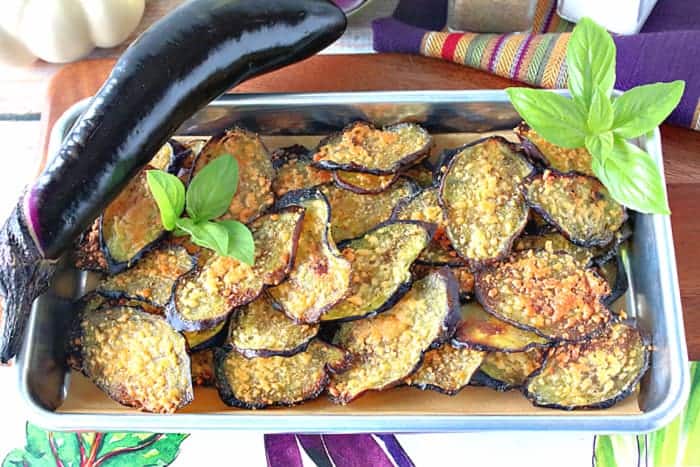 *Eggplant Zucchini Bread (not shown)
Yep, you read that right… Eggplant Zucchini Bread. It's so moist and flavorful, AND it's a great way to bump up the nutrition level of your next zucchini quick bread without anyone being the wiser.
*Fried Eggplant Sandwich (shown below)
This Fried Eggplant sandwich is seriously delicious. Golden brown fried eggplant slices are layered between toasted bread with lettuce, tomato, and sauteed green bell pepper. One bite and you'll be hooked. This sandwich is so, so good!!
*Garden Harvest Polenta Stacks (not shown)
Fun, colorful and gluten-free, these Grilled Garden Harvest Polenta Stacks are perfect for a meatless meal while taking full advantage of summer's bounty of seasonal, zucchini, eggplant, tomatoes and basil.
*Roasted Eggplant and Chickpea Hummus (shown below) THIS IS THE PLACE!!
Below is the printable recipe card along with the exact ingredient measurements and nutritional information for making today's delicious and healthy eggplant dip recipe.
When you make this recipe, and I hope you do, I'd appreciate it if you'd take a moment to leave a star rating on the recipe card and briefly comment on why you rated it as you did. FYI - Google appreciates recipe ratings and, in turn, will share my recipes with more people. Thank you so much!!
Printable Recipe Card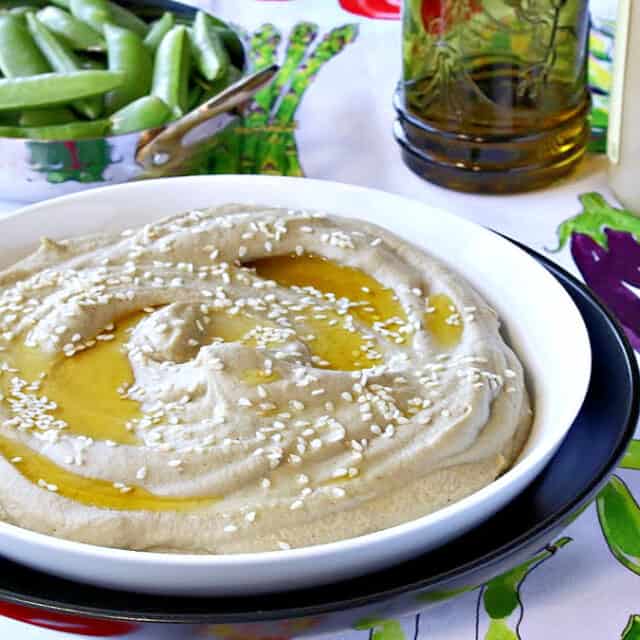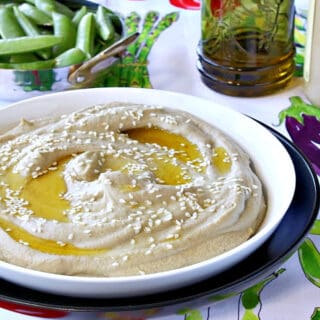 Roasted Eggplant and Chickpea Hummus
When you want to kick up your hummus game, making this Roasted Eggplant and Chickpea Hummus is the healthy and delicious recipe you need.
Ingredients
Instructions
Preheat oven to 400-degrees.

Trim and cut the eggplant in half lengthwise. Place them (cut side up) on a baking sheet.

Drizzle the cut eggplant with 1 tablespoon olive oil and season with salt and pepper to taste.

Roast the eggplant in the preheated oven for 40 minutes (longer if using larger eggplants), until a fork pierces through the flesh easily. Remove and cool.

Meanwhile, drain a can of chickpeas (reserving the liquid) and place them in a blender.

When the eggplant is cool enough to handle scoop out the flesh from the skins (discarding the skins) and place in the blender with the drained chickpeas.

Add the tahini, 2 tablespoons of reserved chickpea liquid, 1 clove of minced garlic, 1½ teaspoon salt, and ½ teaspoon of black pepper to the blender.

Cover and blend until creamy, adding more chickpea liquid, if desired, to reach your preferred consistency.

Add to a bowl and drizzle with additional olive oil, and a sprinkling of sesame seeds before serving with dippers of your choice.
Notes
Store this roasted eggplant and chickpea hummus in an air-tight container in the refrigerator for up to two weeks.
Nutrition
Calories:
452
kcal
Carbohydrates:
75
g
Protein:
13
g
Fat:
17
g
Saturated Fat:
3
g
Sodium:
2933
mg
Potassium:
2881
mg
Fiber:
38
g
Sugar:
44
g
Vitamin A:
291
IU
Vitamin C:
28
mg
Calcium:
131
mg
Iron:
3
mg
I sincerely hope you've enjoyed today's savory and healthy roasted vegetable dip recipe as much as I've enjoyed bringing it to you.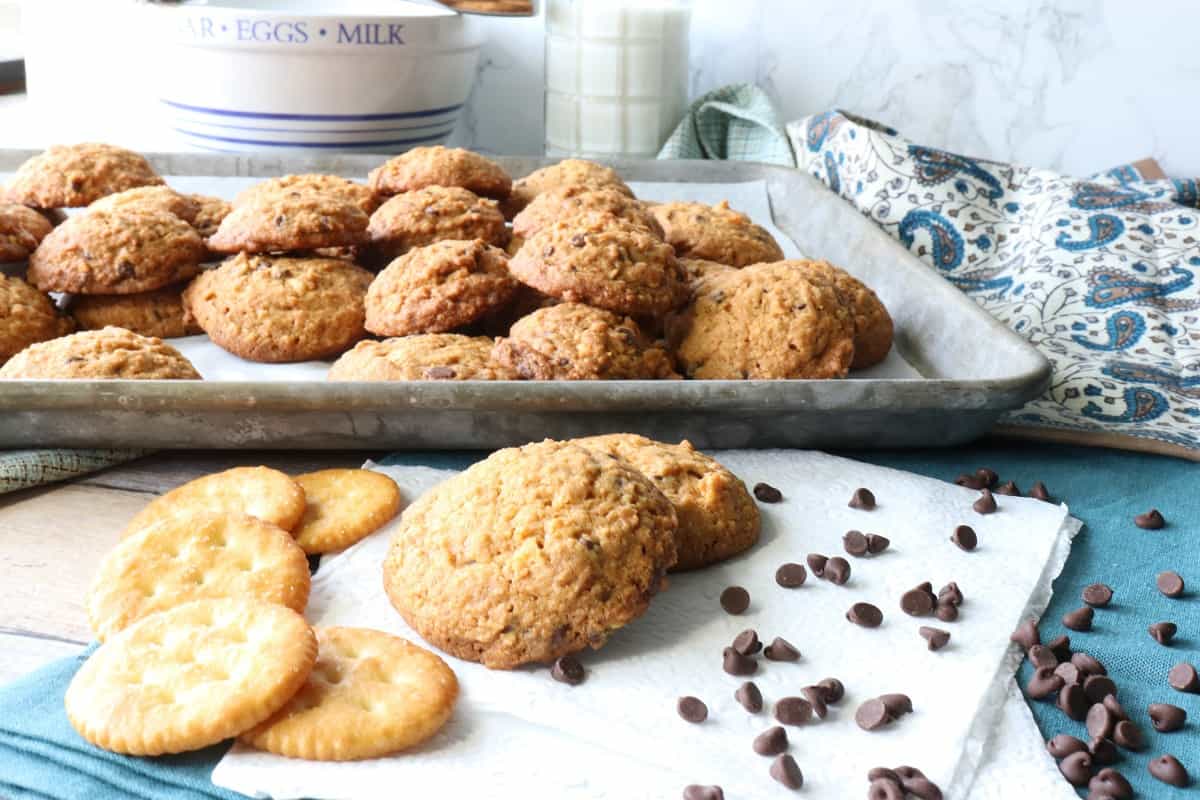 Follow me across my social media platforms and join in on the conversation: FACEBOOK, INSTAGRAM, PINTEREST, TIKTOK, AND YOUTUBE.
Thank you so much for visiting me today in my Kudos Kitchen. I hope you found something you'll love and that you'll come back and visit me often. There is always room for you around my table!
Should you have any questions or comments regarding anything you've seen here on my blog, please don't hesitate to reach out to me. It is always my distinct pleasure to respond to you just as soon as I possibly can.
Until we eat again, I hope you have a delicious day!!