Farmer's Market Vegetable Salad is a seasonally delicious and healthy salad which is a great accompaniment to any meal, or as an entire meal in and of itself!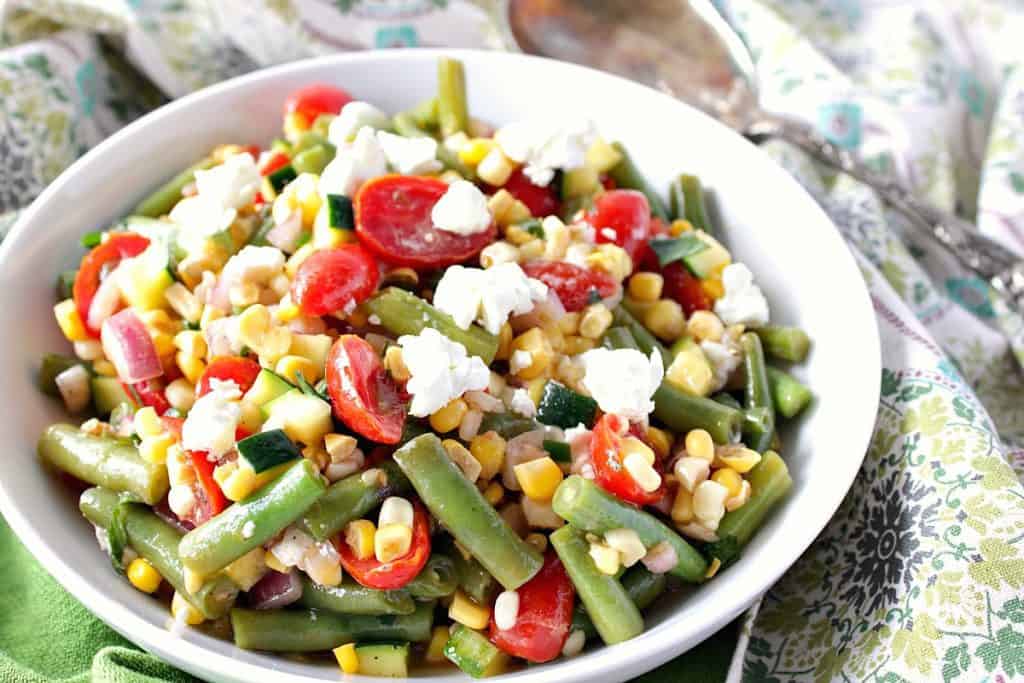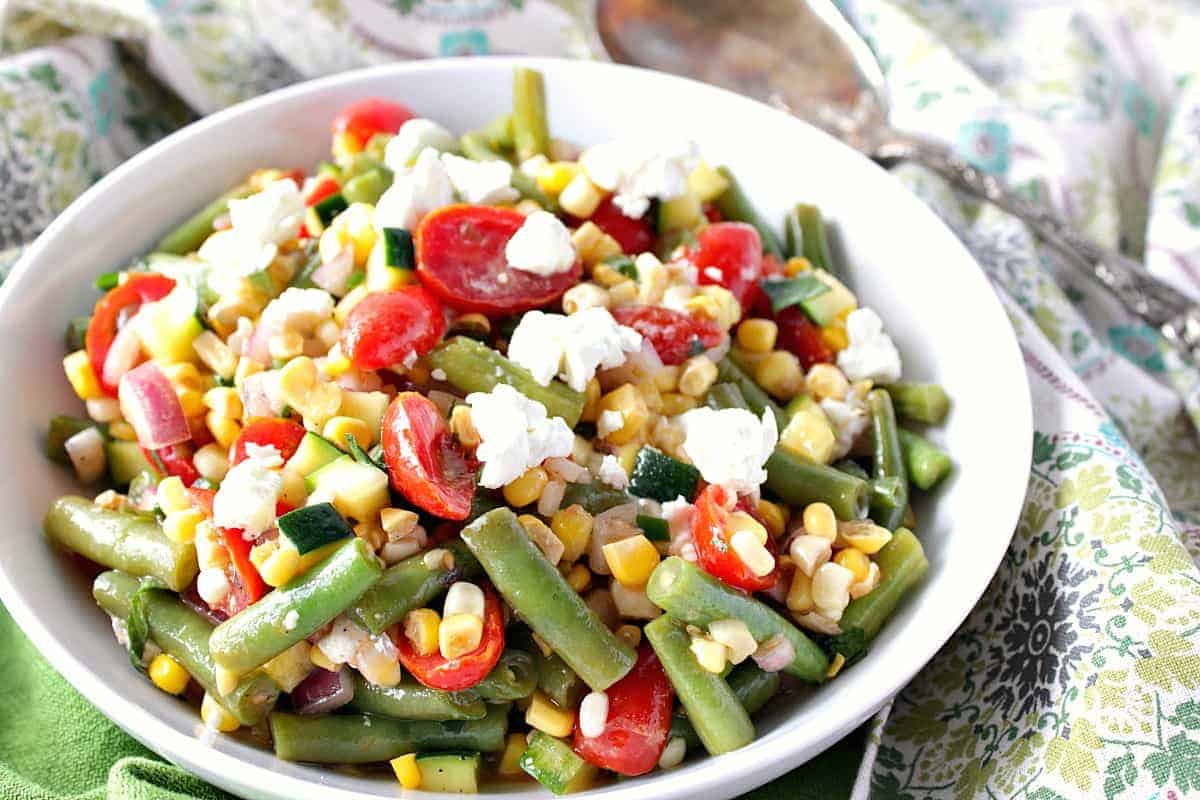 Whether you grow your own vegetables at home, visit a local farmer's market for seasonal produce, or shop at your neighborhood grocery store, you simply must add this Farmer's Market Fresh Vegetable Salad to your menu list while Mother Nature's bounty of summertime goodness is at its peak of flavor!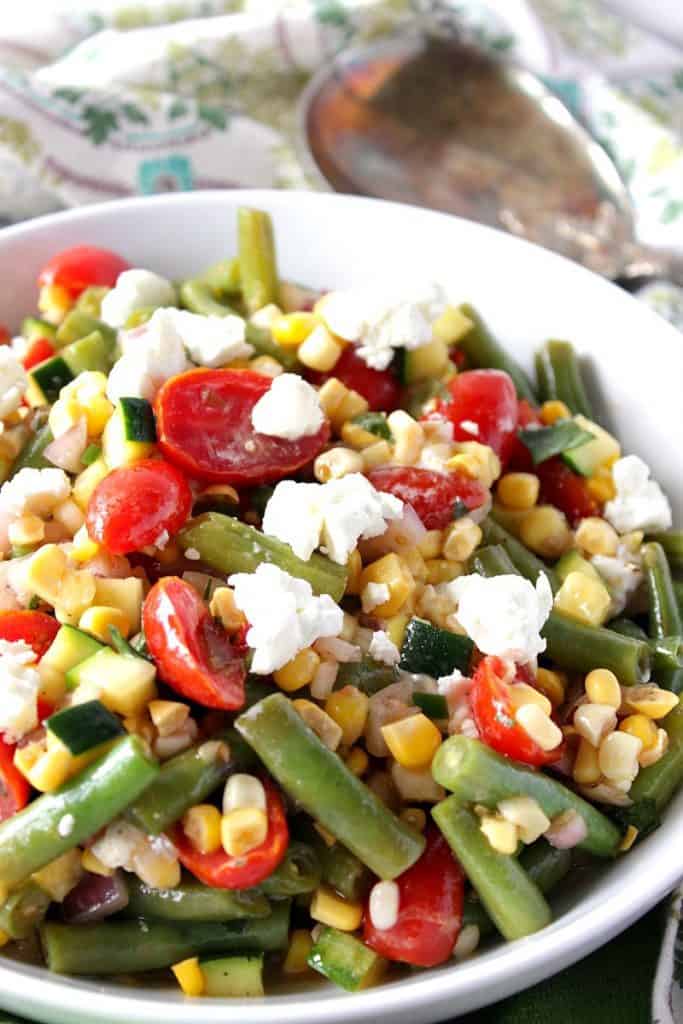 Mother Nature's best and brightest shine in this crisp and crunchy Farmer's Market Vegetable Salad. This salad is then topped with a lightly sweet homemade vinaigrette and creamy goat cheese to round out all the flavors.
Check out my latest and greatest Kudos Kitchen tasty BBQ side dishes recipe roundup.
Typically when you assemble this type of fresh vegetable salad you'd need to blanch the fresh green beans and corn to soften them slightly making them not so raw, and little easier to chew. However, I chose to lightly microwave the green beans and corn to soften them slightly and to take some of the complete rawness out of them. This technique worked wonderfully well and was a nice time saver as well as making clean-up just a little bit easier.
The fresh vegetables I chose to use in this Farmer's Market Vegetable Salas are sweet corn, green beans, zucchini, grape tomatoes, red onion, jalapeno pepper, and some chopped cilantro for added freshness.
To remove the corn kernels from the cobs I ran a sharp knife down each cob of corn, extracting only the kernels. A good trick for doing this is to place a small inverted bowl inside a larger bowl and then vertically stand the corn cob on the small bowl. Slice the kernels off the cob in downward strokes with a sharp knife. The kernels will fall directly into the larger bowl (most of them, anyway), keeping them from flying all around the kitchen and making a huge mess.
To trim the green beans, I used a paring knife to remove the two ends and then cut each bean into 1½ – 2 inch pieces. I then placed both the corn kernels and the cut green beans in a microwave safe bowl with a tablespoon or two of water, and microwaved them on high power for 3-4 minutes to slightly soften them, but not cook them completely through. Depending on the power of your microwave, the time frame you'll need to partially cook your vegetables will most likely differ. Please adjust your cooking time according to your desired doneness.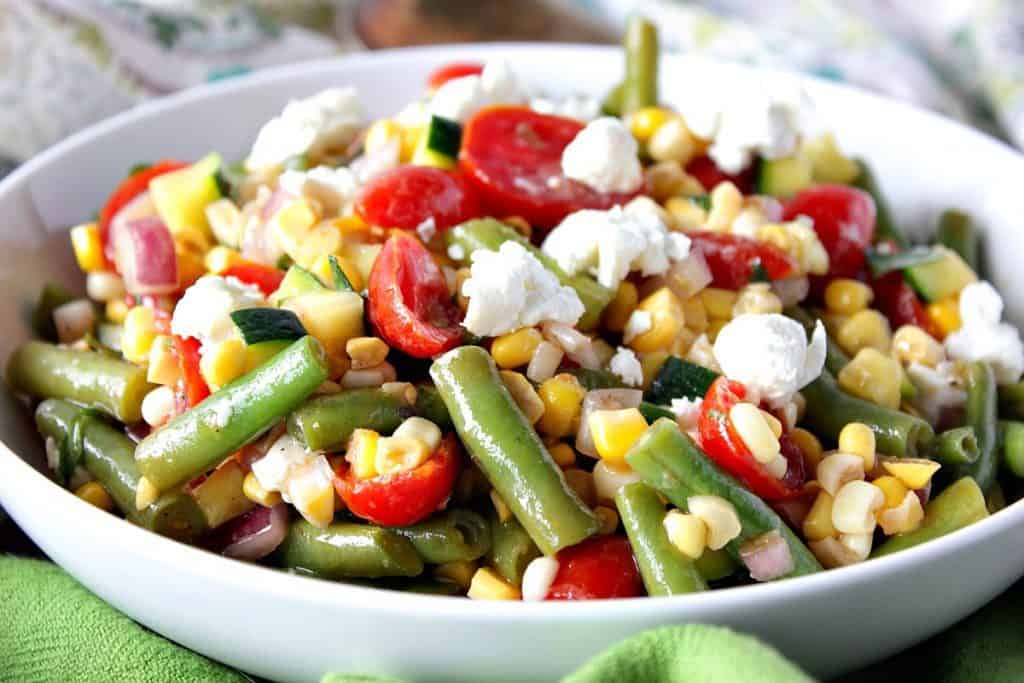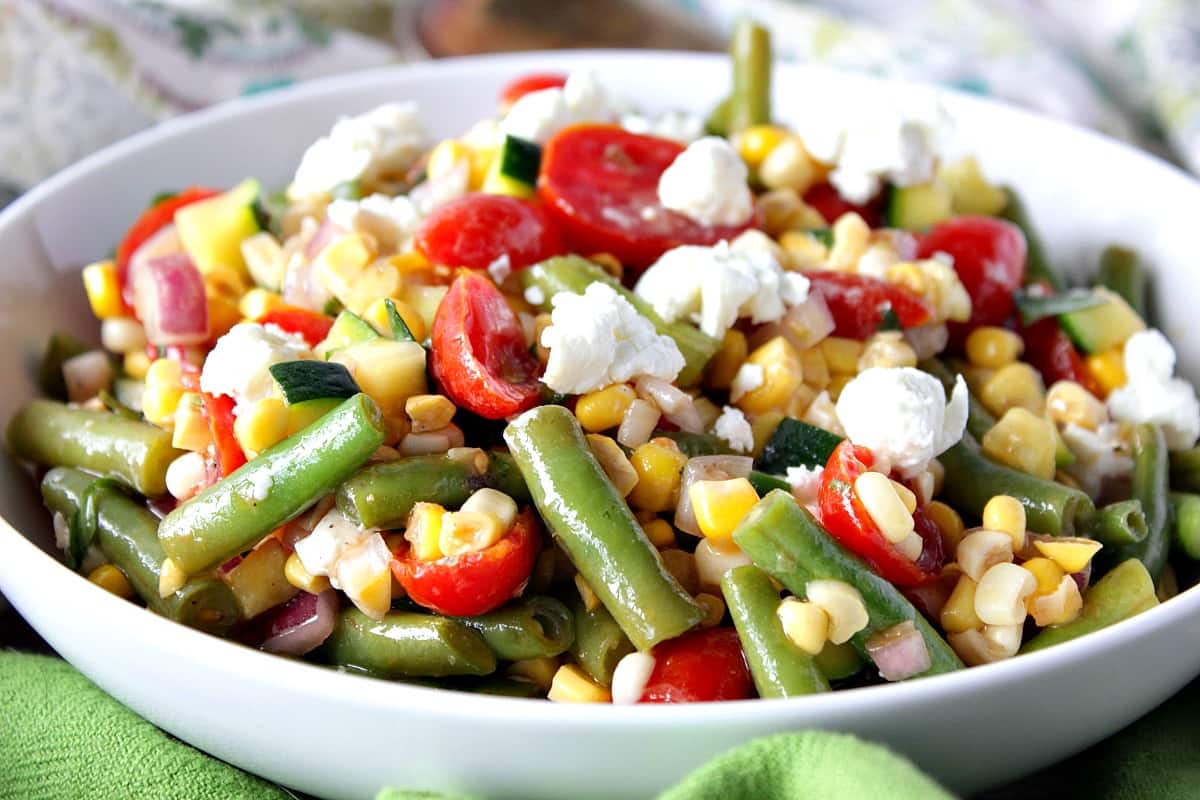 The ingredients for the quick and easy homemade vinaigrette to top the Farmer's Market Vegetable Salad are probably things you already have on hand in your pantry and fridge. They are balsamic vinegar, olive oil, Dijon mustard, minced garlic, honey, salt, and pepper. Shake up all these ingredients in a jar with a tight-fitting lid and pour it over the assembled salad and stir it well to combine. Cover the salad and refrigerate for a minimum of 4 hours. Right before serving, top the salad with some crumbled goat cheese and some additional chopped cilantro if desired.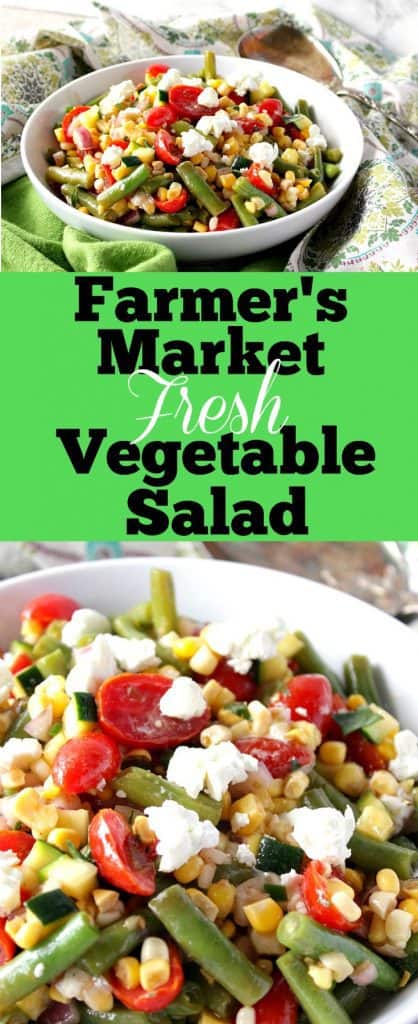 I'm happy to be linking up this recipe with Meal Plan Monday!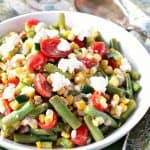 Summer's Best Farmer's Market Vegetable Salad
Farmer's Market Vegetable Salad is a seasonally delicious and healthy salad which is a great accompaniment any meal, or as an entire meal in and of itself!
Ingredients
FOR THE VEGETABLES:

3

ears of fresh corn

husks and silks removed and discarded, kernels removed and saved (approximately 2 cups)

1

pound

of fresh green beans

trimmed, and cut into 1½ - 2 inch pieces (approximately 3 cups)

3

cups

grape tomatoes

halved

1

small red onion

chopped (approximately 1 cup)

1

medium zucchini

chopped (approximately 1 cup)

1

medium jalapeno

seeded and finely chopped (approximately 1½ tablespoons)

1

teaspoon

salt

½

teaspoon

pepper

3

tablespoons

chopped fresh cilantro

plus more for garnish

½

cup

crumbled goat cheese

FOR THE DRESSING:

¼

cup

balsamic vinegar

½

cup

extra virgin olive oil

1½

tablespoons

Dijon mustard

1

tablespoon

minced garlic

1

tablespoon

honey

pinch

salt

pinch pepper
Instructions
TO ASSEMBLE THE SALAD:

Place the cut green beans and the corn kernels in a large microwave safe bowl along with 2 tablespoons water.

Cover and microwave on high for 2 minutes. Remove. Stir.

Return the corn and green beans to the microwave and microwave for an additional 2-3 minutes. Remove and cool slightly.

Add the grape tomato halves, red onion, zucchini and chopped jalapeno to the corn and beans.

Stir in the salt, pepper and chopped cilantro.

TO MAKE THE DRESSING:

Place all of the ingredients into a jar with a tight fitting lid and shake well to combine.

Pour half of the vinaigrette over the fresh vegetables and stir well to combine.

Cover the salad and refrigerate at least 4 hours.

Before serving add more salt and pepper (if needed) and more of the vinaigrette (if desired), and stir.

Before serving, garnish top the salad with crumbled goat cheese and chopped cilantro if desired.
Recipe Notes
Tools and equipment:
cutting board and chefs knife
paring knife
large microwave safe bowl
small and medium bowl (for removing the corn kernels)
mason jar or jar with tight fitting lid
plastic wrap
Are you looking for more recipes that will utilize summertime's freshest vegetables? Great! I've got several other suggestions that I think you'll enjoy. By clicking on the recipe titles below, you'll be taken directly to these delicious dishes that are Mother Nature approved.
Italian Layered Zucchini Parmesan
Grilled Garden Harvest Polenta Stacks
Spaghetti Squash & Zucchini Pancakes
Roasted Golden Beet & Broccoli Salad
Heart Healthy Avocado & Mango Salad
Heirloom Tomato Salad with Lemon Infused Olive Oil
Spinach, Chickpea and Red Pepper Salad
One of the things I love the most about the produce department or farmer's market in the summertime is the bright and vivid colors that excite my senses and sets my imagination on fire. That's the reason I'm coordinating this recipe for Farmer's Market Vegetable Salad with my retro set of four hand-painted Beatles wine glasses. They're fun and colorful and would be an unexpected way to surprise your guests this summer when you're dining alfresco!
For additional information regarding Kudos Kitchen, please follow me on: FACEBOOK, PINTEREST, INSTAGRAM, TWITTER & YOUTUBE.
Kudos Kitchen by Renée ~ Where food, art, and fun collide each and every day!
Until we eat again, I hope you have a delicious day!