This Flavor Packed Cucumber with Dill Pickle Dip will keep you coming back for more. It's big bold flavor is great for chips, crackers and even vegetables.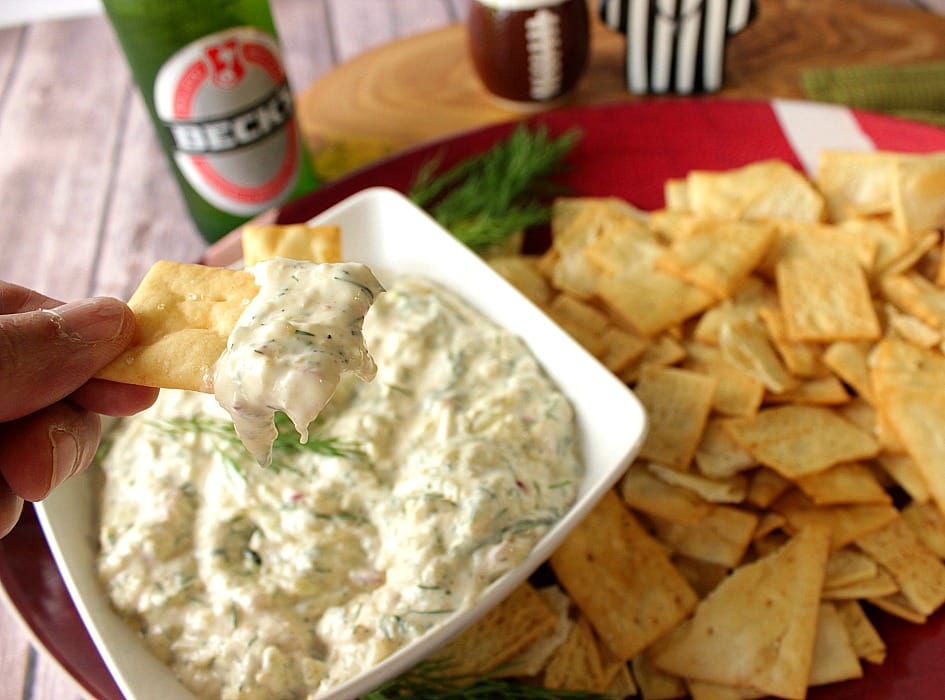 Back in the 70's (my high school days) I remember cucumber dip being all the rage. It was a tangy mix of grated cucumber, sour cream, and onion. I decided to revisit what I recall was my favorite dip, and (naturally) add my own twist to it for a 2016 update. The result is an amazing dip that packs a ton of flavor, and one that will score major points when you serve it while tailgating with the gang, or staying home to watch the big game on TV.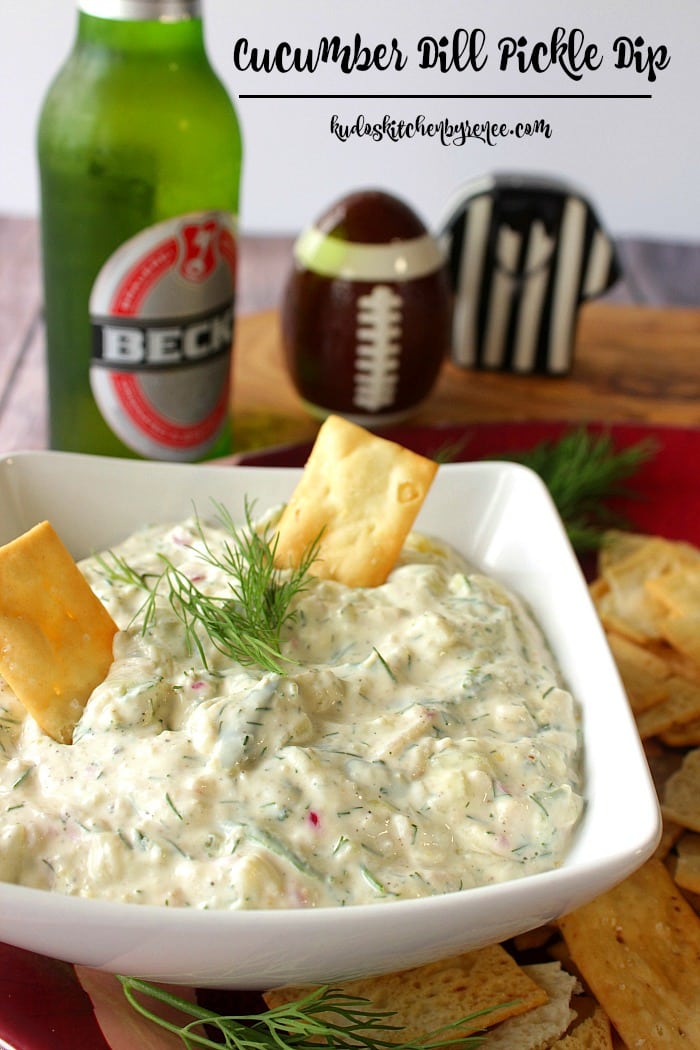 The ingredients in this cucumber with dill pickle dip are also some of my favorites when it comes to sandwich fixings. Horseradish, Dill pickles, mayonnaise and Dijon mustard, just to name a few. Since that's the case, I'm more than tempted to slather this on my next roast beef or pastrami sandwich. Be still my heart, and I double dog dare you to try it yourself! Go on; you know you want to!
Since cucumbers are largely made up of water the key to keeping this dip thick and creamy (and not watery), is to squeeze as much *juice* as possible from the cucumber once it's shredded. You'll be amazed how much water is released from the cucumber! And, instead of washing all this cucumber goodness down the drain, why not make a glass of "spa water" by adding the cucumber juice to a glass of ice water along with a sprig of dill? Ahhh. Talk about refreshing!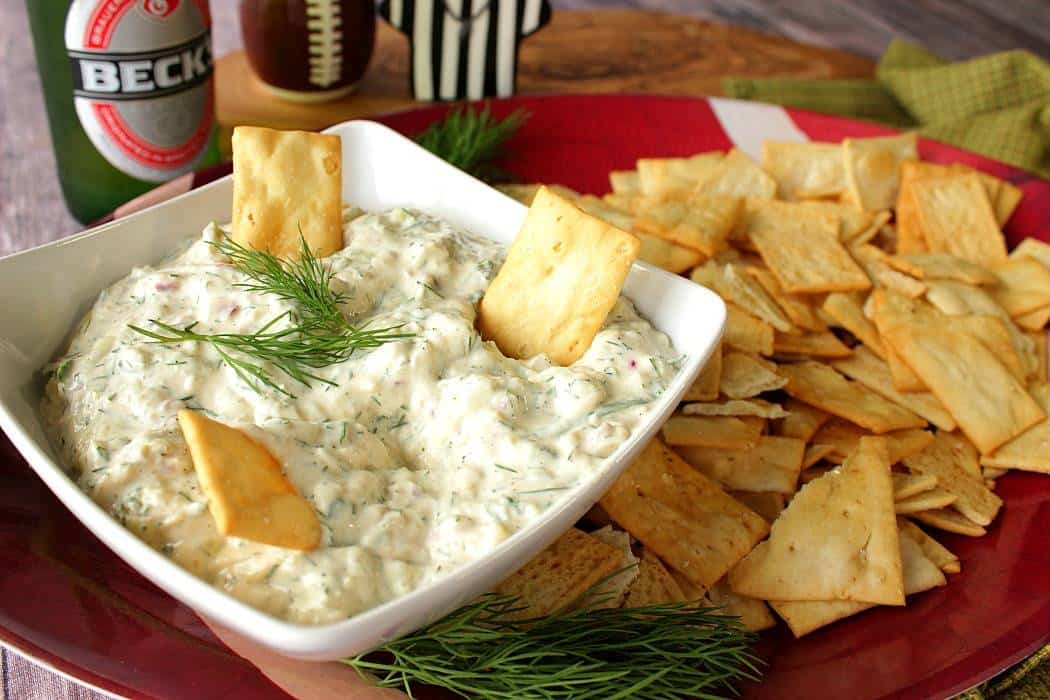 Flavor Packed Cucumber Dill Pickle Dip is a cinch to make. Let me show you how with the following step-by-step photos:
Halve a large cucumber and scoop out the seeds (or use and English cucumber and skip this step). Shred the cucumber on a box grater. Place the shredded cucumber on a clean dish towel or several layers of paper towel.

Gently but firmly squeeze as much water from the cucumber as possible (reserving the juice to make spa water), and place the drained cucumber into a large bowl along with some grated red onion.

Chop dill pickles into ¼" pieces. Add the pickles into the bowl along with chopped fresh dill weed, and grated horseradish.

Add Dijon mustard, black pepper, mayonnaise, Greek yogurt and garlic powder to the bowl. Stir to mix well and chill at least 2 hours to marry all the flavors. Serve with assorted crackers, chips, vegetables, or use as a sandwich spread.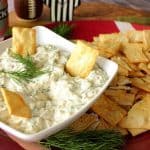 Flavor Packed Cucumber Dill Pickle Dip
This Flavor Packed Cucumber Dill Pickle Dip will keep you coming back for more. It's big bold flavor is great for chips, crackers and even vegetables.
Ingredients
1¼

cups

shredded cucumbers

1 cucumber, seeds removed (if needed) and squeezed dry.

2

tablespoons

grated red onion

¼

cup

chopped dill pickles

2

tablespoons

chopped fresh dill

1

tablespoon

grated horseradish

1

tablespoon

Dijon mustard

pinch

black pepper

½

cup

mayonnaise

½

cup

Greek yogurt

1

teaspoon

garlic powder
Instructions
Place all the ingredients in a large bowl and stir well to combine.

Chill at least 2 hours and serve with assorted crackers, chips or vegetables.
Recipe Notes
If using English cucumbers, there is no need to remove the seeds.
Squeezing the liquid from the shredded cucumbers is key to achieving a thick dip that isn't watery.
Add the liquid from the cucumbers to a glass of water and drink up. It's healthy and refreshing!
The post above includes affiliate links. When I find a great product or service, I like to share it with my readers. Sometimes I use affiliate links so I can earn commission for my recommendations. Thank you for your support!
The following Amazon items are for your consideration and will assist you in making this recipe for Flavor Packed Cucumber Dill Pickle Dip if needed. Click on the picture to be taken to the listing at Amazon.com
I've decided to coordinate this post with this set of 4 Chicago sports team beer glasses because this cucumber dill pickle dip would be the perfect thing to snack on while watching sports of any kind. These glasses aren't available in either of my shops, but if you're interested in ordering any (or all) of them (or any sports team for that matter), please contact me via email: info@kudoskitchenbyrenee.com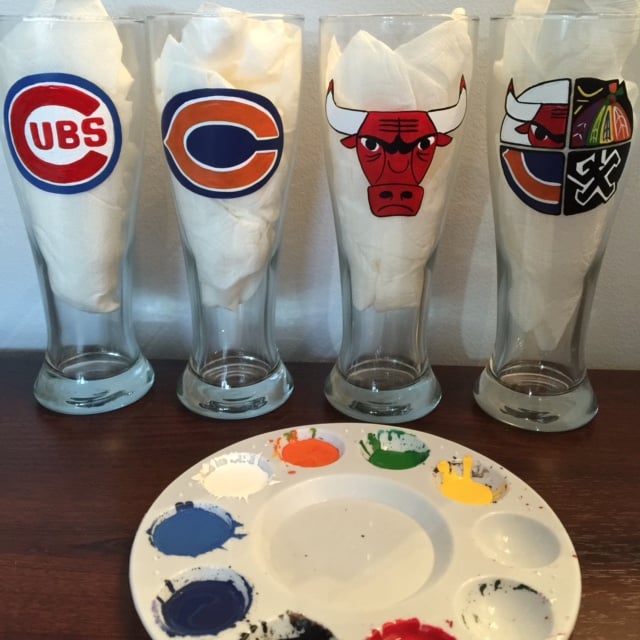 All of my hand painted glassware items are completely dishwasher safe as well as being non-toxic. Every glass comes in its own gift box and personalization (if requested) is always free. Custom special orders are always welcome. I will happily paint and design from any photo, idea or description you send my way. If you're interested in placing a special order, please email me: info@kudoskitchenbyrenee.com To view current items I have on sale (glassware and fabrics), please visit my shops on Etsy and Wazala.
Kudos Kitchen by Renée ~ Where food, art, and fun collide each and every day!
Until we eat again, I hope you have a delicious day!