Colorful heirloom tomatoes take their rightful place in the spotlight in this delicious and flavorful Heirloom Tomato Salad with Garlic Lemon Infused Olive Oil.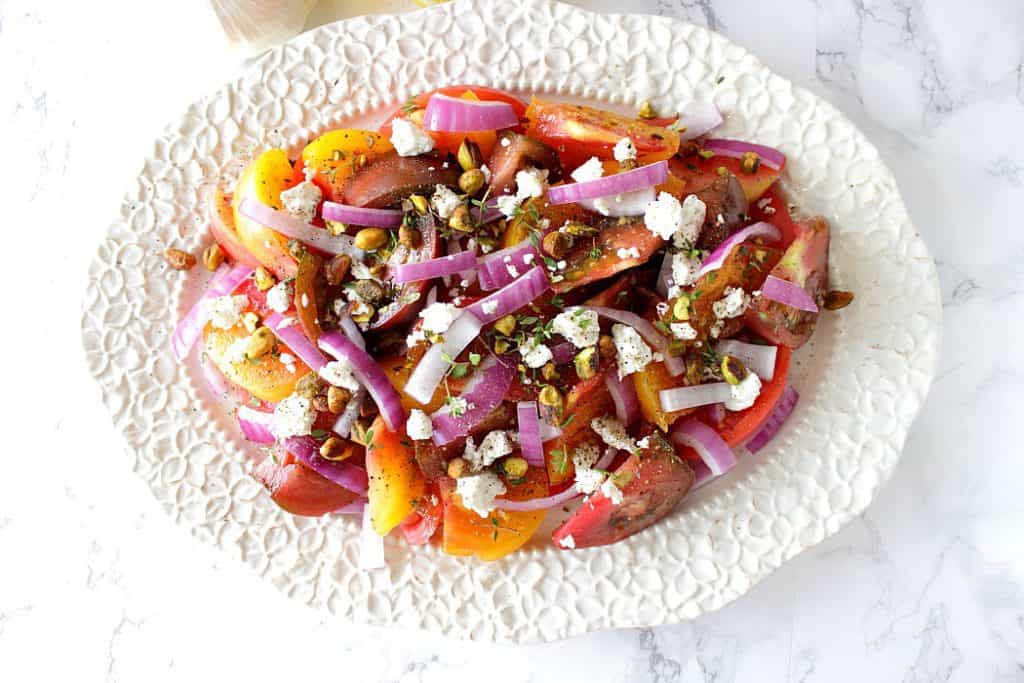 My husband has done a vegetable garden almost every year since we were first married. This year, however, we decided to forgo a garden and start buying our produce at the local farmer's market. Even though I've missed the fun of watching the veggies grow, I haven't missed watching the weeds take over a garden that we no longer seem to have the time to tend to.


These beautiful heirloom tomatoes are compliments of our local corner farmer's market. Thank you to the farmers for growing such colorful and juicy tomatoes, and for tending to the weeds, so we don't have to!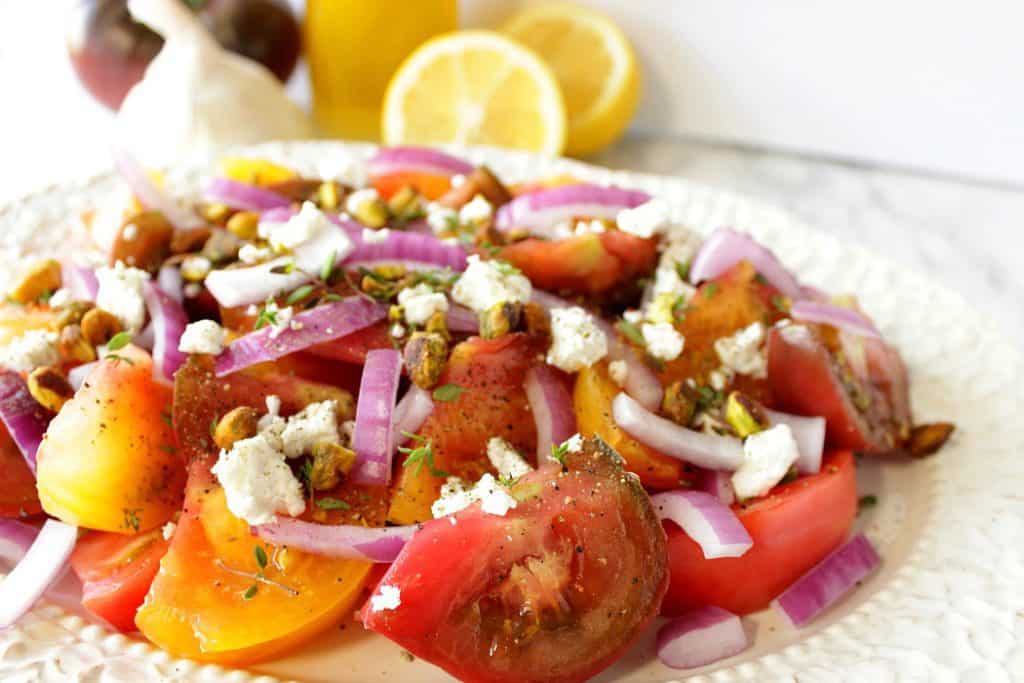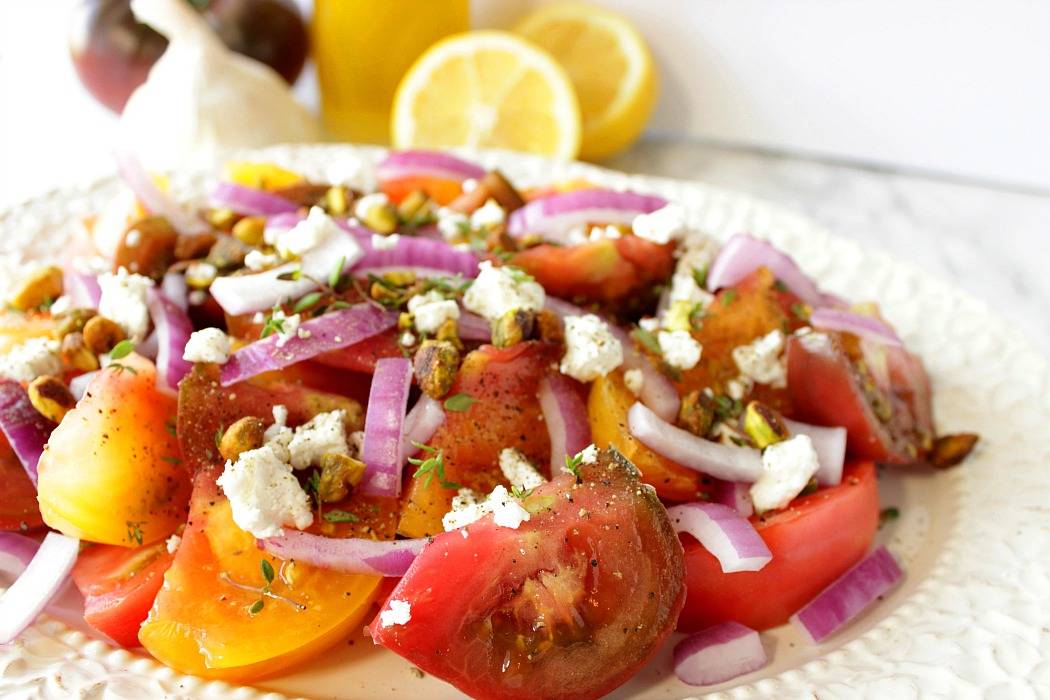 While my husband and I were purchasing our tomatoes we also sampled several flavored olive oils that were infused with herbs and citrus. Since infusing olive oil is simple to do, I decided to make my own garlic lemon infused olive oil when we got home to use as a dressing for the heirloom tomato salad. The result was as delicious as it is pretty.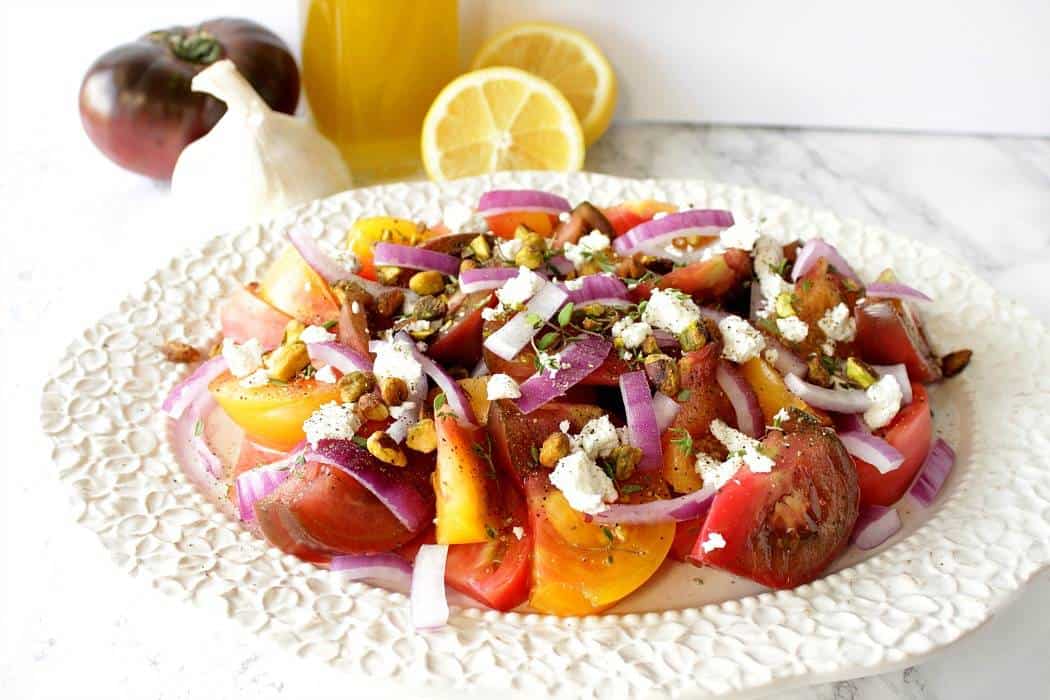 Heirloom Tomato Salad with Garlic Lemon Infused Olive Oil
Colorful heirloom tomatoes take their rightful place in the spotlight in this delicious and flavorful Heirloom Tomato Salad with Garlic Lemon Infused Olive Oil.
Ingredients
For the infused oil
2

cups

Extra virgin olive oil

4

cloves

garlic

smashed

rind from 1 lemon
For the tomato salad
3-4

heirloom tomatoes

or your favorite variety, sliced into wedges

1

small red onion

thinly sliced

2

ounces

goat cheese

crumbled

1

tablespoon

fresh lemon juice

1

tablespoon

fresh thyme leaves

¼

cup

chopped pistachios

salt and pepper to taste
Tools and equipment
small sauce pan

bottle or jar with lid to store the olive oil

funnel

if needed, for transferring the oil to a bottle or jar

cutting board

chef's knife

serrated knife

for slicing tomatoes

serving platter
Instructions
To make the infused oil
Heat the olive oil, garlic, and lemon rind in a small saucepan over medium/low heat for 15 minutes.

Remove the oil from the heat and allow to cool before adding to a bottle or jar.
To make the tomato salad
Place the tomatoes and onion on a serving platter.

Season with salt and pepper to taste.

Squeeze the lemon juice over the tomatoes and onion.

Drizzle the tomatoes with the garlic lemon infused olive oil.

Top the salad with the thyme leaves, goat cheese, and pistachios.

Serve and enjoy.
Notes
The infused olive oil can be stored in a closed jar or bottle for up to 2 weeks.
Use the oil on other veggies, or brush it on fish or seafood before cooking.
AMAZON tools and equipment for your consideration: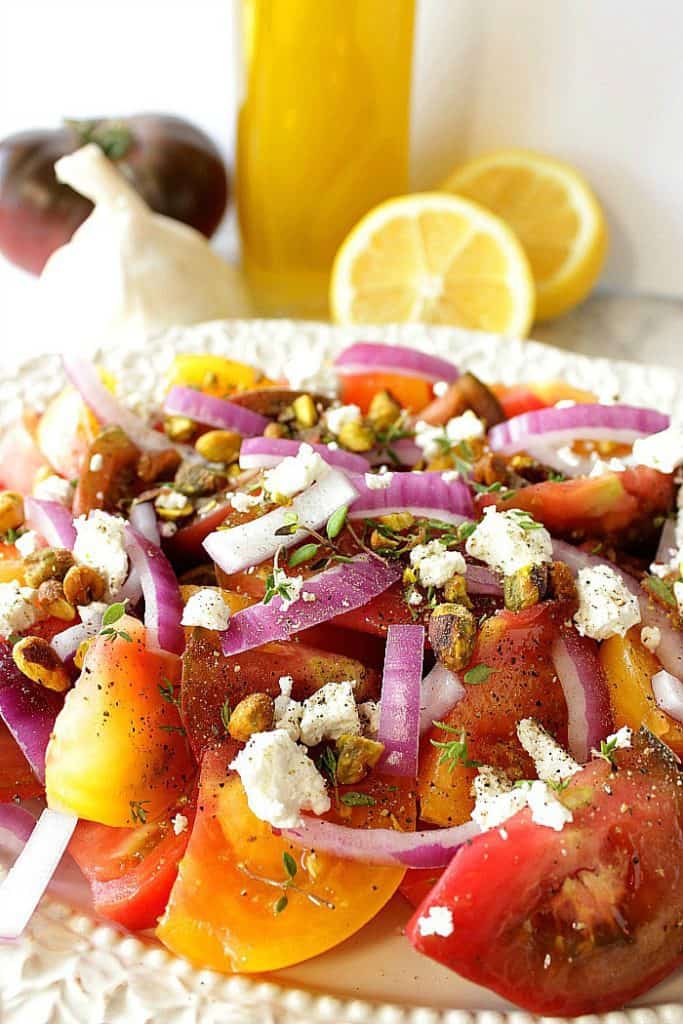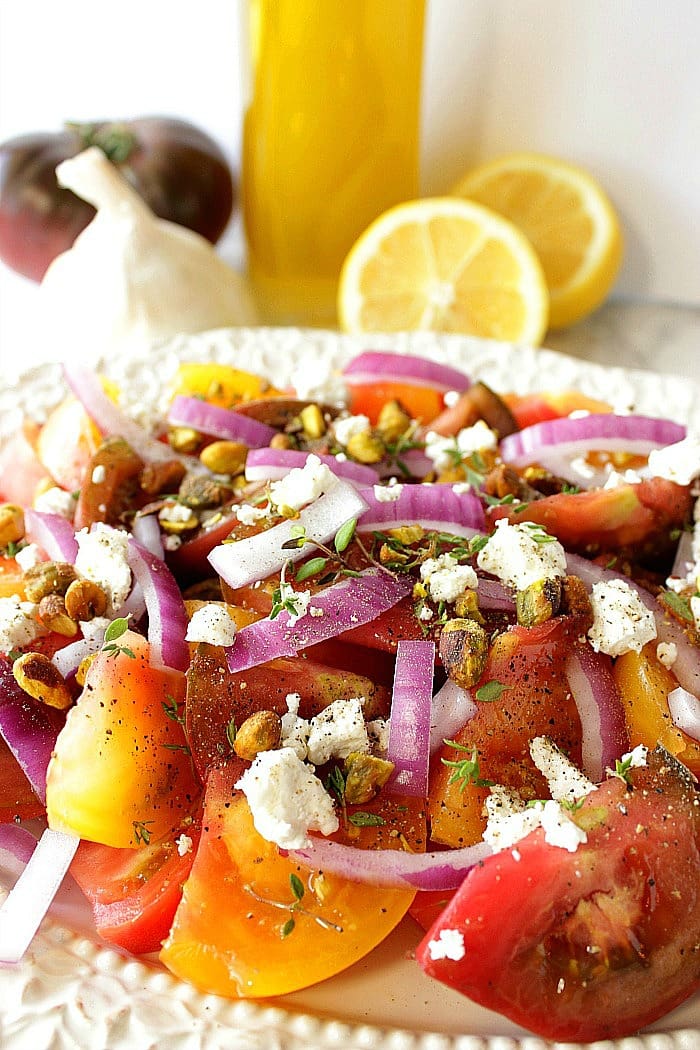 This heirloom tomato salad is so good, so fresh, and so loaded with textures and flavors that will explode in your mouth with each and every bite. The crunch from the pistachios, the creaminess of the goat cheese, the sweet and oniony bite of the red onion, the savory earthiness of the fresh thyme, the mild and pungent fragrance of the garlic lemon olive oil, and of course the sweet and juicy garden fresh tomatoes. What's not to love?
Hungry for more tomato recipes? Please check out some other tomato recipes I've shared over the years:
Roasted Roma Tomatoes with Homemade Red Pepper Ricotta: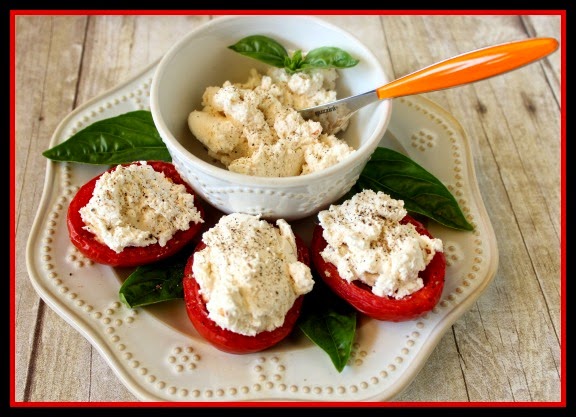 Tomato Spinach Tart with Cheesy Cornmeal Crust: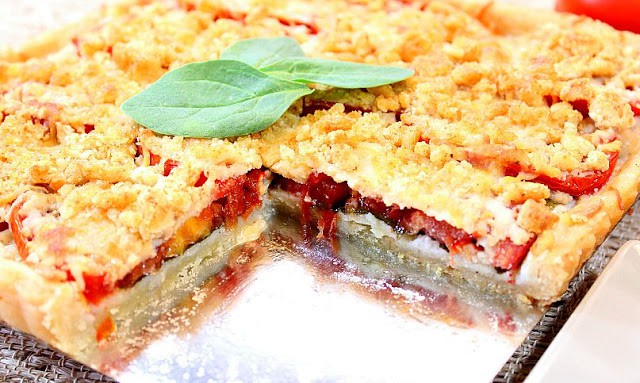 Layered BLT Salad with Homemade Croutons: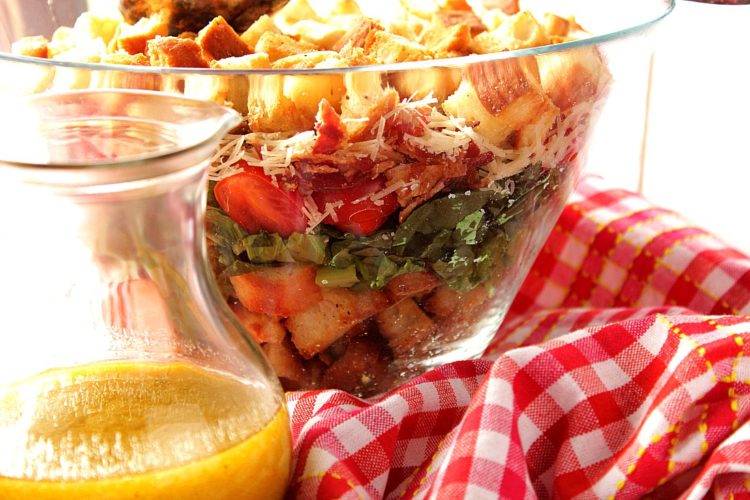 I'm coordinating this recipe with my hand painted seed packet apron. Because. Well. You know. 🙂
All of my hand painted fabrics (from aprons, to flour sack towels, to book bags) are completely machine washable and dryable (no fabric softener, please). The aprons are a 65/35 cotton poly blend and are treated with stain release. They have adjustable neck straps, extra long ties, and two large front pockets. I love special orders. If there is ever anything I can paint for you, please don't hesitate to email me: info@kudoskitchenbyrenee.com or visit one of my shops: Etsy, Wazala, and Kudos Kitchen Paints. I will happily paint and design from any photo, idea, or description you send my way.
Kudos Kitchen by Renée ~ Where food, art, and fun collide each and every day!
Until we eat again, I hope you have a delicious day!