Sunken Apple Cake is a delicious German confection with a beautiful presentation. And, just like the name implies, beautiful apples are pressed into the thick batter before baking for moistness, taste, and appearance.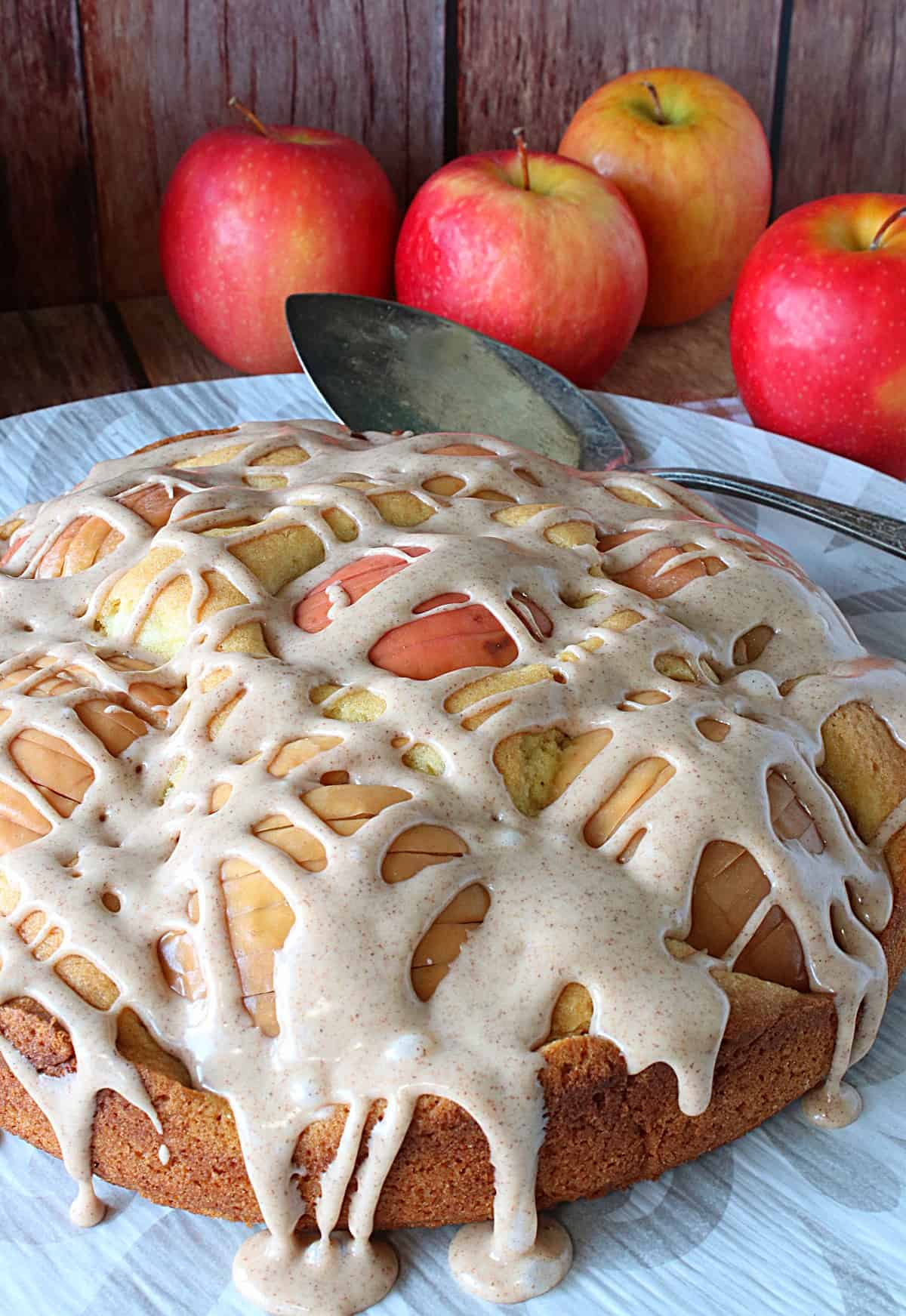 German Sunken Apple Cake (Versunkener Apfel Kuchen) is pure perfection with coffee or tea.
This recipe post and its contents may include affiliate links for your consideration. I may earn a commission from qualifying purchases, but your prices are never increased as a result. Thank you.
Jump to:
The ingredient list:
*Please note that the exact measurements along with a new "shop the recipe" feature from Instacart is available in the printable recipe card.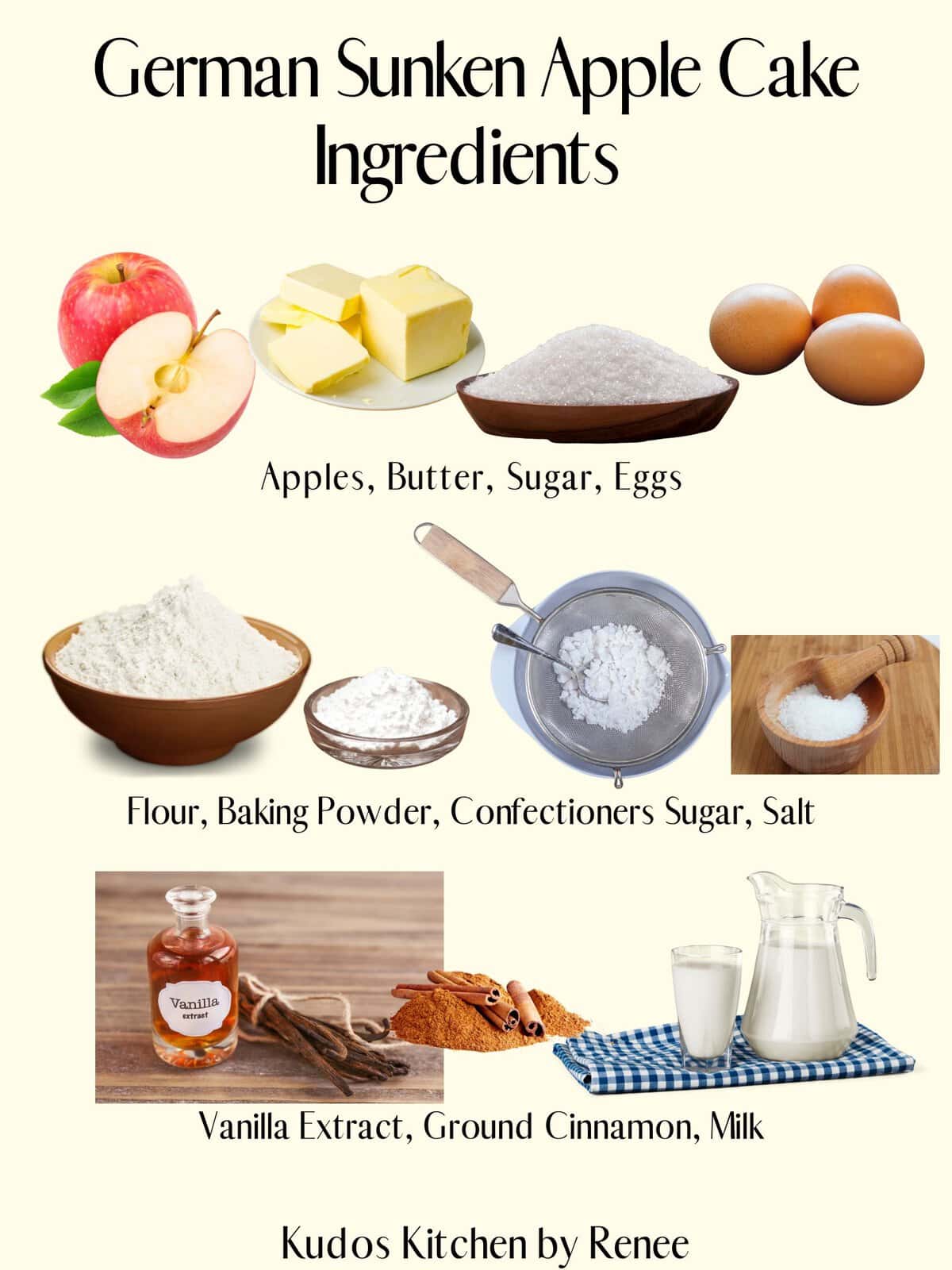 Ingredient information:
APPLES - I used Pink Lady apples. They're my favorite apples for baking (and eating) as they're not too sweet and hold their shape well during the baking process. See the video below for how to prepare the apples for this cake.
BUTTER - I always use salted butter. I know that goes against the norm, but I've never once noticed that my baked goods are too salty. Feel free to use unsalted butter if that's what you prefer.
GRANULATED SUGAR - There is not much else to say about granulated sugar except that there isn't much sugar called for in this particular recipe. This cake is moderately sweet, so if you prefer sweet but not overly sweet desserts, this is your cake!
EGGS - I always use large eggs. You'll need three room-temperature eggs for this recipe. Did you know that room-temperature eggs blend into batter better than cold right from the fridge?
ALL-PURPOSE FLOUR - I use unbleached all-purpose flour because it's less processed than bleached flour. Either flour will work in this recipe. Read more about bleached and unbleached flour by following the link listed below.
BAKING POWDER - Without baking powder, this cake would be flat, heavy, and extremely dense in texture. When the cake rises in the oven, the apples "sink" into the batter, hence the name "sunken apple cake."
CONFECTIONERS SUGAR - This is the number one standard ingredient for any glaze. It takes very little liquid to shrink down a sizeable amount of confectioners' sugar, so always add your liquids sparingly until you reach your desired glaze consistency.
GROUND CINNAMON - What goes better with an apple dessert than the warm flavor of ground cinnamon? Not much in my book. It's your call if you want to omit this ingredient...but why would you?
PURE VANILLA EXTRACT - Use pure vanilla extract for the best flavor. Imitation vanilla extract is just that, a sorry imitation. Vanilla bean paste may also be used.
MILK - Milk or even heavy cream may be used. This ingredient gives the confectioners' sugar glaze a rich flavor. Any milk (or cream) may be used, but the higher the fat content, the richer and more flavorful the glaze.
KOSHER SALT - This is my go-to salt, and I use it in all my cooking and baking. If you'd like to use table salt, be aware that it measures differently than the larger grains of kosher salt. If using table salt, always use less (roughly half) table salt than is called for.
Necessary kitchen equipment:
SPRINGFORM PAN - The springform pan makes for the pretty presentation of this Versunkener Apfelkuchen (Sunken Apple Cake).
Without the springform pan, you'd need to flip the cake out onto a serving plate, and subsequently, the pretty presentation of the apples would then be on the bottom of the cake and no longer visible. Shame.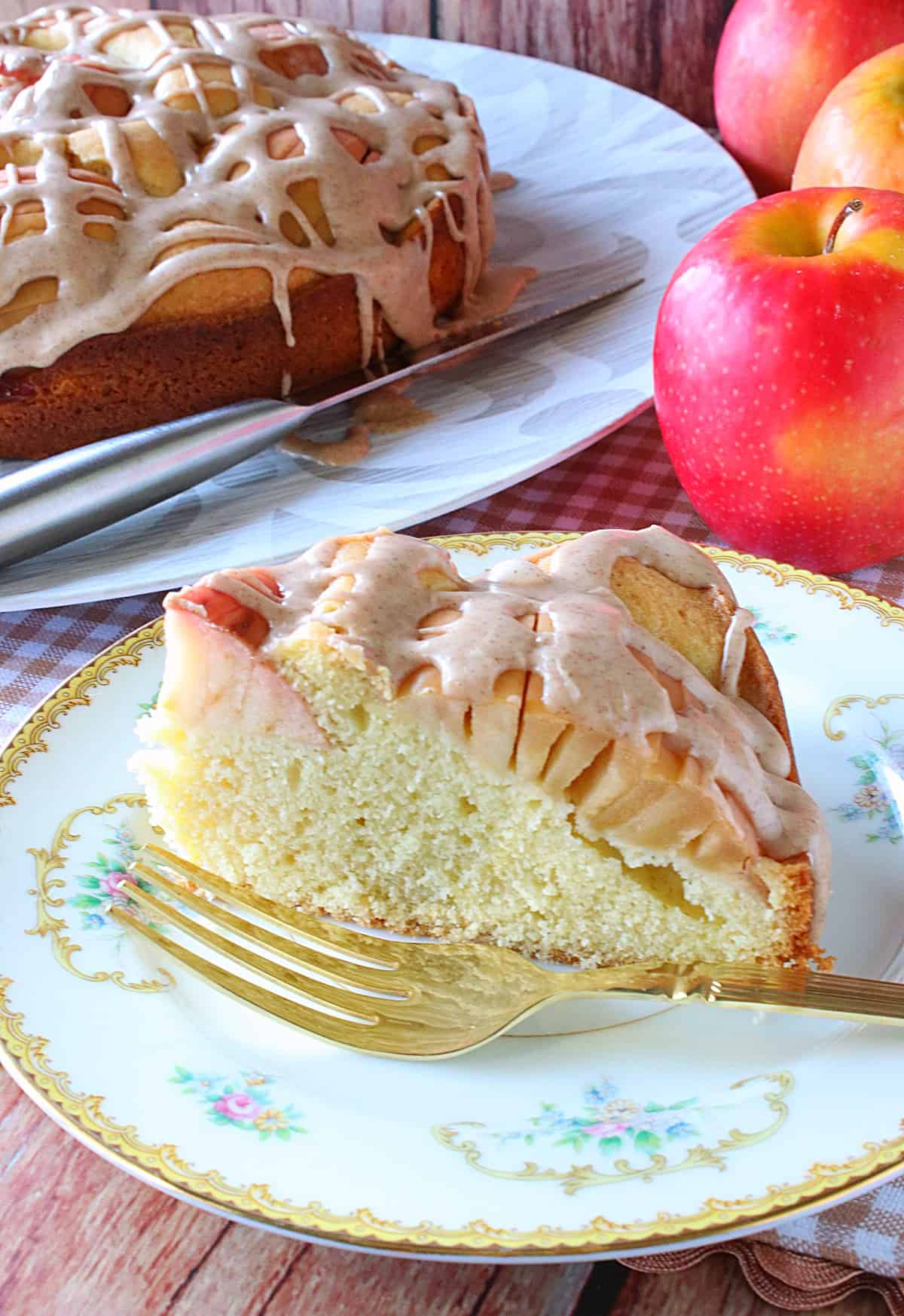 To peel or not to peel, that is the question:
I chose not to peel my apples because I wanted to retain some of that pretty color on top of the cake for presentation, but the choice is yours.
If you choose to peel your apples, they are a tad easier to slice without a risk of knife slippage on the slick apple skins.
Renee's top tips for success and safety:
When slicing the apple cheeks on an unpeeled apple, make sure to insert the tip of a paring knife into the apple before each slice to pierce the skin first. This helps prevent the blade from slipping on the slick skin of the apple.

Room-temperature eggs and butter will incorporate better into a batter than cold ingredients.

Use a liberal amount of baking spray in the springform pan (both the bottom and sides) to avoid sticking.

Also, spray the spatula with baking spray to avoid sticking when smoothing the batter evenly in the pan before adding the sliced apples.
Hack for bringing cold eggs to room temperature quickly:
What's that? You forgot to take your eggs out of the fridge, and you're ready to bake? Not to worry. Do this, and your eggs will be ready to use in minutes.

Place the cold eggs in a bowl. Run the sink water until it's pleasantly warm (like shower water). Gently fill the bowl (containing the eggs) with warm water and allow the eggs to sit in the water for 1-2 minutes. Remove the eggs from the water; when there's no longer a chill, they're ready to go!
Hack for bringing cold butter to room temperature quickly:
When you need to bring your butter to room temperature quickly, all you need to do is place a glass bowl filled with water into the microwave and heat until the water starts to simmer.

Dump the water (or save it for your tea) and invert the bowl over the cold sticks of butter. Wait a minute or two, and viola…softened butter!
What type of apples work best for this recipe?
As mentioned above, I like to use pink lady apples because they're my favorite for eating and baking. They have a slightly sweet/tart flavor, are firm in texture, and retain shape while baking.

That said, feel free to use Gala, Granny Smith, Honey Crisp, or even Golden Delicious.
How to prepare apples for sunken apple cake:
Peeling the apples is a personal preference (see above). The below method works best for unpeeled apples. Use the tip of a paring knife for the safest slicing.
How to serve Versunkener Apfel Kuchen:
I saved some of the cinnamon vanilla glaze to drizzle over the cake slices before serving.

I also recommend serving this cake with a scoop (or two) of your favorite ice cream, whipped cream, gelato, a thick dusting of confectioners' sugar, or a light touch of heavy cream poured over the top would be lovely.
Additional German-inspired recipes you'll enjoy:
Pan Seared Bratwurst in Pumpkin Curry Sauce is a quick meal that can be on the table in 30 minutes. This dish has an old world-flavor but with a seasonal twist you'll love!
Buttered German egg dumplings (spaetzle) are layered in a casserole dish along with shredded Gruyere cheese and crispy, crunchy onions to bring you this delicious recipe for German Spaetzle Casserole.
I'm a sucker (make that "Zucker" lol, sorry) for an excellent German dessert, and this recipe for Traditional German Zuckerkuchen (sugar cake) is one of THE absolute BEST!
If you love German food, check out my German Inspired Recipes collection. While these dishes may not be 100% authentic, they're 100% delicious!
When you make this recipe, and I hope you do, I'd appreciate it if you'd take a moment to leave a star rating on the recipe card and briefly comment on why you rated it as you did. FYI - Google appreciates recipe ratings and, in turn, will share my recipes with more people. Thank you so much!!
Printable Recipe Card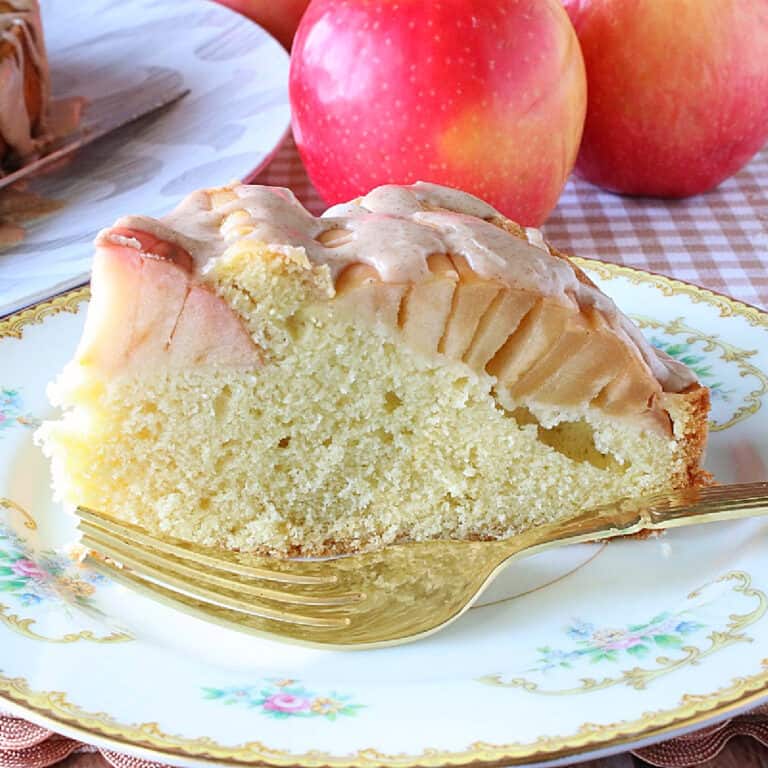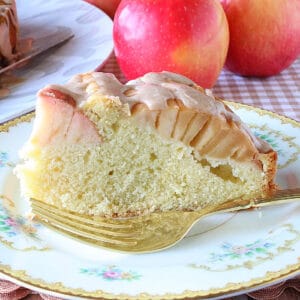 German Sunken Apple Cake (Versunkener Apfel Kuchen)
Sunken Apple Cake is a delicious German confection with a beautiful presentation. And, just like the name implies, beautiful apples are pressed into the thick batter before baking for moistness, taste, and appearance.
Ingredients
To make the cake:
3

medium

apples (I used pink lady)

cored, cut into rounds, and sliced

9

tablespoons

butter

softened to room temperature

10

tablespoons

granulated sugar

3

large

eggs

2

teaspoons

pure vanilla extract

1½

cups

all-purpose flour

2

teaspoons

baking powder

½

teaspoon

kosher salt
To make the glaze:
2

cups

confectioners' sugar

1

teaspoon

ground cinnamon

2

teaspoons

pure vanilla extract

3

tablespoons

milk
Instructions
Preheat the oven to 350-degrees Fahrenheit (175-degrees Celsius).

Liberally spray a 9" springform pan with baking spray and set aside. *Note - When baking you may want to place the springform pan on a baking sheet, but that's optional.
To make the cake:
In a large bowl, cream together the softened butter and granulated sugar.

Add the eggs, one at a time, to the creamed butter and sugar along with the vanilla extract. Set aside.

In a medium bowl, whisk together the flour, baking powder, and salt.

Use a spatula to gradually stir the dry ingredients into the wet ingredients. Switch to a hand mixer (or stand mixer) and blend until the batter is fully incorporated and smooth. *Note - this will be a thick batter.

Spoon the batter into the prepared springform pan and spread the batter evenly throughout the pan. *Note - spraying the spatula with baking spray will prevent excessive sticking of the cake batter to the spatula.

Add the cored and sliced apple rounds to the top of the cake batter, and gently but firmly press them partially into the batter.

Bake the cake in the preheated oven for 40-45 minutes or until the cake is golden brown and a cake tester inserted in the center comes out clean.

After baking cool the cake on a wire rack for 40 minutes. After 40 minutes remove the springform collar and allow the cake to completely before glazing.
To make the glaze:
Whisk all the ingredients in a medium-sized bowl until smooth and creamy. Add additional milk (1 teaspoon at a time), if you prefer a thinner consistency.

Drizzle the glaze liberally onto the cooled cake and serve cake slices with additional glaze if desired.
Video
Notes
Store any leftovers in a covered container in the refrigerator for up to 5 days.
This cake may be frozen (wrapped well in cling wrap or in an airtight freezer container) for up to 3 months.
Serve with ice cream, whipped cream, or additional glaze if desired.
Nutrition
Serving:
1
serving
Calories:
445
kcal
Carbohydrates:
74
g
Protein:
5
g
Fat:
15
g
Saturated Fat:
9
g
Polyunsaturated Fat:
1
g
Monounsaturated Fat:
4
g
Trans Fat:
1
g
Cholesterol:
104
mg
Sodium:
279
mg
Potassium:
242
mg
Fiber:
2
g
Sugar:
52
g
Vitamin A:
539
IU
Vitamin C:
3
mg
Calcium:
75
mg
Iron:
2
mg
I sincerely hope you've enjoyed today's traditional German apple cake recipe as much as I've enjoyed bringing it to you.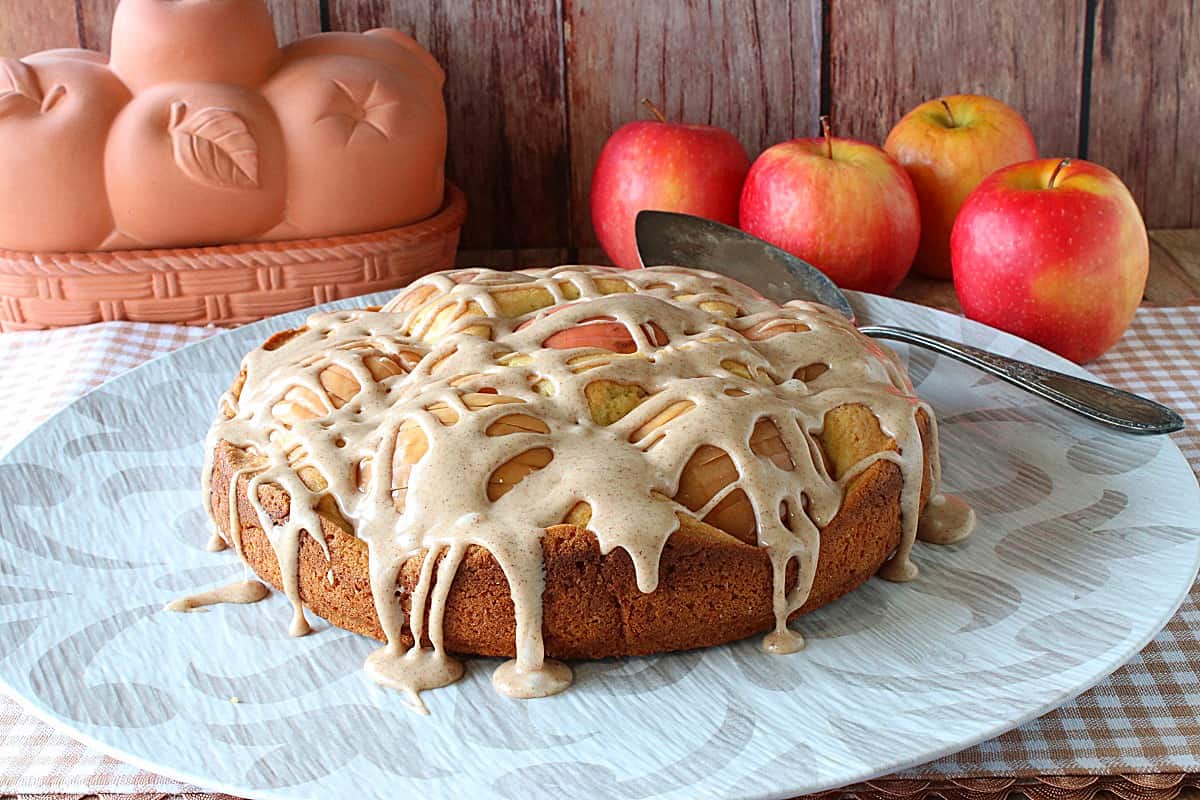 Follow me across my social media platforms and join in on the conversation: FACEBOOK, INSTAGRAM, PINTEREST, TIKTOK, AND YOUTUBE.
Thank you so much for visiting me today in my Kudos Kitchen. I hope you found something you'll love and that you'll come back and visit me often. There is always room for you around my table!
Should you have any questions or comments regarding anything you've seen here on my blog, please don't hesitate to reach out to me. It is always my distinct pleasure to respond to you just as soon as I possibly can.
Until we eat again, I hope you have a delicious day!!