This easy recipe for Christmas Pasta with Onions and Peppers has proven to be a winner in our home every Christmas season, and I trust it will be a winner in your home too.
I'm sharing this recipe for easy Christmas pasta as a "recipe re-do." The original post was one I'd published in December of 2012, but it's now time for some updated pictures and a video.
That said, the recipe has remained completely unchanged because why mess with success? Enjoy!
**Please Note – The printable recipe card with detailed instructions, complete ingredient measurements, and nutritional information for making Christmas Pasta is available near the end of this post.

Below is the original photo from the post back in 2012. As you can see, it was in dire need of an update! The recipe stayed the same, but the photos (thankfully), haven't.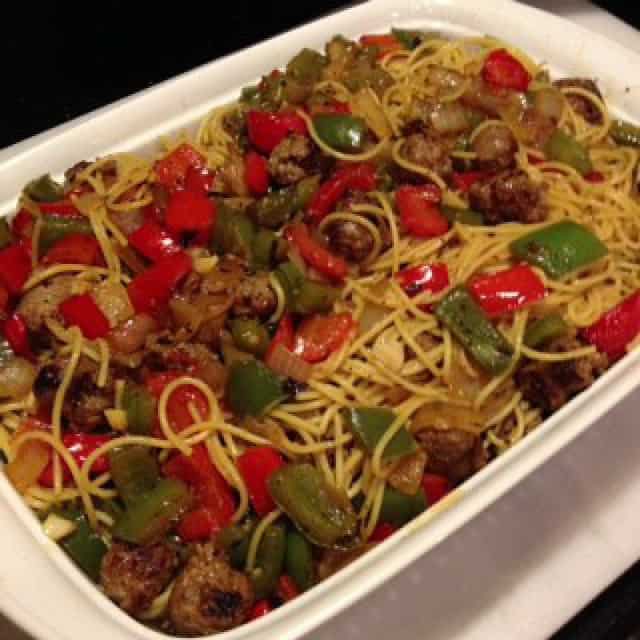 The ingredient list;
**Note – The following lists of ingredients plus kitchen tools and equipment contain affiliate links (highlighted in blue) for your consideration and shopping convenience.#CommissionsEarned
Bulk Italian Sausage

Red Bell Peppers

Green Bell Peppers

Onion

s

Garlic
Kitchen tools and equipment needed;
Why this recipe works?
This is one of my family's favorite pasta recipes and one I serve with pride each and every time.
It's easy to make and can be made in advance and kept in the refrigerator several days before serving.
It's a budget meal that doesn't taste like a budget meal.
Plus it will serve a lot of people so it's perfect to serve during the holidays!!
The story of Christmas pasta;
In 2012, this is what I wrote (but, slightly adapted) about this delicious recipe for Christmas Pasta with Red & Green Bell Peppers. Some things never change!!
"The other night I awoke and had an overwhelming taste for a sausage and pepper sandwich. Odd I know, but what can I say? It happens." 🙂
"Since I was going to the grocery store the next day anyway, I purchased some really great looking red and green bell peppers (hence the name Christmas Pasta) and, following a little voice in my head, decided to turn my sausage and pepper sandwich into a pasta dish that can/would feed a crowd."
"Not that we had a crowd coming over, but this would serve as a meal for more than one night during the busy holiday season, because, as we all know, pasta dishes are always the best the next day."
"Of course, you can modify the ingredient amounts depending on the number of people you're serving, but I suggest you make a big batch because you're going to love it!" – 2012
Can this Christmas pasta be made in advance?
Yes, most certainly. In fact, as all pasta dishes do, they get better in flavor the longer they sit.
You can make this easy pasta with onions and peppers up to 3 days prior to serving as long as it's well wrapped with plastic wrap and kept in the refrigerator.
Before reheating, stir the pasta well, cover with aluminum foil, and reheat in a 350-degree oven for 30 minutes, or until heated through.
Can this easy family pasta dish be frozen?
Yep! Add the cooked Christmas pasta to freezer-safe containers and freeze for up to 2 months.
To reheat from frozen, partially thaw the pasta and add it to an oven-safe casserole dish.
Cover the dish with aluminum foil and reheat at 350-degrees for 45 minutes, or until heated through.
How to make Christmas Pasta with Onions and Peppers;
Seed and chop the red and green peppers into approximate 1″ pieces.
Brown the Italian sausage along with the dried oregano and basil in a large skillet with olive oil.
Add the onions and the chopped peppers to the skillet.
Cook, stirring occasionally.
Season with salt, pepper, and additional dried seasonings.
Cover and simmer until the sausage is cooked through and the peppers and onions are soft.
Add the cooked pasta to a casserole dish that has been sprayed with cooking spray.
Top the pasta with the sausage, onion, and pepper mixture.
Sprinkle with Parmesan cheese.
Cover with foil and bake in a preheated 350-degree oven for 15 minutes.
Serve and enjoy!
For additional easy pasta recipes, please click on the following titles for;
"Creamy Tomato Bacon Pasta with Mascarpone is tiny shells of pasta that are bathed in a smooth, creamy mascarpone tomato sauce and the slightest hint of bacon. It's wonderfully comforting and super delicious!"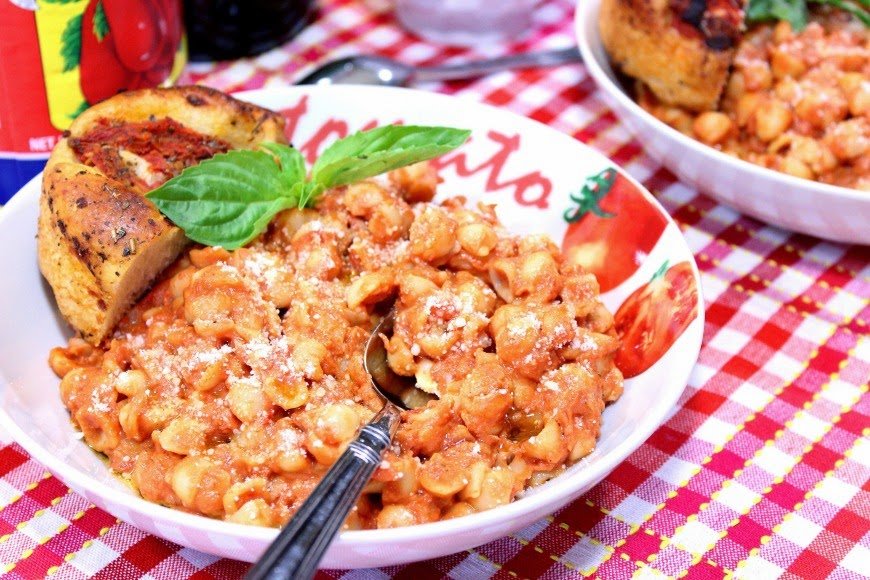 "For those times when you can't decide what to make for dinner, I suggest you whip up this Unbelievably Cheesy Pizza Mac & Cheese. It's a cross between two of your favorite things, pizza, and mac and cheese. Your family will thank you!"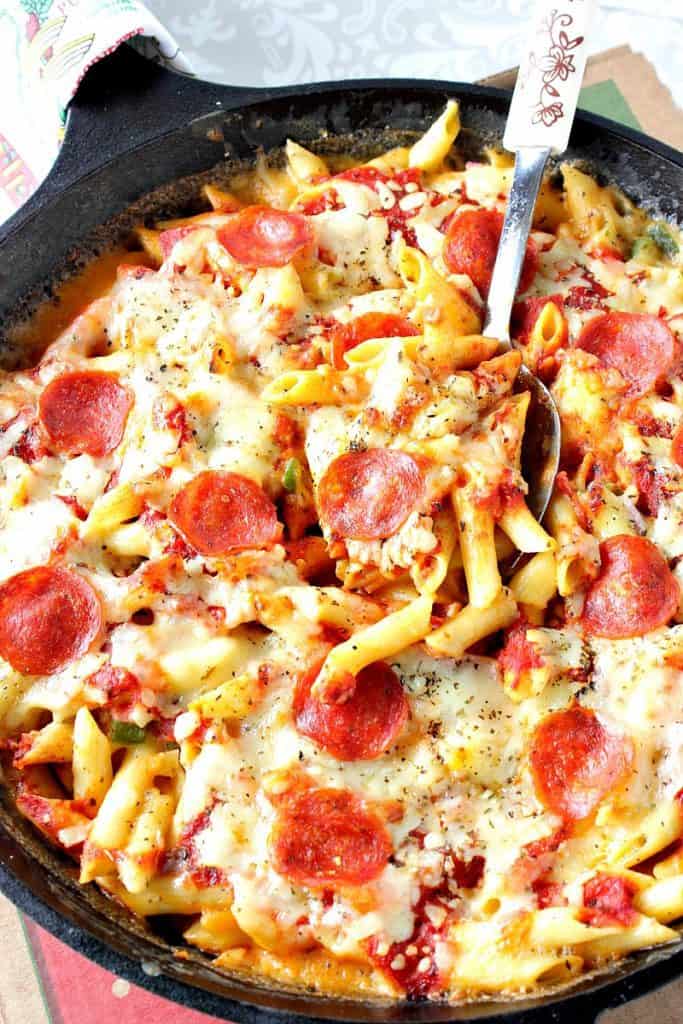 "Ever wish you could make a mac and cheese recipe that you'd become famous for? You know, the one your friends and family would consider your signature dish? Look no further."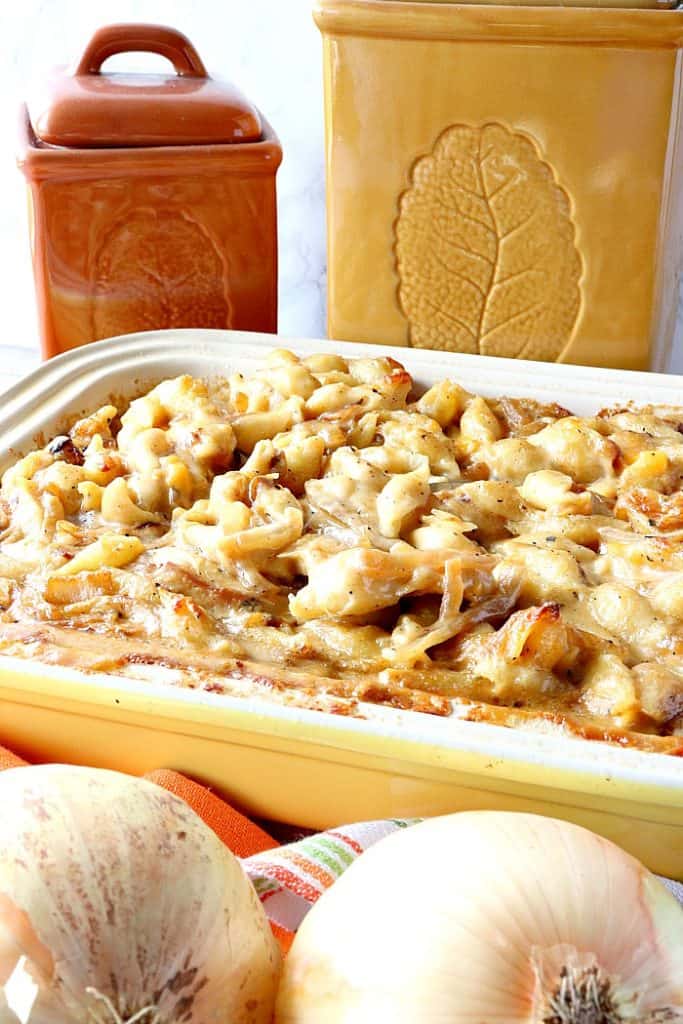 Pasta with Onions and Peppers (pictured below) This is the place!!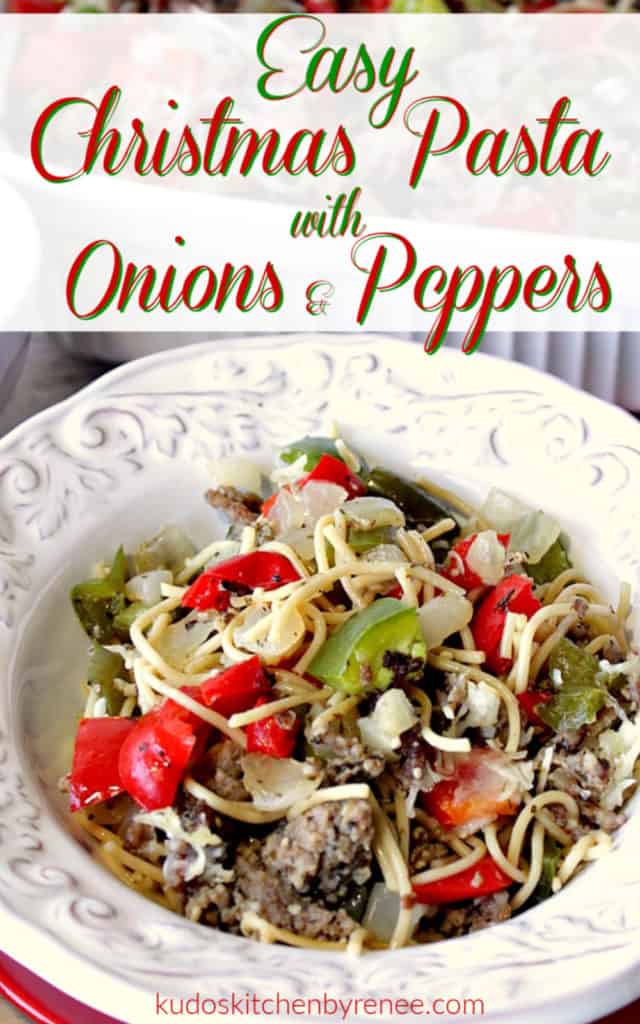 Whether you're working on a blue screen all day, or in the kitchen, the following affiliate products are ones I can highly recommend to save your eyesight and your sanity.
Below is the printable recipe card along with the nutritional information and instructions for making for today's easy family dinner for pasta with onions and peppers.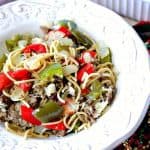 Festive Christmas Pasta with Red and Green Bell Peppers
This recipe for Christmas Pasta with Red & Green Bell Peppers has proven to be a winner in our home every Christmas season, and I trust it will be a winner in your home, too.
Course:
Main Course, Pasta
Keyword:
Christmas pasta, Christmas spaghetti
Ingredients
1

pound

Italian Sausage

2

tablespoons

olive oil

2

teaspoons

kosher salt

1

teaspoon

ground black pepper

1½

teaspoon

dried basil

1½

teaspoon

dried oregano

1

medium

onion

chopped

3

red bell peppers

seeded and chopped

3

green bell peppers

seeded and chopped

2

cloves

garlic

minced

1½

pounds

spaghetti

cooked and drained according to package directions

½

cup

Parmesan cheese

shredded
Instructions
In a large skillet over medium/high heat, brown the Italian sausage in the oil.

Add the salt, pepper, basil, and oregano and continue to cook an additional 1 – 2 minutes.

Add the chopped onions, peppers, and garlic. Stir to combine.

Lower the heat to medium, and cover.

Cook, covered, for 4-5 minutes or until the peppers are softened.

Spray a 9×13 casserole dish with non-stick spray.

Add the cooked and drained spaghetti to the casserole dish and top evenly with the Italian sausage and pepper mixture.

Sprinkle the Parmesan cheese over top.

Bake in a preheated 350-degree oven for 20 minutes.

Serve hot.

*Note – Cover well and refrigerate leftovers for up to 5 days.

Delicious as leftovers!
Recipe Notes
Tools and equipment:
large skillet with cover (or aluminum foil), cooking spray, chef's knife, cutting board, large pasta pan, strainer, wooden spoon or spatula, tongs (optional)
Nutrition Facts
Festive Christmas Pasta with Red and Green Bell Peppers
Amount Per Serving (1 g)
Calories 478
Calories from Fat 171
% Daily Value*
Fat 19g29%
Cholesterol 37mg12%
Sodium 884mg38%
Potassium 432mg12%
Carbohydrates 56g19%
Protein 18g36%
Vitamin A 1295IU26%
Vitamin C 76.2mg92%
Calcium 99mg10%
Iron 2mg11%
* Percent Daily Values are based on a 2000 calorie diet.
I sincerely hope you've enjoyed this easy family dinner recipe for Christmas Pasta with Onions and Pepper as much as I've enjoyed bringing it to you.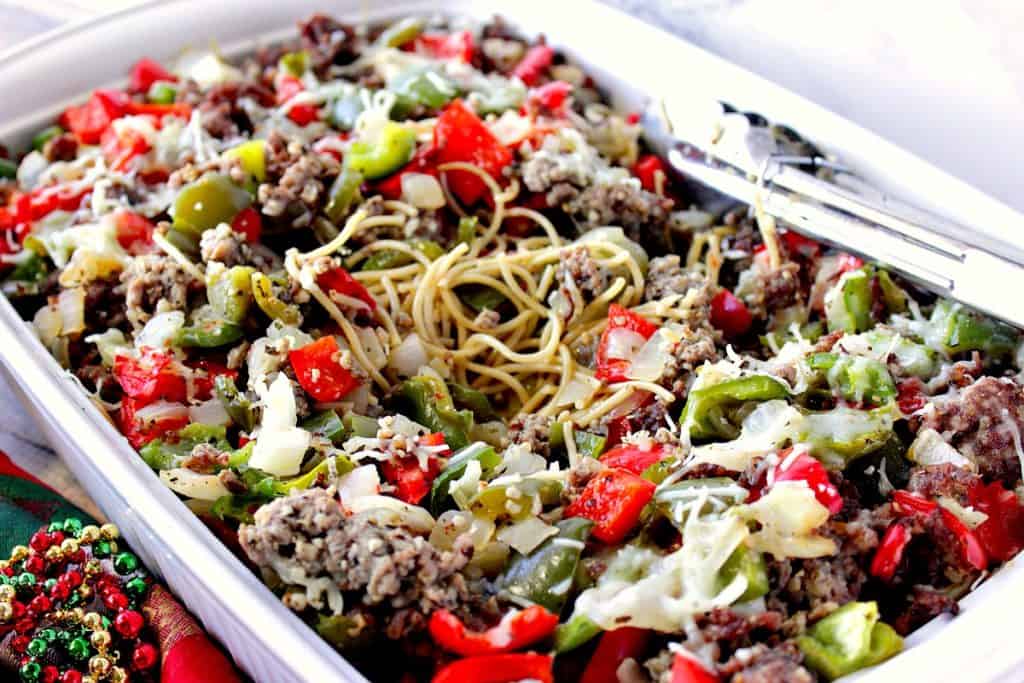 **Note – The post above includes affiliate links. As always, I truly thank you for your support!
As an Amazon Associate, I earn from qualifying purchases. When I find a great product or service I like to share it with my readers. For additional information please view my privacy policy.