What's better than burgers on the grill? Burgers Stuffed with Caramelized Onions…that's what!! You're going to flip over these burgers!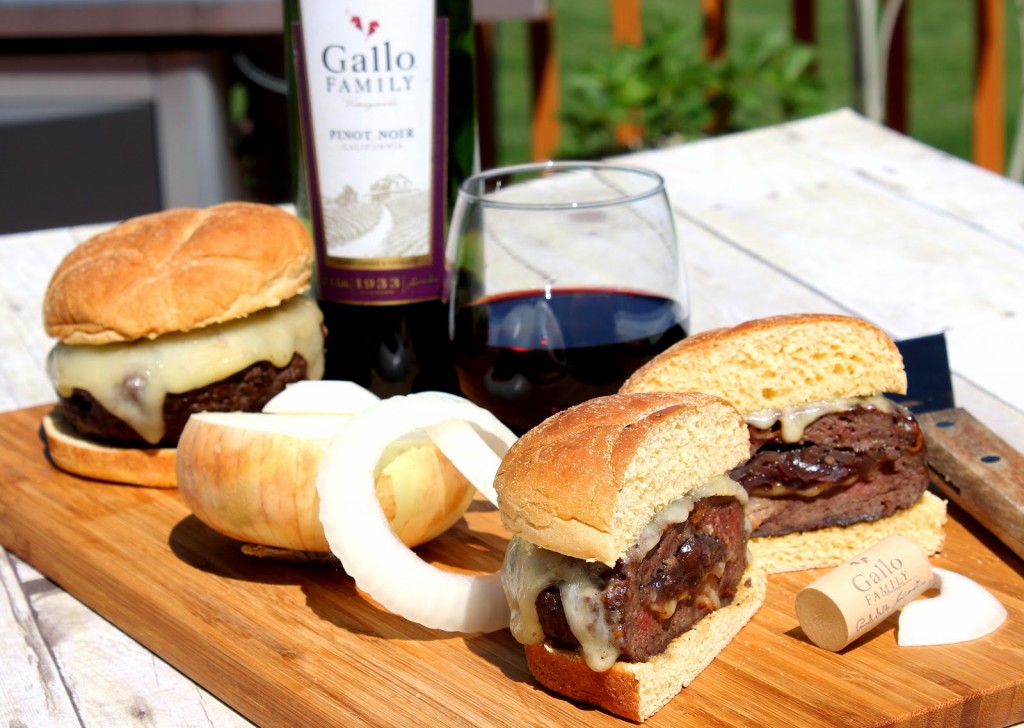 Whenever I think about Father's Day Feasts, I can't help but think of grilling. To me, foods cooked on the grill just speak to me of "man food" with giant steaks and burgers searing on an open flame.

Can't you just smell them already?
*Disclaimer – This recipe was originally published in 2014. I'm working hard to update all my older recipes with recipe cards, new photos, and additional recipe information. But, getting to all of them will take time. Please bear with me. In the meantime let me assure you that this recipe is still a winner and one I'm sure you'll be well pleased with when you make it at home.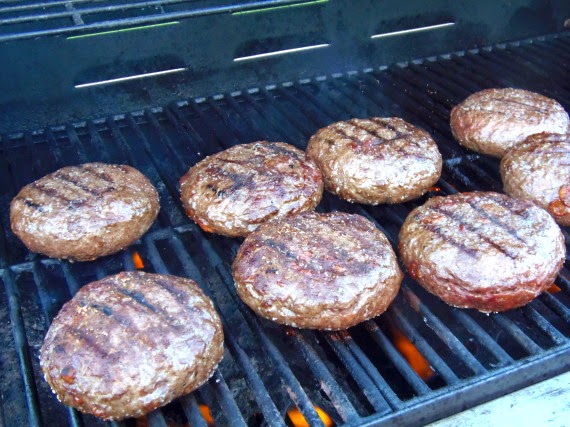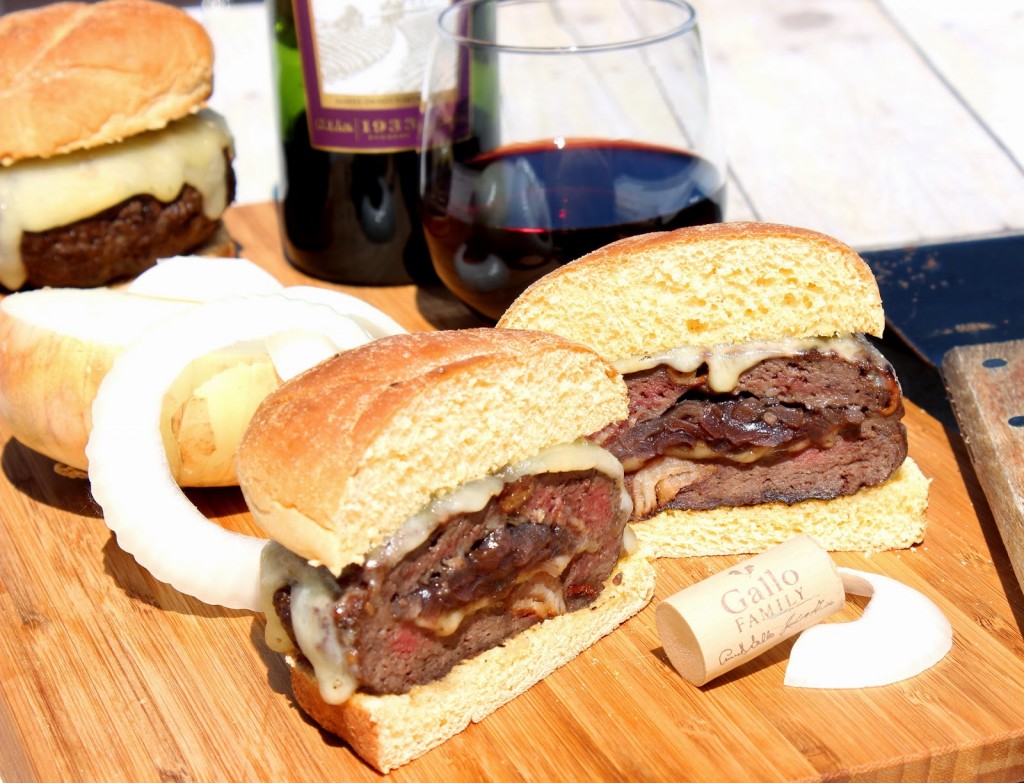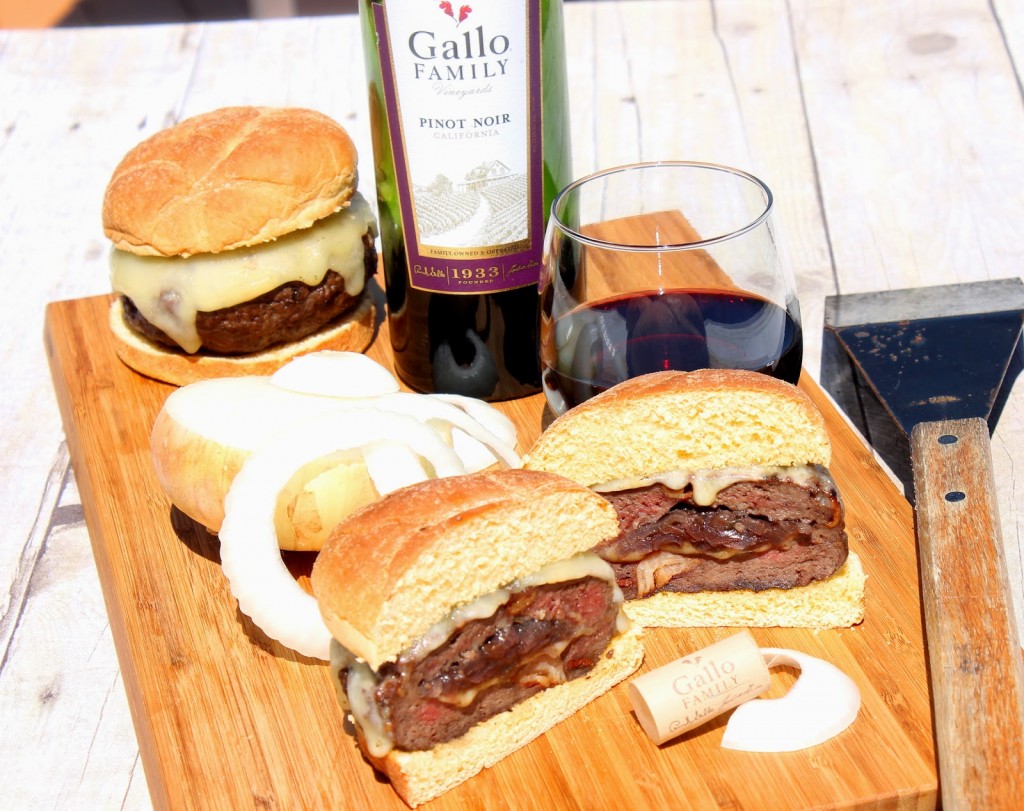 MAN BURGERS STUFFED WITH PINOT NOIR CARAMELIZED ONIONS
Yield: 9 HUGE burgers Prep Time: 30 minutes Cook Time: 25 minutes


2 medium sweet onions, thinly sliced
2 tablespoons butter
1/2 cup Gallo Family Pinot Noir, divided
2 1/2 teaspoons salt, divided
1 1/4 teaspoons pepper, divided
2 teaspoons fresh thyme leaves, chopped
4 pounds ground beef (I like 75% lean)
1 pound bacon that has been cooked, drained and crumbled
2 tablespoons garlic powder
1 cup shredded Gruyere cheese
9 slices Swiss cheese, (more if desired)
Condiments of your choice
-In a large skillet over medium/high heat, sauté the onions in the butter until they start to get soft (approximately 2-3 minutes).
-Stir in 2 tablespoons of the Pinot Noir, 1/2 teaspoon salt, and 1/4 teaspoon pepper. Continue cooking while stirring occasionally.
-Stir in the chopped thyme leaves.
-As the onions continue to cook down, add 4 more tablespoons of the Pinot Noir (2 tablespoons at a time) until the onions have cooked completely down, are very soft, and have become a deep red color *Note – This should take approximately 20 minutes.
-Remove the onions from heat and cool completely.
-In a large bowl, mix the ground beef along with the remaining 1/8 cup Pinot Noir, 2 teaspoons salt, 1 teaspoon pepper, the bacon, and the garlic powder.
-Scoop out approximately 2/3 cup of the ground beef mixture and form 9, 5″ round patties. Place the patties on 2 parchment-lined baking sheets.
-Top each patty with approximately 1 tablespoon of the Pinot Noir caramelized onions and on top of that, 1 tablespoon of the shredded Gruyere cheese.
-Form another 5″ patty from the remaining ground beef mixture and place it on top of the onion and cheese topped patties.
-Press the edges of the two patties firmly together with your fingers so that the filling does not ooze out during the cooking process.
-Preheat the grill to medium heat (I use a gas grill but if you're using charcoal, make sure the coals are evenly distributed throughout the grill surface and not flaming hot).
-Place the man burgers onto the grill surface and allow to sear uncovered for approximately 10 minutes.
-Gently flip the burgers and continue to sear the other side uncovered for another 7-10 minutes.
-Place the cheese slices on each burger, cover, and allow the cheese to melt (approximately 2-3 minutes).
-Place each man burger on a bun and top with your choice of condiments (or eat plain as I did to experience the full flavor of the pinot noir running throughout the entire burger).