They'll think you spent hours making these deliciously flaky Pumpkin Spice Palmiers, but you were in and out of the kitchen in no time flat!
So good. So, buttery. So crispy and done in 30 minutes time (minus the freeze time). Pumpkin Spice Palmiers are the sweet little pumpkin spice dessert that will win you big rewards!
This recipe post and its contents may include affiliate links for your consideration. I may earn a commission from qualifying purchases, but your prices are never increased as a result. Thank you.
Jump to:
The ingredients:
*Please note that the exact measurements along with a new "shop the recipe" feature from Instacart is available in the printable recipe card.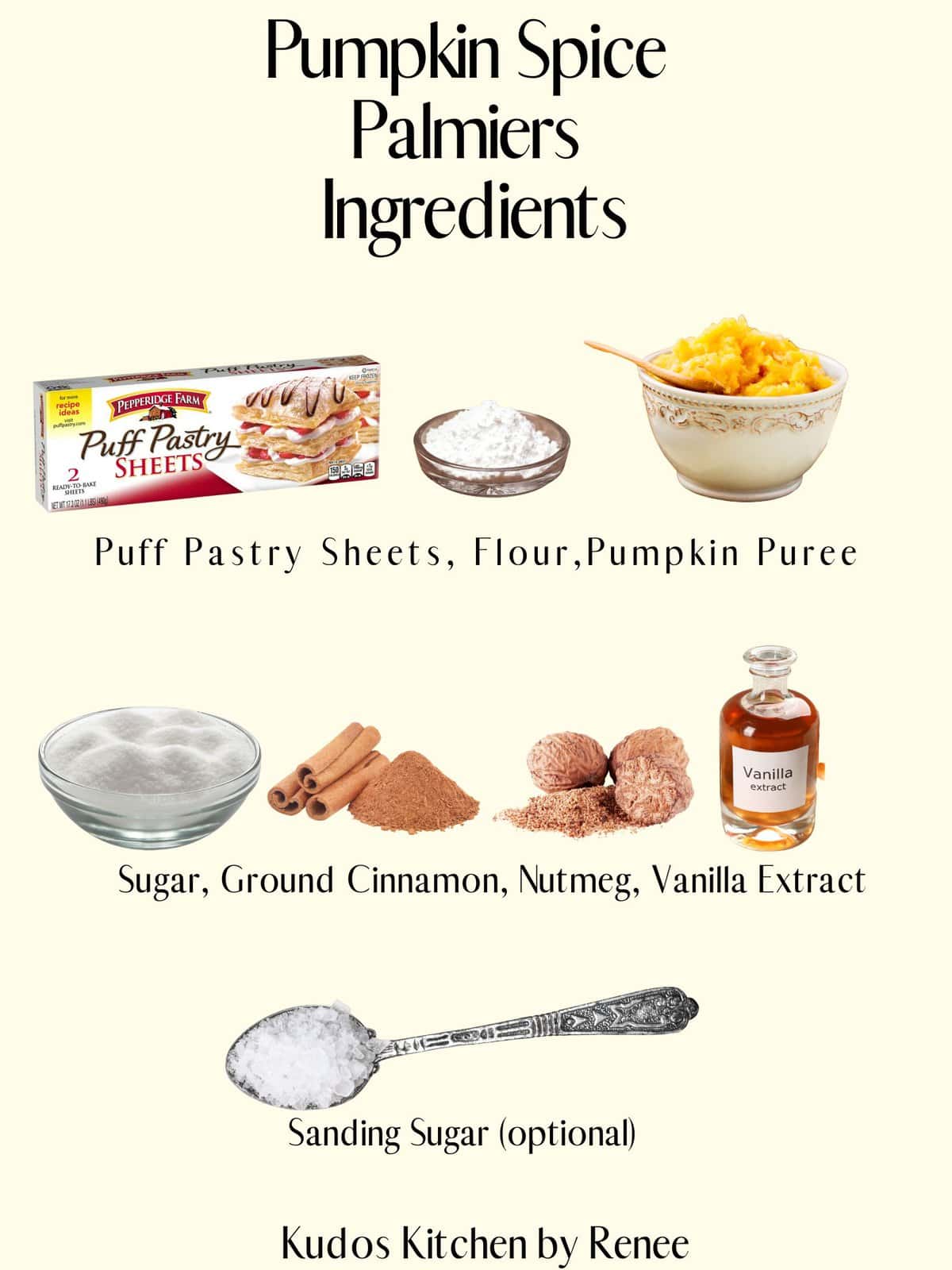 Ingredient information:
PUFF PASTRY SHEETS - You can use your favorite brand of puff pastry sheets, or if you especially want a holiday project, you can make your own. I tend to use Pepperidge Farm puff pastry sheets because they're readily available in most supermarkets.
ALL-PURPOSE FLOUR - You will only use a touch of flour to prevent the dough from sticking to the countertop and the rolling pin. Use only a little additional flour. A very light dusting will do.
CANNED PUMPKIN PUREE - I like to use 100% organic canned pumpkin whenever possible, but use what you can find or have on hand. Just make sure not to use the canned pumpkin pie filling because the Palmiers will be much too sweet if you do.
PURE VANILLA EXTRACT - This was a last-minute ingredient call on my part, but I'm happy I added it to this recipe. The vanilla extract rounds out and balances the flavor of the pumpkin spice filling.
GRANULATED SUGAR - It takes a good bit of sugar (¾ cup, to be exact) to sweeten the pumpkin puree for a dessert item properly. However, if you'd like to cut back on sugar, I urge you to taste as you go. Start with ½ cup, taste, and decide if you're happy with the flavor where it is or if you'd prefer it to be a touch sweeter. If so, add additional sugar sparingly until you get to the sweetness you're happy with.
GROUND CINNAMON - This is the spice part of the pumpkin spice equation. If you're a huge cinnamon fan, feel free to add more. Again, taste as you go and adjust accordingly.
GRATED NUTMEG - I love the earthy spiciness and depth of flavor freshly grated nutmeg provides. Feel free to use preround nutmeg if you cannot grate a whole nutmeg pod. The slight touch of nutmeg in this recipe makes a big difference in flavor.
SANDING SUGAR - Sanding sugar is optional for this recipe, but I love the texture, sparkle, and crunch it provides to the finished Palmiers. Please don't substitute granulated sugar as garnish, as you risk it melting and burning in the oven. Sanding sugar will keep its shape, texture, and flavor without being concerned about it burning in the oven.
Can granulated sugar be substituted for sanding sugar?
No. Granulated sugar can potentially burn in the oven when used as a garnish on the outside of the Palmiers. If you don't have sanding sugar for this recipe, please forgo the decorative sugar garnish.
How to transfer a Palmier log for freezing?
It can be perplexing when transferring a filled puff pastry Palmier log to a baking sheet for freezing before slicing. This is where a cake lifter (an extra wide spatula) comes in handy and makes quick and easy work of an otherwise potentially problematic transfer for one pair of hands alone.
Why do Palmiers need to spend time in the freezer before slicing?
If you try to slice the Palmier logs before freezing, the filling will squish out with the slicing force, even if you use a light touch and a serrated knife.
A mere 10 minutes in the freezer will prevent "the squish" and make your Palmiers much more manageable to slice. They'll also have a much neater appearance before and after baking.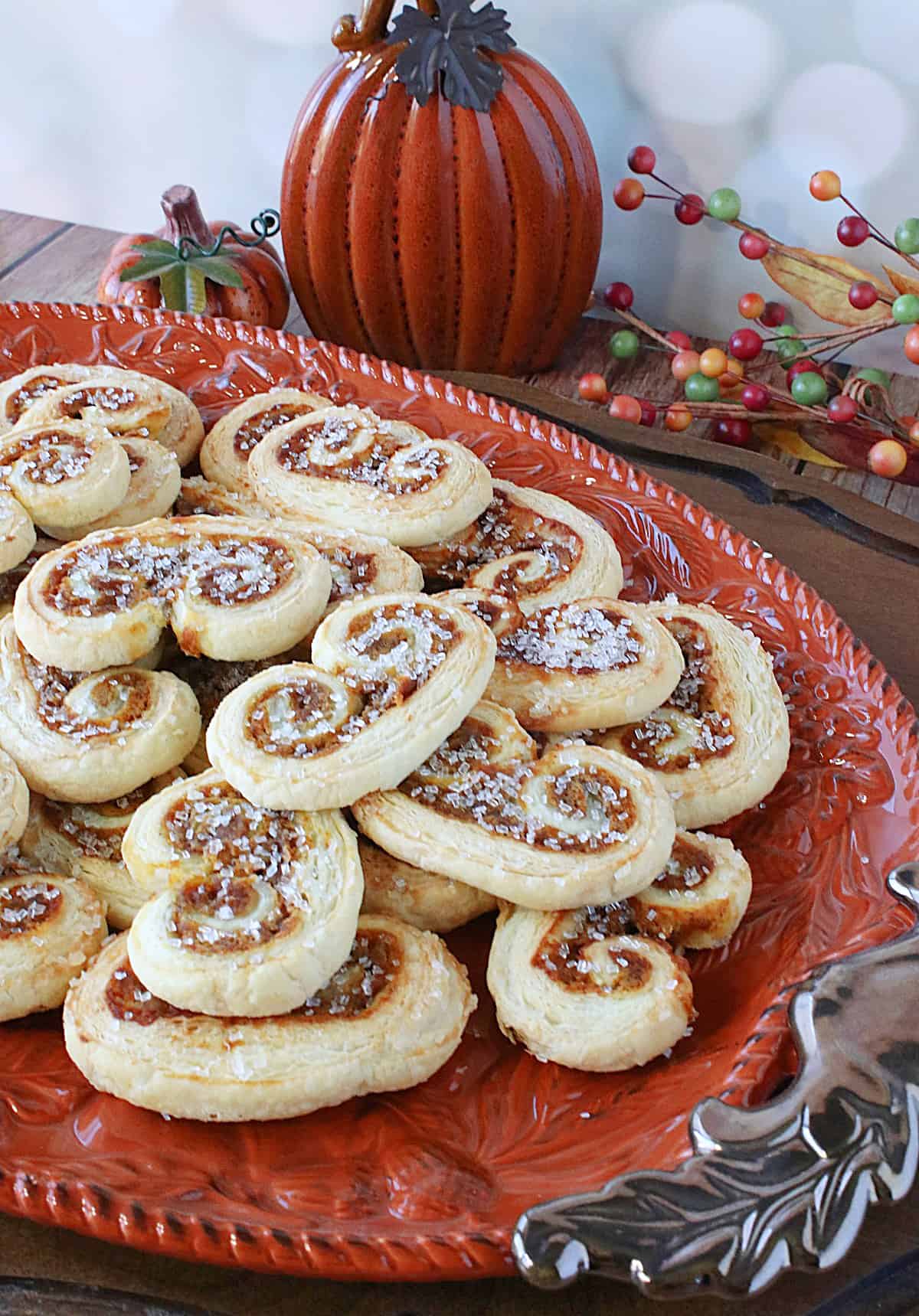 What to do with leftover pumpkin spice filling?
I like folding the leftover filling into homemade whipped cream for a unique flavor treat.
You can also add it to a blender along with vanilla ice cream to make a pumpkin spice milkshake. OR what about using it to mix up a shaker or two of Pumpkin Spice Martinis?
Lastly, use it to make additional Pumpkin Spice Palmiers because I can guarantee they'll disappear quickly!
Renee's tips and tricks for recipe success:
When pressing and rolling out the dough, make sure it's not sticking to the countertop or the rolling pin from time to time. If it is, sprinkle the sticking surface with an additional light touch of flour.
After preparing the Palmiers, and before slicing and baking, make sure to freeze the logs for at least 10 minutes so you'll be able to achieve neat and clean slices.
Since every oven differs, your baking time may be slightly longer (or shorter) than the recipe states. You're looking for a golden brown, flaky pastry that isn't underbaked and soggy. Flipping the Palmiers halfway through baking will help ensure that they're fully baked and crispy all the way through.
How and when do you serve pumpkin spice palmiers?
These are perfect with a cup of coffee or tea in the morning or for an afternoon break.
But, my favorite way to serve them is as a light dessert after a big meal (say...Thanksgiving) when you want a little bite of something sweet but don't have room for an entire slice of pie.
Serve them with a small scoop of vanilla ice cream whipped cream or right next to that big ol' slice of apple pie! *wink*
How to store Palmiers:
You can store them in an airtight container at room temperature for 2-3 days or in an airtight container in the refrigerator for up to 5 days.
Can these be frozen?
They sure can! Store them in an airtight freezer container or zip-top bag, and they can be frozen for up to 2 months.
Additional pumpkin desserts:
This adorable Turkey Crust Pumpkin Pie is easy to recreate and will amaze your family and friends this holiday season. Let me show you how easy it is to assemble and bake this fun Thanksgiving holiday treat.
Let's take a step back in time and visit with the pilgrims this Thanksgiving. Rustic Pilgrim Pumpkin Pie is an authentic pie baked in a pumpkin. It's as delightful to serve as it is to eat. It's a rustic pilgrim pumpkin treat.
Looking for something a little out of the ordinary for your Thanksgiving dessert? These delicious Pumpkin Cheesecake Tartlets have your back!
Easy to make Pumpkin-Shaped Sugar Cookies are as charming as they are delicious. But surprise, don't let them fool you! There is no pumpkin in the ingredient list.
Additional puff pastry recipes:
They'll think you bought these delicious Puff Pastry Apple Turnovers at the bakery, but you made them at home, and it was quick and easy! TA-DA!!
Ever wonder how to make your own fillable Puff Pastry Appetizer Cups? Wonder no more! Once made, you can fill them however you like! They're so versatile!
What would you call layers upon layers of puff pastry, which encase layers and layers of chocolate, cream cheese, and cherries? Well, why not ... Chocolate Cherry Pastry Tower? Works for me! LOL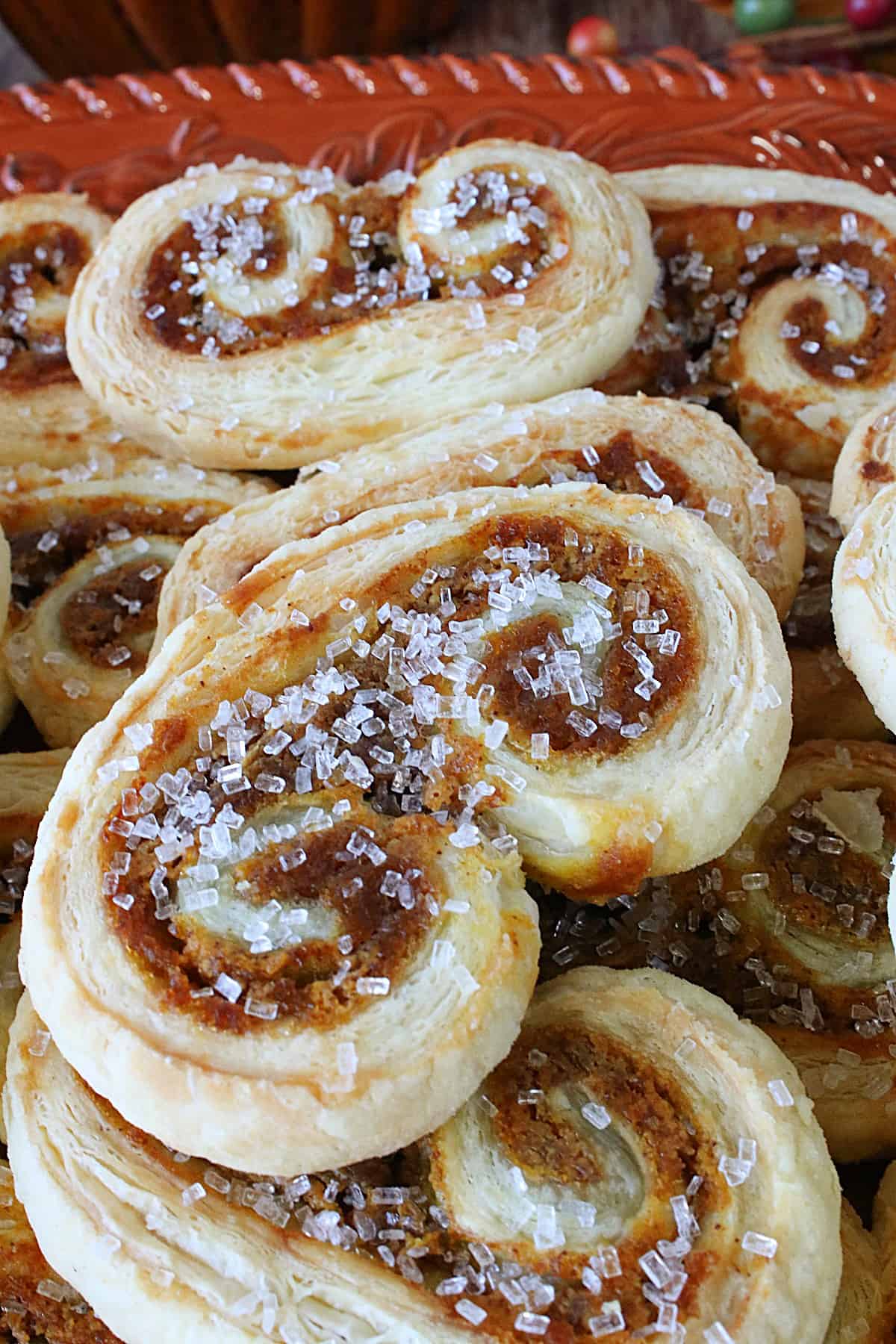 When you make this recipe, and I hope you do, I'd appreciate it if you'd take a moment to leave a star rating on the recipe card and briefly comment on why you rated it as you did. FYI - Google appreciates recipe ratings and, in turn, will share my recipes with more people. Thank you so much!!
Printable Recipe Card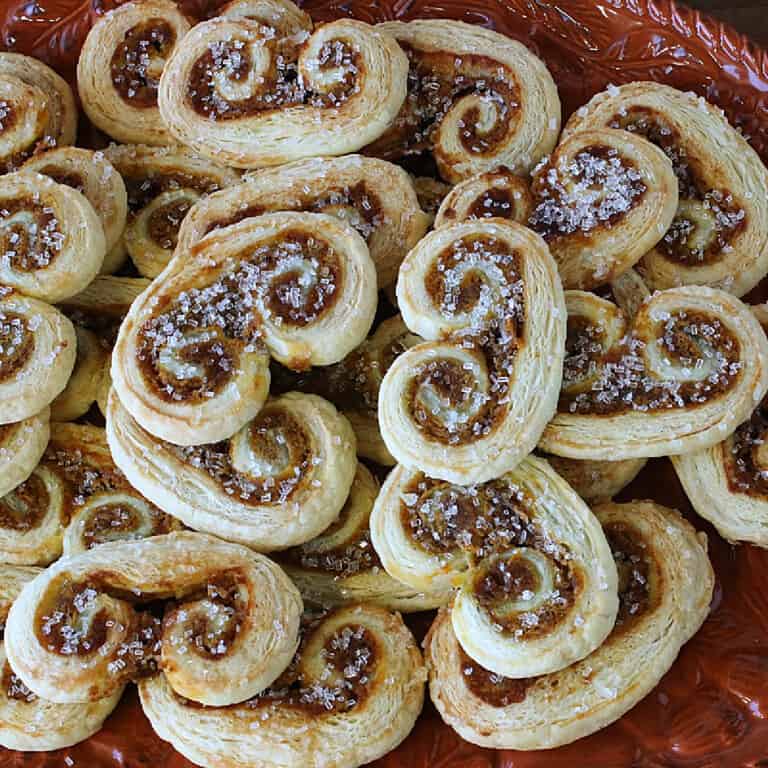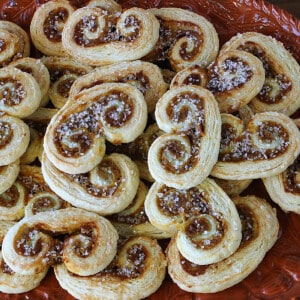 Pumpkin Spice Palmiers
They'll think you spent hours making these deliciously flaky Pumpkin Spice Palmiers, but you were in and out of the kitchen in no time flat!
Ingredients
1

box (2 sheets per box)

puff pastry dough

scant amount

all-purpose flour

for dusting and rolling

1

can (15.5 ounces)

pure pumpkin purée

¾

cup

granulated sugar

1

teaspoon

pure vanilla extract

2

teaspoons

ground cinnamon

⅛

teaspoon

grated (or ground) nutmeg

¼

cup

sanding sugar

as garnish and additional crunch
Instructions
Allow the frozen puff pastry sheets to thaw slightly in the refrigerator for at least 60 minutes.

Preheat oven to 400-degrees Fahrenheit (205 Celsius)

Stir together the pumpkin puree, vanilla extract, granulated sugar, ground cinnamon, and nutmeg in a medium bowl until combined. Set aside.

Working with one sheet of dough at a time, unfold and remove the paper from the thawed package of puff pastry onto a lightly floured surface.

Press the folding seams lightly (so they're no longer visible) and roll the dough (with a light touch of flour and a floured rolling pin) into an evenly shaped rectangle.

Spread a light layer of the pumpkin spice mixture onto the puff pastry rectangle (an offset spatula works great for this) leaving an approximate ½" border around the entire sheet of dough.

Carefully start rolling one of the shorter sides of pastry into the center making sure to stop at the halfway point. Continue the same process with the adjacent end and stop rolling when the two rolls have met in the middle.

Place the double rolled palmier onto a parchment lined baking sheet (a cake lifter is a great tool for this) and then continue with the same steps for the remaining dough sheet and pumpkin spice filling. *Note - you may have some leftover pumpkin spice filling which you can use for another project.

Once each palmier is rolled place the baking sheet in the freezer for at least 10 minutes to firm.

Using a serrated knife, cut each palmier log, widthwise, into 12 equal pieces and place each piece onto parchment lined baking sheets. Sprinkle each palmier with sanding sugar if desired.

Bake the cut Palmiers in the preheated oven for 10-12 minutes and then rotate the baking sheets and flip each Palmier. Sprinkle the second side or each with sanding sugar if desired. Return the baking sheets back into the oven and continue baking for an additional 10-12 minutes, or until they're puffed and golden.

Remove from the oven and cool completely on a wire rack before serving. For best flavor serve these at room temperature.
Video
Notes
Leftovers Palmiers should be stored in an airtight container in the refrigerator for up to 5 days.
Baked Palmiers may be frozen. Store them in an airtight freezer container for up to 2 months.
Note - DO NOT substitute granulated sugar for the sanding sugar garnish as granulated sugar will burn in the oven and sanding sugar will retain its form and crunch.
Note - Store any LEFTOVER PUMPKIN SPICE FILLING in an airtight container in the refrigerator and use it for other dessert recipes or even cocktails. Why not fold some into freshly whipped cream and serve it with your favorite pie or autumnal dessert?
Nutrition
Serving:
1
serving
Calories:
34
kcal
Carbohydrates:
9
g
Protein:
0.01
g
Fat:
0.04
g
Saturated Fat:
0.01
g
Polyunsaturated Fat:
0.002
g
Monounsaturated Fat:
0.01
g
Sodium:
0.2
mg
Potassium:
1
mg
Fiber:
0.1
g
Sugar:
9
g
Vitamin A:
7
IU
Vitamin C:
0.01
mg
Calcium:
2
mg
Iron:
0.02
mg
I sincerely hope you've enjoyed today's crispy, crunchy, pumpkiny spicy Thanksgiving Palmiers as much as I've enjoyed bringing it to you.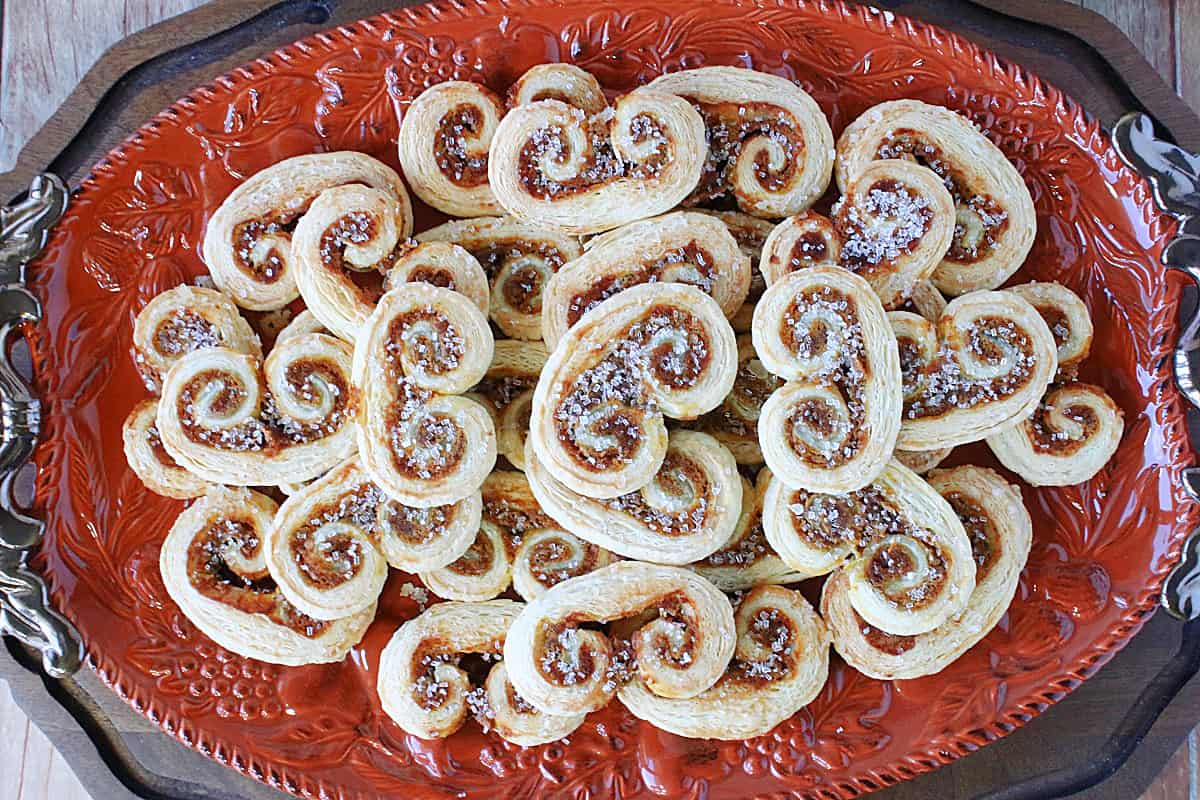 Follow me across my social media platforms and join in on the conversation: FACEBOOK, INSTAGRAM, PINTEREST, TIKTOK, AND YOUTUBE.
Thank you so much for visiting me today in my Kudos Kitchen. I hope you found something you'll love and that you'll come back and visit me often. There is always room for you around my table!
Should you have any questions or comments regarding anything you've seen here on my blog, please don't hesitate to reach out to me. It is always my distinct pleasure to respond to you just as soon as I possibly can.
Until we eat again, I hope you have a delicious day!!