My mission, should I choose to accept, was to make a burger using the secret ingredients; lemon, spinach, cream, and radishes. The result is this 100% Beef Burger with Creamy Lemon Spinach & Fried Radish Chips. What would you have made?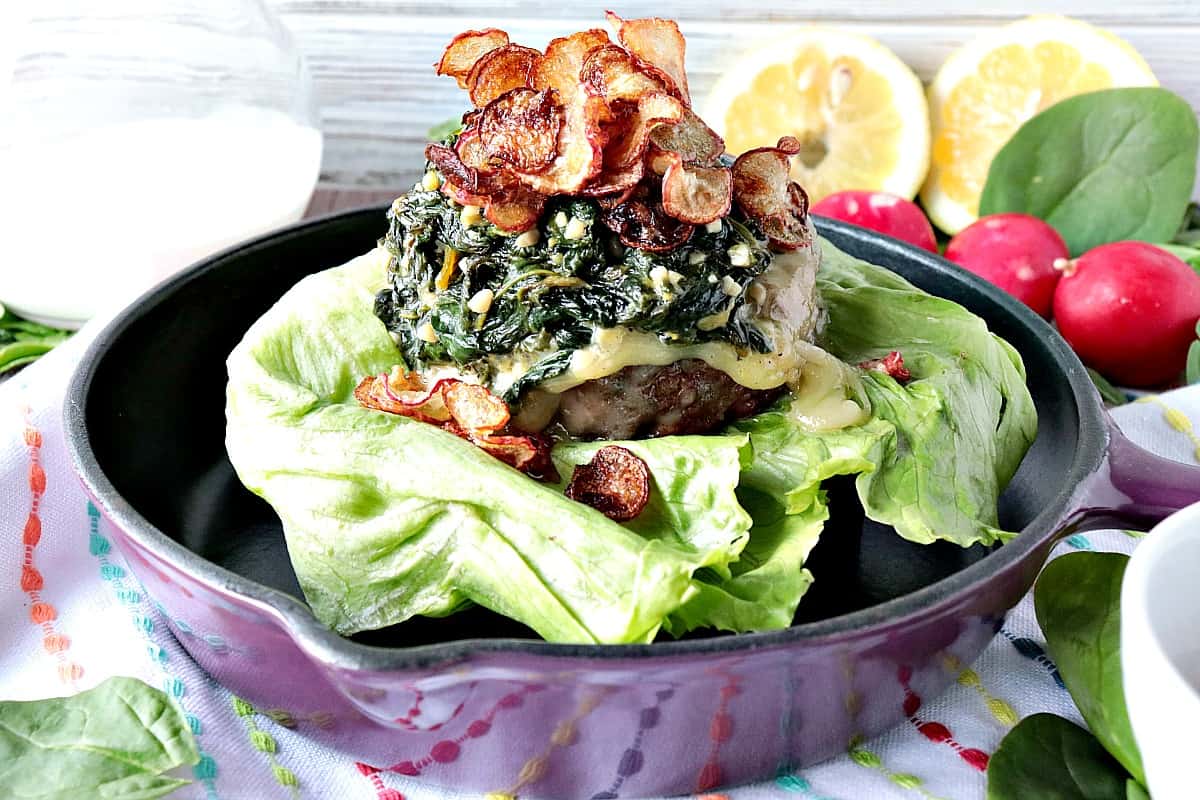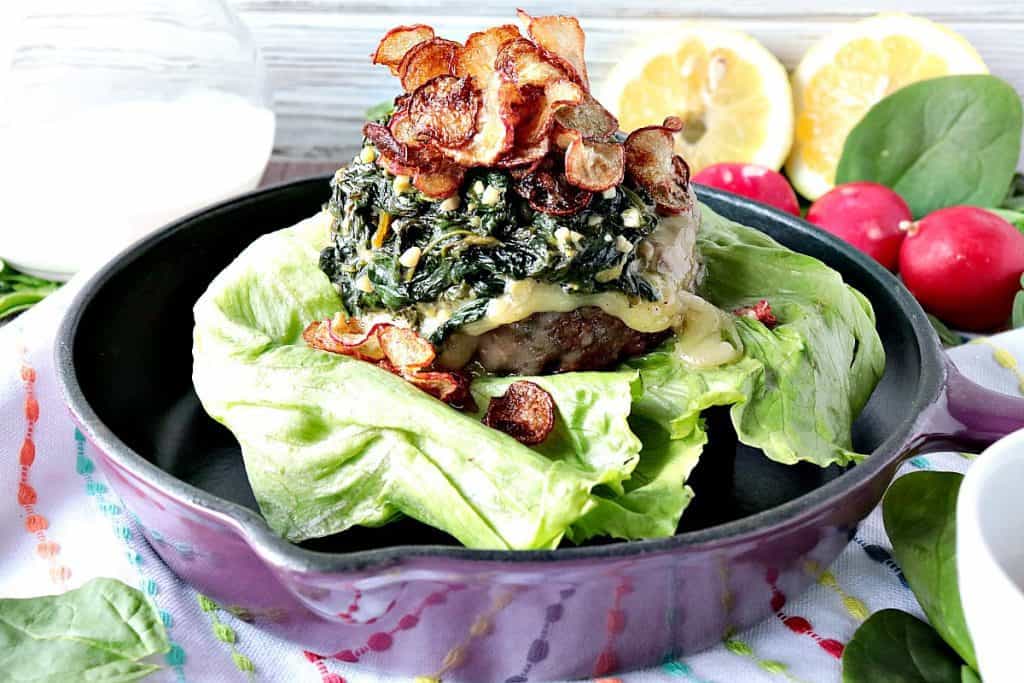 The new Burger of the Month Club I've joined is like a "Chopped challenge" except there is none of that pesky pressure, and nobody gets "chopped." It's all about having fun with each month's secret ingredients and seeing how creative you can be whipping up a burger creation.
The Burger of the Month Club is the brainchild of Kita Roberts of Girl Carnivore and it's open to everyone who'd like to join. Please visit Girl Carnivore's Burger of the Month Club Facebook Group Page to learn more.
**Please Note - The printable recipe card with detailed instructions and complete ingredient measurements for making 100% Beef Burger with Creamy Lemon Spinach & Fried Radish Chips is available near the end of this post.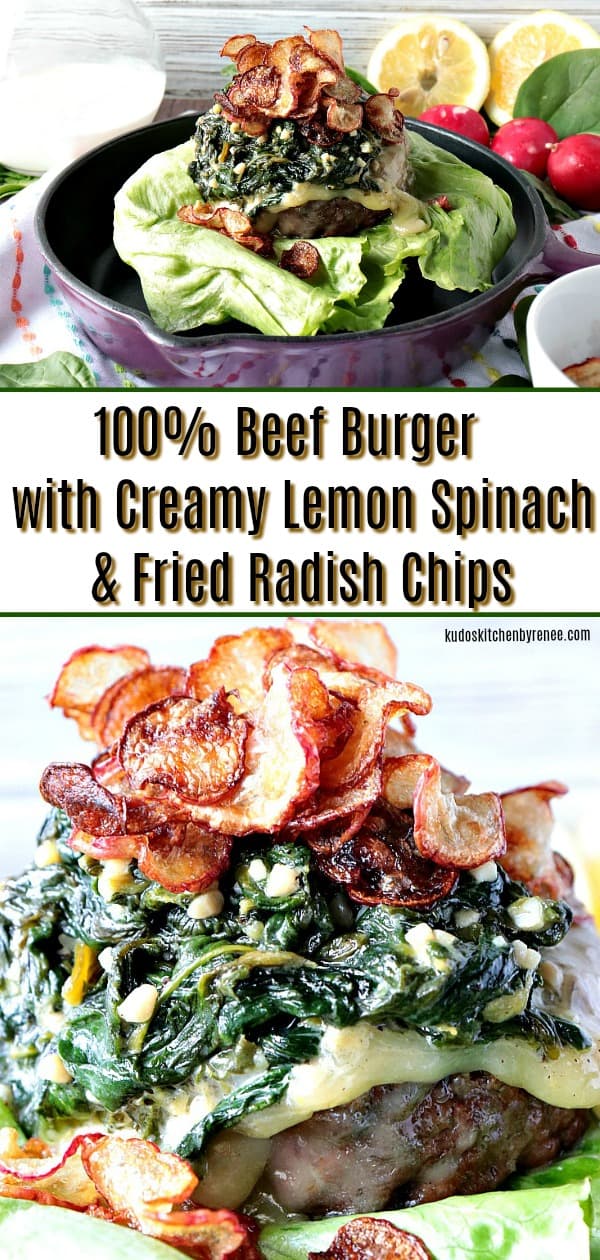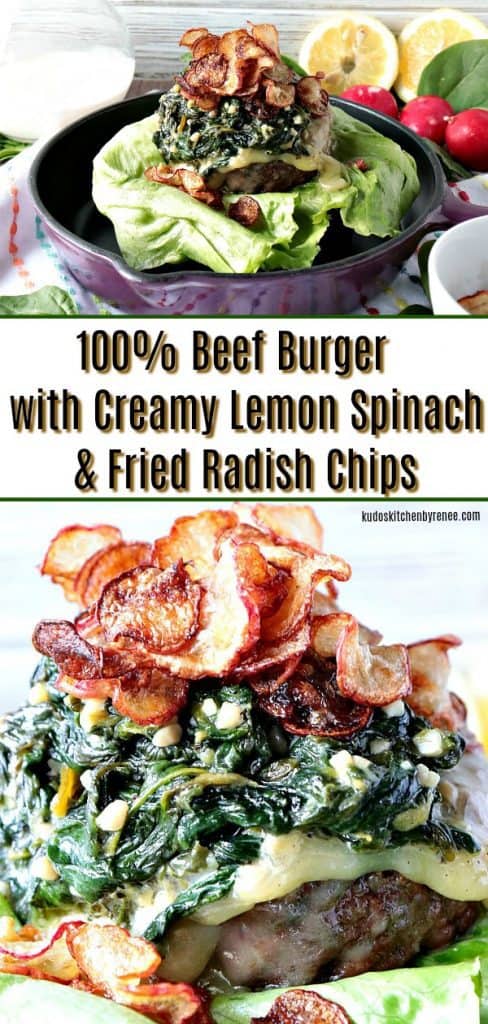 While this may not necessarily be what you think of when you think of a burger (where's the bun, right?), don't let that fool you into thinking that this 100% Beef Burger with Creamy Lemon Spinach & Fried Radish Chips doesn't have great taste! It 100% does!!
This TOTALLY ROCKED my burger-loving world (even without the bun), and the fried radish chips TOTALLY ROCKED my husband's "I miss potato chips-world!" Since we've been eating a low-carb diet, potato chips and burger buns are a no-no.
The ingredient list to make 100% Beef Burger with Creamy Lemon Spinach & Fried Radish Chips is as follows;
Ground Beef (I use an 80/20 blend)
Fresh Baby Spinach
Lemons
Radishes
Heavy Cream
Garlic
Freshly Grated Nutmeg
Avocado Oil
Butter
Cheese slices (I used a Pepper Jack)
Bun (optional)
Lettuce (optional)
salt and pepper
What is the best way to ensure evenly shaped, tender and juicy burgers?
Over the years, I've become a complete minimalist when it comes to making my beef burgers. I shape my patties with only ground meat and season them liberally (on the outside only) with salt and pepper right before they go on the grill. That's it. Nothing fancy and nothing added to the beef ahead of time.
This way the taste of the ground beef really shines through, and there is no extra mixing that would make the burger tough. I've also been using a 3½" round cookie cutter for forming my patties. I gently press the meat into the cutter (not packing too tightly), and voila, I've ensured myself evenly shaped burgers, that are tender and juicy, each and every time.
As an Amazon Associate, I earn from qualifying purchases. The following Amazon.com items are some suggested products I've chosen that will aid you in the making of this recipe for 100% Beef Burgers with Creamy Lemon Spinach and Fried Radish Chips if needed. By clicking on the item, you'll be taken directly to Amazon.com if you're interested in purchasing any of these products. You are in no way required to do so, and you will not be charged in any way unless you decide to purchase a product through Amazon.
The instructions for making 100% Beef Burgers with Creamy Lemon Spinach & Fried Radish Chips is as follows;
Slice radishes as thinly as possible and dry them on paper towels.
Heat avocado oil over medium/high heat until the oil shimmers.
Carefully add the sliced radishes to the oil (in batches), stirring frequently until they brown.

Remove the radish chips with a slotted spoon to a paper towel to drain. Continue with the remaining radish chips (if needed).
Add the fresh spinach leaves to the same skillet with the remaining oil, along with some butter.

Season the spinach with salt and pepper and stir occasionally until the spinach wilts down.
Add chopped garlic and heavy cream to the pan. Reduce the heat to medium/low.

Add fresh lemon zest to the skillet along with grated fresh nutmeg. Stir occasionally for approximately 2-3 minutes. Keep warm.

Meanwhile, grill the burgers to your desired doneness.
To serve, top each burger with a slice of cheese of your choice, the creamy lemon spinach and a mound of radish chips.
Serve on a bun, or with lettuce if eating low-carb.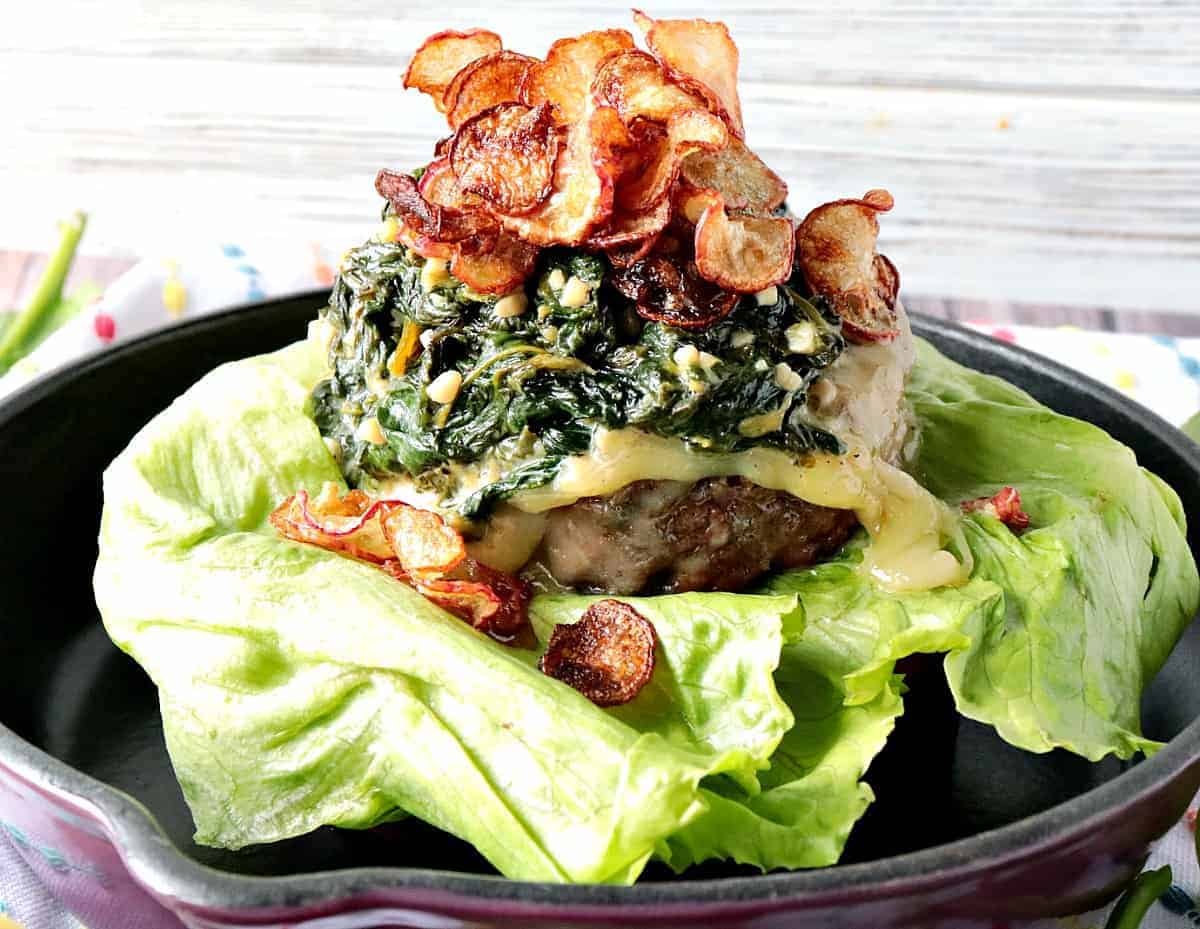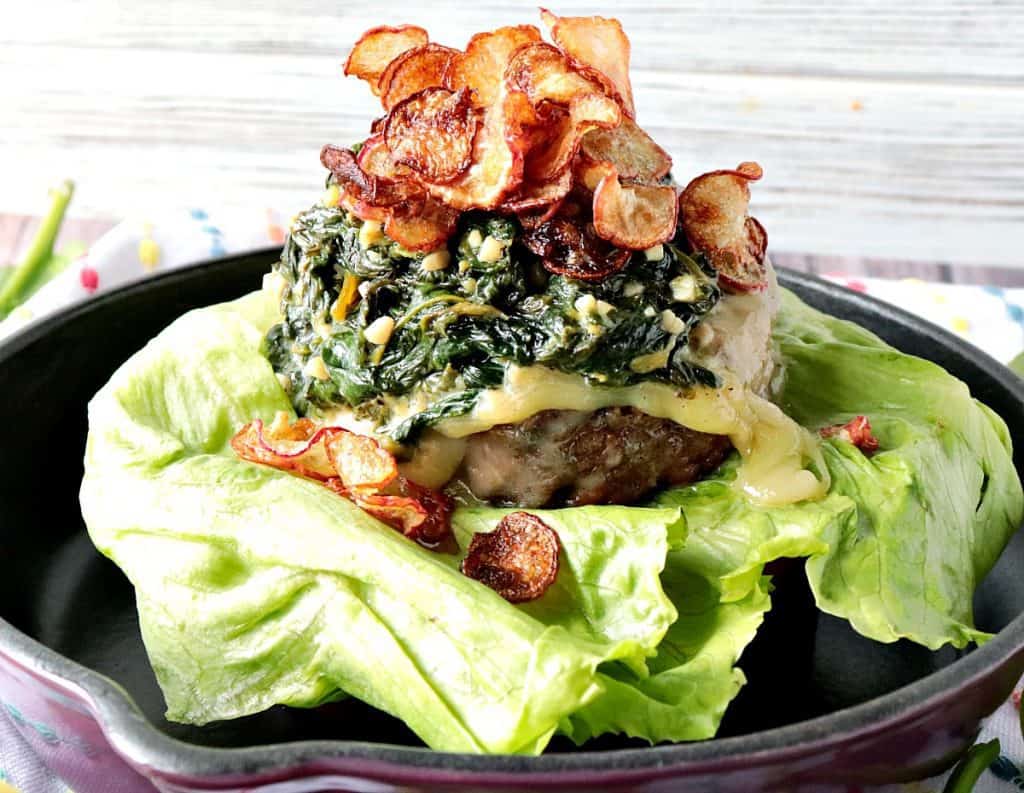 Hungry for more ground beef recipes? Here are some I think you'll also enjoy!
Below is the printable recipe card for today's 100% Beef Burger with Creamy Lemon Spinach & Fried Radish Chips. If you've enjoyed this recipe, and are anxious to give it a try, I'd appreciate if you'd take a moment to give this recipe some feedback by way of stars near the comment section at the end of this post, OR in the recipe card feature itself. 🙂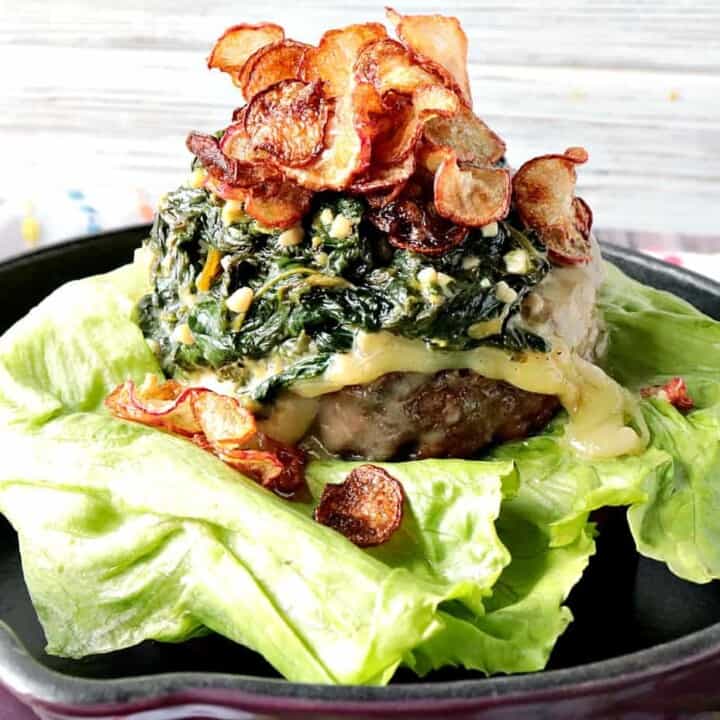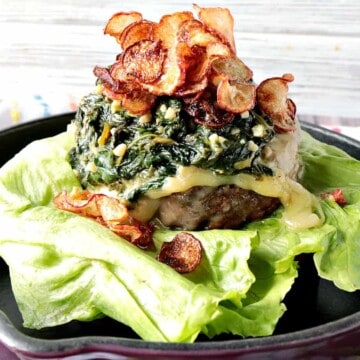 Beef Burgers with Creamy Lemon Spinach & Fried Radish Chips
Tender 100% ground beef burgers are topped with a creamy lemon spinach and crispy fried radish chips. Serve with a bun, or without.
Ingredients
1½

pounds

ground beef,

80/20 blend, suggested

1

cup

thinly sliced radishes,

patted dry with a paper towels

⅓

cup

avocado oil,

or other light oil for frying

2

tablespoons

butter

4

cups

fresh spinach leaves

½

cup

heavy cream

1

tablespoon

fresh lemon zest

2

teaspoons

fresh lemon juice

pinch

freshly grated nutmeg,

or to taste

4

hamburger buns,

optional

lettuce leaves,

optional
Instructions
Heat the avocado oil in a large skillet over medium/high heat. The oil is ready when it lightly shimmers.

Carefully add half of the dried radish slices to the oil, stirring them occasionally until they're browned.

Remove the radishes from the oil using a slotted spoon and drain them on paper towels. Continue the same process with the remaining sliced radishes. Set aside.

Form the ground beef into 4 patties. Season them liberally with salt and pepper.

Cook the patties to your desired doneness and top with your favorite cheese, if desired.

While the burgers are cooking, add the butter to the same skillet large skillet with the remaining oil from the radishes. Add the spinach and cook, over medium heat, stirring until the spinach wilts down. Approximately 2-3 minutes.

Add the garlic, cream, lemon juice, nutmeg, and lemon zest to the spinach.

Reduce the heat to low and cook an additional 2-3 minutes. Remove from the heat.

Top each burger with the creamy lemon spinach and some of the fried radish chips. Serve and enjoy.
Notes
Tools and equipment;
large skillet, wooden spoon, large slotted spoon, paper towels, chef's knife and cutting board (for slicing the radishes), measuring spoons, measuring cups, microplane (for zesting the lemon and grating the nutmeg), 3½" round cookie cutter (optional, for shaping the burgers).
Nutrition
Serving:
1
burger
Calories:
745
kcal
Carbohydrates:
24
g
Protein:
40
g
Fat:
53
g
Saturated Fat:
19
g
Cholesterol:
166
mg
Sodium:
423
mg
Potassium:
857
mg
Fiber:
2
g
Sugar:
3
g
Vitamin A:
3425
IU
Vitamin C:
16.2
mg
Calcium:
151
mg
Iron:
6.2
mg
I sincerely hope you've enjoyed today's recipe for Beef Burger with Creamy Lemon Spinach & Fried Radish Chips, as much as I've enjoyed bringing it to you. I can hardly wait to see what the secret ingredients for next month's "Burger of the Month Club Challenge" are. Stay tuned!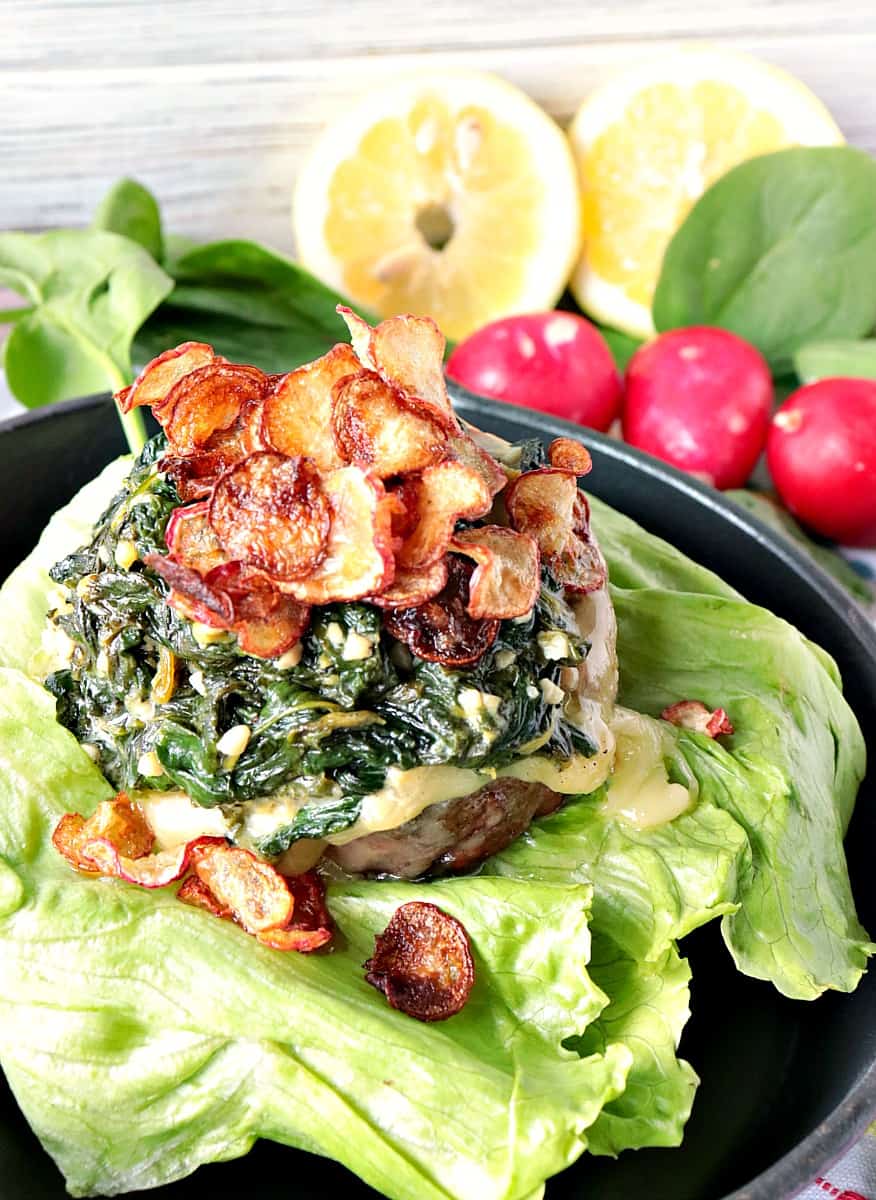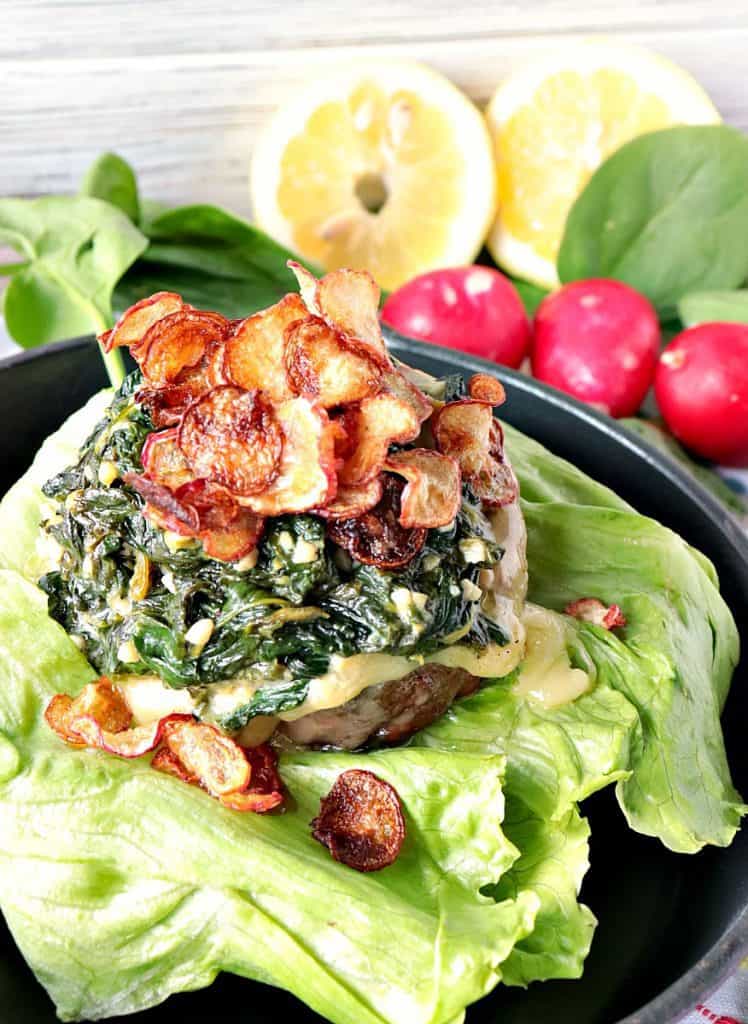 Should you have any questions regarding this recipe, or anything else you've seen on my site, please don't hesitate to contact me directly or leave me a comment in the comment section below. It is always my distinct pleasure to get back to you with a reply just as soon as I possibly can!
For additional information regarding my Kudos Kitchen recipes, and/or my hand painted glassware or fabric items, please follow me on;
FACEBOOK, PINTEREST, INSTAGRAM, TWITTER, YOUTUBE
Kudos Kitchen by Renée ~ Cooking up artistically delicious family-friendly dishes from my Kudos Kitchen to yours!
Until we eat again, I hope you have a delicious day!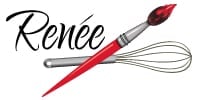 This post may contain affiliate links which won't change your price but will share some commission.