This copycat German knockwurst sandwich is my version of a terrific sausage sandwich I'd had while on vacation in Northern Wisconsin.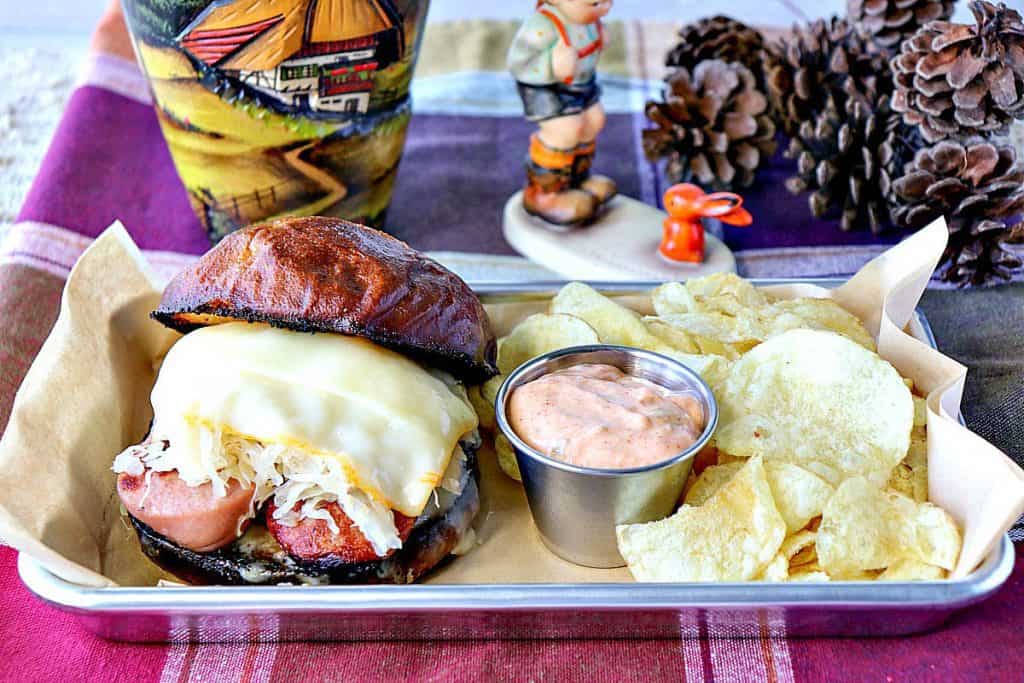 I loved the German sausage sandwich I had SO much, I had it twice during the six days we were on vacation.
And after that first bite, I knew I wanted to replicate it as soon as possible when we got home...so I did!
Jump to:
My Kudos Kitchen copycat version of their knockwurst sandwich is just as delicious as I remember the original sandwich tasting, and now I can eat one whenever I want, without having to travel 6 hours to get one!!
Enjoy the delicious TASTE OF GERMANY delivered straight to your home!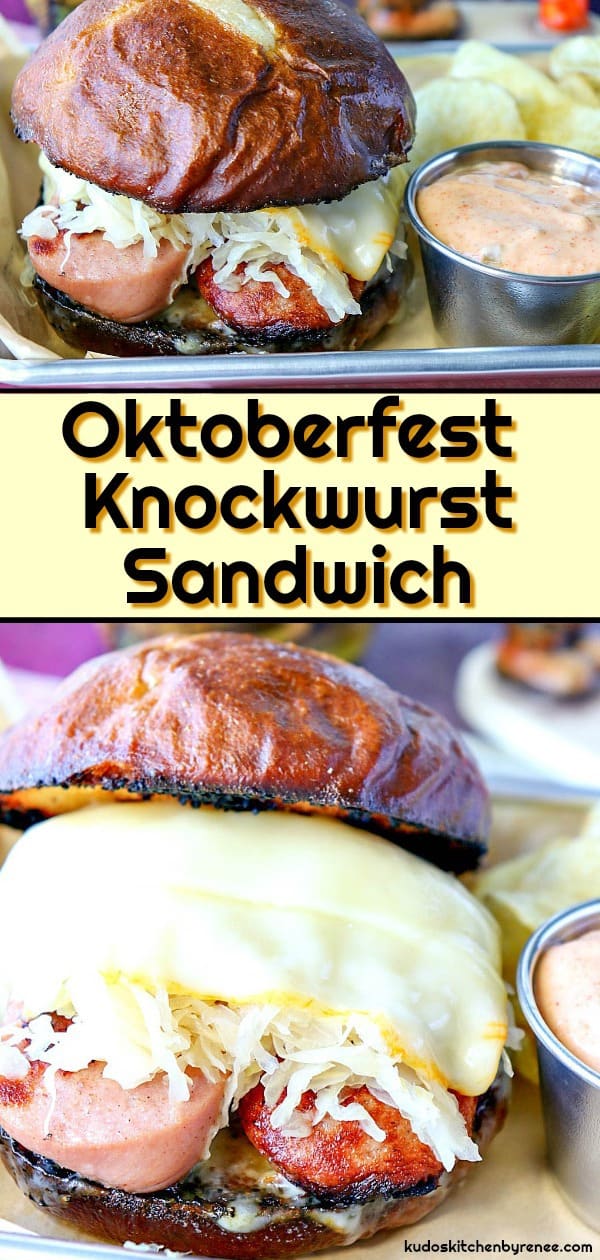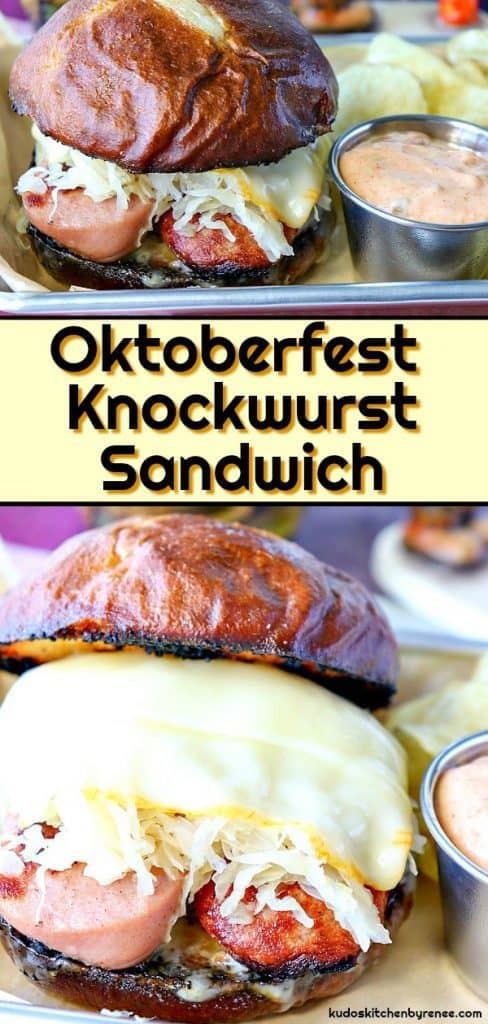 The ingredients list:
**Note - The following list of ingredients contains affiliate links (highlighted in blue) for your consideration and shopping convenience.
Butter
Garlic Powder
Mayonnaise
Ketchup
Sweet Relish
Black Pepper
Below is the photo I took at the Northern Wisconsin Pub (Otto's Beer and Brat Garden) of the knockwurst sandwich I had had.
I don't always take photos of my food at restaurants unless I'm on vacation, or unless it's something I want to try and recreate.
This time, this sandwich ticked both of those boxes!
In the following photo from Otto's, you'll notice they served their sandwich with super crispy kettle chips, and a side of thousand islands dressing.
I wanted to mimic the entire gastronomic experience, so I did the same. Sadly, I forgot the pickle spear. 🙁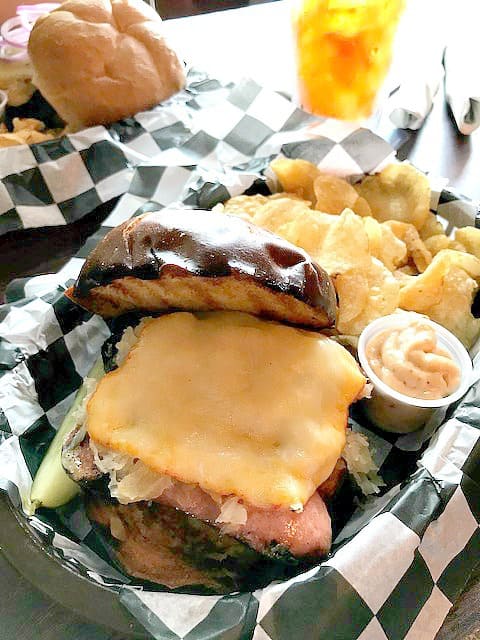 Below is my Kudos Kitchen knockwurst sausage sandwich version.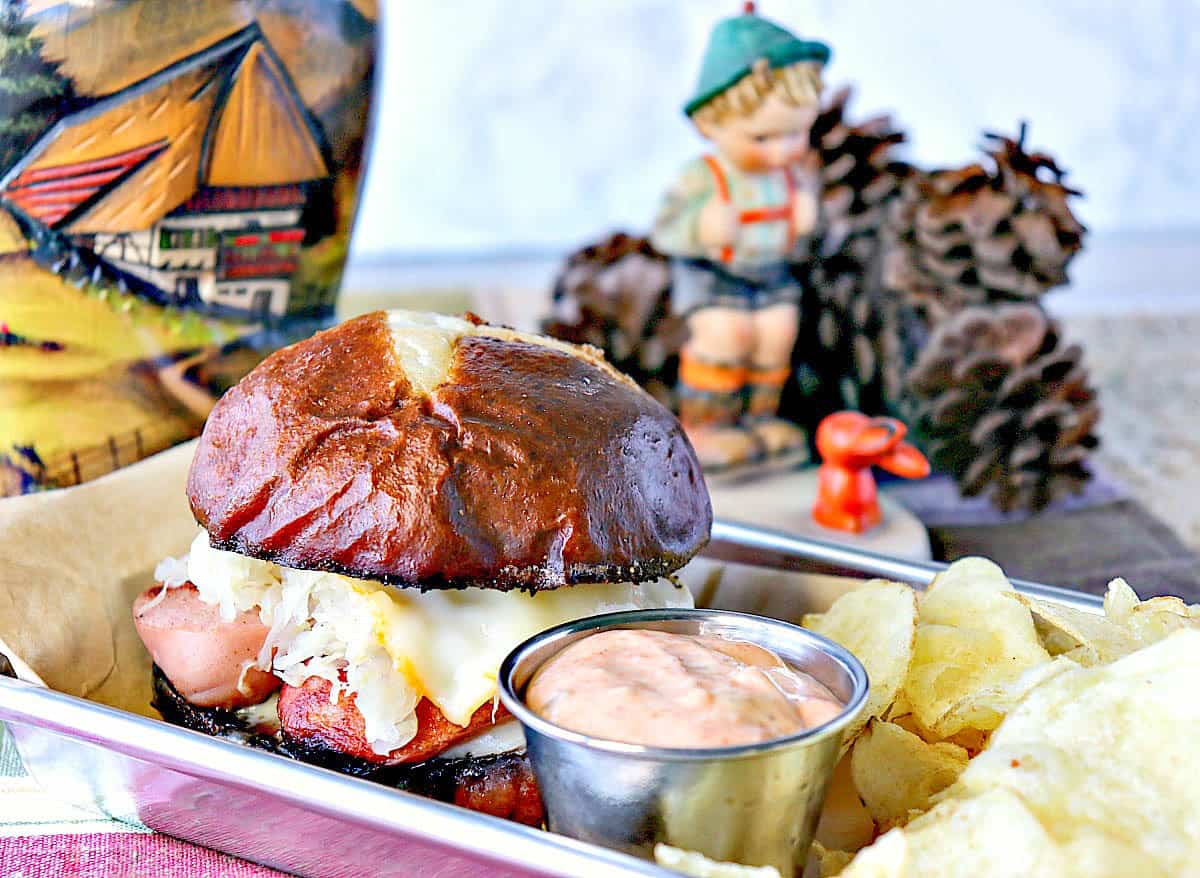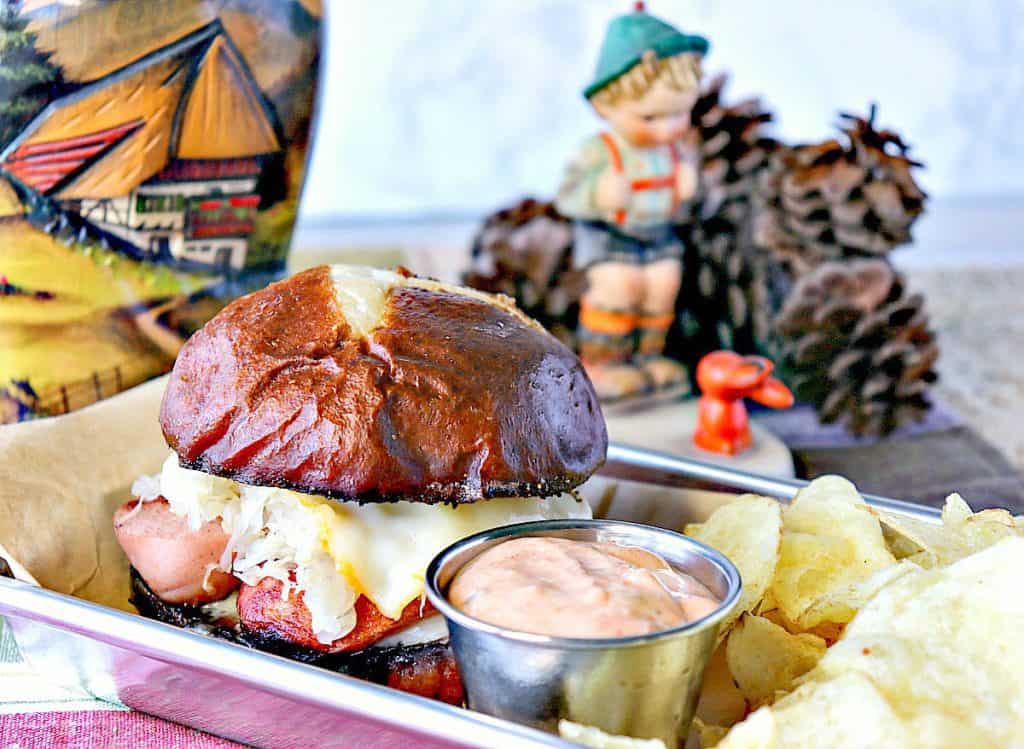 What if I don't have, or don't like knockwurst? Can I substitute another type of sausage?
By all means, substitute any type of sausage you like. Bratwurst, smoked sausage, Polish sausage, and even hot dogs would be a great substitution.

I suggest, however, if using bratwurst to cook it first, slice it lengthwise and then pan fry it to get the maximum flavor, just like with the knockwurst.
My local grocery store doesn't carry knockwurst. Where can I purchase it?
I purchased mine at our local butcher shop but sadly, they don't ship.
You can, however, purchase knockwurst sausage through Amazon.com. I'm leaving the affiliate link in the ingredient list.
What if I don't like sauerkraut? What then?
Well, since this sandwich is all about Oktoberfest, I would suggest you only add a tiny bit, and then get over it. Just kidding (sort of).
OR, what about using coleslaw as a substitution? It will be a completely different sandwich as far as taste, but still tasty none the less!
Additional German inspired recipes:
*German Bee Sting Cake (Bienenstich) - (pictured below) from (yours truly) Kudos Kitchen "A yeasted cake with a beautiful texture, fantastic honey flavor (hence the name), a beautifully caramelized almond topping, not to mention a thick, creamy vanilla filling. It's honestly the best cake I think I've ever made, and it's a recipe I'm super excited to share it with you!"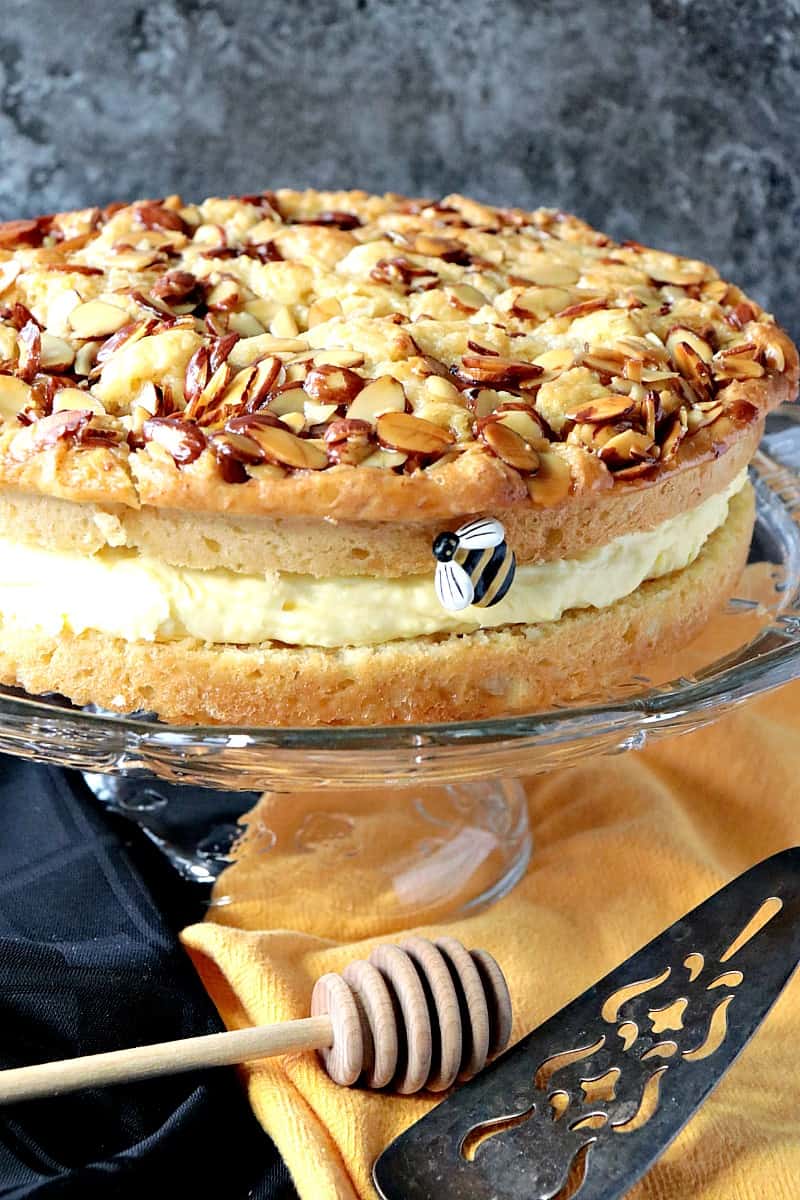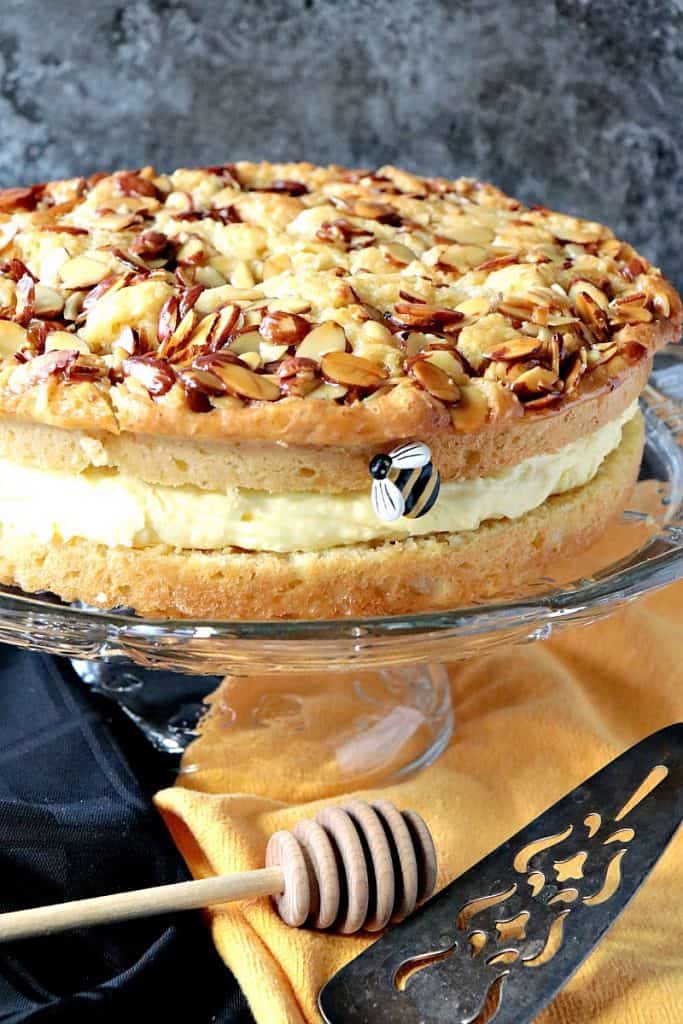 *Homemade German Pretzels from West Via Midwest
*German Onion Soup with Bratwurst (pictured below) from (yours truly) Kudos Kitchen "German Onion Soup has plenty of caramelized onions, beer, bratwurst and pretzel roll croutons which will soon become a family favorite! Surprise! I'll bet you didn't see that coming."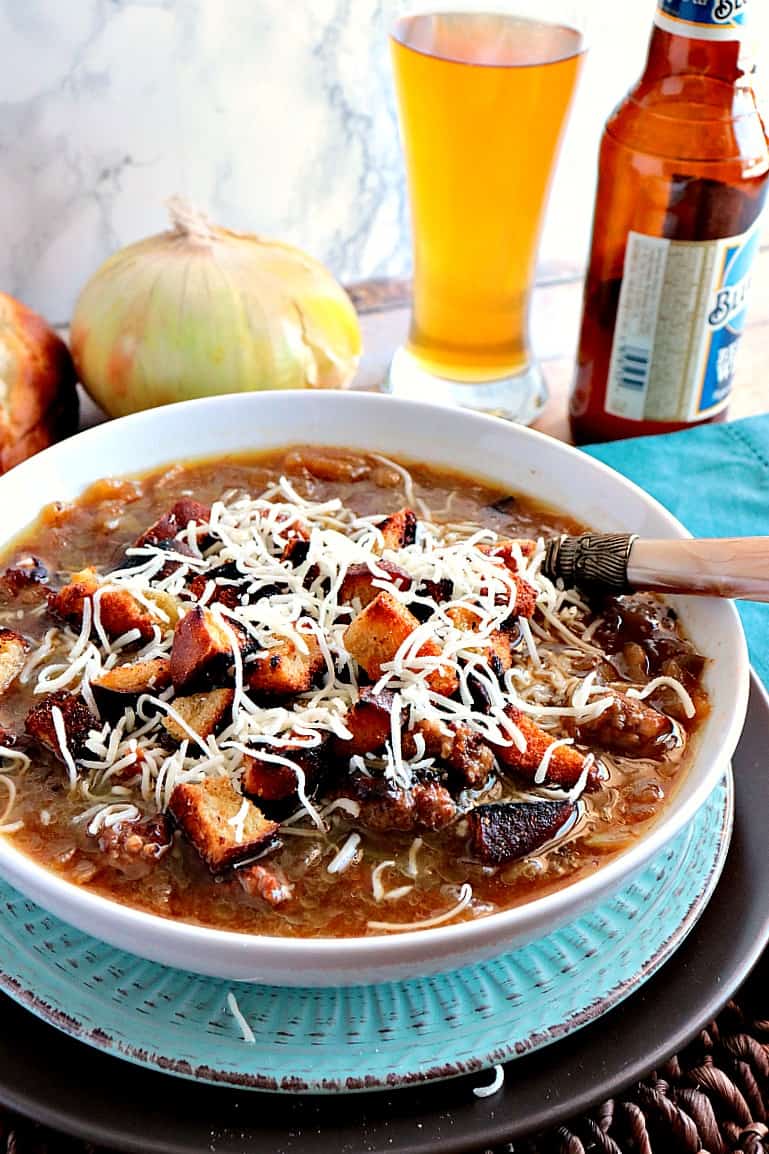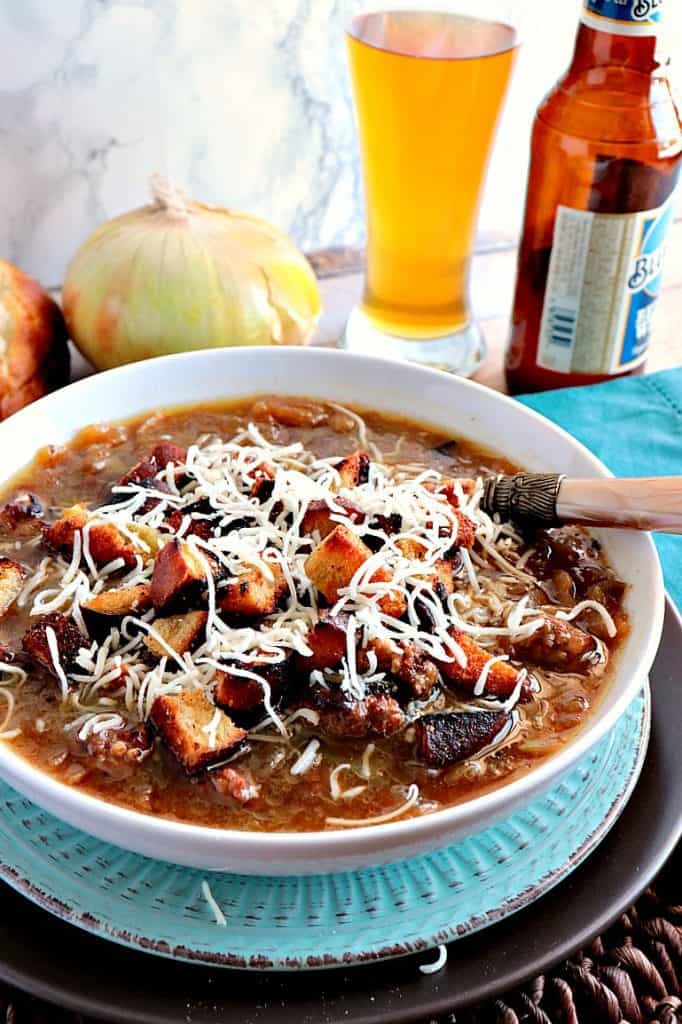 *Rye Sourdough Spaetzle from The Good Hearted Woman
*German Meatballs with Caraway Cream Mushroom Sauce (pictured below) from (yours truly) Kudos Kitchen "My love of German flavors and ingredients was the original inspiration for this dish of Hearty German Meatballs with Caraway Mushroom Cream Sauce. It's a delicious comfort-food recipe, with a German twist."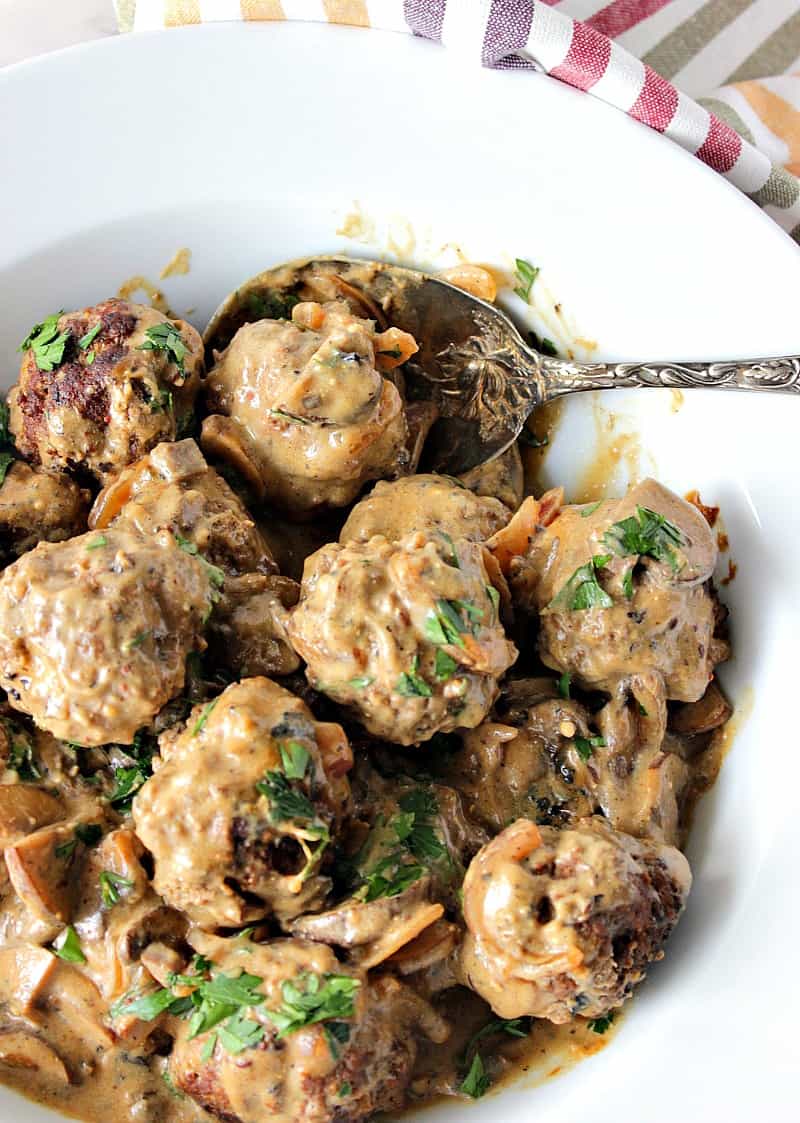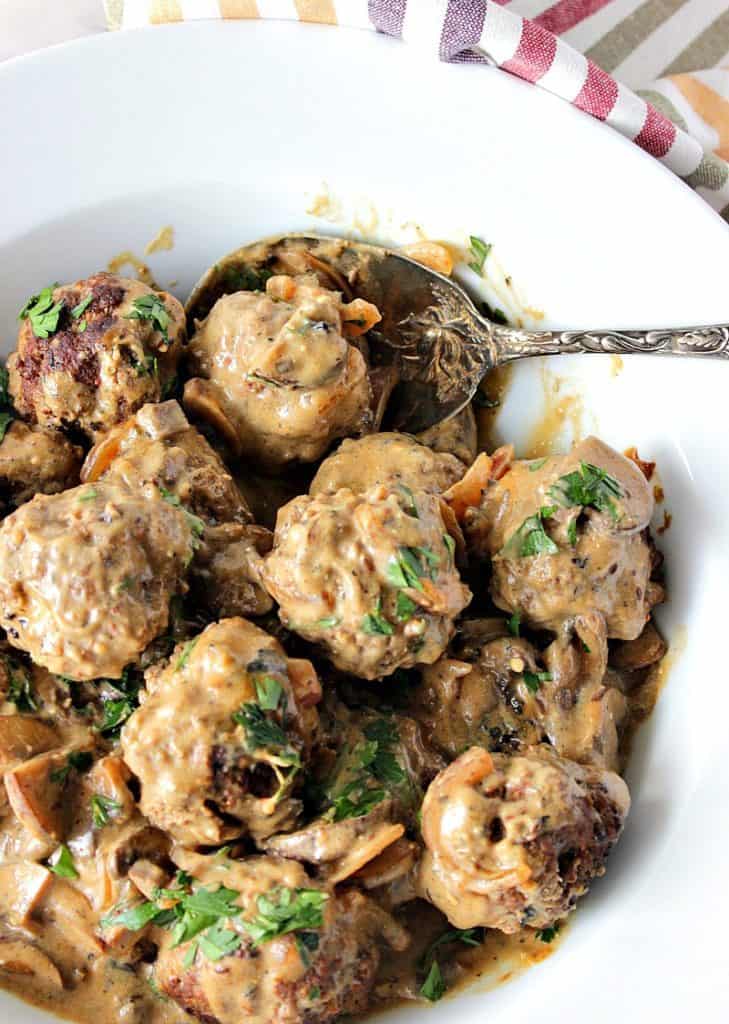 *German Onion Pie from An Affair from the Heart
*Slow Cooker German Pork Ribs and Sauerkraut (pictured below) from (yours truly) Kudos Kitchen "Nothing speaks to the flavors of a German dinner more than pork and sauerkraut. This easy recipe for German Pork Ribs with Sauerkraut for the slow cooker brings the family to the dinner table with a minimum of effort."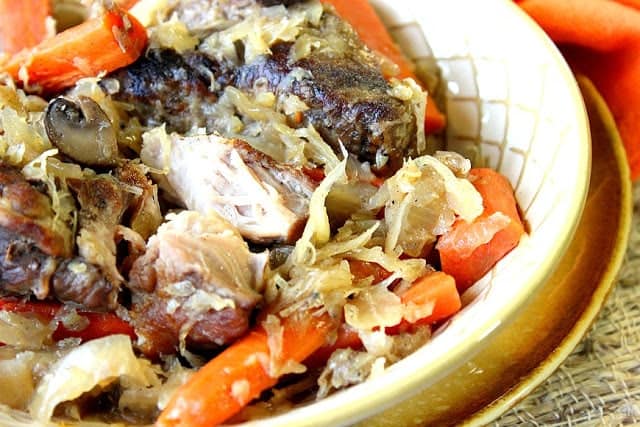 *German Brat Bites (pictured below and the featured video) from (yours truly) Kudos Kitchen "Easy Bratwurst Bites Wrapped in Crescent Dough with Sauerkraut Dipping Sauce are just the thing to serve during a party or for tailgating. They're also super simple to make and everybody loves them!"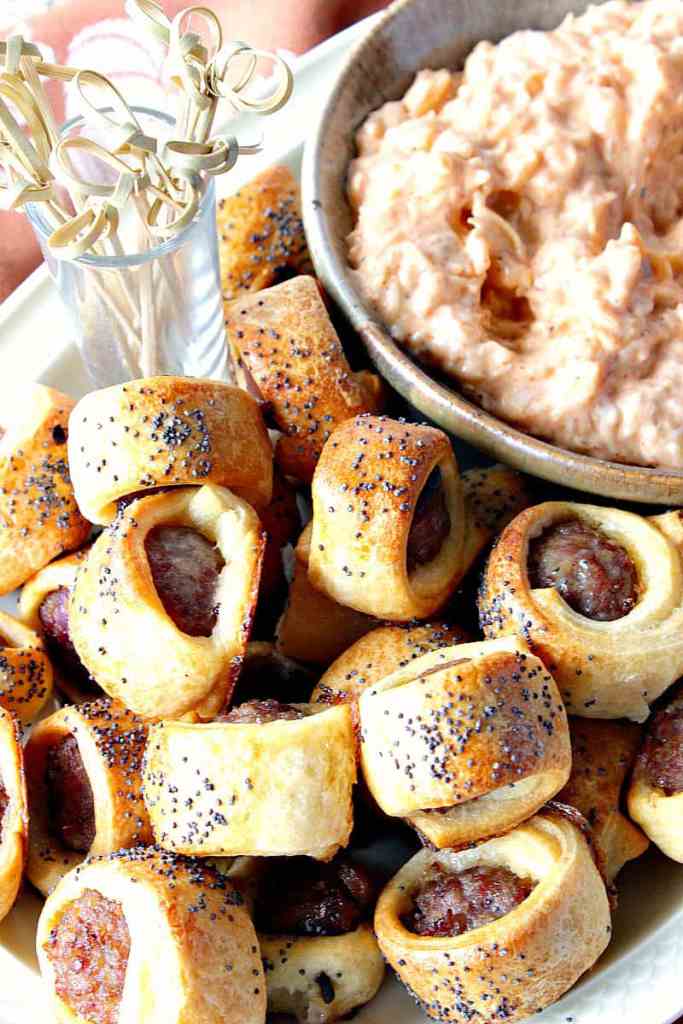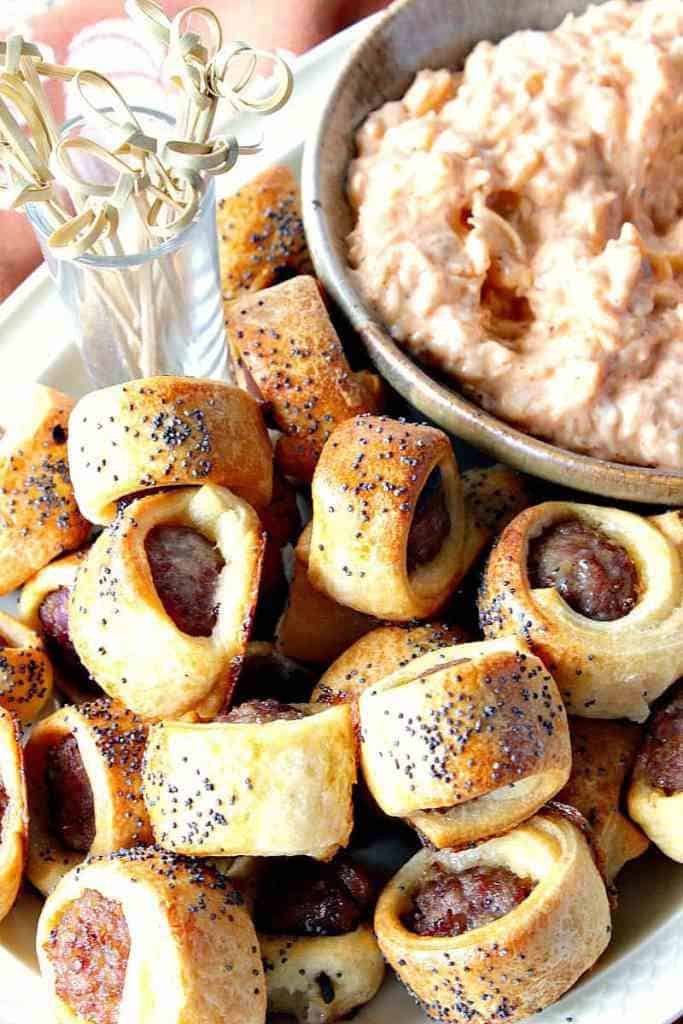 *German Knockwurst Sandwich (pictured below)...This is the place!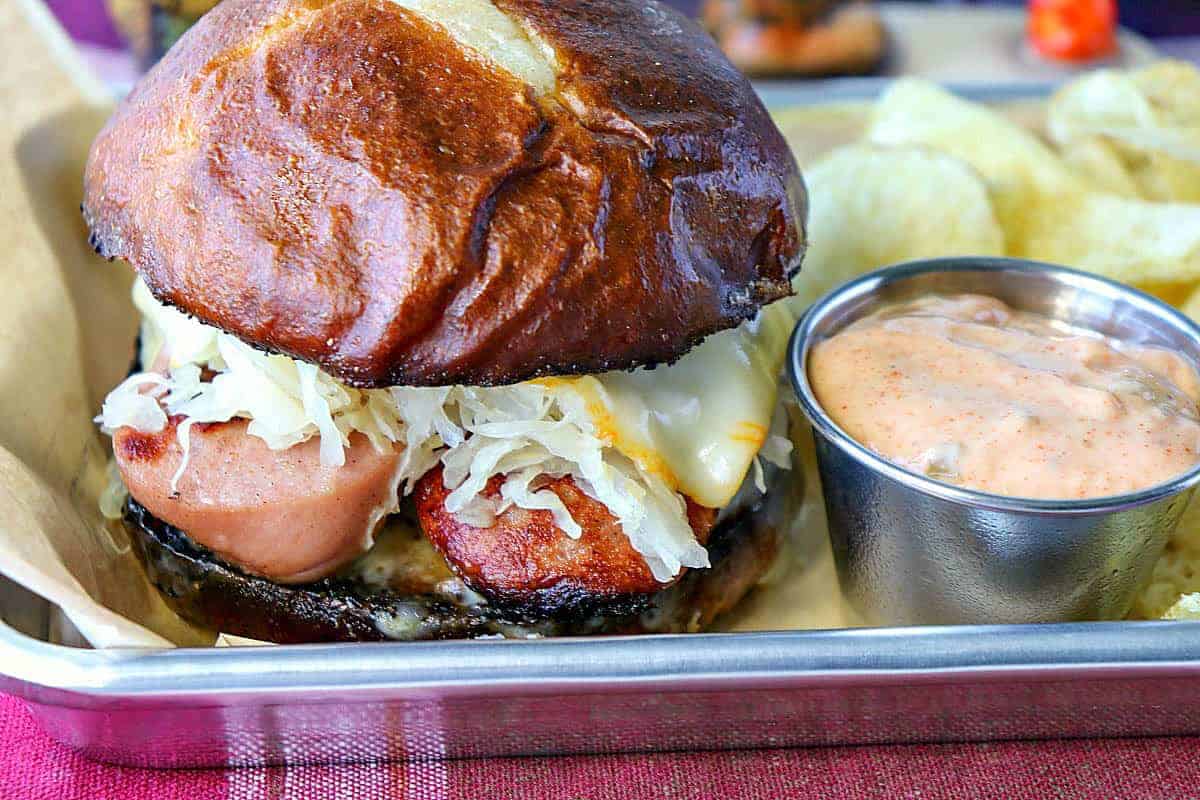 What is the difference between a knockwurst and a hot dog?
They're actually very similar except that a knockwurst is sometimes shorter in length and wider in width.
Knockwurst is also typically made with better cuts of meat than your standard run-of-the-mill hot dog.
What is the difference between knockwurst and bratwurst?
Knockwurst is made mainly out of pork and veal and is heavily flavored with garlic.
Bratwurst is made out of pork and beef and without the garlic.
What is the difference between knockwurst and knackwurst?
Only the spelling! LOL 😉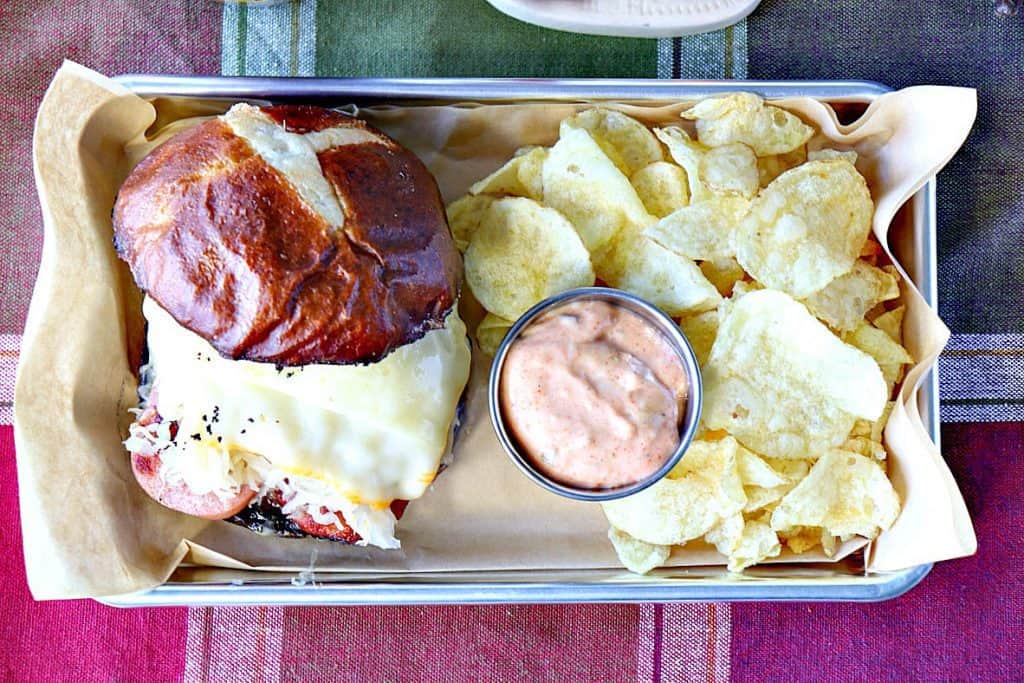 How to make this recipe:
I

n a small bowl, stir together the mayonnaise, ketchup, sweet relish, prepared horseradish, smoked paprika, salt, and pepper.

Chill until ready to serve.

Butter both sides of pretzel rolls and sprinkle with garlic powder.

Bake the rolls in a preheated 350-degree oven until crisp. Approximately 10 minutes. Set aside.

Slice the knockwurst sausage in half lengthwise and fry them in a skillet with until browned on both sides.

Remove the skin from the sausage after cooking.

Place sliced Munster cheese on the bottom buttered bun.

Top with 2 browned sausage halves, and a liberal helping of sauerkraut.

Top with additional Munster cheese and bake in a preheated oven until the cheese has melted.

Top the sandwich with the pretzel roll top, and serve with the 1000 islands dressing, and chips if desired.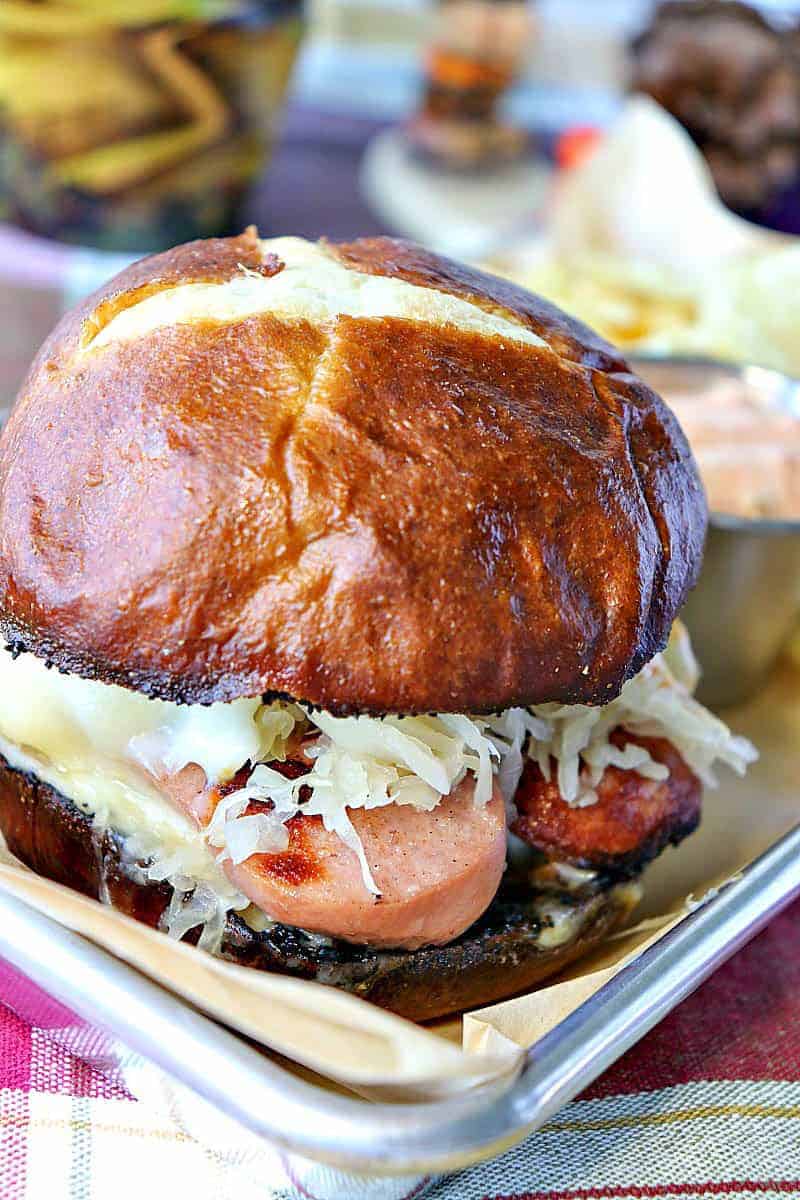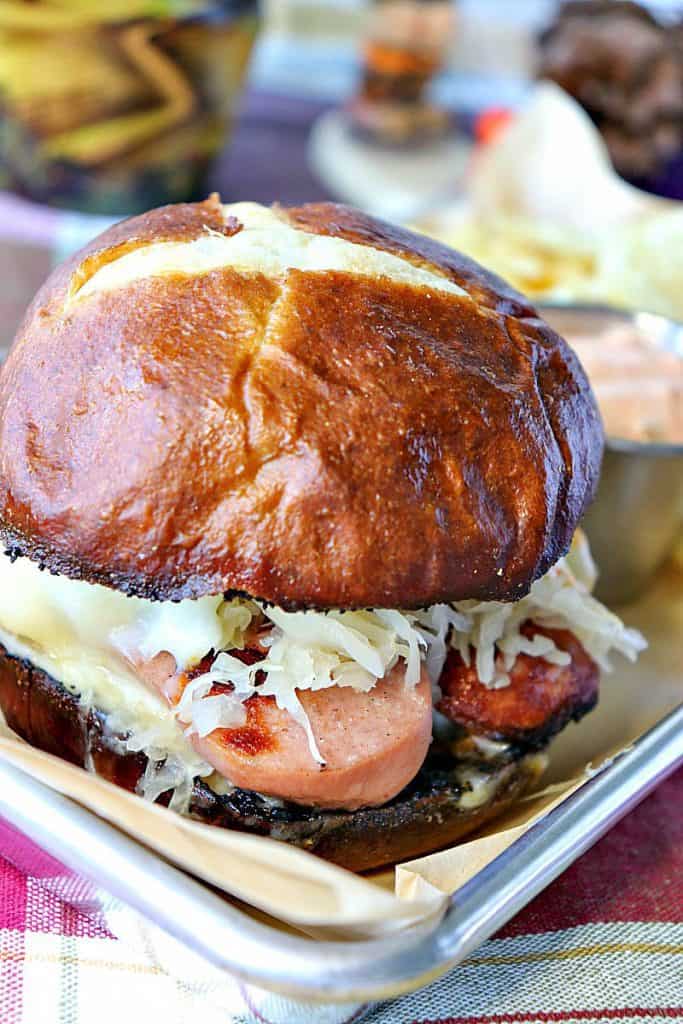 ⭐If you've made this recipe, or are excited to make this recipe, I'd appreciate it if you'd take a moment to leave it a star rating on the recipe card, along with a comment of why you rated as you did.
Google loves ratings and will show my recipes to more people if they have them. Thank you. 🙂
Printable Recipe Card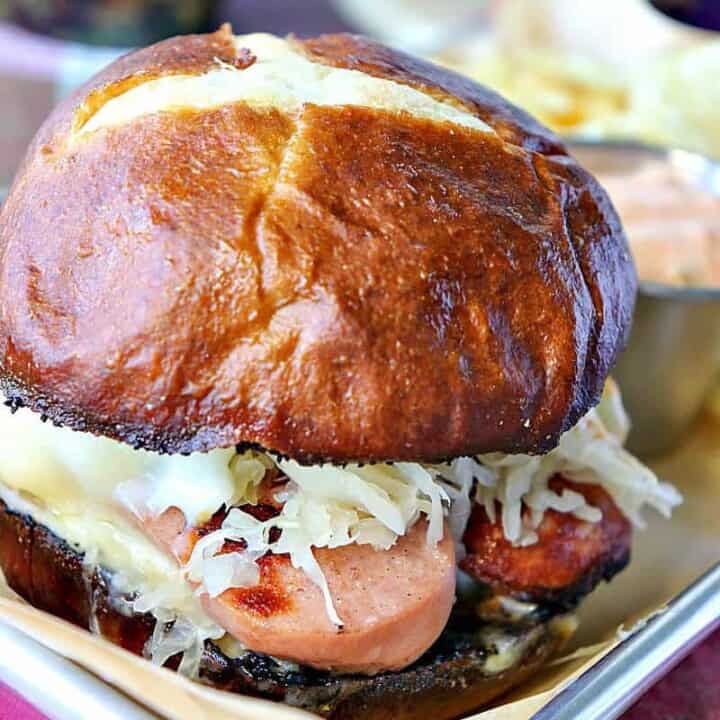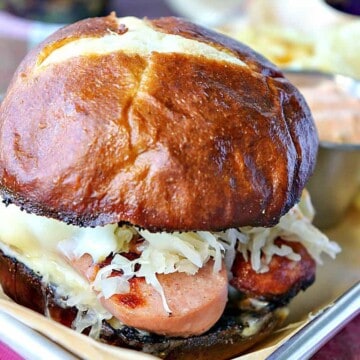 German Knockwurst Sandwich with Sauerkraut and Muenster Cheese
Fried German knockwurst sausage is topped with melted cheese, sauerkraut, and a zippy horseradish sauce and then served on a garlic toasted pretzel roll.
Ingredients
For the German sausage sandwich;
4

knockwurst

cut in half lengthwise

4

pretzel rolls

4

tablespoons

butter

softened

2

teaspoons

garlic powder

1

cup

sauerkraut

8

slices

Muenster cheese

½

cup

mayonnaise
To make the 1000 islands sauce;
3

tablespoons

ketchup

2

tablespoons

sweet pickle relish

1

tablespoon

prepared horseradish

1

teaspoon

smoked paprika

pinch

black pepper
Instructions
To make the 1000 islands sauce;
In a small bowl, stir together the mayonnaise, ketchup, pickle relish, horseradish, smoked paprika, and black pepper. Chill until ready to serve.
To prepare the sausage sandwich;
Spread the softened butter on both cut sides of the pretzel rolls and sprinkle with garlic powder.

Bake in a preheated 350-degree oven until golden and crispy (approximately 7 - 10 minutes, watching carefully). Remove.

Cut the sausages in half lengthwise. Remove the outer casing from the sausage.

In a large skillet, brown the cut sausages on both sides.

Place one slice of muenster cheese on the bottom bun, top with 2 cooked sausage halves, sauerkraut, and another slice of cheese.

Bake in a preheated 350-degree oven until the cheese is melted.

Add the top bun and serve hot along with the prepared 1000 sauce for spreading, or dipping.
Notes
Tools and equipment;
small bowl, spoon, measuring spoons, measuring cups, large skillet, chef's knife, butter knife, baking sheet, baking rack (optional).
Nutrition
Serving:
1
sandwich
Calories:
758
kcal
Carbohydrates:
12
g
Protein:
22
g
Fat:
69
g
Saturated Fat:
29
g
Cholesterol:
139
mg
Sodium:
1733
mg
Potassium:
353
mg
Fiber:
2
g
Sugar:
7
g
Vitamin A:
1330
IU
Vitamin C:
7
mg
Calcium:
423
mg
Iron:
2
mg
I sincerely hope you've enjoyed today's German knockwurst sausage sandwich as much as I've enjoyed bringing it to you!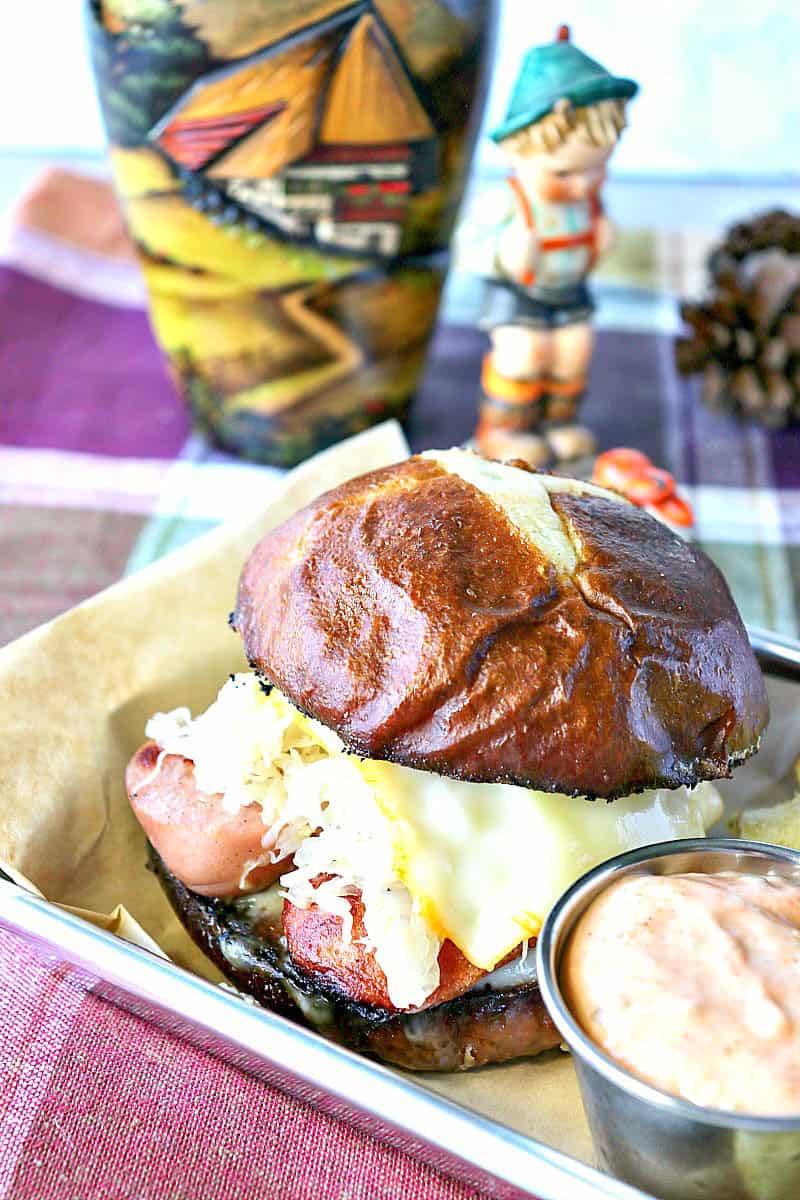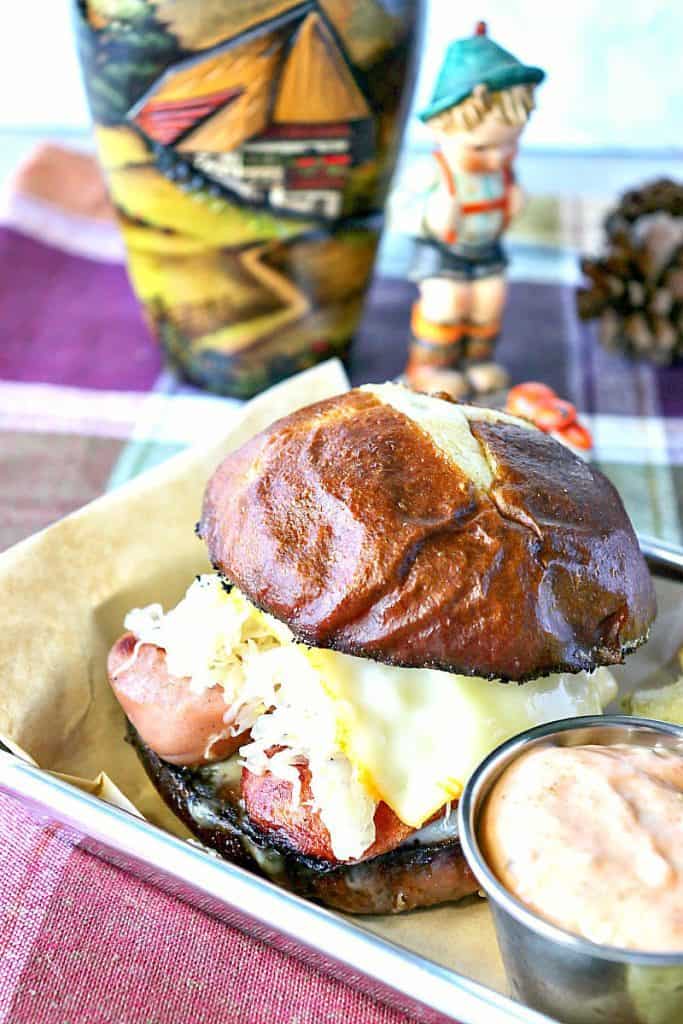 Thank you so much for visiting me today in my Kudos Kitchen. I hope you found something you'll love and that you'll come back and visit me often. There is always room for you around my table!
Should you have any questions or comments regarding anything you've seen here on my blog, please don't hesitate to reach out to me. It is always my distinct pleasure to respond to you just as soon as I possibly can.