This recipe for homemade Dill Tartar Sauce has been a family favorite of ours for years and years, and if that's not enough, it's ready in 5 minutes or less! Grab your spoon! You're going to love using this creamy seafood condiment on SO many things!!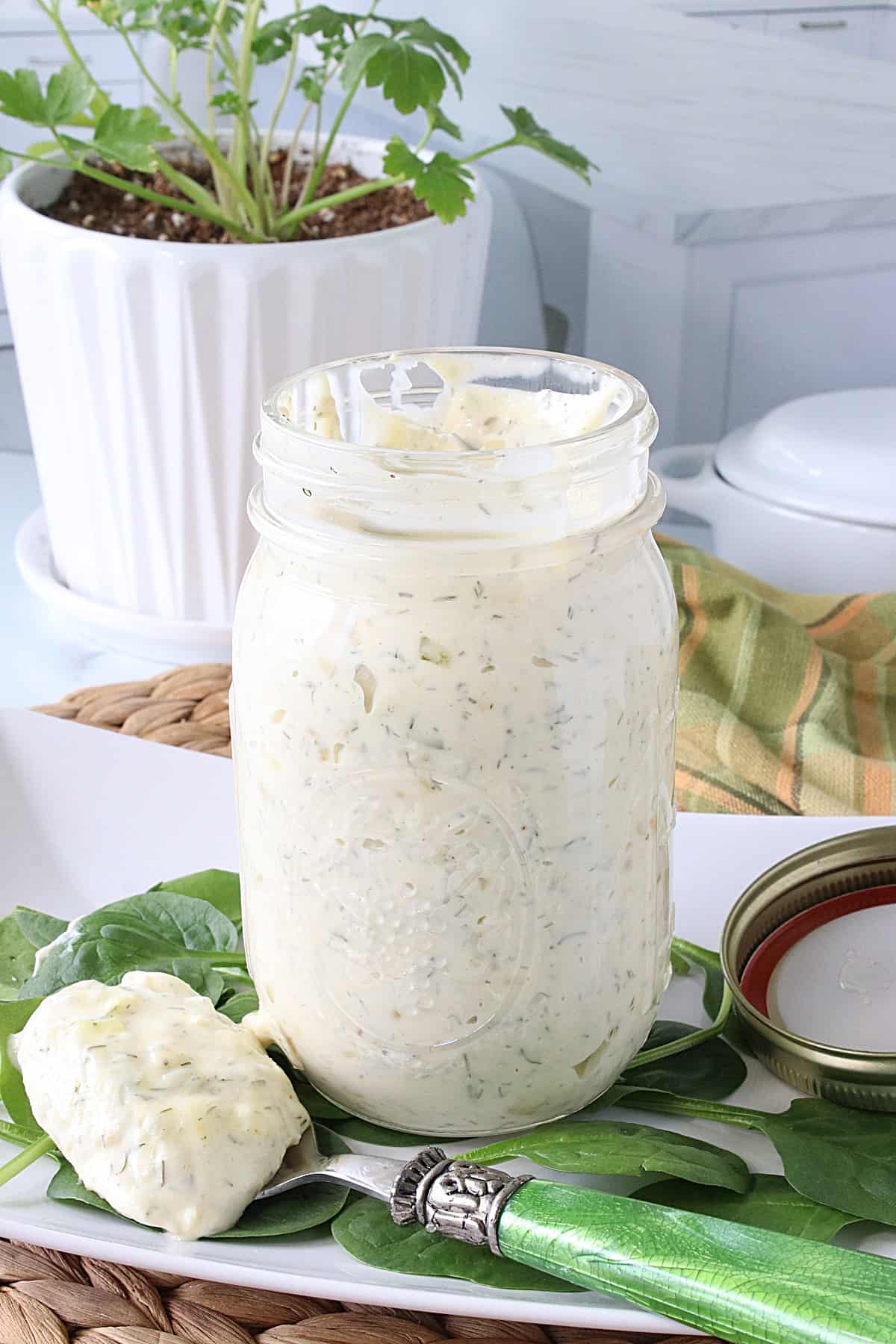 Leave the grocery store brands of tartar sauce on the shelves. Once you discover how easy it is to make your own, you'll never purchase those other sauces again!
**Note - The following recipe post or category contains affiliate links (highlighted in blue) for your consideration. By clicking on a link I may earn a small commission at no additional cost to you. Thank you!
Tartar sauce with dill, sweet relish, and Old Bay seasoning is especially tasty when served alongside my homemade Fried Tilapia. It's the perfect cool and creamy addition to a hot, crunchy golden fish fillet.
Jump to:
The ingredient list:
*Please note that the exact measurements along with a new "shop the recipe" feature from Instacart is available in the printable recipe card.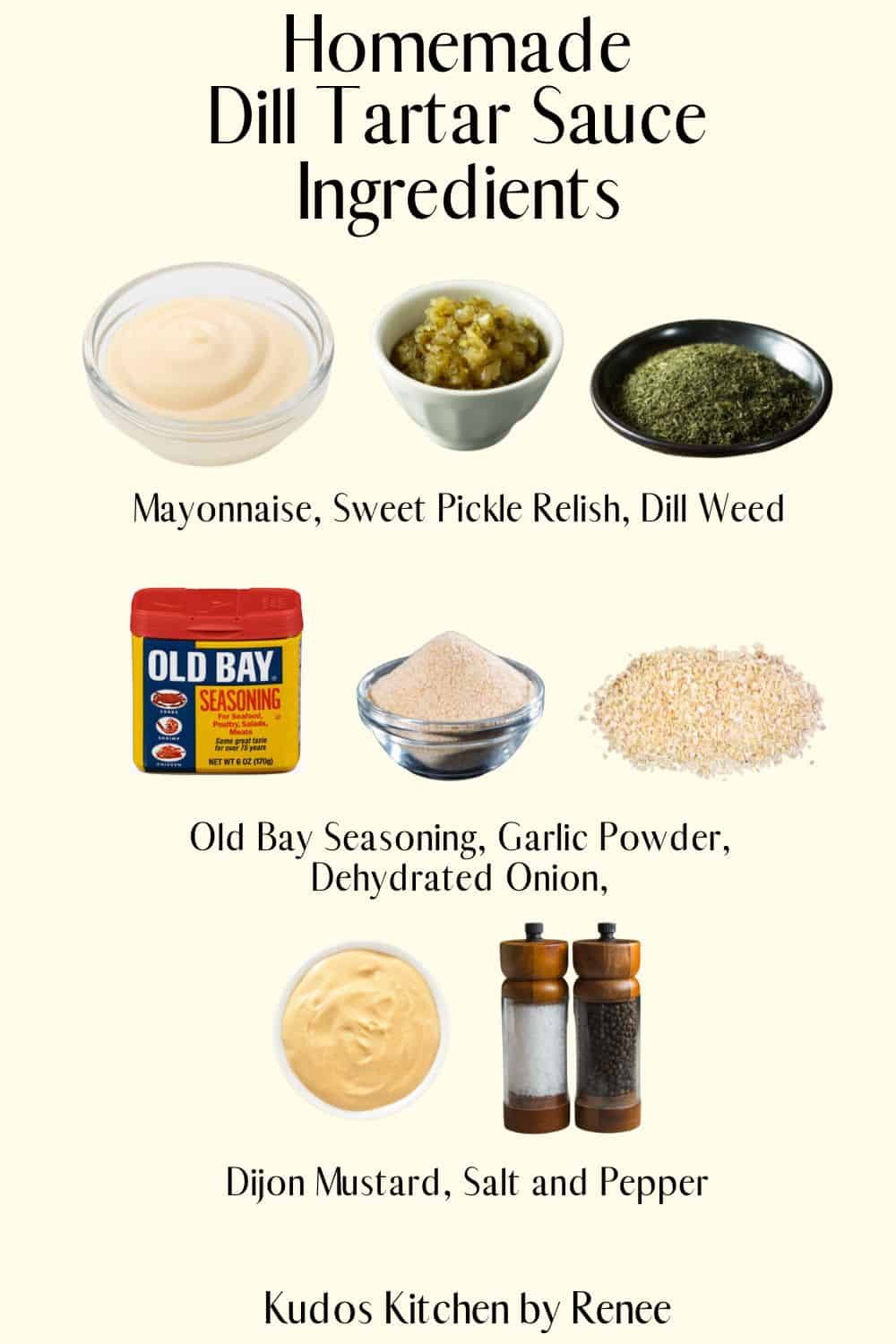 The above ingredient image was made using Canva Design. It's one of my very favorite design tools. You don't need to be a food blogger to use Canva. All you need to be is someone who loves designing graphics. Check them out if you're interested and a whole new world of artistic expression will be opened to you.
Ingredient information
DILL WEED - This ingredient brings a fresh, bright flavor to this tartar sauce. Since dill is a common ingredient in many seafood recipes, it's also the perfect addition to this homemade seafood sauce. You'll see.
MAYONNAISE - Feel free to use your favorite brand of store-bought mayonnaise for this recipe. However, if you choose to use something like Miracle Whip (which has added sugar), I suggest cutting back on the amount of sweet pickle relish called for in the printable recipe.
SWEET RELISH - I like a slight touch of sweetness in my tartar sauce to counterpart and balance the creamy mayonnaise. If you prefer your tartar sauce to be more salty and savory, feel free to cut back on the amount of sweet relish used in this recipe. Always remember to taste as you go, starting with a small amount in the beginning and adjusting as you go. See substitution suggestions below.
DRIED ONION - This ingredient gives the tartar sauce a slight hit of onion flavor without being too intense or overwhelming. The onions will reconstitute and soften as the sauce sits and chills, and the ingredients can get to know each other better.
DIJON MUSTARD - Adding just a touch of acid to balance and brighten the result. This is an ingredient you don't want to leave behind. Taste as you go and add more if it suits you. See below for substitution suggestions.
OLD BAY SEAFOOD SEASONING - I like a slight touch of Old Bay seasoning whenever I make something that accompanies fish or seafood. It is a nice finishing touch to this tartar sauce and one that will take your sauce from good to "Mmmm, what is the ingredient that makes your homemade sauce so different and delicious?" - Feel free to use your favorite brand of seafood seasoning.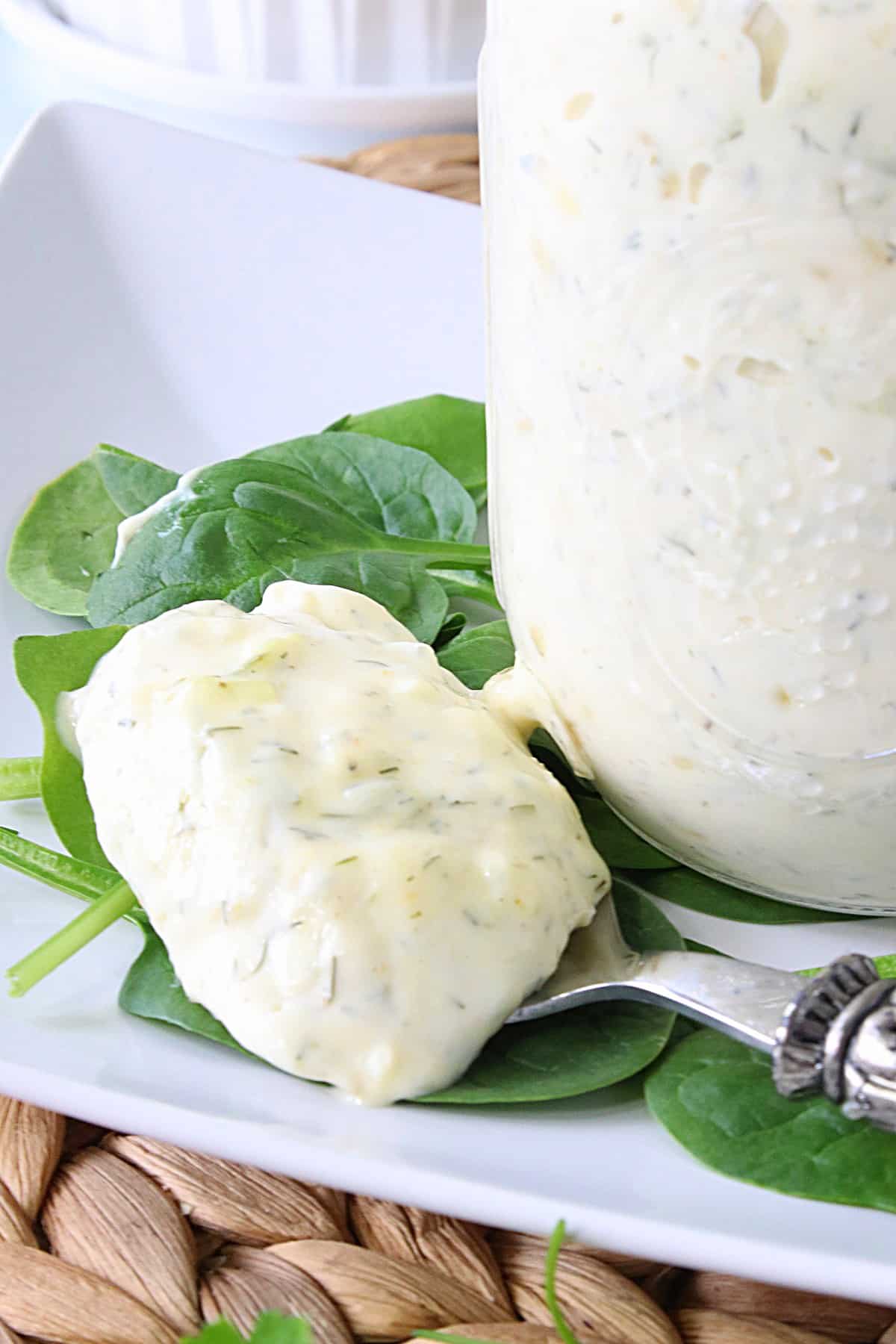 How long will homemade tartar sauce last
Since this particular recipe uses store-bought mayonnaise, it will keep in the refrigerator for 2-3 months if stored in an airtight container.
However, if you plan to use homemade mayonnaise for this recipe, please note that the storage time in the refrigerator decreases significantly to only five to seven days due to the use of raw, unpasteurized eggs.
Substitution suggestions
Although I never have, I'm sure vegan mayonnaise will work well in this recipe.
If you want to make an eggless, mayonnaise-free tartar sauce, I suggest using plain Greek yogurt or sour cream as the base. The end product will be tangier than mayonnaise but still cool and creamy.
Feel free to substitute dill pickle relish for the sweet in this tartar sauce for a more pronounced vinegary and tangy dill flavor.
Not a fan of dill weed? No worries. Swap out the dill for fresh parsley, chopped cilantro, fennel fronds, or even tarragon.
If you'd prefer to use freshly mined onion instead of dried onion, that's no problem. I suggest adding a finely minced red or sweet onion to taste. Of course, you can forgo the onion if that is your preference.
As far as the Old Bay Seafood seasoning, feel free to omit it altogether or switch it out with your favorite seafood seasoning blend. Remember that a little goes a long way, so I only added a slight touch to this recipe. It's a subtleness that doesn't hit you over the head. It whispers quietly in the background. Feel free to adjust the amount you use depending on your preference.
Lastly, the Dijon mustard is the ingredient that brings the sauce together regarding brightness and balance. If you'd like to substitute another type of mustard, feel free to do so, but use it sparingly. Certain mustards can sometimes take over a dish, and that's all you will taste. You don't want that. Dry mustard will also work. Remember to taste as you go.
Tartar sauce add-in suggestions
capers, chopped or whole
lemon zest
orange zest
lime zest
shallots, minced
parsley, chopped
celery seed
minced celery
mashed avocado
chopped cilantro
ground coriander
lemon pepper
FAQs
Does homemade tartar sauce need to be refrigerated
Yes it does. Since this particular recipe is store-bought mayonnaise-based tartar sauce, you need to treat it just as you do mayonnaise in your refrigerator. Store this in an airtight container in the refrigerator for up to 4 weeks. *See the above information if using homemade mayonnaise.
Can fresh dill be used instead of dried
Yes. You'll want to use more of the fresh herb to achieve the best flavor because dried herbs are more intense in flavor.
How much homemade tartar sauce does this recipe make
As written, this recipe makes approximately 2 cups of dill tartar sauce. You can easily decrease or increase the recipe to make less or more as you require.
Is this tartar sauce recipe healthy
In a word. No.
That said, you most likely won't eat it directly with a spoon (at least, I don't recommend it), so use it sparingly to control the calorie count.
How to make dill tartar sauce
It seriously couldn't be easier, and that's why it only takes 5 minutes or less.
Place all the ingredients into a medium-sized bowl and stir until thoroughly combined. Spoon the mixture into an airtight container with a lid, and store in the refrigerator until ready to use.
Serving suggestions
-I like to use this tartar sauce on so many different things. It may sound odd, but I like to use it as a replacement for cocktail sauce when eating cooked shrimp.
-I also like to dip French fries and roasted baby potatoes in it for an extra decadent treat.
-Of course, don't forget to use it with any fish (fried, baked, broiled), as it makes a delicious accompaniment, especially to salmon and tuna.
-Use it as a sandwich spread, no matter what sandwich you make.
-Use it as the base for a potato or pasta salad, or stir it into mashed potatoes.
-Stir it into egg salad, chicken salad, or tuna salad.
-Use it as a dip for coated chicken tenders or fish sticks.
-You can even thin the sauce by adding milk or water and make an unexpected dressing for a greens salad if you wish.
-And while we're at it, why not top your baked potato with dill tartar sauce?
There. I'll bet you didn't see all those ideas coming - or maybe you did! LOL
How many extra ways will YOU use this homemade condiment?
Recipes for using dill tartar sauce
Hungry for a Friday night fish fry but want to avoid paying restaurant prices? My Homemade Fried Tilapia recipe is crispy, crunchy, and utterly delicious.
These Roasted Baby Potatoes are creamy in the center and golden brown and crispy on the outside. Pair all that deliciousness with dill tartar sauce, and you have the perfect side dish or even a fun and unusual party appetizer!! YUM!!
Here's a super simple way to make delicious fish at home. Air Fryer Potato Crusted Cod is light and flavorful and will be on the dinner table in 20 minutes.
⭐If you've made this recipe, or are excited to make this recipe, I'd appreciate it if you'd take a moment to leave it a star rating on the recipe card, along with a comment if you're so inclined. Thank you. 🙂
Printable Recipe Card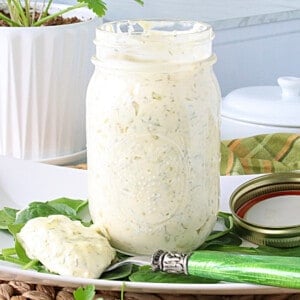 Homemade Dill Tartar Sauce
This recipe for homemade Dill Tartar Sauce has been a family favorite of ours for years and years, and if that's not enough, it's ready in 5 minutes or less!
Ingredients
2

cups

mayonnaise

your favorite variety

2

teaspoons

dried dill weed

2½

tablespoons

sweet pickle relish

or to taste

2

teaspoons

garlic powder

1

tablespoon

dehydrated onion

2

teaspoons

Dijon mustard

⅛

teaspoon

Old Bay seafood seasoning

or to taste

¼

teaspoon

coarse salt

¼

teaspoon

black pepper
Instructions
Add all the ingredients into a large mixing bowl and stir well to combine. Refrigerate for 1 hour for best flavor.
Notes
Store in an airtight container in the refrigerator for up to 4 weeks.
Nutrition
Serving:
2
cups
Calories:
1573
kcal
Carbohydrates:
13
g
Protein:
3
g
Fat:
168
g
Saturated Fat:
26
g
Polyunsaturated Fat:
100
g
Monounsaturated Fat:
38
g
Trans Fat:
0.4
g
Cholesterol:
94
mg
Sodium:
1925
mg
Potassium:
171
mg
Fiber:
1
g
Sugar:
8
g
Vitamin A:
441
IU
Vitamin C:
3
mg
Calcium:
51
mg
Iron:
1
mg
Follow me across my social media platforms and join in on the conversation: FACEBOOK, INSTAGRAM, PINTEREST, TIKTOK, AND YOUTUBE.
I hope that you've enjoyed my recipe for homemade tartar sauce as much as I've enjoyed bringing it to you!!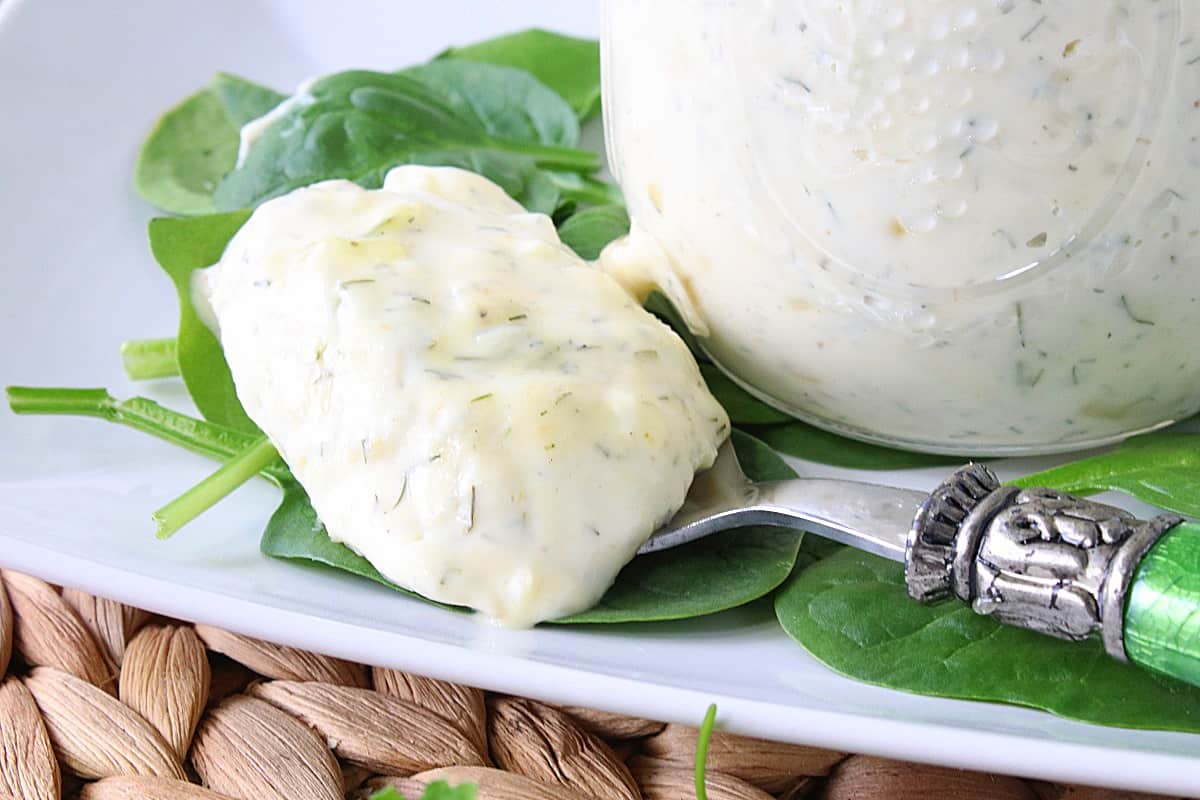 Thank you so much for visiting me today in my Kudos Kitchen. I hope you found something you'll love and that you'll come back and visit me often. There is always room for you around my table!
Should you have any questions or comments regarding anything you've seen here on my blog, please don't hesitate to reach out to me. It is always my distinct pleasure to respond to you just as soon as I possibly can.