Delicious Avocado Yeast Bread with cilantro is a wonderfully textured bread with a tender crumb and crust that makes it superior for toasting.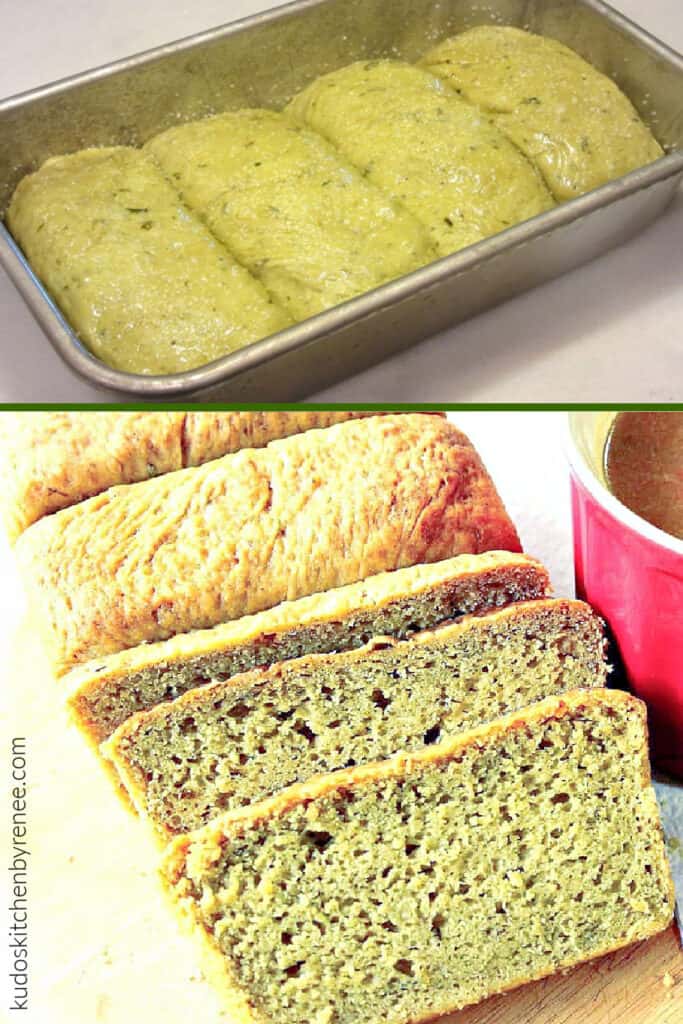 I can't seem to get enough of avocados lately.
There is something about their smooth and creamy texture that keeps me craving them pretty much on a daily basis, which is why I decided to make and share today's recipe for Avocado Yeast Bread with Cilantro.
**Please Note - The printable recipe card with detailed instructions, complete ingredient measurements, and nutritional information for making Avocado Yeast Bread is available at the end of this post. OR you can hit the "jump to recipe" button (found above) to be taken directly to the recipe.
I originally shared this recipe in 2016. I've recently updated this post with additional information, including a recipe card complete with nutritional information, but the recipe itself has remained unchanged.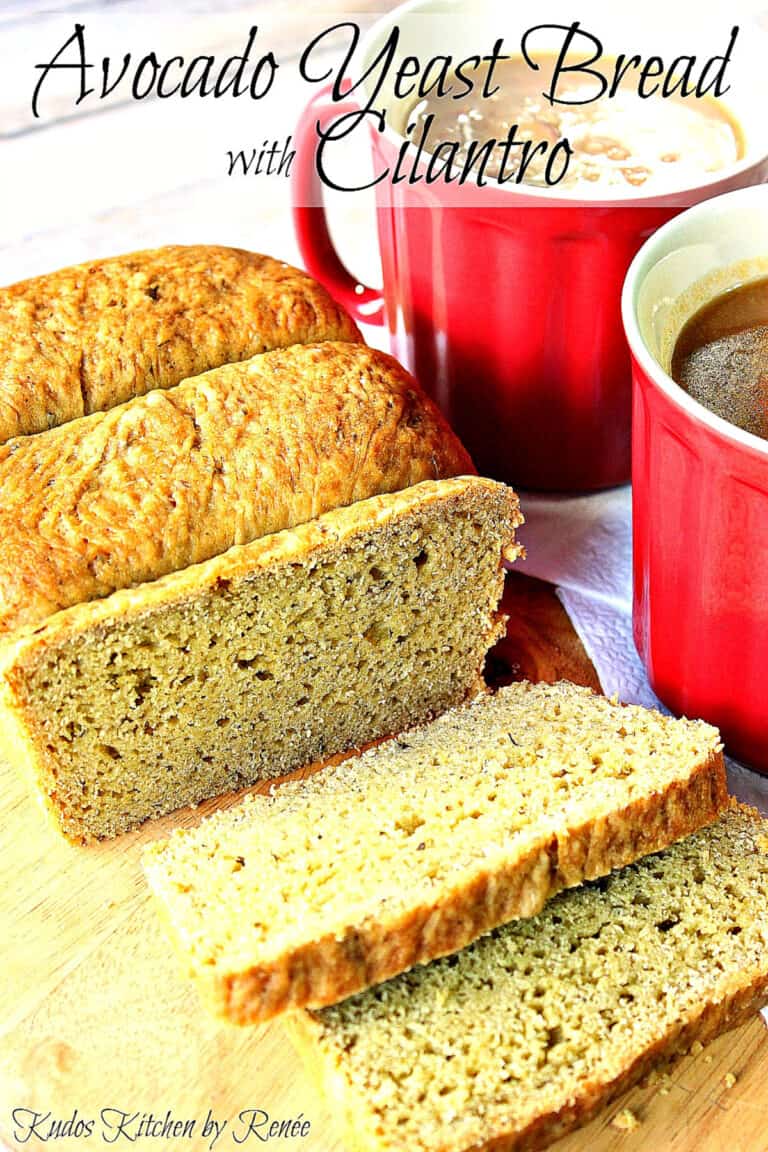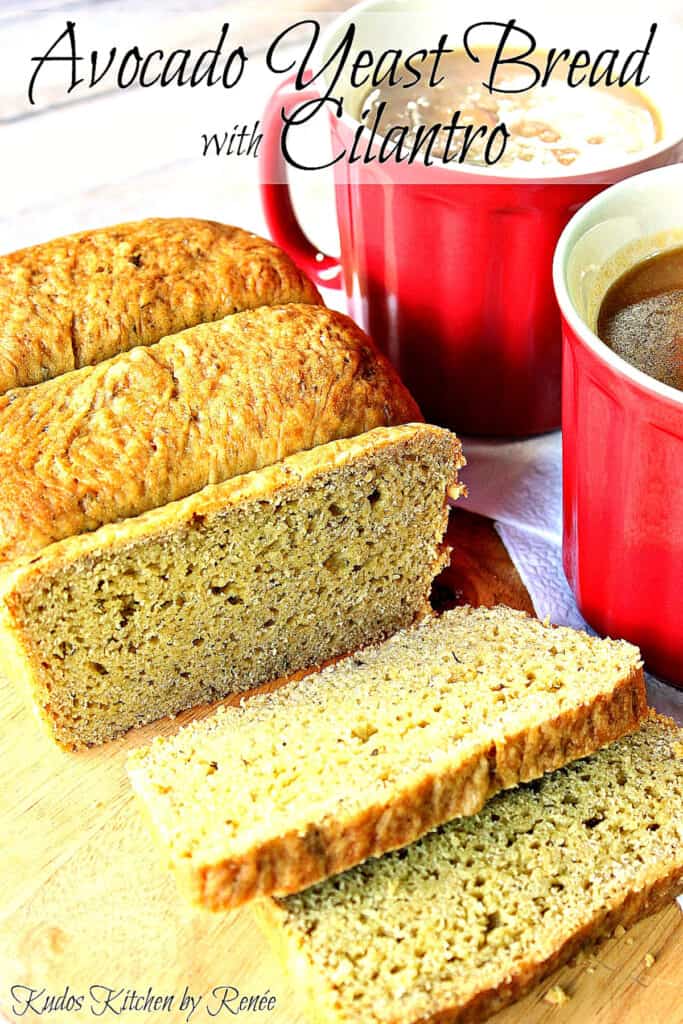 The ingredient list:
milk
avocados
cilantro paste (found by the fresh herbs) or fresh cilantro
lime juice
all-purpose flour
avocado oil or canola oil
olive oil spray (optional)
Kitchen tools and equipment needed:
How this recipe came to be:
This bread was inspired by my love of guacamole, which is the reason I added a touch of cilantro and also a touch of lime juice.
I must say it was a good call on my part.
The addition of the cilantro adds a mild citrus flavor, and the lime adds a slight bit of tang to this deliciously unusual bread.
Can the cliantro be left out of this recipe?
Sure.
If you're not a fan, by all means, leave it out.
Or feel free to substitute chopped parsley, or your favorite chopped herb or combo of herbs.
Health benefits of avocados:
Besides avocados creamy taste and texture and their ability to assimilate into many different types of recipes by being incredibly versatile, did you know that they are also considered a super food?
Yup. Avocados are high in Vitamin K, folate, Vitamin C, Potassium, Vitamin B5, Vitamin B6, and Vitamin E. Also, each and every avocado contains small amounts of magnesium, manganese, copper, iron, zinc, phosphorus, Vitamin A, thiamine, riboflavin, and niacin.
Gosh, I'm feeling stronger already! Who's hungry for some yeast bread made with avocados?
Are avocados a superfood?
In my mind...YES!!
As if great taste and ease of preparation weren't enough reasons to make this Avocado Yeast Bread, here are a few other proven avocado points you can't argue with when it comes to your health and nutrition...
Avocados contain more potassium than bananas.
They are loaded with heart-healthy monounsaturated fats and fiber.
Eating avocados can lower cholesterol and help with the absorption of nutrients from plant foods.
And, because they're are packed full of antioxidants, avocados can protect your eye health by lowering the risk of macular degeneration and cataracts.
WOW! Avocados really are a superfood!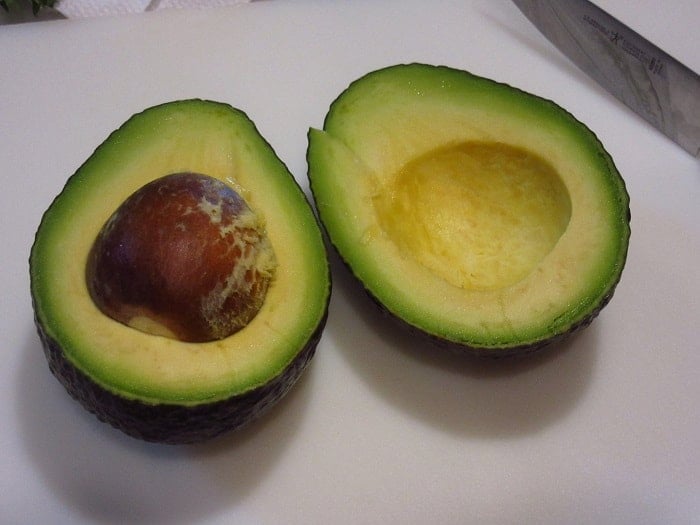 How long does this avocado bread take to make from start to finish?
A little over four hours time.
**Please note that the rise time for this Avocado Yeast Bread with Cilantro is a bit longer than what you'd possibly expect (roughly 3½ hours of proofing time, not including the bake time) which I attribute to the dough being heavier due to the addition of the avocados. Please plan accordingly.
Can this yeast dough be made in a bread machine?
Yes. I believe it can (although I've never tried it).
Since I'm not all that familiar with how bread machines work, make sure the dough has enough proofing time for the first rise since it's a dense, heavy dough.
From there I suppose the machine (and hopefully the baker) is intuitive enough to deflate and bake the bread through to completion.
The step-by-step photo instructions using a stand mixer:
In a small bowl, stir together warm milk, active dry yeast, and a touch of honey.
Allow the yeast mixture to sit and get foamy.
Meanwhile in a large bowl, mash 2 ripe avocados, 2 tablespoons cilantro paste, and 1 tablespoon fresh lime juice.
Add flour, salt, and pepper to the avocado mixture and stir well to combine.
Drizzle in some avocado oil and then add the yeast mixture.
Using the dough hook of a stand mixer, knead the dough for approximately 3-4 minutes, and then turn the dough out onto a lightly floured surface. *If not using a mixer, stir the mixture well with a wooden spoon (or use your hands) until the dough comes together into a mass.
Turn the dough out onto a lightly floured surface and knead by hand until the dough is smooth and elastic.
Place the kneaded dough into a lightly oiled bowl and lightly oil the top of the dough.
Cover the bowl with plastic wrap and allow the dough to rise until doubled, approximately 2 hours.
Once the dough has doubled, punch it down to deflate and turn the dough out onto a lightly floured surface.
Divide the dough into 4 equal parts.
Place the dough side by side into a prepared loaf pan and allow the bread to rise again until doubled (approximately 1½ hours). Bake in a preheated 375-degree oven for 30-35 minutes.
Cool completely, and slice.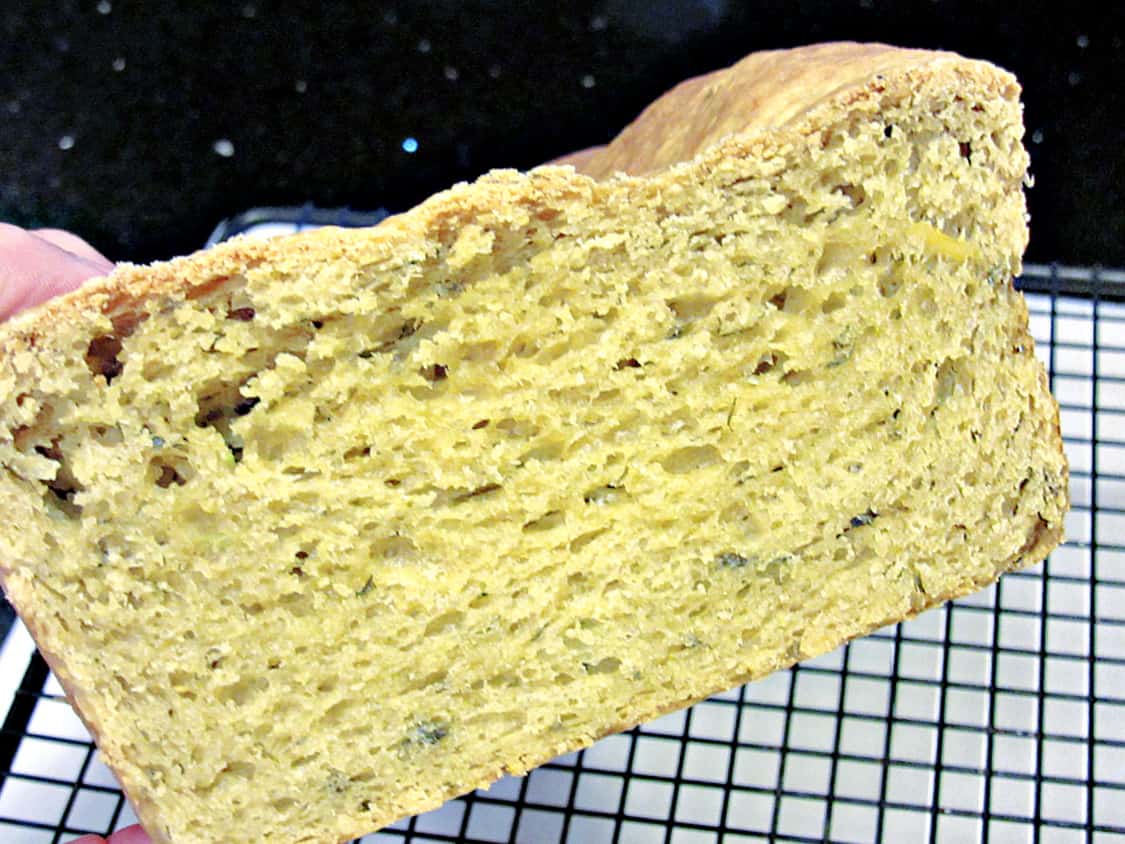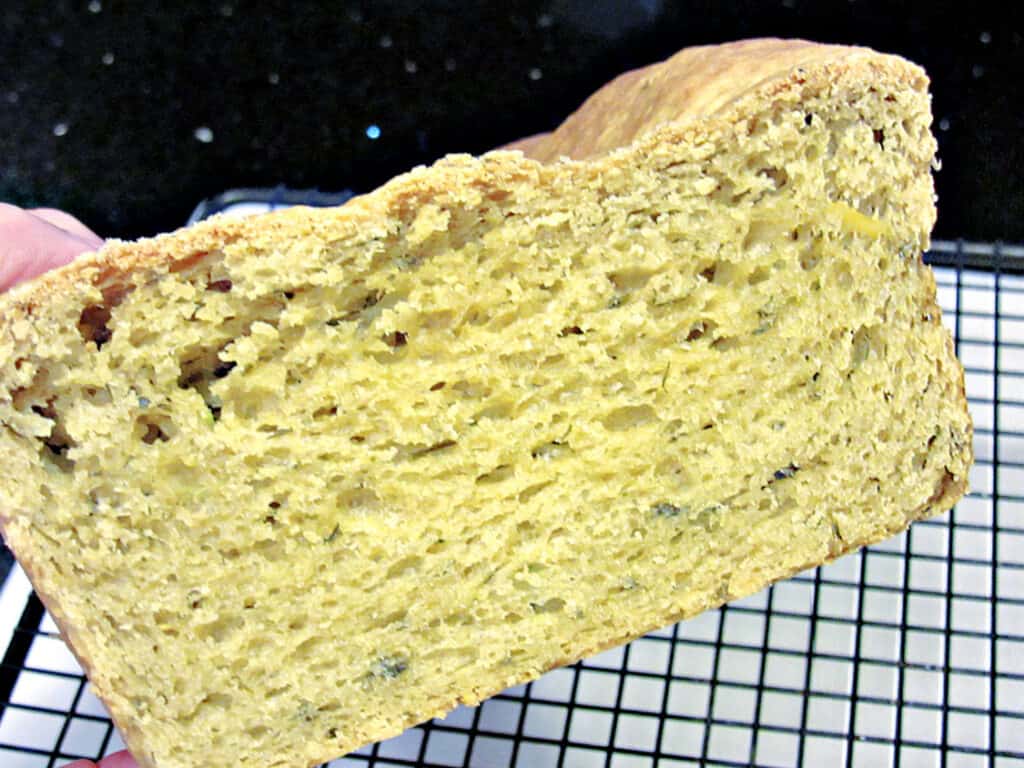 Additional avocado recipe you'll also enjoy:
*Avocado Toast with Bacon and Egg (shown below and featured in the video)
Avocado toast gets an upgrade with the addition of bacon, egg, and hot sauce for an extra kick of flavor. Avocado Toast with Bacon and Egg is the perfect sandwich for any time of day!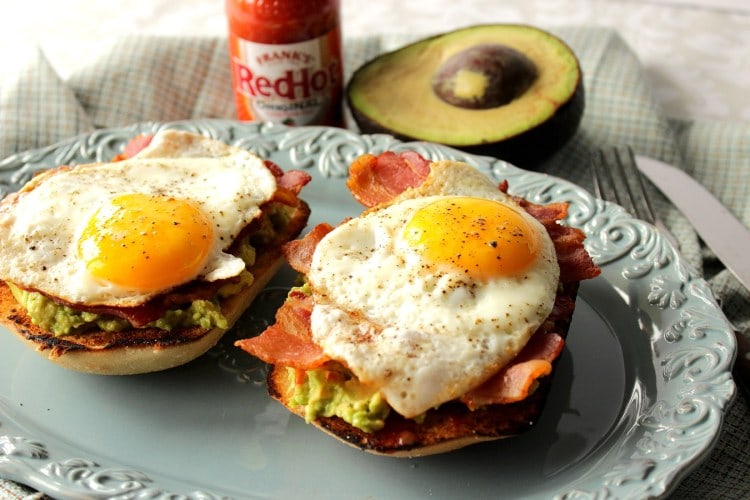 *Mexican Chocolate Avocado Truffles (not shown)
Sweet, creamy, and oh so chocolaty. Mexican chocolate truffles are as delicious as they are nutritious. Plus they pack a little kick of spice, thanks to a small addition of cayenne pepper.
*Avocado Mango Salad (shown below)
Heart-Healthy Avocado Mango Salad With Lime Poppy Seed Vinaigrette is a brightly flavored and satisfying salad. It makes a delicious dinner all by itself, or for extra protein why not add some cooked chicken breast or turkey? Your call. Your salad.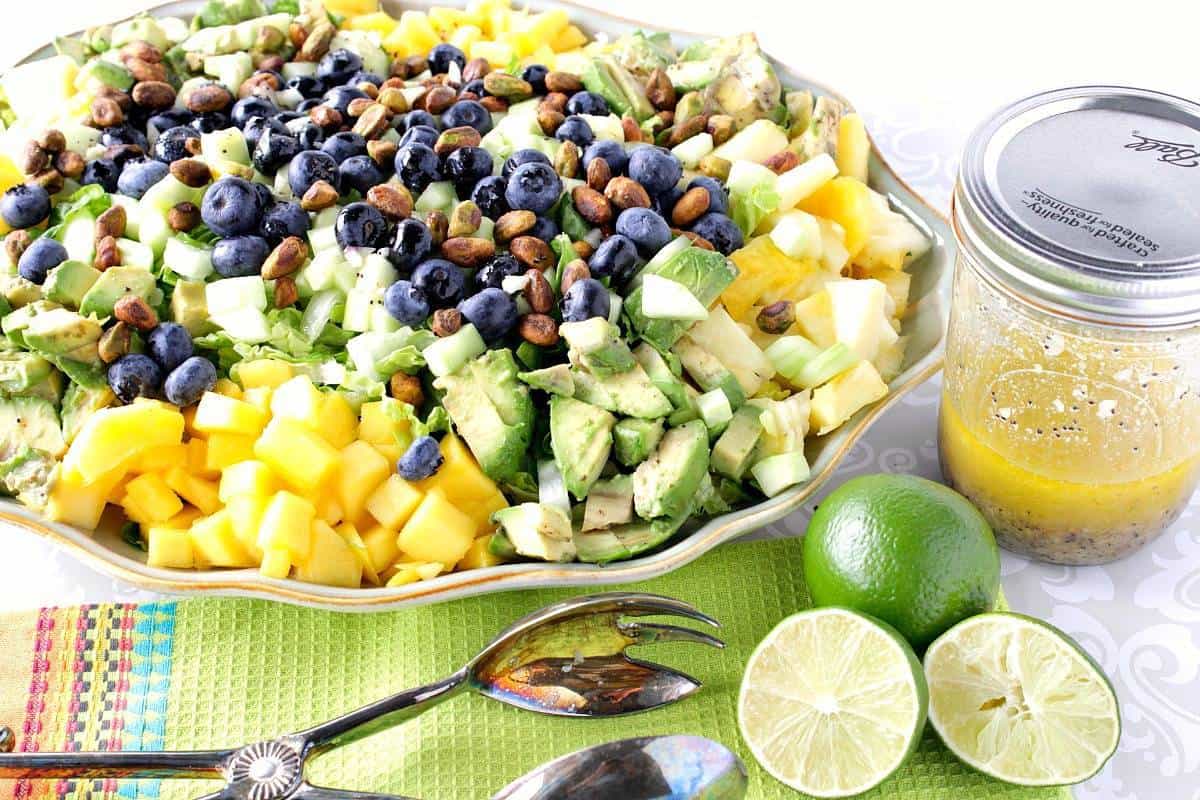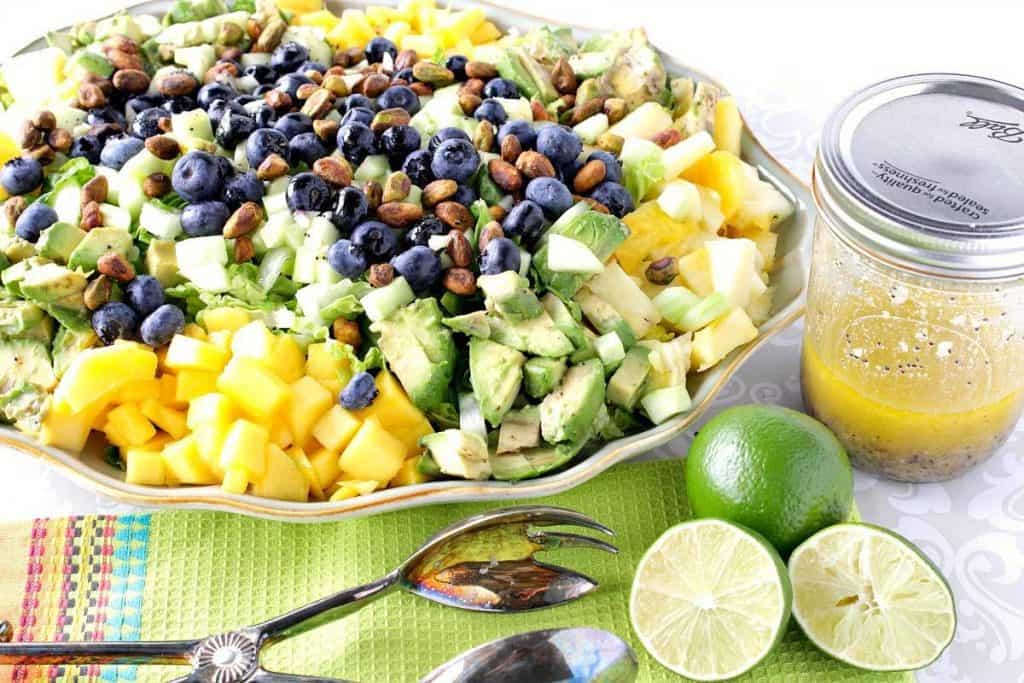 *Homemade Avocado Oil Mayonnaise (not shown)
Easy Healthy Homemade Avocado Oil Mayonnaise is far superior to any brand you can buy in the store because it's made with healthy avocado monounsaturated fats and no preservatives.
*Avocado Yeast Bread with Cilantro (shown below) THIS IS THE PLACE!!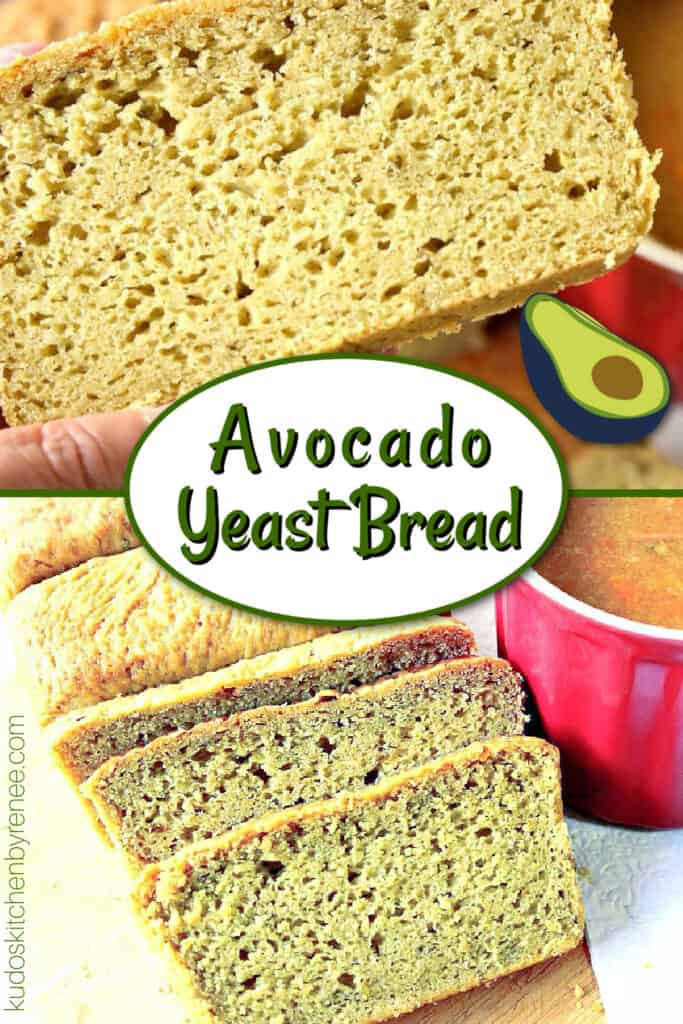 Below is the printable recipe card along with the exact ingredient measurements and nutritional information for making today's yeast bread recipe with avocado and cilantro.
When you make this recipe, and I hope you do, I'd appreciate it if you'd take a moment to leave a star rating on the recipe card and briefly comment on why you rated it as you did. FYI - Google appreciates recipe ratings and, in turn, will share my recipes with more people. Thank you so much!!
Printable Recipe Card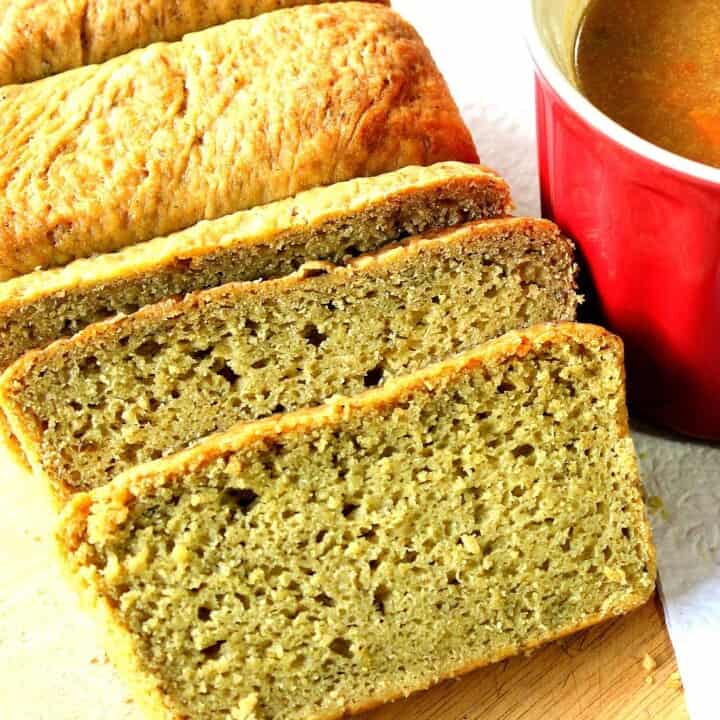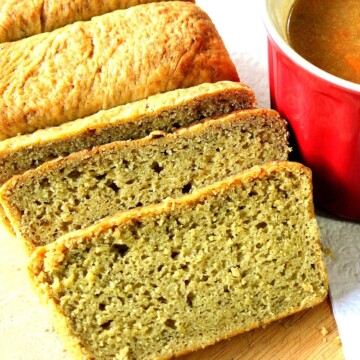 Avocado Yeast Bread with Cilantro
A hearty bread with delicious taste and texture with all the health benefits of avocados.
Ingredients
2¼

teaspoons (1 package)

active dry yeast

active yeast

⅓

cup

warm milk

110-115 degrees

1

teaspoon

honey

2

ripe

avocados

pits and skin removed

2

tablespoons

cilantro paste

or 2 tablespoons chopped, fresh cilantro

1

tablespoon

fresh lime juice

3½ - 4

cups

all-purpose flour

plus additional for kneading

2

teaspoons

kosher salt

½

teaspoon

black pepper

1

tablespoon

avocado oil

canola oil may be substituted
Tools and equipment
1

small bowl

1

large bowl

stand mixer with dough hook

optional

olive oil spray

9" x 5" loaf pan

plastic wrap
Instructions
Dissolve the yeast in the warm milk in a small bowl. Stir in the honey and allow the mixture to become foamy (approximately 5 minutes).

In a large bowl of a stand mixer (optional) mash the avocado, cilantro paste and lime juice.

Add the flour, salt, pepper to the avocado mixture and work the ingredients together until they form a rough dough.

Add the avocado oil and the yeast mixture to the flour, and with the dough hook (or by hand), knead the dough until fully incorporated *Note - if the dough seems too sticky, add a touch more flour.

Turn the dough out onto a lightly floured surface and knead by hand until the dough becomes smooth and elastic.

Return the dough to the bowl that has been sprayed lightly with olive oil spray and lightly spray the top of the dough as well.

Cover the bowl with plastic wrap and allow the dough to rise until doubled in bulk in a warm, draft free spot for approximately 2½ hours.

Once risen, punch the dough down to deflate and turn the dough out onto a lightly floured surface.

Divide the dough into 4 equal pieces.

Spray the inside of a loaf pan with olive oil spray.

Place the 4 pieces of dough snugly into the loaf pan.

Allow the dough to rise again in a warm, draft free spot until doubled in volume (approximately 1¼ hours).

Preheat oven to 375 degrees.

Bake the bread in a preheated oven for 30-35 minutes, or until the bread sounds hollow when tapped.

Cool for 15 minutes on a wire rack. Turn the bread out of the loaf pan and continue cooling on a wire rack for an additional 30 minutes before slicing and serving.
Notes
This bread makes excellent toast.
The amount of flour needed for this recipe will vary on the conditions the day you make it. A more humid day will require more flour than a dry day.
Nutrition
Serving:
1
slice
Calories:
304
kcal
Carbohydrates:
61
g
Protein:
9
g
Fat:
2
g
Saturated Fat:
1
g
Cholesterol:
1
mg
Sodium:
393
mg
Potassium:
105
mg
Fiber:
2
g
Sugar:
1
g
Vitamin A:
18
IU
Vitamin C:
1
mg
Calcium:
21
mg
Iron:
4
mg
I sincerely hope you've enjoyed today's yeast bread recipe containing avocado and cilantro as much as I've enjoyed bringing it to you!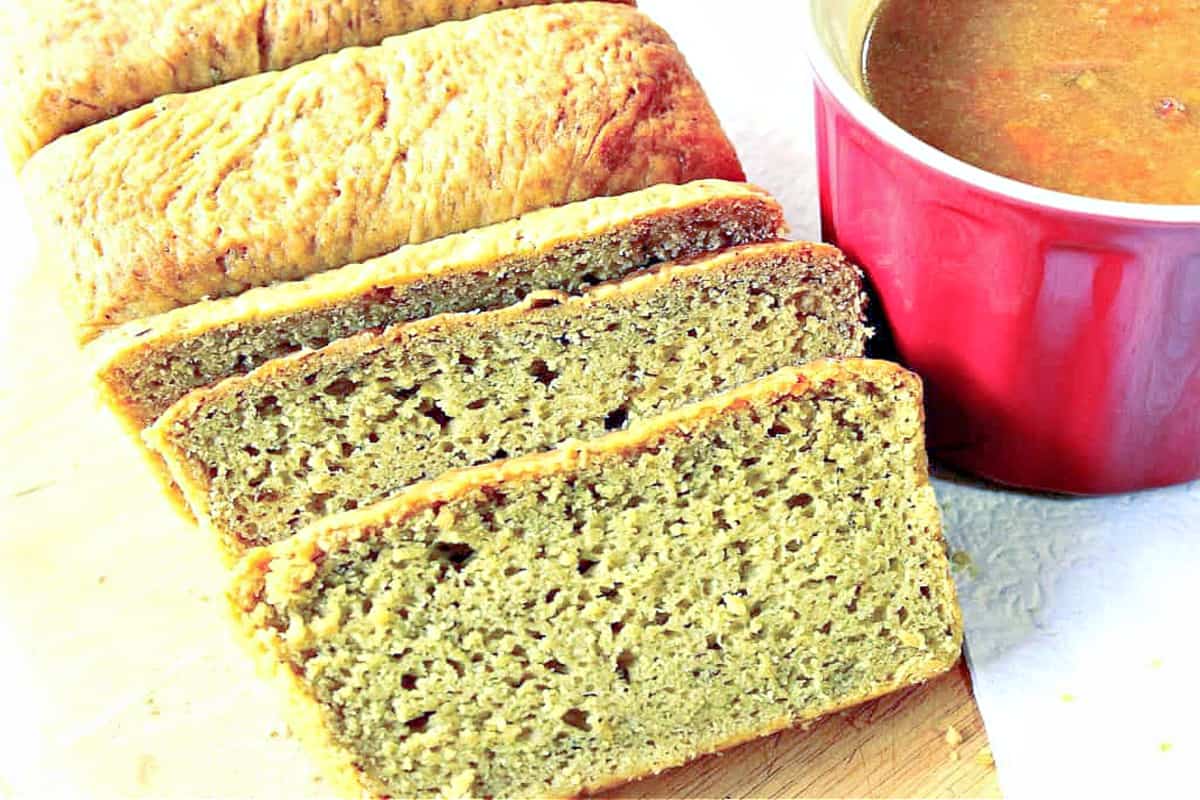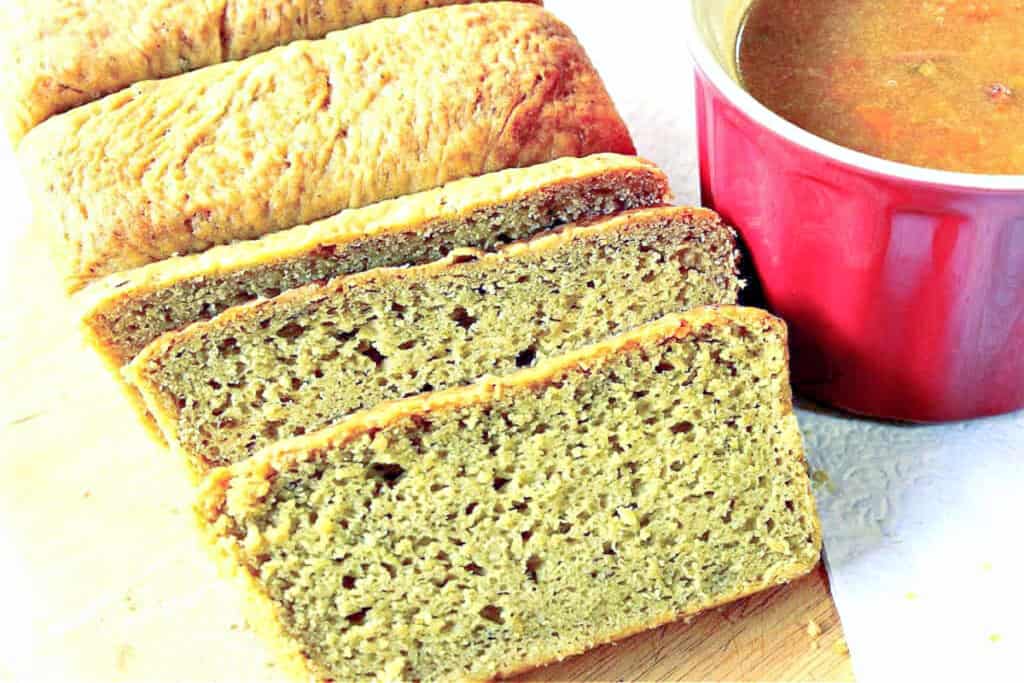 Should you have any questions or comments regarding this recipe or anything else you've seen on my site, please don't hesitate to reach out to me. It is always my distinct pleasure to get back with a reply just as soon as I possibly can!