Did you know you can make big, Soft Pretzel Rods without dipping the dough in a hot baking soda bath? You can, and it's an easy method without the mess or hassle.
The no-boil method of making soft pretzels has served me well, so now I'm passing on this well-kept secret to you! The results are tried and true, with the same wonderful flavor you've come to expect from a traditional German soft, plump, golden-brown pretzel.
This recipe post and its contents may include affiliate links for your consideration. I may earn a commission from qualifying purchases, but your prices are never increased as a result. Thank you.
Jump to:
The ingredients:
*Please note that the exact measurements along with a new "shop the recipe" feature from Instacart is available in the printable recipe card.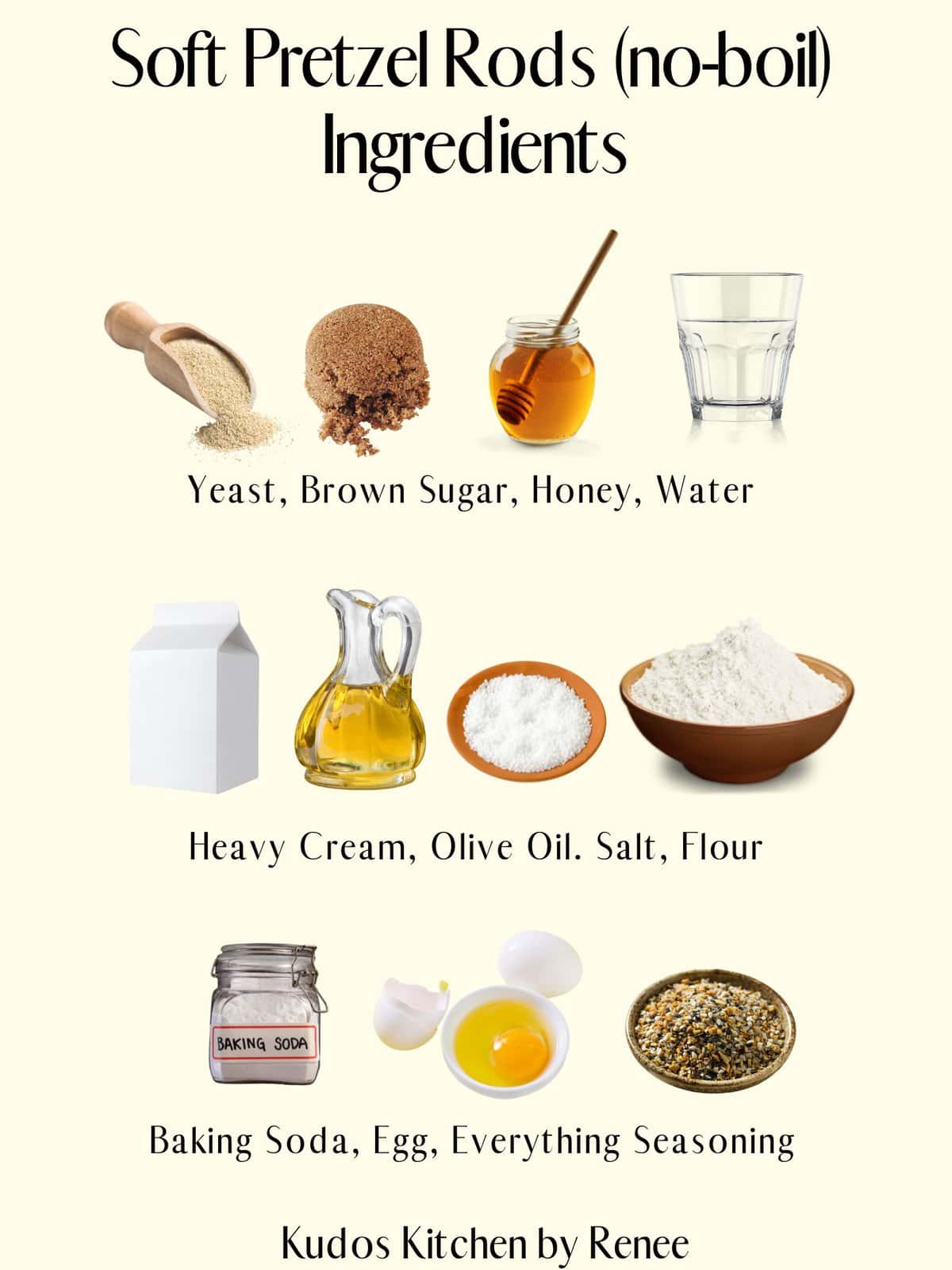 Ingredient information:
WARM WATER - Not too hot. Not too cold. The water temperature needs to be juuust right (between 110-115 degrees Fahrenheit) for the yeast to be able to do its thing. The water temperature is best determined with an instant-read thermometer, so it's a wise investment that costs little money if you don't have one.
INSTANT DRY YEAST - Did you know a yeast packet contains 2¼ tablespoons of dry yeast? You can use one packet of dry active yeast for this recipe, or if you purchase yeast in a jar, measure 2¼ teaspoons and carry on. More about yeast below.
BROWN SUGAR - Although there is only a touch, the brown sugar in this recipe gives the pretzels a rich, deep flavor that only brown sugar can provide. You can use either dark or light brown sugar. I typically use dark brown sugar, which has more molasses than light brown sugar.
HONEY - The one tablespoon of honey called for in this recipe (along with the brown sugar) is what the active dry yeast will snack on as the fermentation process builds those much-coveted bubbles and foam that will give rise to the dough.
HEAVY CREAM - This ingredient will enrich the soft pretzel dough, giving it more flavor and texture. Half and half may be substituted for the heavy cream if needed.
EXTRA VIRGIN OLIVE OIL - You'll notice that the pretzel dough isn't overly sticky, thanks in part to the olive oil. I urge you to use extra virgin olive oil for the best flavor, but any oil will work in this recipe.
KOSHER SALT - Always. I use Coarse kosher salt for all my recipes, baking, and cooking. However, table salt may be used if desired. *Note - Since the grains of kosher salt are larger than table salt grains, if using table salt, please cut back the salt called for in this recipe by half.
BAKING SODA - When you add this to the hot water for the baking soda brush, it will bubble and foam quite a bit. This is a good thing and proves that you're baking soda is fresh. The baking soda brush on the pretzels will cause the outside of the dough to toughen ever so slightly to give the soft pretzels their characteristic bite and chewiness.
EGG - Don't skip this step if you're looking for the deep, rich color. The protein in the egg causes the beautiful color transformation from a standard golden brown to that deep and wonderful pretzel hue we all know and love.
EVERYTHING SEASONING - Feel free to use whatever brand of everything seasoning you prefer, or you can even make your own at home. I added some kosher salt to mine to give the finished pretzels that salty, but not overly salty, flavor you come to expect from soft pretzels.
Recommended kitchen tools and equipment:
INSTANT READ THERMOMETER - An invaluable tool for checking that the water temperature is between 110- and 115 degrees Fahrenheit.
STAND MIXER WITH DOUGH HOOK - I don't know about you, but I'm all for kitchen tools that make my job in the kitchen easier. A stand mixer with a dough hook makes easy, hands-off work of kneading this soft pretzel dough with minimal effort on my part.
Of course, if you want the whole hands-on experience, by all means, hand-knead the dough. It will give you a good cardio workout.
BENCH SCRAPER - This is handy for cutting the dough log into 1-inch pieces.
PLASTIC WRAP - I like using plastic wrap instead of a kitchen towel to cover the dough bowl for proofing. It's very satisfying to see the plastic puff and get cloudy from the warm air moisture to let you know things are going according to plan.
PASTRY BRUSH - You'll use this when brushing on the baking soda, water, and egg wash.
KITCHEN SCALE - If you prefer to weigh your ingredients, by all means, use a kitchen scale. Within the recipe card, there is a button you can push for handy metric conversions for your convenience.
What is the difference between active dry yeast and rapid-rise yeast?
Active dry yeast and rapid-rise yeast are processed differently, with the active dry yeast being dried slowly with a protective layer that coats the yeast cells, making them activate slower.
A rapid-rise yeast activates quickly because the protective layer has not been added to the yeast cells, allowing the rapid-rise yeast to work faster.
Active dry yeast must also be activated in a warm water solution, whereas rapid-rise yeast can be added directly to the dry ingredients.
Are active dry yeast and rapid-rise yeast interchangeable?
Most times, yes, but I suggest using active dry yeast for this recipe and not rapid rise.
How to know if dry yeast is still active:
If the yeast gets foamy after mixing with the warm water and sugar, it's active. If it doesn't, it's inactive and will lead you down a path of disappointment.
Yeast has a shelf life, so make sure the yeast you use hasn't been sitting in the cupboard for too long.
What does the baking soda/water wash do?
It gives the chewy outer crust and flavor that soft pretzels are characteristically known for.
How many soft pretzel rods does this recipe make?
Sixteen 6-inch pretzel rods, but feel free to make yours longer or shorter than what you see here. However, upon doing so, please be aware that the baking time and the nutrition information listed in the recipe card will undoubtedly vary.
What's the difference between pretzel rods and pretzel sticks?
Pretzel rods (such as these) are longer and thicker than pretzel sticks you can purchase at a store. Pretzel sticks are crispy and crunchy.
Soft pretzel rods are also just that. Soft.
Can this recipe be used to make traditional soft pretzel shapes?
Yes, have fun and go wild with your shaping. Since you won't be boiling your soft pretzels, there is no worry of misshapen and slippery, hard-to-handle pretzel dough that often happens during the boiling process.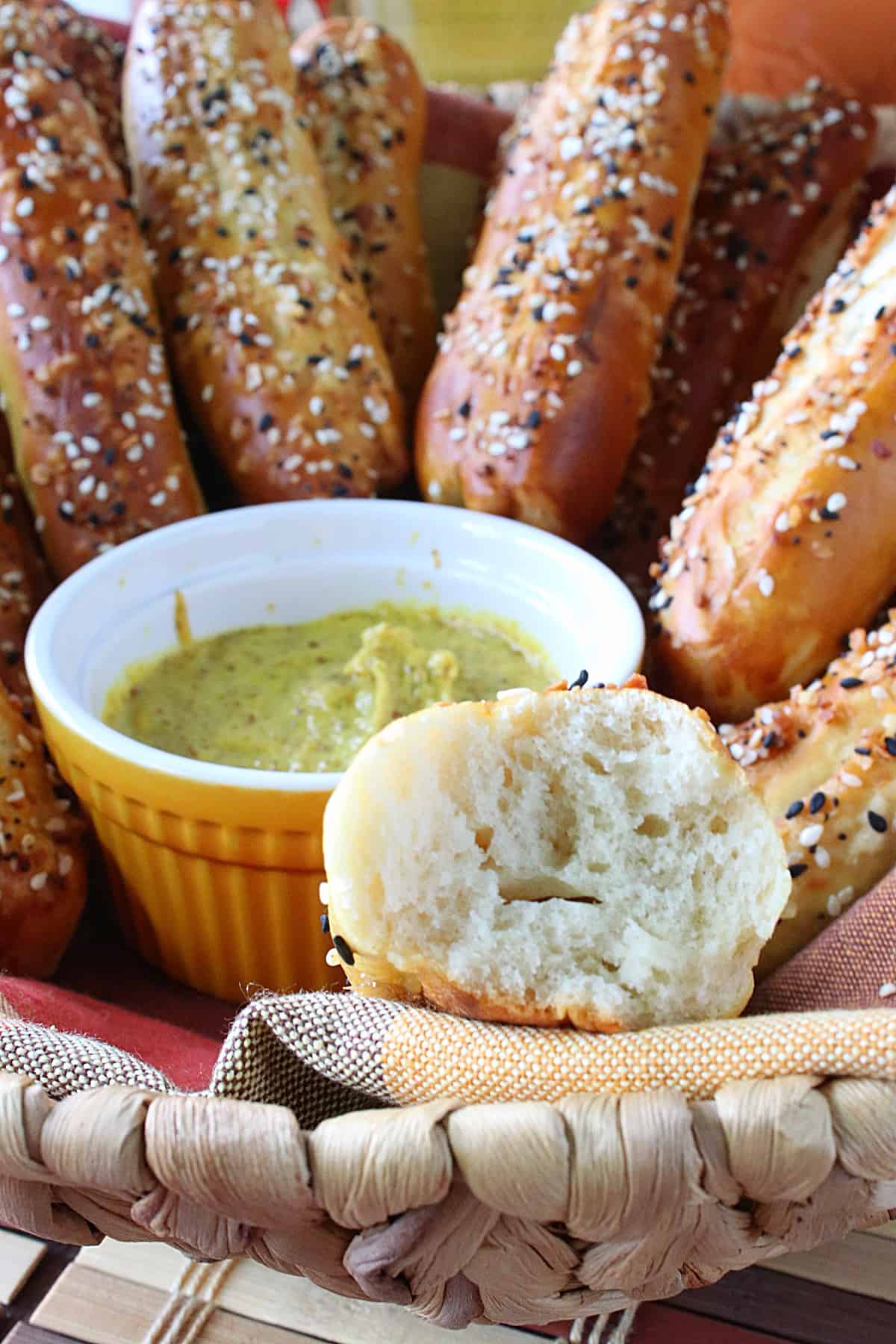 How long does this recipe take from start to finish?
With two proofing times, the first for 60 minutes and the second for 30 minutes, along with the prep and bake time, these will take approximately 2 hours from start to finish.
Where is the best place in the kitchen to proof bread dough?
I like to preheat my oven to the lowest setting (170 degrees) for five minutes and then turn the oven off and keep the door closed while preparing the dough. It's also best to have the rack placed in the center of the oven.
When the dough is ready for proofing, cover the bowl with plastic wrap and place it in the warm (not hot) oven.
You can also proof the pretzel dough in the warmest spot in your kitchen if the oven method of proofing proves to be inconvenient. Just make sure to cover the bowl with plastic wrap to avoid drafts.
How to know when bread dough is adequately proofed?
If, when you press your knuckle into the dough, the dough springs back slightly but not entirely (you can still see a slight indentation), you are ready to go.
Can coarse salt be used as a topping instead of everything seasoning?
Sure thing. I've made them both ways, and they're both delicious!
Can the egg wash step be skipped?
It can, but I don't recommend it. The egg wash will give your pretzels that deep, dark, almost mahogany color that is so cravable in a soft pretzel.
Optional soft pretzel topping suggestions:
I'd never say no to a topping of cinnamon sugar, would you?
Or, for more savory ideas, why not sprinkle on some garlic or onion powder, dry ranch dressing mix, dried basil or oregano, or even some nutritional yeast for a boost of cheesy flavor and added nutrition?
To dip or not to dip? That is the question!
The choice is yours. You'll notice in the pictures that I used a whole grain mustard that I mixed with a touch of honey. A ranch dip or beer cheese dip would also be an excellent choice.
You can use whatever type of dip you like or eat the pretzels sans dip.
Either way, I promise you'll be happy with your choice.
Renee's top tips for soft pretzel success:
Use an instant-read thermometer to check the water temperature before adding the yeast. Too hot or too cold will kill the yeast, rendering it useless.
Always ensure the yeast is active (foamy) before continuing with the recipe.
Cover the bowl with plastic wrap during proofing. This ensures that the fermentation gasses produced from the yeast get trapped in the bowl and will help facilitate the proofing process.
The no-boil baking soda and water hack is a game-changer. Please give it a try and let me know what you think.
Additional "everything seasoning" recipes:
If you think everything seasoning is just for bagels…think again! The best Homemade Everything Seasoning Blend can, and should, be used on just about everything!
Baked Chicken Thighs with Everything-Seasoning is a super simple and quick cooking meal. This delicious dish is also economical, tender, and oh-so flavorful!
Beware! These homemade Everything Bagel Chips are so crunchy and so addicting that you won't be able to step away. Please proceed with the utmost caution!
Everything English Muffin Bread is…wait for it…wait for it…EVERYTHING! No surprise there, I suppose. LOL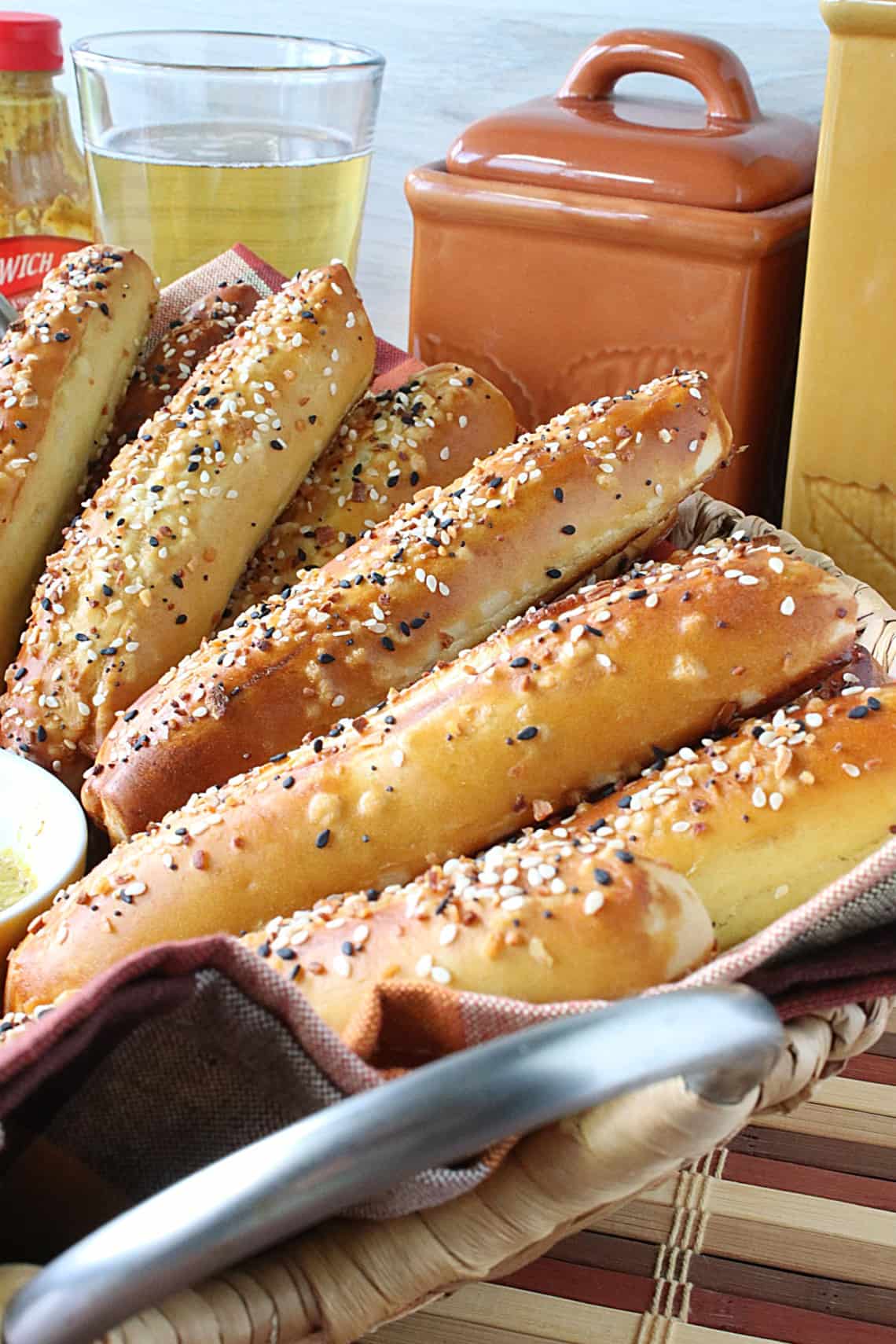 When you make this recipe, and I hope you do, I'd appreciate it if you'd take a moment to leave a star rating on the recipe card and briefly comment on why you rated it as you did. FYI - Google appreciates recipe ratings and, in turn, will share my recipes with more people. Thank you so much!!
Printable Recipe Card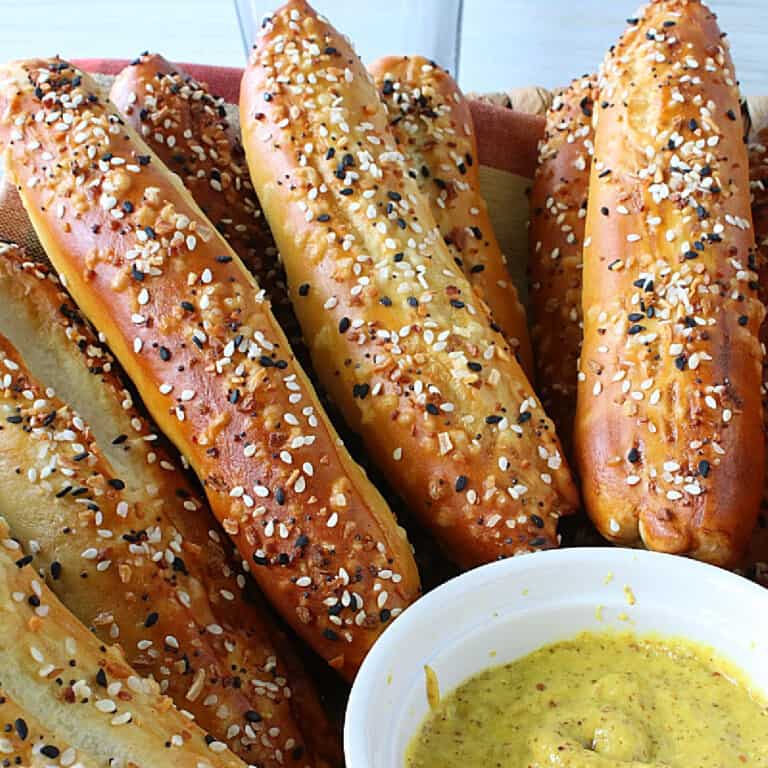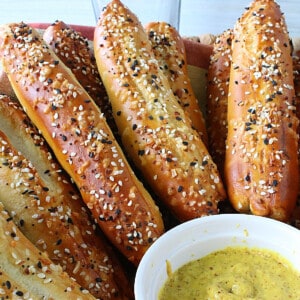 Soft Pretzel Rods (no-boil method)
The results of these soft pretzel rods are tried and true, with the same wonderful flavor you've come to expect from a traditional German soft, plump, golden-brown, chewy pretzel, but without that pesky baking soda boiling.
Ingredients
To make the soft pretzel dough:
½

cup

warm water, plus an additional 3 tablespoons, if needed.

(110 - 115 degrees F)

1

tablespoon

brown sugar

light or dark will work

1

tablespoon

honey

2¼

teaspoons (1 package)

active dry yeast

3

tablespoons

heavy cream

3

tablespoons

extra virgin olive oil

plus, additional for oiling the bowl

1

teaspoon

kosher salt

3 - 3½

cups

all-purpose flour
To make the baking soda/water wash:
1

cup

very hot water

2 heaping

tablespoons

baking soda
To make the egg wash and topping:
1

large

egg

beaten

2

tablespoon

everything bagel seasoning
Instructions
Preheat the oven to 170-degrees Fahrenheit and then turn the oven off while preparing the dough.
To bloom the yeast:
Dissolve the yeast in ½ cup of warm water, brown sugar, and honey in a small bowl. Allow the mixture to sit for 5-7 minutes until it gets foamy. *Note - if this doesn't happen the yeast may no longer be active, or the water is too hot, and the pretzels won't rise.
To make the soft pretzel dough:
Once the yeast is foamy, add the heavy cream, olive oil, and salt. Whisk to combine.

Pour the yeast mixture to the bowl of a stand mixer and add in two cups of the flour, stirring with a wooden spoon to form a rough, shaggy dough.

Add the bowl and its contents onto the stand mixer and add in 1 additional cup of flour. Use the dough hook to incorporate the final cup of flour until a smooth dough ball forms on the hook. *Note - if needed, add additional warm water to the dough in the bowl (1 tablespoon at a time) until the mixture comes together into a fully incorporated dough ball. Continue kneading on the stand mixer (with the dough hook) for an additional 5 minutes.

Turn the kneaded dough out onto a lightly floured countertop and knead, by hand, to form the dough into a smooth sphere.

Brush a small amount of olive oil (½ teaspoon) into the bowl and up the sides and then return the dough ball to the bowl, brushing the top of the dough with the remaining oil left on the pastry brush.

Cover the bowl with plastic wrap and allow the dough to proof (rise) until double in volume in the warm oven with the door closed for 60 minutes.

After 60 minutes time, remove the plastic wrap and punch the dough down to deflate. Turn the dough out onto the countertop and work it into an approximate 16" log by squeezing and rolling.

Cut the dough into 1" pieces until you have 16 pieces of cut pretzel dough. Roll each piece of dough into a rod approximately 6" long and place the rods onto parchment lined baking sheets. Continue the process with the remaining dough.

Allow the pretzel rods to proof again for 30 minutes.

Meanwhile preheat the oven to 400℉ (205℃)
To make the pretzel toppings:
Mix together the everything seasoning with the kosher salt and set aside.

After the pretzel rods have proofed for the second time, whisk together 1 cup of very hot water with 2 tablespoons of baking soda in a medium bowl. Use a pastry brush to liberally brush each rod with the baking soda mixture.

Use the pastry brush to then brush each pretzel rod with the beaten egg.

Sprinkle each pretzel rod with the everything seasoning and bake the pretzels in the oven for 10-12 minutes until the pretzels are a deep golden brown.

Remove the pretzels and allow them to cool on a cooling rack for at least 5-7 minutes before carefully removing them from the baking sheet.

Serve warm or at room temperature and with a dipping sauce of your choice.
Video
Notes
Store pretzels in an airtight container in the refrigerator for up to 5 days.
Pretzels may be frozen in an airtight freezer container or bag for up to 3 months.
To reheat wrap the pretzels loosely in paper towels and reheat in the microwave on medium power or reheat them (uncovered) in a 325-degree oven (or air fryer) for 3-5 minutes, or until warm.
Nutrition
Serving:
1
serving
Calories:
143
kcal
Carbohydrates:
23
g
Protein:
4
g
Fat:
4
g
Saturated Fat:
1
g
Polyunsaturated Fat:
0.5
g
Monounsaturated Fat:
2
g
Trans Fat:
0.001
g
Cholesterol:
14
mg
Sodium:
664
mg
Potassium:
44
mg
Fiber:
1
g
Sugar:
2
g
Vitamin A:
45
IU
Vitamin C:
0.02
mg
Calcium:
10
mg
Iron:
1
mg
I sincerely hope you've enjoyed today's delicious no-boil everything soft pretzel rods as much as I've enjoyed bringing them to you!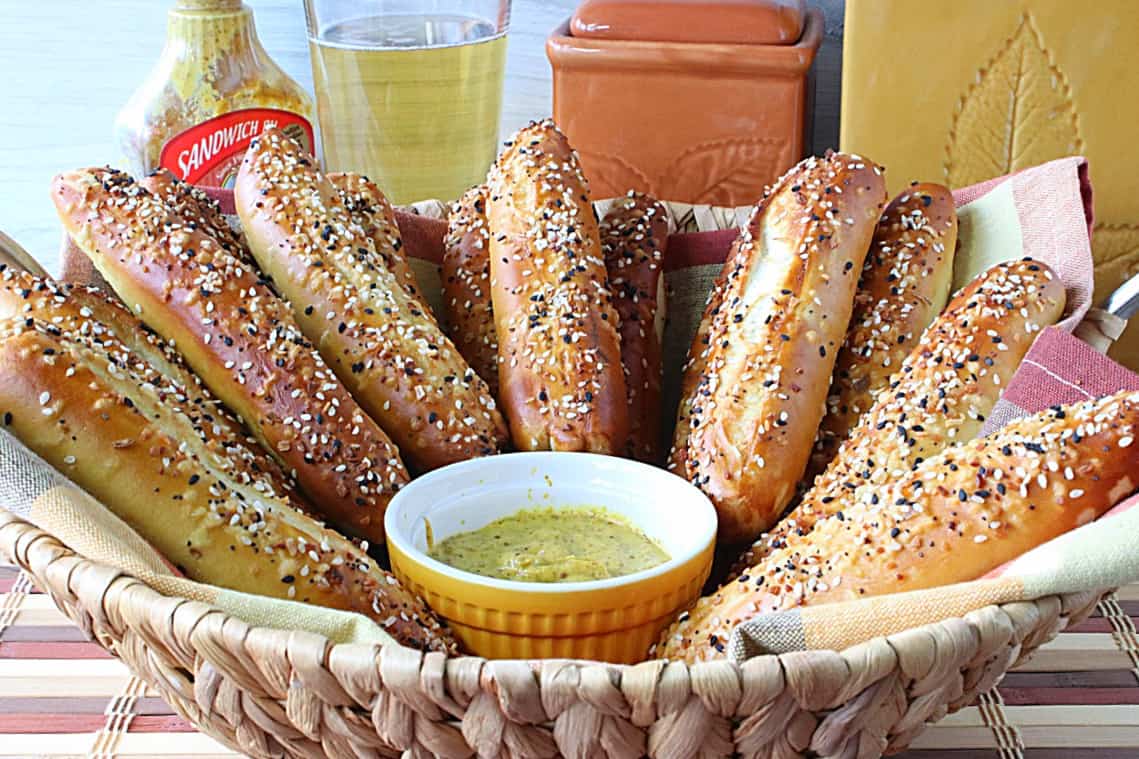 Follow me across my social media platforms and join in on the conversation: FACEBOOK, INSTAGRAM, PINTEREST, TIKTOK, AND YOUTUBE.
Thank you so much for visiting me today in my Kudos Kitchen. I hope you found something you'll love and that you'll come back and visit me often. There is always room for you around my table!
Should you have any questions or comments regarding anything you've seen here on my blog, please don't hesitate to reach out to me. It is always my distinct pleasure to respond to you just as soon as I possibly can.
Until we eat again, I hope you have a delicious day!!