Avocado toast gets an upgrade with the addition of bacon, egg, and hot sauce for that extra kick of flavor. Avocado Toast with Bacon and Egg is the perfect sandwich for any time of day!
This recipe for Avocado Toast with Bacon and Egg can pull double duty. It's a great sandwich to make for Cinco de Mayo, and it's also a tasty treat to serve mom for Mother's Day. Either way, or either day, you're going to love all the flavors and textures that this sandwich offers, making it one of the BEST egg sandwiches I've ever had! I think you'll agree.
This recipe takes only five ingredients; Ciabatta rolls, avocados, cooked bacon slices, hot sauce, and eggs (not to mention salt and pepper). For every two sandwiches, you'll need one ciabatta roll, one avocado, two slices of cooked bacon, two eggs (prepared your favorite way), and as many dashes of hot sauce you like. Of course, if you're not a fan of hot sauce feel free to leave that out of the equation.
Use a serrated knife to slice the ciabatta roll in half. In a dry skillet, toast the ciabatta cut side down until it's browned and toasty. I also like to cook my bacon in the oven. To do so, line a baking sheet with a rack and lay as many pieces of bacon as you like (making sure they don't overlap) on the rack. Bake the bacon in a preheated 425-degree oven until the bacon is cooked to your desired preference. I make sure I have all the elements of this sandwich made and in place. Then assembling the Avocado Toast with Bacon and Egg sandwich is a breeze…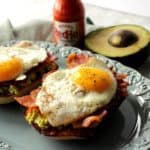 Avocado Toast with Bacon and Egg
Creamy Avocado, crunchy ciabatta, sweet and smokey bacon, hot sauce, and egg. It's the perfect sandwich for any time of day!
Ingredients
1

ciabatta roll

sliced in half and toasted in a dry skillet

1

avocado

pitted and mashed

salt and pepper to taste

2

slices

bacon

cooked

hot sauce

optional

2

eggs

cooked to your preference
Tools
Small skillet

for ciabatta and eggs

paring knife

for cutting avocado

baking sheet

for precooking bacon

baking rack

for precooking bacon

small bowl

for mashing avocado

fork or pastry blender

for mashing avocado

spatula

for cooking eggs
Instructions
Top the toasted ciabatta with the mashed avocado.

Season with salt and pepper to taste.

Add hot sauce (optional)

Top the avocado with cooked bacon slices.

Top with eggs.

Serve hot.
Recipe Notes
It's helpful to precook the bacon, mash the avocado, and toast the bread before assembling the sandwich.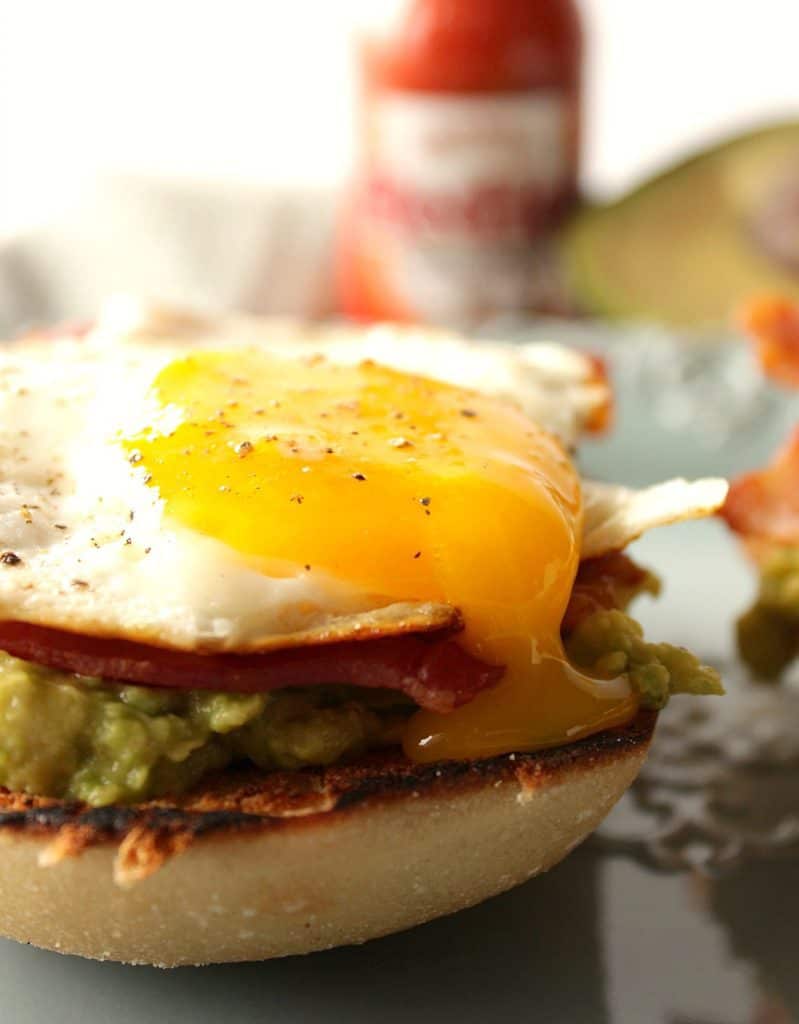 And, what goes better with a delicious Avocado Toast with Bacon and Egg sandwich than an amazing Bacon Bloody Mary? Talk about indulgence, and a great way to start any special day!
Don't look now, but I've got you covered in the hand painted Bloody Mary pitcher and glassware department too. This set would make a wonderful gift or conversation piece for anyone who enjoys a good, homemade Bloody Mary. CHEERS to that!
My hand painted glassware items are completely dishwasher and microwave safe, as well as being non-toxic. Special orders are always welcome, and I will happily paint and design from any photo, idea, or description you send my way. Please contact me if I can paint something for you, or visit my shops on: Etsy, Wazala, or Kudos Kitchen Paints.
Kudos Kitchen by Renée ~ Where food, art, and fun collide each and every day!
Until we eat (or drink) again, I hope you have a delicious day!