Sweet, creamy, and chocolaty. Creamy Mexican Chocolate with Avocado Truffles are as delicious as they are nutritious. Plus they pack a little kick, thanks to a small addition of cayenne pepper.
Dear valued reader and friend, Thank you so much for being here. It is because of you that I have a lot to celebrate and share. As of January 1st, my blog has launched a brand new, easy to navigate design, which I'm over-the-moon thrilled about. Because of this, I'm celebrating with a self-sponsored giveaway that includes a bunch of great prizes (see details at the end of this post), which I know you'll find useful in your kitchen. So, without further adieu, let's get on with the recipe… and the giveaway.

Surprise your Valentine this year by gifting them with candy you've made yourself. These Mexican Avocado Truffles are super easy to make and require no cooking whatsoever. Plus, your sweetie will never even know these delicious candies are good for them (because they're made with heart-healthy avocados), unless you tell them. So mum's the word. Or, I should say Rose is the word, but that makes no sense at all!
This recipe is one I've adapted from What The Fork Food Blog. The changes I've made were that I used regular semi-sweet chocolate chips (not dairy free chocolate chips). I also added espresso powder, along with some cayenne pepper for that little bit of heat. For rolling the balls, I've chosen toasted almonds and cocoa powder, and What The Fork Blog rolled hers in coconut.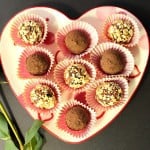 Mexican Avocado Truffles
Sweet, creamy, and chocolaty. Mexican Avocado Truffles are as delicious as they are good for you. Plus they pack a little kick, thanks to a small addition of cayenne pepper.
Ingredients
2

ripe avocados

1

teaspoon

pure vanilla extract

pinch

salt

½

teaspoon

espresso powder

¼

teaspoon

cayenne pepper

or to taste

1½

cups

semi-sweet chocolate chips

½

cup

toasted

slivered almonds, crushed to form crumbs

¼

cup

cocoa powder

mini paper candy cups

optional
Instructions
Remove the flesh from the avocados and place in a large bowl.

Add the vanilla, salt, espresso powder and cayenne to the avocados.

Mix thoroughly with a hand mixer until blended (scraping down the sides as needed).

In a microwave safe bowl, melt the chocolate chips on medium power, stirring occasionally.

Add the melted chocolate to the avocado mixture and blend with the hand mixer (scraping down the sides as needed).

Spoon the mixture into a container and refrigerate at least 60 minutes.

Using a spoon or melon baller scoop approximately ½ tablespoon of chocolate out and roll into 1: balls.

Roll each truffle into your choice of toasted almonds crumbs or cocoa powder.

Place in mini paper candy cups if desired.

Refrigerate until ready to serve.
Recipe Notes
Chilling of the finished mixture is key to success.
Chill for a minimum of 60 minutes, but longer is even better. I chilled mine overnight.
From time to time you'll need to rinse your hands with water when forming the balls. This will make the rolling process a little easier, and neater.
Adapted from What The Fork Food Blog
That was easy, right? I hope you enjoyed this recipe and will try making it a home. I know you'll have complete success with it!
And now, on to the giveaway portion of this post. It is because I love you, my readers, that I've decided to share this giveaway along with this particular Valentine's Day recipe.
You'll notice in the video that I've used three of the items included in this giveaway in the making of these Mexican Avocado Truffles. I've used the avocado scoop (from Wolfgang Puck's garnishing tool set), the Hamilton Beach blender, and the melon baller (again from Wolf's garnishing set).
Just in case you're wondering, I am not gifting you with previously used tools and equipment. These are items I already own in my Kudos Kitchen, and I've purchased a second set, for this special occasion, specifically with you in mind.
Here are the items I'm offering to one lucky winner:
All the gifts included total more than $75 worth of merchandise, but the results you'll receive from using them in your kitchen…priceless. For your chance to enter to win, please follow the instructions. This giveaway is valid to US residence only. This contest will run from Sunday, January 17, 2016, to Monday, January 25, 2016, when one lucky winner will be chosen by random drawing from all entries received.
So there you have it. I guess the only thing left for me to do is to share one of my hand painted Valentine inspired wine glasses. Well, it's actually inspired from ABC's "The Bachelor," but it seems to fit with the post and the occasion…Will you accept this rose?
If there is ever anything I can paint for you, from glassware to fabrics (aprons and tea towels), please don't hesitate to contact me or visit my shop on Etsy and Wazala. Custom orders are always welcome, and I will happily paint and design from any photo or description you send my way.
Kudos Kitchen by Renée ~ Where food, art, and fun collide each and every day!
Until we eat again, I hope you have a delicious day!