Homemade Glazed Apple Cider Donuts are every bit as good as what you get at an apple orchard or bakery, except that you make them fresh at home!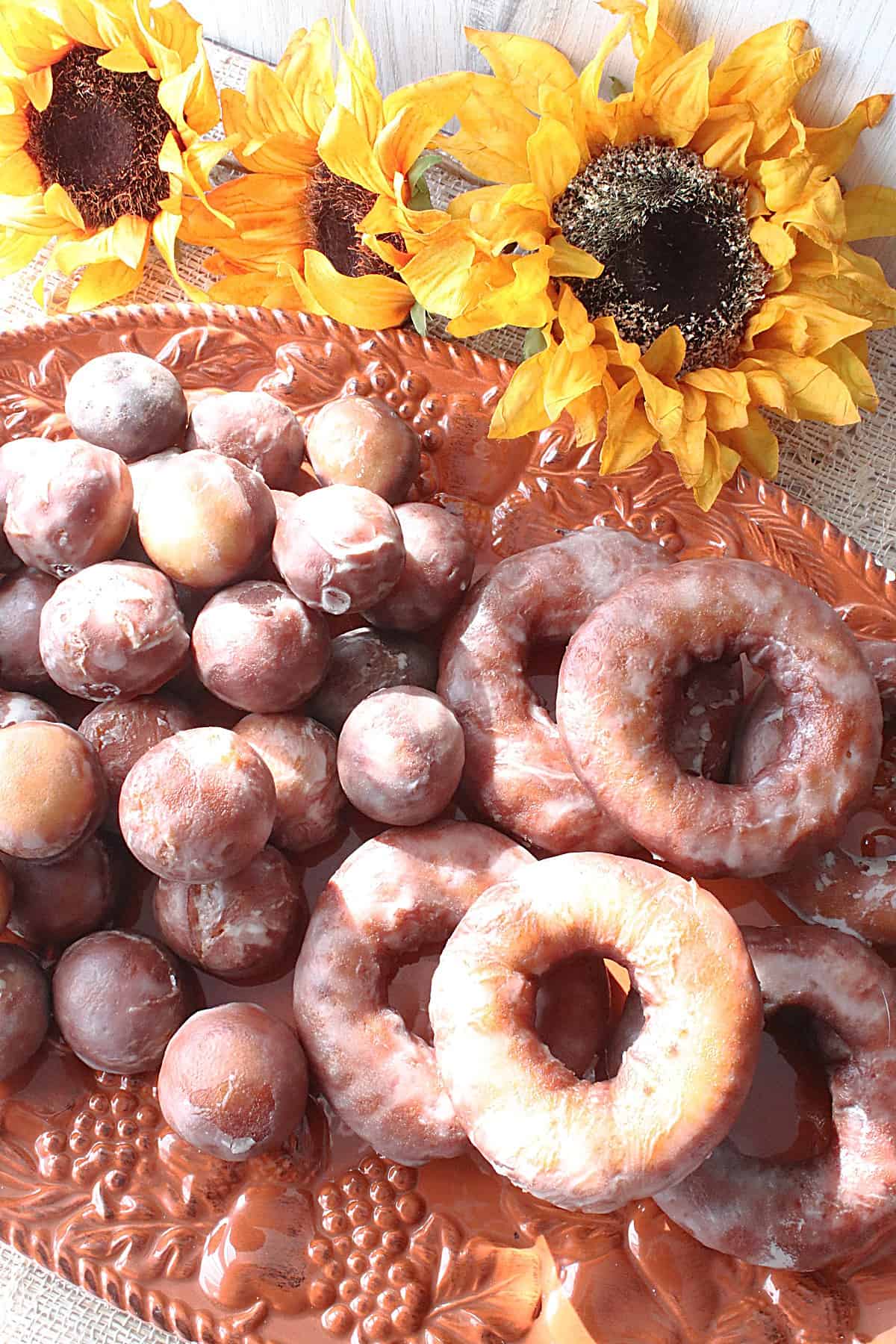 I originally shared this recipe in 2012. I've recently updated this post with additional information, including a recipe card (complete with nutritional information), new photos and new process shots of how these apple cider yeast donuts are made. However, the recipe itself has remained unchanged.
Yeast donuts are great any time of the year, but apple cider donuts are particularly delicious in the fall.
These glazed donuts is relatively easy to make with a good portion of the time involved is actually hands-off proofing time that won't require anything from you except patience.
Jump to:
🛒The ingredient list:
*Please note that the exact measurements along with a new "shop the recipe" feature from Instacart is available in the printable recipe card.

📋The instructions for making glazed apple cider donuts
Heat apple cider and butter together in a microwave safe bowl to 120-130 degrees on an instant read thermometer.
Note- If the liquid gets past 130 degrees, allow it to cool so it won't kill the yeast.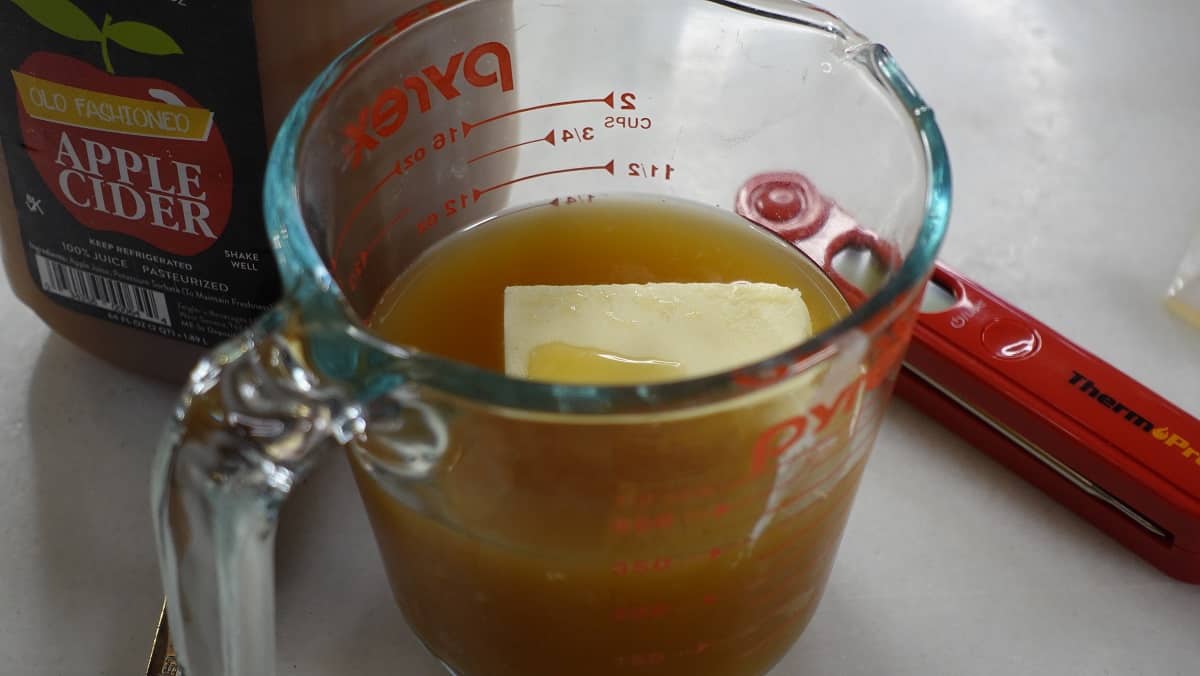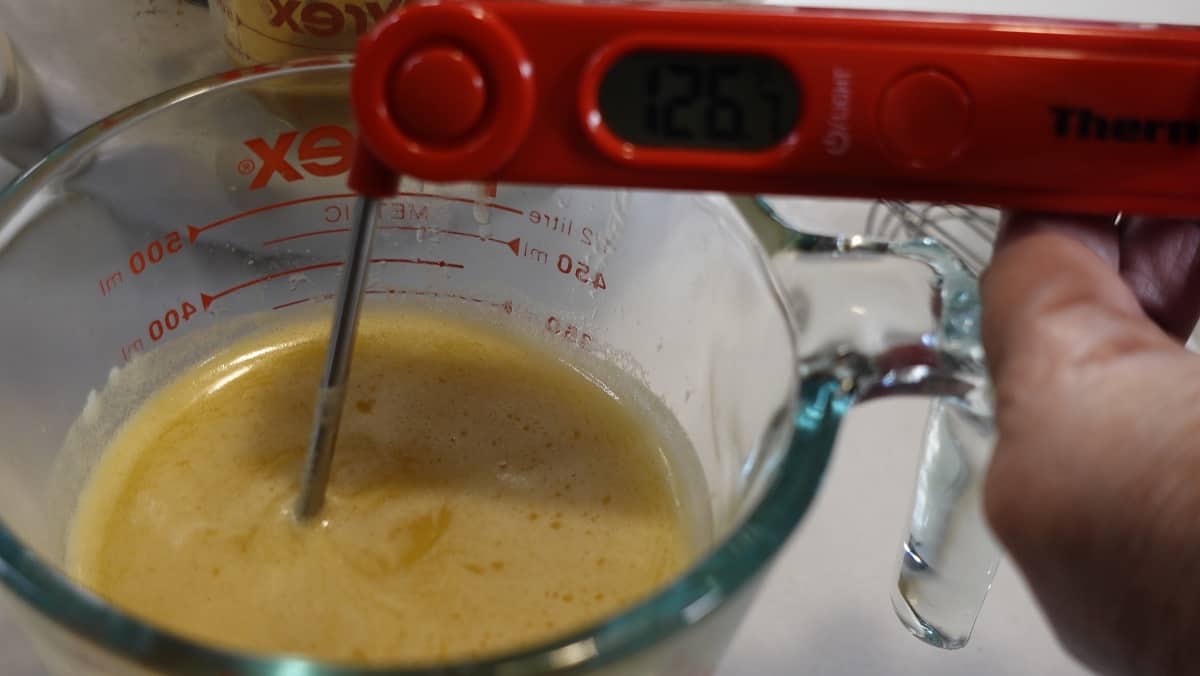 Meanwhile, in a bowl add 2 cups all-purpose flour, yeast, granulated sugar, salt, and cinnamon.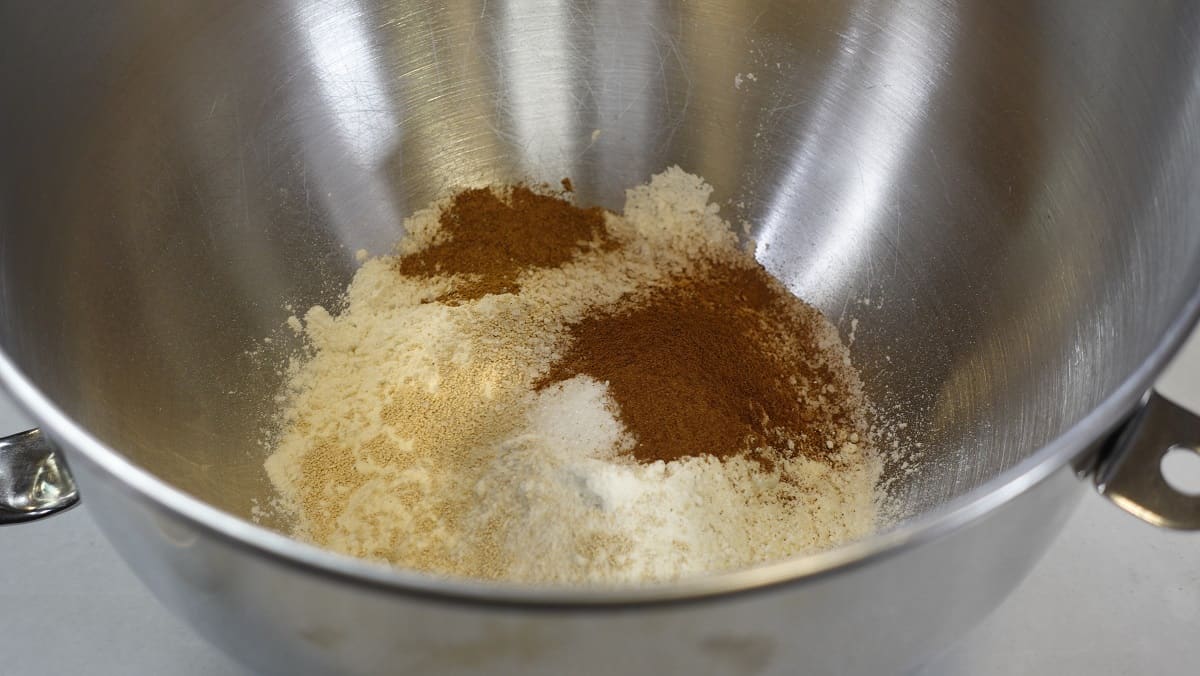 Add the warm apple cider and butter to the flour mixture.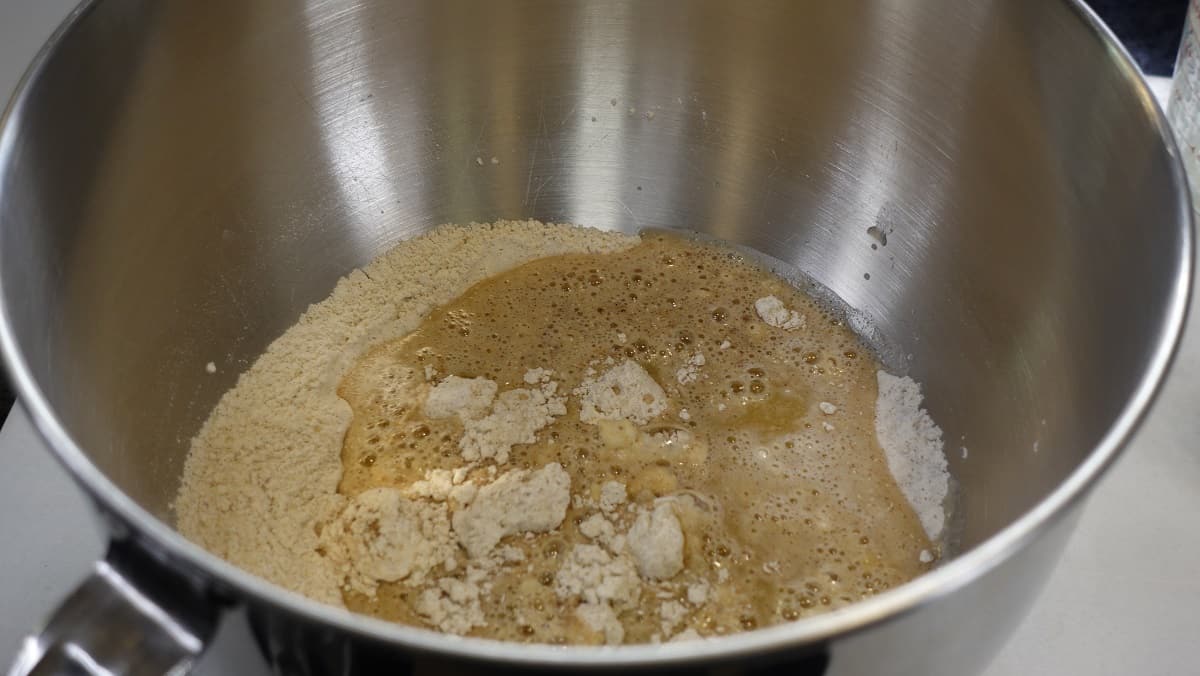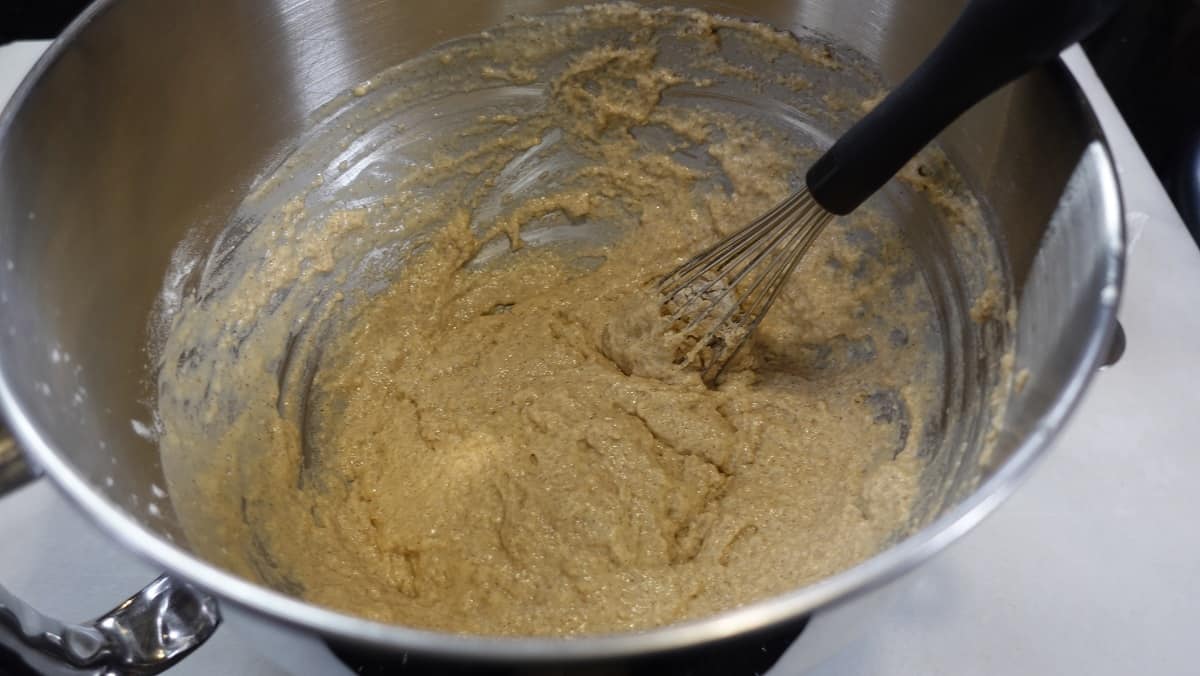 Add the additional flour to the batter along with three egg yolks.
Stir well, or knead with the dough hook using a stand mixer, until the mixture comes together in a soft dough.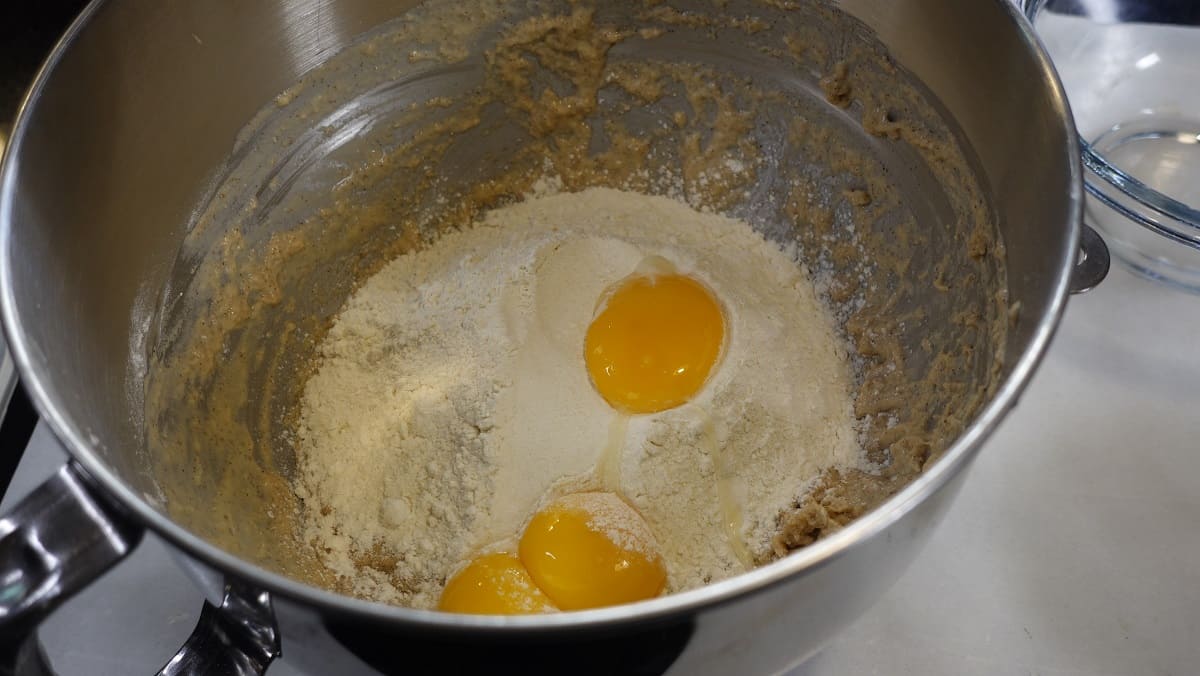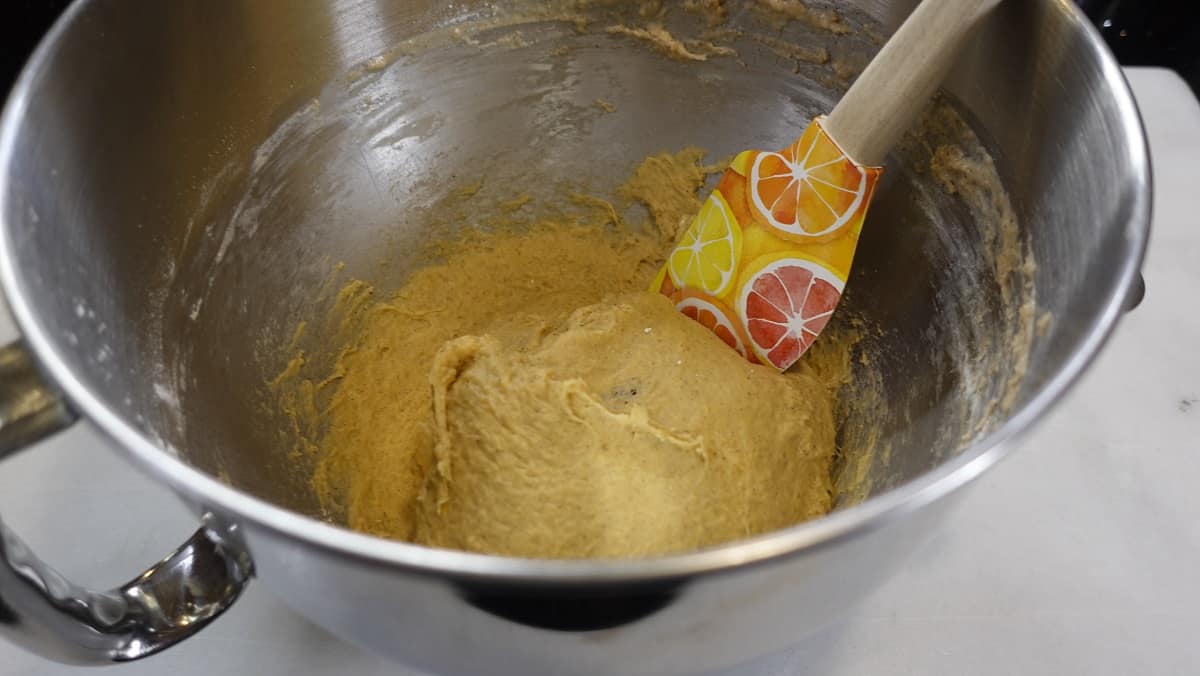 Turn the dough out onto a lightly floured surface and knead until smooth and elastic (process not shown). This will take about 3-5 minutes. Add the dough into a oiled bowl and cover with plastic wrap.
Allow the dough to rise in a warm, draft-free place for about 90 minutes until doubled in bluk.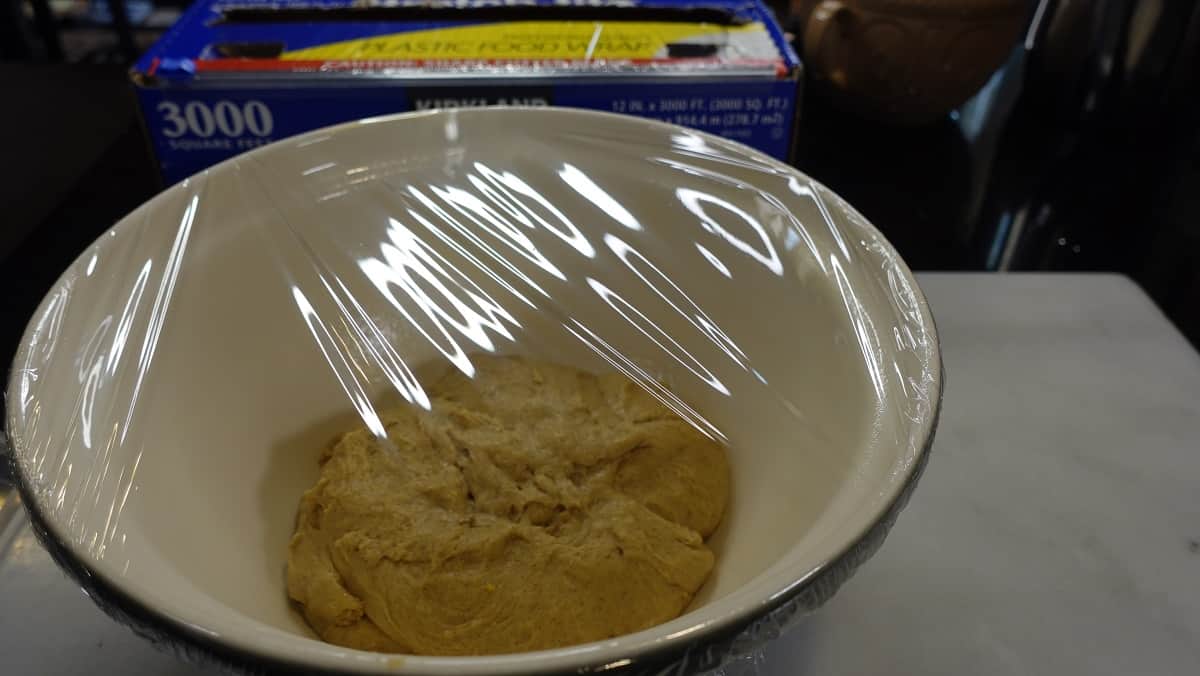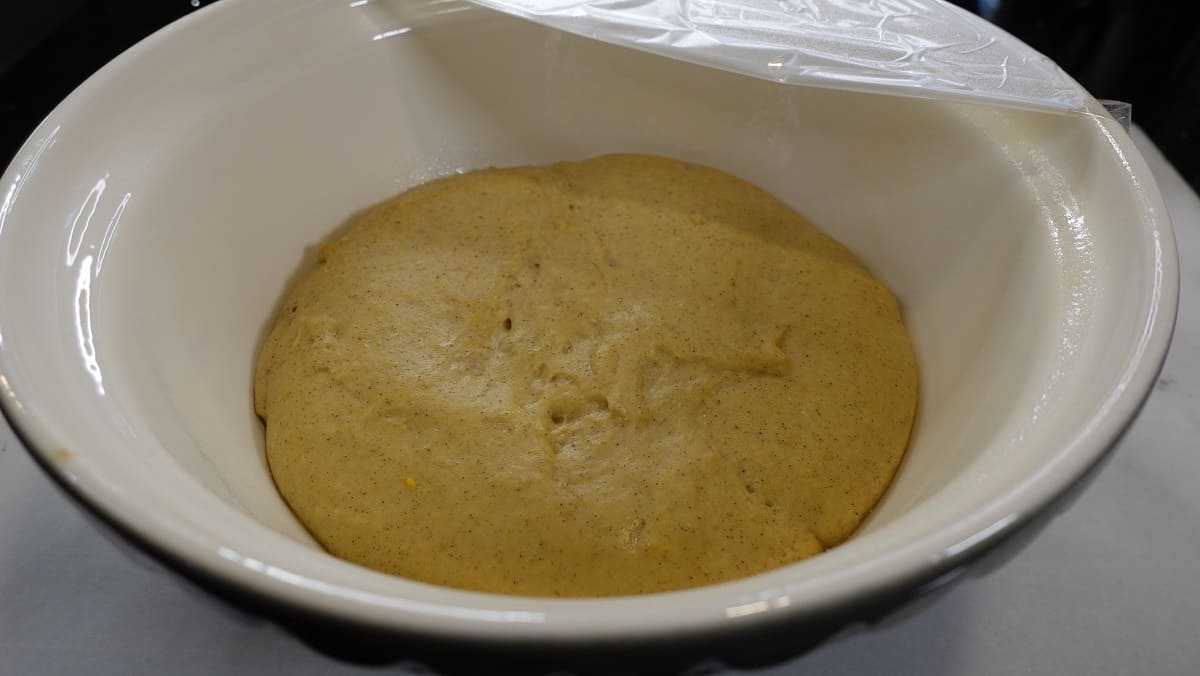 Uncover, and deflate the dough (process not shown). Divide the dough in half and pat (or roll) the dough out into ½" thickness. Cut the donuts using a 3" round cutter along with a 1" round cutter.
Place the donuts and donut holes onto a parchment lined baking sheet that has been lightly dusted with flour.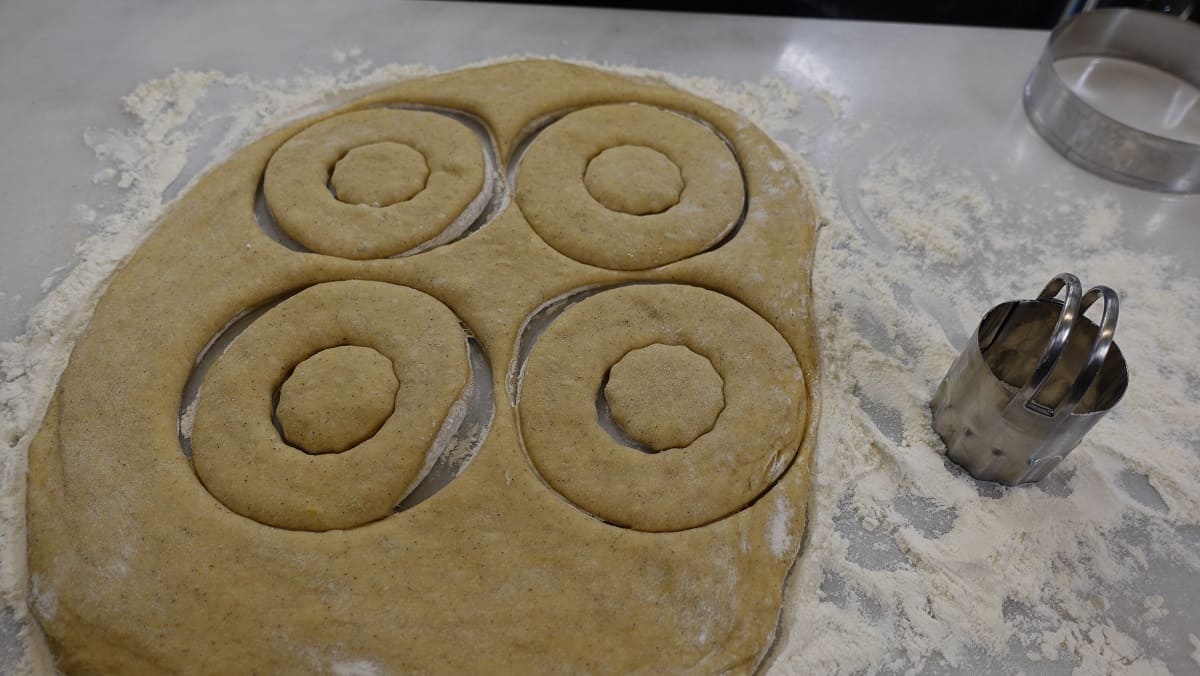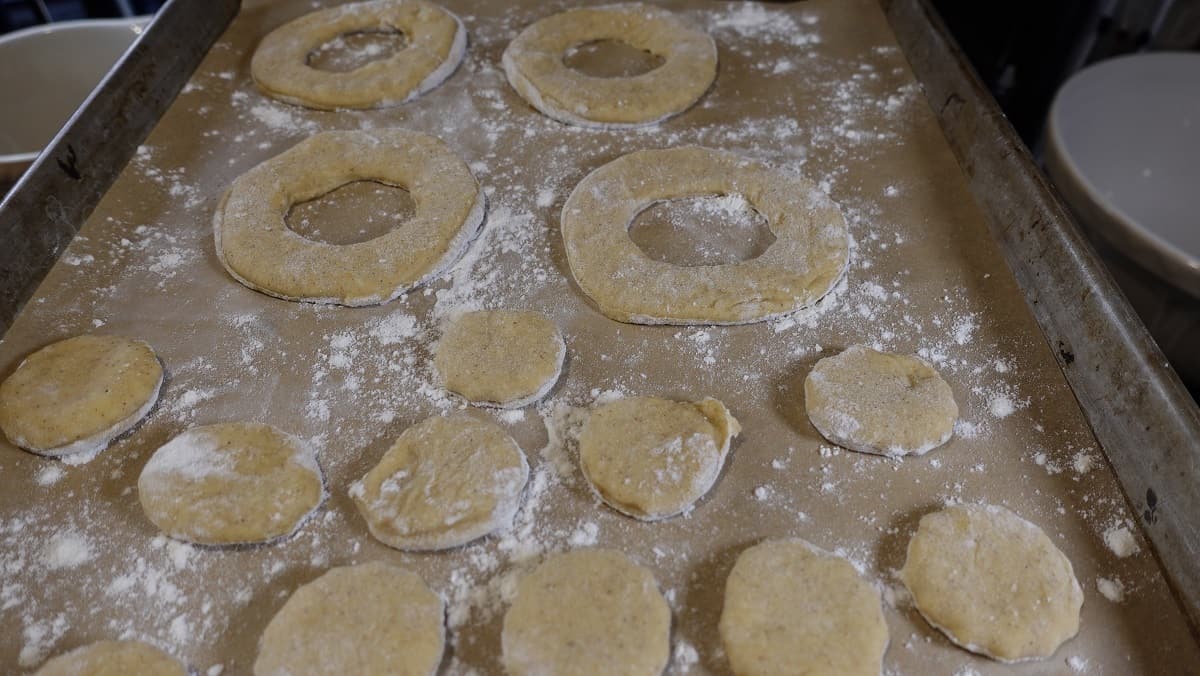 Allow the donuts to rest and rise again until puffed (approximately 1 hour).
Heat frying oil (I used canola) in a large, high sided skillet to 350 degrees Fahrenheit on an instant read thermometer.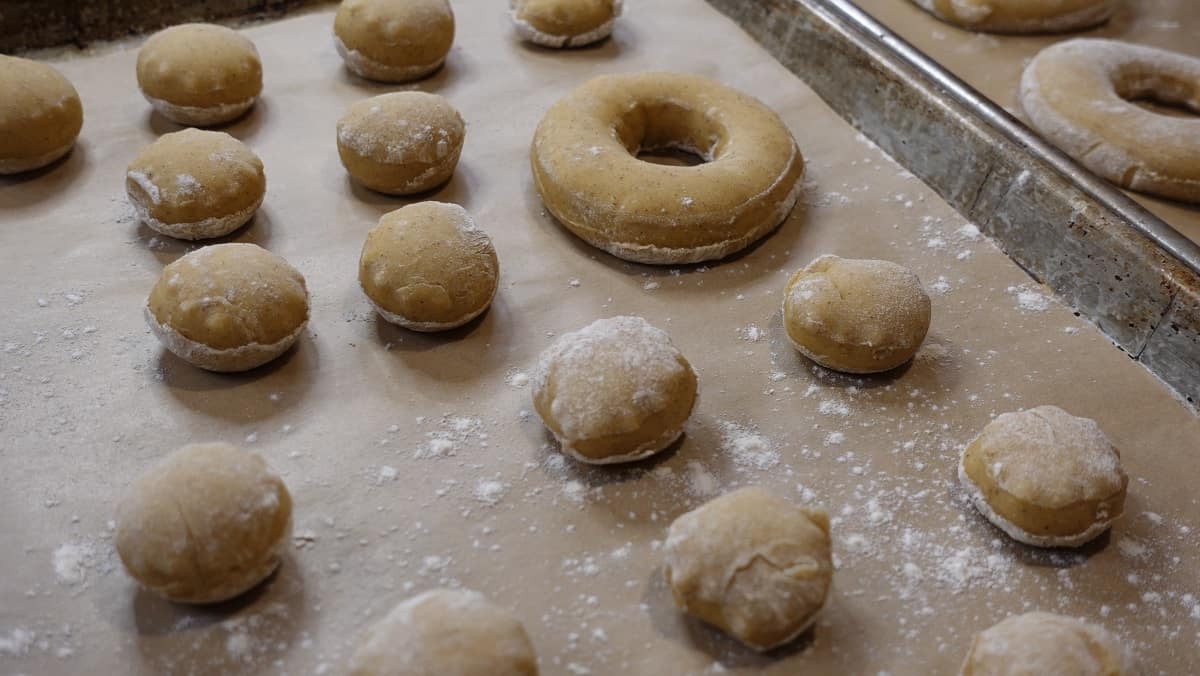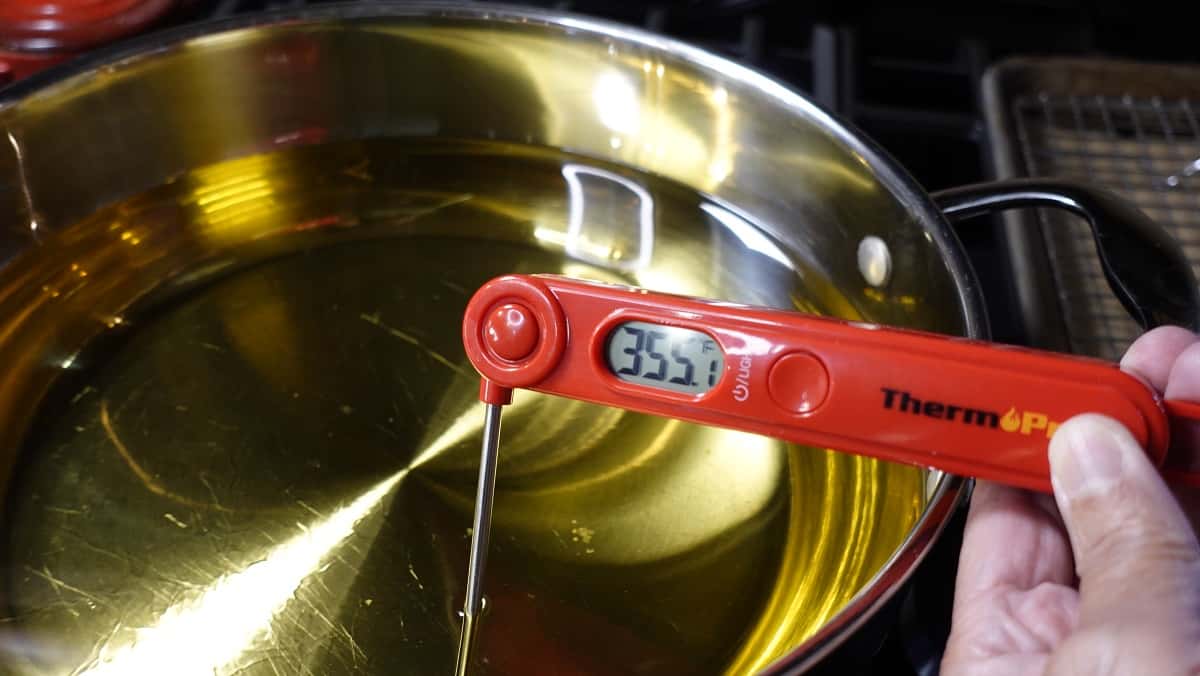 Carefully lower the donuts into the hot oil using a large slotted spoon or spider.
Allow the donuts to fry, turning occasionally, until golden brown (approximately 45 seconds per side). Note - do NOT leave the donuts unattended while frying. Carefully remove the donuts from the hot oil using the slotted spoon or spider.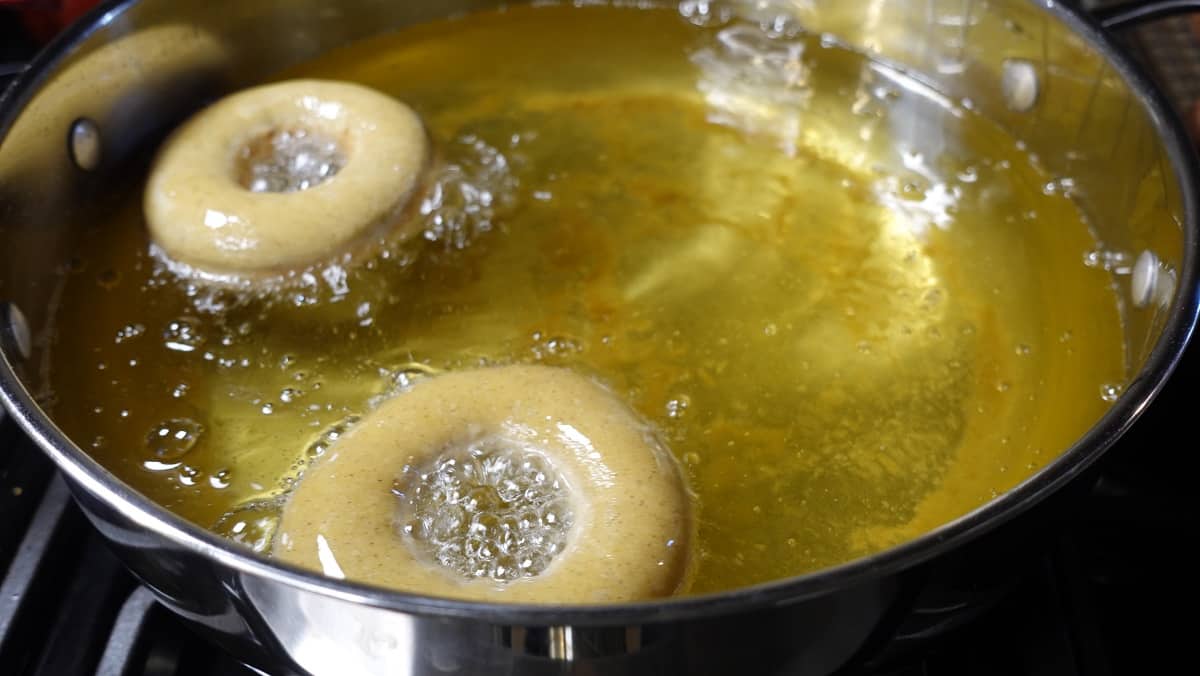 Place the fried donuts on a wire rack to cool completely while making the glaze.
Make the donut glaze by whisking together the confectioners sugar, apple cider, vanilla extract, and maple extract.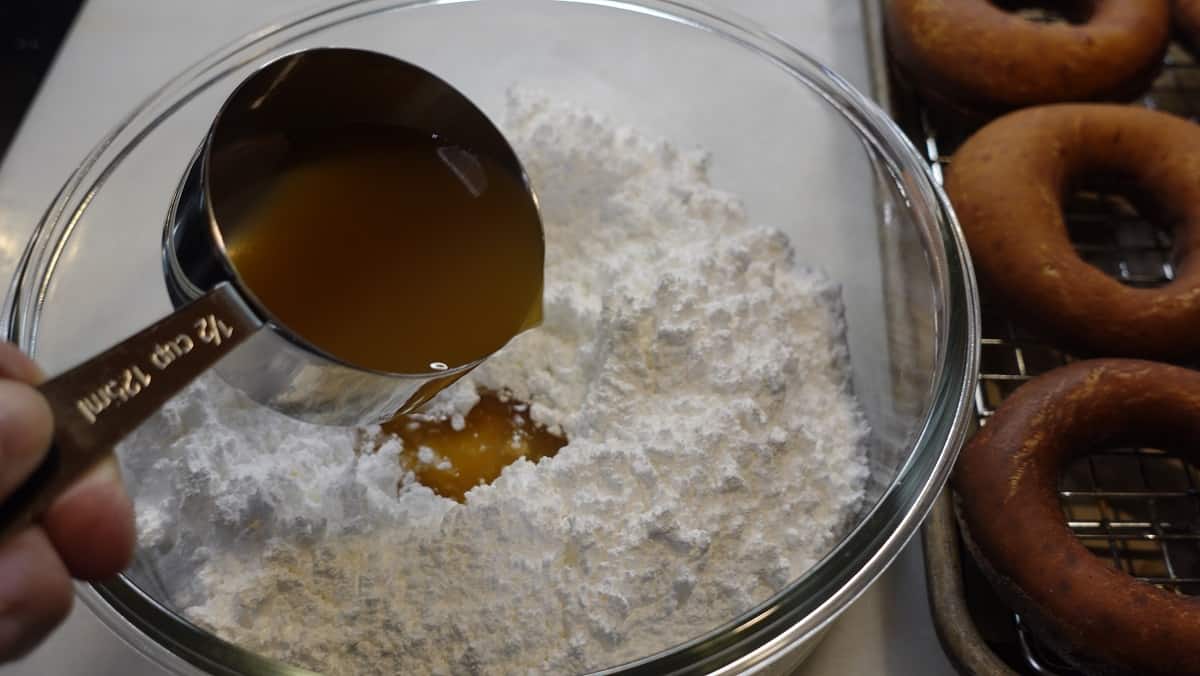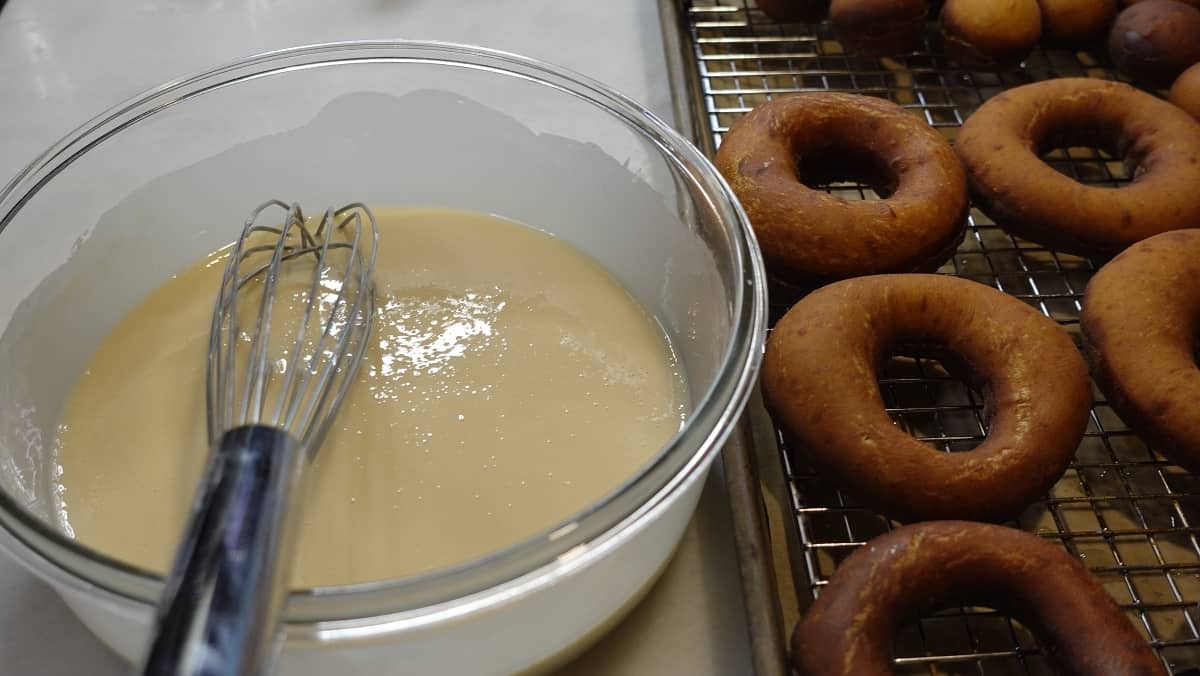 Dip the donuts into the glaze and turn them over to coat all sides with the glaze.
Move the glazed donuts to a wire rack to dry completely before serving.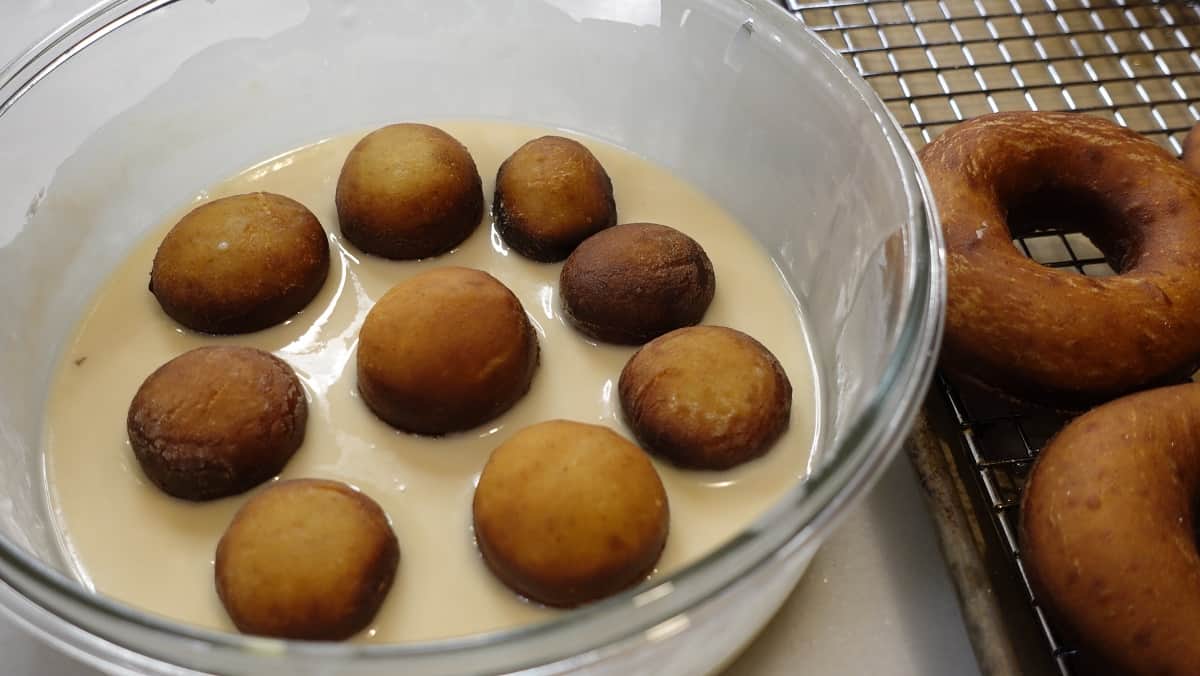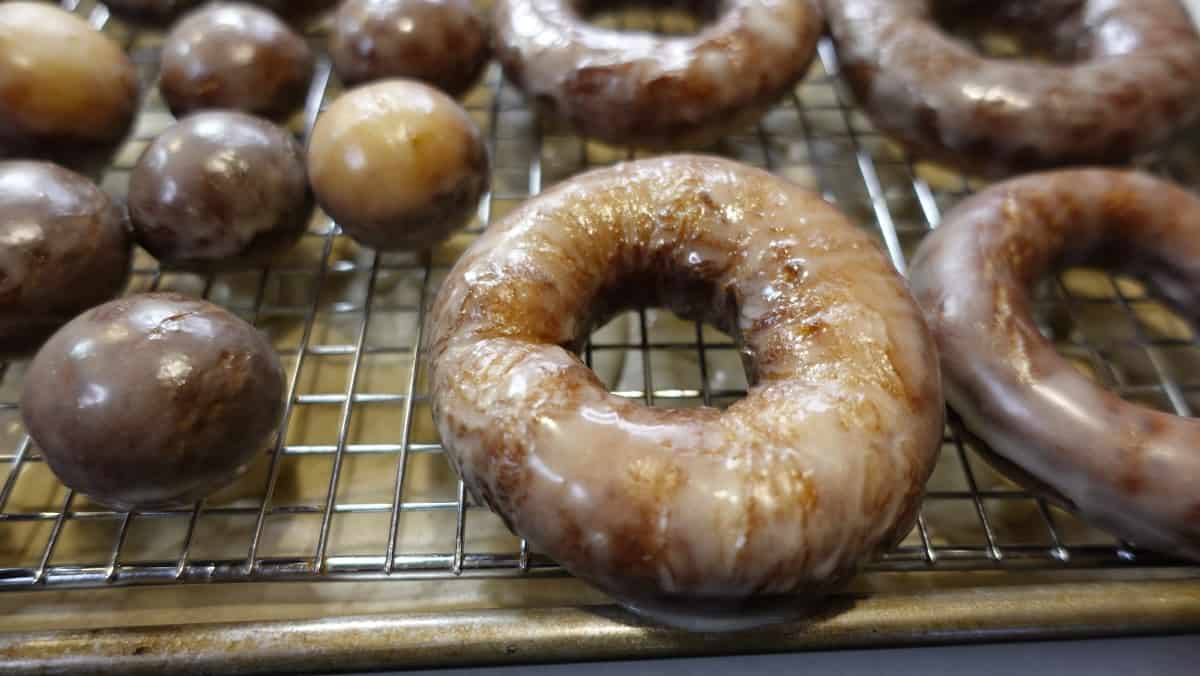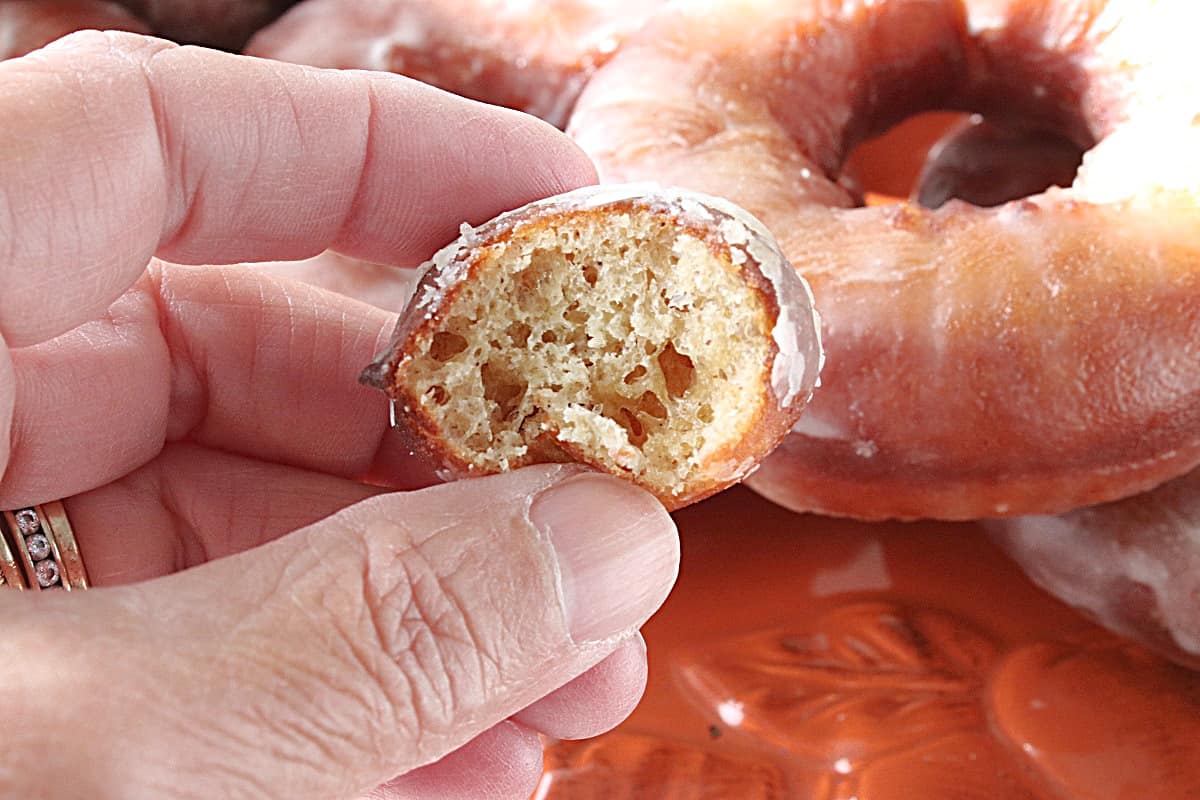 🔑The key to healthier donut frying
If you think frying donuts in hot oil adds a ton of extra calories, you may want to think again.
As long as the oil stays at a consistent temperature of 350 degrees Fahrenheit (an instant-read thermometer is critical for keeping the oil at the proper temp), as soon as the donuts hit the hot oil, they form a light crust on the outside that prevents the oil from soaking into the dough itself.
However, if your oil isn't hot enough, the dough will sit in the oil and soak it in, which is never a good thing and will add a bunch of unwanted calories.
⚠️What is the best oil for frying
An oil that has a very high smoke point is always the best choice for frying. Usually the lighter in color, the higher the smoke point.
For additional information regarding the best oil for frying check out this article from Bonappetite.
♥️How this recipe came to be in 2012
As a special surprise for one of my dearest friends who was celebrating a big milestone birthday, I decided to make her something I absolutely knew she would love...Apple Cider Donuts!
And not just any donuts, mind you...GLAZED APPLE CIDER DONUTS!
📷The original photos from 2012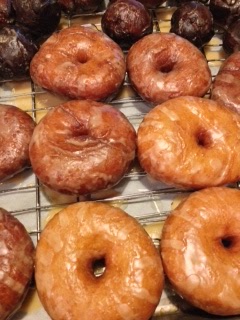 ⏲️What is the best way to proof yeast dough?
I like to set my oven to the lowest temperature it can go (mine is 170 degrees Fahrenheit) for 15-20 minutes while I prepare the dough. Once the oven is warm that's where I do all my proofing (resting time).
I also like to cover the dough with plastic wrap during proof times to keep the moisture inside the dough.
If you're concerned with the dough sticking to the plastic wrap, then by spraying a light mist of baking spray on the plastic wrap is a good solution to that potential problem.
🍩How many yeast donuts will this recipe make
As written this recipe will make approximately 12 standard size donuts.
However, should you choose to make all donut holes instead of donuts, you'll get a lot more bang for your donut buck.
🧊Can these yeast donuts be frozen after frying
Yes! You can use freezer zip top bags and make sure to squeeze all the air out of the bags before freezing.
Glazed yeast donuts can kept in the freezer for up to 2 months.
Thaw them at room temperature before serving.
🔑What is the key to reusing the frying oil for other uses
Once the oil is completely cool, you can use a funnel to carefully funnel the frying oil back into its original container. Preferably one that is specifically used for frying.
Mark the outside of the container with either "sweet frying oil" or "savory frying oil" so you'll not make the mistake of using the sweet frying oil to fry something savory or visa versa. There is nothing worse than frying donuts in oil that was also used to fry fish. Just imagine. No. Don't. 😉
📅How to store used frying oil and for how long?
I store mine in a cool area of my home away from direct sunlight.
The amount of time you can reuse frying oil is usually between 3-4 times. After that the oil will most likely have a noticeable change in color and will undoubtedly collect a lot of bits and pieces that have settled to the bottom of the container.
It is at that point that you want to responsibly dispose of the used oil and start again when fresh when you're ready to fry, fry again.
❓FAQs
How long will these donuts stay fresh?
Store them in a closed brown paper bag on the counter at room temperature for up to two days. It's always best to eat these glazed apple cider donuts within the first or second day of making. Of course, that shouldn't be a problem.
Can these donuts be rolled in cinnamon sugar and not glazed?
They can, but you'll need to do so immediately after removing them from the hot oil so the cinnamon and sugar sticks to the outside of the donuts.
Can the glaze be omitted altogether?
Yes, of course, but the apple cider glaze really intensifies the delicious flavor of the donuts so I urge you to glaze away.
Is a stand mixer imperative for making these donuts?
Nope. You can easily use a large bowl, wooden spoon, and elbow grease to knead the dough to the right consistency. It's definitely doable and some people would say, a lot more fun!
🔗Additional fried food treats I don't want you to miss:
Part of the fun of eating Fried Rosette Snowflake Cookies is the dusting of confectioners sugar that will inevitably snow down the front of your shirt as you crunch into these crispy little holiday treats. There's no way around it, so just give in and let it snow!
Even if you're not a huge mushroom fan, I'll bet you're going to flip over these Beer Battered Fried Mushrooms!
Chicken and waffles get a picnic-ready upgrade with this recipe for Waffle Batter Fried Chicken! Now you can pack up this classic treat, and easily take it wherever you want to go.
In celebration of Mardi Gras and dressed in green, gold, and purple sanding sugar these pillowy soft and perfectly Fried Homemade Beignets are ready to party!
Hungry for a Friday night fish fry but don't want to pay restaurant prices? My Homemade Fried Tilapia recipe is crispy, crunchy, and utterly delicious
When you make this recipe, and I hope you do, I'd appreciate it if you'd take a moment to leave a star rating on the recipe card and briefly comment on why you rated it as you did. FYI - Google appreciates recipe ratings and, in turn, will share my recipes with more people. Thank you so much!!
Printable Recipe Card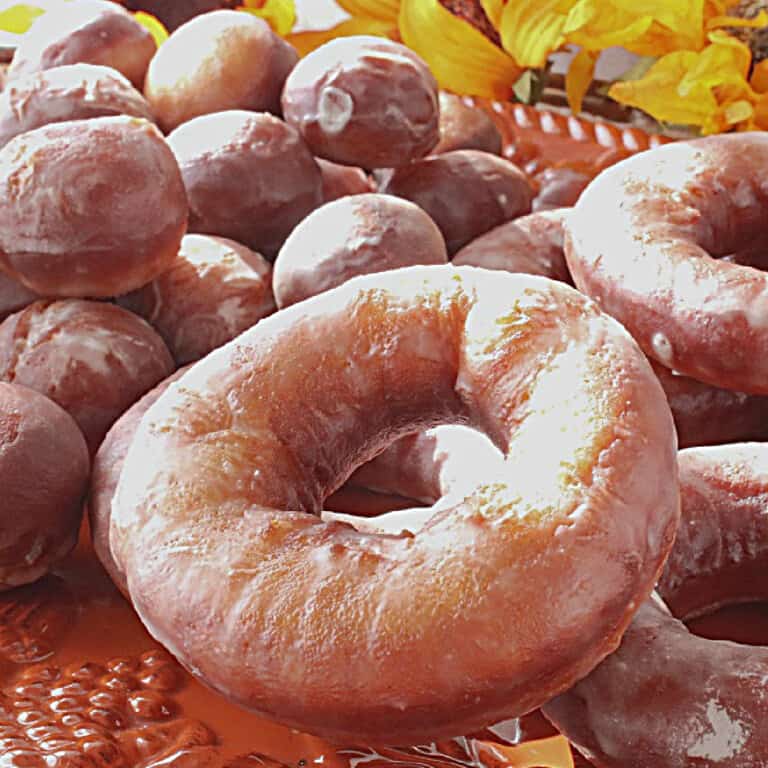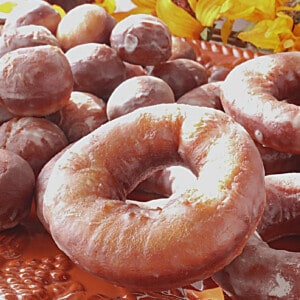 Glazed Apple Cider Donuts
Homemade Glazed Apple Cider Donuts are every bit as good as what you get at an apple orchard or bakery, except that you make them fresh at home!
Ingredients
For the donuts:
1

cup

apple cider

¼

cup

butter

melted

3 ¾

cups

all purpose flour

4 ½

teaspoons (2 packages)

active dry yeast

3

egg yolks

3

tablespoons

granulated sugar

1

teaspoon

kosher salt

1½

teaspoon

ground cinnamon

2

quarts

canola oil

1

teaspoon

pure vanilla extract
For the glaze:
3

cups

confectioners sugar

½

cup

apple cider

1

teaspoon

maple extract

1

teaspoon

pure vanilla extract
Instructions
To make the dough:
In a microwave-safe container, heat the apple cider and butter to warm (120-130 degrees).

Add the vanilla to the butter and apple cider mixture. Set aside for just a moment.

In the bowl of a stand mixer (or large bowl, using a wooden spoon), combine 2 cups of flour, the dry yeast, sugar, salt, and cinnamon.

Add the apple cider mixture to the flour mixture and mix thoroughly.

Add the additional flour and the egg yolks, mixing continually until a soft dough forms (this will take 4-5 minutes).

Remove the dough from the mixer and on a lightly floured surface, knead the dough by hand (for approximately 4-5 minutes) and then place the dough into a lightly greased bowl.

Cover the bowl with plastic wrap and allow the dough to rise until doubled (about an hour and a half) in a warm, draft-free place.

Once the dough has doubled in volume, punch down and allow to rest a few moments.

Divide the dough in half. On a lightly floured surface, roll (or pat) the dough to ½" thickness.

Using a 3" biscuit cutter, cut the dough into circles, and then use a 1" dough cutter to add the center hole to the donuts. OR, use the 1" cutter to strictly make donut holes. Your call.

Allow your donuts to rise again (approximately 45 minutes to one hour) in a warm, draft-free place until they have doubled in size.

In a large deep-sided skillet (or deep fryer), heat roughly 2" of canola oil to 350-degrees on an instant read thermometer.

Carefully use a large slotted spoon or spider to place the donuts 2 or 3 at a time into the hot oil and fry until they're golden brown on each side. Each side will take about 45 seconds (or less). WATCH THEM CAREFULLY!

Using the slotted spoon, carefully remove the donuts from the hot oil and place them on a wire rack to cool completely before glazing.
To glaze the donuts:
In a medium bowl, whisk all the ingredients until smooth and slightly runny in consistency.

Dip the completely cooled donuts into the glaze, turning them once to coat the entire donut. Place on a wire rack and allow the donut glaze to dry before serving.
Nutrition
Serving:
1
serving
Calories:
326
kcal
Carbohydrates:
67
g
Protein:
5
g
Fat:
4
g
Saturated Fat:
3
g
Polyunsaturated Fat:
0.3
g
Monounsaturated Fat:
1
g
Trans Fat:
0.2
g
Cholesterol:
10
mg
Sodium:
228
mg
Potassium:
93
mg
Fiber:
2
g
Sugar:
35
g
Vitamin A:
120
IU
Vitamin C:
0.3
mg
Calcium:
13
mg
Iron:
2
mg
I sincerely hope you've enjoyed today's recipe for yeasted fried apple cider donuts as much as I've enjoyed bringing it to you!
Follow me across my social media platforms and join in on the conversation: FACEBOOK, INSTAGRAM, PINTEREST, TIKTOK, AND YOUTUBE.
Thank you so much for visiting me today in my Kudos Kitchen. I hope you found something you'll love and that you'll come back and visit me often. There is always room for you around my table!
Should you have any questions or comments regarding anything you've seen here on my blog, please don't hesitate to reach out to me. It is always my distinct pleasure to respond to you just as soon as I possibly can.
Until we eat again, I hope you have a delicious day!!