Homemade English Crumpets are soft and chewy, with plenty of nooks and crannies for butter and jam. Ooh, these are good, and you'll be surprised at how easy they are to make!!!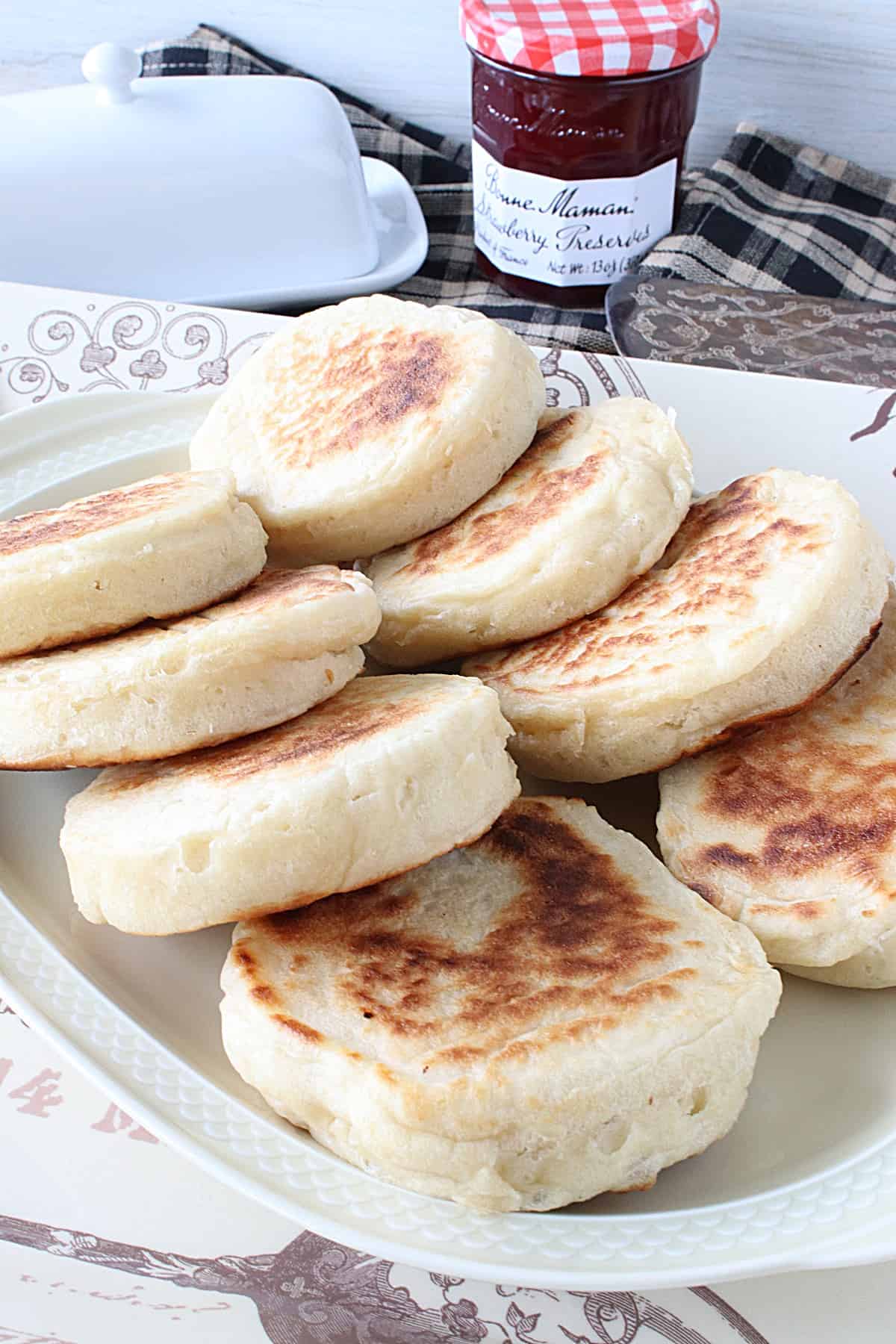 This particular recipe for crumpets is one I found through King Arthur Flour's website. The dough is simple to make and work with, and the completed crumpets are utterly delicious!
*Disclaimer - this recipe post was originally published in 2013. I've since gone in and updated this post with new images, a video, recipe card, and additional information I hope you'll find helpful. The recipe, however, hasn't changed at all, and these crumpets are still as delicious as they originally were back in 2013.
Jump to:
The ingredient list
*Please note that the exact measurements along with a new "shop the recipe" feature from Instacart is available in the printable recipe card.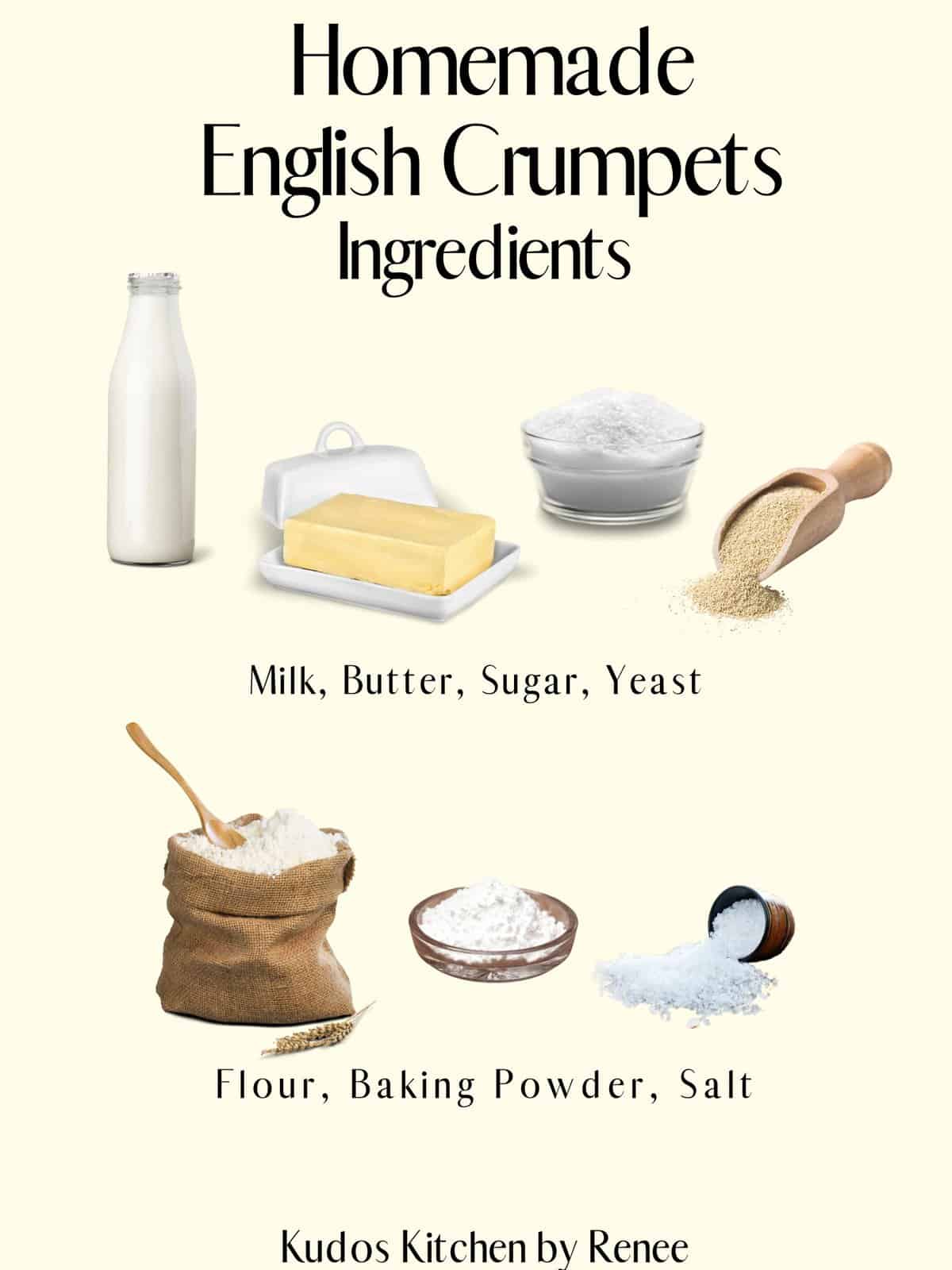 Ingredient information
MILK - I used 2% milk for this recipe. Feel free to use whole milk, but I don't suggest using 1% or skim milk for the sake of flavor. Make sure not to heat the milk over 110 degrees.
WATER - Make sure NOT to heat the water above 110 degrees Fahrenheit. Using an instant-read thermometer will help with this. If the liquids are too hot, they will kill the yeast. The liquids should be warm to the touch. If they're too hot, wait until they cool a bit.
MELTED BUTTER - I used salted butter but feel free to use unsalted butter if that's what you have.
ALL-PURPOSE FLOUR - I use unbleached all-purpose flour, but process-bleached flour is fine. Using bread flour is not necessary for this recipe.
INSTANT DRY YEAST - I used active dry yeast in a jar. To test if the yeast is still active, dissolve a little in some warm (not hot) water with a tiny bit of sugar and let it sit for a few minutes. If the mixture becomes foamy, the yeast is active and perfectly fine to use.
BAKING POWDER - The addition of the baking powder will help to form all the lovely bubbles in the batter and will also help the crumpets puff and rise while cooking.
SALT - I always use kosher salt. An iodized table salt will work, but I suggest cutting back (by ¼ teaspoon) on the amount called for in the recipe if using iodized salt.
GHEE COOKING SPRAY - I like the butter flavor the ghee provides. Feel free to use a baking spray or a neutral flavor cooking spray instead of the ghee, as both will work.
What I wrote about this recipe in 2013
I've wanted to make crumpets since I first tried them about a year ago.
Crumpets are not something I see in my local grocery store, but when I have the opportunity to shop with my mom at her local (employee-owned) "Woodman's Foods" (this place is HUGE), I get to see many items I don't usually see in my local grocery store.
Crumpets are one such example.
Who cares, right? Back in 2013, food bloggers were encouraged to be personable and tell a little backstory about the recipes they were sharing.
Now it's all business. Get to the recipe ASAP because people are in a rush and don't have time for the personal side of things. They want the recipe, and they want it FAST!!
That said, there is a lot for perseverance and stick-to-it-tiv-ness, and I'm here to tell you that I have both. In spades!
Below is one of the original photos I took of the crumpets back in 2013, and below that is a recent photo of the same recipe. The recipe has stayed the same, but thankfully my eye for photography, props, and setting-the-scene sure has (not to mention the whole video and video editing process).
THERE! So much for not telling personal stories on a food blog.
If you've read this far, thank you so much for not hitting the "jump to recipe" button. I appreciate it. 🙂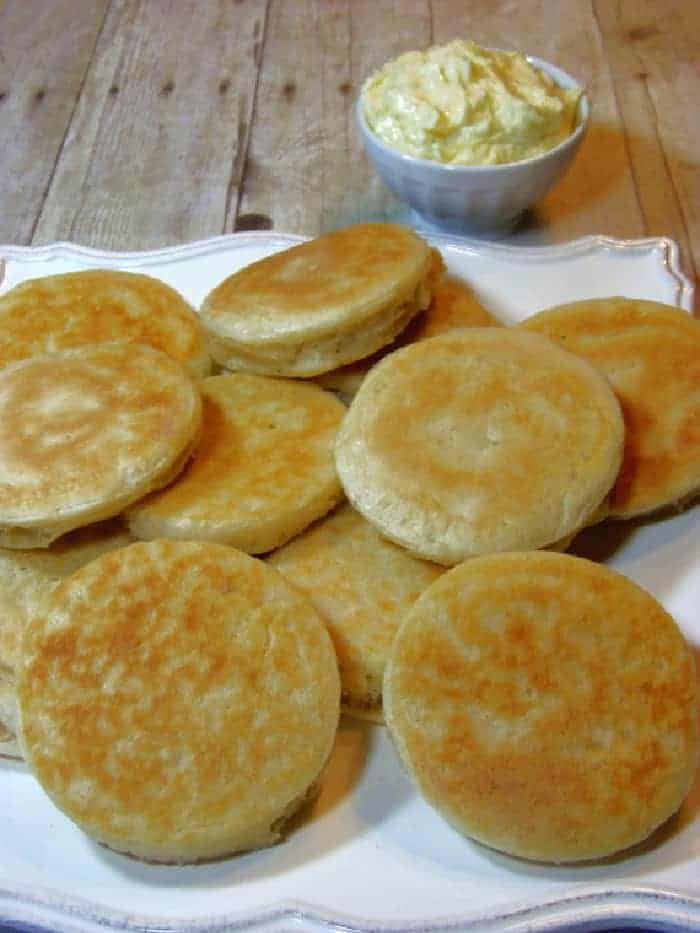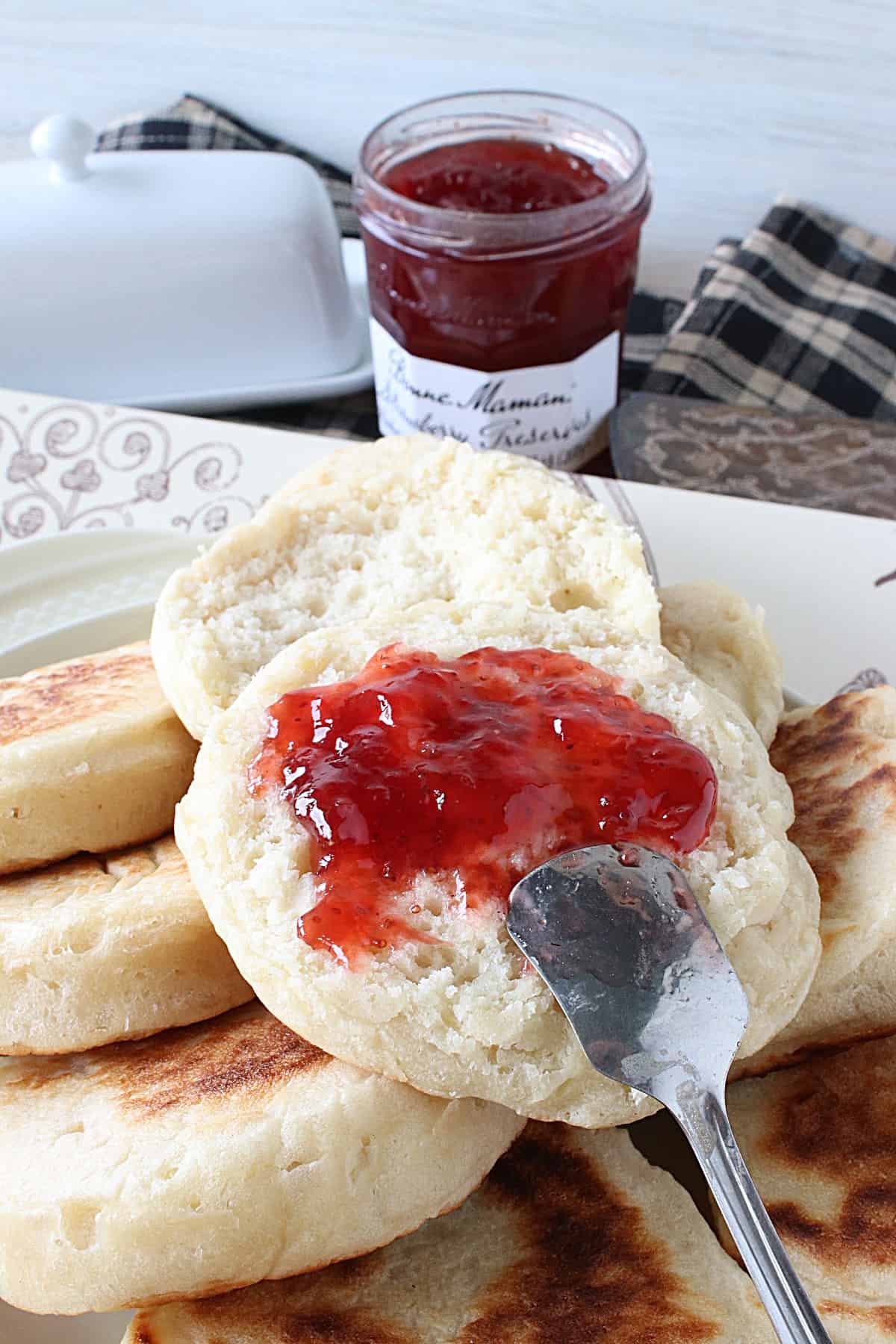 My definition of a crumpet
If you've never had a crumpet, I suggest they're like a cross between an English muffin and a pancake.
They're definitely more "doughy" than a traditional English muffin and have a very slight sweetness (hence my reference to pancakes).
That said, they do have an English muffin appearance, including all those lovely little nooks and crannies that you've come to expect with the whole English muffin experience, and they're perfect for catching melted butter, jam, or even holding on to clotted cream (recipe coming soon)!
The difference between an English muffin and a crumpet
Crumpets and English muffins are similar, except that crumpets have a looser batter and are faster to make because they only require one proofing time.
English muffins (although almost identical to crumpet ingredients, call for less liquid) are more dough-like than batter-like and, therefore, denser in texture.
English muffin batter also requires two proofing times and round cutters to cut and shape the dough, whereas crumpet batter gets spooned into round molds for cooking.
Another glaring difference between a traditional English crumpet and my homemade crumpets is the color.
Crumpets are traditionally cooked with low heat and (I believe) don't typically have much color.
Feel free to cook your crumpets to your desired level of color. Take your time with the process if you're going traditional, and do make sure to keep the heat on low while cooking.
My homemade crumpets don't stand that much on any English tradition, so I looked the other way as they did their own thing in the pan and turned a lovely golden brown.
For me, I like a little bit of color on my food, and I find it more appealing to the eyeballs and the palate.
How to store crumpets
I like to keep mine in a covered container in the refrigerator. Crumpets will keep for up to 5 days in the fridge.
Can these be frozen after cooking?
You bet!! Cool them thoroughly, store them in an airtight freezer container (or freezer bag), and freeze them for up to 2 months.
What is the best pan for cooking crumpets?
You'll notice in the video that I used a crepe pan. I like it because it has a shallow profile. However, using the crepe pan, I could only make two crumpets at a time. If you have a large flat grill pan, that would be ideal for making four or more crumpets at one time.
What can be used besides silicone ring molds to cook these English breakfast breads?
Honestly, I highly recommend using the silicone ring molds because even though the crumpet batter is quite sticky to work with, it doesn't stick to the silicone mold at all.
Plus, since it's silicone, it withstands the heat without getting hot to the touch, so there's no risk of getting burned.
However, in a pinch, you can use round metal cookie cutters or very well-washed large tuna cans (3 ¼" round with both ends removed). Still, you'll need to be extremely careful because those items will get very hot during the cooking process and will most likely be hard to remove from the crumpets unless they're sprayed liberally with cooking or baking spray.
Top tips for making homemade crumpets
Since the crumpet batter is so soft and sticky, I find it very helpful to spray the cooking pan, crumpet molds, and even the ½ cup measuring cup (for spooning batter into the molds) with non-stick spray. I used a non-aerosol ghee (clarified butter) spray, but feel free to use a baking spray or any neutral-flavored cooking spray you have on hand.
Ensure the warm milk and water isn't too hot. If it is, it will kill the yeast, and the batter won't form all those lovely bubbles that make the crumpets light and airy with lots of nooks and crannies.
The temperature of the liquids should be between 105-110 degrees Fahrenheit. If you're new to baking with yeast, using an instant-read thermometer will help tremendously until you can better judge using touch alone.
How to make Orange Honey Butter
Blend two sticks of softened butter (I used salted butter) with 1 tablespoon fresh orange zest, 2 tablespoons honey, and 2 tablespoons fresh orange juice.
Additional breakfast breads you'll love
Toast up a slice or two of this homemade Buttermilk Cinnamon Raisin Bread for breakfast and you'll never go back to plain toast! I guarantee it!
English Muffin Bread is everything you what in an English muffin except that you make it in a loaf pan. The nooks and crannies in this bread are what dreams are made of!
Everything English Muffin Bread is…wait for it…wait for it…EVERYTHING! No surprise there, I suppose. LOL
Get your pumpkins at the pumpkin patch, but make your Apple Cider Donut Muffins at home! They're just as good as at the pumpkin patch. Maybe even better!!
Skip the box mix and make them fresh! These are the best Blueberry Banana Muffins and they are 100% worth the extra 5 minutes they'll take to make!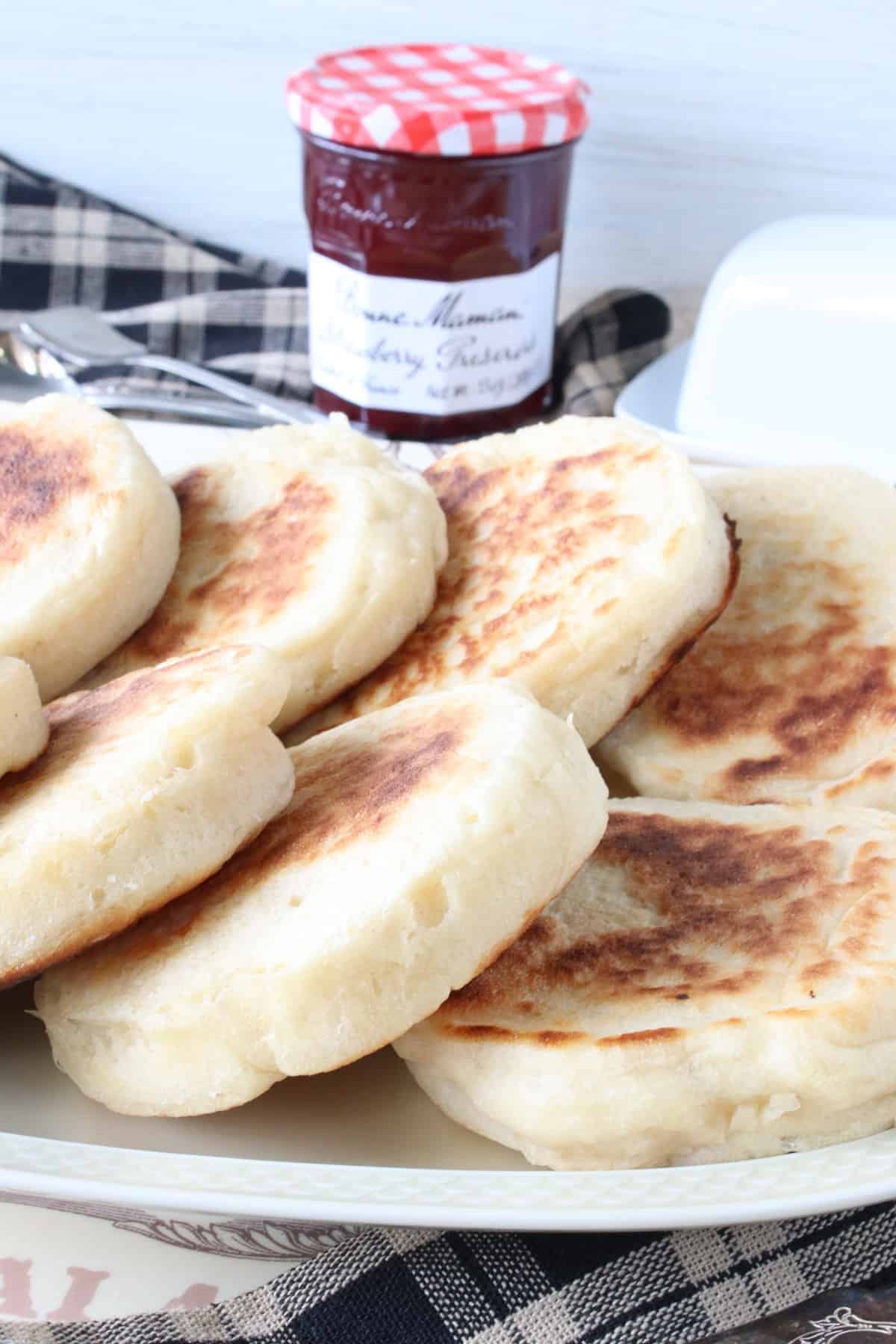 When you make this recipe, and I hope you do, I'd appreciate it if you'd take a moment to leave a star rating on the recipe card and briefly comment on why you rated it as you did. FYI - Google appreciates recipe ratings and, in turn, will share my recipes with more people. Thank you so much!!
Printable Recipe Card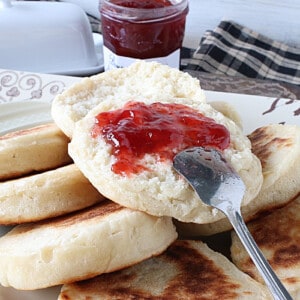 Homemade English Crumpets
Homemade English Crumpets are soft and chewy, with plenty of nooks and crannies for butter and jam. Ooh, these are good, and they're super easy to make!
Ingredients
1½

cups

warm water (to the touch)

(105℉ - 110℉)

1

cup

warm milk (to the touch)

(105℉ - 110℉)

3

tablespoons

butter (salted)

melted

½

teaspoon

granulated sugar

2½

cups

all-purpose flour

1

teaspoon

baking powder

1¼

teaspoon

salt
Instructions
In a large bowl, whisk together the flour, baking powder, and salt. Set aside.

In a medium bowl combine the warm water, warm milk, melted butter, sugar, and yeast. Whisk well to combine and completely dissolve the yeast.

Add the warm liquids into the large bowl with the dry ingredients and mix well (hand whisking or using a stand mixer with a whip) until the dough forms a sticky batter with lots of bubbles (about 7-9 minutes of vigorous hand whisking or 3-4 minutes of stand whisking at medium/high speed), scraping down the sides of the bowl as needed.

Cover the bowl with plastic wrap and allow the batter to proof (expand) for 1 hour in a warm spot in the kitchen.

Heat a griddle pan or crepe pan over medium/low heat. Spray the pan, and a ½ cup measuring cup with cooking spray (to make the sticky batter easier to work with). Place the silicone molds onto the griddle pan and spoon ½ cup of batter into each of the silicone molds, spreading the batter evenly with a knife or spoon if needed.

Cook the crumpets for approximately 5 minutes on the first side and then gently wiggle the silicone molds off. Set the molds aside. Use a spatula to carefully flip each crumpet and cook for an additional 4 - 5 minutes.

Remove the finished crumpets to a wire rack and continue the process with the remaining batter. Keep the crumpets warm in a low (200℉) oven until ready to serve.

Serve warm with butter and jam. These are also great toasted.
Video
Notes
Crumpets may be frozen after cooking. Cool completely and store them in an airtight freezer container or freezer bag for up to 2 months.
Store the crumpets in an airtight container in the refrigerator for up to 5 days.
Nutrition
Serving:
1
serving
Calories:
121
kcal
Carbohydrates:
20
g
Protein:
3
g
Fat:
3
g
Saturated Fat:
2
g
Polyunsaturated Fat:
0.2
g
Monounsaturated Fat:
1
g
Trans Fat:
0.1
g
Cholesterol:
8
mg
Sodium:
254
mg
Potassium:
83
mg
Fiber:
1
g
Sugar:
1
g
Vitamin A:
100
IU
Vitamin C:
0.04
mg
Calcium:
40
mg
Iron:
1
mg
Follow me across my social media platforms and join in on the conversation: FACEBOOK, INSTAGRAM, PINTEREST, TIKTOK, AND YOUTUBE.
Thank you so much for visiting me today in my Kudos Kitchen. I hope you found something you'll love and that you'll come back and visit me often. There is always room for you around my table!
Should you have any questions or comments regarding anything you've seen here on my blog, please don't hesitate to reach out to me. It is always my distinct pleasure to respond to you just as soon as I possibly can.
Until we eat again, I hope you have a delicious day!!