You can make this fast and easy recipe for Whiskey Glazed Roasted Shrimp in a matter of minutes. It's delicious and can be served as an appetizer or even an elegant main course.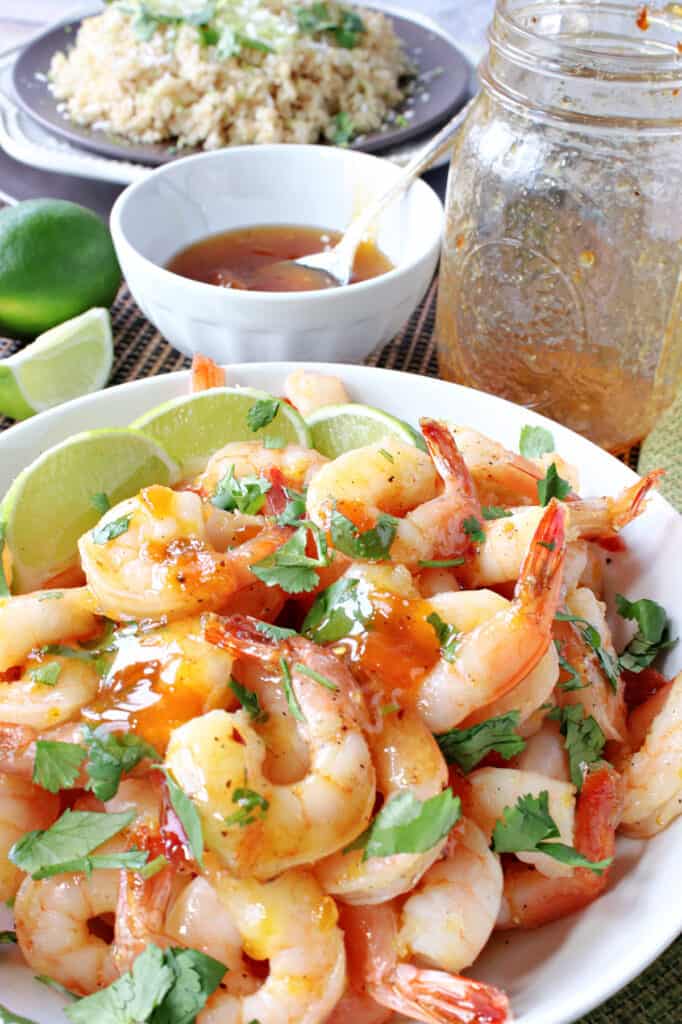 **Please Note – The printable recipe card with detailed instructions, complete ingredient measurements, and nutritional information for making Whiskey Glazed Shrimp is available at the end of this post. OR you can hit the "jump to recipe" button (found above) to be taken directly to the recipe.
WANT TO SEE MORE FOOD VIDEOS AND FUN THINGS FROM ME? YES? GREAT!! CLICK THIS BOX TO LIKE AND SUBSCRIBE TO MY KUDOS KITCHEN CHANNEL ON YOUTUBE! I'LL SEE YOU THERE.
The ingredient list:
**Note – The following lists of ingredients plus kitchen tools and equipment contain affiliate links (highlighted in blue) for your consideration and shopping convenience. #CommissionsEarned
2 pounds peeled and deveined shrimp (thawed, from frozen, work fine)
homemade whiskey glaze or your favorite glaze or sauce
chopped cilantro (optional)
lime wedges
rice for serving if using as a main course
Kitchen tools and equipment:
How this recipe came to be:
I was smitten with an Irish Whiskey Glaze we'd had while out at a local pub so I wanted to recreate my own version at home.
Once I came up with my own recipe for Irish Whiskey Glaze, I knew in an instant that it would be delicious on shrimp and fish.
And, since I already had shrimp in the freezer, it wasn't long before I was roasting, basting, and happily eating! 🙂
How long will this recipe take from start to finish?
If your shrimp are already peeled and deveined, and you have the whiskey glaze made and stored in the fridge, this recipe will take approximately 20 minutes from start to finish.
Can other glazes be used to make this shrimp?
Sure. If you're not a fan of whiskey, by all means, use whatever you like.
The method of roasting the shrimp will be the same, whatever you choose to brush them with is totally up to you!
Appetizer or entree? The choice is yours…
I'd proudly put these whiskey glazed roasted shrimp out on the buffet table with some cocktail toothpicks and a bowl of extra glaze for dipping.
They can be served hot, or lightly chilled so they're perfect for entertaining.
That said, they're also excellent for the main course served with some rice and maybe a side salad for a quick and easy meal that's elegant but not time-consuming or stuffy. (shown below)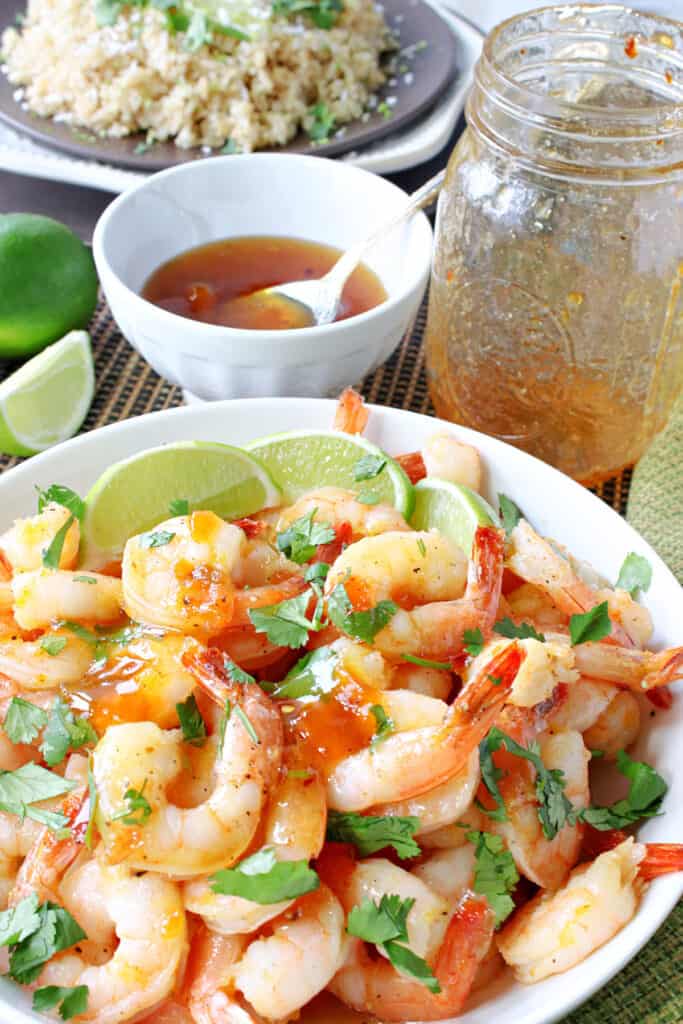 The easy step-by-step photo instructions:
Prepare shrimp by rinsing, peeling, and deveining (if needed). Drain and dry.
Add the shrimp to a large bowl and toss with 1 cup of the Irish whiskey glaze.
Season with salt and pepper and spread the shrimp evenly on a baking tray.
Roast the shrimp in a preheated 425-degree Fahrenheit oven for 5-7 minutes.
Remove the shrimp from the oven and liberally brush additional whiskey glaze over the shrimp and return to the oven for 15 minutes or until the shrimp are opaque and pink in color.
Serve as an appetizer or main course with chopped cilantro, a squeeze of lime, and additional glaze for dipping (if desired).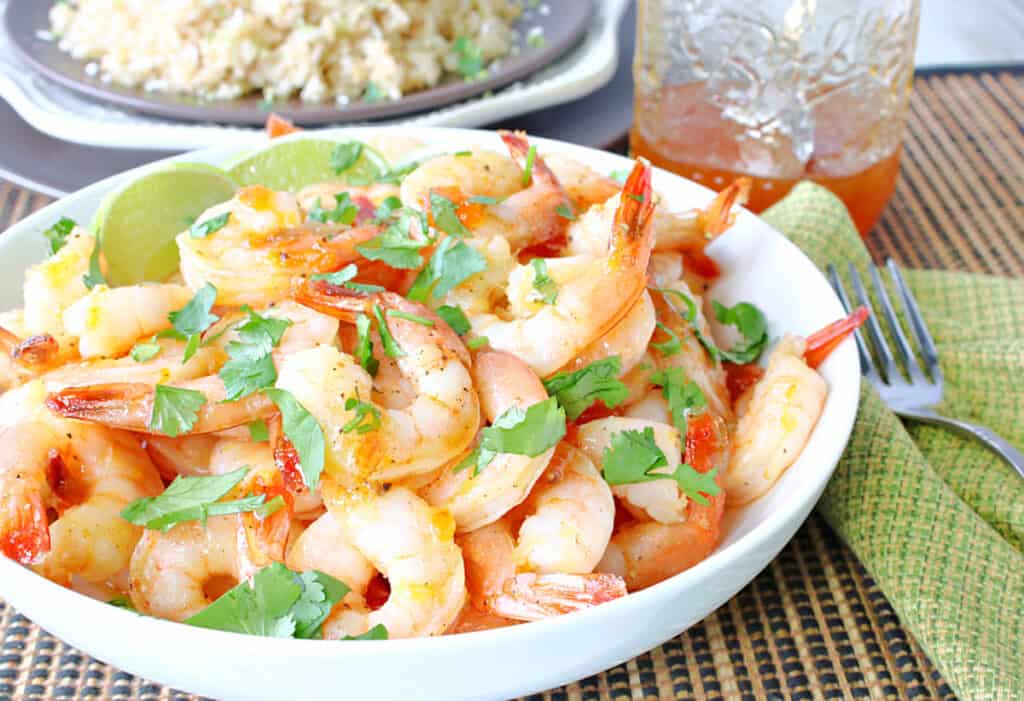 What size shrimp were used for this recipe?
I used a 31-40 count (per pound) raw, (frozen then thawed) shrimp.
Will different size shrimp make for different cooking times?
Should you decide to use a different size shrimp, please be aware that the cooking times will be different that what is listed in the written recipe.
A small shrimp will take less cooking time, and, naturally, larger shrimp will take a longer time.
Once cooked, you're looking for a pink color that is opaque, and no longer grayish and transparent.
How to quickly thaw previously frozen shrimp:
I like to add my frozen shrimp to a colander and then run cold water over the shrimp until they're competely thawed. This only takes a matter of minutes.
However, you can also thaw frozen shrimp in the refrigerator over night. Just make sure to add them to a bowl incase the package leaks.
Always keep uncooked shrimp chilled until ready to cook, and never leave them out at room temperature for longer than 30 minutes before cooking.
Additional shrimp recipes you'll also enjoy:
*Sheet Pan Lemon Ginger Shrimp (shown below and featured in the video)
When dinner needs to be quick and delicious with a minimum amount of clean-up, this Sheet Pan Lemon Ginger Shrimp with Veggies & Potatoes comes to the rescue, and will please the entire family in less than 30 minutes!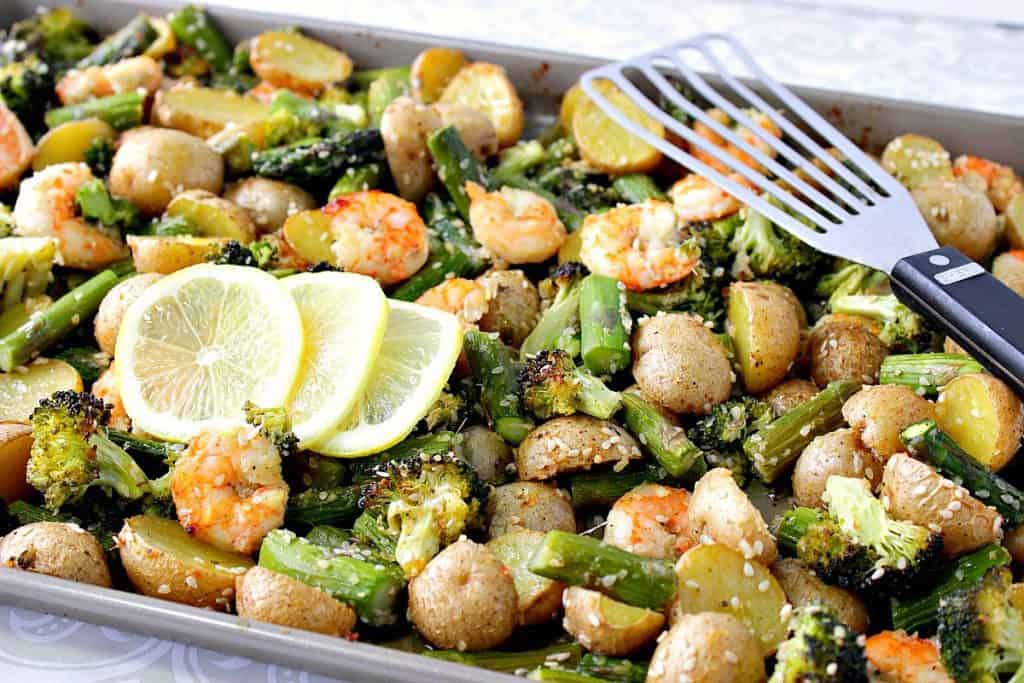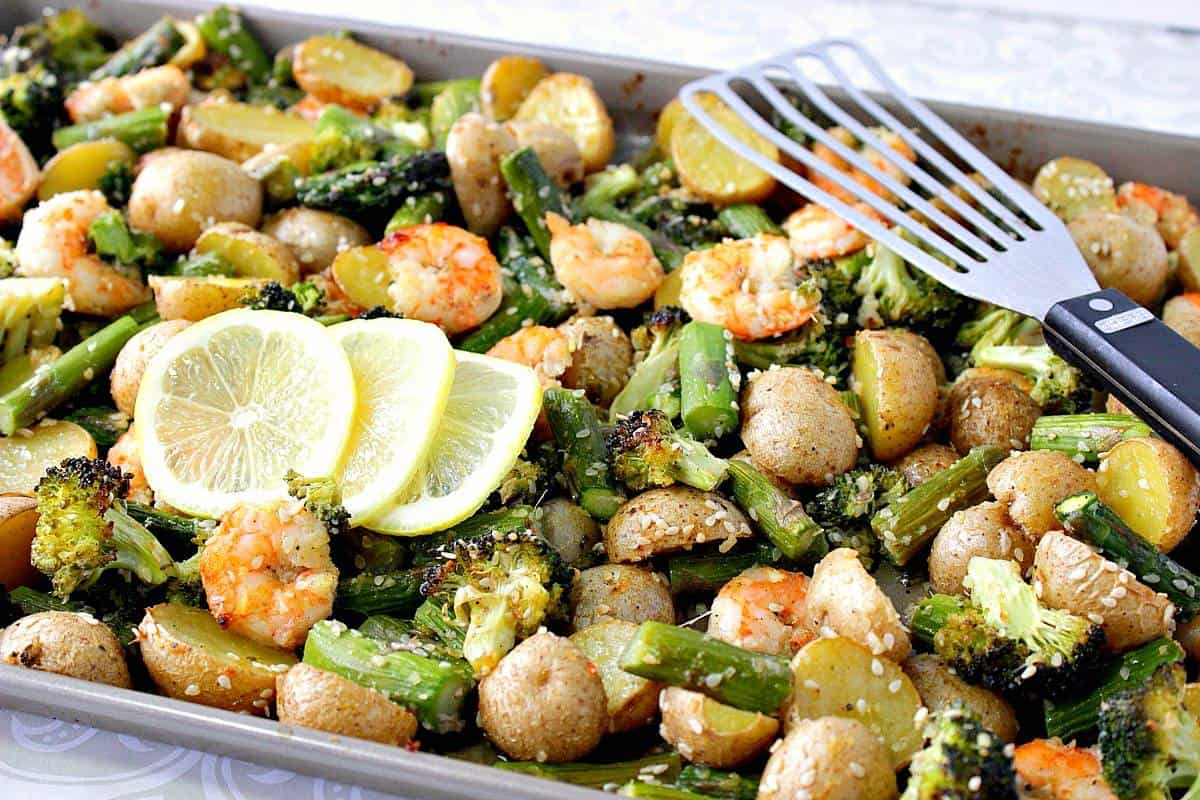 *Orzo and Shrimp Stuffed Avocados (not shown)
Orzo and Shrimp Stuffed Avocados is an elegant dish that can be served for a light lunch or dinner option.
*Easy Shrimp Cocktail Appetizer Bites (shown below)
This festive and easy Shrimp Cocktail Appetizer Bites recipe takes only minutes to make, but they look like you slaved for hours. Plus they're cheap and cheerful which makes them perfect for any gathering.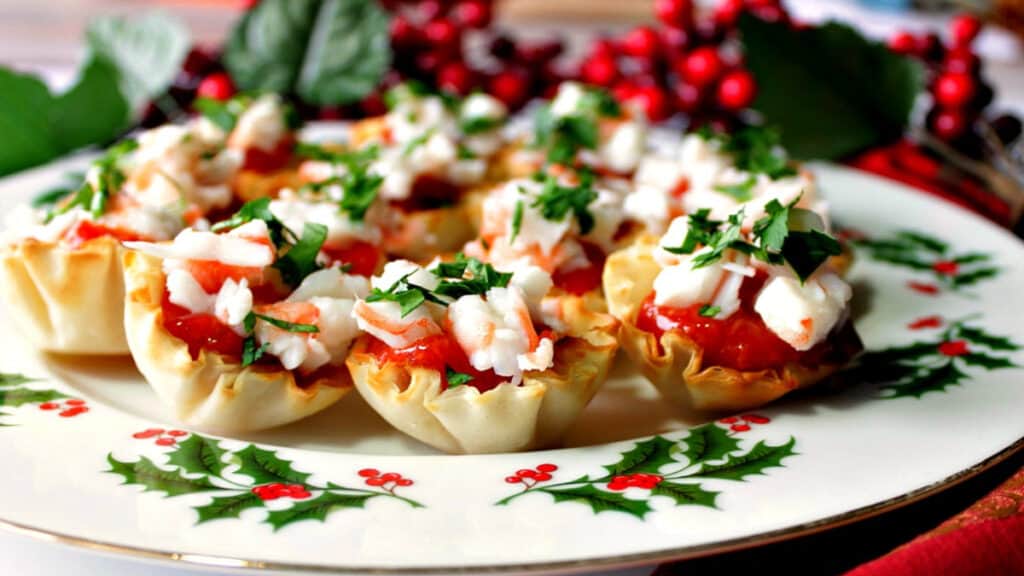 *Pumpkin Corn Chowder with Shrimp (not shown)
Creamy Pumpkin Corn Chowder with Shrimp is an easy and seasonal way to upgrade a family favorite. Get ready for rave reviews when you set this thirty-minute meal on the table!
*Whiskey Glazed Roasted Shrimp (shown below) THIS IS THE PLACE!!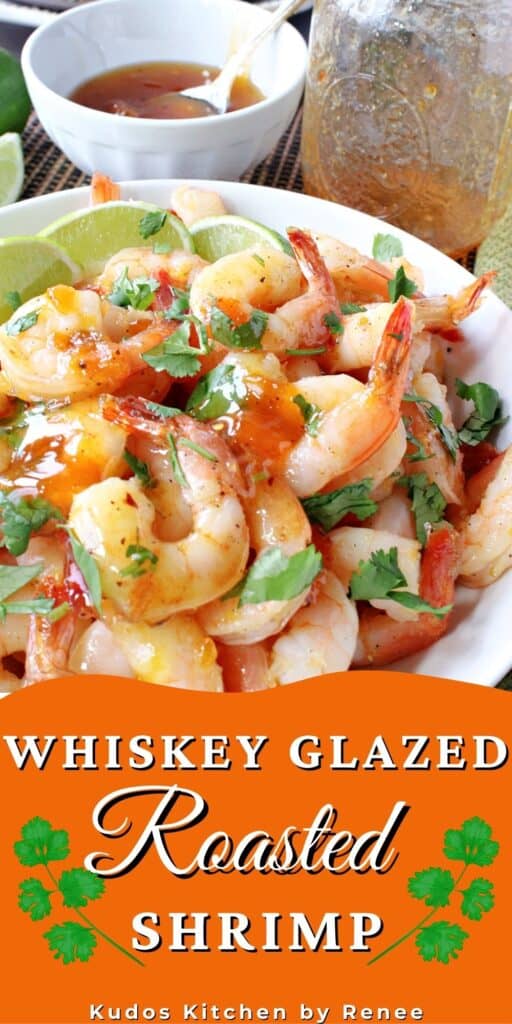 Below is the printable recipe card along with the exact ingredient measurements and nutritional information for making today's easy whiskey glazed shrimp.
If you've made this recipe, or are excited to make this recipe, I'd appreciate it if you'd take a moment to leave it a star rating in the recipe card, along with a comment if you're so inclined. Thank you. 🙂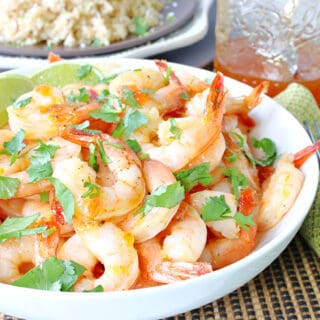 Whiskey Glazed Roasted Shrimp
You can make this fast and easy recipe for Whiskey Glazed Roasted Shrimp in a matter of minutes. It's delicious and can be served as an appetizer or even an elegant main course.
Ingredients
2

pounds

31-40 per pound peeled, deveined shrimp

(thawed, if frozen)

1

cup

Irish Whiskey Glaze

see notes for recipe

1½

teaspoon

coarse salt

½

teaspoon

black pepper

chopped fresh cilantro

optional

fresh lime juice

optional
Instructions
Preheat oven to 425-degrees Fahrenheit

In a large bowl, toss the thawed shrimp with 1 cup of whiskey glaze, salt and pepper.

Spread the shrimp in an even single layer onto a baking sheet.

Roast the shrimp for 5-7 minutes in the oven, remove, and use a pastry brush to liberally spread additional glaze over the shrimp (if desired).

Return the shrimp to the oven and continue roasting for 15-17 minutes, or until the shrimp are bright pink and opaque in color.

To serve, garnish with chopped fresh cilantro and a squeeze of fresh lime juice.
Notes
SPECIAL NOTE – If serving as an appetizer, do not leave the shrimp set out at room temperature for longer than 30 minutes without chilling.
For the Irish Whiskey Glaze:
1 jar (18 ounces) apricot preserves
1/4 cup Irish Whiskey (or more to taste)
2 teaspoons fresh lime juice
2 tablespoons honey
2 tablespoons apple cider vinegar
1 teaspoon garlic powder
3/4 teaspoon kosher salt
½ teaspoon black pepper
½ teaspoon red pepper flakes
-Place the apricot jam in a small saucepan. -Add in the whiskey (¼ cup, or more to taste), lime juice, honey, apple cider vinegar, salt, pepper, and garlic powder. -Bring to a low simmer and cook, stirring occasionally, for 5-7 minutes until the glaze thickens slightly. -Stir in the red pepper flakes, and cook, stirring occasionally for an additional 3-4 minutes. -Remove from heat and cool completely. *Note – the glaze will thicken slightly as it cools. -Cool completely and store in an air-tight container in the refrigerator for up to 3 weeks.
To make Coconut Lime Brown Rice:
2 cups instant brown rice
1 cup water
1 cup light coconut milk
1 teaspoon salt
½ teaspoon black pepper
-Add the water, coconut milk, salt, and pepper to a saucepan and bring to a boil. -Add the rice and stir well. Cover and cooking according to the package directions. -Add fresh chopped cilantro and a squeeze of fresh lime juice to the rice before fluffing and serving. -Serve along with the Whiskey Glazed Roasted Shrimp as the main course.
*NOTE – calorie calculations are based on the shrimp alone and not with the addition of the coconut brown rice.
Nutrition
Serving:
1
serving
Calories:
185
kcal
Carbohydrates:
1
g
Protein:
31
g
Fat:
2
g
Saturated Fat:
1
g
Polyunsaturated Fat:
1
g
Monounsaturated Fat:
1
g
Cholesterol:
381
mg
Sodium:
1756
mg
Potassium:
123
mg
Fiber:
1
g
Sugar:
1
g
Vitamin A:
1
IU
Vitamin C:
6
mg
Calcium:
220
mg
Iron:
3
mg
Thank you so much for visiting me here today in my Kudos Kitchen!
I sincerely hope you've enjoyed today's fast and easy roasted shrimp dish as much as I've enjoyed bringing it to you!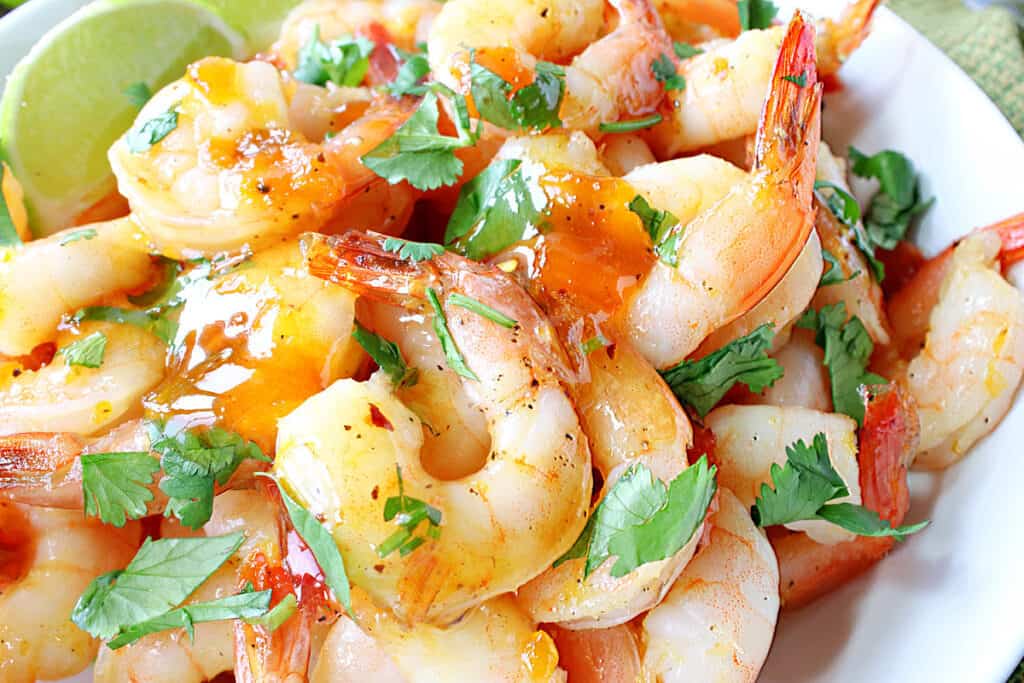 Should you have any questions or comments regarding this recipe or anything else you've seen on my site, please don't hesitate to reach out to me. It is always my distinct pleasure to get back with a reply just as soon as I possibly can!
**Note – The post above includes affiliate links. As always, I truly thank you for your support!
When I find a great product or service I like to share it with my readers. For additional information please view my privacy policy.