Vesuvio Potatoes and Gravy are crispy golden-brown potatoes bathed in a rich gravy flavored with rosemary, wine, capers, and topped with Parmesan cheese.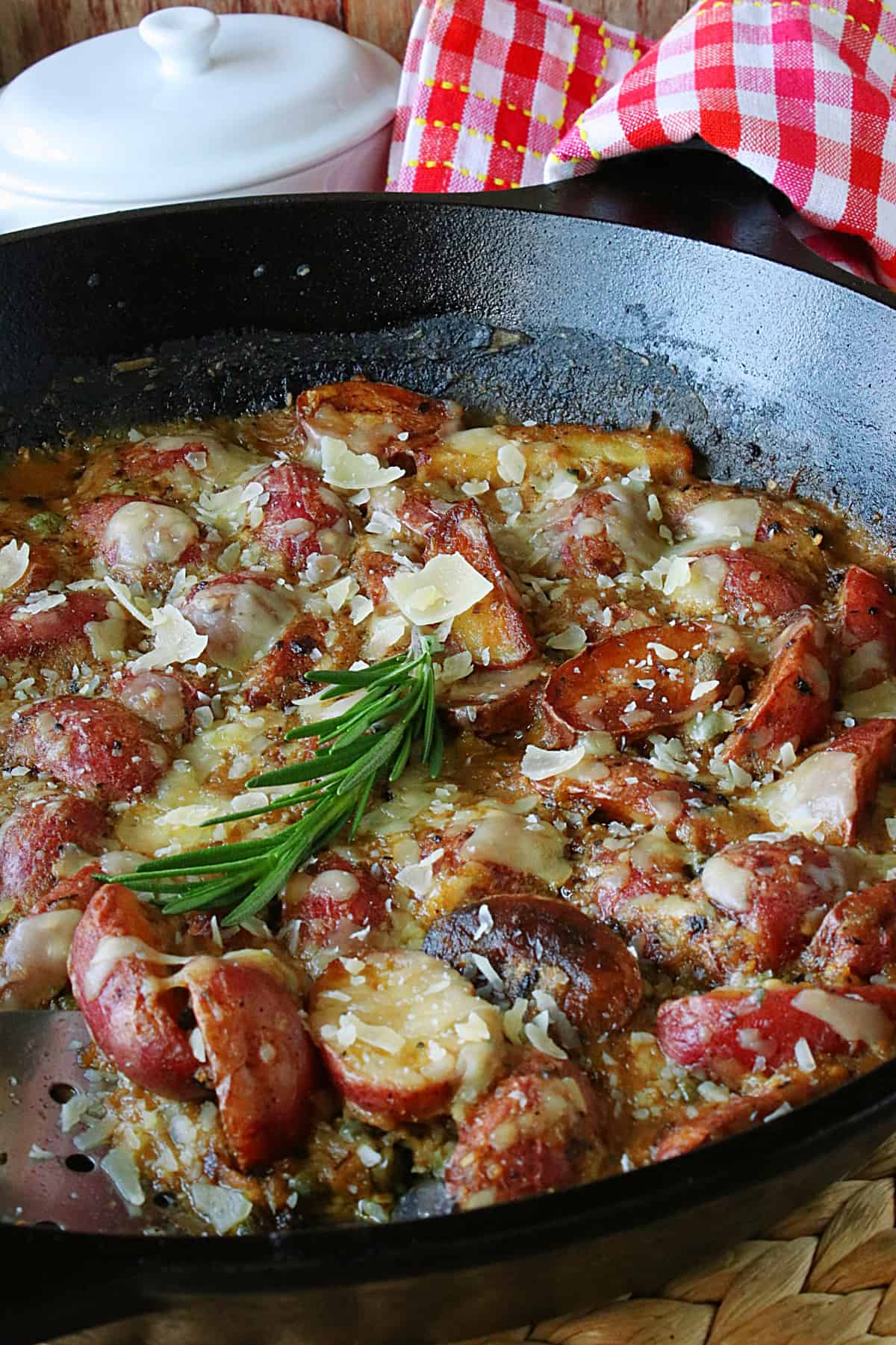 The inspiration for this dish came from an Italian classic, Chicken Vesuvio. I opted to leave the chicken out this time and go with only the potatoes. It was a delicious decision I'm delighted to have made. I know you'll also be happy after your first bite.
Jump to:
The ingredient list:
*Please note that the exact measurements along with a new "shop the recipe" feature from Instacart is available in the printable recipe card.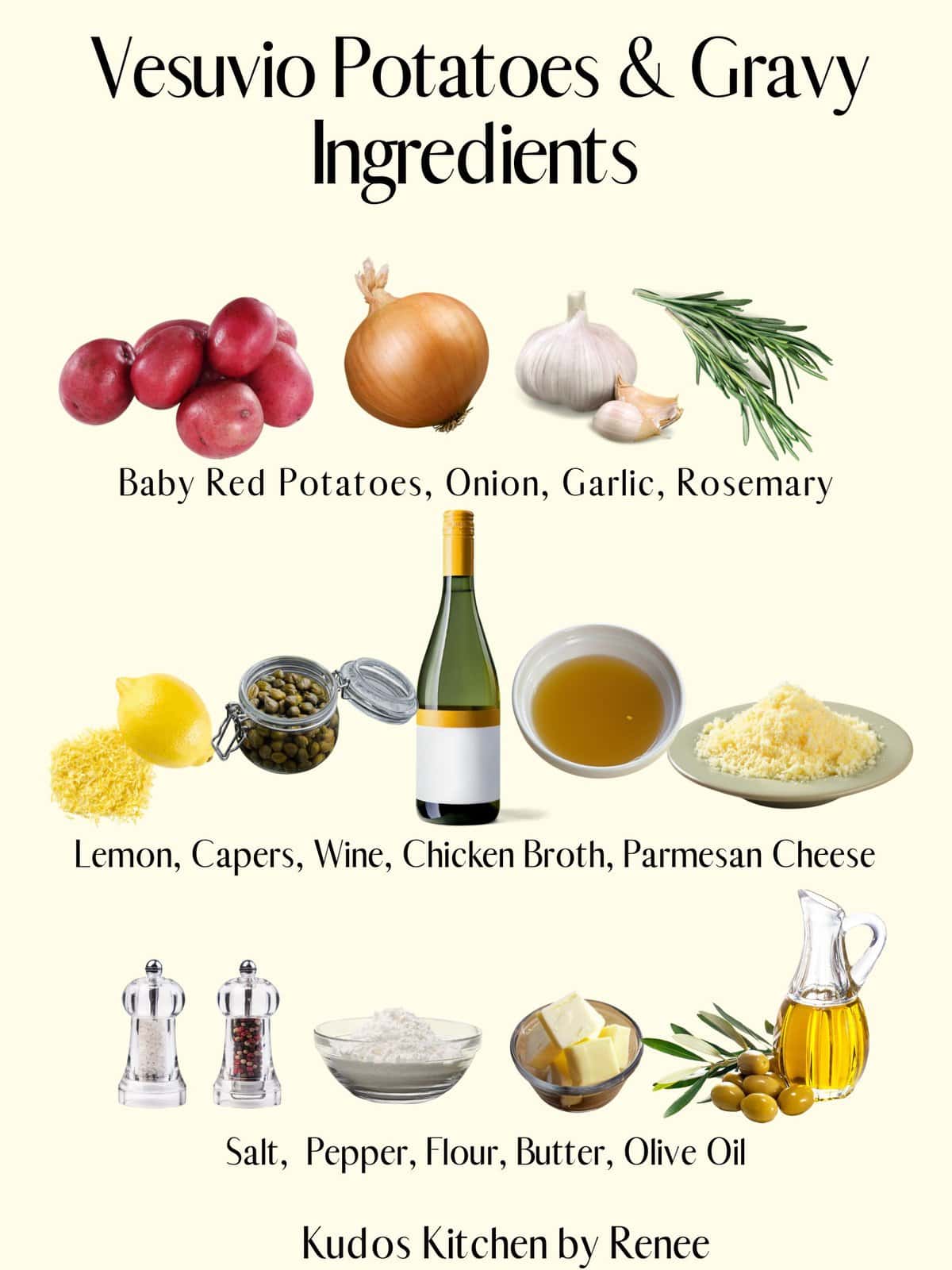 Ingredient Information:
BABY RED POTATOES - These are my potatoes of choice for this dish. A waxy potato (such as these red potatoes) holds up well to pan frying and won't fall apart when fully cooked like a starchy potato. See below for more information regarding waxy and starchy potato varieties.
OLIVE OIL - Since these potatoes are pan-fried at a relatively high temperature, the olive oil doesn't have to be extra virgin. If you have a choice, use a second press olive oil or even substitute grapeseed or canola oil. However, an extra-virgin olive oil will work deliciously well if that's what you have.
BUTTER - Salted butter is your friend. Adding butter to this dish adds a rich, deliciousness that only butter can provide. After all, everything's better with butter...especially potatoes!
MINCED ONION - I adore onions and add them to almost all of my savory recipes. Use whatever variety of onions you have in your kitchen. Mince the onion finely (or you can even grate it on a box grater) so the texture will melt into the background and only the flavor remains.
LEMON ZEST AND JUICE - It may seem obvious, but if it isn't, always zest (or peel) a lemon before juicing. The lemon zest and juice in this recipe are very important because they brighten the dish's flavor and cut through the richness of the gravy.
MINCED GARLIC - It's your call if you want to leave this ingredient in or out. Like onion, garlic is pretty much in all my savory recipes. That said, feel free to substitute garlic powder (1 teaspoon) if you love garlic flavor but don't have fresh garlic cloves.
CHOPPED ROSEMARY - Earthy, piney, and highly fragrant. A little rosemary will go a long way to elevating the flavor of any savory dish.
If you're not a fan (don't worry, I'll still love you), substitute fresh thyme leaves or basil. Dried herbs may also be used, but decrease the amount called for in this recipe by half if using dried herbs instead of fresh ones.
WINE - This ingredient will add a depth of flavor but not smack you over the head. I enjoy using a chardonnay but feel free to use whatever wine you may have open (but not a red or sweet wine). See below for substitutions and suggestions.
CAPERS - Even though there are many capers called for in this recipe, they're what make the most significant impact, and they're the ingredient everyone thinks of when the word Vesuvio is attached to any dish. I highly suggest you leave these little flavor bombs in when you make this recipe.
PARMESAN CHEESE - Always use the best quality Parmesan cheese you can. It doesn't matter if it's grated, shaved, or shredded. Quality is what matters most. If you'd like to opt out of using Parmesan cheese, please see below for substitution suggestions.
ALL-PURPOSE FLOUR - The gravy requires a thickening agent, so that's where the flour comes into play. However, If you'd prefer to make this dish gluten-free, a slurry of broth (or water) and cornstarch (½ cup liquid and two tablespoons cornstarch) will thicken the gravy.
CHICKEN BROTH - I almost always have chicken broth in the pantry, but chicken stock, beef (broth or stock), and even vegetable broth will work in this recipe. If you want to make this recipe vegetarian, please choose the vegetable broth.
SALT AND PEPPER - I use kosher salt and freshly ground black peppercorns. If using table salt, use less (half the amount) than what's called for in this recipe. Table salt and kosher salt measure differently because of volume.
Recommended kitchen tools and equipment:
large skillet (I prefer cast iron)
slotted spoon
chef's knife
measuring cups and spoons
microplane or vegetable peeler
cheese grater (optional)
box grater (optional)
garlic press (optional)
kitchen timer (optional)
dish cloth (optional for the hot cast iron skillet handle)
cooling rack
Ingredient substitution suggestions:
Baby red potatoes aren't set in stone here. Feel free to substitute your favorite waxy potato variety.
Waxy potatoes are best because they hold their shape while cooking and won't fall apart as a starchy variety will. In this recipe, Yukon gold potatoes will substitute for the baby reds, as will any colorful selection of baby potatoes or even fingerlings.

White wine is preferred in this potato dish, but as you'll notice in my video, I used a rosé because that's what I had. I would not suggest using red or sweet wine (such as a Reisling) as those choices would alter the dish's looks and/or final flavor entirely.

Feel free to substitute your favorite type of cheese to top off this skillet potato and gravy dish. The Parmesan is a nice touch to emphasize the Italian inspiration of this recipe, but of course, you can use your favorite variety of cheese as a topping or leave it out entirely. It's your call.
Waxy vs Starchy potatoes:
Waxy potatoes have a low starch and high moisture content making them perfect for potato dishes where you want to "see" the individual potatoes in a dish. Waxy potatoes also have thin skins, so you don't have to deal with fussy potato peeling.

Starchy potatoes have a very high starch and low moisture content, making them drier, fluffier potatoes and better for mashing and baking. Many people find the peel of a starchy potato unappetizing and will discard it.
Examples of waxy potatoes:
new potatoes
French fingerlings
baby potatoes
red bliss
Examples of starchy potatoes:
russet potatoes
Idaho potatoes
Renee's top tip for recipe success:
Let the skillet do the work!!
When browning and crisping the potatoes, it will be tempting to flip them around as they cook, but don't do it! The longer the potatoes stay cut-side-down, in the hot skillet without being stirred, the browner and crispier the potatoes become!
If using a cast iron skillet, ALWAYS place an oven mitt or towel over the skillet's handle. See below under "safety first" for the reason why.
How long does this recipe take from start to dinner:
Roughly 30 minutes.
20 minutes to brown the potatoes in the skillet, and then make the gravy. And 10 minutes to finish the skillet potatoes in the oven to melt the cheese.
How to thicken the gravy without gluten:
Make a slurry using cornstarch and broth or water. See above under "ingredient information" for all-purpose flour.
How many servings does this skillet potato dish make?
As written this recipe serves 6 with each serving equaling approximately 1 cup of potatoes and gravy.
Renee's alternative method for zesting citrus:
If you don't have a microplane or zester at your disposal, using a vegetable peeler is a quick and easy way to get the peel off of any citrus fruit without grabbing too much of the white butter pith. You can also pulse the peels in a food processor for an even finer texture of zest if you prefer that to chopping.
Can this skillet potato dish be frozen after cooking?
Yes. Cool the potatoes completely and store them in an airtight freezer container and freeze for up to 3 months.
Thaw in the refrigerator overnight and reheat in a skillet, oven (uncovered), or microwave (covered)
How to store leftovers:
Add the leftovers to an airtight refrigerator container and store in the refrigerator for up to 5 days.
What are capers and how do they taste?
Capers are flower buds grown on a "caper tree" in the Mediterranean. After picking, they are dried and packed into a briny salt or vinegar solution

Capers lend a briny, salty, and puckery umami flavor to all savory dishes.
Safety first:
When cooking with a cast iron skillet, it's imperative to remember that the ENTIRE pan gets hot, including the handle.

Always make sure to cover the handle with a dish towel or oven mitt (away from the open stovetop flame) whether cooking in the oven or on a stovetop.

The towel or mitt will be a visual safety reminder and prevent anyone from grabbing a hot, unprotected handle and a nasty burn.
Make it a complete meal:
Looking for a new "twist" on serving spaghetti? Look no further. Spaghetti Stuffed Bell Peppers will surprise and delight the entire family.
Roasted Garlic Cheese Bread with Rosemary and Smoked Mozzarella works equally well as a delicious appetizer, a side dish for a BBQ or family meal, or even a meatless entrée. It's utterly delicious no matter how to plan to serve it!
Lemon Ricotta Cake with Blueberries is an easy cake to make. It has a creamy texture, a light lemony flavor, and it takes advantage of springtime's bounty of beautiful blueberries.
Additional Italian-inspired dishes you'll also enjoy:
In the blink of an eye, and in only the time takes to cook Italian sausages you can have a deliciously easy Caprese Sausage Sandwich for dinner tonight!
Cheesy Tomato Bacon Pasta is tiny pasta in a smooth, creamy mascarpone sauce with a hint of bacon. It's a wonderfully easy, comforting, and delicious dish.
Pepperoni Pizza Hasselback Zucchini is a great way to get the kids to eat their veggies. This stuffed zucchini recipe is a sure-fire family winner.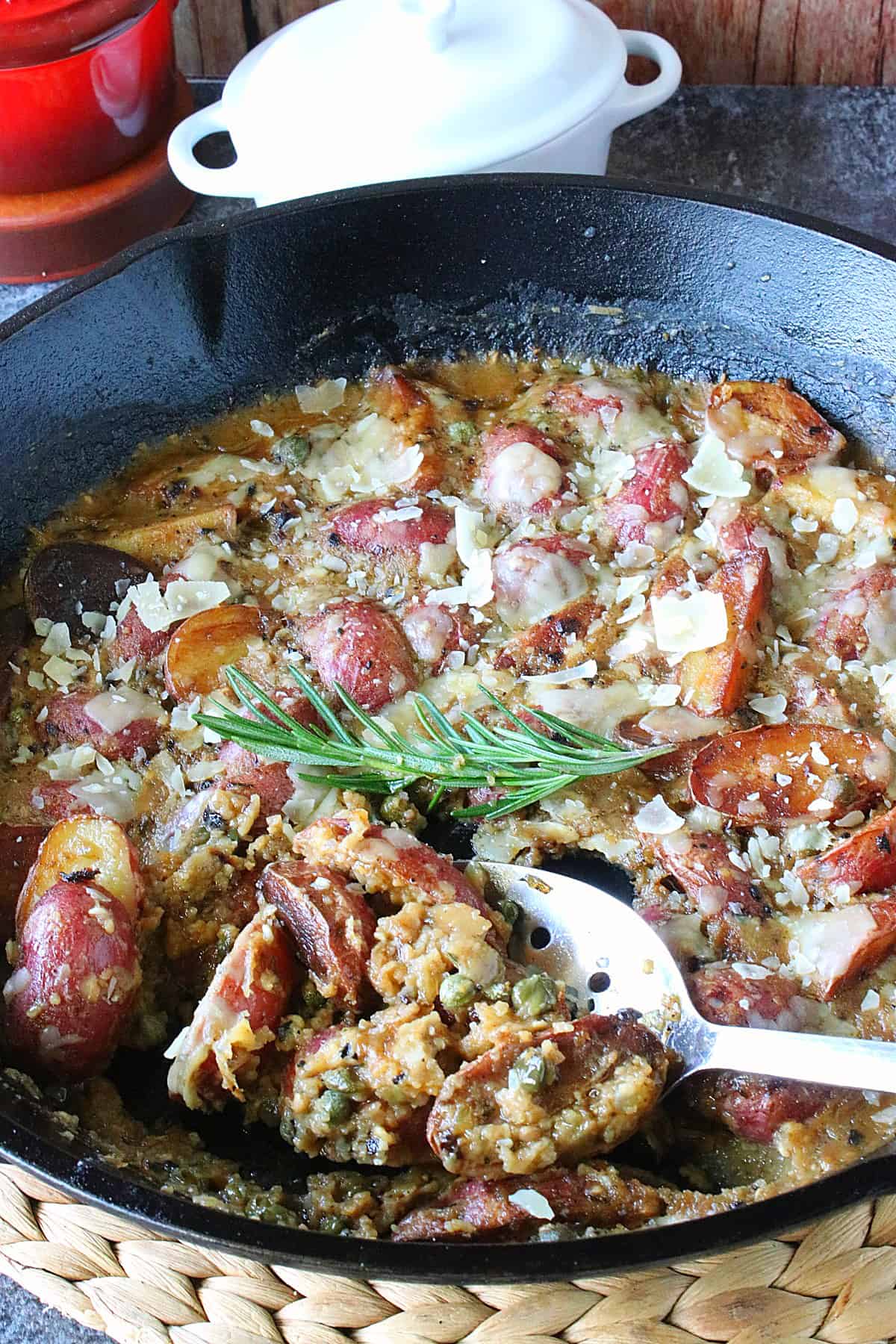 When you make this recipe, and I hope you do, I'd appreciate it if you'd take a moment to leave a star rating on the recipe card and briefly comment on why you rated it as you did. FYI - Google appreciates recipe ratings and, in turn, will share my recipes with more people. Thank you so much!!
Printable Recipe Card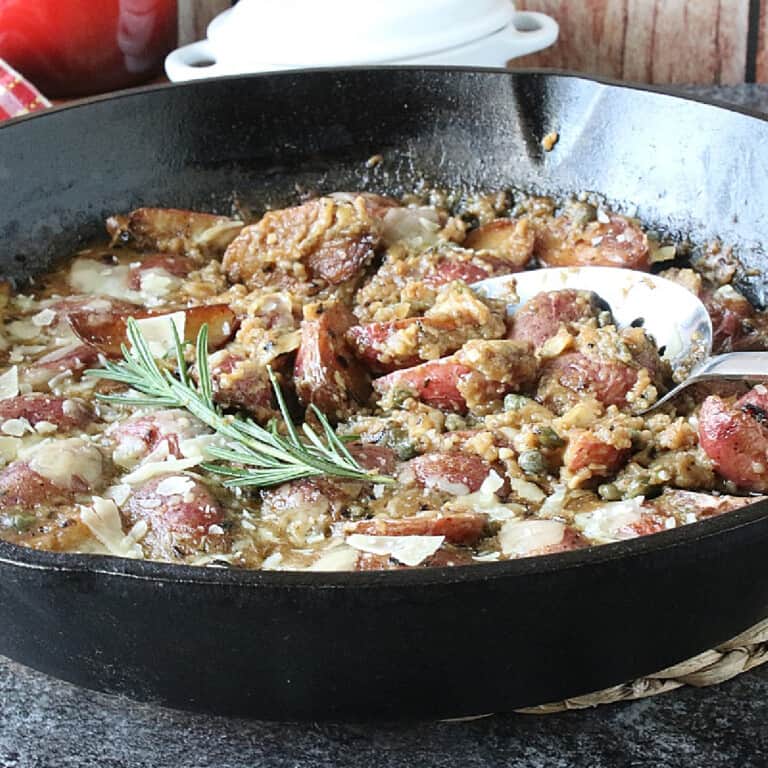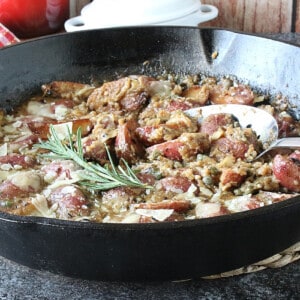 Vesuvio Potatoes and Gravy
Tender and crispy golden-brown potatoes are bathed in a rich gravy flavored with rosemary, wine, capers and then topped with Parmesan cheese.
Ingredients
2½

pounds

baby red potatoes

halved and quartered (depending on size)

3

tablespoons

olive oil

3

tablespoons

butter

½

cup

finely minced onion

1

teaspoon

finely minced lemon zest

1

tablespoon

chopped fresh rosemary

3

tablespoons

all-purpose flour

2

tablespoon

capers

drained

1

tablespoon

fresh lemon juice

¼

cup

white wine

4

cloves

garlic,

minced

1½

cups

chicken broth

or stock

¼

cup

shredded Parmesan cheese
Instructions
Preheat oven to 350 degrees Fahrenheit (175 Celsius)

Heat the oil and butter in the skillet over medium/high heat. Add the prepared potatoes cut side down in the skillet. Stir well to coat the potatoes with the butter and oil.

Once coated, arrange the potatoes cut side down in the skillet and cook, without stirring, for at least 7 minutes, or until the potatoes are golden brown.

Add the minced onion, rosemary, and lemon peel to the potatoes. Stir and cook an additional 5 minutes.

Remove the potatoes from the skillet using a large slotted spoon and set them aside.

Reduce the heat under the skillet to medium and add the flour. Stir well and cook for at least 1 minute. Add the capers, wine, and chicken broth to the skillet and cook, stirring occasionally, until the gravy thickens.

Add the potatoes back into the skillet and stir well to coat the potatoes with the gravy.

Top the potatoes with the Parmesan cheese and carefully place the skillet into the preheated oven for 10 minutes, or until the cheese has melted.
Notes
Store any leftovers in an airtight container in the refrigerator for up to 5 days.
May be frozen after cooking in an airtight freezer container for up to 3 months.
Nutrition
Serving:
1
serving
Calories:
297
kcal
Carbohydrates:
36
g
Protein:
6
g
Fat:
14
g
Saturated Fat:
5
g
Polyunsaturated Fat:
1
g
Monounsaturated Fat:
7
g
Trans Fat:
0.2
g
Cholesterol:
20
mg
Sodium:
445
mg
Potassium:
925
mg
Fiber:
4
g
Sugar:
3
g
Vitamin A:
240
IU
Vitamin C:
19
mg
Calcium:
71
mg
Iron:
2
mg
I sincerely hope you've enjoyed today's delicious skillet Vesuvio Potatoes and Gravy as much as I've enjoyed bringing it to you!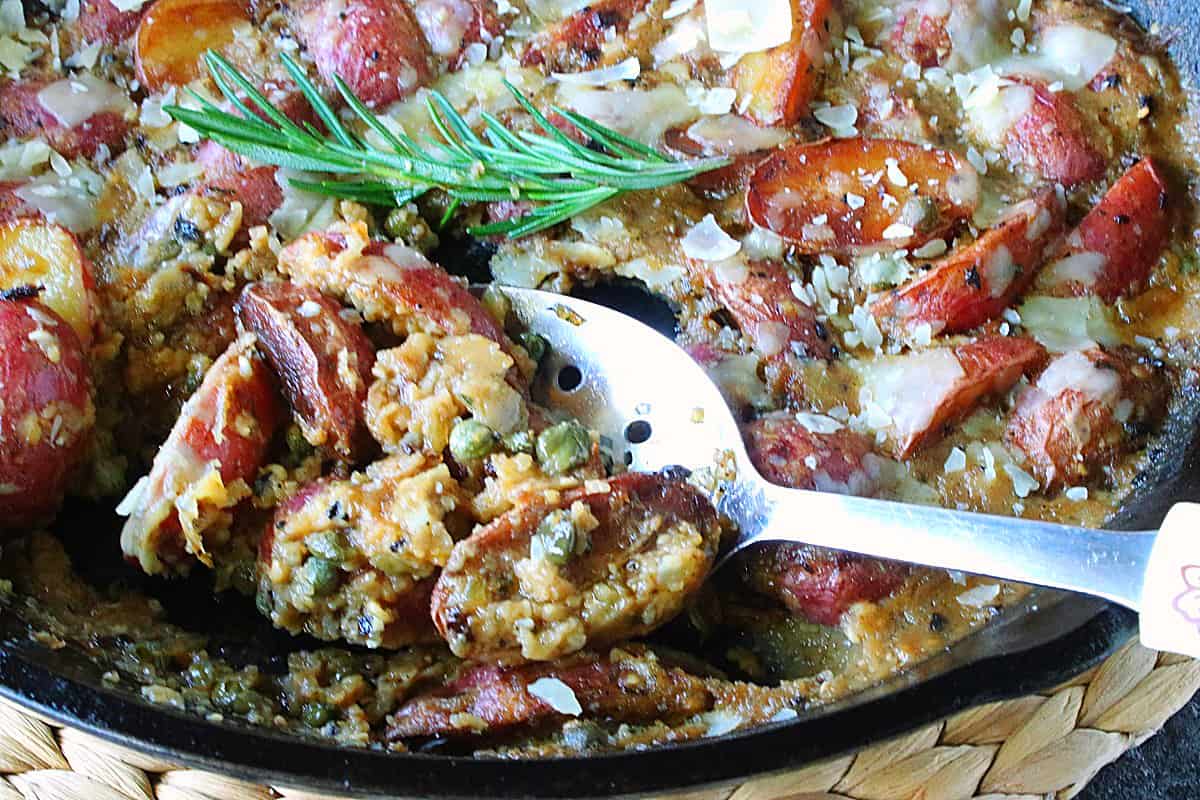 Follow me across my social media platforms and join in on the conversation: FACEBOOK, INSTAGRAM, PINTEREST, TIKTOK, AND YOUTUBE.
Thank you so much for visiting me today in my Kudos Kitchen. I hope you found something you'll love and that you'll come back and visit me often. There is always room for you around my table!
Should you have any questions or comments regarding anything you've seen here on my blog, please don't hesitate to reach out to me. It is always my distinct pleasure to respond to you just as soon as I possibly can.
Until we eat again, I hope you have a delicious day!!