Pepperoni Pizza Hasselback Zucchini is a great way to get the kids to eat their veggies. This stuffed zucchini recipe is a sure-fire family winner.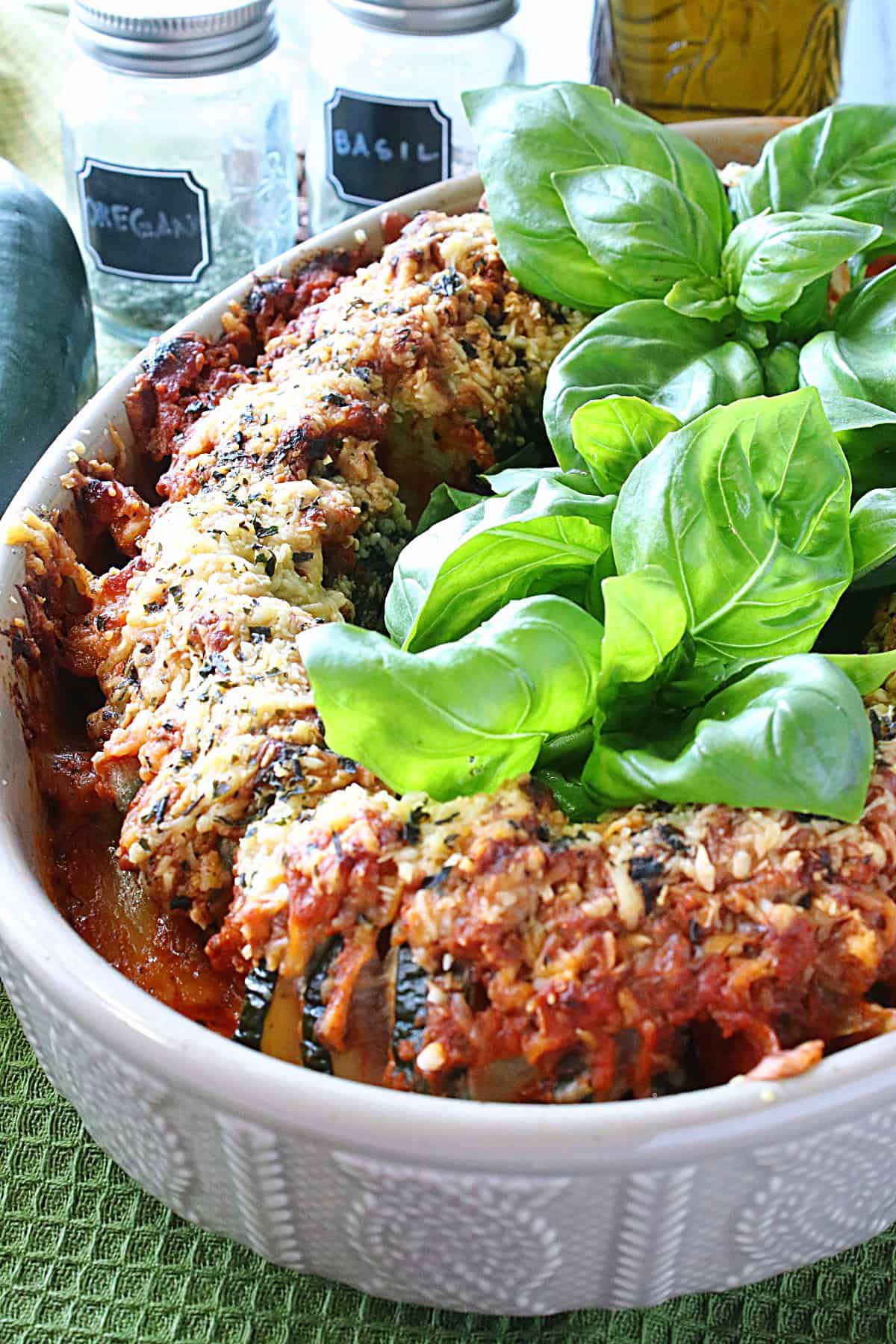 This easy vegetable dish is a great seasonal recipe to make when summer zucchini is at its peak. However, this recipe can also be made and enjoyed all year through since zucchini is always available in the market regardless of the season.
🛒 The ingredient list:
ZUCCHINI - Medium size works best for this dish. You'll notice that I used two medium-sized zucchini for this particular recipe.
OLIVE OIL - Always purchase extra virgin olive oil that's in a dark bottle. Light will effect the taste and longevity of olive oil and a dark bottle will keep it fresher, longer.
PROVOLONE CHEESE SLICES - I cut the cheese rounds into quarters. For this recipe I used an entire package (12 ounces) of sliced provolone.
PEPPERONI SLICES - Use your favorite brand. I used approximately 12 ounces of sliced pepperoni.
SALT AND PEPPER - I like to use kosher salt for basically all my cooking and baking, and I also like to use fresh cracked black peppercorns whenever possible.
MARINARA SAUCE - You'll see that I used jarred marinara sauce when making this recipe. However, if you have homemade sauce, by all means, use it.
GRATED PARMESAN CHEESE - I like to purchase my grated Parmesan cheese in the produce department. For convenience I purchase the pre-grated cheese that's already in a plastic container, or bag. I stay away from the stuff in the green can on the supermarket shelves, but if that's what you have and like, use it.
Of course, freshly grated Parmigiano Reggiano cheese from a wedge or block is where you'll get the best and most flavor. If you have access to that, I encourage you to use it. The difference in taste is a game-changer.
DRIED BASIL - Use your favorite brand but I recommend crushing it with your fingers before adding it to a dish to release the oils and extract the most flavor.
DRIED OREGANO - The same goes for oregano. Always crush dried herbs with your fingers to ensure the best flavor.
❓ What is Hasselback cooking and how is it done?
Hasselback is a cooking technique where evenly spaced slices are cut along the length of a potato or vegetable, and then those slices are stuffed with yummy ingredients for an extra kick of flavor. It's an easy way to turn the ordinary into extraordinary, and who doesn't appreciate that?
The Hasselback method of cooking is used primarily on potatoes and certain types of vegetables, but baked goods like bread and rolls have also been benefitting from the Hasselback experience from time to time. Talk about delicious!!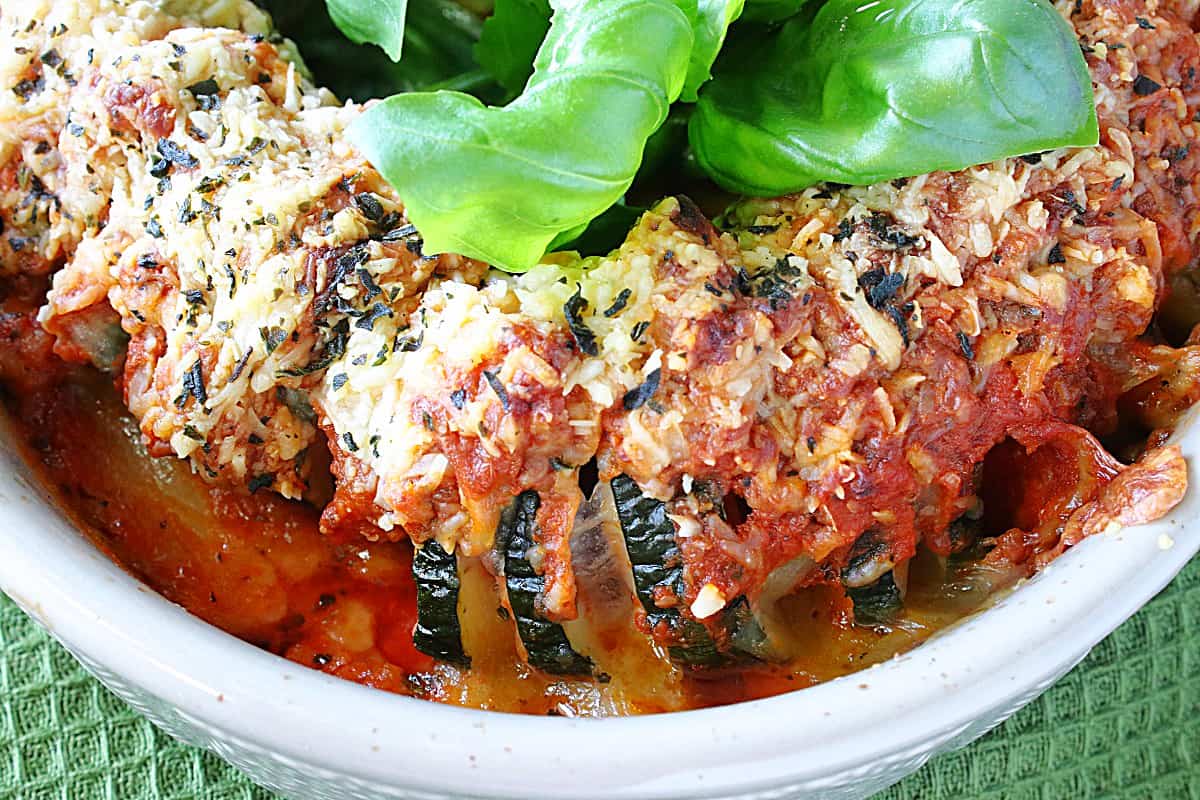 🔪 Kitchen tools and equipment needed:
Chopsticks or BBQ skewers that are at roughly ¼" in diameter work great as a cutting guide to slice the zucchini. Two thin cutting boards will also work.
A wooden cutting board is always a must when working in the kitchen and my chef's knife is what I grab when chopping, dicing, and slicing.
An large oval baking dish or decorative 13x9 casserole dish is perfect when it comes to baking this in the oven, and for when it's time to serve.
For grating your own cheese, I own and recommend one of these rotary cheese graters to make quick work of a tedious task.
And lastly, when it's time to eat a serving spatula makes easy work of slicing and serving.
🔑 Important tips for making Pepperoni Pizza Hasselback Zucchini:
Start with the freshest ingredients you can. I happened to have lots of homegrown zucchini from our backyard garden, but I also always encourage purchasing from your local farmers market for the best and freshest ingredients.
An oval baking dish will work best for fitting in the Hasselback zucchini. When the zucchini are stuffed, they'll curl slightly after the filling forces them open.
If you don't have access to an oval baker, a 13 x 9 baking dish will also work. Just make sure to use a dish with sides because as the Hasselback zucchini cook in the oven they'll exude plenty of natural juices, and you certainly don't want that liquid spilling out onto the floor of the oven.
Chopsticks work great as a slicing guide when making this recipe. When the chopsticks are placed on either side of the zucchini before slicing they help guide the knife and prevent slicing all the way through the vegetable. The key is to cut slices ALMOST all the way through the zucchini, but still leave the slices attached at the very bottom.
When slicing the zucchini space the slices approximately ¼" apart along the entire vegetable. It's up to you if you chop off the ends of the vegetable. I needed to so the zucchini could fit into my baking dish.
When separating the slices to fill with the cheese and pepperoni, do so gently as excessive force will cause the vegetable to snap. If this does happen (it happened to me too), don't fret. Just fit the broken pieces together because once the dish is covered with sauce and cheese no one will be the wiser.
✎ Variations:
Feel free to use yellow summer squash for this recipe. It will work just as well as green zucchini.
Leave out the pepperoni if you'd like to make this dish vegetarian.
OR, if you'd like to swap out thin sliced ham or other types of thin sliced meats...go for it!!
Not a fan or provolone? No problem. Swap it out for your favorite thinly sliced cheese. Mozzarella, Swiss, Cheddar, or Monterey Jack are just a few that come to mind.
And what about the sauce for the top? How about a cheesy Alfredo sauce, or a creamy brown mushroom gravy? Ooh. Doesn't THAT sound good.
The sky is limit so have fun with this recipe. Use your imagination and have fun, because that's what cooking should be all about!!
📷 The step-by-step photo instructions:
Use chopsticks or skewers as a guide to Hasselback-slice two medium-size zucchini into ¼" slices (widthwise). See YouTube video for clarification of how this is done.
Place the sliced zucchini into a large oval or 13x9 high-sided baking dish.
Gently insert cheese and pepperoni slices in-between the slices made in the zucchini.
Continue the same process with the second zucchini.
Drizzle the Hasselback zucchini with olive oil.
Season liberally with salt and pepper.
Spoon marinara sauce over the top of the prepared zucchini.
Top the zucchini with plenty of grated Parmesan cheese and dried oregano and basil.
Preheat oven to 400 degrees for 10-15 minutes and then bake the Pepperoni Pizza Hasselback Zucchini for 30-35 minutes, or until the cheese has melted and is golden brown.
Allow to cool for 15 minutes, and if desired spoon some of the liquid from the baking dish before serving.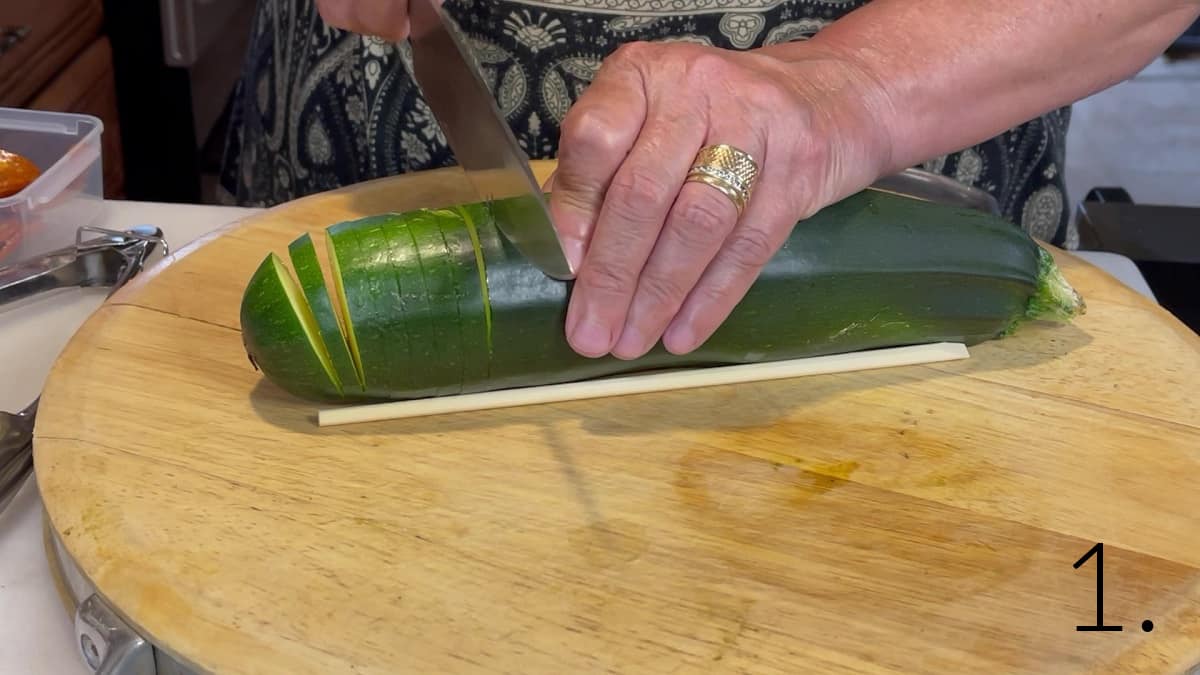 🔪⏲️ Prep time:
From start to finish this recipe will take approximately 50 minutes. 15 minutes to prepare the Hasselback zucchini, and 30-35 minutes to bake.
🌡️ Cooking temperature:
400 degrees Fahrenheit.
🧊 Can this dish be frozen after baking?
Honestly, I wouldn't recommend it. Because zucchini naturally have so much water, I believe the frozen filled zucchini (when thawed) would turn to mush.
📅 Storage information:
You can store any leftover baked Hasselback zucchini in an air tight container in the refrigerator for up to 5 days.
To reheat, preheat oven to 350-degrees, cover with foil and bake for 10-15 minutes, or until hot.
Or cover loosely with plastic wrap and and heat in a microwave until hot.
🥒Additional Zucchini Recipes:
These delicious Taco-Filled Zucchini Boats are super simple to make utilizing either store-bought taco seasoning or an easy blend of homemade pantry spices. The choice is yours.
When served in a bowl, Roasted Garlic and Zucchini Soup is a deliciously mellow yet super flavorful creamed soup. Or it can be served as a unique pasta sauce as a delectable main course or side.
Zucchini Ricotta Cookies with Blueberries are super soft, cake-like cookies with a light lemony flavor and a big burst of blueberry!
Gingerbread Bundt Cake with Zucchini is a deliciously moist and flavorful cake. It's a wonderful cake to serve any time of year, not just the holidays.
If you like soft, cakey cookies that taste wonderful and are actually good for you, get your box grater out! It's time to make these Zucchini Oatmeal Cookies with chocolate covered raisins.
When you make this recipe, and I hope you do, I'd appreciate it if you'd take a moment to leave a star rating on the recipe card and briefly comment on why you rated it as you did. FYI - Google appreciates recipe ratings and, in turn, will share my recipes with more people. Thank you so much!!
Printable Recipe Card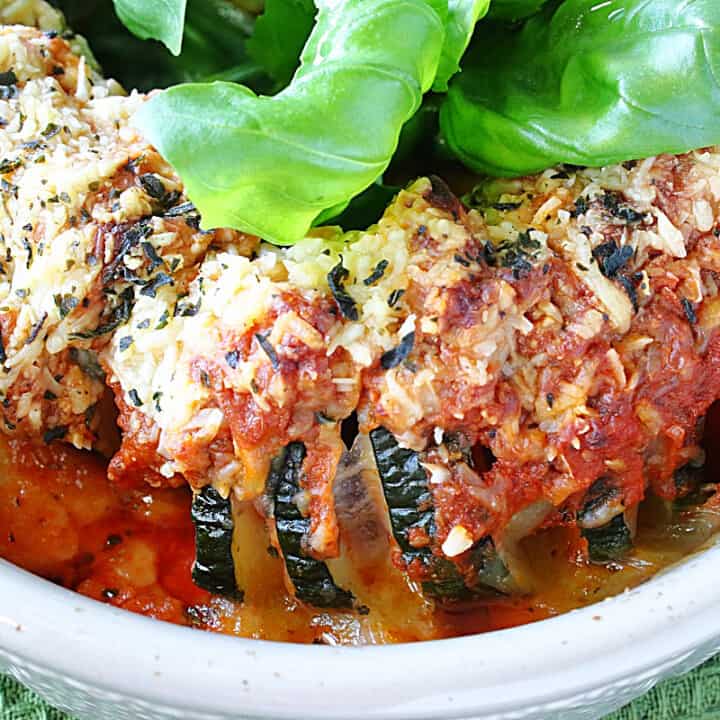 Pepperoni Pizza Hasselback Zucchini
Pepperoni Pizza Hasselback Zucchini is a great way to get the kids to eat their veggies. This stuffed zucchini recipe is a sure-fire family winner.
Ingredients
2

medium

zucchini

1

package (5 ounces)

sliced pepperoni

1

package (8 ounces)

sliced provolone cheese

2

tablespoons

olive oil

1½

cups

prepared marinara sauce

2

cups

grated Parmesan cheese

2

teaspoons

kosher salt

or to taste

1

teaspoon

black pepper
Instructions
Preheat oven to 400° Fahrenheit

Using a sharp knife and a cutting guide, slice the zucchini into ¼" slices all along the length of the zucchini making sure not to slice all the way through.

Gently pry the slices apart (being careful not to break the zucchini) and stuff each of the cuts with a slice of pepperoni and a slice of provolone that has been cut into quarters.

Drizzle the stuffed zucchini with olive oil and season with salt and pepper.

Spoon the marinara sauce over the zucchini in the baking dish and top evenly with the grated Parmesan cheese.

Bake uncovered in a preheated oven for 30-35 minutes. Remove and cool for 10-15 minutes before serving.
Notes
I don't recommend freezing this completed dish as it will be mushy when thawed.
Store leftovers in an air tight container in the refrigerator for up to 5 days.
Reheat in a 350 degree oven or covered with plastic wrap in a microwave.
Nutrition
Serving:
1
serving
Calories:
314
kcal
Carbohydrates:
14
g
Protein:
17
g
Fat:
22
g
Saturated Fat:
9
g
Polyunsaturated Fat:
2
g
Monounsaturated Fat:
8
g
Trans Fat:
0.01
g
Cholesterol:
44
mg
Sodium:
2487
mg
Potassium:
629
mg
Fiber:
2
g
Sugar:
6
g
Vitamin A:
1031
IU
Vitamin C:
24
mg
Calcium:
475
mg
Iron:
2
mg
Follow me across my social media platforms and join in on the conversation: FACEBOOK, INSTAGRAM, PINTEREST, TIKTOK, AND YOUTUBE.
Thank you so much for visiting me today in my Kudos Kitchen. I hope you found something you'll love and that you'll come back and visit me often. There is always room for you around my table!
Should you have any questions or comments regarding anything you've seen here on my blog, please don't hesitate to reach out to me. It is always my distinct pleasure to respond to you just as soon as I possibly can.
Until we eat again, I hope you have a delicious day!!