Moist and meaty chicken thighs, along with red potatoes are cooked low and slow in a white wine caper sauce for this Italian classic of Slow Cooker Chicken Vesuvio.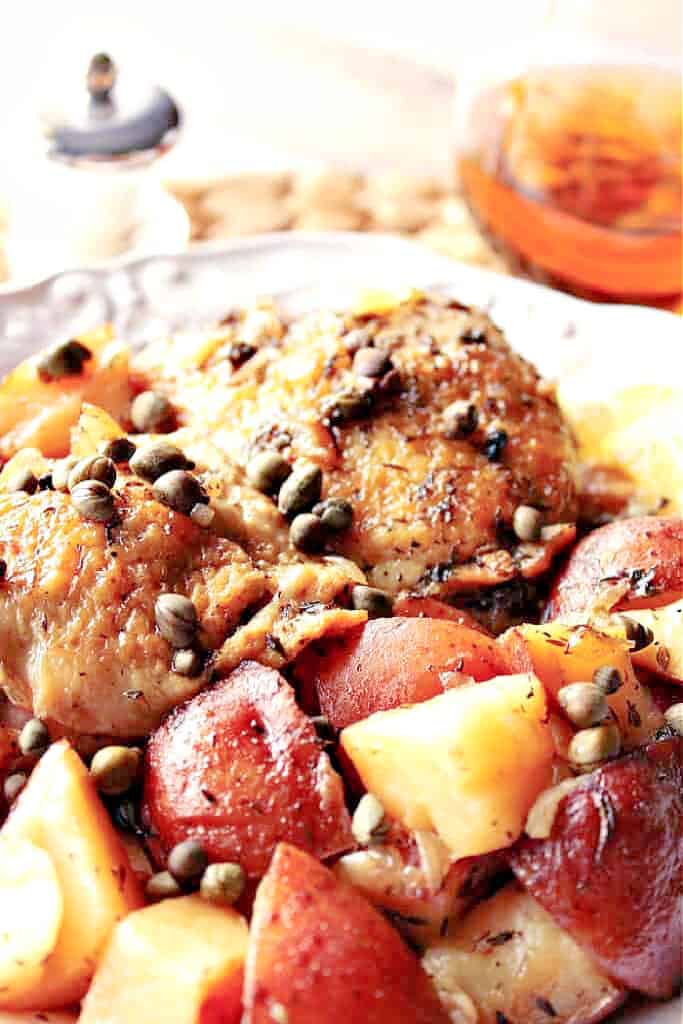 If you're looking for a robust chicken dinner that's packed full of delicious flavor and is also easy to prepare, then you need to add this chicken Vesuvio made in a slow cooker recipe to your meal calendar ASAP!
**Please Note – The printable recipe card with detailed instructions, complete ingredient measurements, and nutritional information for making Chicken Vesuvio in a slow cooker is available at the end of this post. OR you can hit the "jump to recipe" button (found above) to be taken directly to the recipe.
This recipe was originally shared in 2016. This post has been updated with additional information, including a recipe card complete with nutritional information, but the recipe itself has remained unchanged.
CLICK ON THIS BOX TO LIKE AND SUBSCRIBE TO MY KUDOS KITCHEN YOUTUBE CHANNEL. SEE YOU THERE! 🙂
The ingredient list:
**Note – The following lists of ingredients plus kitchen tools and equipment contain affiliate links (highlighted in blue) for your consideration and shopping convenience. #CommissionsEarned
olive oil
chicken thighs
shallots
white wine (I used a dry white)
red potatoes
chicken broth
capers
dry thyme (ground or leaves)
butter
lemon juice
salt and pepper (CAUTION: Go easy on the salt as the capers contain a good deal of briny flavor)
Kitchen tools and equipment needed:
How this recipe came to be:
Sometimes when I have an idea for a recipe and I need to make it without delay! That was the case for this Slow Cooker Chicken Vesuvio.
So much so that I asked my husband to please go to the market and pick up some chicken thighs, because I didn't have the patience to wait for the ones I had in the freezer to thaw. Thanks, honey!
Because I forgot to specify for him to buy boneless, skinless chicken thighs (the kind I normally use), my hubby picked up bone-in, skin-on chicken thighs.
Since I had no room to complain (he was nice enough to go to the store for me), and since I really wanted to give my idea for Slow Cooker Chicken Vesuvio a try right away, the bone-in, skin-on chicken is what I used, and how I wrote the recipe.
If however, you prefer boneless, skinless chicken thighs, go right ahead and use them. You won't need to alter the recipe one bit. Please continue with the same instructions written in the recipe.
Why this recipe works:
This Italian favorite of Chicken Vesuvio is a dish that works very well for the slow cooker.
If you can spare 15 minutes in the morning to prepare the chicken and then nestle everything in the cooker, by the time you get home in the evening, you'll swear you're eating dinner at a fancy Italian restaurant. But it's one where you can visit while wearing your pj's if you're so inclined. LOL
The skin on, or the skin off? That is the question…
Traditionally, chicken Vesuvio is made with bone-in, skin-on chicken, so my husband was correct in his purchase. Since I'm not a big chicken skin eater (unless it's fried and crispy), I remove it before eating.
In this recipe, the skin will help to add extra flavor to the sauce and potatoes, and the bones will add extra flavor to the meat itself.
Whether you're using skin-on or skinless chicken, the step you don't want to neglect is the browning of the chicken before adding it to the cooker.
That's the step that will add great depth and amazing flavor, and the one that will make your Slow Cooker Chicken Vesuvio a standout!
How to make slow cooker chicken Vesuvio:
In a large skillet over medium/high heat, brown the chicken thighs in olive oil on both sides, working in two batches.
Cut three pounds of red potatoes into 2″ chunks and layer the browned chicken and potatoes into a large (8 quart) slow-cooker.
Season the layers of potatoes with salt and pepper to taste, and top the final layer of potatoes with 1 jar (3.5 ounces) of capers.
Going back to the skillet, and on low heat and add 3/4 cup of white wine.
Add 2 cups of chicken broth to the skillet, making sure to scrape up the browned bits from the bottom of the pan.
Stir in dried thyme and butter.
Pour the pan sauce over the potatoes and chicken in the slow cooker.
Cover and cook on low for 8 hours.
Right before serving, add fresh lemon juice and stir.
Use a slotted spoon to remove the chicken and potatoes from the cooker.
Serve and enjoy.
Additional slow cooker main courses:
Slow Cooker BBQ Pulled Chicken Sandwiches: (shown below)
When you need to feed a crowd during the holidays with something that's delicious, and completely stress-free, these Slow-Cooker BBQ Pulled Chicken Sandwiches are just what the doctor ordered.
Slow Cooker Beef with Peppers, Onions, and Dill (shown below)
This super flavorful Slow Cooker meal is soon to become a family favorite for all the beef lovers…and who can blame them?
Slow Cooker Pulled Pork Tacos (shown below)
Slow Cooker Pulled Pork Tacos with Rice and Beans is an easy and flavorful "dump" recipe that will please the entire family. It's so simple, so flavorful, and takes only minutes to prepare.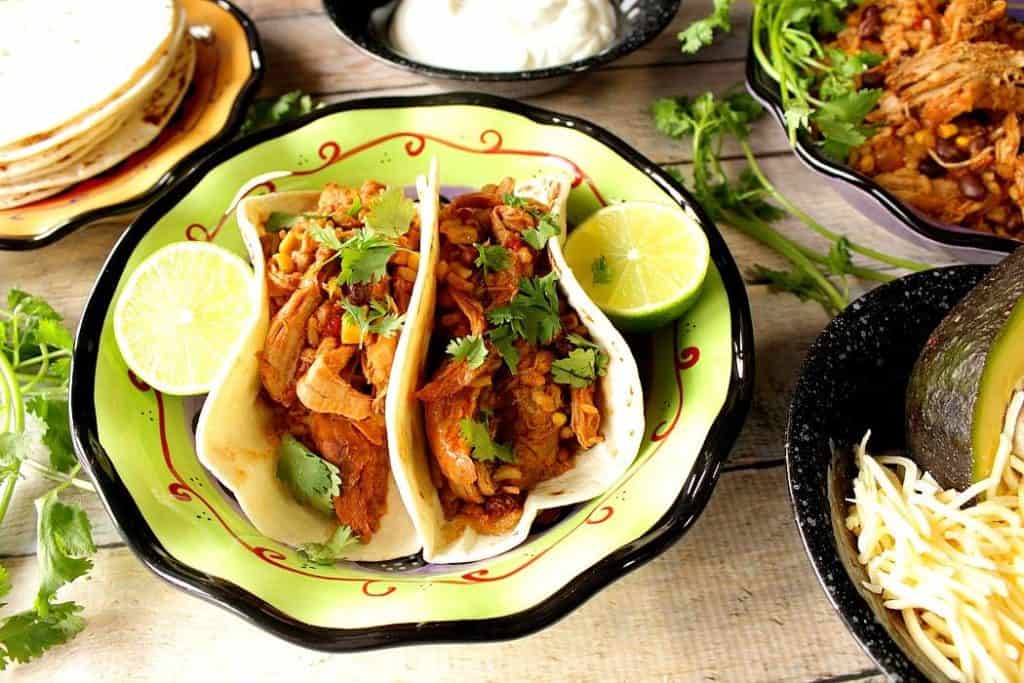 Slow Cooker Chicken Vesuvio (shown below) THIS IS THE PLACE!!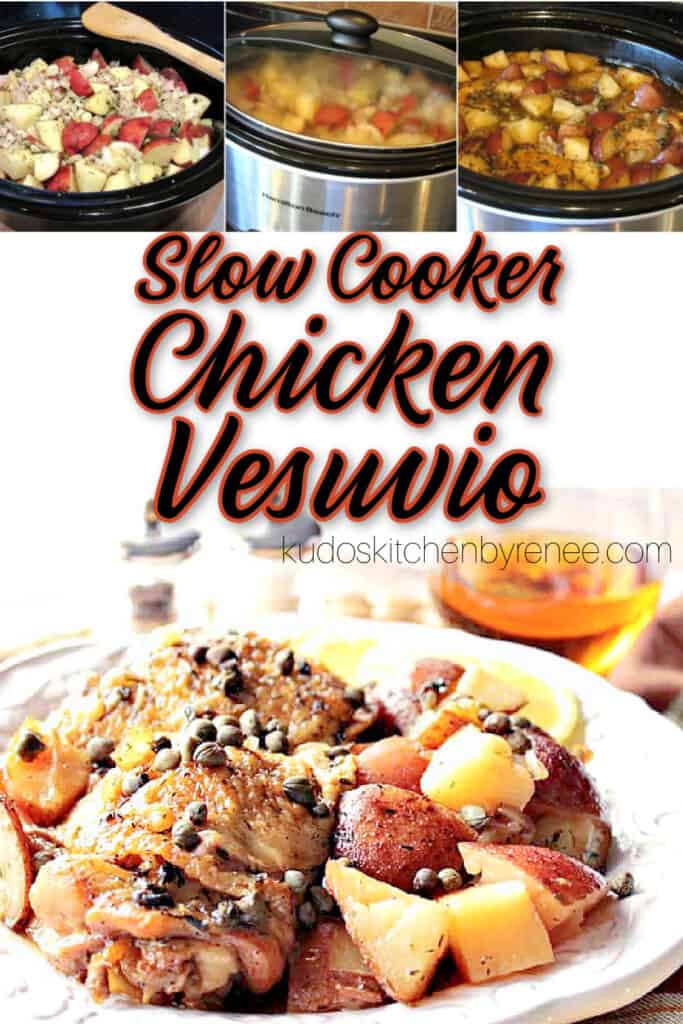 Below is the printable recipe card along with the exact ingredient measurements and nutritional information for making today's easy Italian chicken dinner in the slow cooker.
If you've made this recipe, or are excited to make this recipe, I'd appreciate it if you'd take a moment to leave it a star rating in the recipe card, along with a comment if you're so inclined. Thank you. 🙂
Thank you so much for visiting me here today in my Kudos Kitchen!
I sincerely hope you've enjoyed today's chicken main course for the slow cooker as much as I've enjoyed bringing it to you!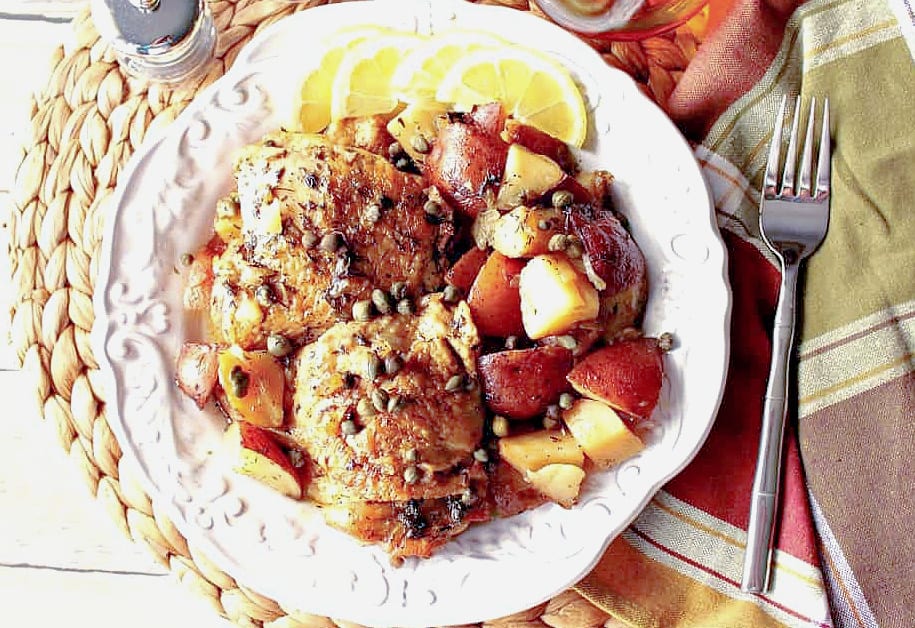 Should you have any questions or comments regarding this recipe or anything else you've seen on my site, please don't hesitate to reach out to me. It is always my distinct pleasure to get back with a reply just as soon as I possibly can!
For more Kudos Kitchen recipe information, please follow me on my social medial channels (listed below), and don't forget to TAG me @kudoskitchen with photos so I can view all your delicious recipe creations! It's exciting for me when you share them, so don't be shy!
Instagram, Pinterest, Facebook, and YouTube
Kudos Kitchen by Renee – BRINGING YOU EASY, ECONOMICAL, AND DELICIOUS DISHES TO FEED YOUR LOVED ONES!
Until we eat again, I hope you have a delicious day!
**Note – The post above includes affiliate links. As always, I truly thank you for your support!
When I find a great product or service I like to share it with my readers. For additional information please view my privacy policy.