Turkey and Smoked Gouda Grilled Cheese with Bacon and Apple is a MUST for all grilled cheese lovers! Trust me when I tell you that leftover turkey has never tasted so good!!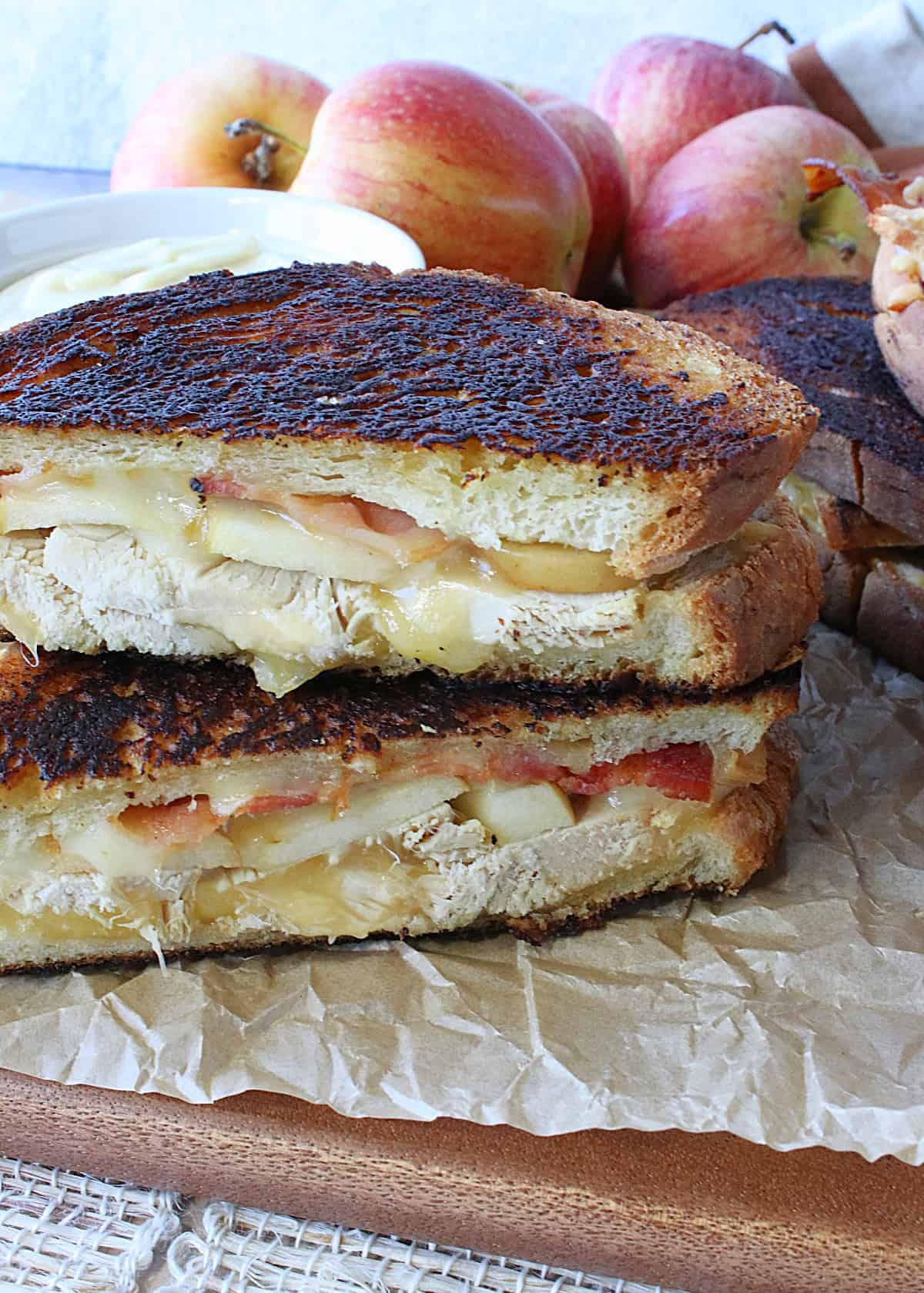 **Note - The following recipe post or category contains affiliate links (highlighted in blue) for your consideration. By clicking on a link I may earn a small commission at no additional cost to you. Thank you!
Jump to:
The ingredients needed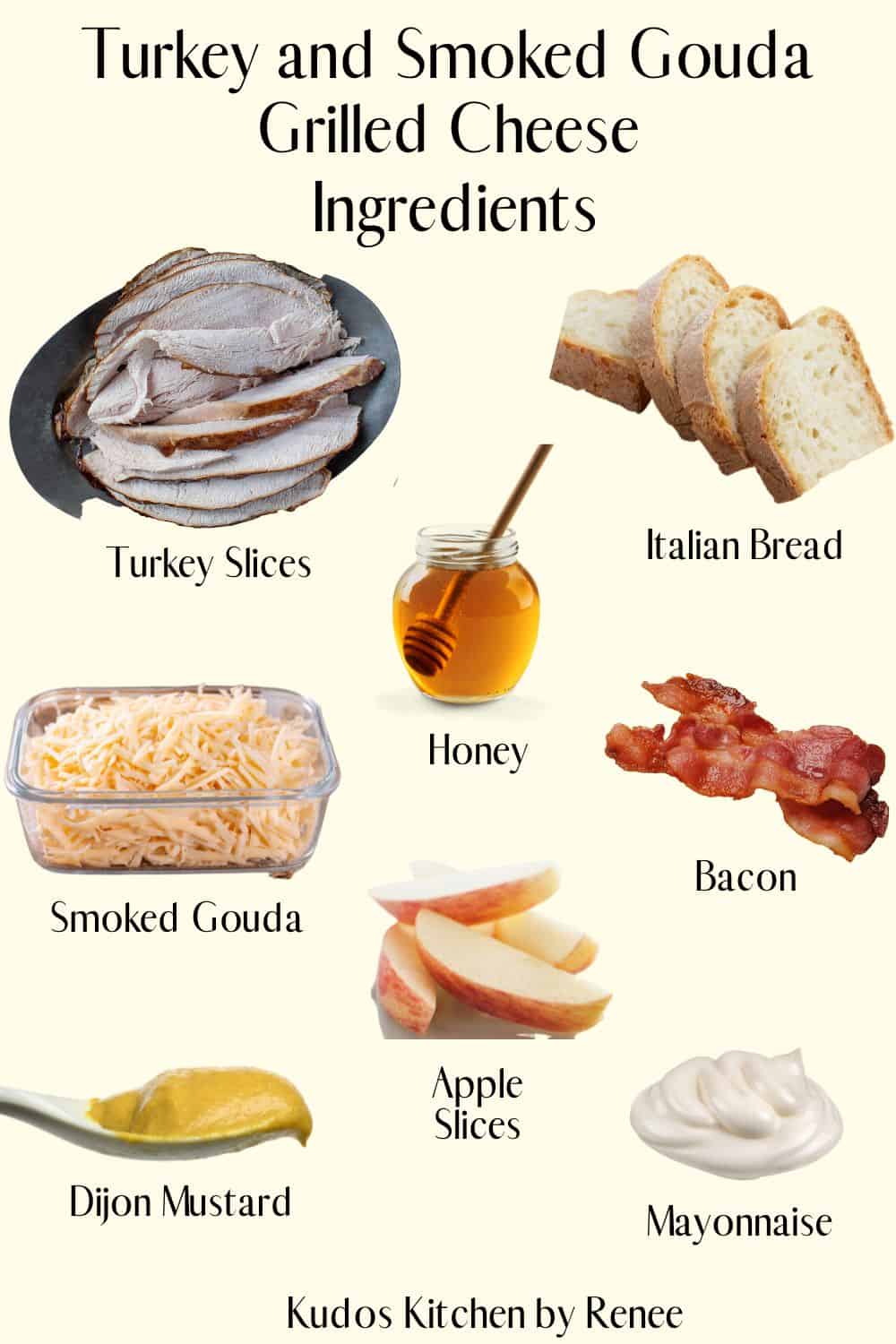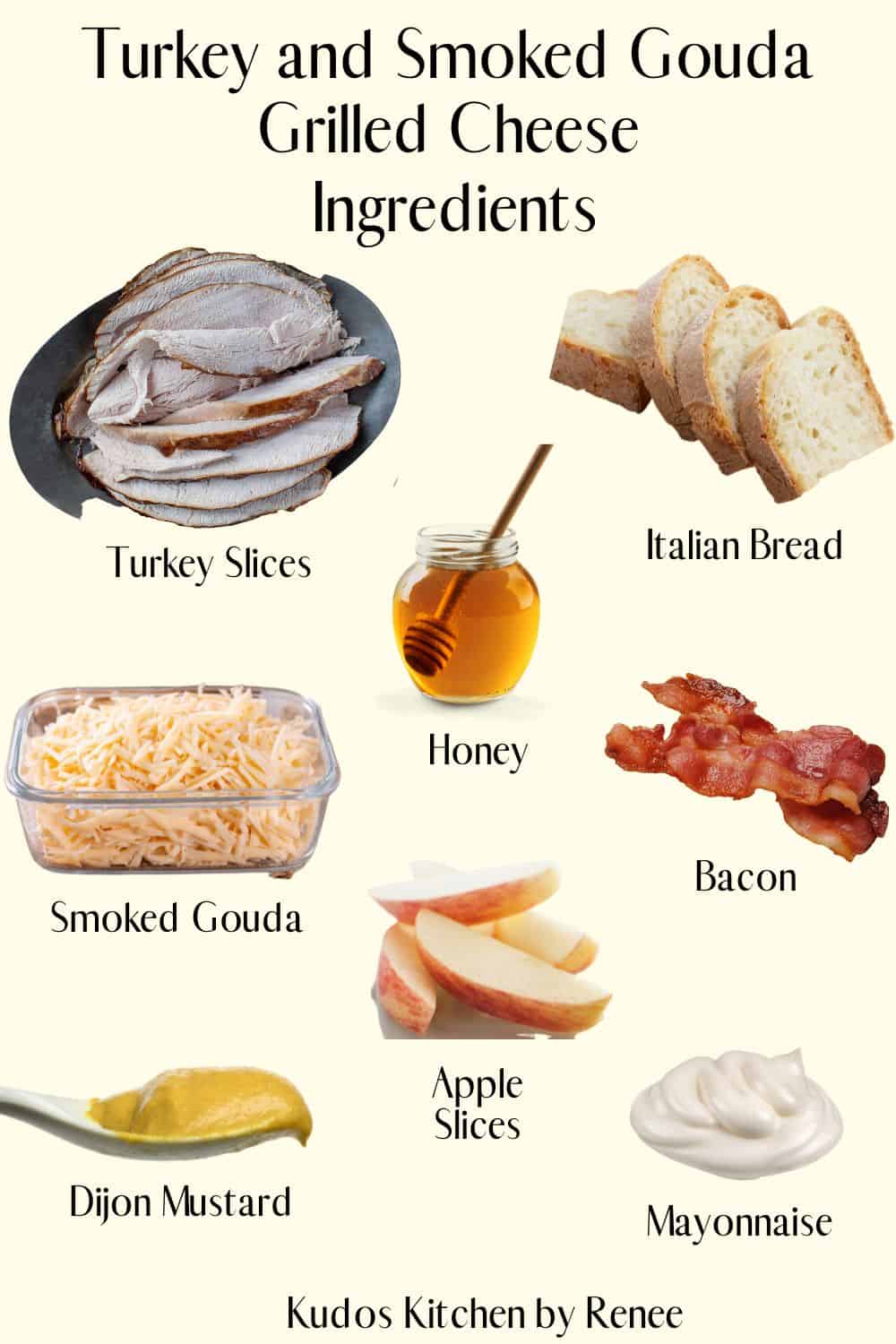 The above ingredient image was made using Canva Design. It's one of my very favorite design tools. You don't need to be a food blogger to use Canva. All you need to be is someone who loves designing graphics. Check them out if you're interested and a whole new world of artistic expression will be opened to you.
Ingredient savvy
I love smoked Gouda, which is why I chose it for this grilled cheese sandwich. Smoked Gouda has a nutty smoked flavor. It's buttery and creamy with a sweet and salty vibe. I urge you to use the smoked Gouda if you can but feel free to use a non-smoked variety if needed or preferred.
A loaf of good Italian bread is a tasty choice for this sandwich because it offers an excellent bread-to-filling ratio. Sliced Italian bread supplies an incredible crunchy bite (especially when grilled) and a lightly chewy texture.
I developed this grilled turkey and cheese sandwich recipe because I had leftover turkey slices from making my Brown Bag Roast Turkey recipe. Of course, this recipe doesn't need leftover turkey slices, but it's an excellent way to use them if you do! Feel free to use deli turkey slices if needed.
Bacon is an entirely optional ingredient for this sandwich (but not if you ask my husband), but it compliments the smoky flavor of the cheese nicely. Feel free to use your favorite variety or even the precooked bacon found in the market.
The apple slices nicely balance the flavor of this smoky grilled cheese sandwich by adding a fresh, bright sweetness. I used a Gala apple, but feel free to use your favorite tangy, crisp apple variety.
I opted to use a mayonnaise, Dijon mustard, and honey mixture for the outside of the bread as opposed to butter. Butter is always an excellent choice for making a grilled cheese sandwich, but the sweet honey, mayo, and mustard sauce is a delicious change from the ordinary. It can also serve as a dipping sauce for the completed sandwich. YUM!!
The easy instructions
Mix together the mayo, Dijon mustard, and honey.
Spread the mayo mixture on the underside slices of the Italian bread.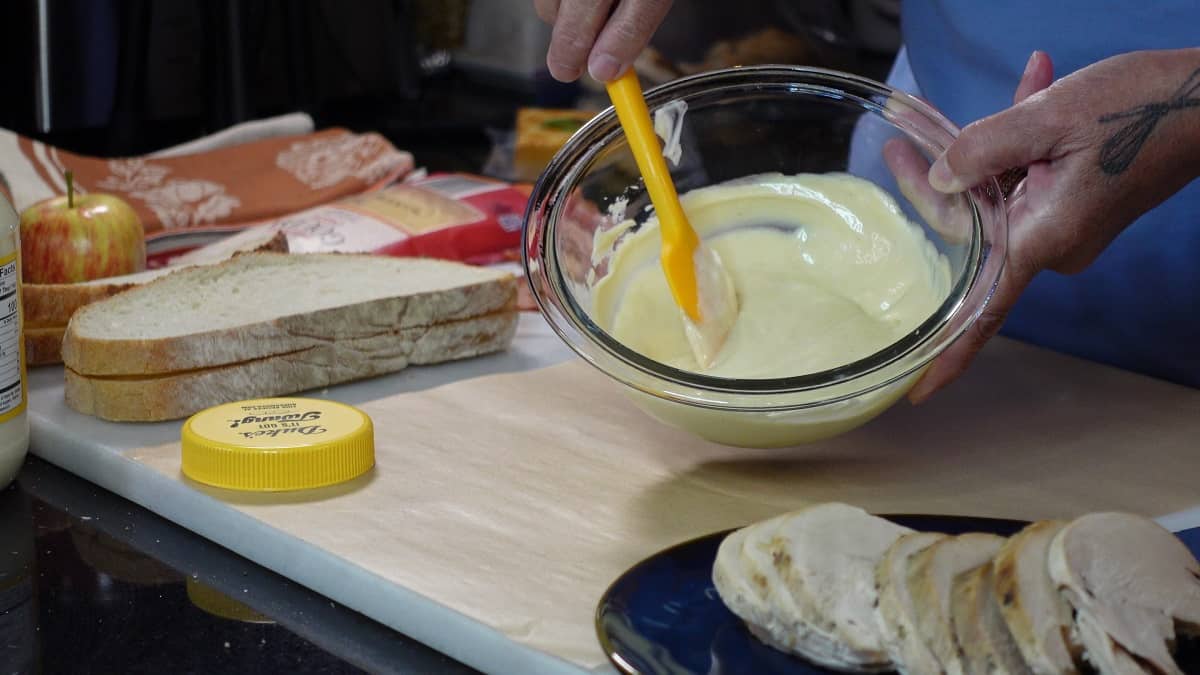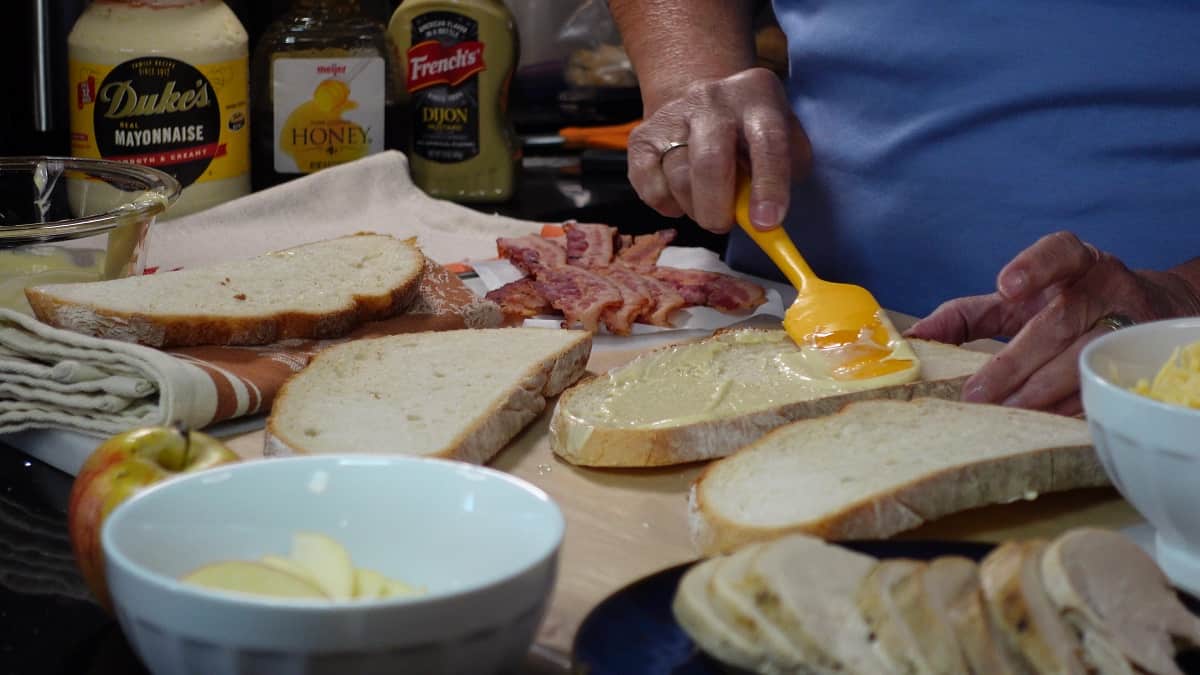 and cut an apple into ¼" slices.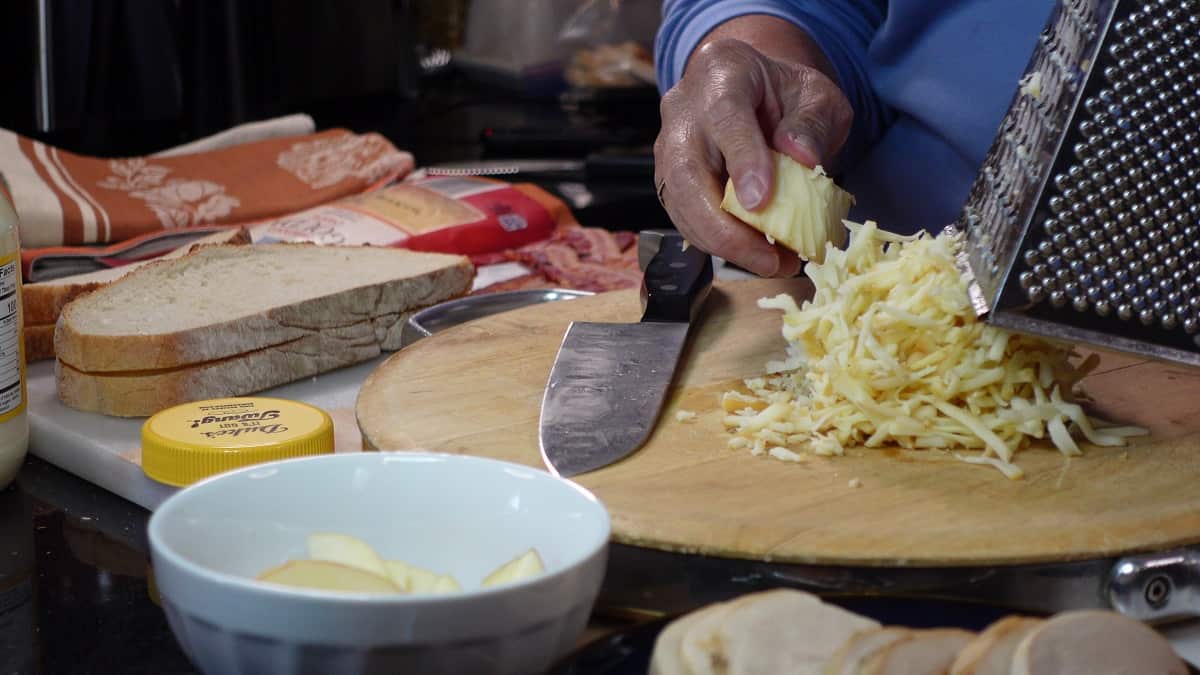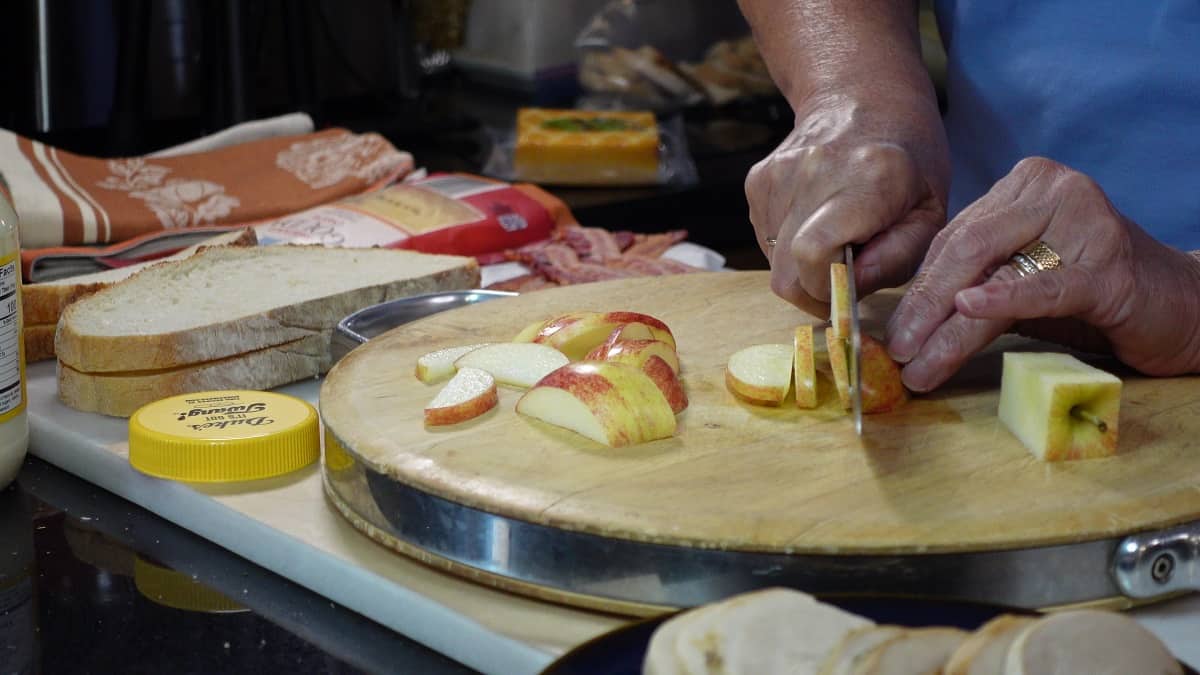 Time to assemble the sandwich, add a layer of the shredded cheese,
a layer of turkey slices,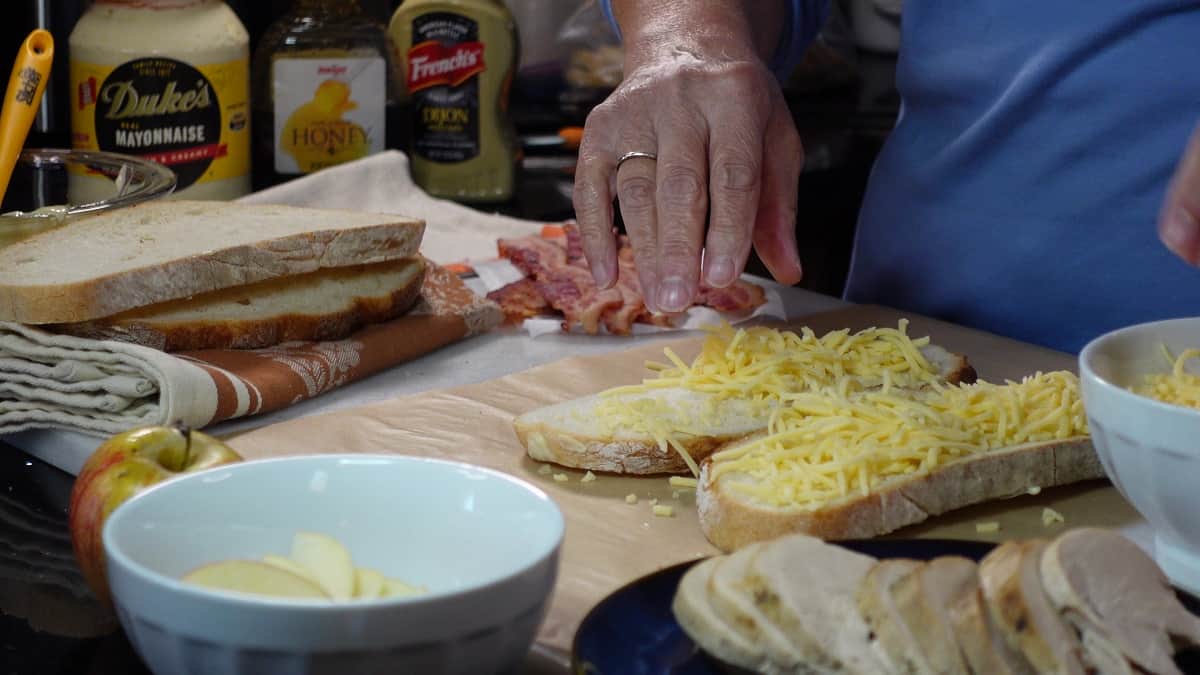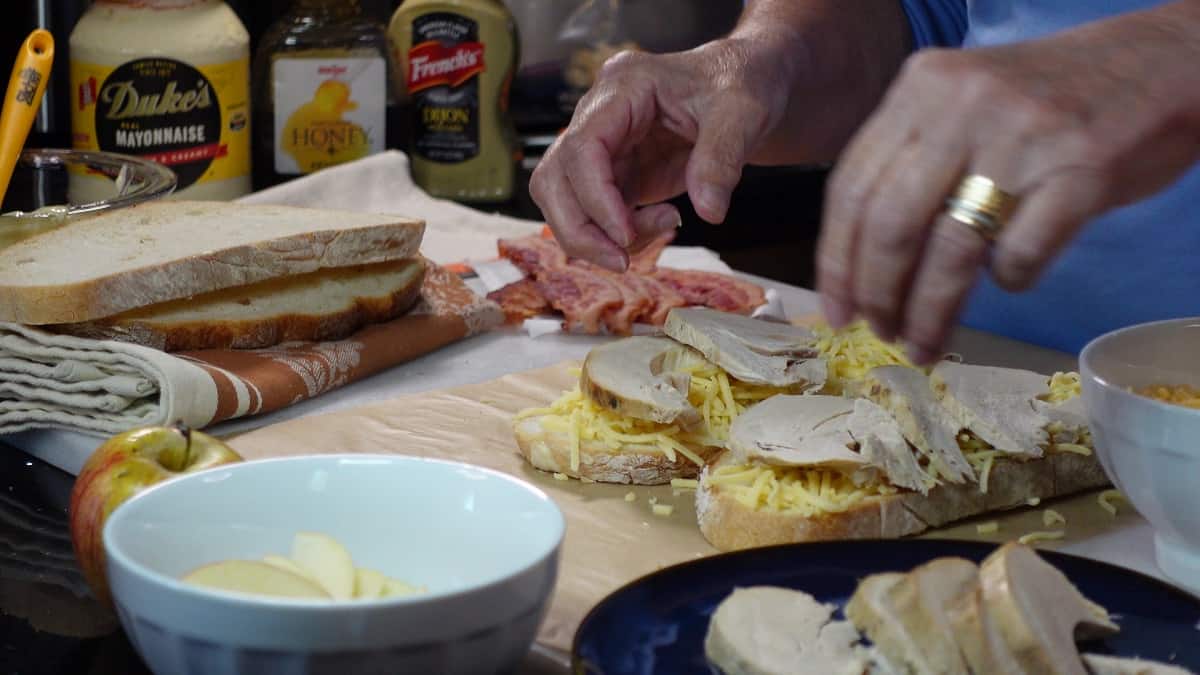 and additional shredded cheese.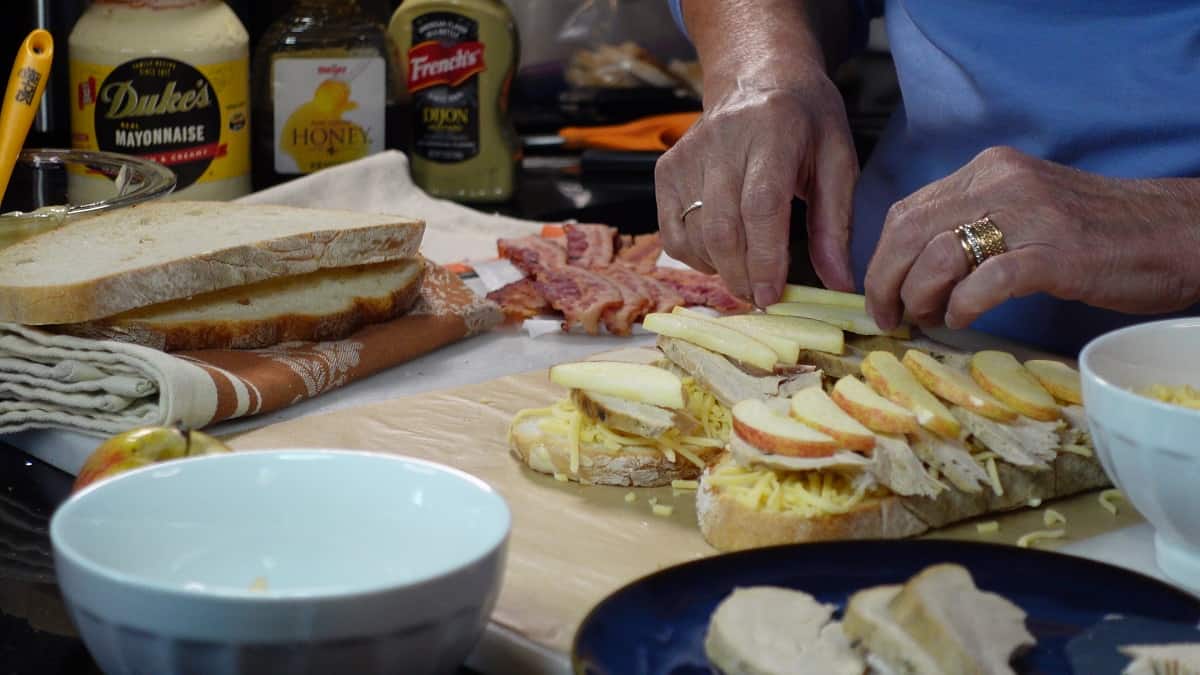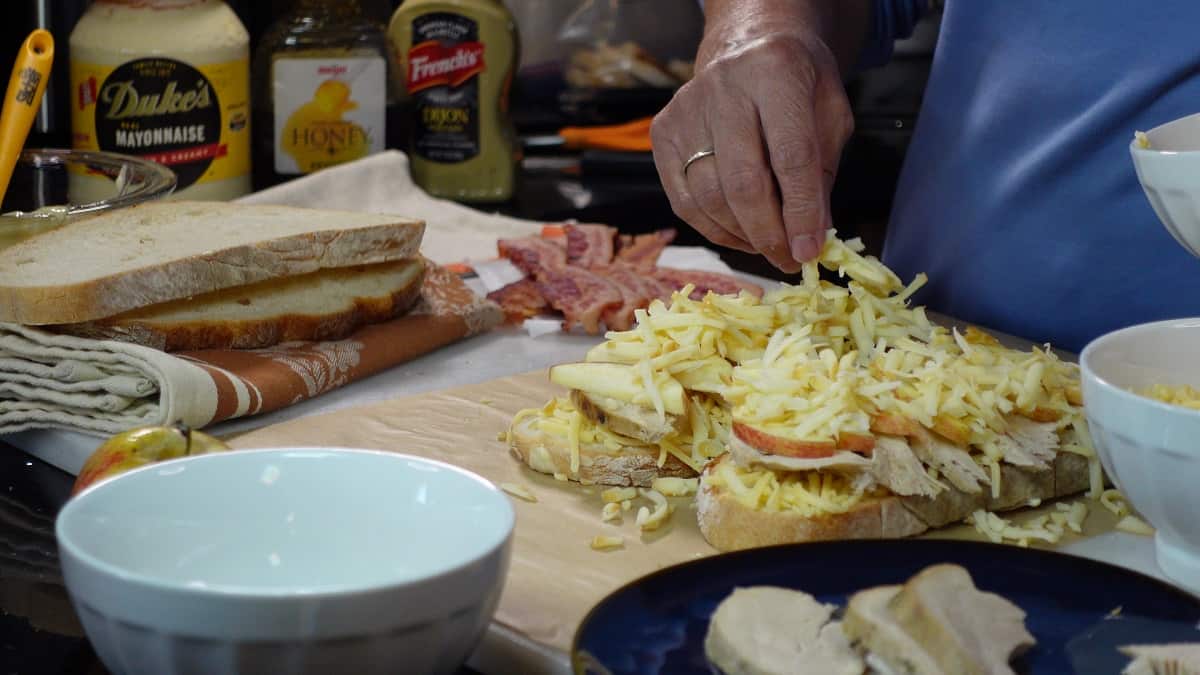 Top with 2 slices of bacon per sandwich,
and add the final slice of bread that's been spread with the mayo mixture.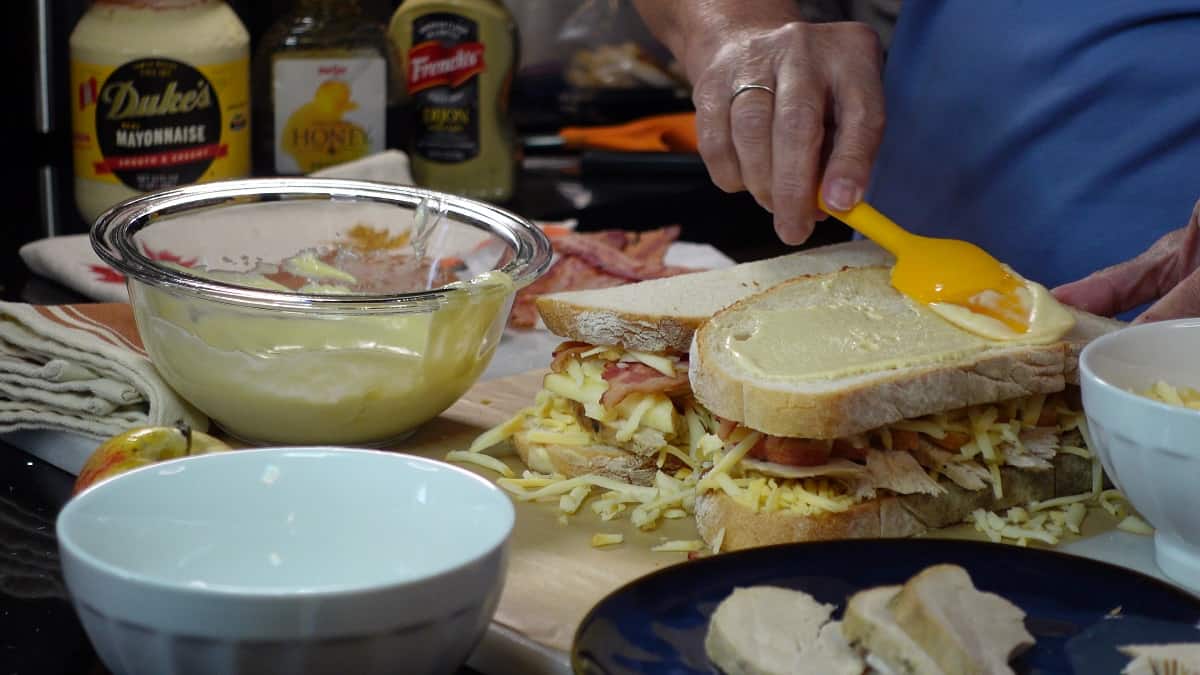 Grill the sandwich in a large skillet over medium/high until the cheese begins to melt.
Gently flip after 2-3 minutes.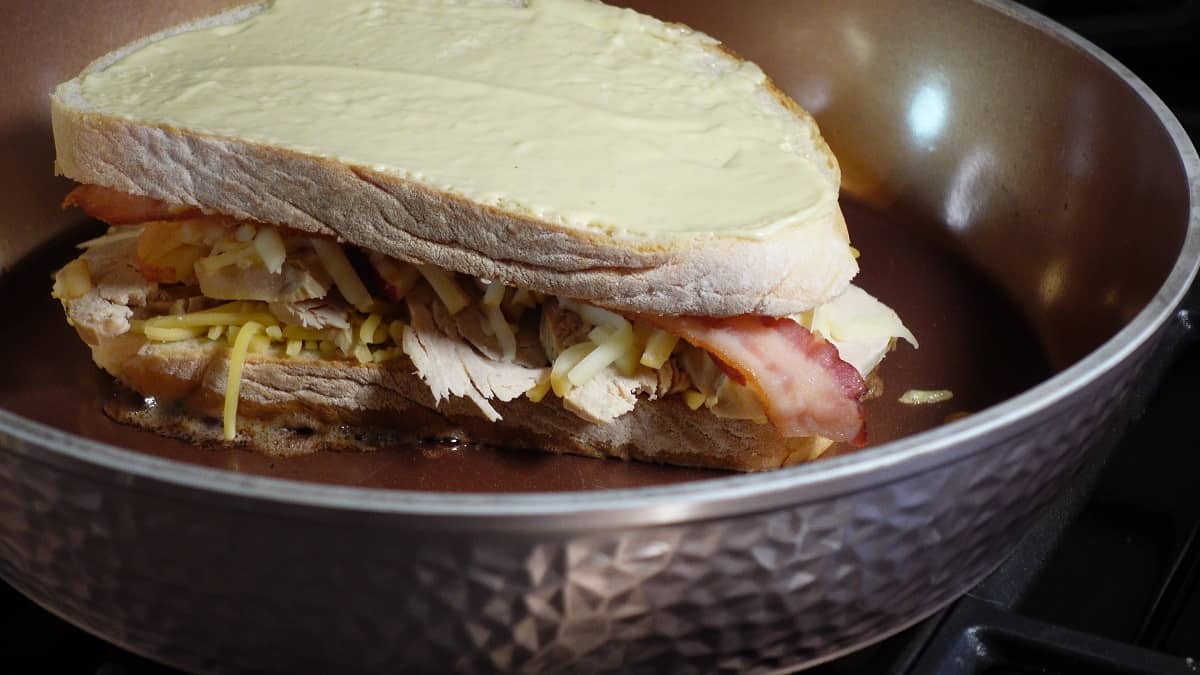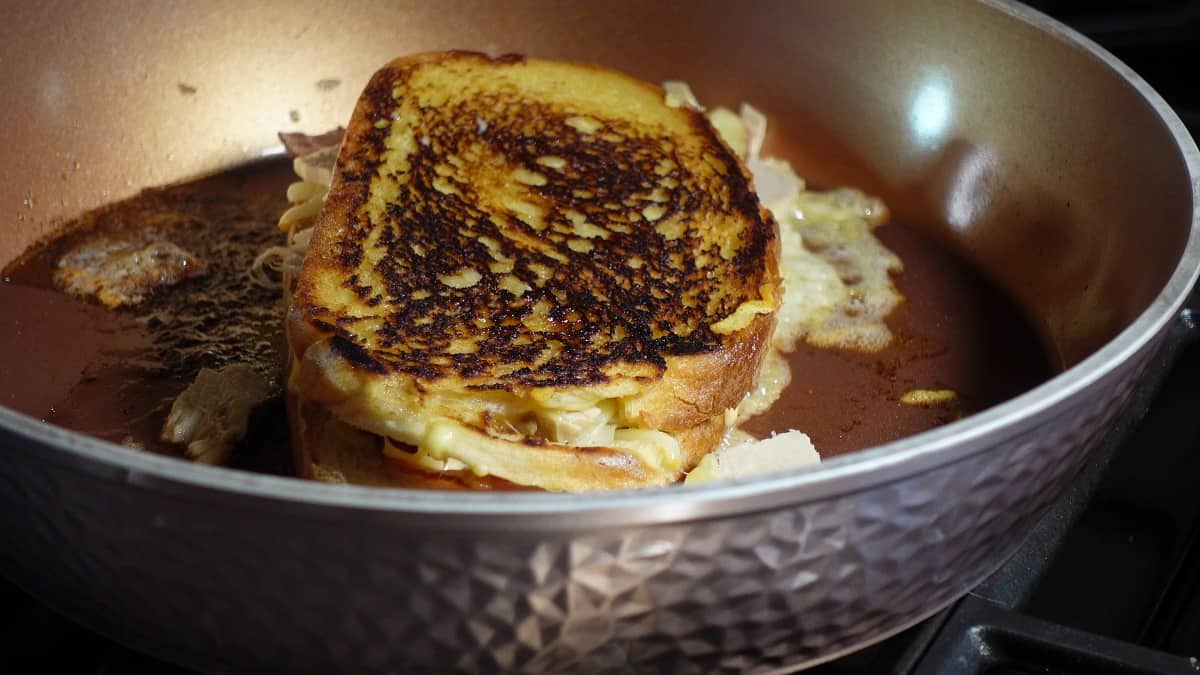 and use a press or a spatula to flatten the sandwich as it grills.
If needed, keep the sandwiches warm on a baking sheet fitted with a rack in a low oven (300 degrees) while additional sandwiches are made.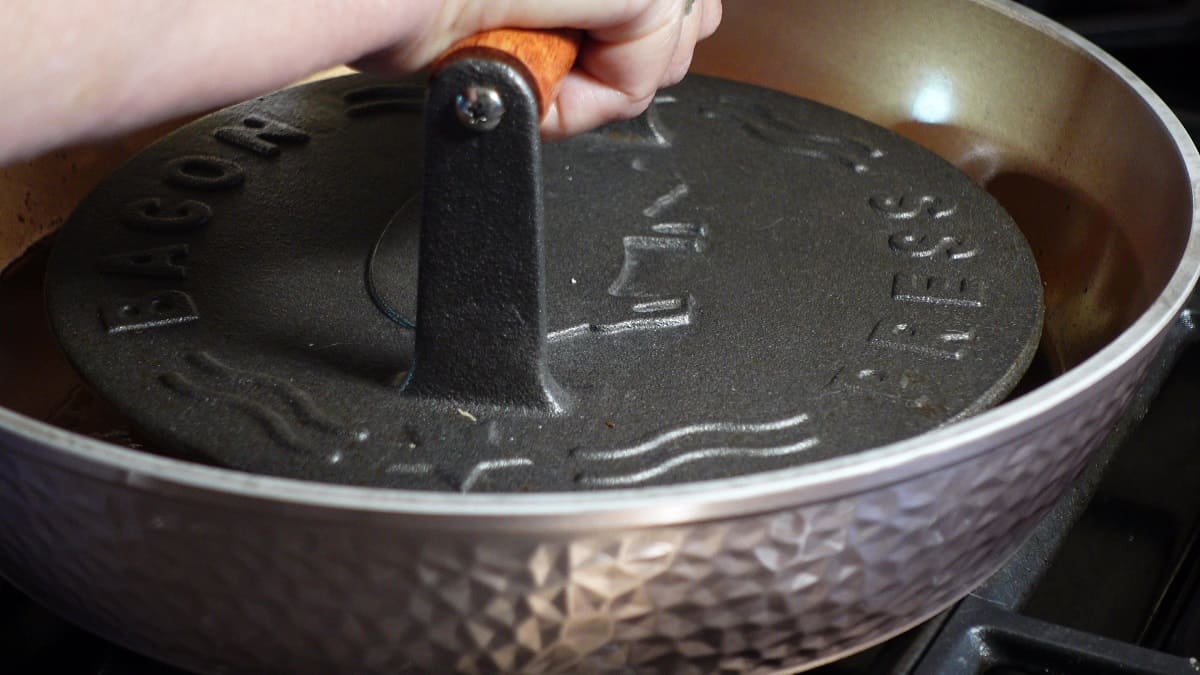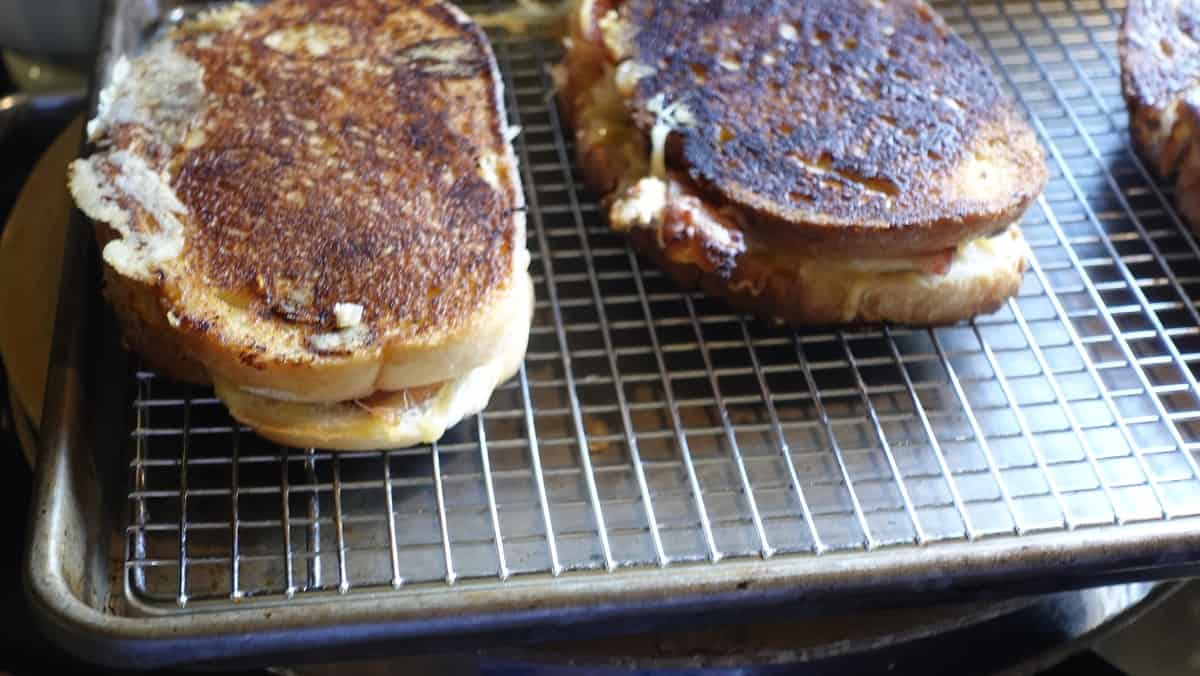 Serve with the remaining Dijon mustard and mayo dipping sauce and enjoy!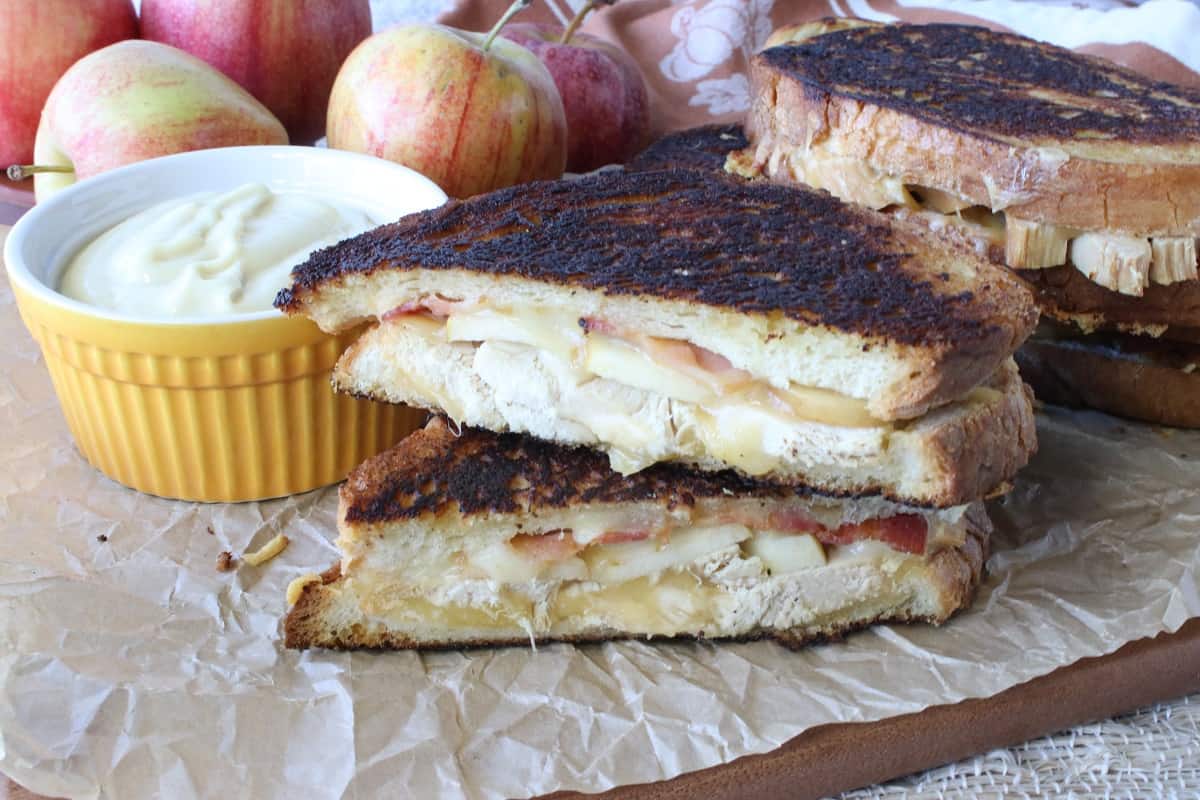 Recommended kitchen equipment
Because this sandwich has many small components, the flip can be a little tricky. I found that pressing the sandwich with a bacon press (or sandwich press) while it's cooking helps make that process easier without as many ingredients falling out.
I also recommend a panini press when making these sandwiches (not shown here). That way, there is no flipping involved, and you'll get pretty grill marks on each sandwich.
How long will this sandwich last in the refrigerator
Wrapped well in plastic wrap or stored in an airtight container this grilled turkey and cheese sandwich will keep for up to 4 days in the refrigerator.
How to reheat after refrigeration
Always choose uncovered in an oven or air fryer for a crispy sandwich. I'd recommend 350 degrees for 5-7 minutes.

However, if crispy doesn't matter to you upon reheating, a microwave will work fine to heat the sandwich and melt the cheese.
How many sandwiches does this recipe make
As written, this recipe makes three large sandwiches. That said, if you have a lot of turkey slices, this recipe can easily be doubled or tripled if needed.
Can deli turkey work instead of leftover turkey slices
Yes. Always. Use what you have.
Can another cheese be substituted for the smoked Gouda
You bet! Use what you love and if slices of cheese work best for you instead of shredded cheese, use that. It's your sandwich. Make it your way!
Can the honey mustard mayonnaise be replaced
Feel free to use butter on the bread in place of the honey mustard sauce if you'd rather.

There's never anything wrong with using butter to make a grilled cheese sandwich, but if you want your sandwich to be indescribably unique, I urge you to use the sweet mustard mayonnaise.
What to serve along side this grilled turkey, cheese and bacon sandwich
Crunchy, healthy, and completely addictive. This Sunflower Crunch Kale and Cabbage Salad has it ALL going on!! Dig in! You're going to love this colorful salad!
If you like crunchy food and you're also a fan of sweet potatoes, then these Homemade Fried Sweet Potato Chips with sweet and smoky flavor are what you'll crave.
Chocolate Oatmeal Cookies are delicious cookies that are crispy on the outside, soft, and chewy on the inside with a big hit of chocolate flavor!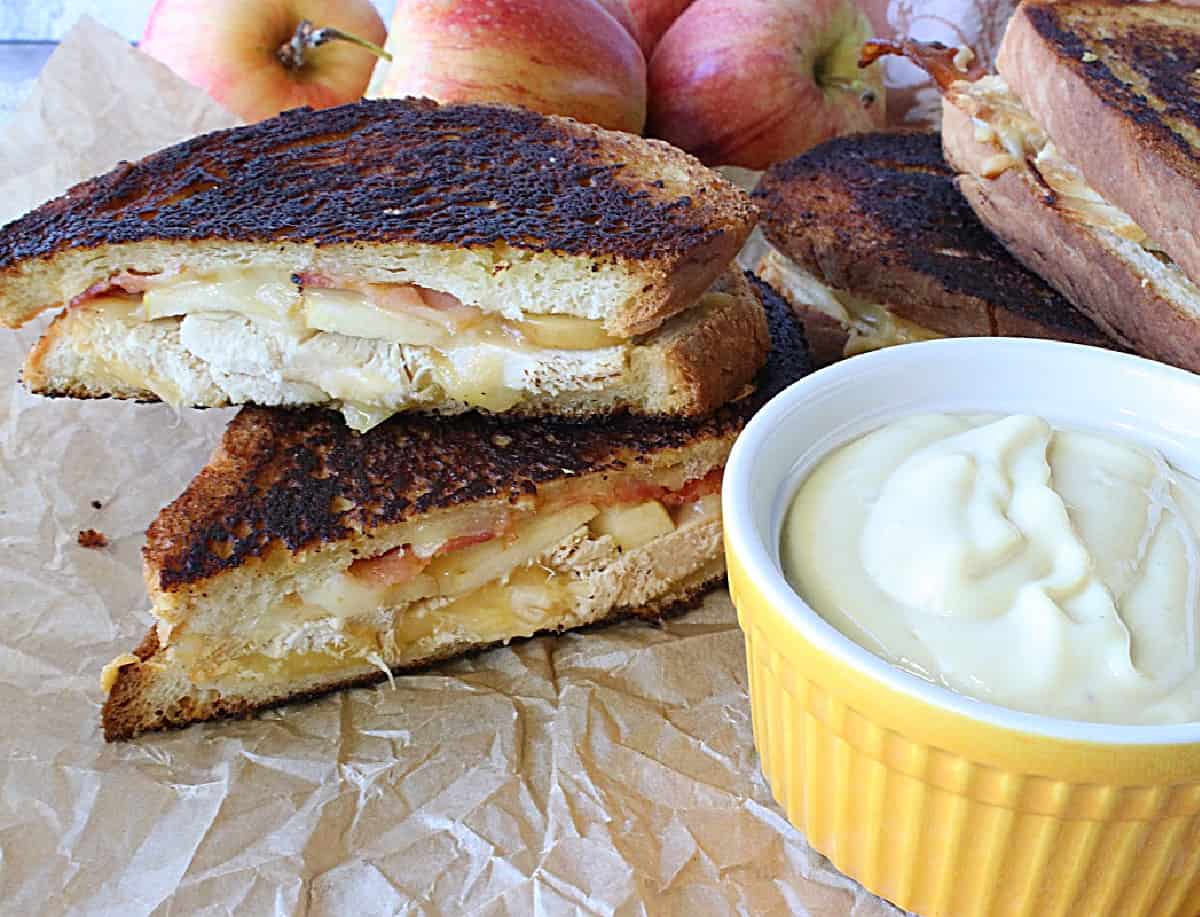 ⭐If you've made this recipe, or are excited to make this recipe, I'd appreciate it if you'd take a moment to leave it a star rating on the recipe card, along with a comment if you're so inclined. Thank you. 🙂
Printable Recipe Card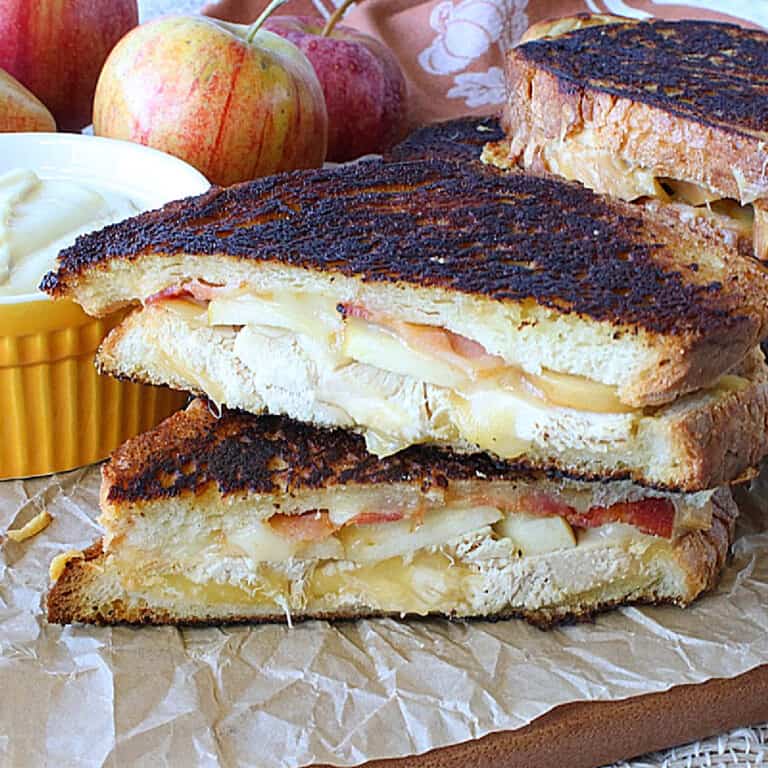 Turkey and Smoked Gouda Grilled Cheese
Turkey and Smoked Gouda Grilled Cheese with BACON and APPLE is a MUST for all grilled cheese lovers! Trust me when I tell you that leftover turkey has never tasted so good.
Ingredients
½

cup

mayonnaise

2

tablespoons

Dijon Mustard

1

tablespoon

honey

6

slices

Italian bread

9

slices

turkey breast

leftovers work great

6

slices

bacon

precooked

1

medium

gala apple

cut into ¼" slices

8

ounces

smoked Gouda cheese

shredded
Instructions
Stir together the mayonnaise, Dijon mustard and honey in a medium-sized bowl.

Working on top of a sheet of parchment paper, spread a thin layer of the mustard mayo onto one side of 3 slices of bread. Place the bread mayo side down.

Top the bread with an even layer of shredded cheese. Top the cheese evenly with the turkey slices, apple slices, and another layer of shredded cheese, reserving a tiny bit of cheese for one final layer.

Add two bacon strips to each sandwich and sprinkle with the remaining cheese. Top each sandwich with the final slices of bread spread with the mustard mayonnaise (mayo side up).

Heat a large skillet on medium/high heat. Add the sandwiches (one at a time) to the skillet and cook each sandwich on the first side for 3-4 minutes until golden. Gently flip the sandwiches and press each sandwich with a spatula or sandwich press. Cook each sandwich for an additional 3-4 minutes until golden and the cheese has melted.

To keep the sandwiches warm while making the remaining sandwiches preheat oven to 300 degrees. Add the sandwiches to a baking sheet fitted with a rack and keep the sandwiches on the rack inside the oven.

Slice the sandwiches in half and serve with the remaining honey mustard mayo for dipping.
Notes
Wrap the sandwiches well with plastic wrap or inside a airtight container and refrigerate up to 4 days.
For a crispy sandwich place the sandwich on a baking sheet and reheat in a preheated 350 degree oven for 5-7 minutes.
Or warm in a microwave (covered with a paper towel) to heat the sandwich, and melt the cheese.
Nutrition
Serving:
1
Calories:
992
kcal
Carbohydrates:
38
g
Protein:
29
g
Fat:
81
g
Saturated Fat:
31
g
Polyunsaturated Fat:
23
g
Monounsaturated Fat:
23
g
Trans Fat:
0.2
g
Cholesterol:
133
mg
Sodium:
1413
mg
Potassium:
364
mg
Fiber:
3
g
Sugar:
26
g
Vitamin A:
507
IU
Vitamin C:
3
mg
Calcium:
545
mg
Iron:
2
mg
Thank you so much for visiting me today in my Kudos Kitchen. I hope you found something you'll love and that you'll come back and visit me often. There is always room for you around my table!
Should you have any questions or comments regarding anything you've seen here on my blog, please don't hesitate to reach out to me. It is always my distinct pleasure to respond to you just as soon as I possibly can.