If you like crunchy food and you're also a fan of sweet potatoes, then these Homemade Fried Sweet Potato Chips with sweet and smoky flavor are what you'll crave.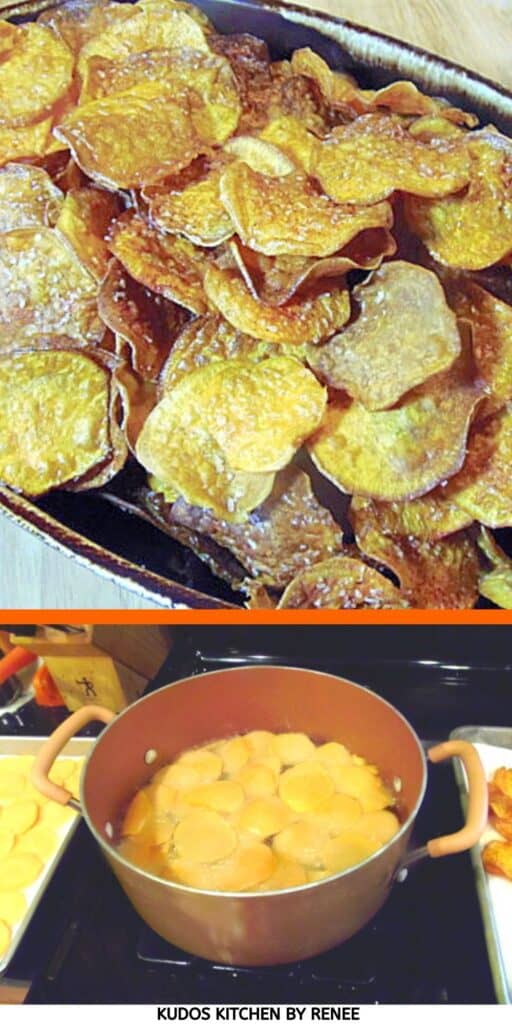 I originally shared this recipe back in 2013. I've recently updated this post with additional information, including a recipe card complete with nutritional information, but the recipe itself and the photos you'll see have remained unchanged.
**Please Note - The printable recipe card with detailed instructions, complete ingredient measurements, and nutritional information for making deep-fried Sweet Potato Chips is available at the end of this post. Or you can hit the "jump to recipe" button (found above) to be taken directly to the recipe.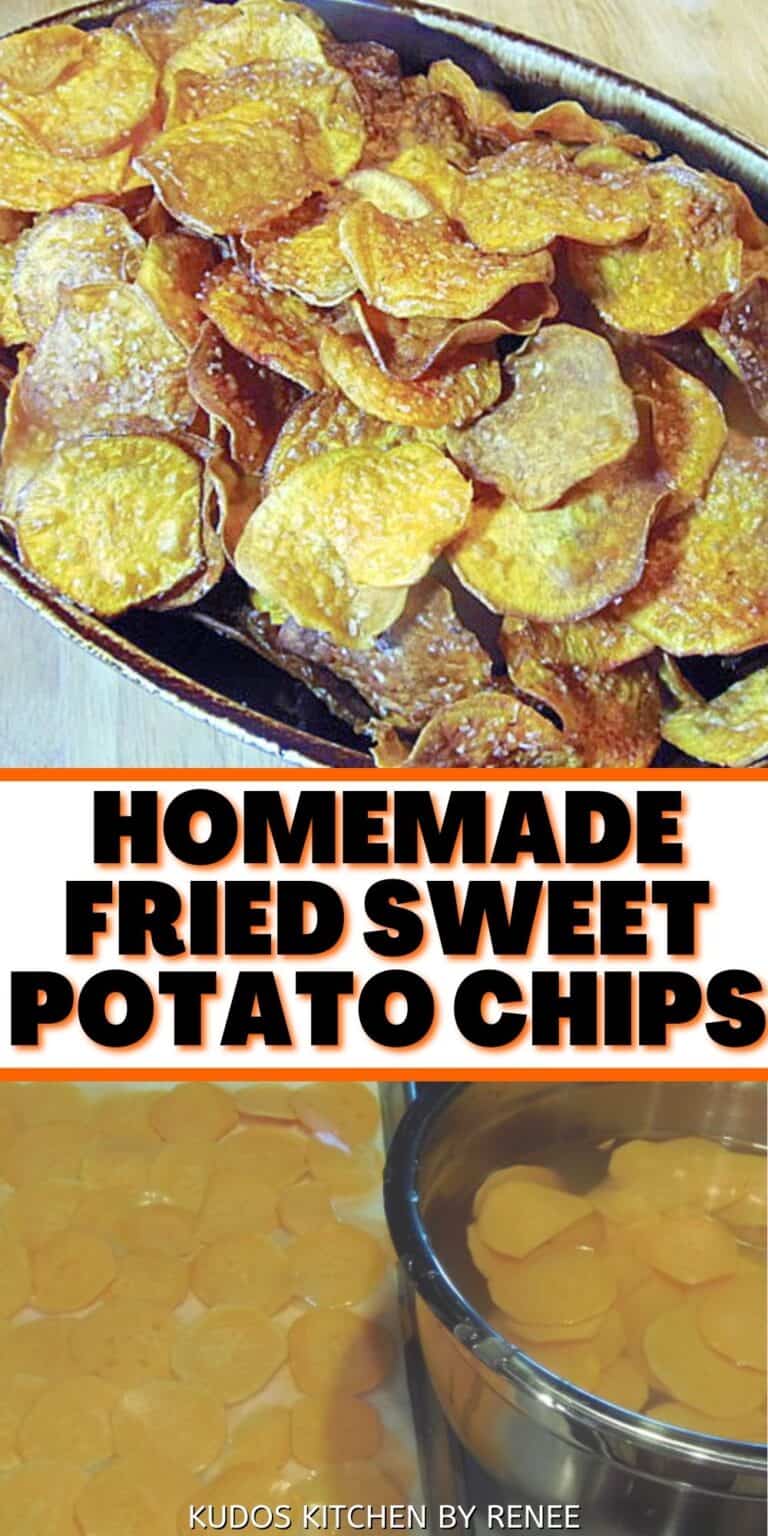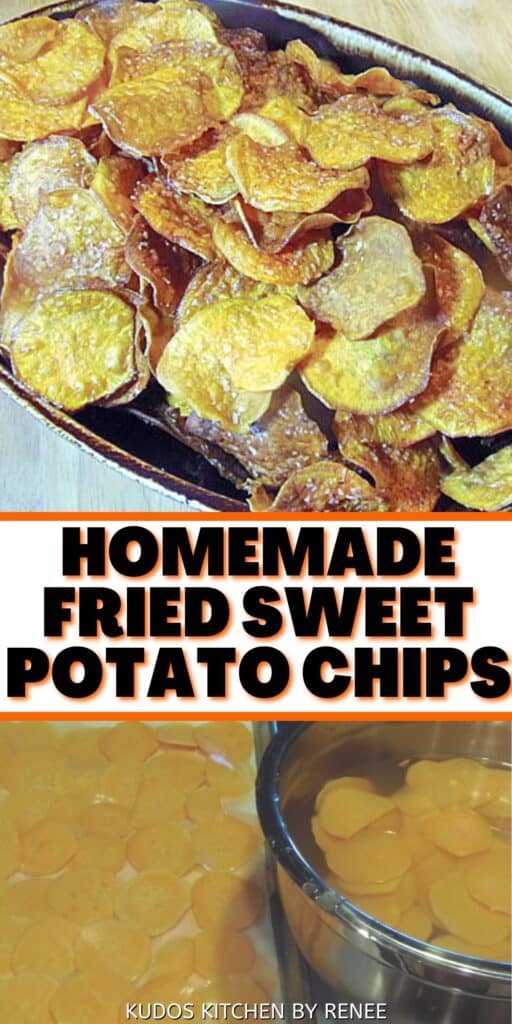 The ingredient list for making deep fryed sweet potato chips:
sweet potatoes (I find that long, slender sweet potatoes are best)
peanut oil (or other light colored oil with a high smoke point)
salt
grated nutmeg (ground nutmeg will also work)
ground cinnamon
smoked paprika
Kitchen tools and equipment needed:
large Dutch oven (7-quart) OR deep fat fryer
spider or extra large slotted spoon
mondolin or chef's knife
cutting board
instant-read thermometer
nutmeg grater or microplane
large and small mixing bowls
paper towels
baking sheets
brown bags (for storage)
How this recipe came to be:
Back when I first started food blogging I belonged to a fun recipe group called Sunday Supper.
In order to participate in this group, there would be a new theme or topic every week, and you'd need to post a new recipe to go along with that theme.
Back in September of 2013, the topic was "crunchy food," and this fried sweet potato chip recipe is what I posted at that time.
What I wrote about these fried sweet potato chips back in 2013:

I hate to be rude but, Crunch. Crunch. Crunch.
I'm excited to tell you, Crunch. Crunch. Crunch.
that for this week's #SundaySupper theme of crunchy foods, Crunch. Crunch. Crunch.
I got to make something I've been wanting to make for a long, long time. Potato Chips!!!
Not any old potato chips, mind you. Fried Sweet Potato Chips that I just could NOT stop munching and crunching on! Crunch. Crunch. Crunch.
See what I mean? LOL
So satisfying! So delicious! So LOUD!!
Pretty cleaver of me, huh? LOL *wink*
What is the best type of oil for frying food?
As mentioned earlier, a high smoke point oil is best.
What that means is that an oil with a higher smoke point can withstand higher heat than other oils that will start to smoke at a lower temperature.
What oils are considered high smoke point oils?
A good visual indicator for a high smoke-point oil is one that is very light or pale in color.
The following oils have the highest smoke points:
refined avocado oil (smoke point is 520-degrees Fahrenheit)
safflower oil (smoke point is 510-degreeg Fahrenheit) - best option
refined or light olive oil (smoke point is 465-degrees Fahrenheit)
peanut oil (smoke point is 450-degrees Fahrenheit) - best option
refined coconut oil (smoke point is 450-degrees Fahrenheit)
corn oil (smoke point is 450-degrees Fahrenheit) - best option
vegetable oil (smoke point is 400-450-degrees Fahrenheit) - best option
canola oil (smoke point is 400-degrees Fahrenheit)
grapeseed oil (smoke point is 390-degrees Fahrenheit)
This article from Masterclass is very comprehensive regarding cooking oils and smoke points if you'd like to learn more.
What does refined mean when it comes to oil?
It basically means that an oil has been processed or "purified" using chemicals and shelf stabilizers. They're not a good choice to use for deep fat frying or for any other type of cooking, even though they do have a very high smoke point.
The best and worst cooking oils for your health.
Can frying oil be reused?
Yes. I do it all the time.
Just make sure you don't reuse the same oil that you used for that last Friday night fish fry to fry your Sunday morning donuts.
You may want to mark your oils for sweet and savory if you're doing a lot of deep fat frying.
What is the best way to store frying oil for reuse?
I like to let my oil cool completely (covered) overnight on the counter or on the stovetop with the heat off.
In the morning I use a strainer and funnel to strain off the fried bits of batter and food leftover in the oil (discard those), and funnel the oil back into it's original container, or something else that is airtight.
As stated above, make sure to mark the reusable oil sweet or savory so you don't grab the wrong oil for the wrong dish.
I then store the used oil in a cool, dry spot until I'm ready to fry again.
I typically reuse my oil 3-4 times, relying on the same strainer/funnel method for storage. After 3-4 uses, I discard the used oil and start with fresh for whatever I happen to be frying next.
What is the best method for storing homemade sweet potato chips?
I store mine in a brown paper bag (a lunch bag size works great), at room temperature.
They'll keep fresh for 3-4 days this way, but I bet they won't be around for that long.
Does the spice blend need to be used for these chips?
No, not at all. If you'd like to make the sweet potato chips with just a touch of salt, go for it!
However, if you'd like to try something new that will excite your taste buds please give the smoked paprika, cinnamon, and nutmeg blend a try.
Additional fried food recipes (sweet and savory):
*Fried Bratwurst on a Stick (cornwurst) (shown below and featured in the video)
My recipe for Bratwurst on a Stick with Fried Cornmeal Beer Batter is a fun and deliciously different take on a corn dog. It's the best, make that WURST, corn dog you'll ever eat!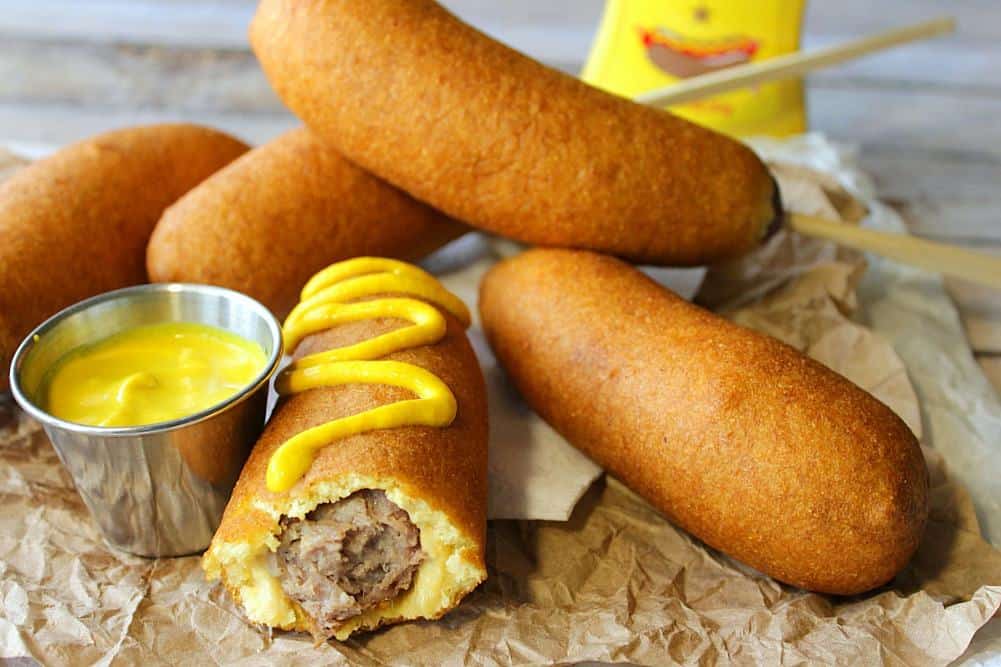 *Beer Battered Fried Mushrooms (not shown)
Even if you're not a huge mushroom fan, I'll bet you're going to flip over this beer batter fried mushroom recipe!
*Homemade Beignets (shown below)
In celebration of Mardi Gras and dressed in green, gold, and purple sanding sugar these pillowy soft and perfectly fried homemade beignets are ready to party!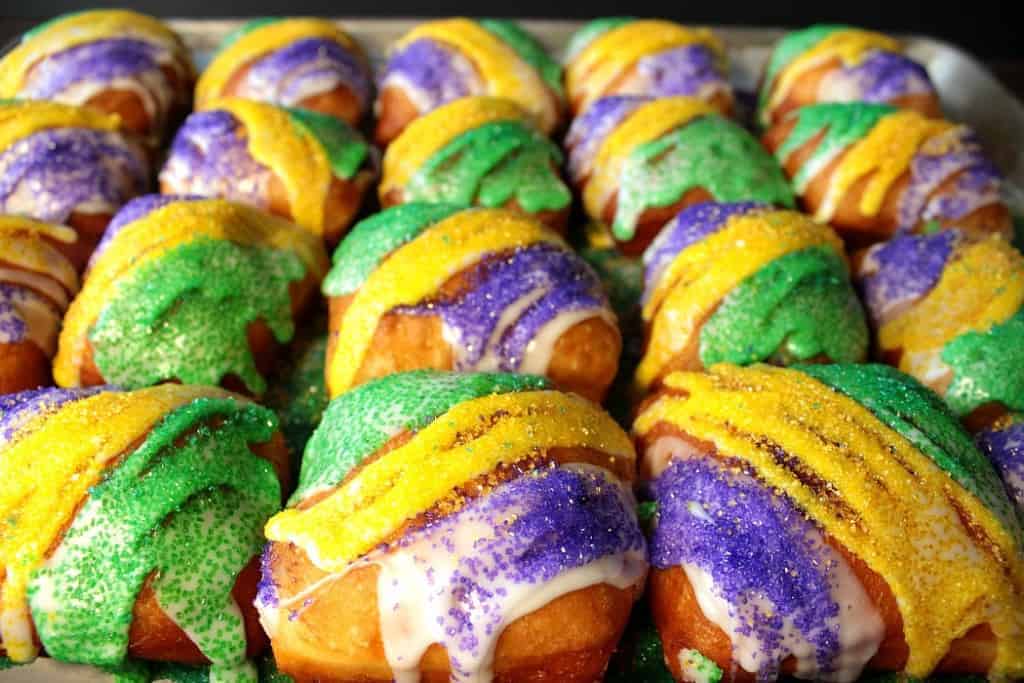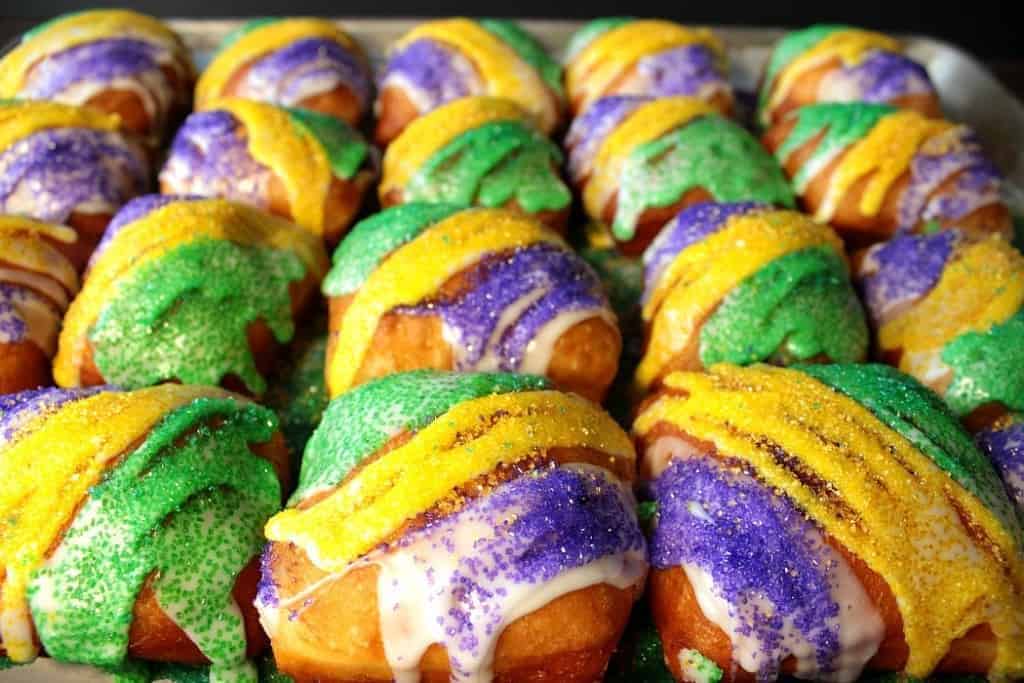 *Homemade Fried Tilapia (not shown)
Hungry for a Friday night fish fry but don't want to pay restaurant prices? My homemade fried tilapia recipe is crispy, crunchy, and utterly delicious.
*Deep Fried Sweet Potato Chips (shown below) THIS IS THE PLACE!!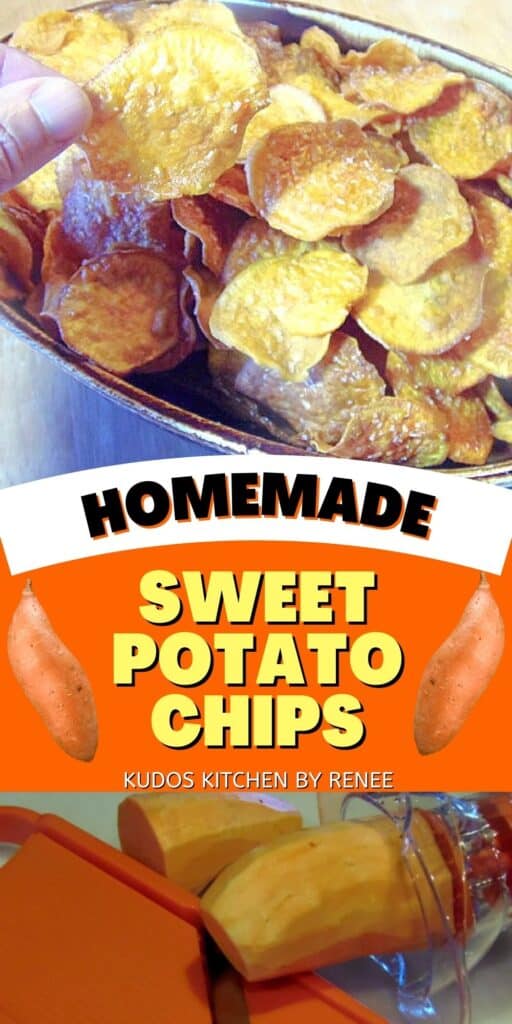 Below is the printable recipe card along with the exact ingredient measurements and nutritional information for making today's crispy and crunchy deep fried homemade sweet potato chips.
⭐If you've made this recipe, or are excited to make this recipe, I'd appreciate it if you'd take a moment to leave it a star rating on the recipe card, along with a comment of why you rated as you did.
Google loves ratings and will show my recipes to more people if they have them. Thank you. 🙂
Printable Recipe Card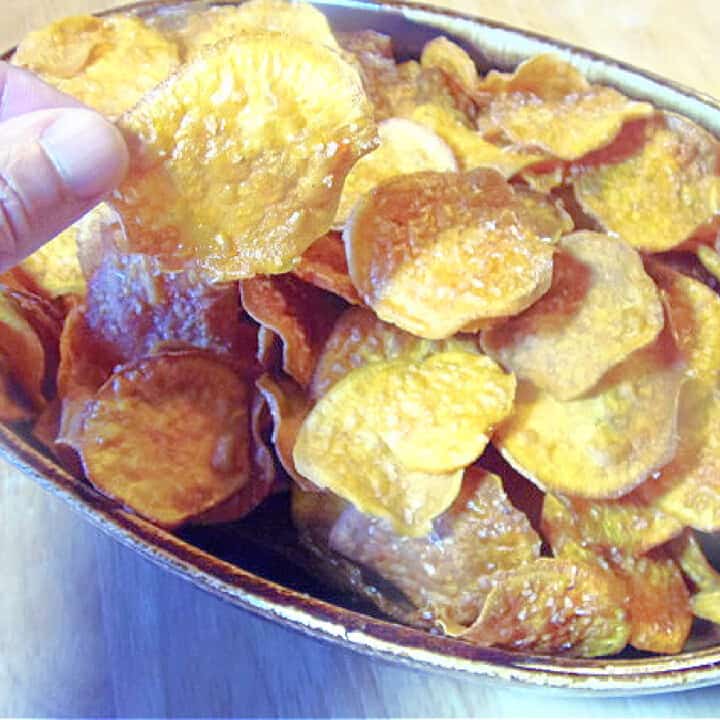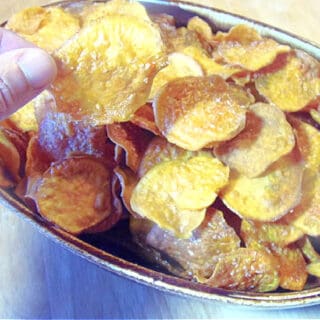 HOMEMADE FRIED SWEET POTATO CHIPS
If you like crunchy food and you're also a fan of sweet potatoes, then these Homemade Fried Sweet Potato Chips with sweet and smoky flavor are what you'll crave.
Ingredients
3-4

long, slender

sweep potatoes

slender sweet potatoes, peeled

6

cups

peanut oil or other neutral-flavored, high smoke point oil

2

tablespoons

kosher salt

1

teaspoon

sweet

smoked paprika

½

teaspoon

ground cinnamon

⅛

teaspoon

freshly grated nutmeg
Instructions
-Using the mandolin or chef's knife, slice the sweet potatoes, width-wise, into very thin slices (approximately 1/16" slices) but not so thin that you can see through them.

-After slicing the potatoes, place them in the water, making sure to separate each slice.

-Allow the sliced potatoes to sit in the water for 5 minutes while preparing a baking sheet with layers of paper towels.

-Arrange the sliced, soaked potato slices evenly between the layers of paper towels. *NOTE - Drying the potato slices thoroughly on paper towels is critical because wet potato slices will spit and sputter hot oil, which can become dangerous.

-Meanwhile, in a large Dutch oven, heat the peanut oil over medium heat until the oil reaches 325-degrees Fahrenheit on an instant-read thermometer.

-While waiting for the oil to heat, use a small bowl to mix the salt, paprika, cinnamon, and nutmeg.

-Working in small batches and using a large slotted spoon, carefully lower some dried sweet potato slices into the hot oil.

-Watch them carefully, and gently turn them occasionally using the slotted spoon until they are lightly browned and crunchy. *Important - This should only take a few minutes, so this needs process needs your complete attention.

-Carefully remove the fried chips from the oil (allowing the excess fat to runoff), and place the chips on dry paper towels to drain.

-Immediately after removing the chips from the oil, sprinkle them evenly with the salt and cinnamon mixture.

-Continue the same process with the remaining potato slices until all the chips are fried and crunchy.

-Serve immediately.
Notes
Store any leftover chips in a brown paper bag at room temperature for 4-5 days.
Cool the frying oil completely before straining and storing it for other uses. May be used up to 4 times before discarding and starting over with fresh oil.
Store the oil in a cool dry place in an airtight container.
Nutrition
Serving:
1
cup
Calories:
1913
kcal
Carbohydrates:
1
g
Protein:
1
g
Fat:
216
g
Saturated Fat:
37
g
Polyunsaturated Fat:
69
g
Monounsaturated Fat:
100
g
Sodium:
2326
mg
Potassium:
4
mg
Fiber:
1
g
Sugar:
1
g
Vitamin A:
3
IU
Vitamin C:
1
mg
Calcium:
3
mg
Iron:
1
mg
Thank you so much for visiting me today in my Kudos Kitchen. I hope you found something you'll love and that you'll come back and visit me often. There is always room for you around my table!
Should you have any questions or comments regarding anything you've seen here on my blog, please don't hesitate to reach out to me. It is always my distinct pleasure to respond to you just as soon as I possibly can.