With only one bowl and a few simple ingredients, you can have this Strawberry Banana Bread with Almond's baking in the oven in no time flat!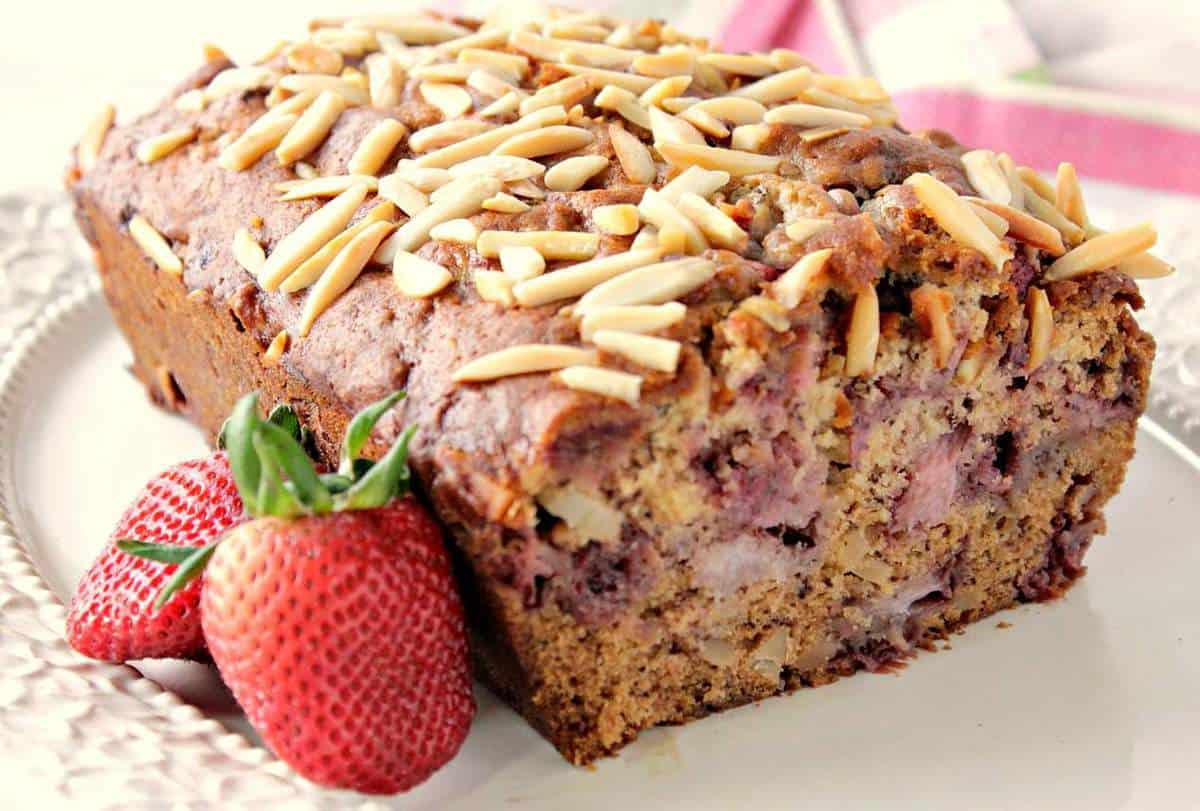 Before I delve too far into this recipe I need to tell you that this Strawberry Banana Bread tastes great with, or without, the nuts.
If you're not a fan of almonds (or nuts in general), you are by all means welcome to leave them out of this recipe entirely.
I promise I won't tell, and you'll still enjoy the flavor of this deliciously easy bread.
However, you're a fan of nuts, then by all means…add them. The texture and crunch they provide are a nice contrast to this super moist bread.
You'll also notice that I've used almond extract in this recipe. If you've decided to make this Strawberry Banana Bread without the nuts, please feel free to substitute vanilla extract in place of the almond extract.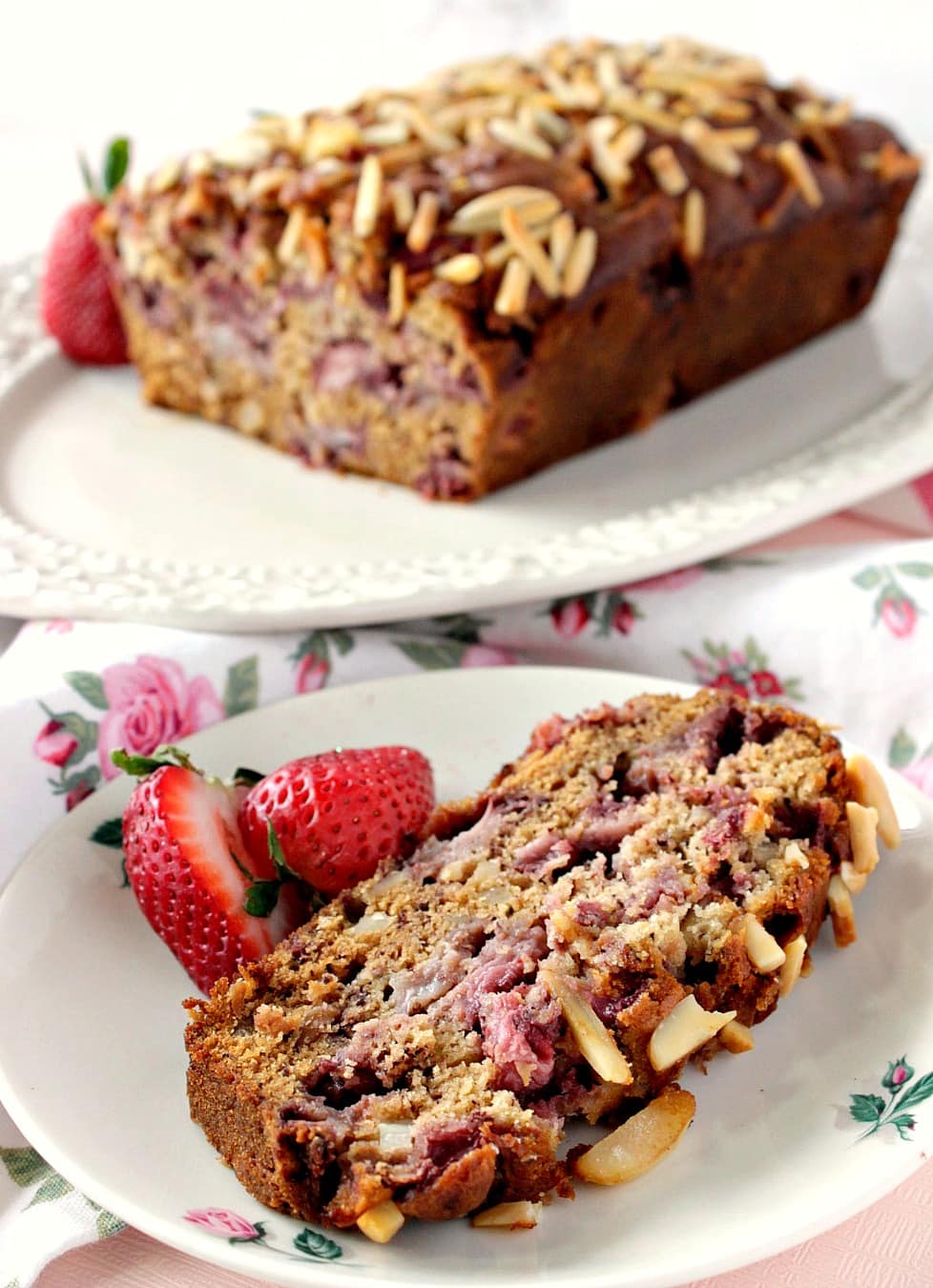 The produce department in the springtime gets me so excited!! I go crazy seeing all the seasonally plump and colorful fruits and berries, that it sets my mind to racing when I think of all the different ways I can use them in my cooking and baking.
I made this Strawberry Banana Bread for my mom this past weekend. She came over for dinner, and we played a few games of cards (Russian Rummy, to be exact) beforehand. Since my mom is also a huge strawberry lover, I knew she would enjoy the flavor of this bread. I served each slice with a scoop of strawberry ice cream (not shown) making this delightfully easy quick bread that much more special!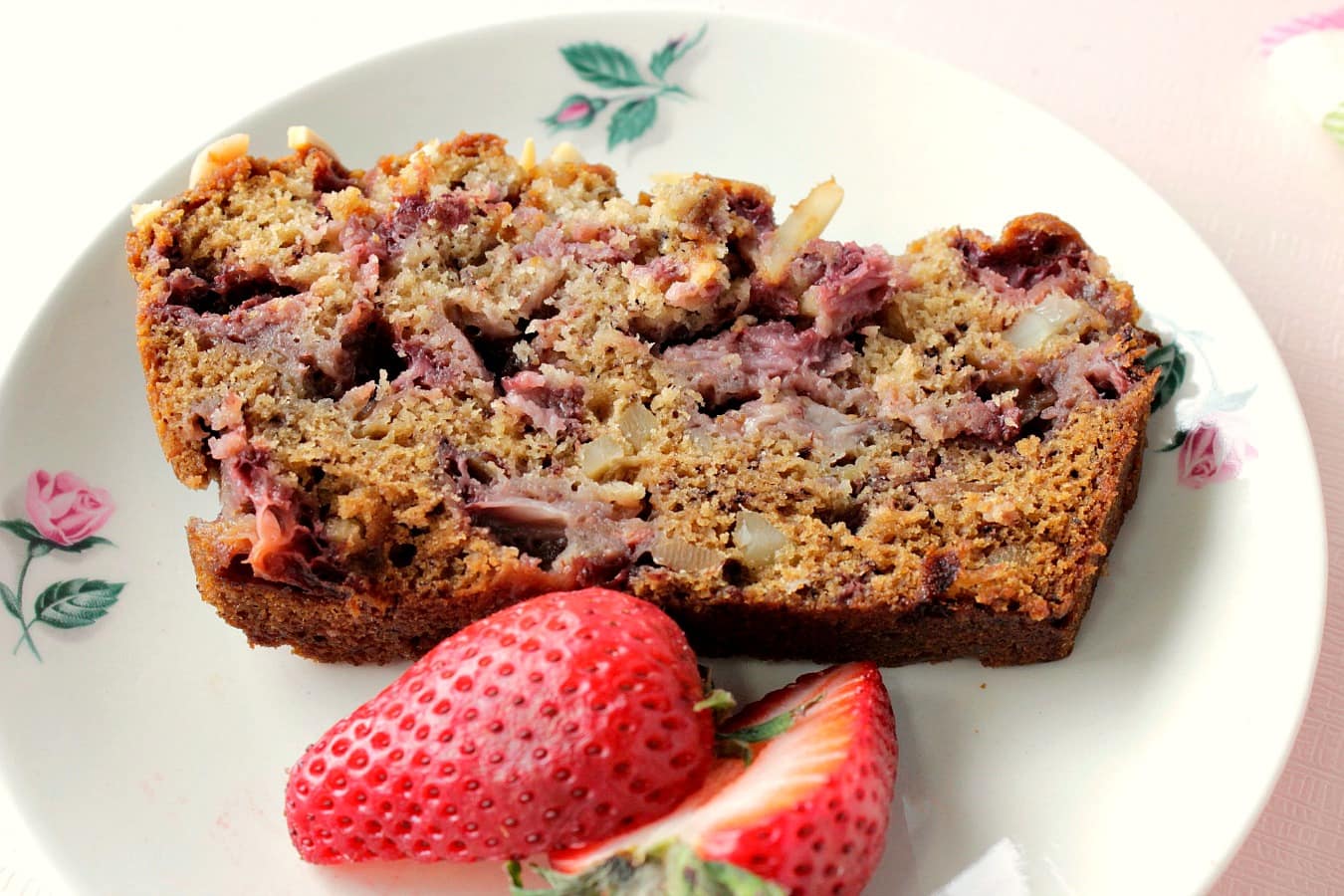 I really wish I had thought to take the photos with the strawberry ice cream, but alas, I didn't, and it's too late now. This Strawberry Banana Bread is now a distant memory because what we didn't eat that night after dinner, I wrapped up and sent home with my mom. Trust me, I fear I would have eaten the entire loaf if it was left here, and I certainly don't need that temptation!
I consider this type of easy recipe a "dump recipe." The reason is that all of the ingredients are dumped into a single bowl and then mixed. There are no difficult or confusing steps, and the cleanup is a breeze.
You don't need to be a skilled baker to have success with a dump recipe, and the outcome is always a winner. I urge you, if you've been afraid of baking in the past, please try this recipe. I promise you'll be delighted with the results!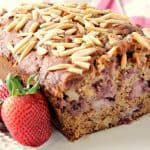 Deliciously Easy One-Bowl Strawberry Banana Bread with Almonds
With only one bowl and a few simple ingredients, you can have this Strawberry Banana Bread with Almond's baking in the oven in no time flat!
Course:
Breakfast or Dessert
Ingredients
2

very ripe bananas

1/3

cup

butter

melted

1

egg

beaten

1

teaspoon

almond extract

½

cup

brown sugar

1

teaspoon

salt

1

teaspoon

baking soda

1½

cups

all-purpose flour

½

cup

toasted slivered almonds

reserve 2 tablespoons for topping

1 – 1½

cup

fresh strawberries

hulled and diced
Instructions
Preheat oven to 350 degrees.

In a large bowl, mash the bananas.

Stir in the melted butter, beaten egg, and almond extract.

Stir in the brown sugar, salt, baking soda and flour until combined.

Stir in almost all of the toasted nuts (reserving 2 tablespoons for topping).

Gently stir in the diced strawberries.

Spoon the batter evenly into a standard size loaf pan (8.5″ x 4.5″)

Top the batter with the remaining almonds.

Bake in a preheated oven for 60 minutes or until a toothpick inserted in the center comes out clean.

Remove the pan to a cooling rack for 15 minutes. Remove the loaf from the pan after 15 minutes and allow the loaf to cool on a wire rack until completely cooled.

Slice and serve.
Recipe Notes
Tools and equipment:
large bowl
wooden spoon
pastry blender for forks (for mashing the bananas)
paring knife (for dicing strawberries)
loaf pan
baking spray
cooking rack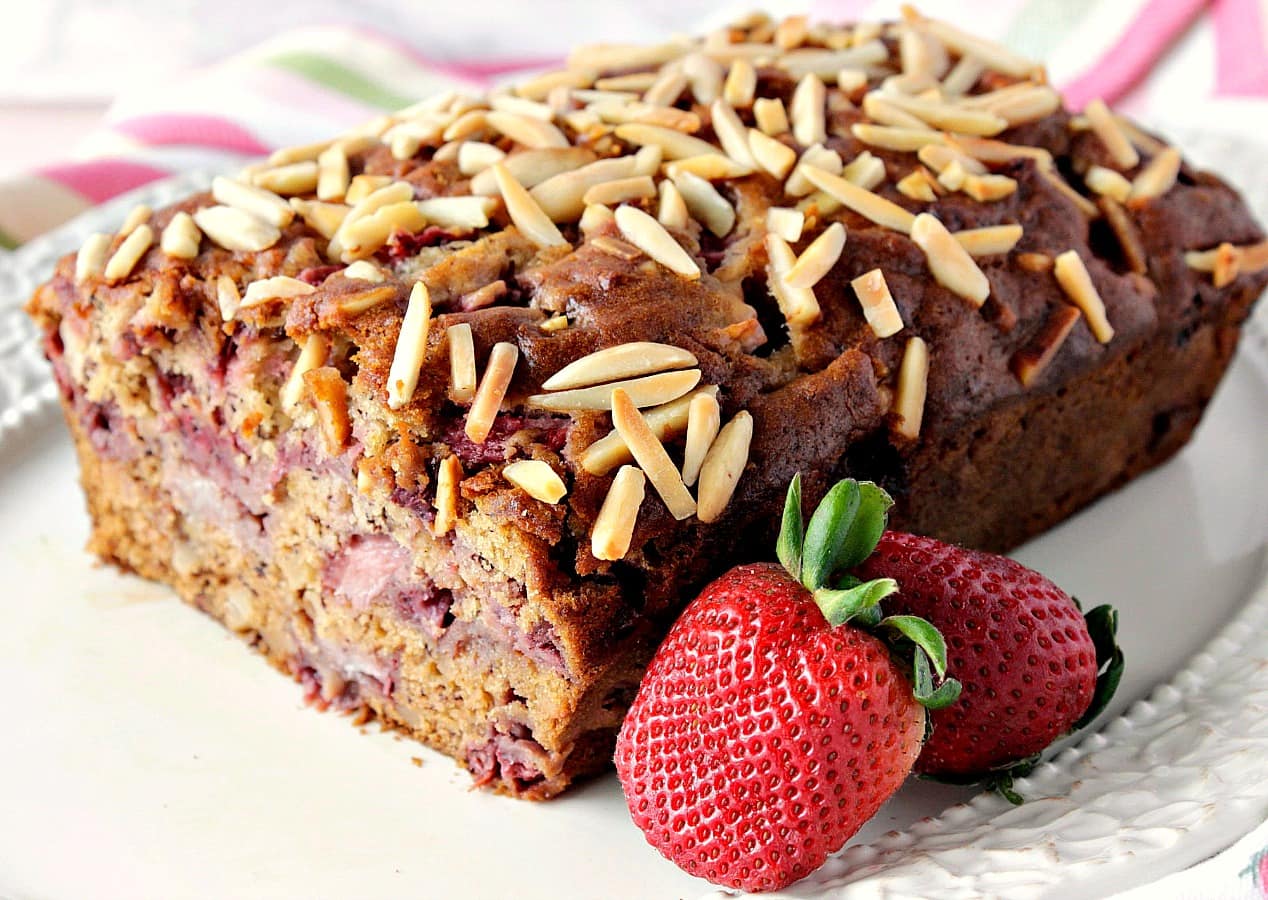 Here are a few other fruit and berry recipes that I think you'll also enjoy. Time to hit the produce department you guys!
Blood Orange and Blueberry Salad –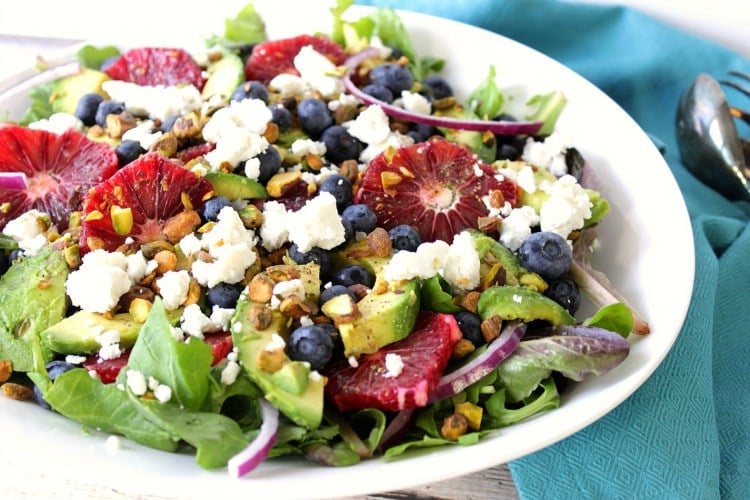 Caramelized Nectarine Upside-Down Cake –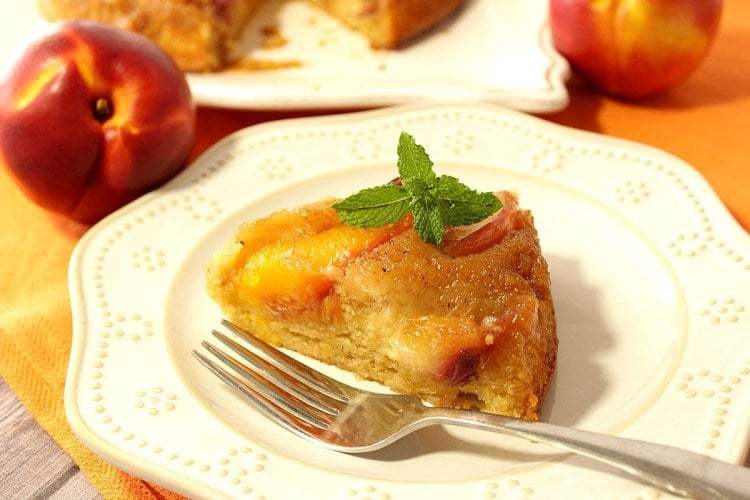 Mahi-Mahi with Nectarine Avocado Salsa –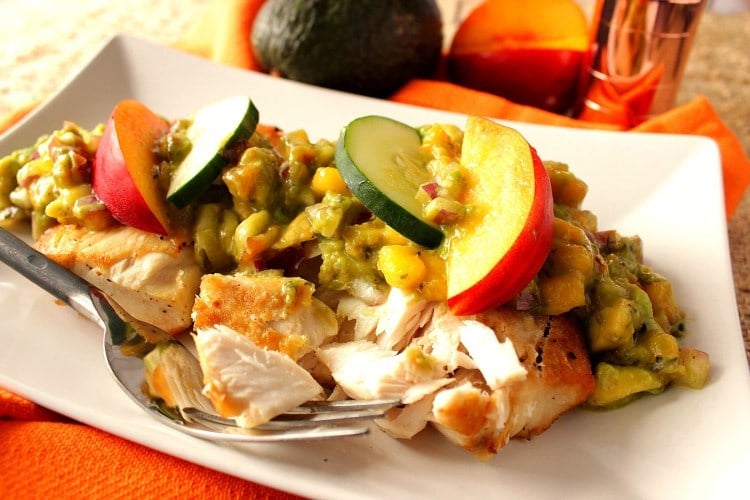 So there you have it, from appetizer to dessert (only I didn't list them in that order). The produce department is where it's at you guys! Be there or be square! LOL!
All this talk of fresh fruits and berries reminds me of this set of custom fruit farm coffee mugs (front and back) I painted for a client a few years ago. I love how colorful and fun they turned out, and I truly hope they're still being enjoyed to this day.
If there is ever anything I can paint for you, from glassware to fabrics, please don't hesitate to contact me for a price quote, or VISIT MY SHOP. Custom orders (like the mugs shown above) are always welcome. I will happily paint and design from any idea, photo or description you send my way.
Kudos Kitchen by Renée ~ Where food, art, and fun collide each and every day!
Until we eat again, I hope you have a delicious day!