In celebration of Mardi Gras and dressed in green, gold, and purple sanding sugar these pillowy soft and perfectly fried homemade beignets are ready to party!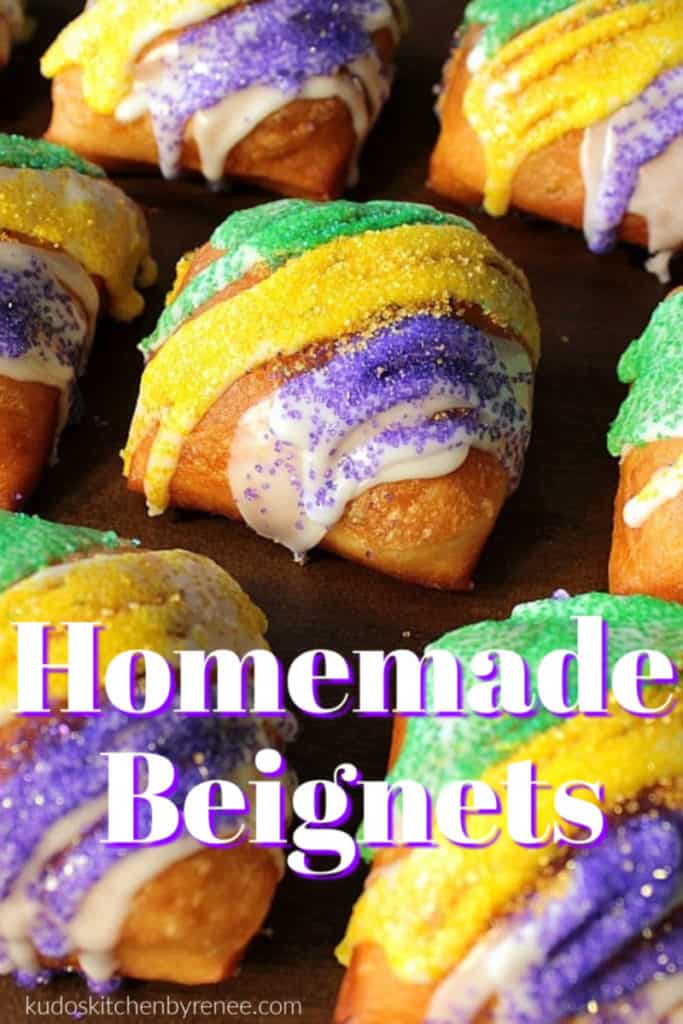 Have you ever been to New Orleans? I have not, but it's on my bucket list of places I want to visit. I hear the food is amazing, the people are fun, and the culture needs to be experienced at least once.
But, until I actually get to New Orleans, making homemade beignets for Mardi Gras is a great way to take part in the celebration and get the party started, even from home!
Jump to:
Dressed in the wonderful colors of Mardi Gras, or plain with a dusting of confectioners sugar, these homemade beignets are cause enough for celebration!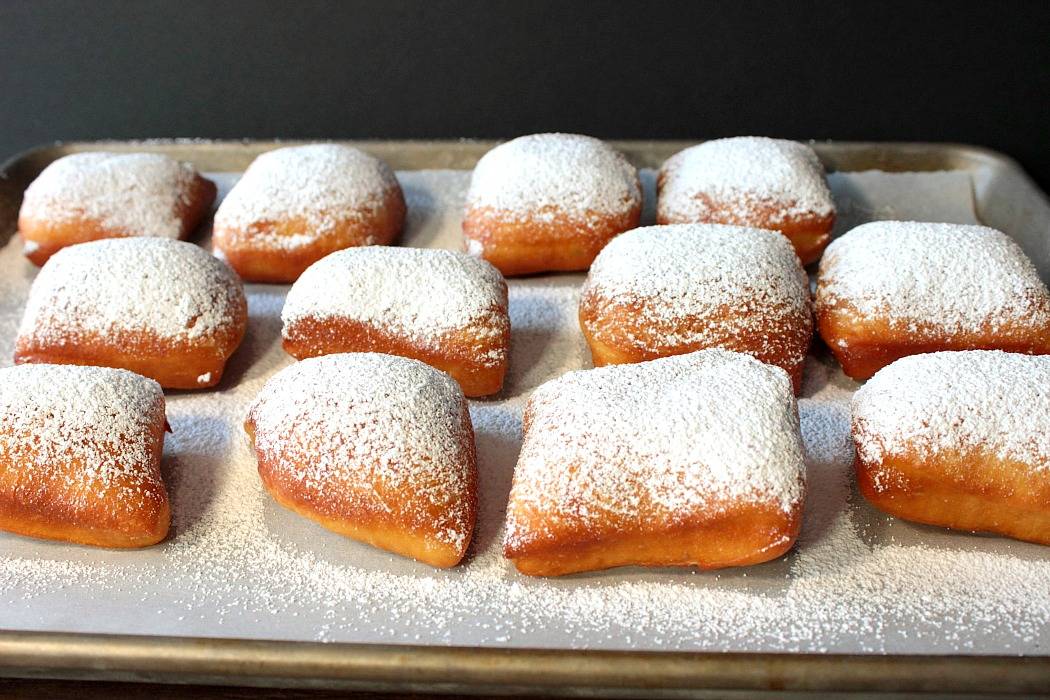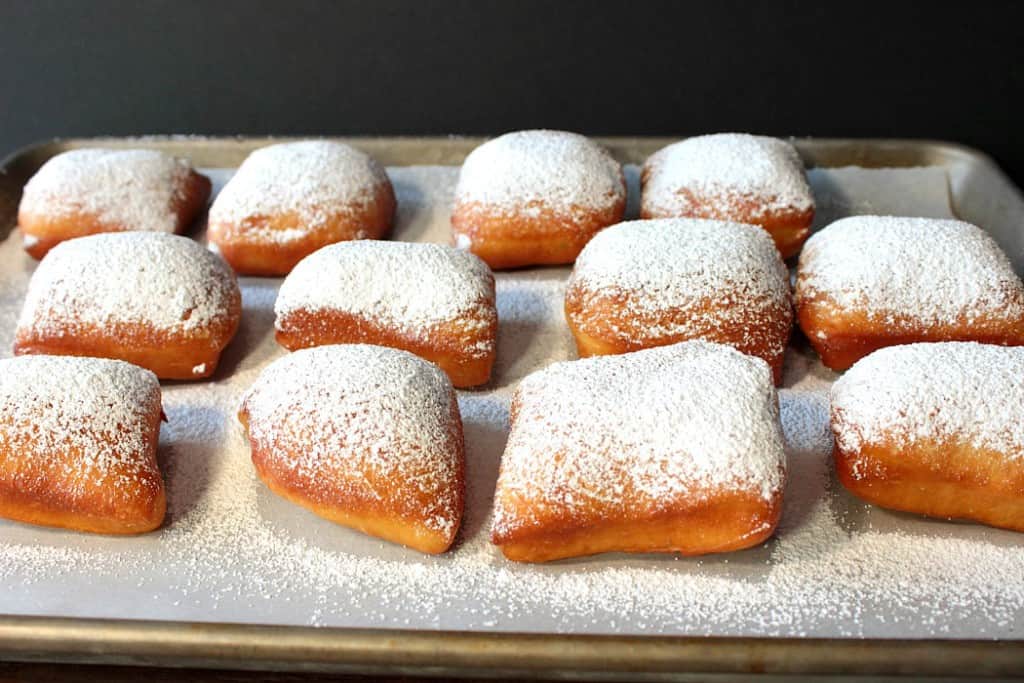 The ingredient list for making homemade fried beignets:
**Note - The following lists of ingredients plus kitchen tools and equipment contain affiliate links (highlighted in blue) for your consideration and shopping convenience. #CommissionsEarned
Kitchen tools and equipment needed:
Who doesn't love fried pastry?
Once I finished making these begniets I packed them all up and sent them with my husband to his office so he could share them with his coworkers.
From what I understand, they were gone in a matter of moments!
My husband told me he ate THREE of them!
What do the colors of Mardi Gras signify?
Purple signifies justice

Green signifies faith

Gold signifies power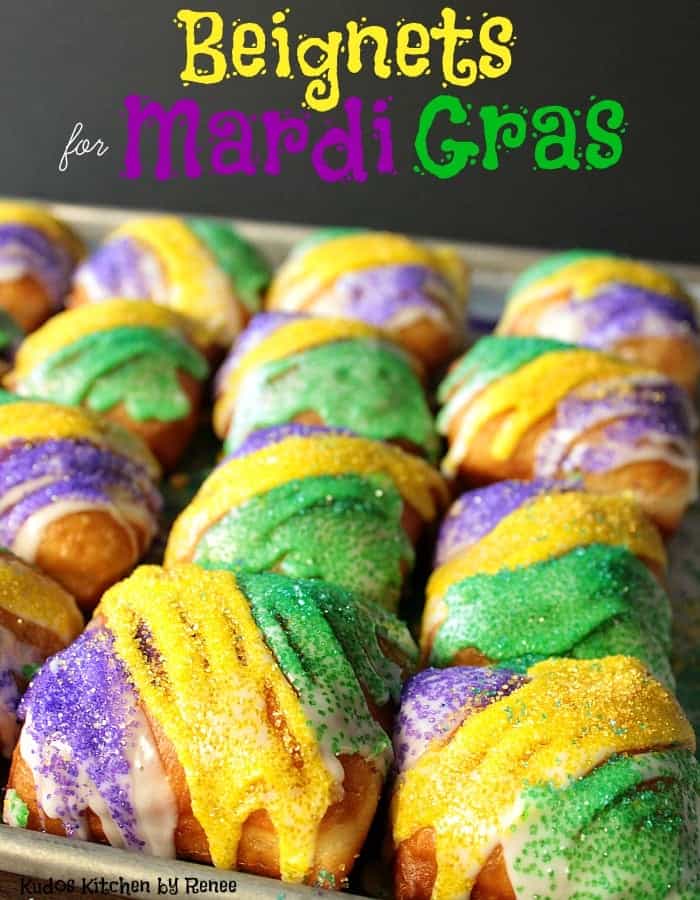 What is the best oil for frying beignets?
The best oil for frying is typically light in color and one that has a high smoke point.
My favorite oil for frying is peanut oil, but you can also use sunflower oil, safflower oil, canola oil, vegetable oil, or even avocado oil.
Nervous about making beignets at home?
If you're intimidated by working with yeast dough or frying food, I'm here to walk you through it with my easy step-by-step photos and video.
I want you to feel totally comfortable with this recipe and turn out some beautiful homemade beignets. Let's do this!


What is the proper oil temperature for frying beignets?
I like to have my oil at 375-degrees.
Remember that the oil will fluctuate once the beignets have been added to the oil, so never overcrowd the pan.
Caution - To avoid boilover of hot oil, NEVER fill the pan more than halfway full with oil when frying. Remember that the oil will expand as food cooks.
Can frying oil be recycled for additional uses?
Once the oil is completely cool, you can carefully funnel it back into its original container and use it another 3-4 times.
I recommend saving oil used for frying seafood by marking it and using it specifically for frying additional seafood, not sweet items like beignets.
Cover the oil container and store the used oil in a cool, dark place.
How to make homemade beignets;
Dissolve the yeast in warm water with a pinch of honey.

In a separate bowl, warm milk and butter together.

When the yeast gets foamy (approximately 5 minutes), add it to a large bowl along with the milk and butter mixture.

Stir in two eggs, and sugar.

Use a dough hook of a stand mixer, or a spatula or spoon to stir in 4 cups of flour until smooth and blended.

Once smooth, knead in the remaining flour to form a smooth, soft dough.

Cover the bowl with plastic wrap and allow the dough to rise for one hour until doubled.

When the dough has doubled in size, turn it out onto a lightly floured surface pressing the dough out to form an approximate 24" x 16" rectangle.

Use a pizza cutter or knife to cut the dough into approximately 3" squares (as you can tell from my cut dough, this doesn't need to be exact).

Heat canola or peanut oil to 375-degrees degrees.

Carefully fry about 4-5 beignets in the hot oil for approximately 1-2 minutes per side or until golden brown.

Carefully flip each beignet and fry the other side for an additional 1 minute.

Remove with a large slotted spoon and allow the beignets to drain on paper towels.

Continue frying the remaining cut beignets.

Once drained, sprinkle the beignets liberally with powdered sugar or drizzle each with the almond glaze and sprinkle with the colored sanding sugar.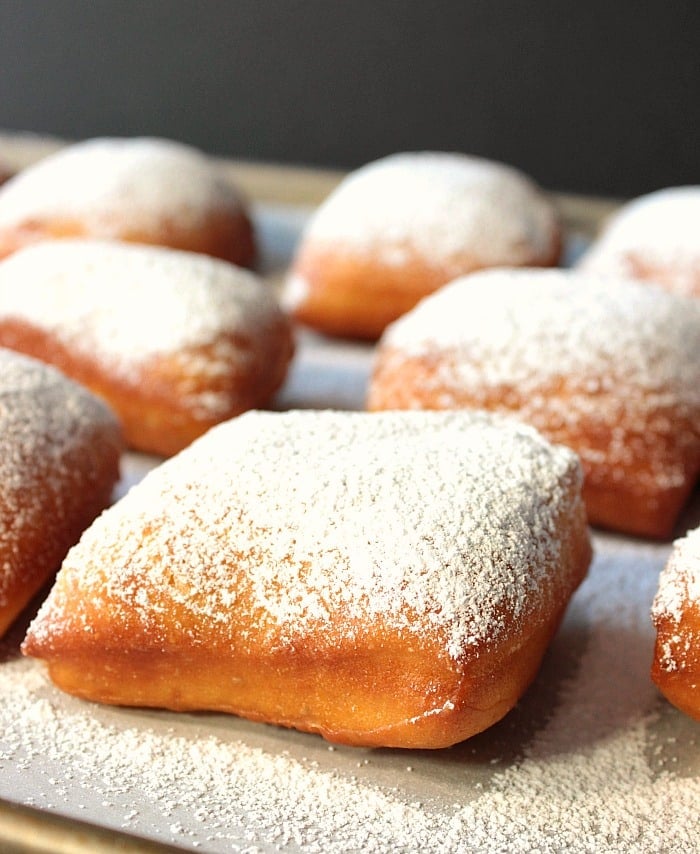 Additional Mardi Gras inspired recipes:
*Vieux Carre Cocktail by Feast + West
*No-Churn Mardi Gras King Cake Ice Cream by The Speckled Palate
*Cajun Spicy Tomato Soup by Online Pastry Chef
*Jambalaya Balls by Love & Flour
*Shrimp Hush Puppies by Stetted
*Traditional Polish Pączki by The Crumby Kitchen
*King Cake Donut Holes by Cake 'n Knife
*Easy Shrimp Po Boys by Simply Whisked
*Easy Jambalaya by The Secret Ingredient Is
*Mardi Gras King Cake by Nancie's Table
*Pecan Pralines by Stephie Cooks
*Hurricane Matthew (A Hurricane Drink Recipe) by Off the Eaten Path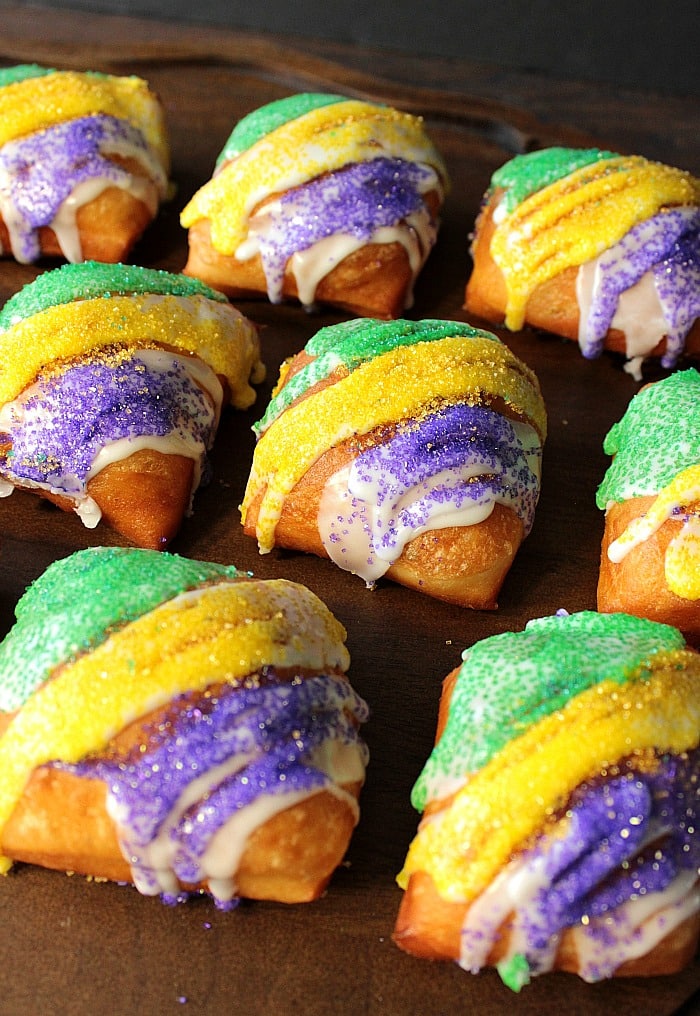 Additional fried foods recipes:
Part of the fun of eating Fried Rosette Snowflake Cookies is the dusting of confectioners sugar that will inevitably snow down the front of your shirt as you crunch into these crispy little holiday treats. There's no way around it, so just give in and let it snow!
Even if you're not a huge mushroom fan, I'll bet you're going to flip over these Beer Battered Fried Mushrooms!
Chicken and waffles get a picnic-ready upgrade with this recipe for Waffle Batter Fried Chicken! Now you can pack up this classic treat, and easily take it wherever you want to go.
Homemade Glazed Apple Cider Donuts are every bit as good as what you get at an apple orchard or bakery, except that you make them fresh at home!
When you make this recipe, and I hope you do, I'd appreciate it if you'd take a moment to leave a star rating on the recipe card and briefly comment on why you rated it as you did. FYI - Google appreciates recipe ratings and, in turn, will share my recipes with more people. Thank you so much!!
Printable Recipe Card
Homemade Beignets for Mardi Gras
Deliciously fried pillows of sweet dough are sprinkled with a snowstorm of powdered sugar or drizzled with a sweet almond glaze and colorful sanding sugar.
Ingredients
1

package

2¼ teaspoons active dry yeast

1½

cups

warm water

110-115 degrees

1

teaspoon

honey

¾

cups

granulated sugar

1

teaspoon

salt

2

eggs

1

cup

warm milk

4

tablespoons

butter

at room temperature

7

cups

all-purpose flour

peanut oil
To Make the Almond Glaze
2

cups

powdered sugar

1

teaspoon

almond extract

2

tablespoons

milk

sanding sugar

purple, yellow, green
Instructions
In a small bowl, dissolve the yeast in the warm water. Add the honey. Set aside for 5 minutes to allow the mixture to get foamy.

In another small bowl, warm the milk and butter together. Not hot. Just warm to the touch.

Pour the yeast mixture into a large bowl (or the bowl of a stand mixer), and add the milk and butter mixture.

Add the eggs and granulated sugar to the yeast mixture, and beat to combine.

Stir in 4 cups of flour and stir well to make a smooth dough.

Turn the dough out and knead in the remaining flour until the dough forms a smooth, elastic ball.

Place the dough into a bowl that has been sprayed with cooking spray. Cover the bowl with plastic wrap and allow the dough to rest and rise until doubled in bulk (approximately 1 hour).

Once risen, turn the dough out onto a lightly floured surface and press the dough into a rectangle approximately 24" x 16"

Use a knife or pizza cutter to cut the dough into approximate 3" squares.

Carefully heat the oil in the high sided frying pan to reach 375-degrees.

Carefully add 4 - 5 cut beignets to the hot oil and fry each side for 1-2 minutes or until puffed and golden brown. Carefully flip the beignets and fry on the other side until golden.

Use a large slotted spoon or spider to carefully remove the fried beignets to paper towels to drain.

Continue frying the remaining dough.

Once cooled, liberally sprinkle the beignets with a liberal amount of powdered sugar.
To make the glaze:
In a medium bowl, whisk together the 2 cups of powdered sugar, almond extract, and milk.

Drizzle the fried beignets with the almond glaze and immediately sprinkle the glaze with the colored sanding sugar.
Notes
-When using the sanding sugar, make sure to sprinkle the beignets when the glaze is still wet to make sure the sugar sticks to the glaze.
-The glaze dries quickly so you need to act fast in order to get the sugar to stick to the glaze.
-You can add the glaze to a zip top bag and snip the corner of the bag to make a mock pastry bag, Or you can drizzle the glaze using the tines of a fork.
Tools and equipment;
Thermometer (for proper oil temperature), large high sided pot (for frying), spider or large slotted spoon (for removing beignets from oil), large/medium/small bowls, measuring cups, measuring spoons, paper towels,
Nutrition
Serving:
1
grams
Calories:
153
kcal
Carbohydrates:
30
g
Protein:
3
g
Fat:
1
g
Saturated Fat:
1
g
Cholesterol:
13
mg
Sodium:
83
mg
Sugar:
11
g
I sincerely hope you've enjoyed today's recipe for these colorful and delicious homemade beignets as much as I've enjoyed bringing it to you!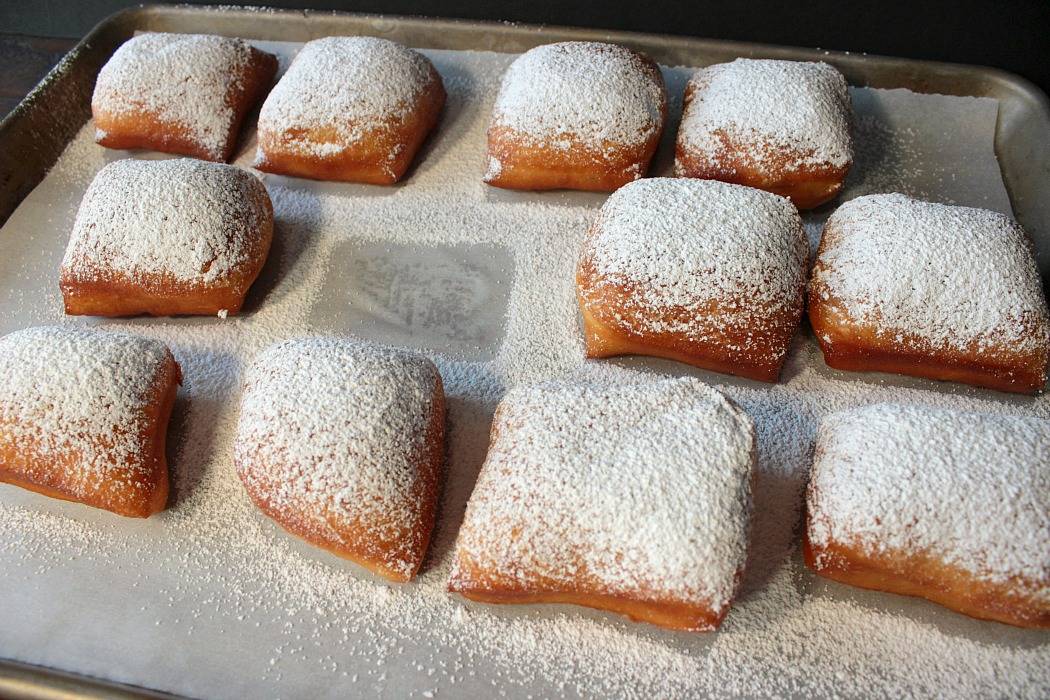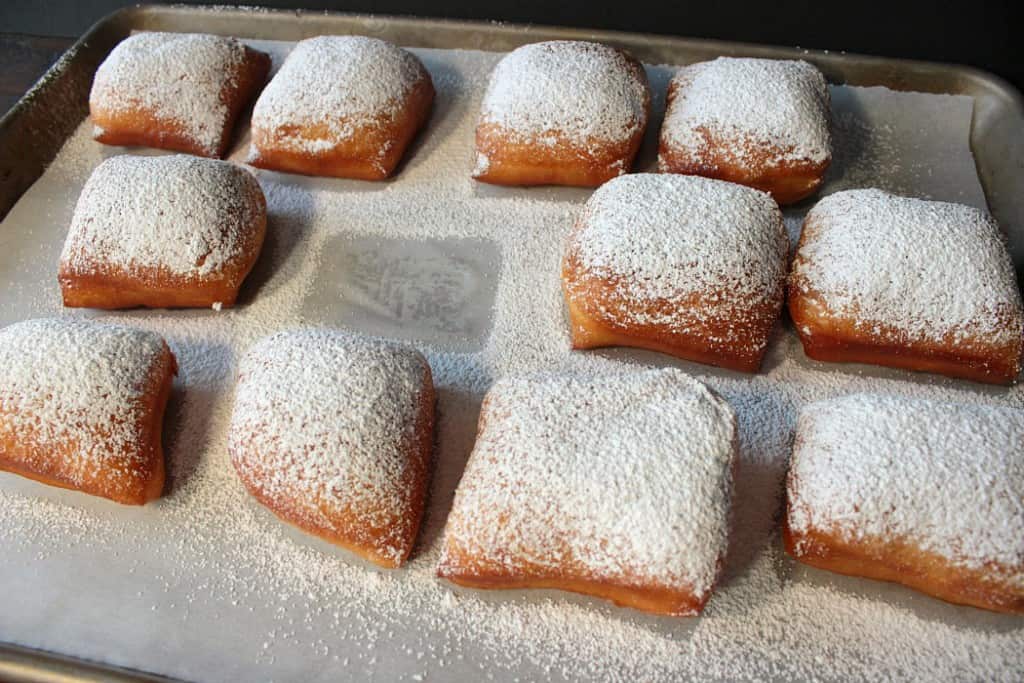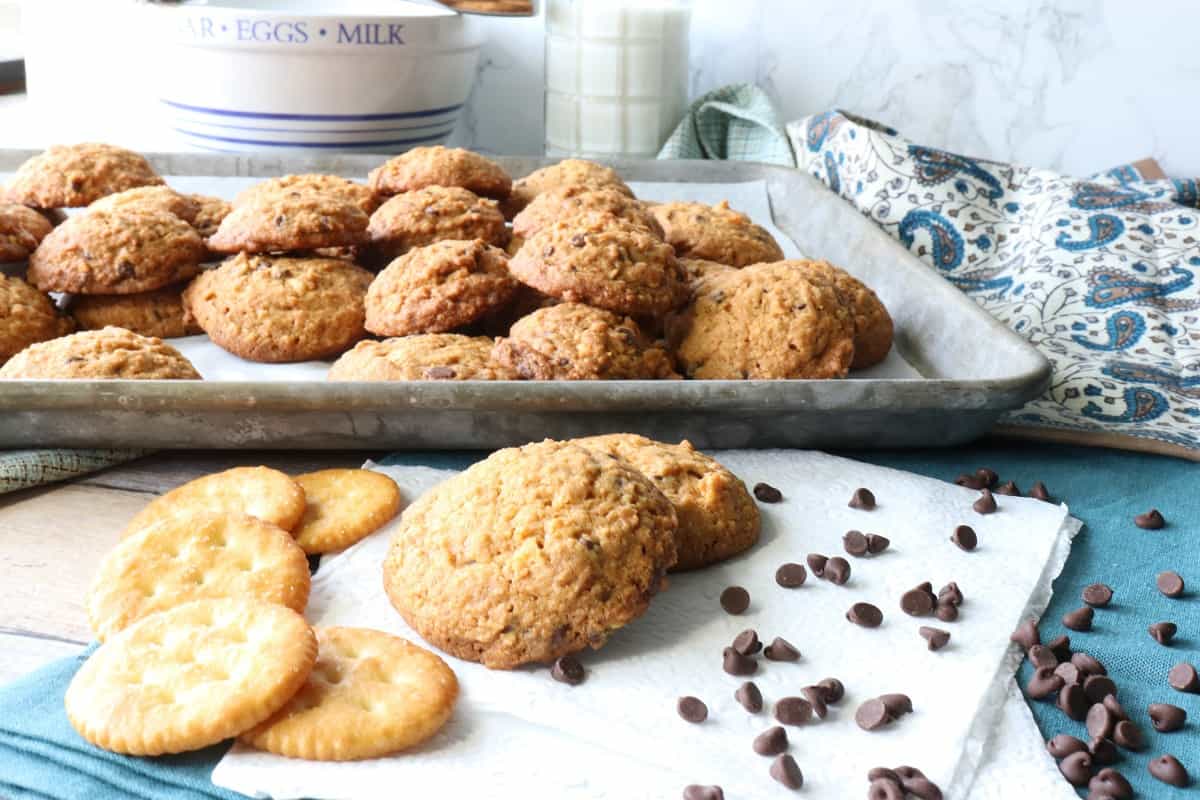 Follow me across my social media platforms and join in on the conversation: FACEBOOK, INSTAGRAM, PINTEREST, TIKTOK, AND YOUTUBE.
Thank you so much for visiting me today in my Kudos Kitchen. I hope you found something you'll love and that you'll come back and visit me often. There is always room for you around my table!
Should you have any questions or comments regarding anything you've seen here on my blog, please don't hesitate to reach out to me. It is always my distinct pleasure to respond to you just as soon as I possibly can.
Until we eat again, I hope you have a delicious day!!