In celebration of Mardi Gras 2016, I decided also to cover some with sweet almond icing and a colorful sprinkling of green, gold, and purple sanding sugar. After all, it's all about excess during carnival time, so you might as well do it up right! Beignets for Mardi Gras.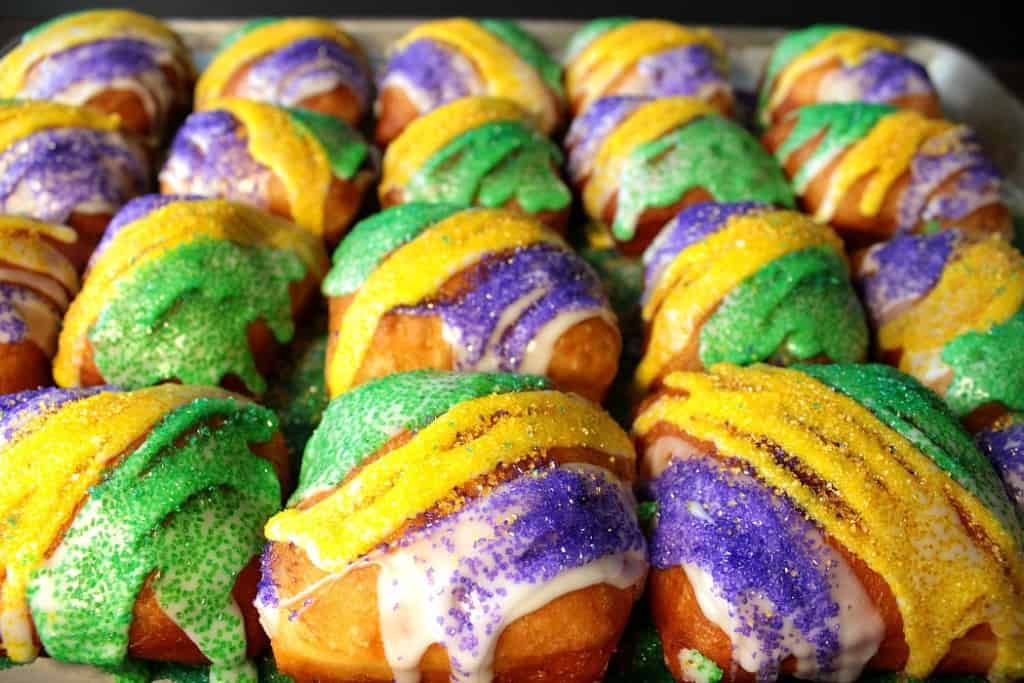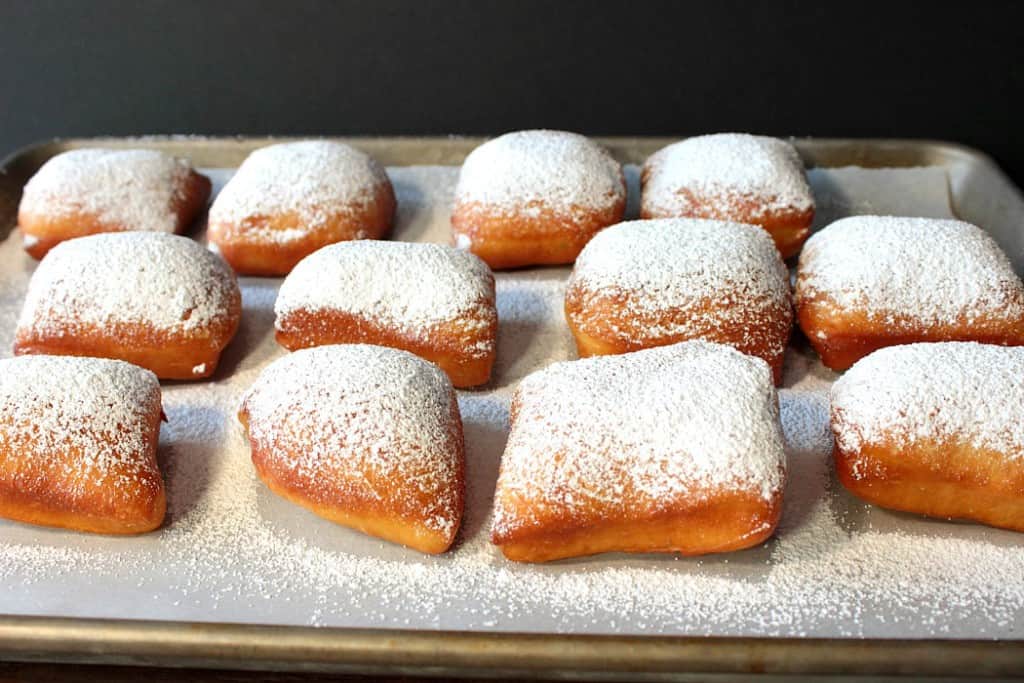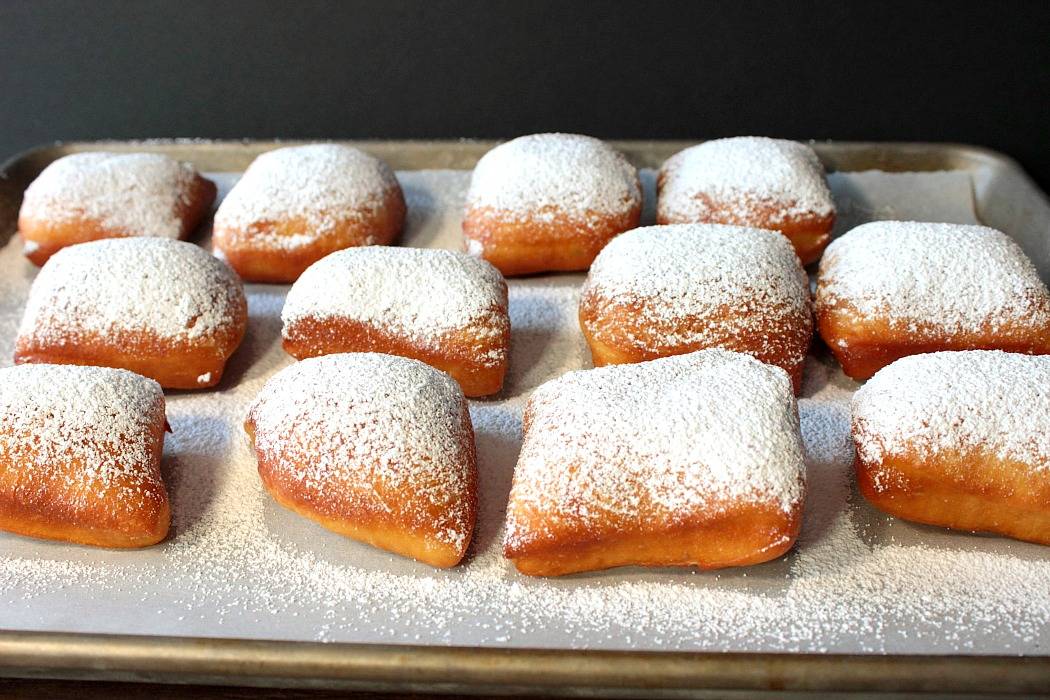 Have you ever been to New Orleans? I have not, but it's on my bucket list of places I want to visit. I hear the food is amazing, the people are fun and friendly, and the culture needs to be experienced at least once, especially during the party that is Mardi Gras, where the theme is "Let the good times roll!" Making Beignets for Mardi Gras is a good place to start.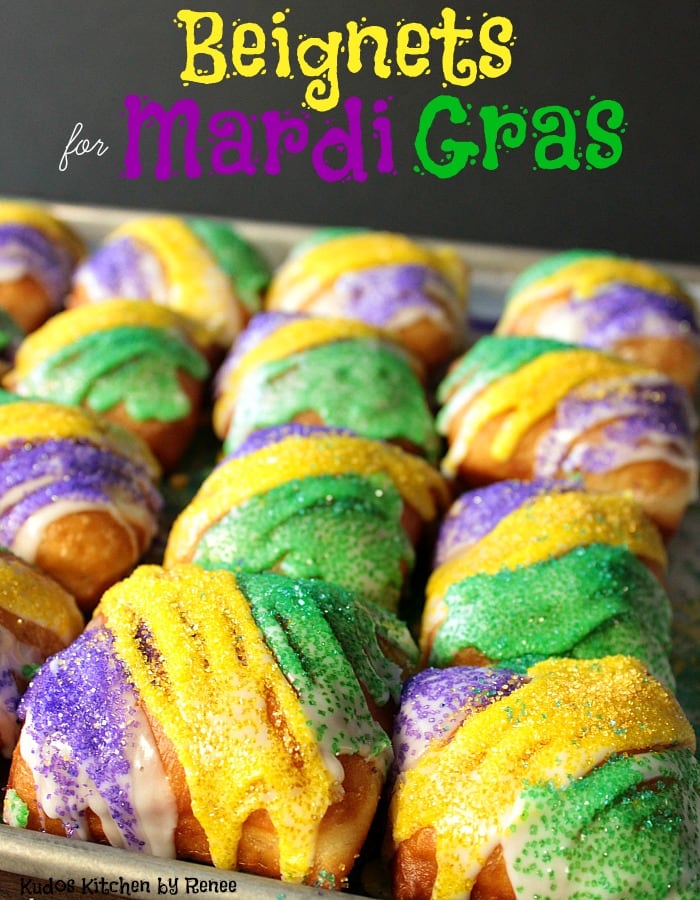 The three colors of Mardi Gras have a definite meaning and symbolism. Purple signifies justice, green signifies faith, and gold signifies power. These three colors are seen everywhere during the week-long Mardi Gras celebration by way of masks and costumes, floats in parades, jewelry and beads, and. of course, cakes, sweets, and wine glasses too 🙂
If you're intimidated by working with yeast dough, or by frying foods, I'm here to walk you through it so you can be successful. As long as you follow some simple instructions and safety precautions, you'll be munching on these Beignets for Mardi Gras in no time at all. Or, even if you don't plan on making beignets at all, at least I hope you'll have fun looking at the colorful pictures. That way, you won't get all those pesky calories, but your eyes will still have had a feast. After all, you don't gain any weight by just looking.


Once I'd finished making these, I packed them all up and sent them with my husband to share with his coworkers. From what I understand, they were gone in a matter of moments, and my husband ate THREE of them! Good thing I didn't leave them at home or he would have eaten more. LOL
Ready to make Beignets for Mardi Gras? Let's begin!
Dissolve the yeast in warm water with a pinch of honey. In a separate bowl, warm milk and butter together.
When the yeast gets foamy (approximately 5 minutes), add it to a large bowl along with the milk and butter mixture. Stir in two eggs, and sugar.
Use a dough hook of a stand mixer, or a spatula or spoon to stir in 4 cups of flour until smooth and blended. Once smooth, knead in the remaining flour to form a smooth, soft dough. Cover the bowl with plastic wrap and allow the dough to rise for one hour until doubled.
When the dough has doubled in size, turn it out onto a lightly floured surface pressing the dough out to form an approximate 24″ x 16″ rectangle.
Use a pizza cutter or knife to cut the dough into approximately 3″ squares (as you can tell from my cut dough, this doesn't need to be exact). Heat canola or peanut oil to 425 degrees. Carefully fry about 4-5 beignets in the hot oil for approximately 1-2 minutes per side or until golden brown. Carefully flip each beignet and fry the other side for an additional 1 minute. Remove with a large slotted spoon and allow the beignets to drain on paper towels. Continue frying the remaining cut beignets.
Once drained, sprinkle the dough liberally with powdered sugar or drizzle each with the almond glaze and sprinkle with the colored sanding sugar.
Beignets for Mardi Gras
Deliciously fried pillows of sweet dough are sprinkled with a snowstorm of powdered sugar or drizzled with a sweet almond glaze and colorful sanding sugar.
Ingredients
1

package

2¼ teaspoons active dry yeast

1½

cups

warm water

110-115 degrees

1

teaspoon

honey

3/4

cups

granulated sugar

1

teaspoon

salt

2

eggs

1

cup

warm milk

4

tablespoons

butter

at room temperature

7

cups

all-purpose flour

<g class="gr_ gr_462 gr-alert gr_spell gr_inline_cards gr_run_anim ContextualSpelling multiReplace" id="462" data-gr-id="462">1 quart</g> canola or peanut oil for frying

<g class="gr_ gr_463 gr-alert gr_gramm gr_inline_cards gr_run_anim Grammar only-ins doubleReplace replaceWithoutSep" id="463" data-gr-id="463">candy thermometer

large slotted spoon or spider

paper towels

powdered sugar for dusting
To Make the Almond Glaze
2

cups

powdered sugar

1

teaspoon

almond extract

2

tablespoons

milk

sanding sugar

purple, yellow, green
Instructions
In a small bowl, dissolve the yeast in the warm water. Add the honey. Set aside for 5 minutes to allow the mixture to get foamy.

In another small bowl, warm the milk and butter together. Not hot. Just warm to the touch.

Pour the yeast mixture into a large bowl (or the bowl of a stand mixer), and add the milk and butter mixture.

Add the eggs and granulated sugar to the yeast mixture, and beat to combine.

Stir in 4 cups of flour and stir well to make a smooth dough.

Turn the dough out and knead in the remaining flour until the dough forms a smooth, elastic ball.

Place the dough into a bowl that has been sprayed with cooking spray. Cover the bowl with plastic wrap and allow the dough to rest and rise until doubled in bulk (approximately 1 hour).

Once risen, turn the dough out onto a lightly floured surface and press the dough into a rectangle approximately 24" x 16"

Use a knife or pizza cutter to cut the dough into approximate 3" squares.

Carefully heat the oil in the high sided frying pan to reach 425 degrees.

Carefully add 4 - 5 cut beignets to the hot oil and fry each side for 1-2 minutes or until puffed and golden brown. Carefully flip the beignets and fry on the other side until golden.

Use a large slotted spoon or spider to carefully remove the fried beignets to paper towels to drain.

Continue frying the remaining dough.

Once cooled, liberally sprinkle the beignets with a liberal amount of powdered sugar.

To make the glaze:

In a medium bowl, whisk together the 2 cups of powdered sugar, almond extract, and milk.

Drizzle the fried beignets with the almond glaze and immediately sprinkle the glaze with the colored sanding sugar.
Recipe Notes
When using the sanding sugar, make sure to sprinkle the beignets when the glaze is still wet. The glaze dries quickly so you need to act fast in order to get the sugar to stick to the glaze.
You can add the glaze to a zip top bag and snip the corner of the bag to make a mock pastry bag. Or you can drizzle the glaze using the tines of a fork.
Nutrition Facts
Beignets for Mardi Gras
Amount Per Serving
Calories 6499
Calories from Fat 1449
% Daily Value*
Total Fat 161g 248%
Cholesterol 516mg 172%
Sodium 2680mg 112%
Total Carbohydrates 1146g 382%
Protein 116g 232%
* Percent Daily Values are based on a 2000 calorie diet.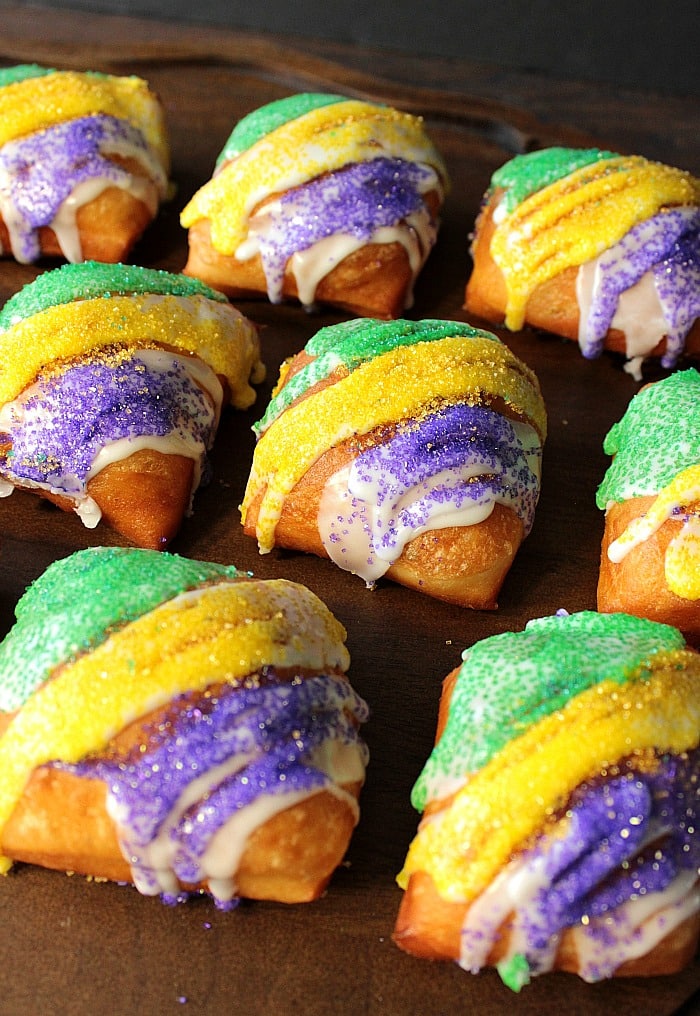 And now for a little more fun stuff to feast your eyes on, I've made a fun video of just a small sampling of my hand painted glassware that I hope you'll enjoy watching.
If you should have any questions regarding this recipe for Beignets for Mardi Gras, or anything else you see on my site, please don't hesitate to contact me directly, or leave me a comment in the comment section below. It is always my distinct pleasure to get back to you with a reply just as soon as I possibly can!
For additional information regarding my Kudos Kitchen recipes, and/or my hand painted glassware or fabric items, please follow me on;
FACEBOOK, PINTEREST, INSTAGRAM, TWITTER, YOUTUBE and MY PAINT SHOP
Kudos Kitchen by Renée ~ Where food, art, and fun collide each and every day!
Until we eat again, I hope you have a delicious day!