My Kudos Kitchen recipe for Bratwurst on a Stick with Fried Cornmeal Beer Batter is a fun and deliciously different take on a corn dog. It's the best, make that WURST, corn dog you'll ever eat!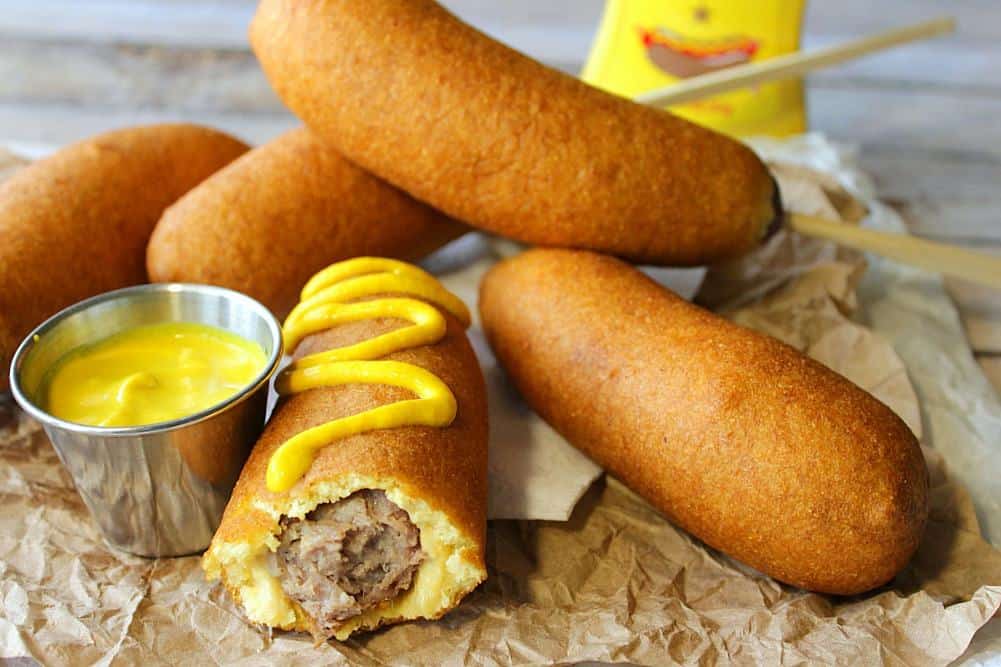 Whenever I'm at an American county fair or street festival, I always make a beeline directly to the corn dog stand. Corn dogs have always been something I crave, and they're the one "foods on a stick" I enjoy more than all the others. Until now, of course.
These days beer batter bratwurst takes the blue ribbon of my heart, and I'll bet they'll win over your heart too.
**Please Note – The printable recipe card with detailed instructions, complete ingredient measurements, and nutritional information for making Beer Batter Bratwurst on a Stick is available at the end of this post. OR Click on the "Jump to recipe" text (found below) to be taken directly to the recipe.
Jump to Recipe
CLICK ON THIS BOX TO LIKE AND SUBSCRIBE TO MY KUDOS KITCHEN YOUTUBE CHANNEL. SEE YOU THERE! 🙂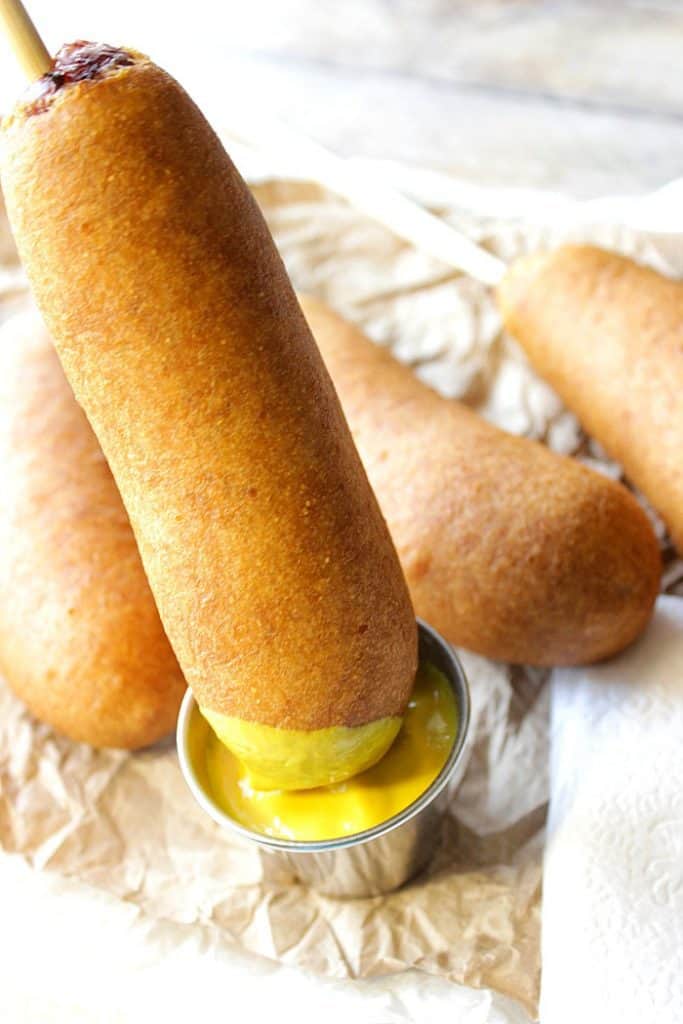 The ingredient list;
**Note – The following list of ingredients contains affiliate links for your consideration and shopping convenience.
bratwurst, cooked

all-purpose flour

beer

salt

egg

sugar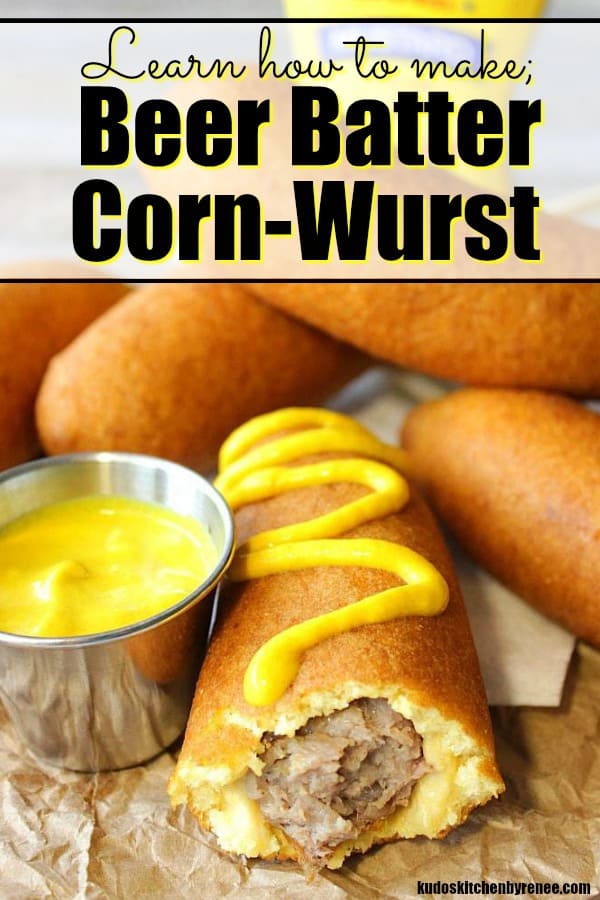 Making a bratwurst on a stick is an idea I'd had about a year ago and one that I filed away in my brain to take out at the appropriate time.
Since summer is rapidly coming to a close, and Oktoberfest is right around the corner, I figured that there is no better time for this beer batter bratwurst to make its debut.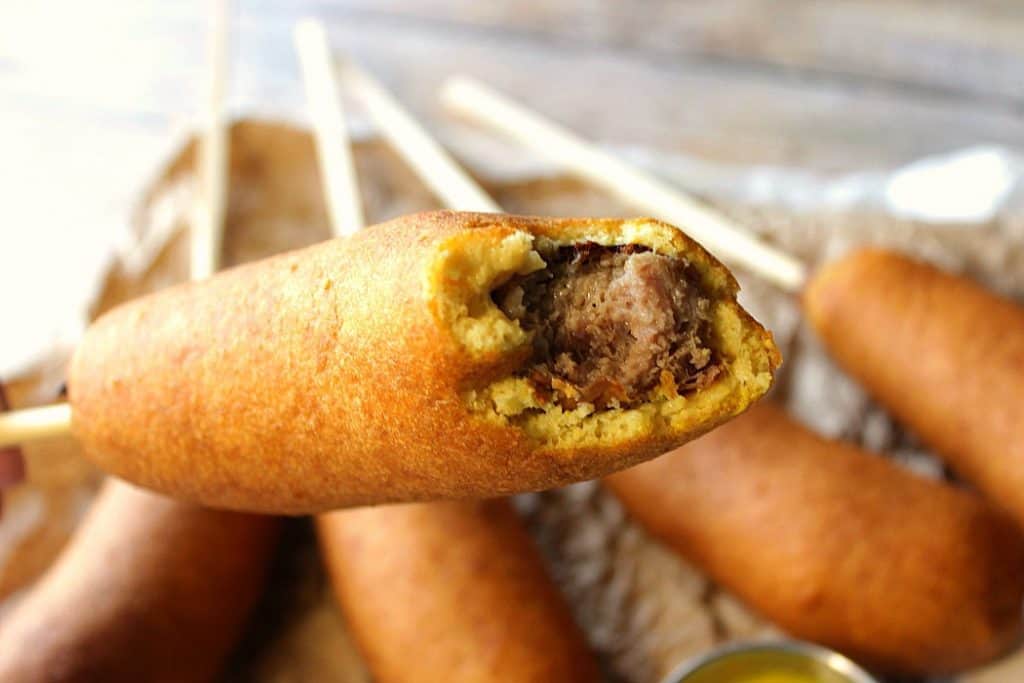 What is the most important step to making beer batter bratwurst on a stick?
The concept of making bratwurst on a stick is simple, but the most important step is to fully pre-cook the bratwurst before the battering and frying.
Make sure to take the time to roast the bratwurst in a preheated 350-degree oven for 40 minutes. Cool them until you can handle them comfortably, insert the sticks, and then continue with the battering and frying.
What is the best oil to use for deep-fat frying?
It is always best to choose a light-colored oil with a high smoke point for deep-fat frying!
The best oil options for deep-fat frying are:
Peanut Oil
Avocado Oil
Grapeseed Oil
Canola Oil
Vegetable Oil
Corn Oil
Cottonseed Oil
Coconut Oil
Can the frying oil be reused after frying beer batter bratwurst?
YES! Cool the oil completely and strain off any bits of coating that remain in the oil.
Use a funnel to carefully pour the oil back into its original container and store the oil in a cool dark place until next time.
The same oil can be reused up to 5 times before needing to replace it with fresh. That said, I wouldn't suggest frying donuts with the same oil that's been used to fry fish.
Can I use uncooked bratwurst to make this recipe?
NO!!! In order for the brats to be cooked and not be raw in the center, the bratwurst MUST be fully pre-cooked before dipping them in the beer batter and frying.
Can I use leftover pre-cooked bratwurst to make this recipe?
YES!! It's a great way to save time, AND make these delicious beer batter bratwurst!

Can beer batter fried bratwurst be frozen after cooking?
YES!!
Once cooked, beer batter bratwurst should be eaten immediately or they can be refrigerated (or frozen) and then thawed and reheated in the oven.
How to freeze fried brats on a stick properly.
Allow the pre-cooked and fried beer batter brats to cool completely.
Wrap each bratwurst individually in freezer paper, or zip-top freezer bags.
Freeze for up to 2 months.
How to reheat from frozen.
Oven method:
Preheat oven to 350-degrees.
Place individual brats on a baking sheet and bake for 20 minutes or until heated through.
Microwave method:
Wrap each brat loosely in paper towels and microwave on medium power until heated through (approximately 40 seconds).
The easy instructions:
Place the uncooked bratwurst on a baking sheet and roast in a 350-degree oven for 35-40 minutes.

Remove and cool.

Insert skewers into the cooled bratwurst, more than halfway into the sausage.
If needed, dry the cooled sausage on paper towels.

Have a long, tall container on hand for dipping the sausages (I used a tall flower vase in a pinch).

In a large bowl whisk together all-purpose flour, yellow cornmeal, sugar, baking powder, baking soda, and salt.

Add 1 egg to the dry ingredients along with 8 ounces of beer.

Whisk to form a somewhat lumpy, thick batter.

Transfer the batter into the tall container and dip one-by-one dip each skewered sausage into the batter.

Remove the sausage from the batter and allow some to drip off before carefully submersing the cornmeal covered batter into a tall pot that has been previously heated to 360 degrees.

*NOTE – Coating and frying the bratwurst must be done one at a time, but the process goes quickly (approximately 30-45 seconds, per bratwurst). Do not allow the coated bratwurst to touch the bottom of the pan. Holding the stick the entire time is key.

Once golden brown, remove the corn-wurst to a paper towel-lined baking sheet and continue the process with the remaining bratwurst.

**The following affiliate links are some suggested products I've chosen that will aid you in the making and serving of this recipe for Beer Batter Bratwurst if desired.
As an Amazon Associate, I earn from qualifying purchases. When I find a great product or service I like to share it with my readers. For additional information please view my privacy policy.
Below is the printable recipe card along with the nutritional information for today's Beer Batter Bratwurst on a Stick.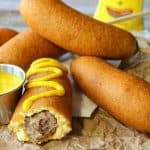 Print Recipe
Bratwurst on a Stick
A classic fair food gets an upgrade with the addition of bratwurst.
Ingredients
5

bratwurst

1½

quarts

peanut oil or canola oil

1¼

cups

all-purpose flour

2/3

cup

yellow cornmeal

2

Tablespoons

granulated sugar

1½

teaspoons

baking powder

½

teaspoon

baking soda

1

teaspoon

salt

1

egg

8

ounces

beer
Instructions
Preheat oven to 350-degrees.

Place the bratwurst on a baking sheet and cook in a preheated oven for 35-40 minutes.

Remove the brats from the oven and allow to cool completely.

Once cooled, insert an extra long skewer into the brats at least half way up.

If needed dry the bratwurst on paper towels before battering.

Bring the oil to a temperature of 375-degrees in a long, tall saucepan (tall enough to fit a bratwurst, lengthwise).

In a large bowl, whisk the all-purpose flour, corn meal, sugar, baking powder, baking soda and salt.

Whisk the egg and the beer into the dry mixture until a thick and slightly lumpy batter forms.

Transfer the batter into a tall container.

One by one dip each skewered and dried bratwurst into the batter allowing some of the batter to drip off before transferring it to the hot oil.

Carefully (but still holding the wooden skewer) lower the battered brat into the hot oil, making sure not to let the brat touch the sides or bottom of the pan, but making sure the entire brat is submersed in the oil.

Hold the skewer until the brat is golden brown.

Remove the brat to paper towels to drain and continue the process with the remaining brats and batter.

Serve hot with yellow mustard, and enjoy!
Notes
Bratwurst on a Stick may be refrigerated (or frozen) after cooking. Cool completely first.
To reheat, thaw (if needed) and place the on a baking sheet and bake for 20 minutes in a preheated 350-degree oven.
A light oil is always best for deep frying. I recommend peanut oil or canola oil.
Wooden skewers are recommended. Metal skewers will get too hot when frying and risk of burns may happen.
Tools and equipment;
Tall container (for coating the brats in the batter), 5 extra long wooden skewers or chopsticks, extra tall saucepan (for frying the Corn Wurst), baking sheets, paper towels, large bowl, whisk.
Nutrition
Serving:
1
bratwurst
|
Calories:
595
kcal
|
Carbohydrates:
48
g
|
Protein:
16
g
|
Fat:
306
g
|
Saturated Fat:
55
g
|
Cholesterol:
82
mg
|
Sodium:
1150
mg
|
Potassium:
477
mg
|
Fiber:
3
g
|
Sugar:
5
g
|
Vitamin A:
48
IU
|
Calcium:
80
mg
|
Iron:
3
mg
Thank you so much for visiting me here today in my Kudos Kitchen!
I sincerely hope you've enjoyed today's recipe for fried bratwurst on a stick as much as I've enjoyed bringing it to you!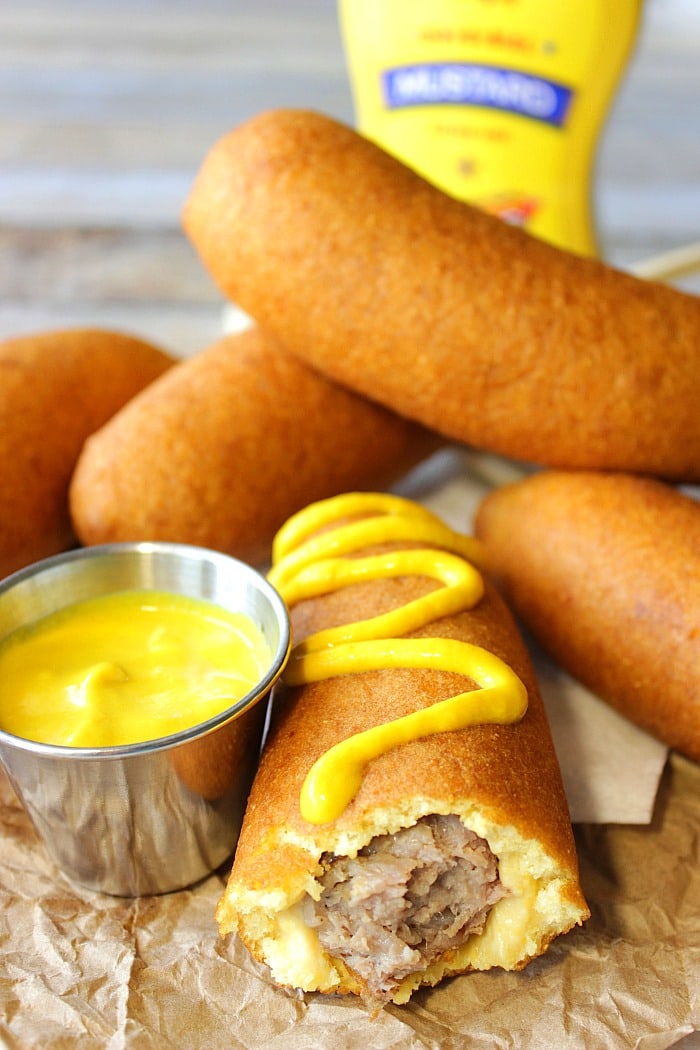 Should you have any questions or comments regarding this recipe or anything else you've seen on my site, please don't hesitate to reach out to me. It is always my distinct pleasure to get back with a reply just as soon as I possibly can!
For more Kudos Kitchen recipe information, please follow me on my social medial channels (listed below), and don't forget to TAG me @kudoskitchen with photos so I can view all your delicious recipe creations! It's exciting for me when you share them, so don't be shy!
Instagram, Pinterest, Facebook, and YouTube
Kudos Kitchen by Renee – BRINGING YOU EASY, ECONOMICAL, AND DELICIOUS DISHES TO FEED YOUR LOVED ONES!
Until we eat again, I hope you have a delicious day!
**Note – The post above includes affiliate links. As always, I truly thank you for your support!