Move over popcorn; there's a new snack kid in town! Roasted Rosemary Hazelnuts are as addicting as popcorn, and they're good for you too.
The problem with these Roasted Rosemary Hazelnuts is that once you start eating them, you literally won't be able to stop! Well, maybe that's just me. But I did need to make these tasty little tree nuts twice in a matter of only a few days because I couldn't get enough! And I'll bet you're going to feel the exact same way!

Not all that long ago I asked a question on my Facebook Page (Kudos Kitchen Food, Art, and Fun) whether people are only fans of hazelnuts if they are ground up and mixed with cocoa (you know the spread I'm talking about, right?). Or, if they like hazelnuts on their own merit, minus the chocolate.
The answer surprised me.
Almost everyone said they like the flavor of hazelnuts all by themselves, and that the addition of chocolate was purely a bonus for an already popular nut. Since I'm not a big proponent of the chocolate hazelnut spread, I was pleased to hear this. In my delight, I knew that the time was right to unveil my recipe for roasted rosemary hazelnuts.
Besides their exceptional taste, hazelnuts are extremely high in vitamin E which is important for maintaining healthy skin, hair, and nails. Hazelnuts are also a rich source of potassium, calcium, and magnesium which helps to regulating blood pressure. And they're also packed full of vitamin B which is important for proper cell and energy metabolism. Can your popcorn do all that?!! LOL!
With everything hazelnuts have going for them, making skillet roasted rosemary hazelnuts couldn't be easier (or faster) to make. Let's heat up the skillet and get cooking. I'm hungry!
Heat coconut oil in a large skillet. Add 3 – 4 sprigs of fresh rosemary and cook for 3 – 4 minutes on medium to infuse the oil with the rosemary. Remove the rosemary from the skillet.

Add the hazelnuts to the skillet and saute over medium heat, stirring frequently until the nuts are browned. Add salt and pepper. Stir well.

Add chopped rosemary to the skillet and cook for an additional 2 -3 minutes. Remove the nuts to paper towels to cool. Serve at room temperature. Store the nuts in an airtight container for up to 2 weeks.

Roasted Rosemary Hazelnuts are best served with a cold beer or a glass of wine. They're also great to use as a salad topper, or serve them with a charcuterie or cheese platter. For some wonderful charcuterie and cheese platter ideas, please check out some of my favorites from around the web.
How to Build a Charcuterie Board Like a Pro – Epicurious
How to Put Together a Great Cheese and Charcuterie Board – Cooking with Cocktail Rings
How to Build a Charcuterie Board Like a Pro – Southern Living
How to Create a Cheese and Charcuterie Board – The Daring Gourmet
How to Compose a Cheese Plate – Jenni Field's Pastry Chef Online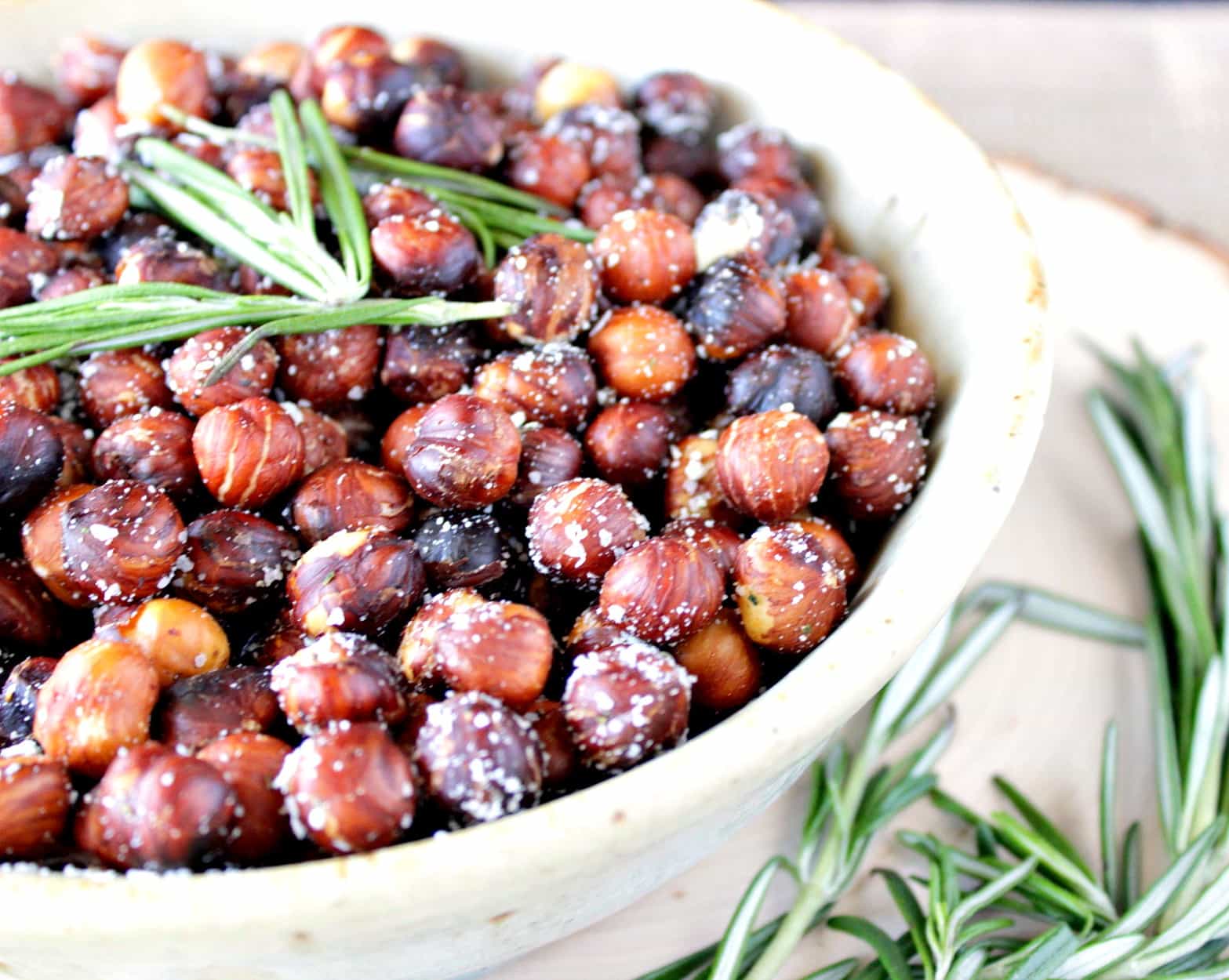 The following Amazon.com items are some suggested products I've chosen that will aid you in the making of this recipe for Roasted Rosemary Hazelnuts (if needed), along with some other fun hazelnut products that you probably didn't see coming. By clicking on the item, you'll be taken directly to Amazon.com if you're interested in purchasing any of these products. You are in no way required to do so, and you will not be charged in any way unless you decide to purchase a product through Amazon.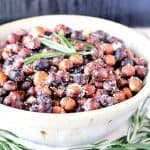 Better Than Popcorn Crunchy Skillet Roasted Rosemary Hazelnuts
Move over popcorn; there's a new snack kid in town! Roasted Rosemary Hazelnuts (a.k.a. filberts) are as addicting as popcorn. And they're good for you too.
Course:
Snacks and Munchies
Ingredients
1

tablespoon

coconut oil

2 - 3

sprigs fresh rosemary

plus 1 tablespoon minced fresh rosemary

3

cups

raw hazelnuts

skinless or with skins

2½

teaspoons

salt

½

teaspoon

pepper
Instructions
Heat the coconut oil in a large skillet over medium heat.

Add the fresh rosemary sprigs. Stir and cook for 2 -3 minutes. Remove the sprigs and discard.

Add the raw nuts to the skillet and stir well to coat the the infused rosemary oil.

Season with salt, pepper, and the chopped rosemary.

Continue cooking and stirring for 5 minutes until the nuts are browned.

Remove to paper towels to drain and cool.

Serve warm or at room temperature.
Recipe Notes
Store the nuts in an airtight container for up to 2 weeks.
I'm a nut for just about every kind of nut there is. If you are too, here are some additional nut recipes that I think you'll also enjoy:
Browned Butter Sweet and Smoky Roasted Nuts –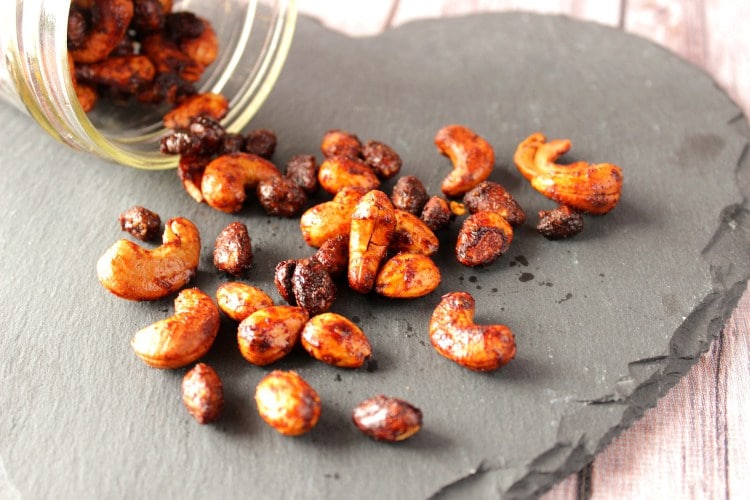 Honey Green Beans with Bacon, White Wine and Walnuts –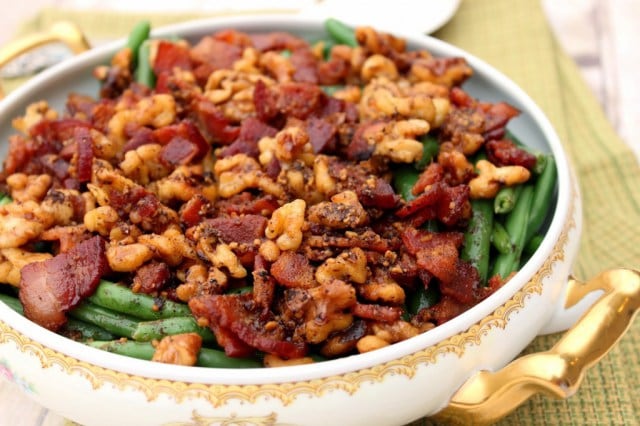 Oven Roasted Carrots, Broccoli, Shallots and Cashews –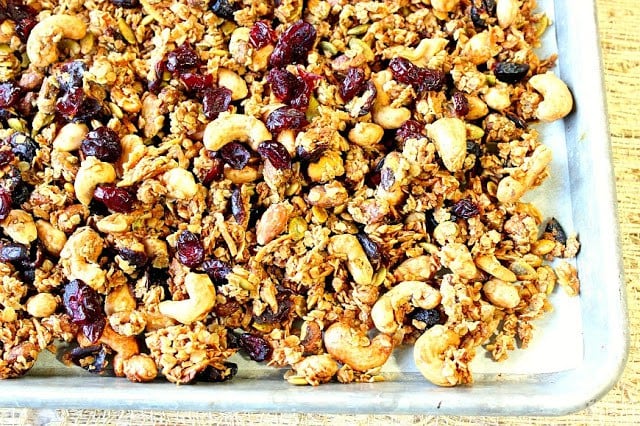 Well, that about does it for now. If you didn't get your fill of nuts then come back soon because I am continually eating and trying to come up with delicious new nut recipes that I'm sure you're going to love.
Until then, I hope you'll enjoy seeing some of the fun and personalized popcorn bowls I paint here in my Kudos Kitchen studio. I'm showing the popcorn bowls along with this post because I've yet to paint a bowl for Roasted Rosemary Hazelnuts, but that will be in the works shortly. LOL. Only kidding. These bowls make great housewarming, wedding, and/or shower gifts and can be personalized with any names and dates you request.
To order your own personalized popcorn bowl, please VISIT MY SHOP, or feel free to contact me through my blog. All of my items are painted to order and completely unique.
Kudos Kitchen by Renée ~ Where food, art, and fun collide each and every day!
Until we eat again, I hope you have a delicious day!
The post above includes affiliate links. When I find a great product or service, I like to share it with my readers. Sometimes I use affiliate links so I can earn commission for my recommendations. As always, I thank you for your support!