Fresh green beans get special attention with a sauce made of white wine, butter, bacon, walnuts and a drizzle of honey to finish.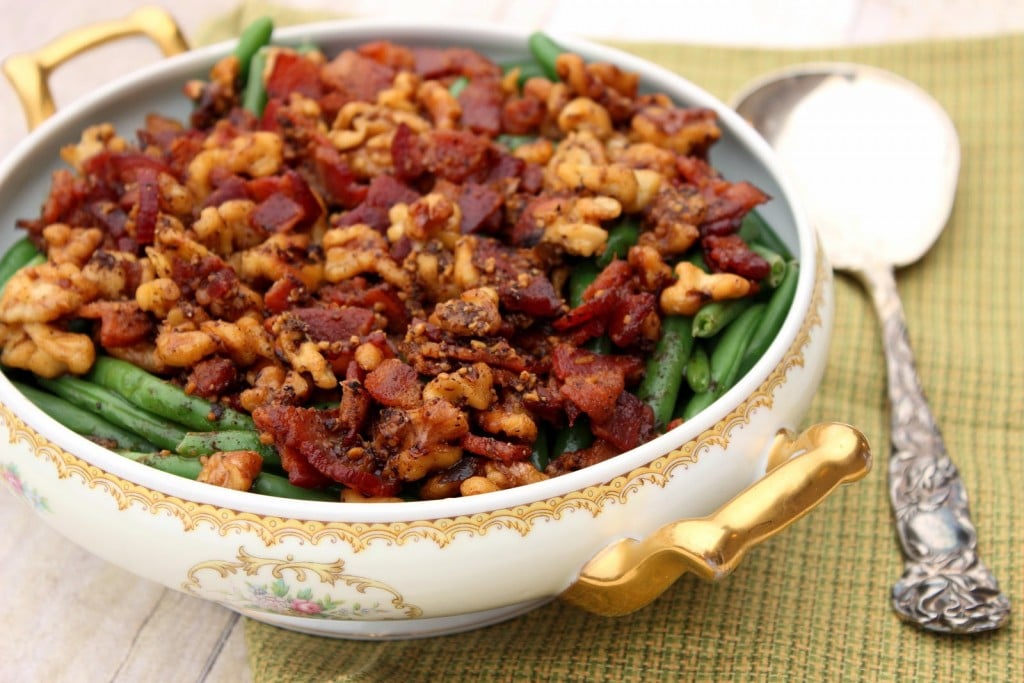 Hi everybody! I have a wonderful new vegetable recipe for Honey Green Beans with White Wine, Bacon, and Walnuts for you that I think you're really going to love.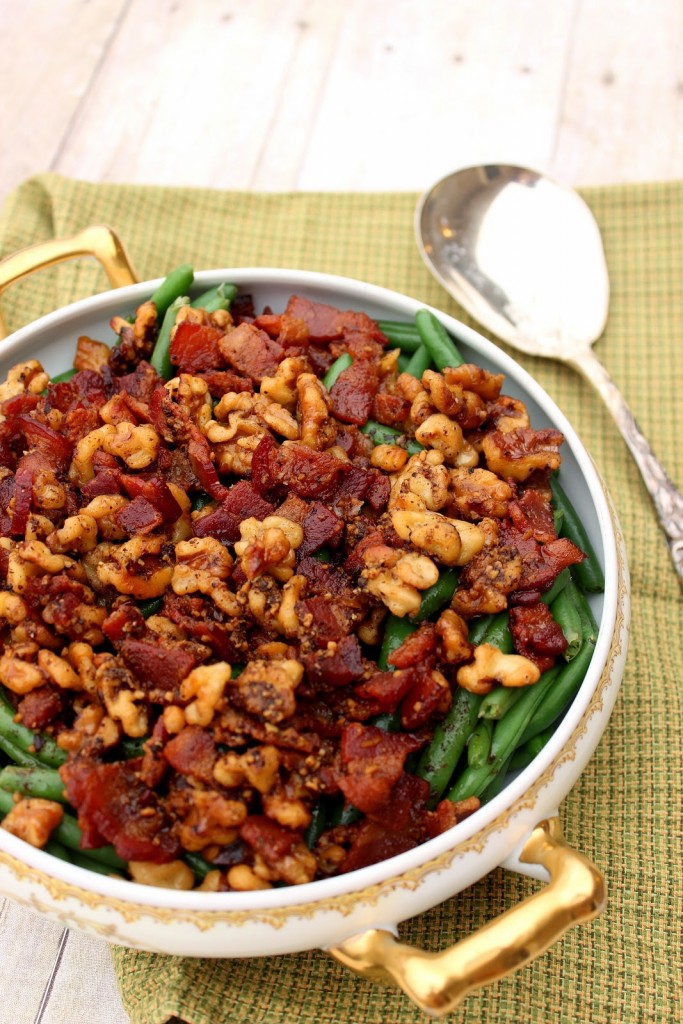 Thesedressed-upp green beans are super simple to make, and they come together in only a matter of minutes if you use the fresh green beans you can find in the produce section of the market. You know the ones, right? The fresh green beans that you can steam right in their produce bags by popping them in the microwave for only a few minutes. A lot of times I'll eat these green beans for lunch with a little drizzle of avocado oil and a squeeze of lime. Delicious!
Naturall,y you can also place fresh green beans in a large microwave dish and add a tiny splash of water, cover, and microwave a few minutes until tender. Frozen green beans will work here too by microwaving them until tender and then draining them if needed.
Once you've prepared the beans, set them aside while you prepare the bacon and white wine sauce. You're now only moments away from a delicious side dish that compliments anything else on your dinner plate. Or you can eat them all by themselves (like I did the next day for lunch with the leftovers)! Shhh. That will be our little secret. LOL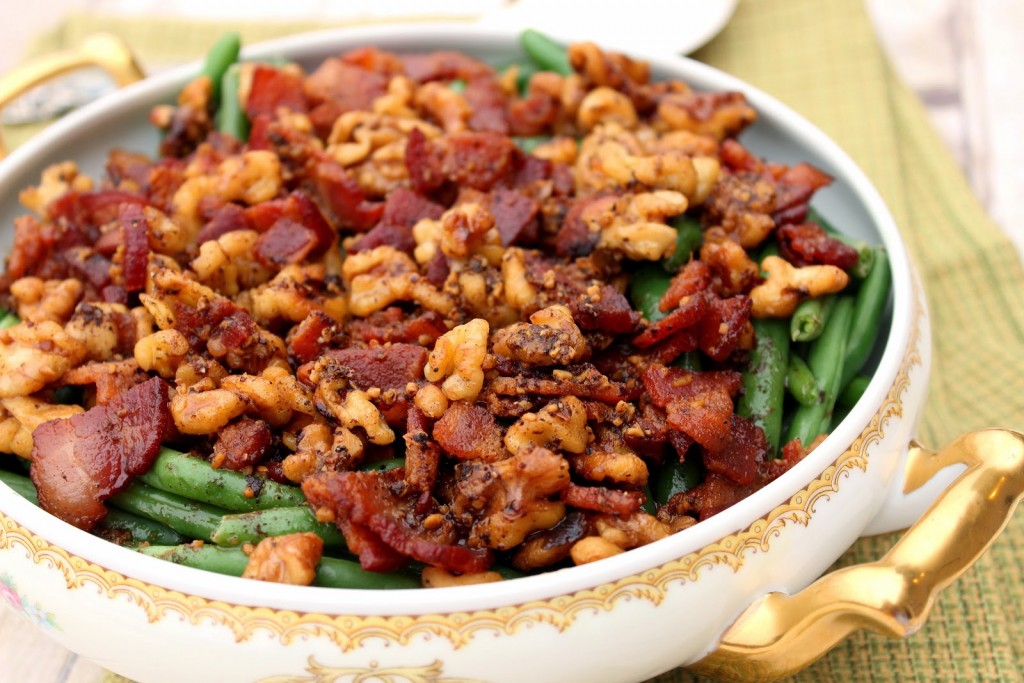 HONEY GREEN BEANS WITH WHITE WINE, BACON AND WALNUTS
Servings: 6-8 Prep and Cook Time: 15 minutes
1 ½ pounds fresh green beans, trimmed,cooked, and kept warm.
¼ pound bacon, cut into pieces
1 cup roughly chopped walnuts
2 cloves garlic, minced
¼ cup white wine
2 tablespoons butter
1 ½ teaspoons salt
½ teaspoon pepper
3 tablespoons honey
-In a large skillet over medium/high heat, cook the bacon until semi-crisp. Remove bacon to a paper towel lined plate and remove all but 1 tablespoon of the bacon grease from the pan.
-Reduce the heat to medium. Add the walnuts and garlic into the pan. Cook and stir about 1-2 minutes to toast the walnuts and mellow the garlic.
-Stir in the wine and butter, making sure to scrape up all the browned bits from the bottom of the pan.
-Add the cooked green beans into the pan along with the salt and pepper. Gently toss the green beans in the wine and walnuts. Simmer for 1-2 minutes.
-Pour the beans and the sauce with walnuts into a serving bowl and drizzle with honey to finish.
-Serve hot.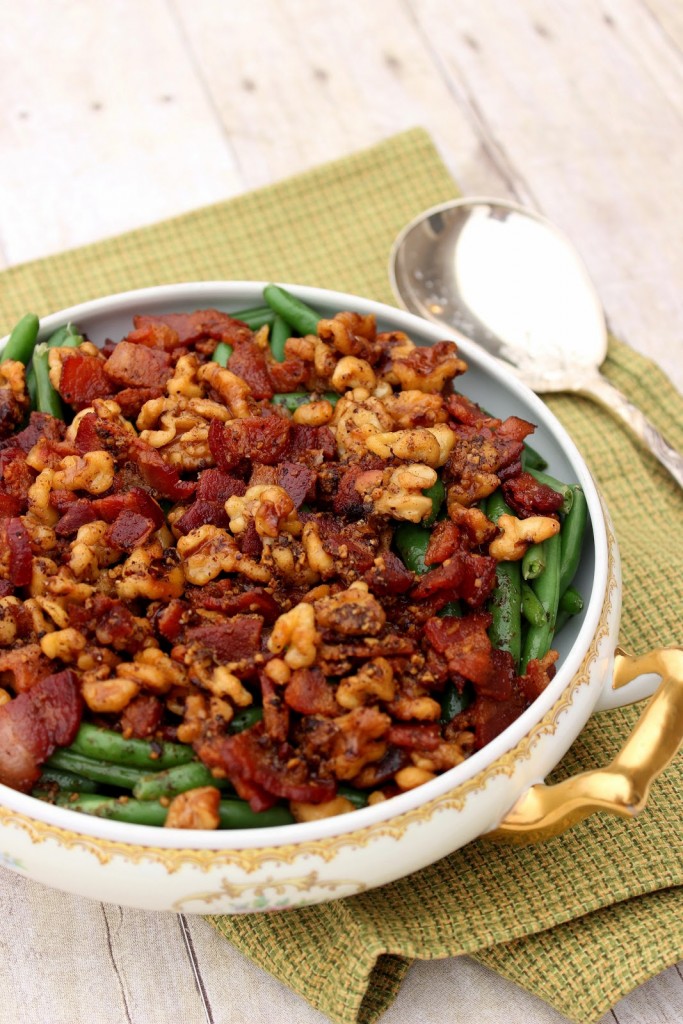 I hope you've enjoyed this elegant way to spruce up everyday green beans. It may not be the way you choose to serve them everyday, but for a special occasion, they really hit the mark.
I've decided to coordinate this Honey Green Beans with White Wine, Bacon and Walnuts recipe with this custom painted nurses wine glass because I love this wine glass design as much as I love this green bean recipe 🙂 Yeah, I know it's a stretch. but what can I say?!? LOL
Kudos Kitchen by Renée ~ Where food, art and fun collide on a regular basis!
Until we eat again,