It's easy to turn vegetable haters into vegetable lovers with this dish of Oven Roasted Carrots, Broccoli, Shallots, and Cashews.
Lightly caramelized, and deliciously flavorful, these oven roasted veggies are the perfect side dish to make for any meal.
Or, since it's so satisfying, why not make it as a vegetarian meal all on its own? Whichever way you choose to serve this dish, I know you're going to love it!

**Please Note – The printable recipe card with detailed instructions, complete ingredient measurements, and nutritional information for making Roasted Carrots, Broccoli, Shallots, and Cashews is available near the end of this post.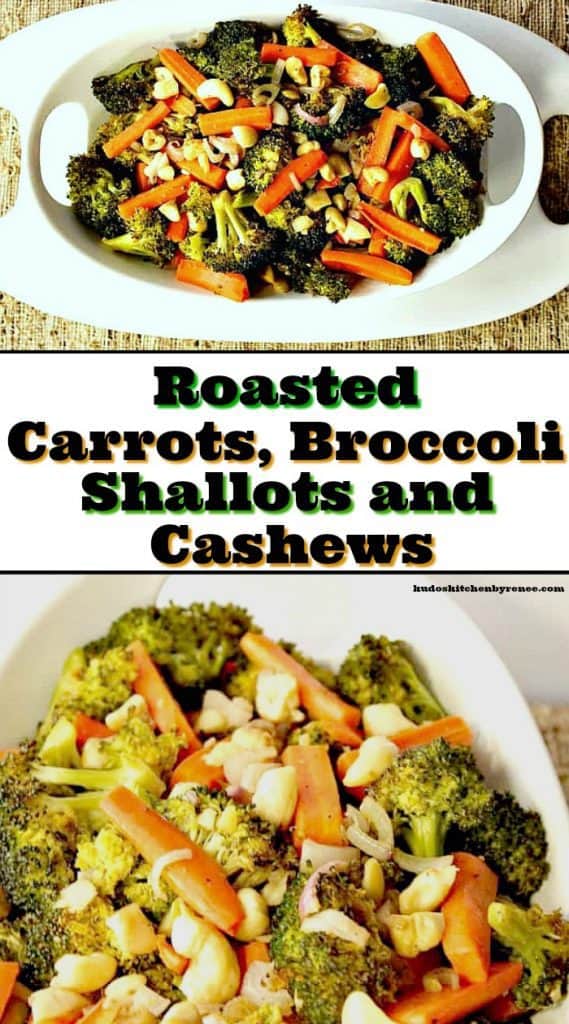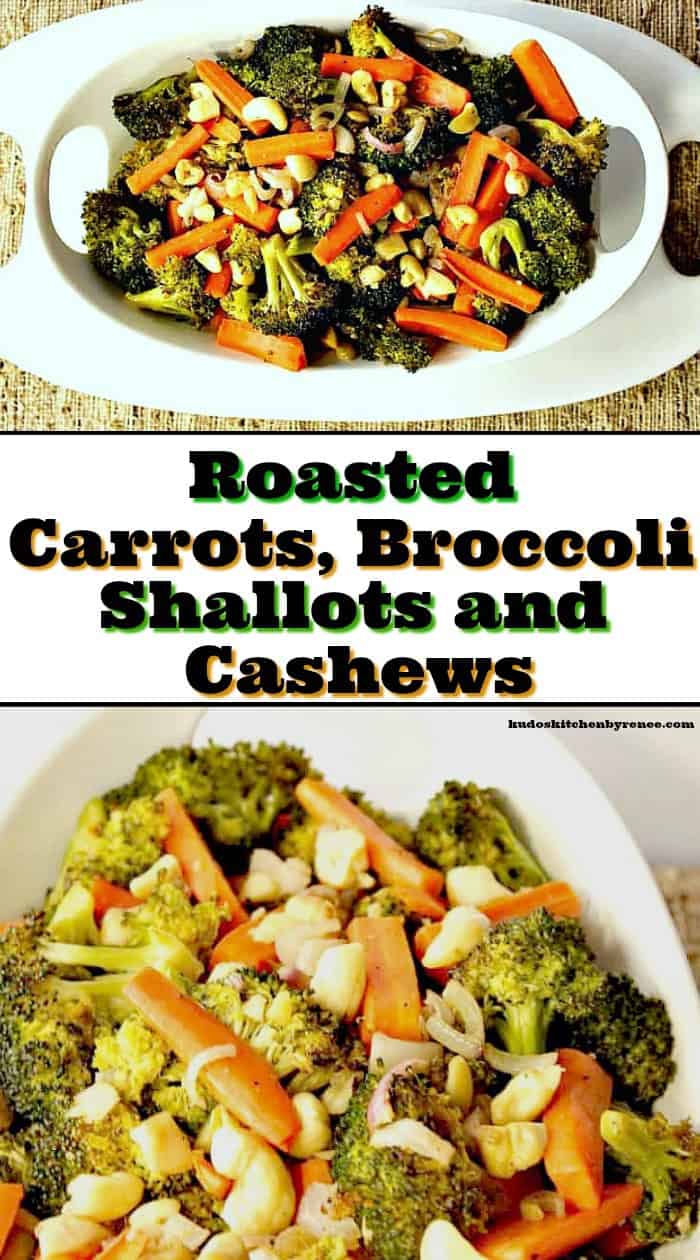 The easy ingredient list;
Carrots

Broccoli

Shallots

Salt and Pepper
Some things never change.
I've always been a vegetable lover. I was always the one who would grab a spoon and finish off the remaining vegetables in the bowl at dinnertime.
Things haven't changed for me.
I still love vegetables just as much today as I ever did, only now my preferred method for preparing them is roast them in the oven.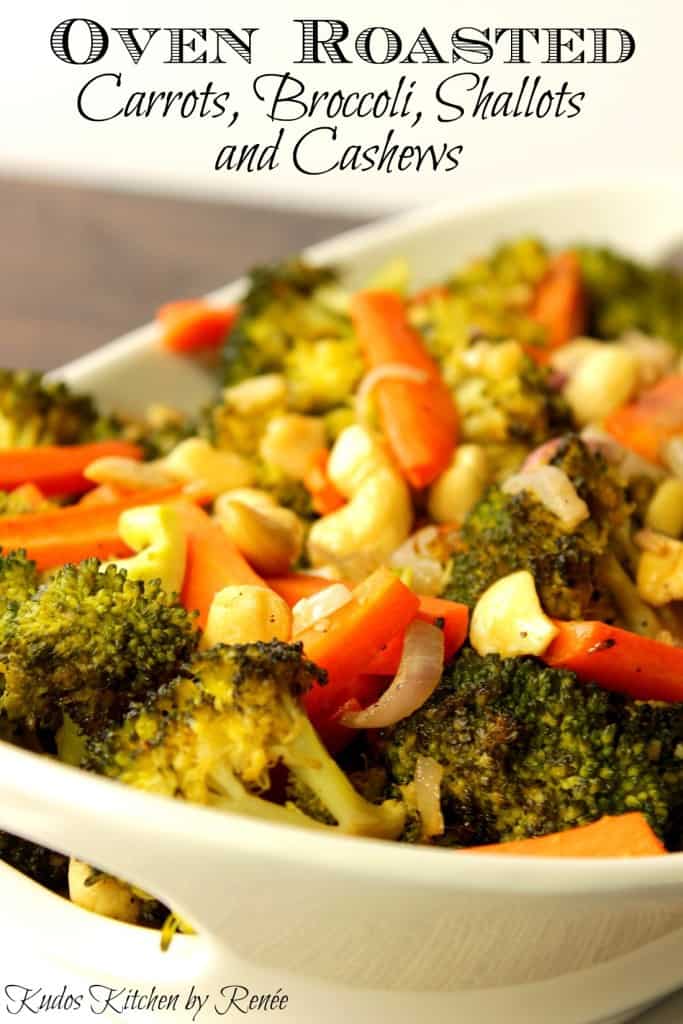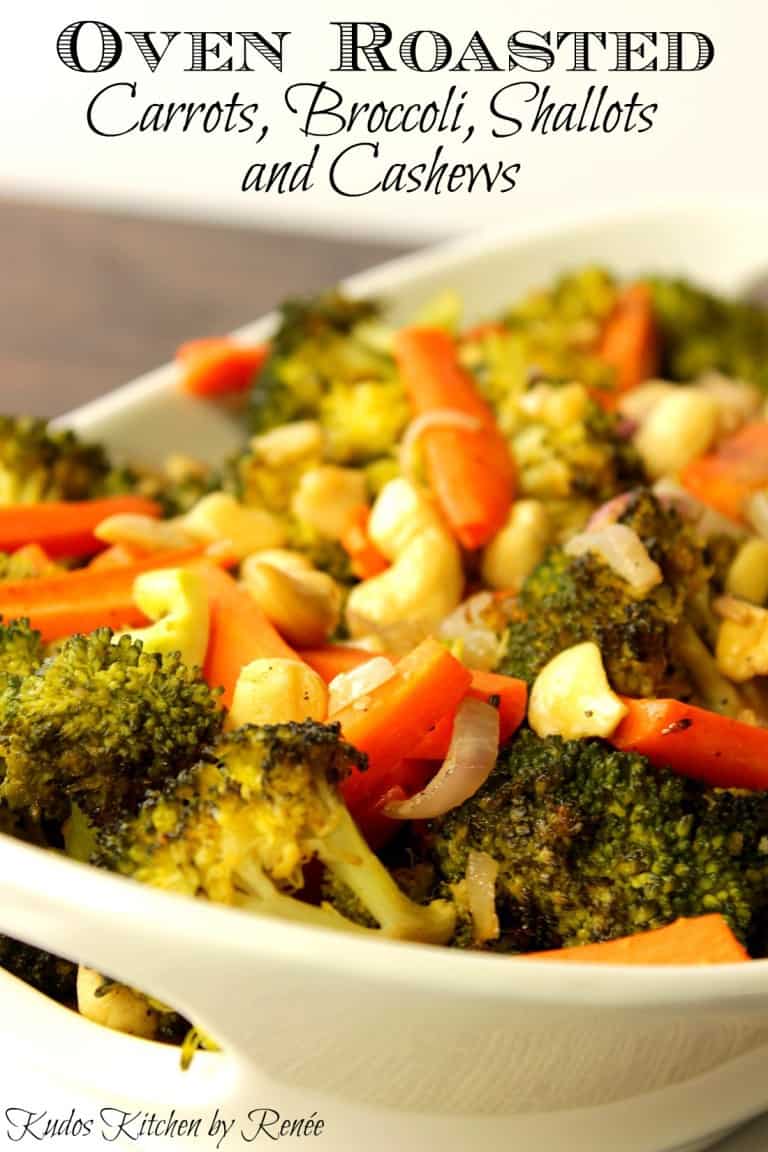 Why this recipe works;
Roasting these vegetables at 425-degrees turns them sweet and nutty with a slight bit of caramelization, and sweetness.
Even people who aren't prone to enjoying vegetables will have a change of heart when it comes to oven roasted vegetables.
Since first making this combination of roasted vegetables, and then including shallots and cashews, I can't seem to get enough.
My family also enjoys this ingredient combination since roasting vegetables is a surefire way to get even the most finicky eaters (husbands included) to try, and ultimately enjoy, the veggies on their plate!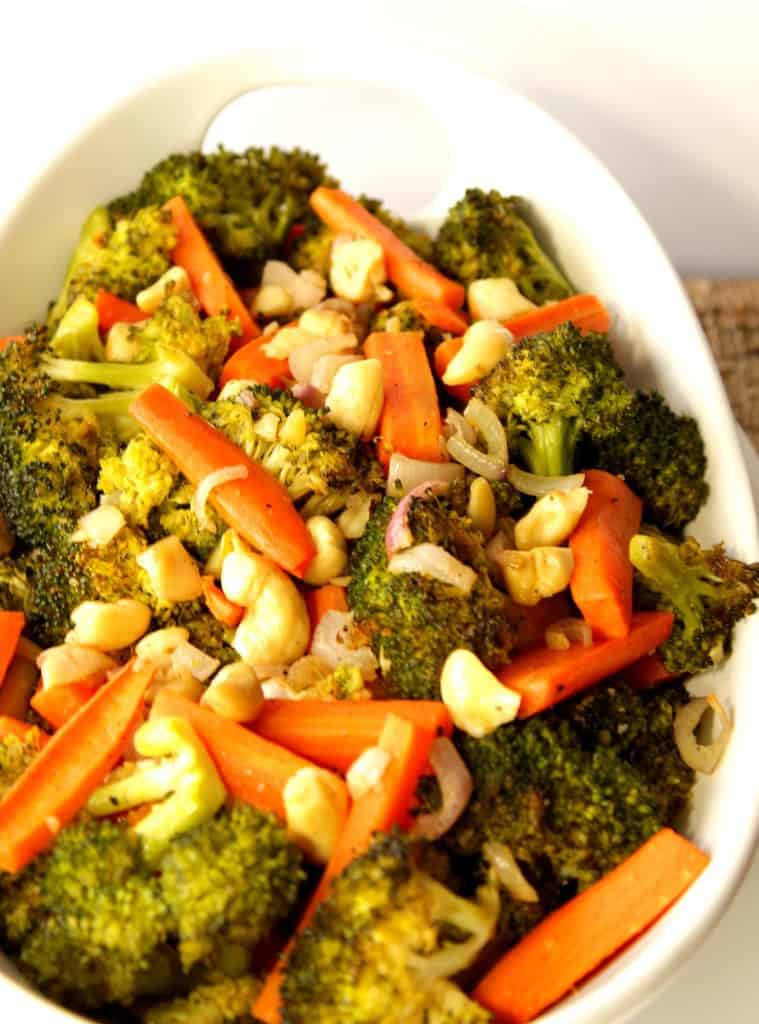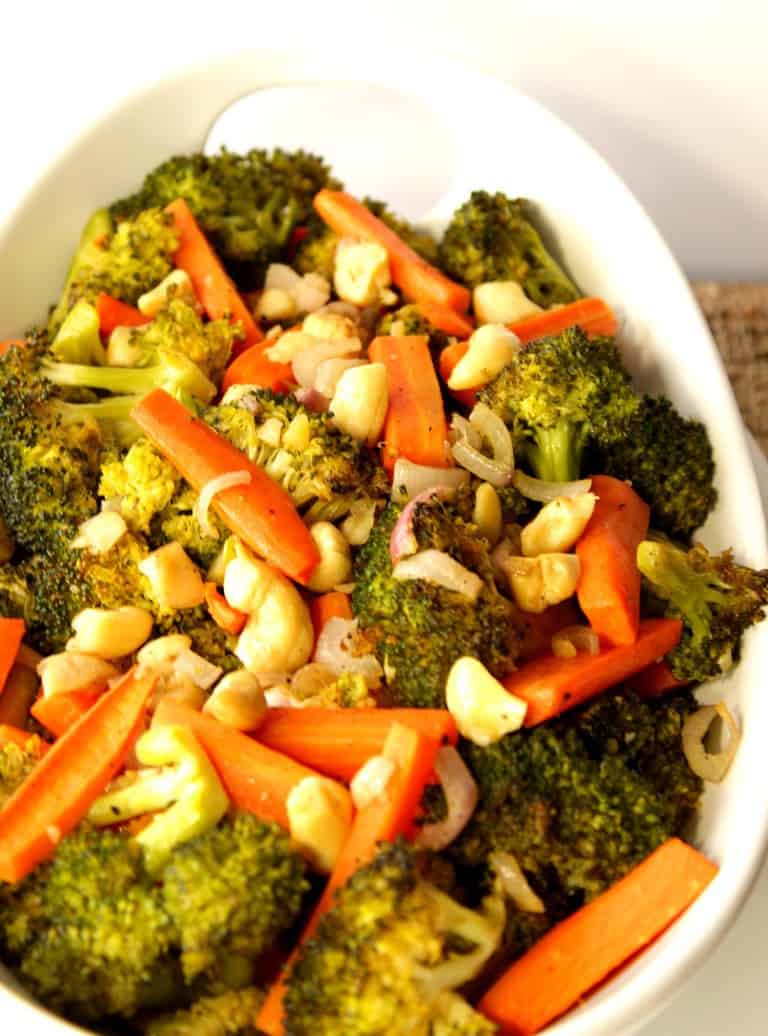 Will frozen vegetables work in this recipe?
No. Fresh vegetables are best for roasting.
Frozen vegetables take on too much water during the freezing process and tend to be soggy.
Oven roasting fresh vegetables makes for a firmer but still tender finished vegetable.
Making Oven Roasted Carrots, Broccoli, Shallots, and Cashews is easy to do and is a great way to incorporate fresh vegetables into your diet.
Is there a specific way to chop the vegetables?
You'll notice in the photos, I like to cut my carrots into batons. However, please feel free to cut your carrots into discs (coins), but make sure they are still an approximate ¼" in thickness.

Cutting the carrots any thicker than a ¼" will have you running the risk the carrots won't cook at the same rate as the broccoli, leaving you with overly crunchy carrots.
Do the cashews need to be raw, or can other nuts be substituted?
You can use whatever nut you love.

Cashews are my favorite, and they're so good for you!

I used raw cashews since that's what I had in the freezer. I realize that not everyone stockpiles raw cashews in the freezer, so please feel free to chop up any cashew (or nut) you may already have on hand.

*Note – if you do choose to use pre-roasted and salted nuts, make sure to cut back on the salt called for in this recipe.
Like and subscribe to my Kudos Kitchen channel on YouTube.
I hope you'll enjoy the complete video from start to finish.
Additional Roasted Vegetable Dishes
Looking for more ways to incorporate roasted vegetables into the repertoire? Check out the following recipes titles for...
The easy instructions for making roasted carrots, broccoli, shallots, and cashews;
Place peeled and cut carrots and broccoli florets in a large bowl.

Drizzle with grapeseed oil (or other oil of your choice), salt and pepper.

Toss to fully coat.

Place the veggies on a sheet pan in an even layer.

*Tip – I like to line my sheet tray with aluminum foil to cut back on the cleanup, but this is completely optional.

Chop the shallots and cashews and scatter them on top of the carrots and broccoli.

Stir to combine.

Roast in a preheated 425-degree oven for 20-25 minutes.

Serve.

Serve these Oven Roasted Carrots, Broccoli, Shallots and Cashews hot, but I like to eat them cold too. See? I told you I love vegetables!! 🙂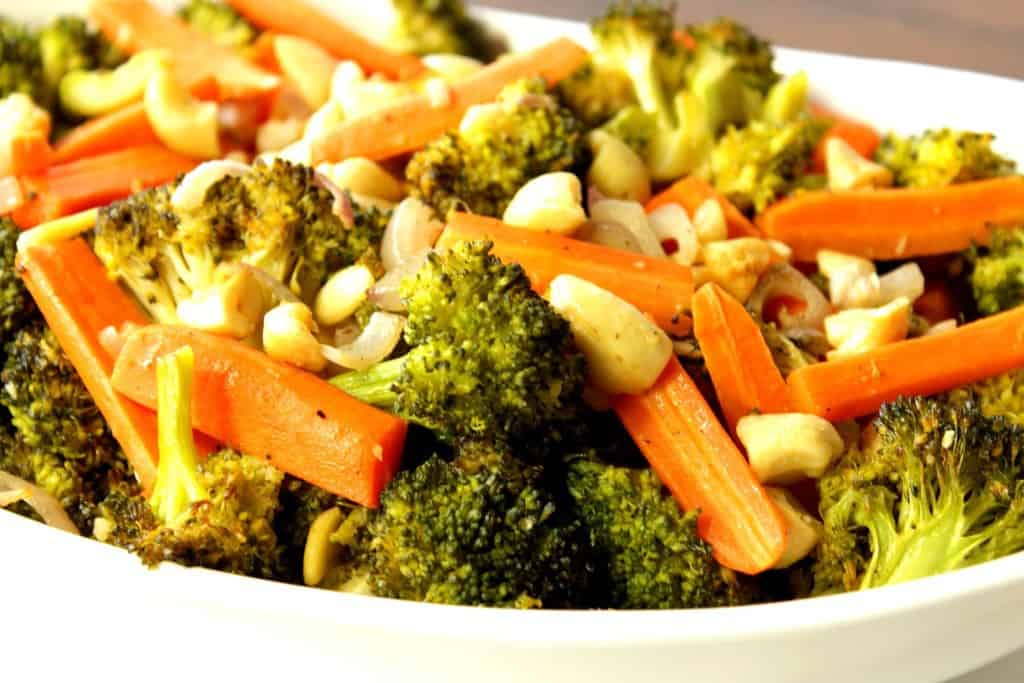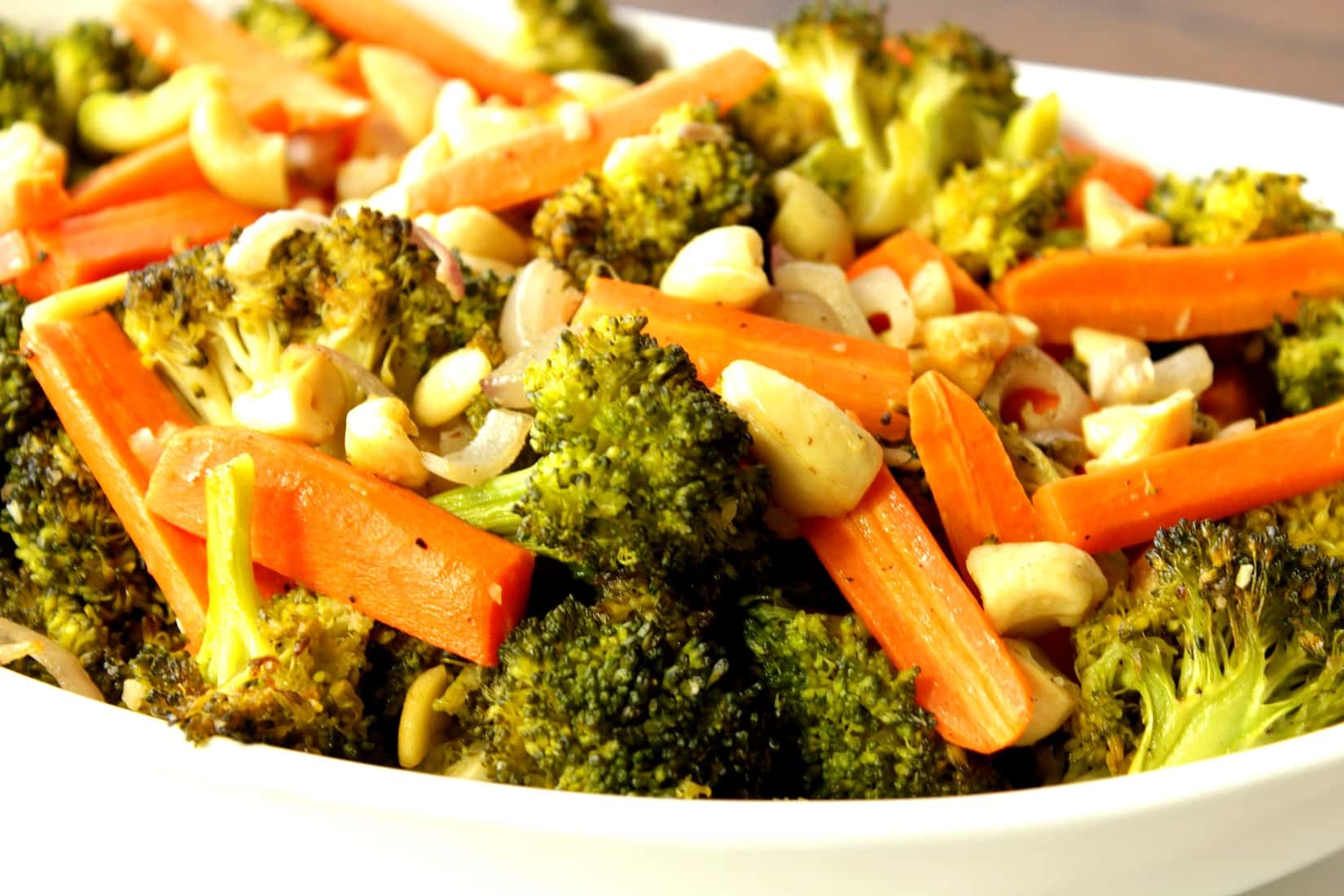 Tips and tricks;
Preheat the baking sheet in a 425-degree oven while you chop and prepare the vegetables. Once the vegetables hit the hot baking sheet, they will start sizzle and start cooking immediately, giving the vegetables and nuts extra color and flavor.

Make sure the vegetables are cut in approximately the same size. This will make sure that they cook at the same rate in the oven.

Toss the vegetables and nuts liberally with oil, salt, and pepper before adding them to the hot baking sheet.

Halfway through the roasting, remove the vegetables and give them a good stir. Return them to the oven to continue roasting until they're firm, yet tender.

Make cleanup a breeze by covering the baking sheet with aluminum foil.
**The following affiliate links are some suggested products I've chosen that will aid you in the making and serving of this recipe for Oven Roasted Carrots, Broccoli, Shallots, and Cashews if desired.
As an Amazon Associate, I earn from qualifying purchases. For additional information please view my privacy policy.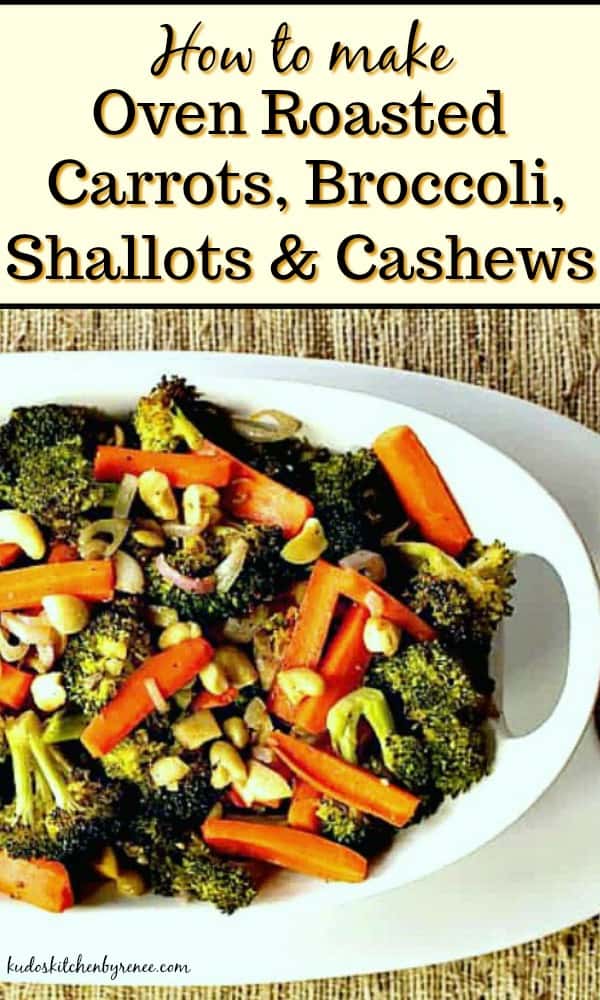 Below is the printable recipe card for today's Oven Roasted Carrots, Broccoli, Shallots, and Cashews.
If you've enjoyed this recipe and look forward to making it (or have already made it), I'd appreciate if you'd take a moment to give it some feedback by way of stars near the comment section at the end of this post. Thank you so much!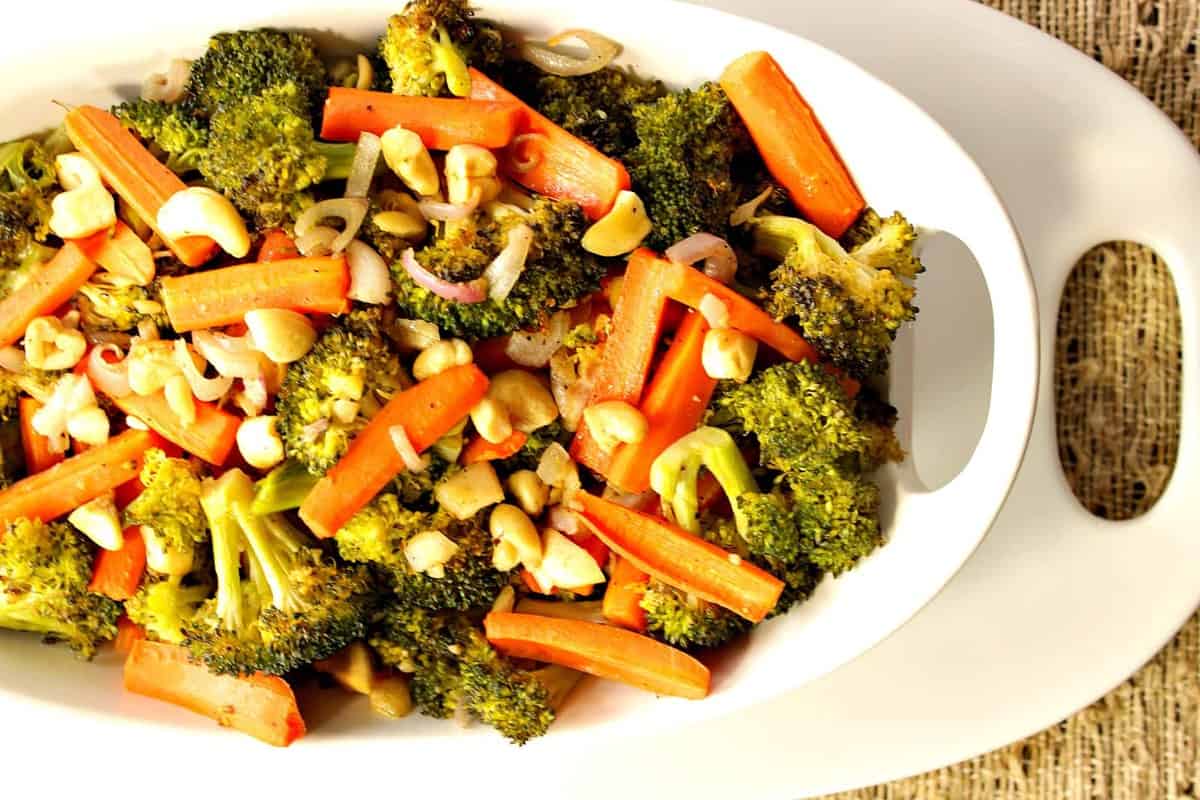 Oven Roasted Carrots, Broccoli, Shallots, and Cashews
Even the pickiest of eaters will enjoy this combination of roasted veggies.
Ingredients
5

large

carrots

peeled and cut into ¼" coins, or into 3" batons

6

cups

broccoli florets

3

tablespoons

grapeseed oil

or your favorite light oil

1

teaspoon

kosher salt

¼

teaspoon

pepper

2

large

shallots

minced

½

cup

chopped cashews

raw or roasted, salted cashews
Instructions
Preheat oven to 425 degrees.

Place the carrots and broccoli in a large bowl.

Toss with the oil, salt, and pepper.

Place the vegetables evenly on a baking sheet covered with aluminum foil (optional).

Top the vegetables with the chopped shallots and cashews and toss thoroughly, making sure the ingredients are in an even layer after tossing.

Roast in a preheated oven for 20-25 minutes, tossing halfway through the roasting process.

Serve immediately.
Notes
NOTE - If using roasted, pre-salted cashews, cut back on the amount of sodium called for in this recipe.
Tools and equipment;
Baking sheet, large bowl, measuring cups, measuring spoons, aluminum foil
Nutrition
Serving:
1
Calories:
177
kcal
Carbohydrates:
15
g
Protein:
5
g
Fat:
12
g
Saturated Fat:
1
g
Cholesterol:
0
mg
Sodium:
460
mg
Potassium:
550
mg
Fiber:
4
g
Sugar:
5
g
Vitamin A:
10590
IU
Vitamin C:
84.7
mg
Calcium:
67
mg
Iron:
1.6
mg
I sincerely hope you've enjoyed today's recipe for roasted carrots, broccoli, shallots, and cashews as much as I've enjoyed bringing it to you.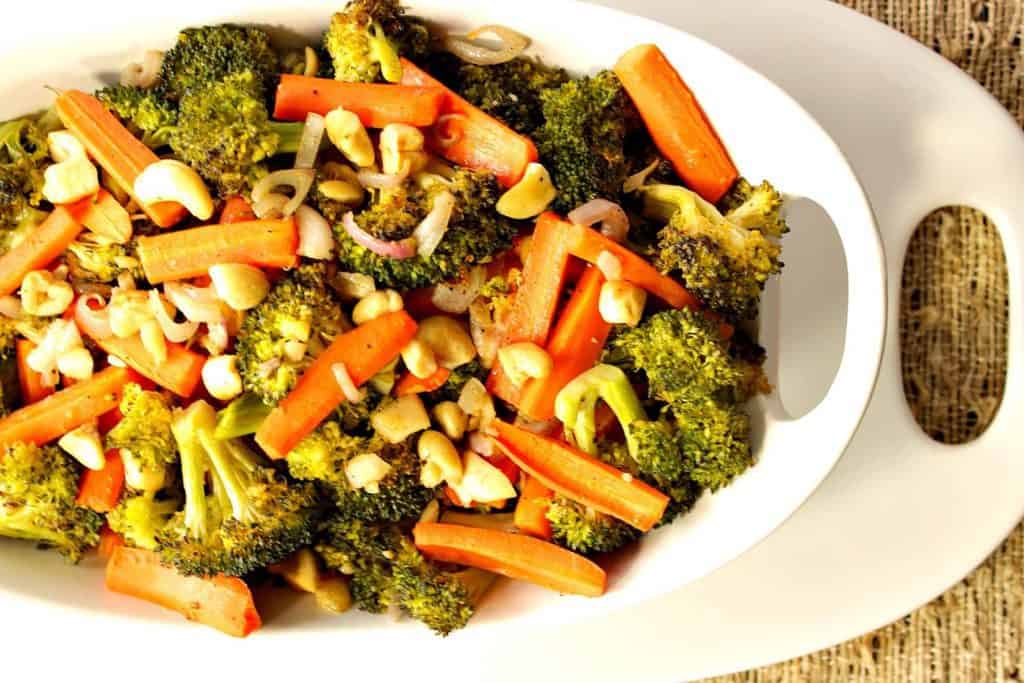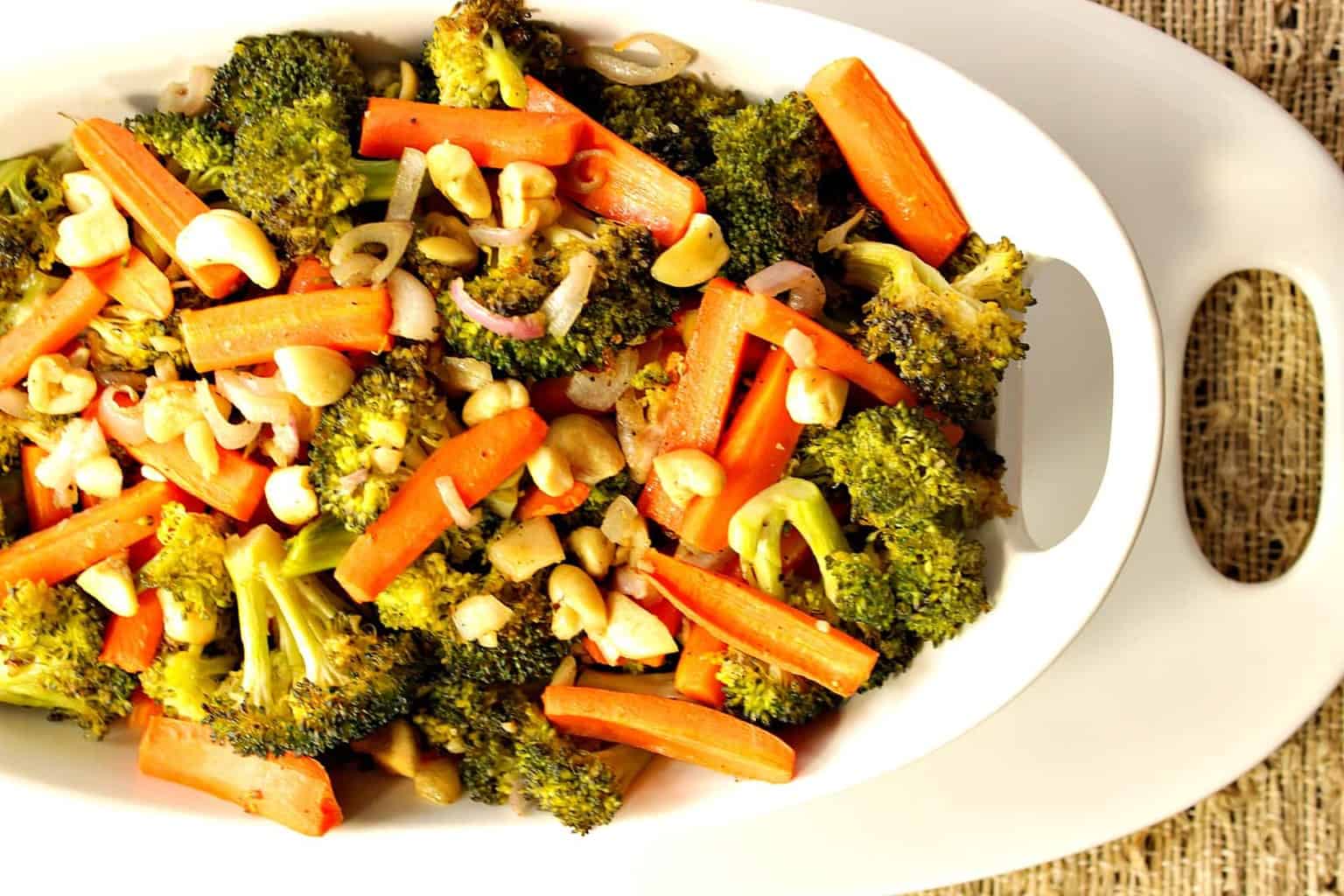 Since I love vegetables so much I've decided to coordinate this recipe with my hand painted seed packet apron.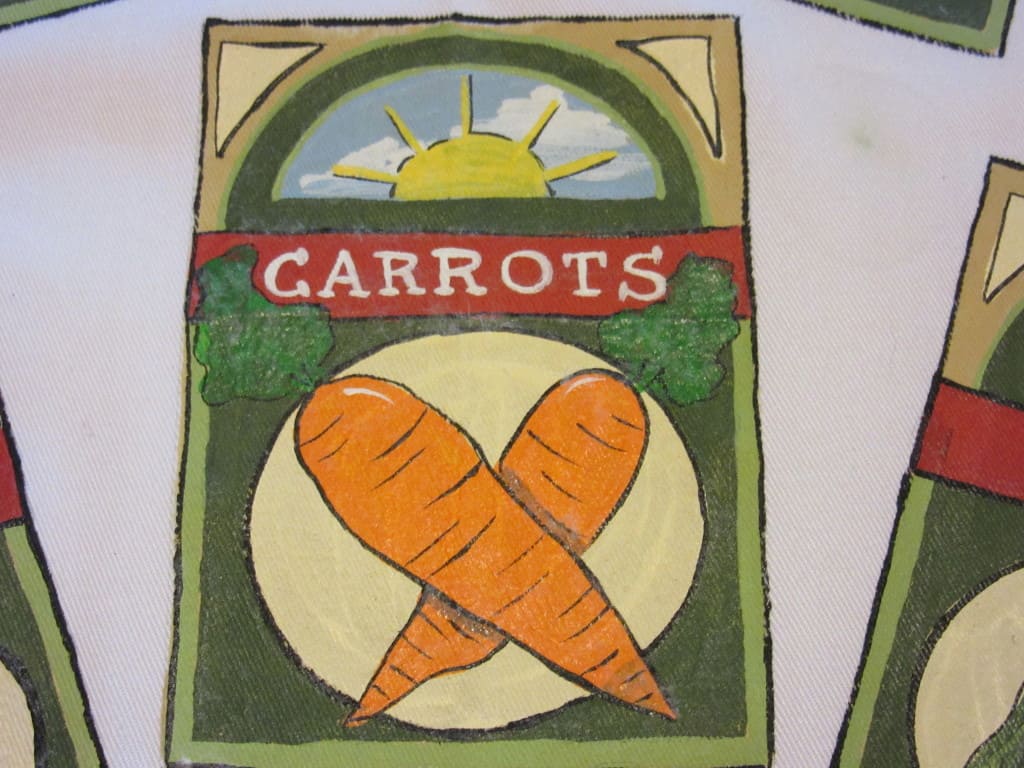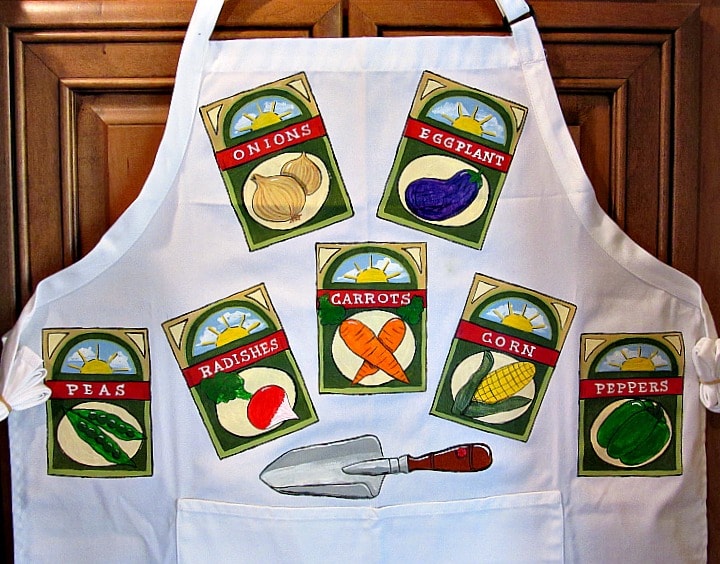 Should you have any questions or comments regarding this recipe or anything else you've seen on my site, please don't hesitate to contact me directly or leave me a comment in the comment section below. It is always my distinct pleasure to get back to you with a reply just as soon as I possibly can!
For additional information regarding my Kudos Kitchen recipes please follow me on;
FACEBOOK, PINTEREST, INSTAGRAM, TWITTER, and YOUTUBE
Kudos Kitchen by Renée ~ Cooking up artistically delicious family-friendly dishes from my Kudos Kitchen to yours!
Until we eat again, I hope you have a delicious day!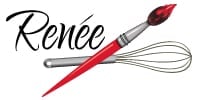 **Note – The post above includes affiliate links. When I find a great product or service, I like to share it with my readers. Sometimes I use affiliate links so I can earn a commission for my recommendations. As always, thank you so much for your support!