It's easy to turn your vegetable haters into vegetable lovers with this dish of Oven Roasted Carrots, Broccoli, Shallots and Cashews.
Lightly caramelized, and deliciously flavorful, these Oven Roasted Carrots, Broccoli, Shallots, and Cashews is the perfect side dish to make for any meal. Or, since it's so satisfying, why not make it as a vegetarian meal all on its own? Either way you choose to serve it, I know you're going to love it!

I've always been a vegetable lover. As kids, my sister was the one to hide them in her cheeks (can you say chipmunk?), and spit them out when no one was looking. I, on the other hand, was the one to grab a spoon and finish off what remained in the bowl.
Since first making this combination of roasted vegetables, and then including shallots and cashews, I can't seem to get enough. My family enjoys this ingredient combination too, since roasting vegetables is a surefire way to get even the finickiest of eaters (husbands included) to try, and ultimately enjoy, the veggies on their plate… or the last ones out of the bowl. *raises hand and waves it wildly*
Making Oven Roasted Carrots, Broccoli, Shallots and Cashews is easy to do and is a great way to incorporate fresh vegetables into your diet.
As you'll notice in the photos, I like to cut my carrots into julienne strips. However, please feel free to cut your carrots into discs (coins) that are approximately ¼" in thickness if you feel more comfortable in doing so. Cutting the carrots any thicker than the ¼" thickness specified will have you running the risk that they won't cook at the same rate as the broccoli, leaving you with overly crunchy carrots. I also used raw cashews since that's what I had in the freezer. I realize that not everyone stockpiles raw cashews in the freezer, so please feel free to chop up any roasted cashew you may already have on hand. *Note – if you do choose to use pre-roasted and salted cashews, please cut back on the salt called for in this recipe.
Here are a few step-by-step photos to help you visualize the process. Place peeled and cut carrots and broccoli florets in a large bowl. Drizzle with grape seed oil (or other oil of your choice), salt and pepper. Toss to fully coat. Place the veggies on a sheet pan in an even layer. *Tip – I like to line my sheet tray with aluminum foil to cut back on the clean up, but this is completely optional.
Chop the shallots and cashews and scatter them on top of the carrots and broccoli. Stir to combine. This will coat the shallots and the nuts with a bit of the oil from the veggies. Roast in a preheated 425 degree oven for 20-25 minutes.
Serve these Oven Roasted Carrots, Broccoli, Shallots and Cashews hot, but I like to eat them cold too. See? I told you I love vegetables 🙂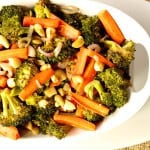 Oven Carrots, Broccoli, Shallots and Cashews
Ingredients
4-5

large carrots

peeled and cut into ¼" coins, or into 3" batons

6

cups

broccoli florets

3

tablespoons

grape seed oil

or your favorite oil

1

teaspoon

kosher salt

¼

teaspoon

pepper

2

large shallots

minced

½

cup

chopped raw cashews

or roasted, salted cashews
Tools
Baking sheet

Aluminum foil to cover the baking sheet

optional
Instructions
Preheat oven to 425 degrees.

Place the carrots and broccoli in a large bowl.

Toss with the oil and salt and pepper.

Place the vegetables evenly on a baking sheet covered with aluminum foil (optional).

Top the vegetables with the chopped shallots and cashews and toss thoroughly, making sure to end with the ingredients are in an even layer after tossing.

Roast in a preheated oven for 20-25 minutes, tossing half way through the roasting process.

Serve immediately.
Recipe Notes
If using pre-salted cashews, cut back on the amount of sodium called for in this recipe.
What's that? You're looking for even more roasted vegetable ideas to serve your family and friends? Great. I've got you covered with the following:
Roasted Broccoli Crostata with Cheese Sauce:
Sweet and Savory Roasted Sweet Potatoes, Brussels Sprouts and Apples:
What I love most about roasting vegetables is that gives them a nuttier flavor than any other preparation method I've found. And, if you follow my tip for covering the roasting pan with aluminum foil the cleanup is virtually nothing. Winner, winner, oven roasted broccoli and carrots for dinner!
The above hand painted apron is available in my shop on Etsy. It's completely machine washable, and the apron size is generous with an adjustable neck strap and extra long ties. It also features two large front pockets. It's perfect for working in the yard, or the kitchen.
Is there something I can paint for you? From glassware to fabrics, please visit my shops on Etsy and Wazala. Or, please feel free to contact me directly by sending me an email: info@kudoskitchenbyrenee.com – Custom orders are always welcome and I will happily paint and design from any photo or description you send my way.
Kudos Kitchen by Renée ~ Where food, art, and fun collide each and every day!
Until we eat again, I hope you have a delicious day!