You'll never miss the noodles in this Eggplant and Zucchini Lasagna! Plus, it's super easy to put together and can feed a hungry crowd! It can be made with or with or without sausage, but either way it's a very substantial and hearty meal.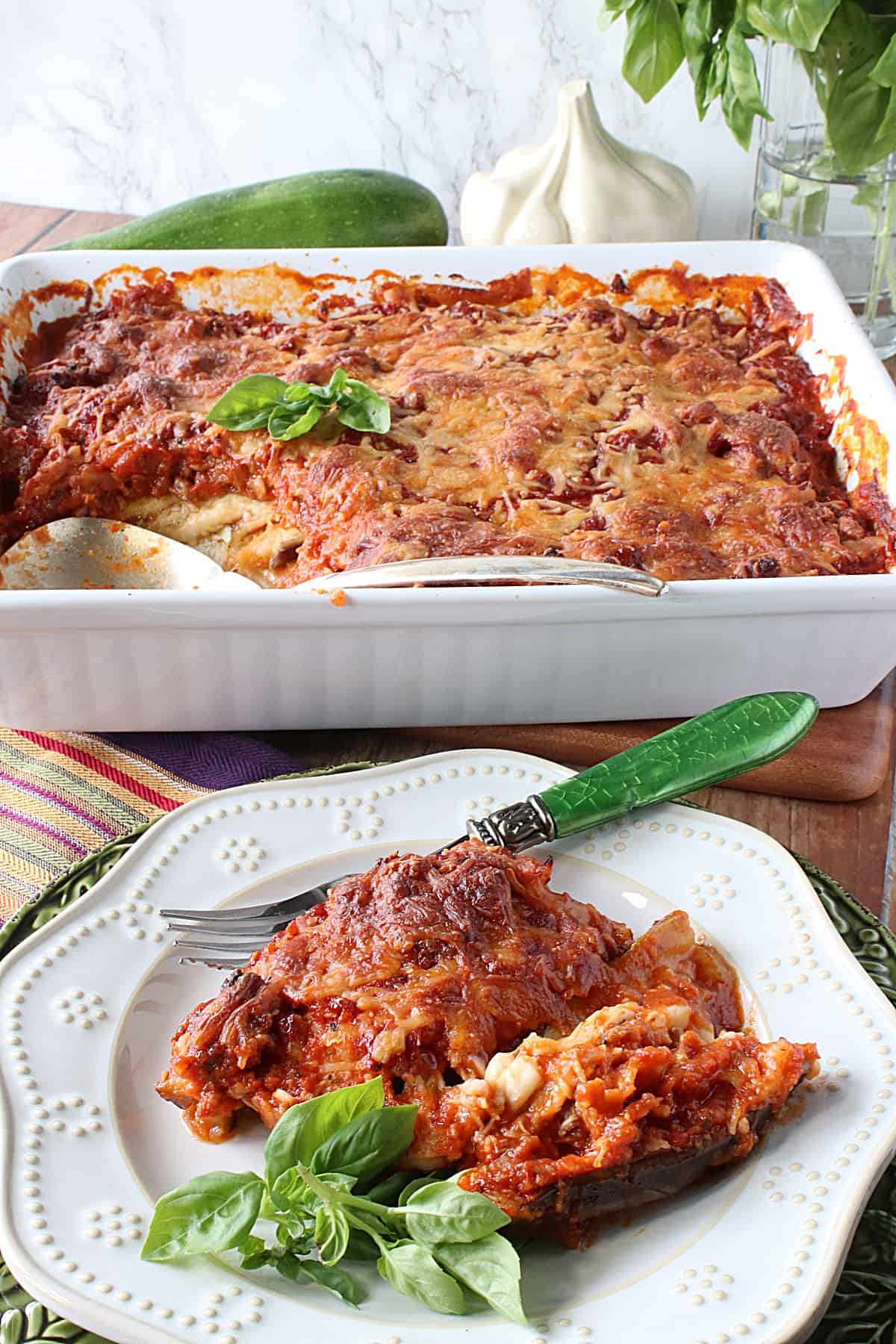 This recipe was inspired by a garden full of eggplant and zucchini and needing to find delicious ways to use them that will please my picky husband.
Today's veggie lasagna fills that bill deliciously, and he seriously couldn't stop raving about how much he loved this hearty vegetable lasagna!
Jump to:
The ingredient list:
*Please note that the exact measurements along with a new "shop the recipe" feature from Instacart is available in the printable recipe card.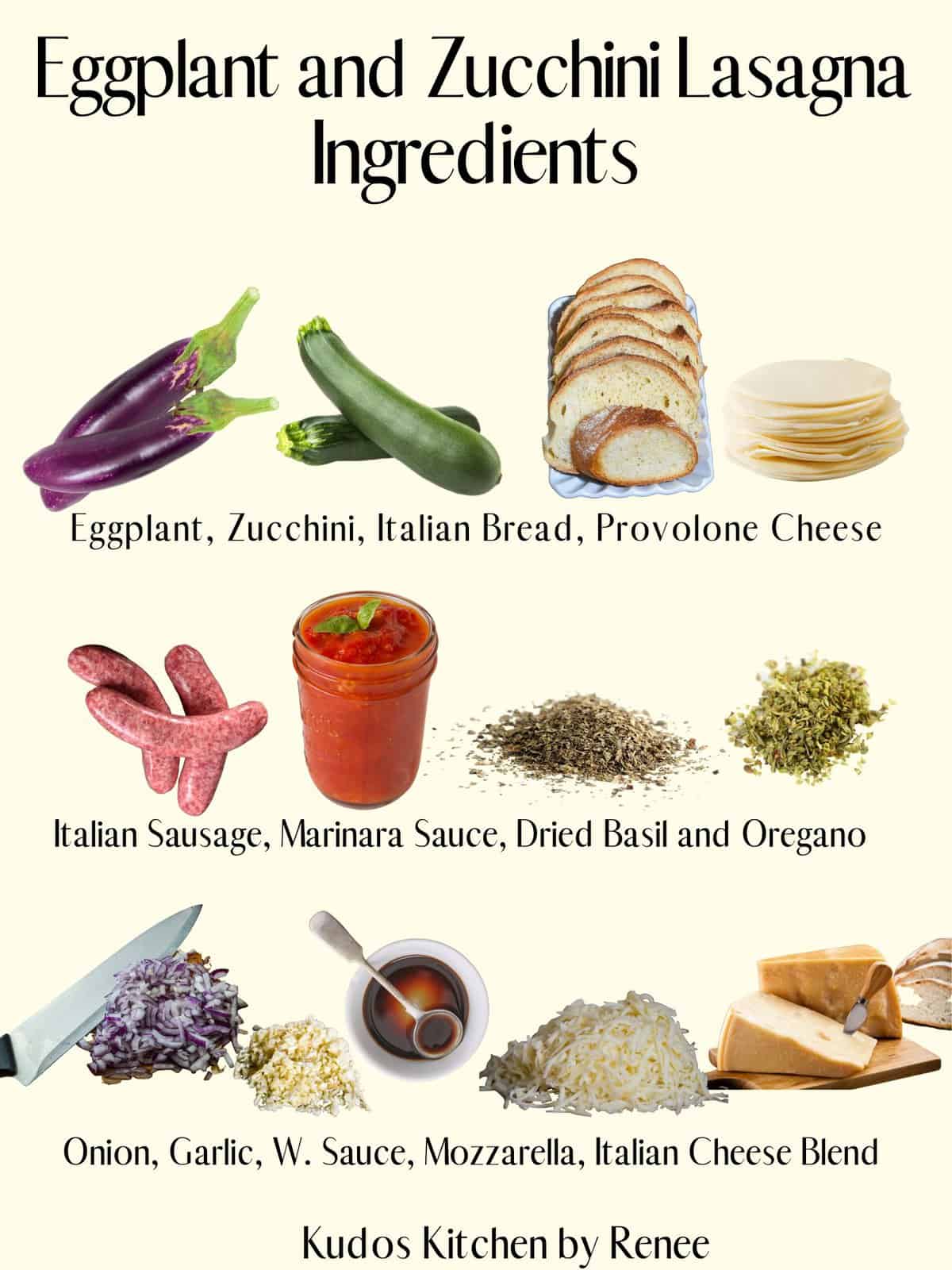 Ingredient information:
EGGPLANT - I used what is known as Japanese eggplant because that's the variety I've been growing in my garden this year. They're long and slender and similar in shape to a zucchini. Feel free to use whatever variety of eggplant you have on hand or prefer. Size doesn't matter. The thickness of the slices does.
ZUCCHINI - Try and use zucchini that are small to medium in size. Once they get large, the seeds inside are massive, making for a rather unpleasant eating experience (in my opinion).
MARINARA SAUCE - I used a store-bought marinara sauce for this recipe, but of course, if you have homemade marinara sauce on hand, by all means, use that.
ITALIAN SAUSAGE - I used bulk Italian sausage and then broke it up into bits as it was browning in the skillet. You can forgo the sausage altogether if you'd like to make this a vegetarian lasagna or even swap out another type of protein if you prefer. (See the section below about substitutions and add-ins).
DRIED OREGANO - Always a must for me when making an Italian-inspired recipe. See the video below if you're interested in drying fresh garden herbs.
DRIED BASIL - Another must for me when making an Italian-inspired recipe. See the video below if you're interested in drying fresh garden herbs.
GARLIC - I used fresh minced garlic and added it after browning the meat to avoid overcooking and getting bitter.
ONION - Use whatever type of onion is your favorite or that you have on hand. I had red onion at the time, so that's what I used.
WORCESTERSHIRE SAUCE - You may think this an odd ingredient to use in this recipe but trust me when I tell you that it gives the sauce a depth of flavor and balance that rounds out a marinara sauce.
SHREDDED MOZZARELLA - A must for lasagna. Use as much or as little as you like.
PROVOLONE CHEESE - I love sliced provolone and use it often. It has a lovely, slightly sharp flavor that pairs nicely with this recipe's mozzarella and other Italian cheeses.
ITALIAN CHEESE BLEND - Shaved Parmesan, Romano, and Asiago cheeses are the three that I used. They came packaged together in a bag in the diary section of the grocery store. If you can't find this particular blend, don't worry. Parmesan on its own or a combination of any hard Italian cheeses will work perfectly fine in this recipe.
SALT AND PEPPER - I always use kosher salt and freshly cracked black peppercorns for the best possible flavor in my cooking.
What makes this vegetable lasagna different?
You'll notice right from the start that this recipe doesn't use any ricotta cheese. Of course, you can add a thin layer of ricotta in-between some of the layers if you feel you must, but with all the other cheeses, I personally don't think that it needs it. The choice is yours.
What is the purpose of the bread in this recipe?
Since eggplant and zucchini are water-filled, I used the toasted bread on the bottom of the casserole to soak up any additional liquid the vegetables would exude during the cooking process.
Health benefits of eggplant:
Eggplant, also known as aubergine, are nutrient dense and contain a very high number of antioxidants that may prevent chronic disease such as heart disease and cancer.
Health benefits of zucchini:
Also known as a courgette, a zucchini is a wonderful source of fiber that helps to stabilize blood sugar. It is also rich in vitamin C and beta-carotene which are both beneficial for promoting good eye health.
Top tip for recipe success:
As with any lasagna, it is essential to let it sit at room temperature after baking for at least 30 minutes (45-50 is ideal) before cutting and serving. This way, the lasagna has a chance to set up so that it won't fall apart on the plate when serving.
How to make this a vegetarian lasagna?
You can't get much easier than this...leave out the meat! It will still be a hearty, substantial, and cheesy lasagna that everyone will love!
Add-in and substitution options:
Feel free to leave out the protein altogether in this recipe if you'd like to make a vegetarian lasagna, or you can substitute ground beef, turkey, or even pork for the Italian sausage if you wish.
Don't have provolone slices on hand? No worries, you can swap out sliced mozzarella, Swiss, Fontina, or Muenster cheese if you like.
A premade mix of dried Italian seasoning can easily replace the dried basil and oregano in this recipe. Just use the same amount, and you're good to go.
Want to really switch things up? How about using an Alfredo sauce instead of the marinara (or a mix of the two together) to ramp up the flavor? I love this idea (I just had it) and will make this recipe again using my homemade white wine alfredo sauce instead. YUM!!
How to dry fresh garden herbs at home:
Additional eggplant and zucchini recipes:
If you like soft, cakey cookies that taste wonderful and are actually good for you, get your box grater out! It's time to make these Zucchini Oatmeal Cookies with chocolate covered raisins.
Eggplant Zucchini Bread is so moist and flavorful, AND it's a great way to bump up the nutrition level of your next zucchini quick bread without anyone being the wiser.
Taco-Filled Zucchini Boats are super simple to make utilizing either store-bought taco seasoning or an easy blend of homemade pantry spices. The choice is yours.
Crispy Baked Eggplant Chips are packed with flavor thanks to a light brushing of homemade basil-infused olive oil, and grated Parmesan cheese.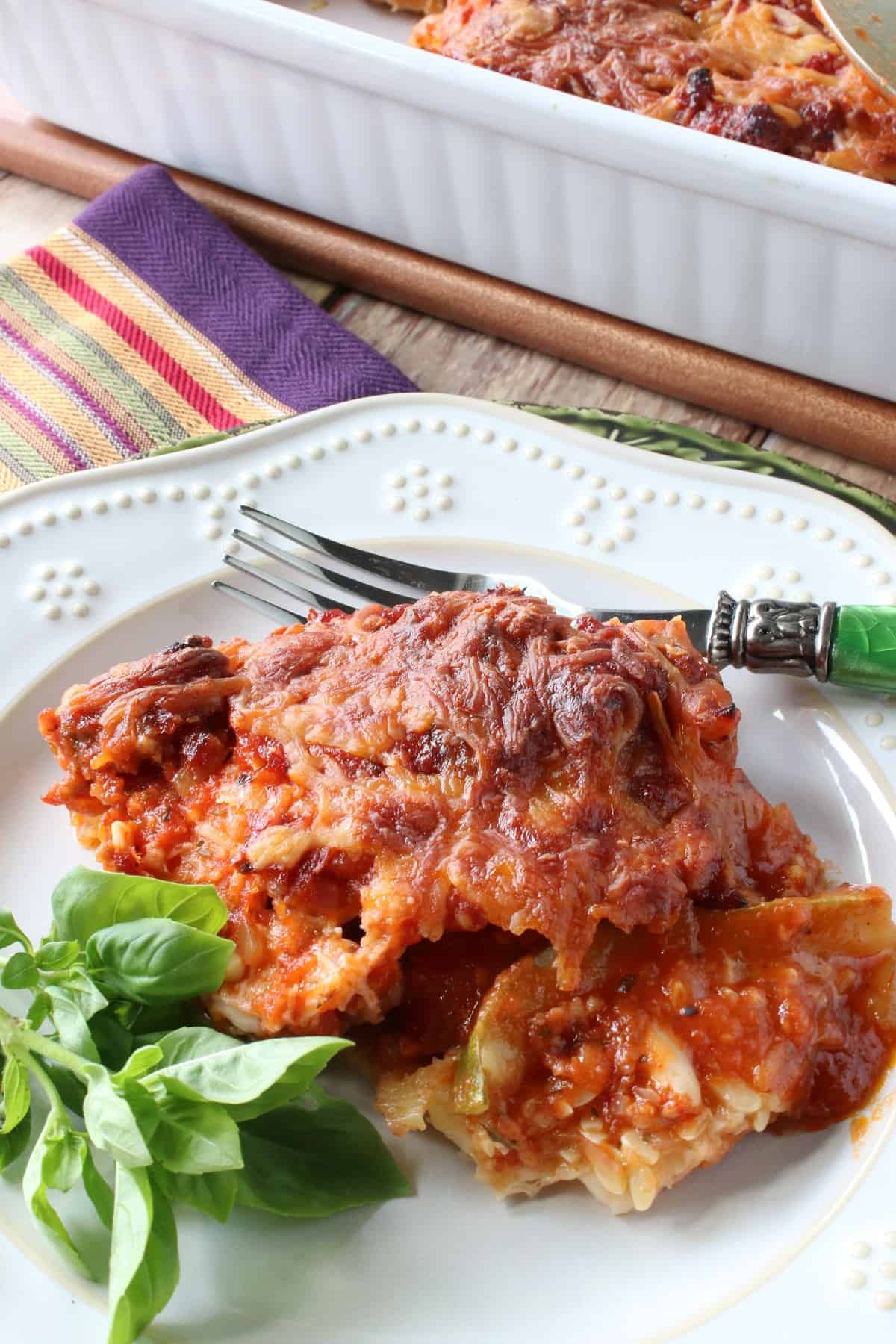 Make it a complete meal:
Summertime Chopped Salad is colorful, healthy, and delicious. It stores beautifully in the fridge, so don't be afraid to make extra to have at-the-ready this season.
Roasted Garlic Cheese Bread with Rosemary and Smoked Mozzarella works equally well as a delicious appetizer, a side dish for a BBQ or family meal, or even a meatless entrée. It's utterly delicious no matter how to plan to serve it!
Refreshing Low Sugar Fresh Peach Sorbet with Sage is a flavorful frozen treat with an unexpected hint of garden sage and luscious summertime peaches.
When you make this recipe, and I hope you do, I'd appreciate it if you'd take a moment to leave a star rating on the recipe card and briefly comment on why you rated it as you did. FYI - Google appreciates recipe ratings and, in turn, will share my recipes with more people. Thank you so much!!
Printable Recipe Card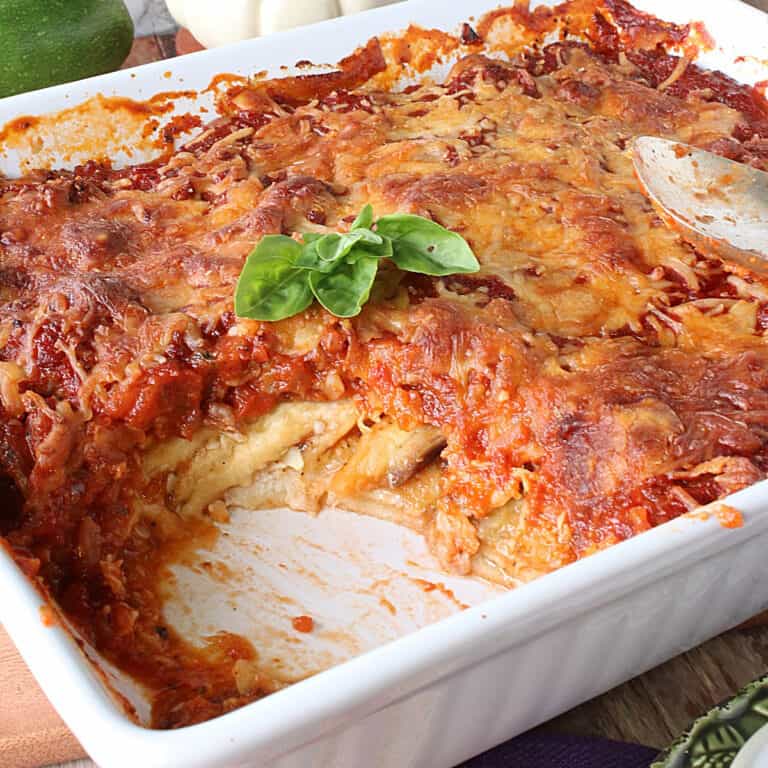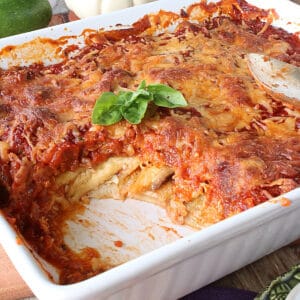 Eggplant and Zucchini Lasagna
You'll never miss the pasta in this deliciously cheesy and easy-to-make Eggplant and Zucchini Lasagna.
Ingredients
4

slices (or enough to cover the bottom of the baking dish)

Italian bread

toasted

10

slices

provolone cheese

divided

1

tablespoon

olive oil

1

pound

mild Italian Sausage

2

jars (24 ounces each jar)

marinara sauce

or homemade marinara

2

medium

long Japanese eggplant

sliced lengthwise into ¼" slices

2

medium

zucchini

sliced lengthwise into ¼" slices

2

teaspoons

kosher salt

divided

1

teaspoon

black pepper

1

teaspoon

dried basil

1

teaspoon

dried oregano

½

cup

minced onion

4

cloves

garlic

minced

1

tablespoon

Worcestershire sauce

3

cups

shredded mozzarella cheese

divided

½

cup

shaved Italian cheese blend

Parmesan, Romano, Asiago
Instructions
Sprinkle the sliced eggplant and zucchini with the salt. Set them aside for at least 30 minutes to allow the salt draw to out some of their moisture. After 30 minutes time, blot the moisture from the vegetables with paper towels and season them with black pepper.

Preheat the oven to 350 degrees Fahrenheit (175 degrees Celsius). Splay a 13 x 9 baking dish with cooking spray. Lay the toasted bread into the bottom of the baking dish and top each with a slice of provolone cheese. Save the remaining cheese slices for later.

In a large skillet, brown the Italian sausage in 1 tablespoon olive oil over medium/high heat, breaking the sausage into pieces as it browns.

After about 5 minutes of browning, add the minced garlic and onion to the skillet with the sausage along with the dried basil, and oregano. Cook, stirring occasionally for an additional 3-4 minutes.

Reduce the heat to medium and add the marinara sauce to the skillet along with the Worcestershire sauce. Stir well to combine and gently heat through.

Use a ladle or large spoon to evenly spoon about one third of the sauce over the toast and cheese in the baking dish. Layer the blotted and peppered zucchini slices evenly over the sauce, add additional sauce, and top all that evenly with the blotted and peppered eggplant slices.

Top the eggplant with the remaining provolone cheese, half of the mozzarella cheese, and additional sauce to cover.

Last, spread the remaining mozzarella cheese and the Italian cheese blend evenly over the lasagna and bake in a preheat oven for 60 minutes, or until the cheese is golden brown and the lasagna is bubbling around the sides of the dish.

Remove the lasagna from the oven and place on a cooling rack for at least 30 minutes (40-50 minutes is ideal), to cool slightly and set before serving.
Video
Nutrition
Serving:
1
serving
Calories:
354
kcal
Carbohydrates:
10
g
Protein:
18
g
Fat:
27
g
Saturated Fat:
12
g
Polyunsaturated Fat:
2
g
Monounsaturated Fat:
10
g
Trans Fat:
0.02
g
Cholesterol:
63
mg
Sodium:
1011
mg
Potassium:
357
mg
Fiber:
2
g
Sugar:
5
g
Vitamin A:
409
IU
Vitamin C:
8
mg
Calcium:
296
mg
Iron:
1
mg
I sincerely hope you've enjoyed today's hearty, healthy, and comforting Eggplant and Zucchini Lasagna as much as I've enjoyed bringing it to you!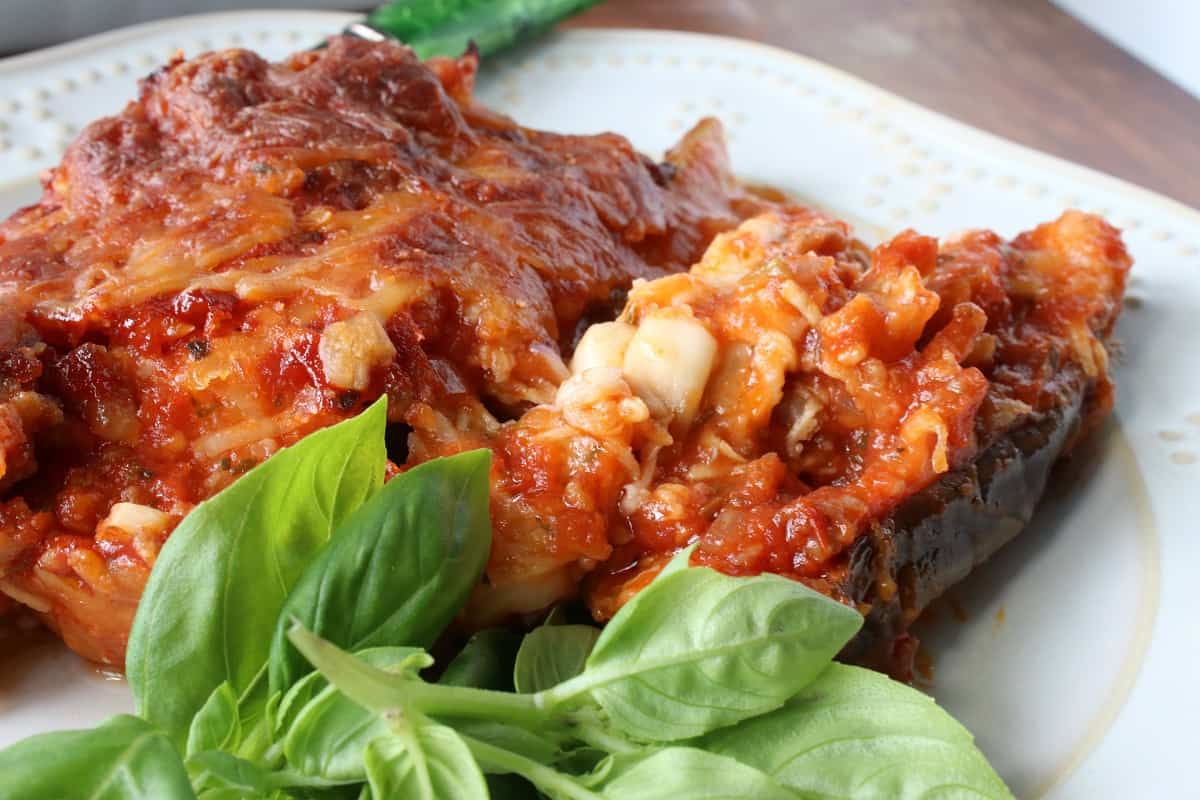 Follow me across my social media platforms and join in on the conversation: FACEBOOK, INSTAGRAM, PINTEREST, TIKTOK, AND YOUTUBE.
Thank you so much for visiting me today in my Kudos Kitchen. I hope you found something you'll love and that you'll come back and visit me often. There is always room for you around my table!
Should you have any questions or comments regarding anything you've seen here on my blog, please don't hesitate to reach out to me. It is always my distinct pleasure to respond to you just as soon as I possibly can.
Until we eat again, I hope you have a delicious day!!