Easy to make pumpkin-shaped sugar cookies are as charming as they are delicious. But surprise, don't let them fool you! There is no pumpkin in the ingredient list.
*Disclaimer: this post may contain affiliate links where I can earn commissions from qualifying purchases made through links in this post.
This simple cookie recipe celebrates the pumpkin, but not the ingredient itself. It's all about the look and shape, and not about a pumpkin spice flavor.
**Please Note – The printable recipe card with detailed instructions and complete ingredient measurements for making Pumpkin Shaped Sugar Cookies is available near the end of this post. OR click on the "jump to recipe" button (found above) to be taken directly to the recipe.
CLICK ON THIS BOX TO LIKE AND SUBSCRIBE TO MY KUDOS KITCHEN YOUTUBE CHANNEL. SEE YOU THERE! 🙂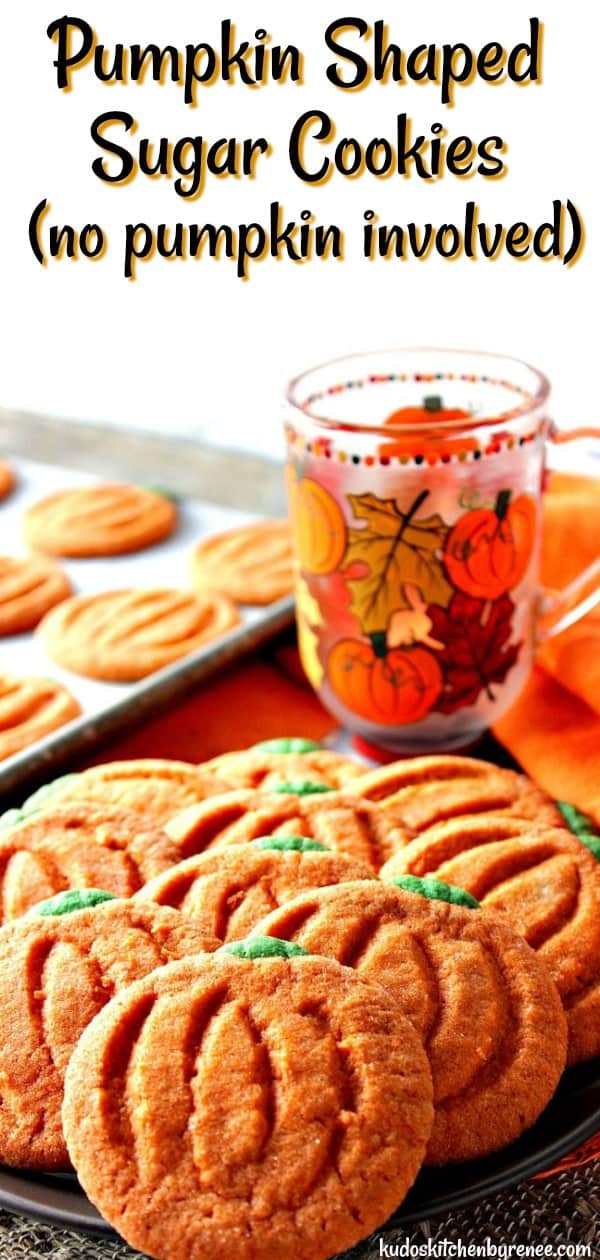 The ingredient list:
**Note – The following lists of ingredients plus kitchen tools and equipment contain affiliate links (highlighted in blue) for your consideration and shopping convenience. #CommissionsEarned
brown sugar
granulated sugar
butter
egg
baking soda
all-purpose flour
Kitchen tools and equipment needed:
wooden spoon or spatula
flat bottom glass
Do some kitchen equipment upgrading:
Wilton Navy and Gold Kitchen Collection
How this recipe came to be:
Every year for Christmas it's a tradition for me to make my family's favorite sugar cookie.
I've shared the recipe back in 2010 and dubbed it "Santa's Favorite Cookie."
This year, I decided to mix things up a little, so I used the same recipe (basically), and made pumpkin-shaped sugar cookies as a special surprise they didn't see coming!
Needless to say, the cookies were gobbled up quickly. 🙂
When is the proper time to color the dough?
After the cookie dough is thoroughly mixed, divided the dough into two pieces. One large, and one small.
The larger section of dough should be colored orange for all the pumpkin bodies, and the smaller piece of dough I colored green for all the pumpkin stems.
What is cream of tartar?
Cream of tartar is a leavening agent similar to baking powder.
The cream of tartar combined with the baking soda will give the pumpkin cookies a nice little lift, and will balance the flavor of the cookies.
Can the colored cookie dough be frozen before shaping and baking the cookies?
Yes!
Wrap the colored dough well in cling wrap and freeze, unbaked, for up to 2 months.
When ready to make the pumpkin cookies, thaw the dough completely, shape the cookies as instructed, and bake.
Can these pumpkin sugar cookies be frozen after baking?
Yes!
Store them in a freezer-safe container and freeze for up to 3 months.
Additional fall pumpkin-free desserts:
*Acorn Cookies with Peanut Butter and Banana (pictured below)
"These acorn cookies are just as cute as can be! They have a delicious peanut butter and banana flavor, and I promise you'll go NUTS for them."
*Thanksgiving Turkey Cupcakes from Crayons and Cravings
*Easy Apple Pie Wedges (pictured below)
"You're going to love how easy and delicious these apple pie wedges are to make…and eat. With store-bought or homemade pie crust, apple pie wedges are utterly delicious!!"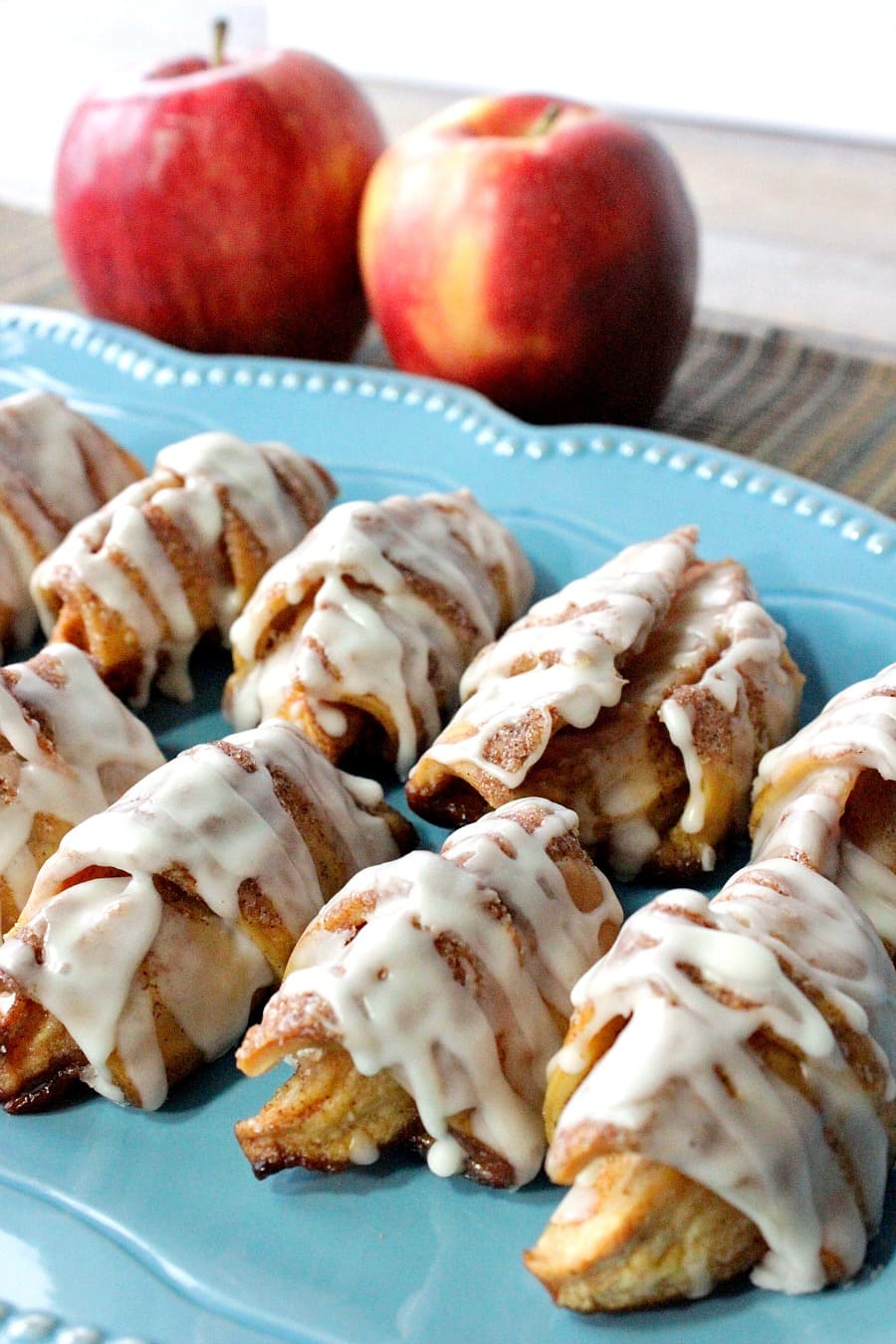 *Cranberry Pear Galette from Hearth and Vine
*Chocolate Covered Shoestring Haystacks (pictured below)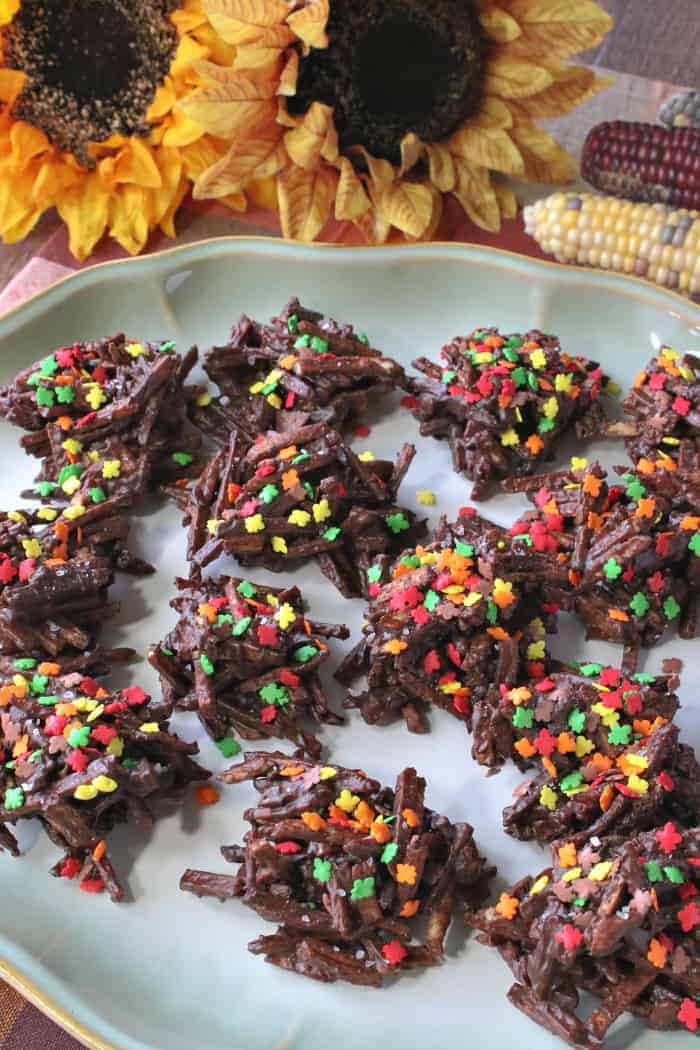 *Cinnamon Bundt Cake from The Greedy Gourmet
*Pumpkin-Free Pumpkin Sugar Cookies (pictured below) THIS IS THE PLACE!!
How to make pumpkin-shaped sugar cookies:
In a large bowl, cream together the butter, granulated sugar, and brown sugar with a hand mixer or stand mixer.

Add a beaten egg and vanilla extract. Blend to combine.

Add the all-purpose flour, baking soda, cream of tartar, and salt to the bowl.

Blend to thoroughly combine.
Remove a small portion of the dough (about ¼ cup) to a small bowl.

Add orange gel food color to the large bowl of dough and mix until no streaks are left.
Add a small amount of green gel color to the small bowl of dough.
Mix well.

Use a tablespoon or small scoop and roll the orange dough into balls the size of golf balls.
Once rolled, drop the dough balls into a small bowl of granulated sugar and roll to coat the entire ball in sugar.
Place the sugared cookie balls on a parchment-lined baking sheet.
Flatten each ball with the bottom of a glass or measuring cup.

Make a small indentation on the top of each flattened cookie (where the stem will go).
Use a paring knife to slice each pumpkin cookie with four curved pumpkin lines.
Use a small amount of green dough and form into a cone shape.

Press each cone-shaped stem onto the top of each pumpkin.

Use the paring knife to add two small slits to the stem (if desired).
Bake the cookies in a preheated 350-degree oven for 12-15 minutes or until the bottoms of the cookies are lightly browned, but not dark.
Cool completely on a baking rack.
Continue the same process with the remaining dough.
This recipe makes approximately 3½ dozen cookies.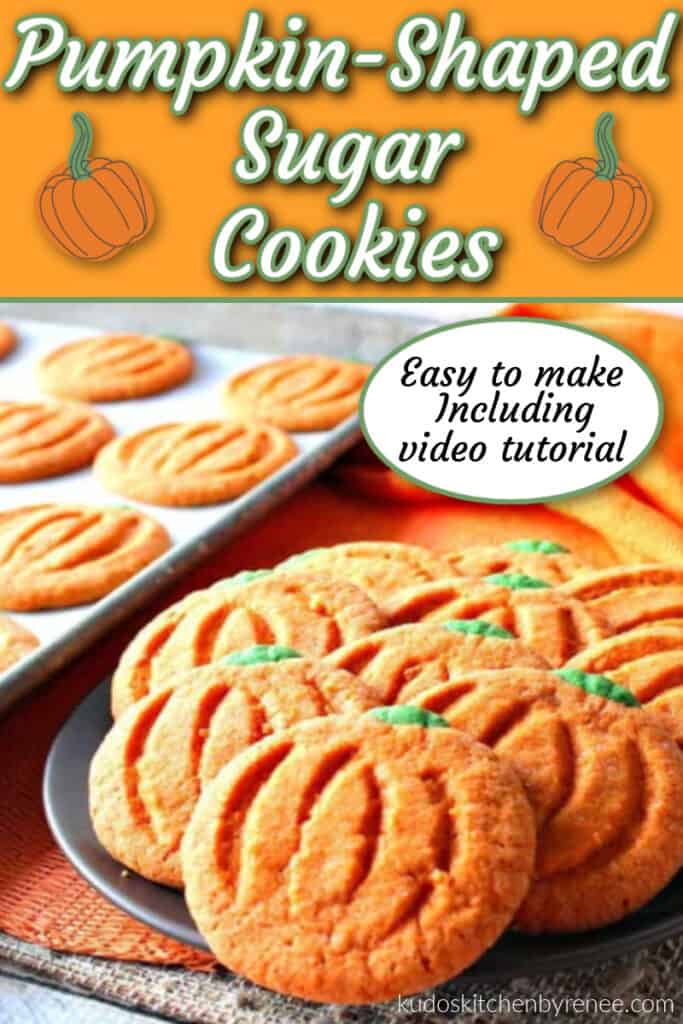 Below is the printable recipe card along with the exact ingredient measurements and nutritional information for making today's pumpkin-shaped sugar cookies.
If you've made this recipe, or are excited to make this recipe, I'd appreciate it if you'd take a moment to leave it a star rating in the recipe card, along with a comment if you're so inclined. I thank you most sincerely! 🙂
Yield: 42 cookies
Pumpkin Shaped Sugar Cookies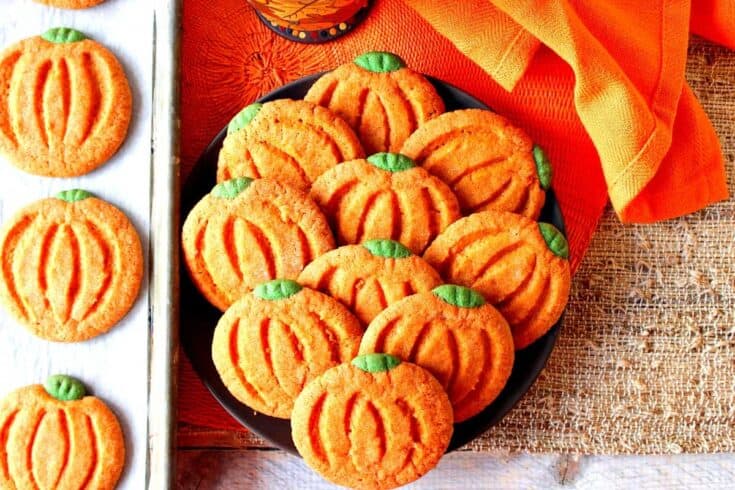 Easy to make pumpkin shaped sugar cookies are as charming as they are delicious. But surprise, don't let them fool you! There is no pumpkin in the ingredient list.
Ingredients
2 sticks butter, softened (I use salted butter)
½ cup brown sugar
3/4 cup granulated sugar, divided
1 large egg, beaten
1 teaspoon pure vanilla extract
1 teaspoon baking soda
1 teaspoon cream of tartar
1 teaspoon salt
2 cups all-purpose flour
orange gel food color
green gel food color
Instructions
Preheat oven to 350 degrees.
Use a hand mixer or stand mixer to cream the butter, brown sugar, and ½ cup granulated sugar together until light and fluffy.
Blend in the beaten egg and vanilla until thoroughly combined.
In a separate bowl, whisk together the baking soda, cream of tartar, salt and all-purpose flour.
Slowly add the flour mixture to the creamed mixture and blend until a soft dough forms and the ingredients are completely blended.
Remove ¼ cup of the dough to a small bowl and add a few drops of green gel color. Mix well.
Add a few drops of orange gel color to the large bowl and mix until well combined and no streaks remain.
Scoop the orange dough out by the tablespoonful (or use a small scoop) and roll into balls approximately the size of a golf ball. Roll each ball into the remaining granulated sugar to coat.
Place the orange sugared balls onto baking sheets lined with parchment paper (optional), and use a glass with a flat bottom (or a measuring cup) to flatten each ball into a disc.
Press a small dimple into the top of each pumpkin (where the stem will go), and use a paring knife to carefully cut four rounded slits onto each pumpkin.
Use the green dough to form a small cone shape for each pumpkin and press the narrow end into the area at the top of each pumpkin for the stem.
Use the paring knife to carefully cut two small slits on each pumpkin stem (optional).
Bake in a preheated oven for 18 minutes (or until the bottoms of the cookies are lightly browned, but not dark).
Cool the cookies on a wire rack and repeat the same process with the remaining dough.
Notes
Tools and equipment:
stand mixer or hand mixer, 1 large bowl, 2 small bowls, spatula or wooden spoon, a tablespoon or small scoop, baking sheets, parchment paper (optional), orange and green gel food color, measuring cups, measuring spoons, cooling rack (optional)
Nutrition Information
Yield
42
Serving Size
1 cookie
Amount Per Serving
Calories

86
Total Fat

4g
Saturated Fat

2g
Unsaturated Fat

0g
Cholesterol

15mg
Sodium

122mg
Carbohydrates

10g
Sugar

6g
Thank you so much for visiting me here today in my Kudos Kitchen!
I sincerely hope you've enjoyed this recipe for pumpkin free pumpkin cookies as much as I've enjoyed bringing it to you.
Should you have any questions or comments regarding this recipe or anything else you've seen on my site, please don't hesitate to reach out to me. It is always my distinct pleasure to get back with a reply just as soon as I possibly can!
For more Kudos Kitchen recipe information, please follow me on my social medial channels (listed below), and don't forget to TAG me @kudoskitchen with photos so I can view all your delicious recipe creations! It's exciting for me when you share them, so don't be shy!
Instagram, Pinterest, Facebook, and YouTube
Kudos Kitchen by Renee – BRINGING YOU EASY, ECONOMICAL, AND DELICIOUS DISHES TO FEED YOUR LOVED ONES!
Until we eat again, I hope you have a delicious day!
**Note – The post above includes affiliate links. As always, I truly thank you for your support!
When I find a great product or service I like to share it with my readers. For additional information please view my privacy policy.