A Blueberry Grunt is an easy way to take fresh blueberries to a whole new level of deliciousness with cooked sweet dumplings piled on the top.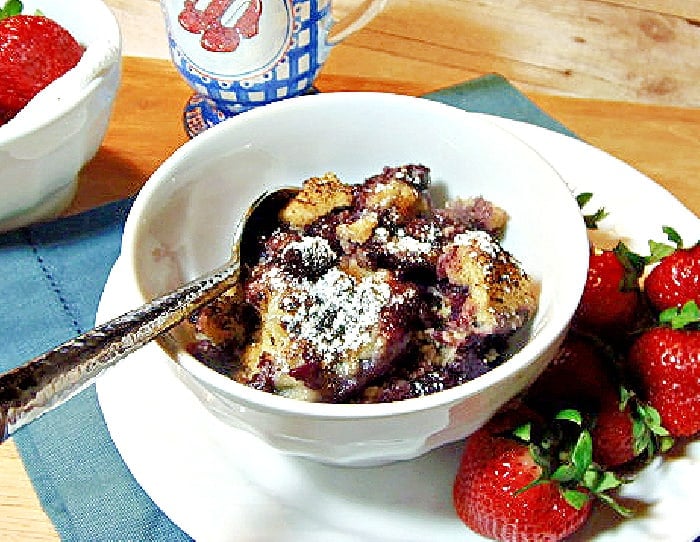 We've all heard of cobblers, crisps, and crumbles. But when is the last time you've heard of a grunt? Novia Scotia never tasted better!
A while back we took a cruise to Canada. It was a wonderful trip, and one I'll always look back on with fond memories.
Especially because I came home with this fabulous recipe for Peggy's Cove Blueberry Grunt. Find out more about this recipe below...
**Please Note - The printable recipe card with detailed instructions, complete ingredient measurements, and nutritional information for making Peggy's Cove Blueberry Grunt is available at the end of this post. OR you can hit the "jump to recipe" button (found above) to be taken directly to the recipe.
This recipe was originally shared in 2013. This post has been updated with additional information, including a recipe card complete with nutritional information, but the recipe itself has remained unchanged.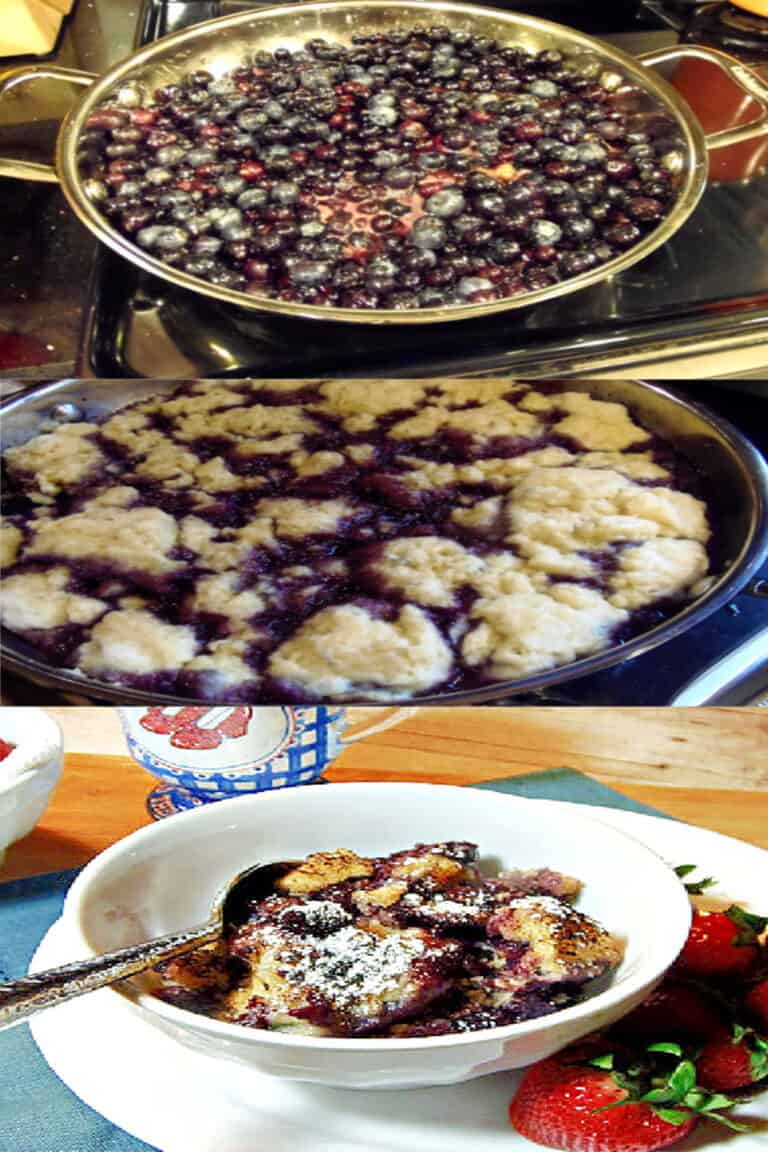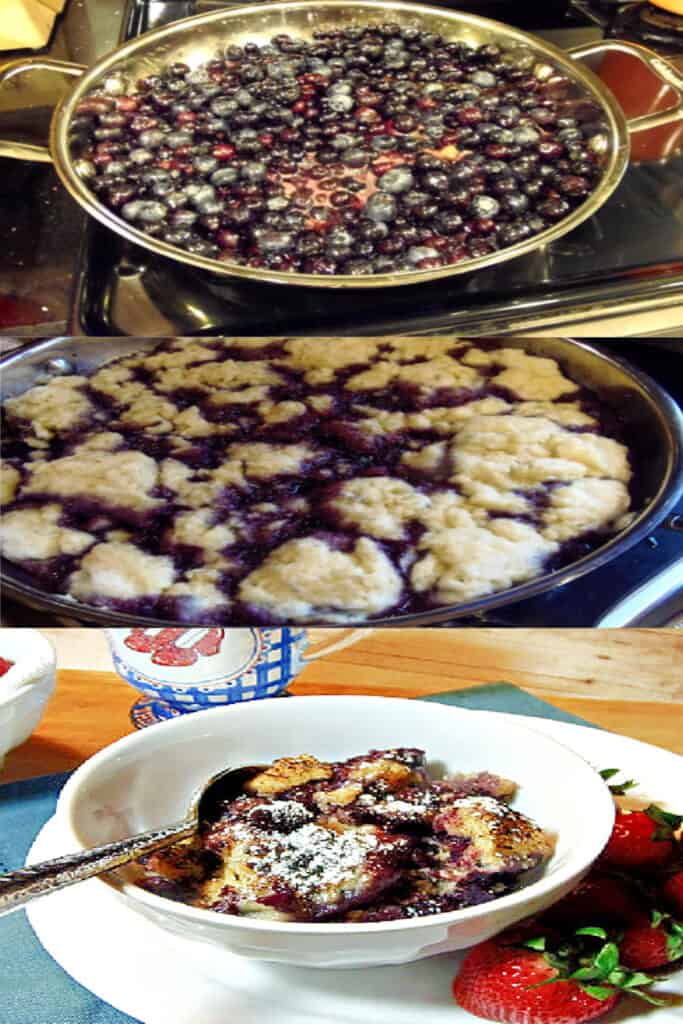 The ingredients:
fresh blueberries
sugar
water
cinnamon
nutmeg
cornstarch
all-purpose flour
baking powder
heavy cream
confectioner's sugar
ice cream (optional)
Kitchen tools and equipment needed:
measuring cups and spoons
large skillet
wooden spoon
large mixing bowl
nutmeg grater
aluminum foil
How this recipe came to be:

One of my fondest memories of that vacation was our excursion to Peggy's Cove in Halifax, Nova Scotia, and in particular our tour bus guide named Ellen.
She was a complete hoot, being so fun and friendly and sharing her stories that make you want to move right to Nova Scotia and never look back.
At the end of our tour, Ellen handed us each a recipe card for her world-famous blueberry grunt.
I stuck it in my purse and promised myself that one day I'd make her grunt (that sounds weird), and post it to my blog.
How to make blueberry grunt:
Place all the filling ingredients into a large skillet over medium heat.
Cook until the berries are soft and juicy.
Meanwhile, make the dumpling dough and drop random amounts all over the surface of the blueberries.
Cover the pan with foil and continue to cook (no peaking) for approximately 20 minutes, or until the dough has been cooked through and is lightly golden in color.
Cool slightly and then spoon the blueberry grunt into bowls and top with confectioners sugar, or ice cream (not shown), if desired.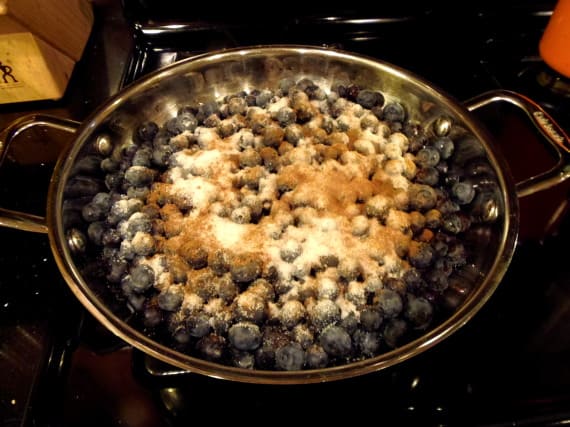 Additional fruit dessert recipes:
*Traditional Cherry Cheesecake (shown below)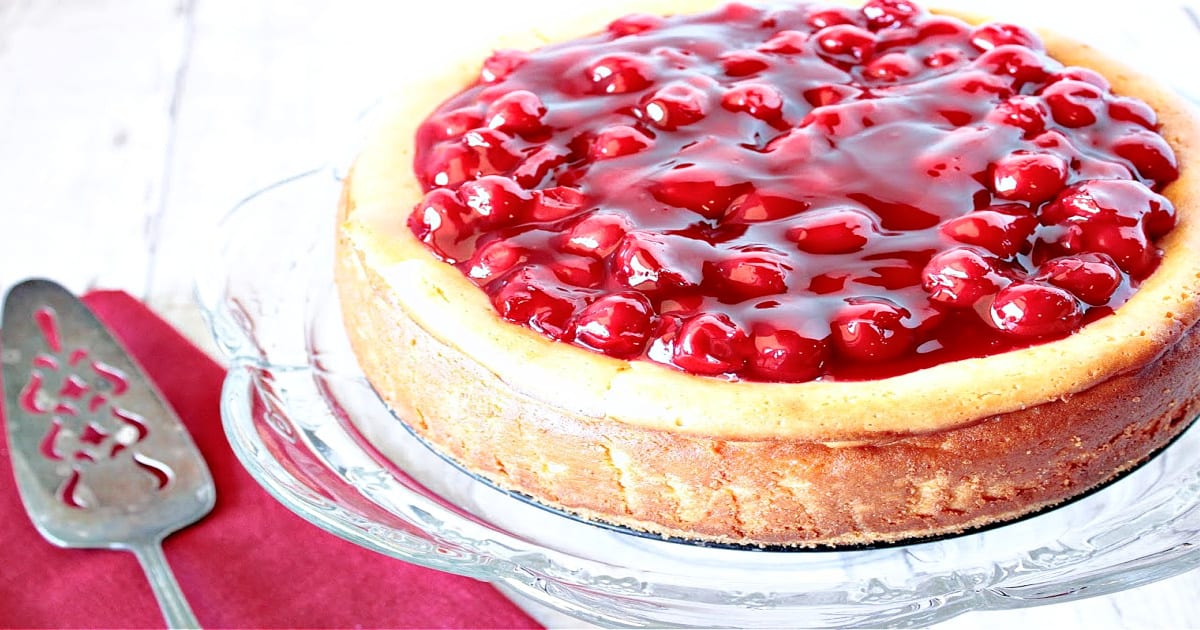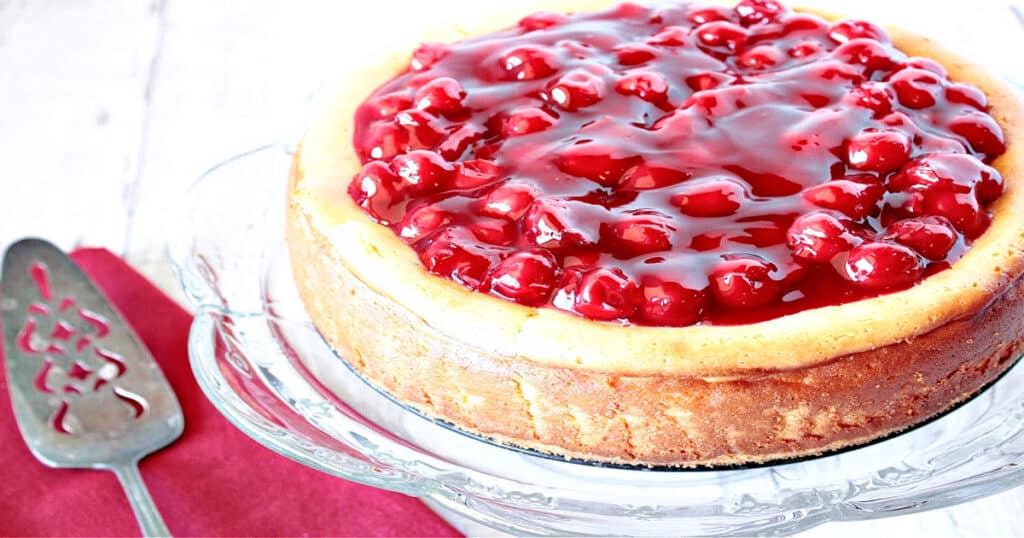 *Easy Peach Crostata (not shown)
*Strawberry Apple Pie (not shown)
*Lemon Ricotta Cake with Blueberries (shown below)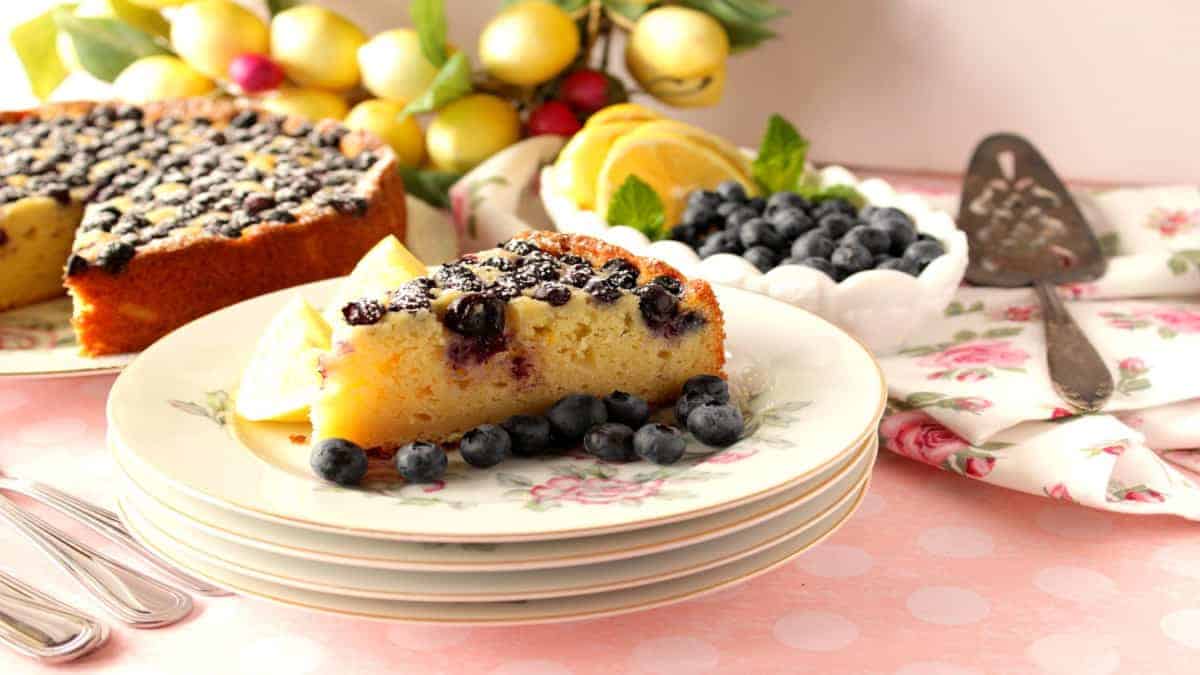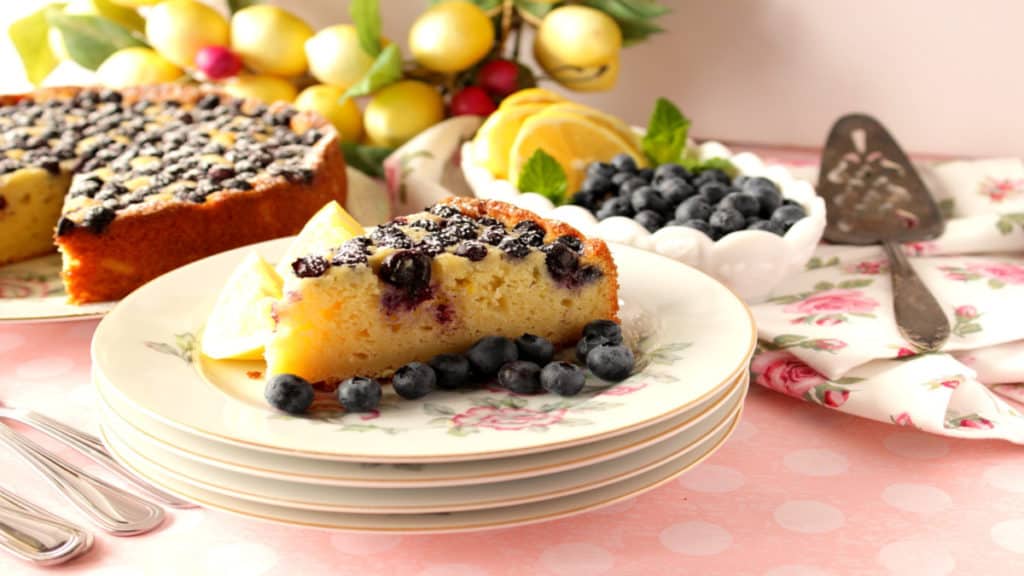 *Peggy's Cove Blueberry Grunt (shown below) THIS IS THE PLACE!!

I strongly urge you to try this recipe for blueberry grunt when fresh blueberries are in season.
It was a complete hit with my family and was the perfect start to our backyard summer of fun and food. It was BERRY delicious!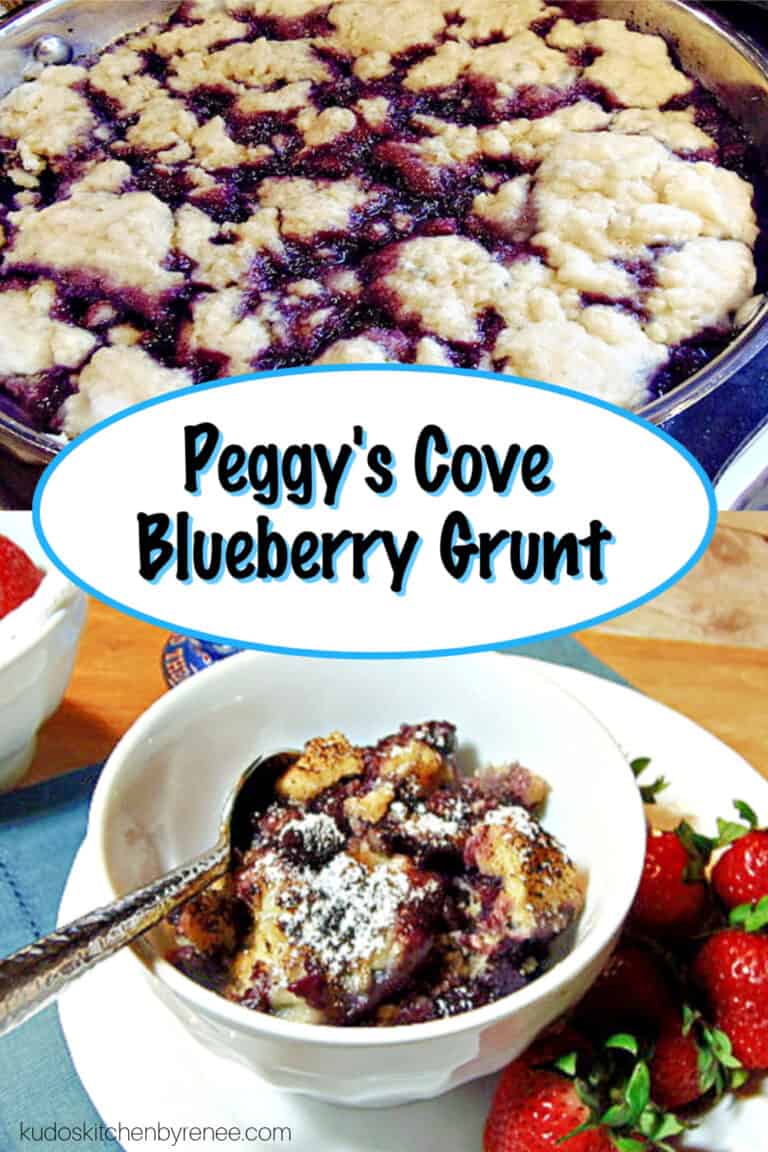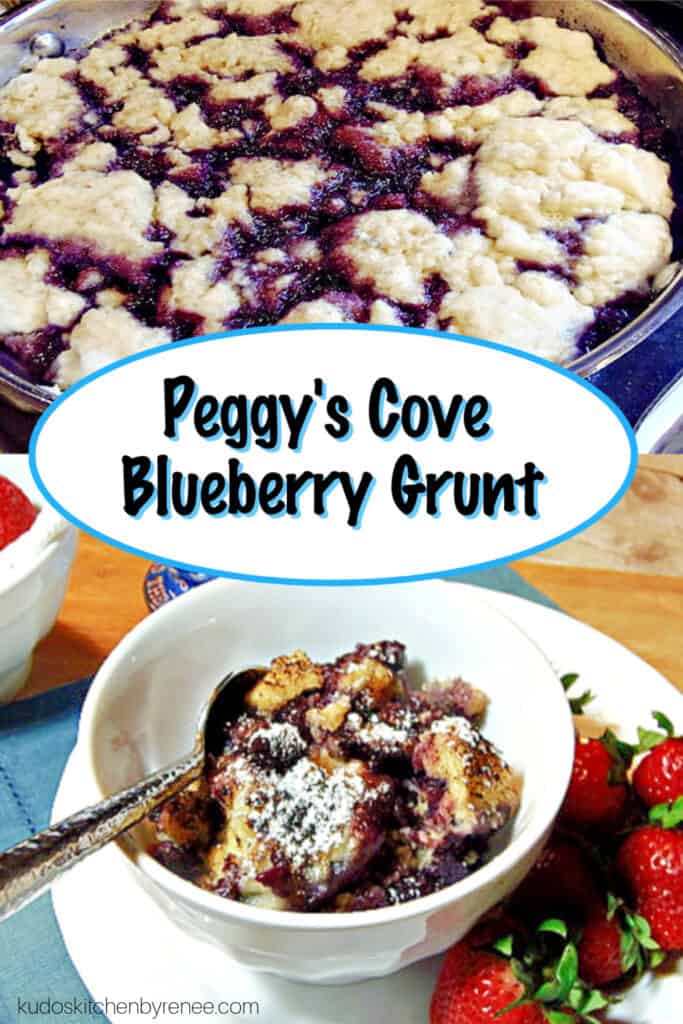 Below is the printable recipe card along with the exact ingredient measurements and nutritional information for making today's delicious blueberry skillet dessert.
When you make this recipe, and I hope you do, I'd appreciate it if you'd take a moment to leave a star rating on the recipe card and briefly comment on why you rated it as you did. FYI - Google appreciates recipe ratings and, in turn, will share my recipes with more people. Thank you so much!!
Printable Recipe Card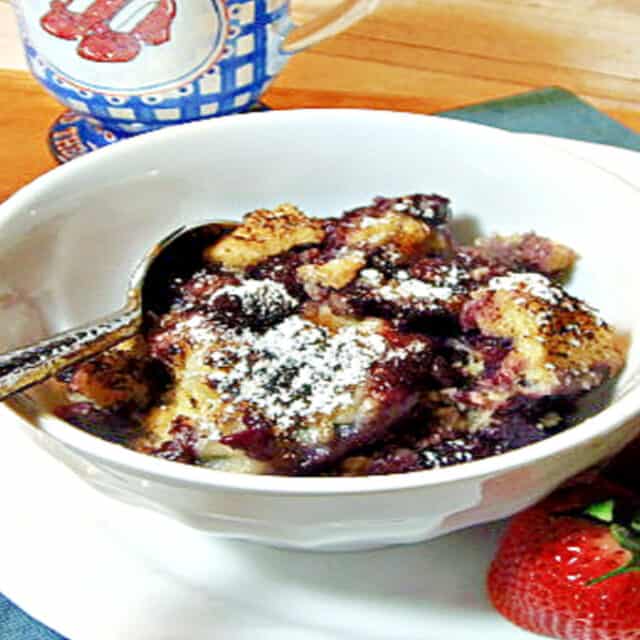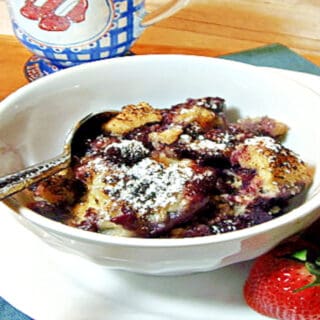 PEGGY'S COVE BLUEBERRY GRUNT
Blueberry Grunt is an easy way to take fresh blueberries to a whole new level of deliciousness with cooked sweet dumplings piled on the top. Novia Scotia never tasted better!
Ingredients
For the fruit:
4

cups

fresh blueberries

½

cup

sugar

½

cup

water

1

teaspoon

cinnamon

⅛

teaspoon

fresh grated nutmeg

1

teaspoon

cornstarch

½

cup

water
For the sweet dumplings:
2

cups

flour

½

teaspoon

salt

2

tablespoons

shortening

3

teaspoons

baking powder

2

teaspoons

sugar

½

cup

heavy cream

you may need a little more or less depending on the humidity in the air.
confectioners sugar

optional
Instructions
-In a wide large skillet over medium-high heat, boil the first five filling ingredients until the berries pop and the filling is nice and juicy.

-Reduce the heat to low.

-In a small bowl or cup, mix the corn starch and water.

-Add the starch mixture to the blueberries and stir over low heat until the mixture thickens slightly. Turn off the heat.

-Meanwhile, in a medium bowl using your hands or a pastry blender, mix all of the dumpling ingredients, adding cream by tablespoons until you reach the consistency of a soft, not crumbly dough.

-Drop the dough by spoon fulls on top of the hot blueberries.

-Cover tightly (do not peak) and cook over medium heat for approximately 15-20 minutes until the dumplings have cooked through and browned ever so slightly.

-Allow it to cool slightly.

-Serve warm with ice cream or a dusting of powdered sugar.

-Enjoy 🙂
Nutrition
Serving:
1
serving
Calories:
388
kcal
Carbohydrates:
66
g
Protein:
5
g
Fat:
12
g
Saturated Fat:
6
g
Trans Fat:
1
g
Cholesterol:
27
mg
Sodium:
207
mg
Potassium:
339
mg
Fiber:
4
g
Sugar:
28
g
Vitamin A:
346
IU
Vitamin C:
10
mg
Calcium:
117
mg
Iron:
2
mg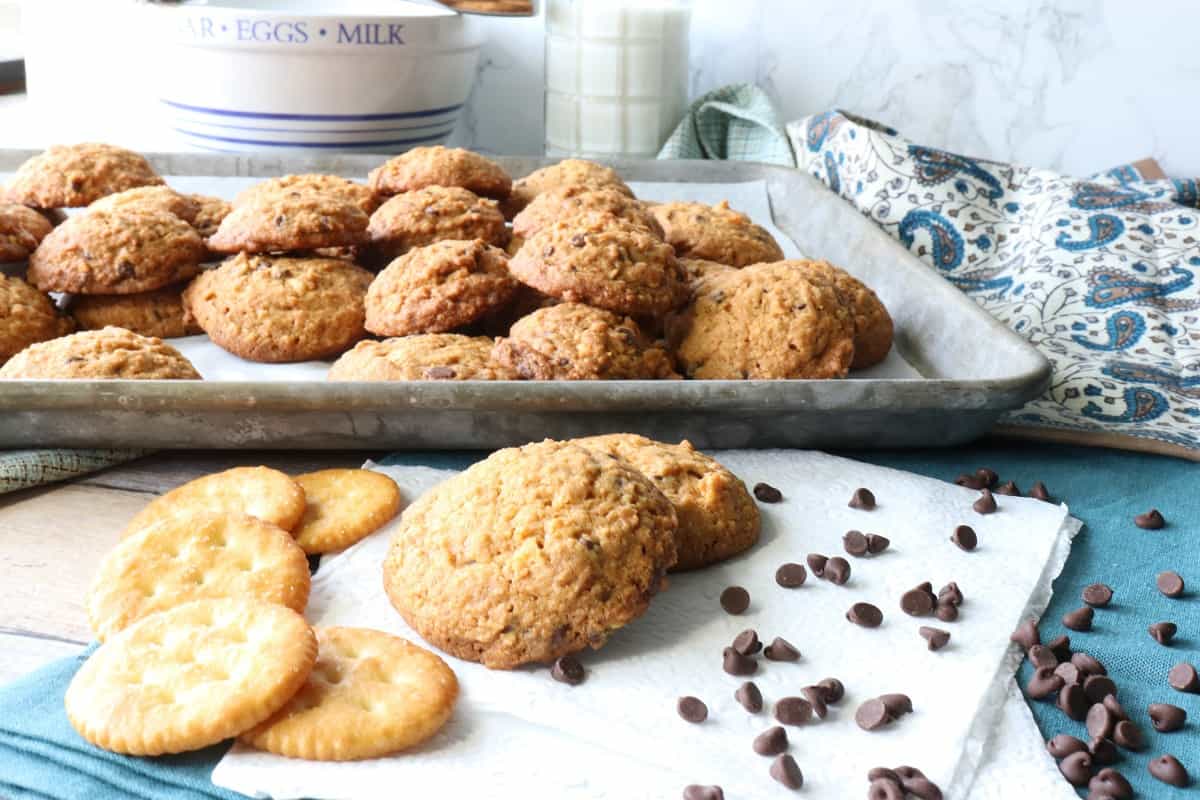 Follow me across my social media platforms and join in on the conversation: FACEBOOK, INSTAGRAM, PINTEREST, TIKTOK, AND YOUTUBE.
Thank you so much for visiting me today in my Kudos Kitchen. I hope you found something you'll love and that you'll come back and visit me often. There is always room for you around my table!
Should you have any questions or comments regarding anything you've seen here on my blog, please don't hesitate to reach out to me. It is always my distinct pleasure to respond to you just as soon as I possibly can.
Until we eat again, I hope you have a delicious day!!