Kick up your hot chocolate game this winter by making and serving this delicious PEPPERMINT WHITE HOT CHOCOLATE! It's like a holiday hug from the inside out!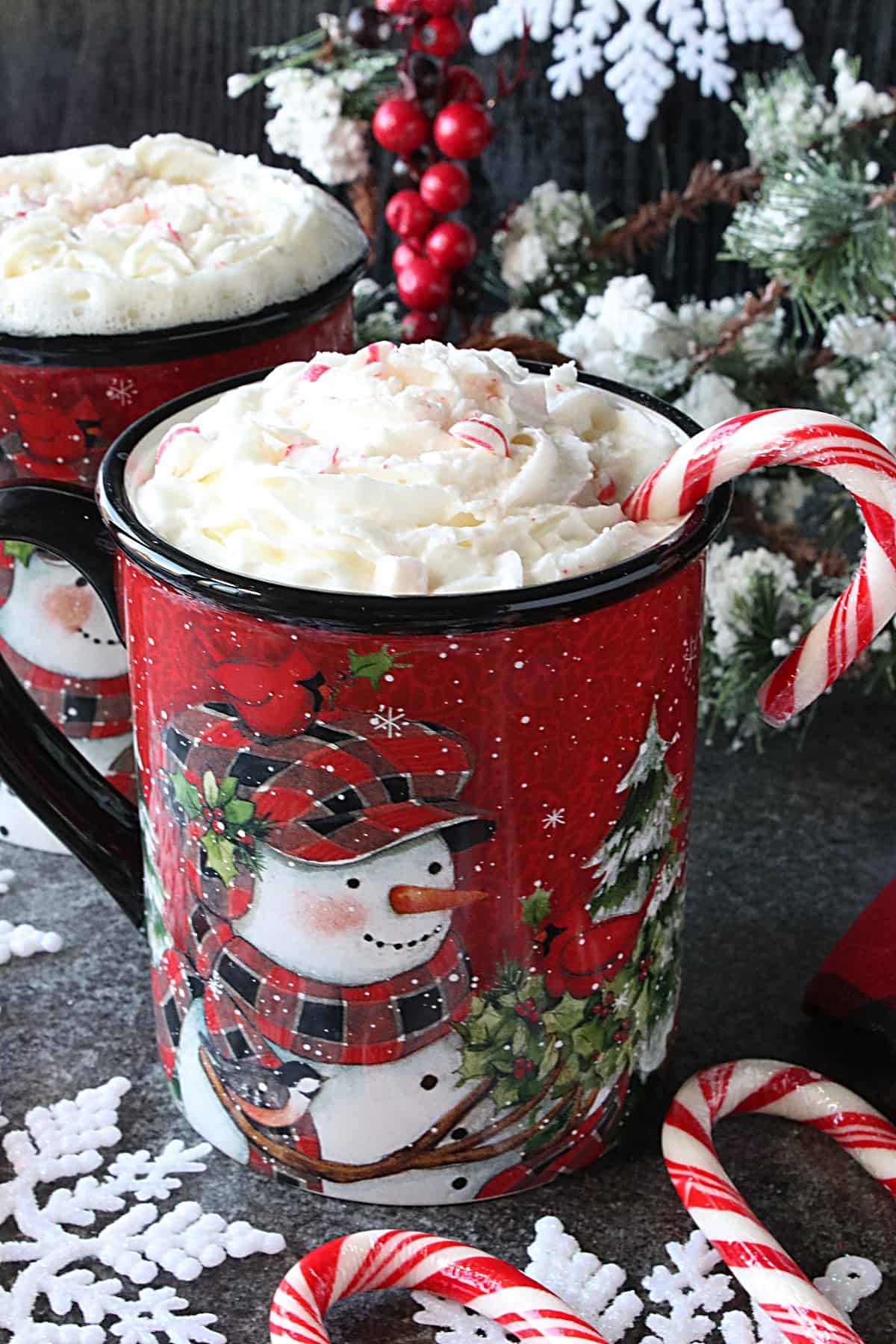 **Note - The following recipe post or category contains affiliate links (highlighted in blue) for your consideration. By clicking on a link I may earn a small commission at no additional cost to you. Thank you!
Picture serving up a few mugs of this Peppermint White Hot Chocolate after being outside sledding or building a snowman with the kids or the grandkids in the freshly fallen snow.

Or you could enjoy a hot, steamy mug while sitting beside a roaring fire and watching your favorite Christmas movie.

Whenever you decide to enjoy a cup of this peppermint hot chocolate, I know it will be a relaxing moment, so savor every sip!
Jump to:
The ingredient list
*Please note that the exact measurements along with a new "shop the recipe" feature from Instacart is available in the printable recipe card.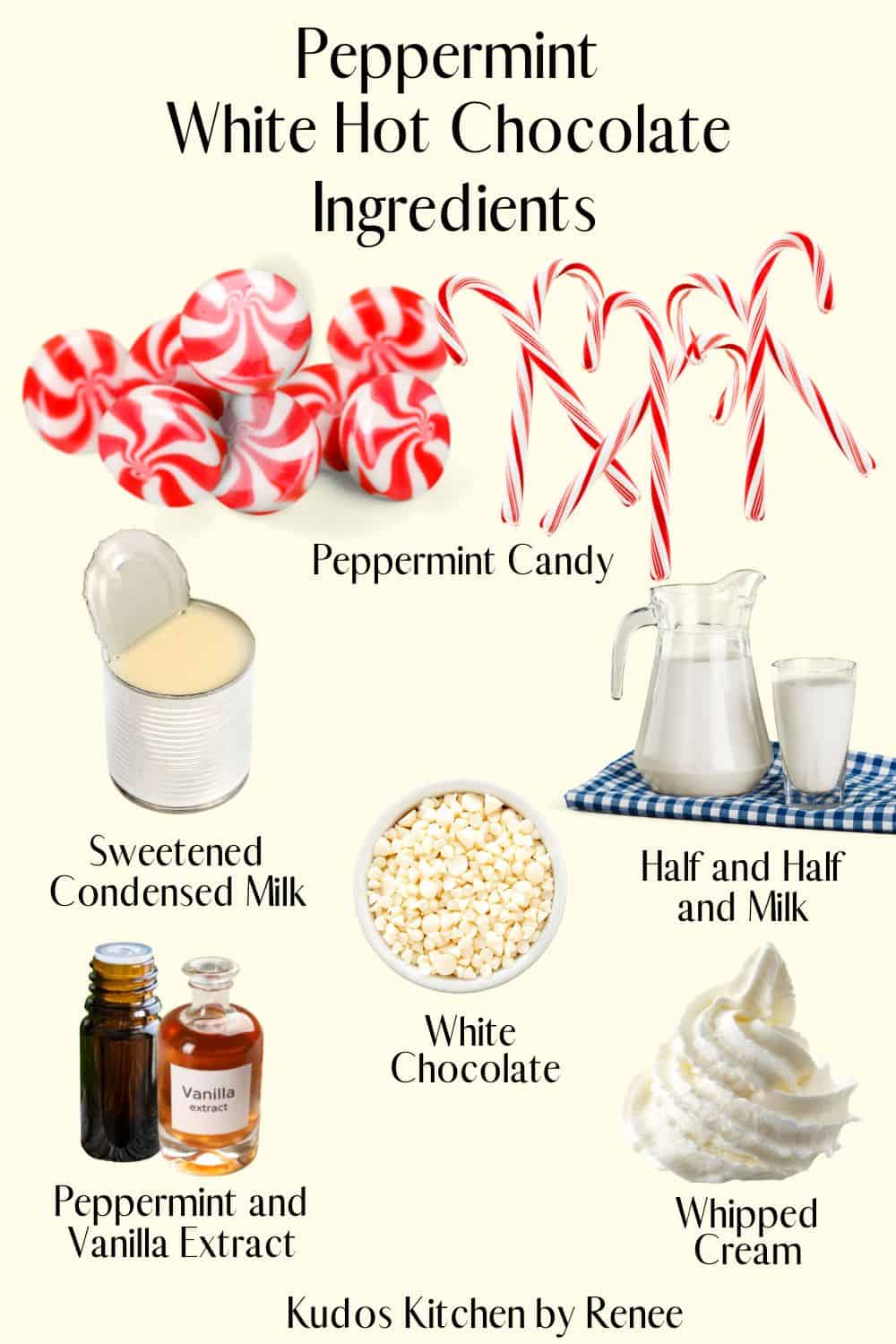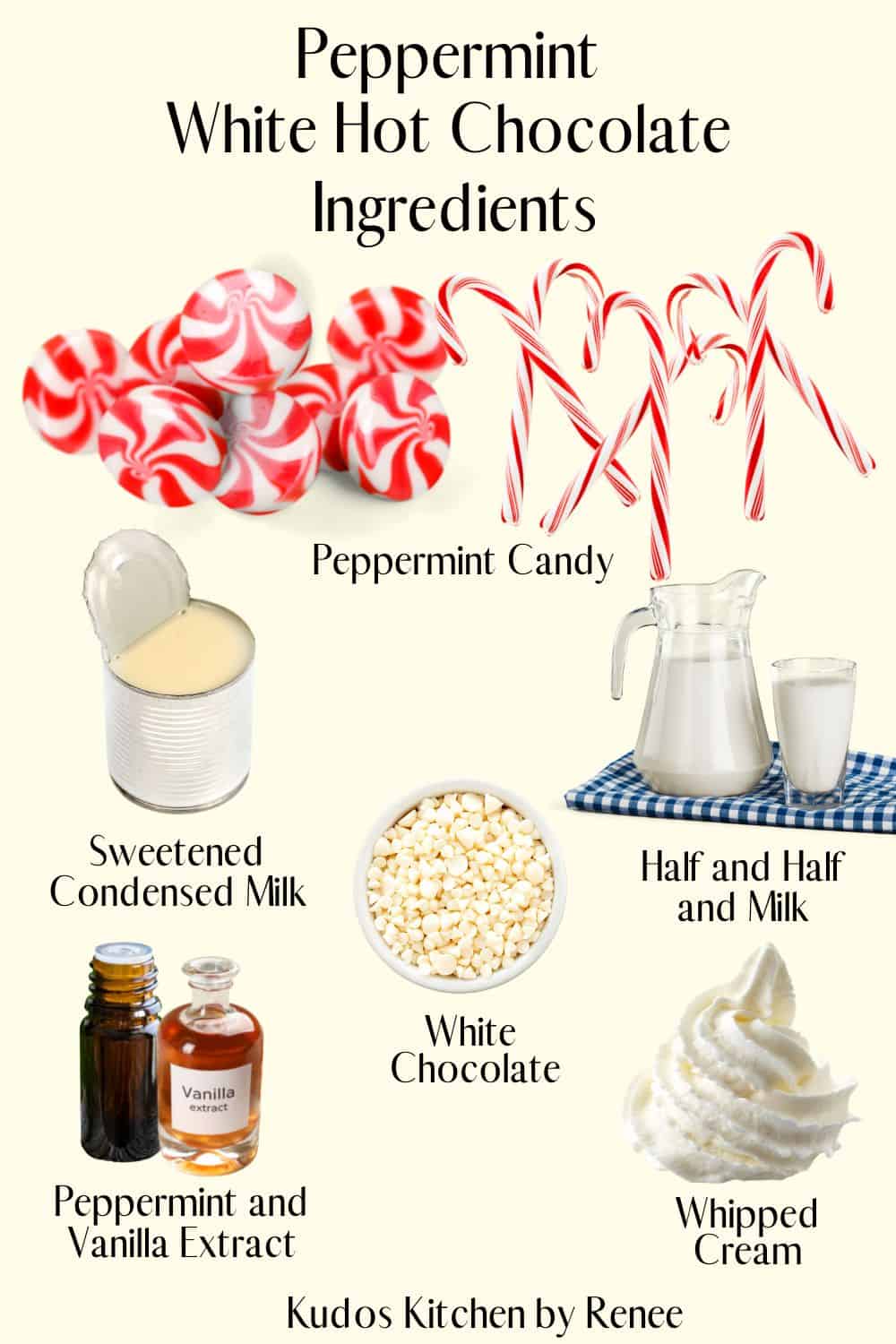 The above ingredient image was made using Canva Design. It's one of my very favorite design tools. You don't need to be a food blogger to use Canva. All you need to be is someone who loves designing graphics. Check them out and open whole new world of artistic expression for yourself.
Ingredient savvy
I chose to use half-and-half when I made this peppermint hot chocolate recipe because that's what I had on hand. But please feel free to use heavy cream for an even richer flavor experience.
The peppermint candy I used (as shown in the video) is the round starlight mints found in the grocery store all year. Feel free to use whatever peppermint candy you have or can find. You'll need approximately 1 cup of crushed peppermint candy.
Of course, at this time of year, candy canes are everywhere. But as a reminder, if you crush candy canes, make sure to save a few whole candy canes for garnishing your hot chocolate before serving.
For the very best flavor always use pure vanilla, and pure peppermint extracts and steer clear of the words imitation or flavoring. Vanilla beans or vanilla bean paste can also be used in this recipe if desired. (To learn how to make your own flavored extracts check out the video below.)
Sweetened condensed milk is used in this recipe in place of granulated sugar. Sweetened condensed milk is whole milk that has been heated gently until 60% of its water has been evaporated, which in turn pasteurizes the milk. Sugar is added, resulting in thick, creamy, and deliciously sweet milk.
Are sweetened condensed milk and evaporated milk the same thing? Nope! As the name suggests, evaporated milk has the water removed (i.e., evaporated). And sweetened condensed milk has the water removed and sugar added.
I used the popular brand name of white chocolate chips, but you can easily substitute a bar of white chocolate (chopped). You'll need approximately 1¼ cups of chips or chopped chocolate.
Or might I suggest you use this White Chocolate Sauce recipe from my lovely friend Jenni of Jenni Field's Pastry Chef Online? If using Jenni's white chocolate sauce, I suggest you taste as you go. Start with ½ cup of Jenni's sauce, and add more if you need more sweetness.
Whipped cream. You can either use store-bought (like I did) or make your own, which is extremely easy to do. Whip very cold heavy cream (1 cup), powdered sugar (3 tablespoons), and vanilla extract (1 teaspoon) until soft peaks form. You can even take it a little further by adding a small amount of peppermint extract (¼ teaspoon) to gild the lily and take the peppermint flavor over the top!
How to make homemade extracts
Can this recipe be made in a slow cooker
Sure. All you'd need to do is add all the ingredients (minus the whipped cream and whole candy canes) to a slow cooker and give it a good stir.
Cover and set the temperature to low heat. Cook, stirring occasionally until the ingredients are hot and the chocolate is fully melted (approximately 1-2 hours while you're outside building a snowman).
How many servings does this recipe make?
As written this recipe makes four 8-ounce servings.
Can this recipe be increased to serve more than four people?
You bet. The more, the merrier! You can easily increase the ingredient quantities depending on how many you're serving.

If you're working on the stovetop, use a large stockpot (depending on how many servings you make) and cook over medium/low heat. Remember to stir frequently to prevent burning and scorching.

If using a slow cooker, a 5 or 6-quart size will work best if you're making enough hot chocolate for a crowd.
How to store leftovers
I like to store any leftovers in a covered container in the refrigerator. It will keep well for up to 5 days in the fridge.
To reheat, add to a saucepan or a microwave safe container and heat until hot.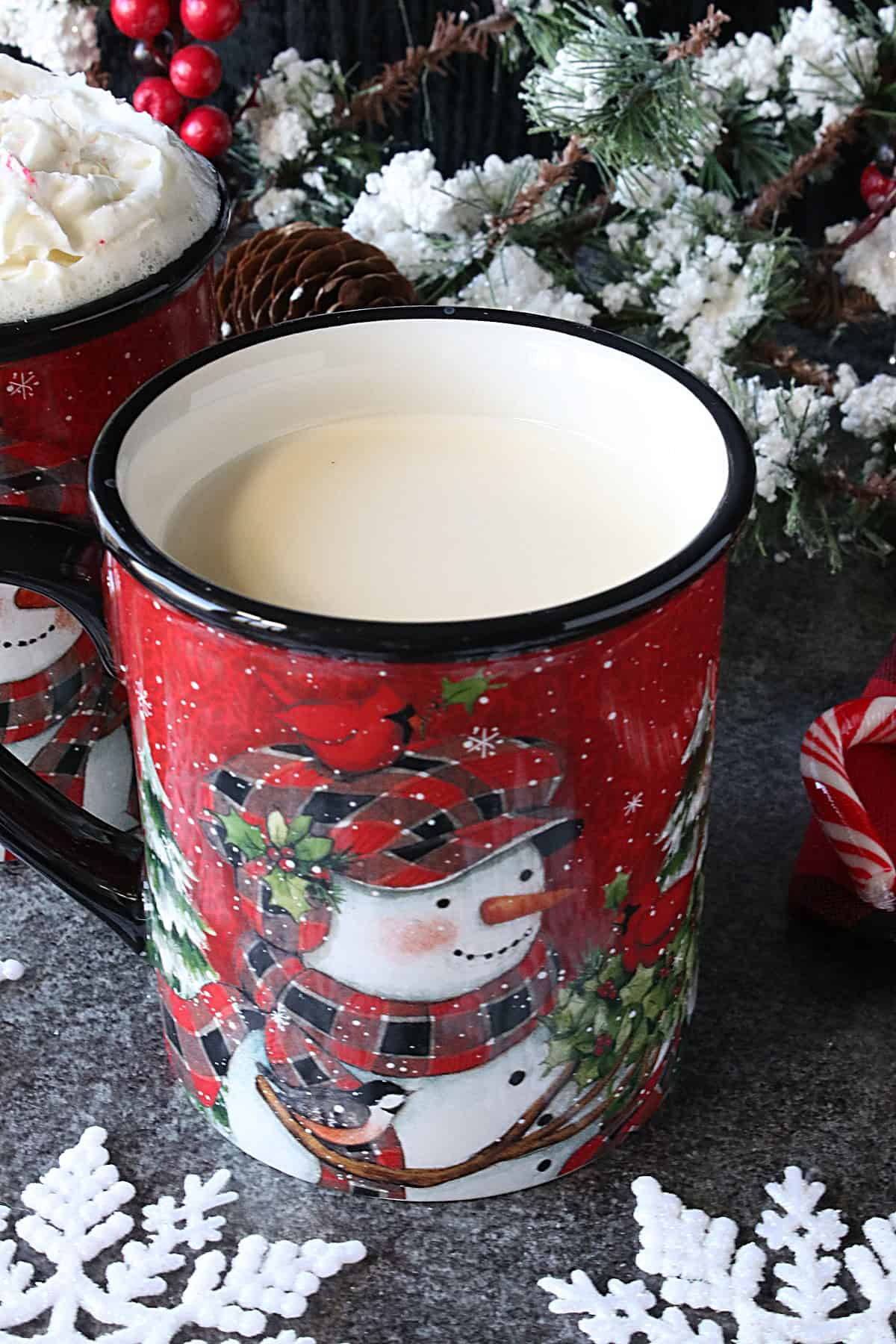 Can cocoa powder be used in this recipe
Sure. If you want to add cocoa powder to the white chocolate hot chocolate, be my guest. I think that would be delicious!
I would suggest adding ¼ cup for four servings and whisk it good while its heating.
Can alcohol be added to peppermint white hot chocolate for the adults
I certainly wouldn't tell you no.
My suggestions would be Peppermint Schnapps, Baileys Irish Cream, Rum Chata, or maybe even a splash of vodka or rum would a be nice way to warm up.
FAQs
What is the best way to crush candy?
As you can see in the video I like to use my meat mallet because it makes fast work of crushing, and it's very satisfying to use. A rolling pin is also a great way to crush candy, and of course a hammer will work in a pinch. Just make sure you don't smack the candy so hard that you put holes in the plastic bag as that can happen easily if you're too aggressive (not that I'd know anything about that! LOL)
Can the amount of peppermint extract in this recipe be decreased?
Of course. Peppermint extract can be quite strong so if you're concerned about the flavor being too intense, I suggest you start with ½ teaspoon and then add more if you feel you'd like more peppermint flavor.
Can marshmallows be used in place of the whipped cream topping?
By all means...YES!! actually, why not use both? After all, it is the holidays. Go big or go HO HO HOME!!
Can additional sweetened condensed milk be added if desired?
Yes!! If you like your hot chocolate really sweet, feel free to add more than the ½ cup specified in the recipe. Taste as you go and make adjustments to the recipe as you see fit.
Additional recipes featuring peppermint
Peppermint Shortbread Cookies will be the star of any cookie platter. They're all dressed up and ready to party!
Delicious Peppermint Schnapps Ice Cream is fast and easy to make. It's a no-churn recipe that's smooth, creamy, and loaded with big, bold, peppermint flavor.
With a deeply intense chocolate flavor and a slight hint of peppermint, these Nonpareil Chocolate Peppermint Truffles are just the thing to keep your sweet tooth in check while still indulging in something extra delicious!
No-Bake Peppermint Buttercream Wafer Cookies are the perfect holiday cookie. Homemade peppermint buttercream is sandwiched between two crispy wafer sheets, sliced, and then dipped into white chocolate and festive sprinkles.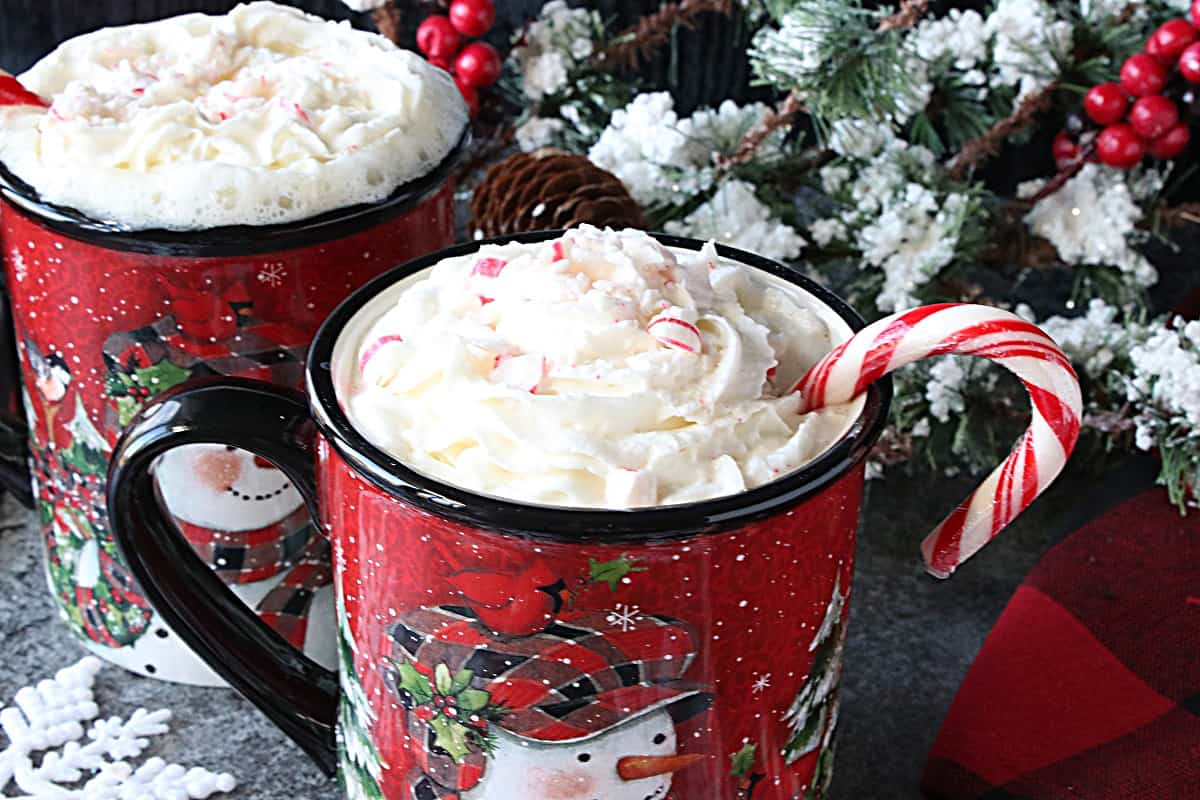 When you make this recipe, and I hope you do, I'd appreciate it if you'd take a moment to leave a star rating on the recipe card and briefly comment on why you rated it as you did. FYI - Google appreciates recipe ratings and, in turn, will share my recipes with more people. Thank you so much!!
Printable Recipe Card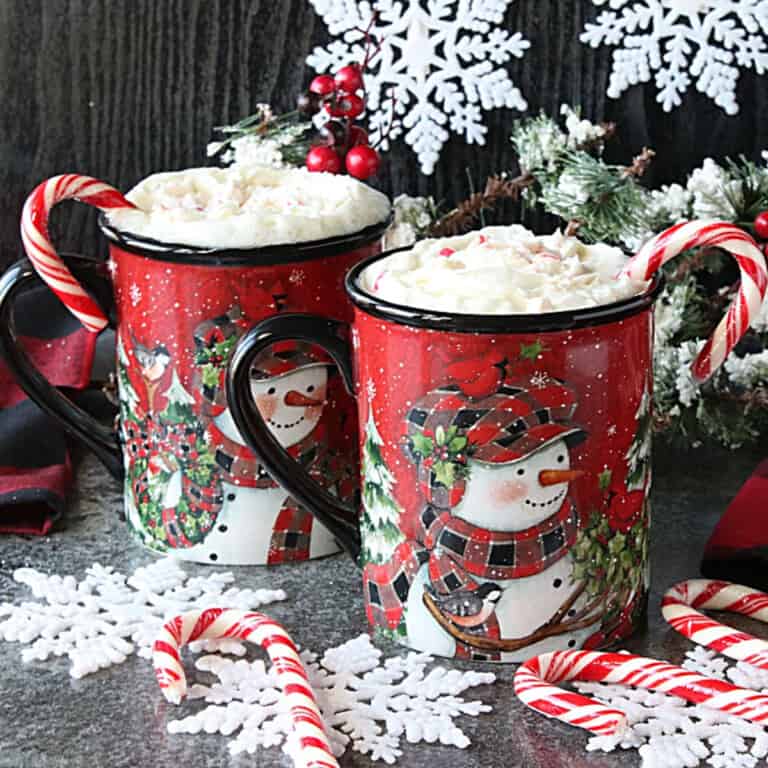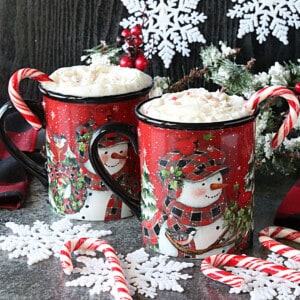 Peppermint White Hot Chocolate
Kick up your hot chocolate game this winter by making and serving this delicious PEPPERMINT WHITE HOT CHOCOLATE! It's like a holiday hug from the inside out!
Ingredients
1

cup

crushed peppermint candy

reserve one tablespoon for topping

4

candy canes

unwrapped and kept whole

2

cups

whole milk

2

cups

half and half

heavy cream may be substituted

½

cup

sweetened condensed milk

1¼

cups

white chocolate chips

1

teaspoon

pure vanilla extract

1

teaspoon

peppermint extract

whipped cream for topping

optional
Instructions
Use a rolling pin or meat mallet to crush the candy inside the zip top bag. Set aside.

Add the milk, half and half, sweetened condensed milk, white chocolate, vanilla and peppermint extract to a saucepan. Stir well to combine.

Add the crushed peppermint candy to the saucepan, making sure to reserve one tablespoon for garnish.

Heat the mixture, stirring continually) over medium heat until the peppermint candy and the white chocolate dissolves.

Pour the hot chocolate into mugs and top with whipped cream, the reserved crushed peppermint candy, and garnish with a whole candy cane before serving.
Notes
Peppermint White Hot Chocolate can also be made in a slow cooker. Add all the ingredients (except the reserved crushed candy for garnish, the whipped cream, and the whole candy canes) and heat (covered) on low for 1-2 hours or until hot, stirring occasionally.
Store leftovers in a covered container in the refrigerator for up to 5 days. Reheat before serving.
Nutrition
Serving:
1
serving
Calories:
836
kcal
Carbohydrates:
105
g
Protein:
14
g
Fat:
39
g
Saturated Fat:
24
g
Polyunsaturated Fat:
2
g
Monounsaturated Fat:
11
g
Cholesterol:
82
mg
Sodium:
220
mg
Potassium:
648
mg
Fiber:
0.1
g
Sugar:
94
g
Vitamin A:
745
IU
Vitamin C:
2
mg
Calcium:
500
mg
Iron:
0.3
mg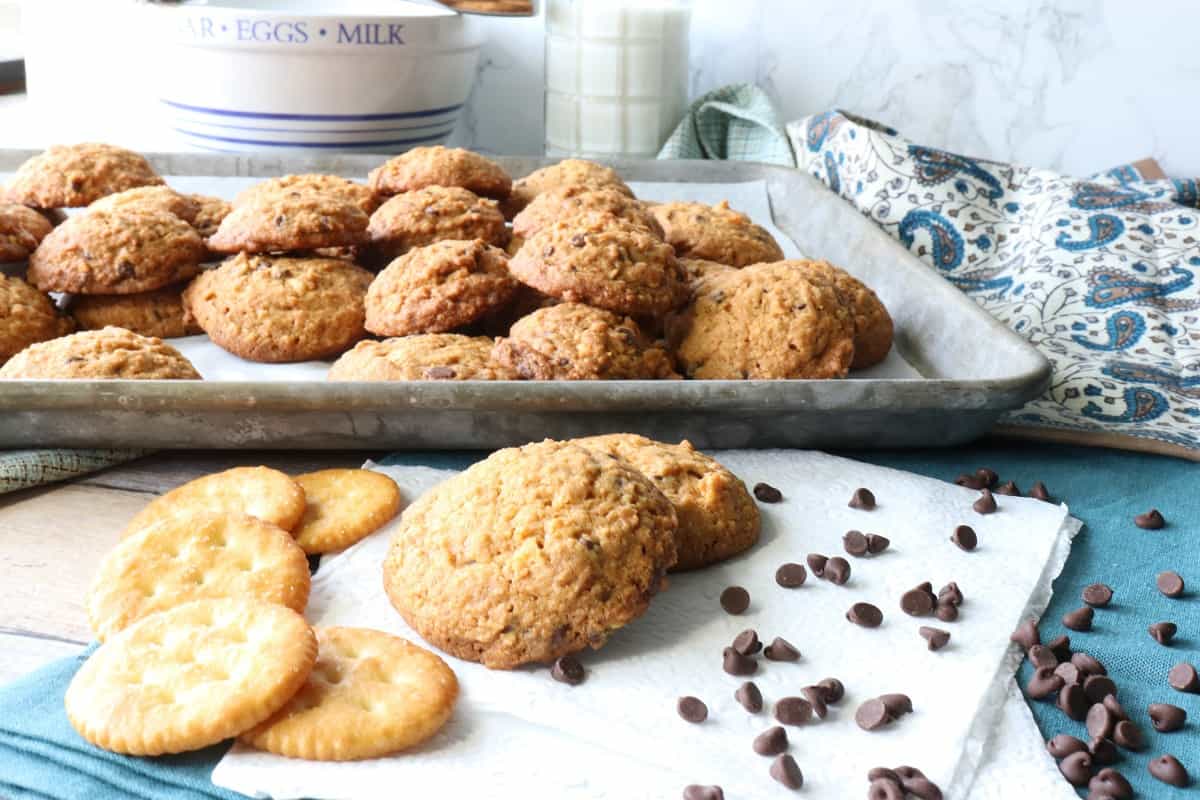 Follow me across my social media platforms and join in on the conversation: FACEBOOK, INSTAGRAM, PINTEREST, TIKTOK, AND YOUTUBE.
Thank you so much for visiting me today in my Kudos Kitchen. I hope you found something you'll love and that you'll come back and visit me often. There is always room for you around my table!
Should you have any questions or comments regarding anything you've seen here on my blog, please don't hesitate to reach out to me. It is always my distinct pleasure to respond to you just as soon as I possibly can.
Until we eat again, I hope you have a delicious day!!