What's better than a big old plate of warm, flavorful pasta? How about going back for seconds?
This easy Pappardelle Pasta with Leeks and Bacon will have you doing just that.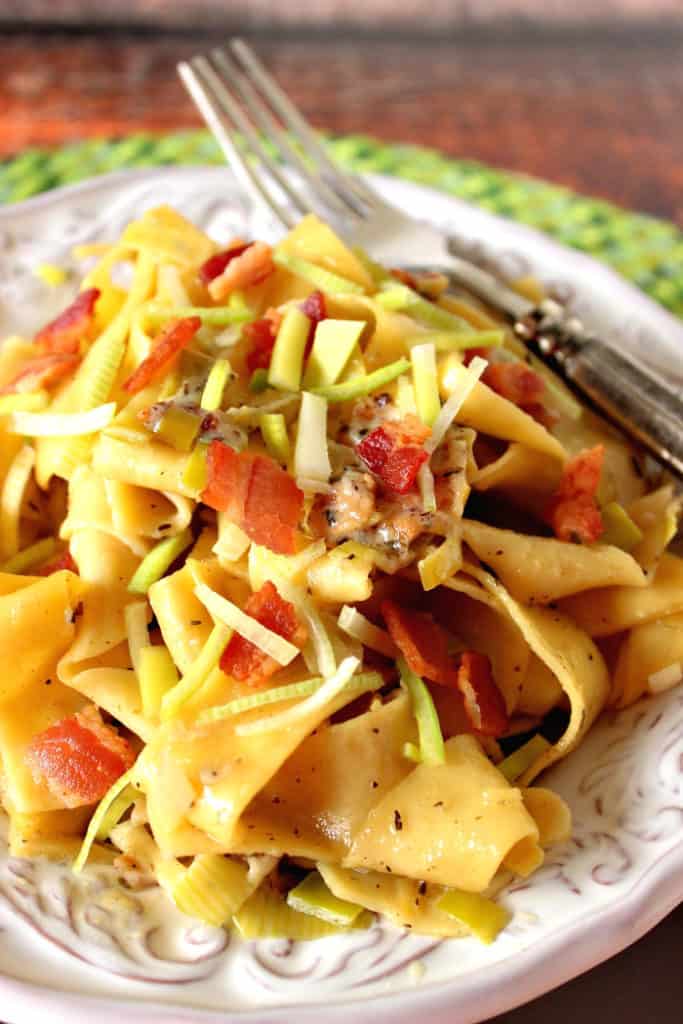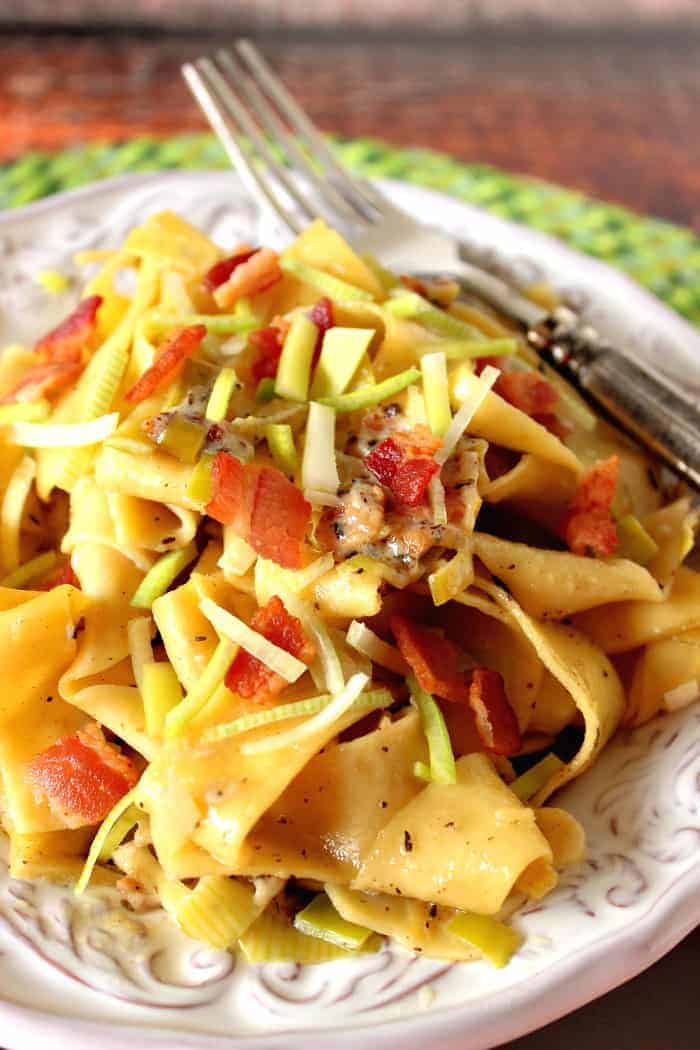 This easy pappardelle pasta recipe is so good and so easy that I knew I couldn't keep it to myself!

I found this recipe in the February 2013 issue of Bon Appétit magazine as I was paging through my huge pile of food magazines trying to whittle down the stack into something manageable. Ha! Like that will ever happen.
**Please Note - The printable recipe card with detailed instructions, complete ingredient measurements, and nutritional information for making Pappardelle with Leeks and Bacon is available at the end of this post. OR you can hit the "jump to recipe" button (found above) to be taken directly to the recipe.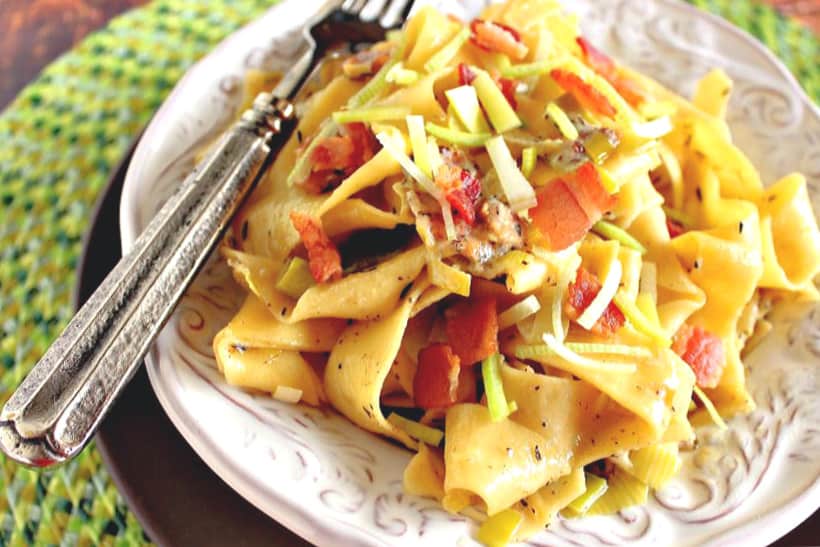 The ingredient list:
**Note - The following lists of ingredients plus kitchen tools and equipment contain affiliate links (highlighted in blue) for your consideration and shopping convenience. #CommissionsEarned
leeks
bacon
butter
heavy cream
salt and pepper
Kitchen tools and equipment needed:
cheese grater (optional)
large bowl (for cleaning the leeks)
wooden spoon
paper towels (to drain bacon)
The beautiful leek:
Every time I cook with leeks I'm reminded why I love them so much!
Leeks are a truly fascinating vegetable. Visually they look like very much like scallions, but on steroids.
When you slice a leek in half, and you'll see layers upon layers of oniony goodness.
They really are quite beautiful and cooking with them will elevate your everyday dishes to something very special.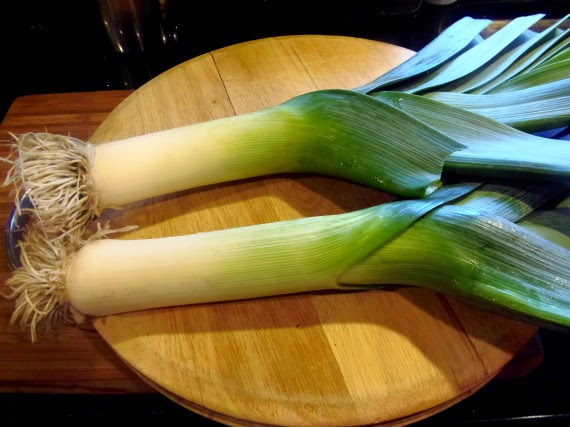 What does a leek taste like?
Leeks are members of the allium family.
Allium means "garlic" in Latin but the allium family also contains onions, shallots, chives, and scallions (green onions).
Leeks have a mild onion-like flavor and they tend to be sweeter and milder in flavor than their smaller counterpart, the scallion.
Cleaning leeks:
The one thing you do have to be aware of when you're cooking with leeks, however, is that you need to make sure to clean them properly.
It is because of all those wonderful layers of flavors that sometimes a bit of dirt and grit can get trapped inside.
Always make it a practice to soak cut leeks in a bowl or sink full of water so that the dirt and grit have an opportunity to fall away and not end up in your completed dish.
It only takes an extra couple of minutes to do, but doing so is a must!
How to properly clean leeks:
How long does it take to make this easy pappardelle pasta recipe?
Less than 30 minutes from start to dinner.
Pappardelle with leeks and bacon is definitely a company-worthy recipe and yet it's something you could easily whip together on any random Tuesday night for a quick family-friendly meal.
Can other pasta be used in place of the pappardelle?
Sure! Use whatever pasta is your favorite.
How to make easy pappardelle with leeks and bacon:
In a large skillet, cook the chopped bacon until just shy of crisp.
Remove the bacon from the skillet and drain all but 1 tablespoon of bacon fat from the skillet.

Prepare the leeks by cutting off the root end and most of the deep green stalks.

Slice the white and light green part in half and soak in cold water to release the dirt and grit.

Splay the layers with your fingers to make sure you've cleaned them properly.

Drain thoroughly and cut into thin slices.
Sauté the leeks in the same pan as the bacon, making sure you've drained all but approximately 1 tablespoon of fat.
Add butter and season with dried thyme, salt, and pepper.
Add in the cooked bacon, heavy cream, and Parmesan cheese (photo not shown).
Meanwhile, cook the pappardelle just shy of the package directions.

Drain the pasta, add olive oil and stir in the leek and cream mixture.

Toss and serve.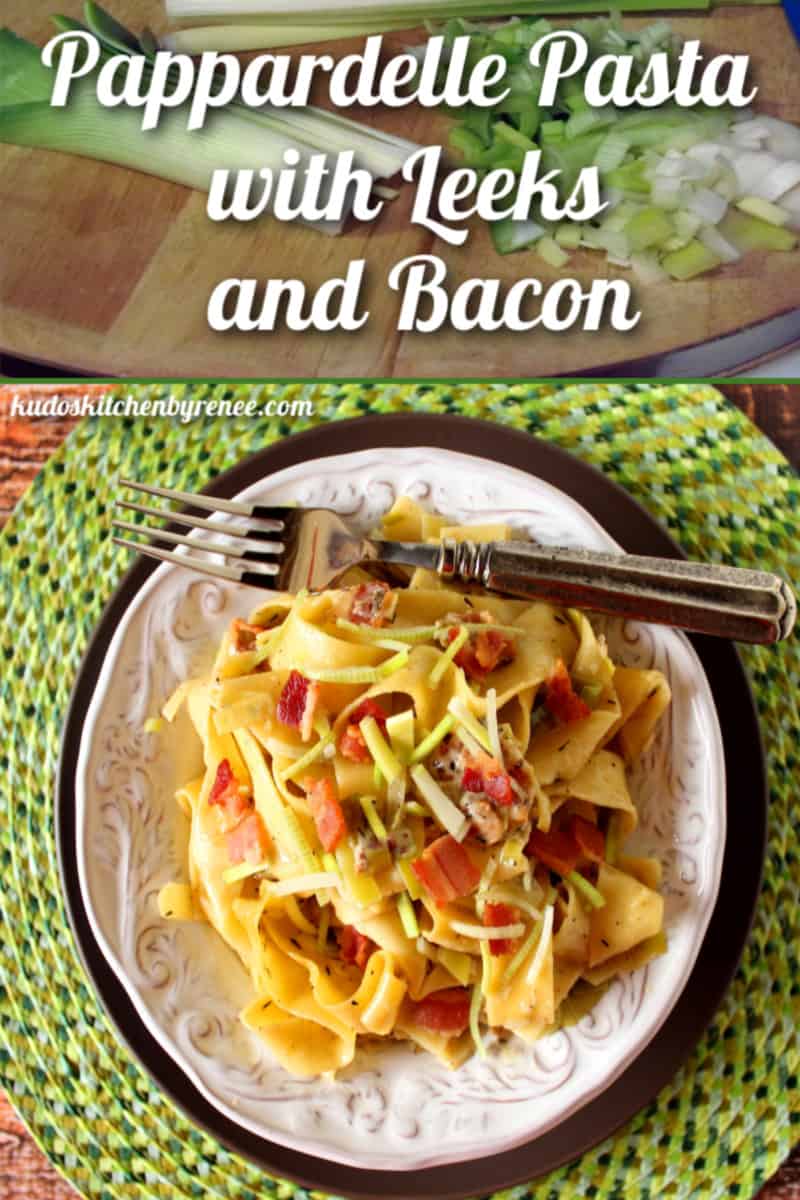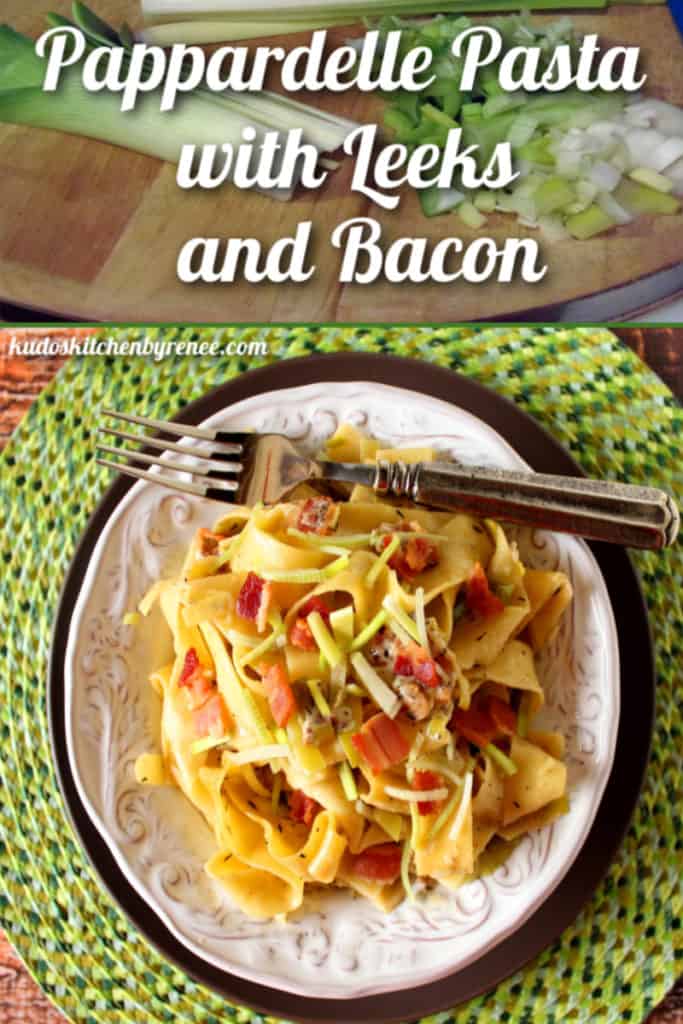 For additional easy pasta dishes, please click on the following titles for:
"One-Pot Pasta of Linguine, Italian Sausage, Tomatoes, and Capers is an easy and satisfying meal for busy nights when time is tight, the family is hungry, and you don't want to fuss with too much prep or clean up."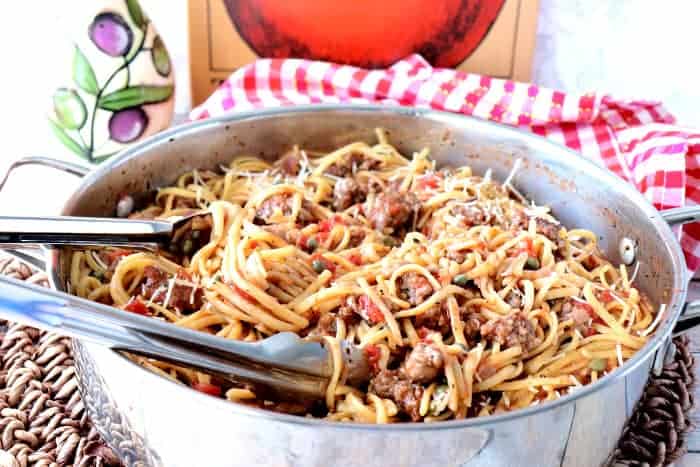 "If you can turn on the oven and boil water, then you'll be successful at making this delicious family favorite Roasted Garden Fresh Tomato Bacon Basil Linguine."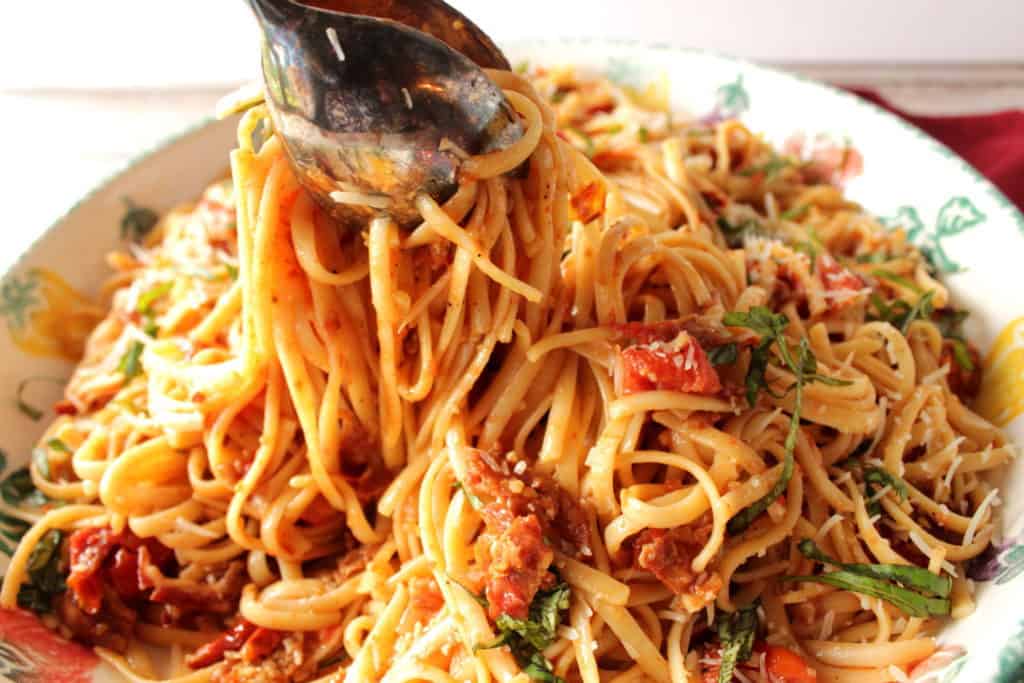 Kitchen helpers:
Whether you're working all day on a blue screen device, or in the kitchen, the following affiliate products are ones I can highly recommend to save your eyesight and your sanity.
Below is a photo of my blue blocker computer glasses in action! I swear by them! I work at the computer for what feels like all-day, every-day, and these glasses have relieved a great deal of eye-stress and migraine problems for me.
A neurologist was the one who recommended I get myself some, and it was the best thing he could have told me to do, so now I pass that information on to you!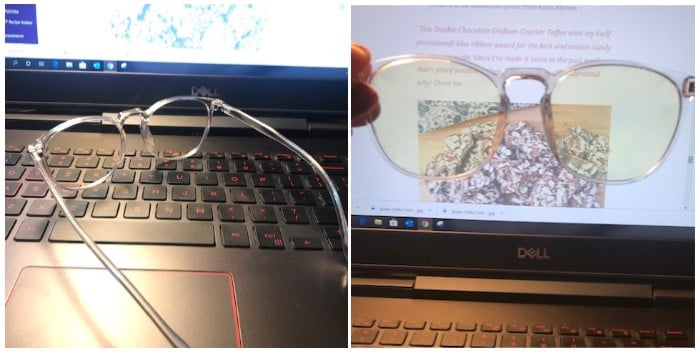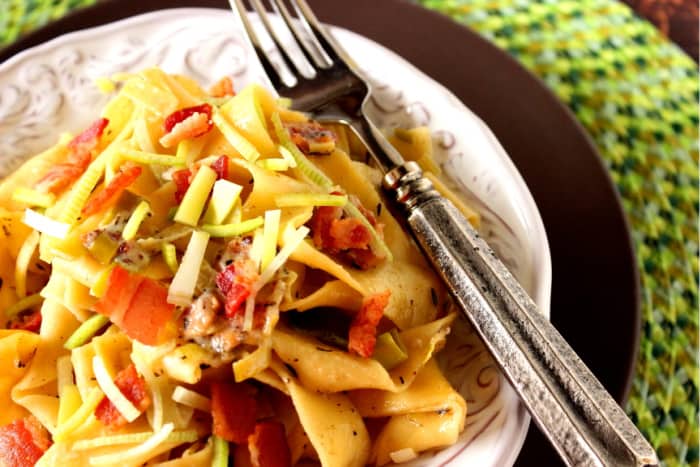 Below is the printable recipe card along with the exact ingredient measurements and nutritional information for making today's easy pasta dinner of pappardelle with leeks and bacon.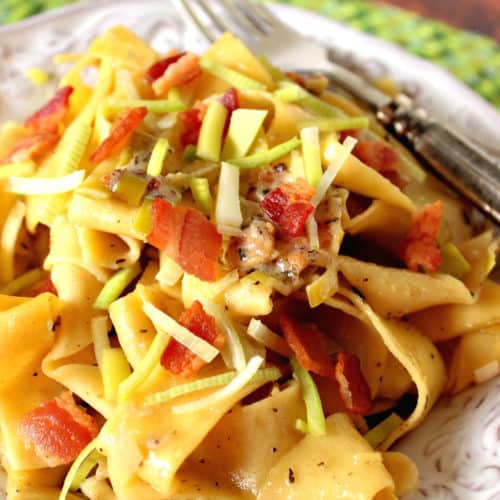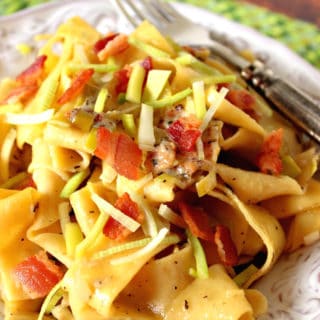 Pappardelle Pasta with Leeks and Bacon
Ingredients
½

pound

of bacon

cooked, drained and crumbled. Reserving 1 tablespoon of the bacon fat in the skillet.

1

tablespoon

butter

2

medium leeks

white and light green parts only cleaned and thinly sliced.

¾

teaspoon

coarse salt

¼

teaspoon

black pepper

2

teaspoons

dried thyme

1¼

cups

heavy cream

1

cup

freshly grated Parmesan cheese

1

pound

dried pappardelle pasta

or favorite variety dried pasta, cooked according to package directions and drained, but reserving ½ cup of the pasta cooking water.

2

tablespoons

extra virgin olive oil
Instructions
In the same large skillet in which the bacon was cooked, saute the sliced leeks in the butter and the reserved bacon grease over medium heat.

Stir in the salt, pepper, thyme, and cooked bacon.

Stir in the heavy cream and the Parmesan cheese. Simmer on low for approximately 5 minutes.

Drain the pasta and gently stir in the 2 tablespoons oil.

Add the leek and cream mixture into the pasta and toss to coat.

Stir in ¼ to ½ cup of the reserved pasta cooking water, if desired, to form a sauce.

Serve immediately with additional Parmesan cheese, if desired.
Nutrition
Serving:
1
¼ cups
Calories:
608
kcal
Carbohydrates:
27
g
Protein:
24
g
Fat:
45
g
Saturated Fat:
21
g
Polyunsaturated Fat:
21
g
Trans Fat:
1
g
Cholesterol:
140
mg
Sodium:
1240
mg
Sugar:
2
g
I sincerely hope you've enjoyed today's fast and easy dinner recipe for pappardelle pasta as much as I've enjoyed bringing it to you.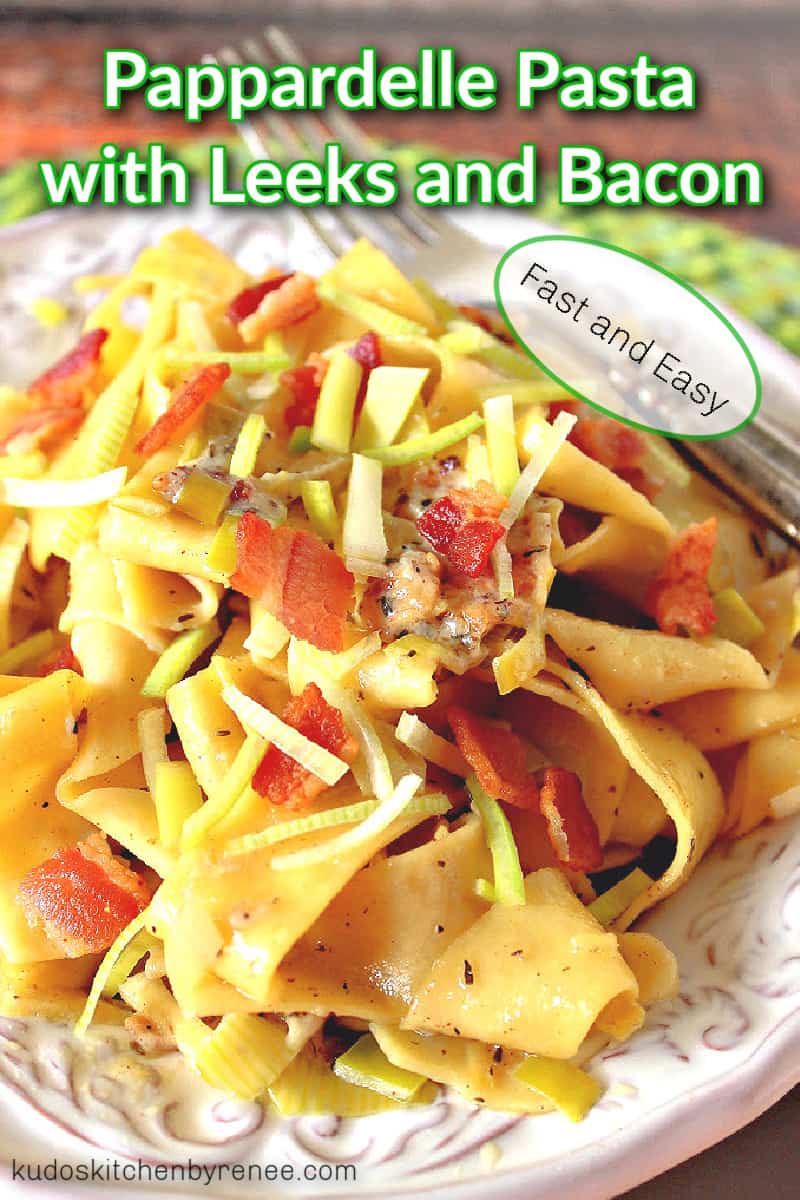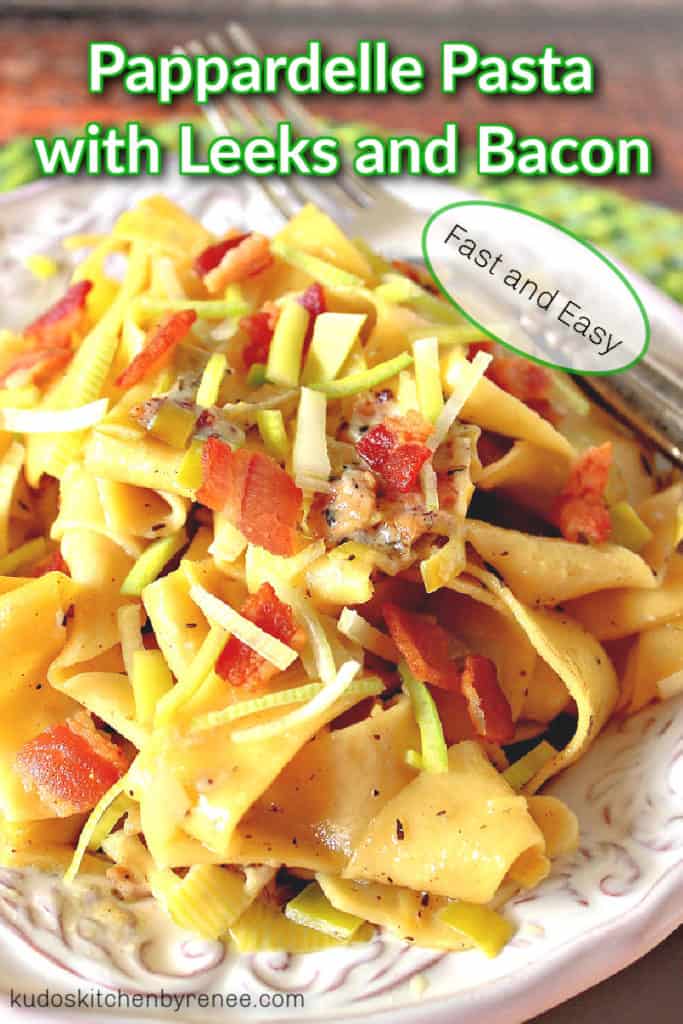 This post may contain affiliate links which won't change your price but will share some commission.
As an Amazon Associate, I earn from qualifying purchases. When I find a great product or service I like to share it with my readers. For additional information please view my privacy policy.