These Ham and Cheese Puff Pastry Appetizer Cups will be the hit of any party or gathering. They'll disappear quickly, so you'd better have plenty on hand!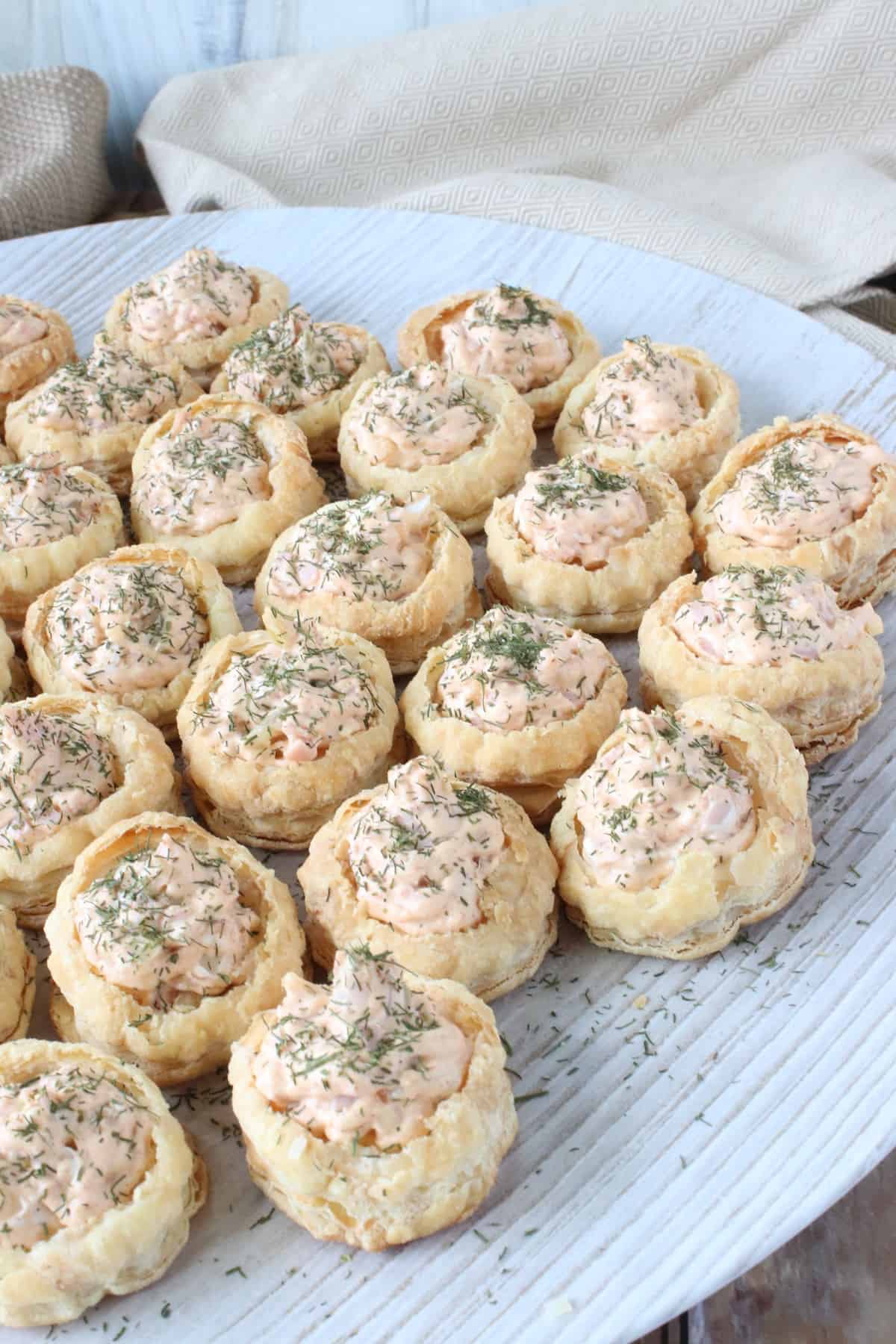 This recipe was inspired by one I made many, many years ago when I was a young wife and mother.
Since I'm a sucker for any appetizer that features cream cheese and puff pastry these easy-to-make homemade fillable puff pastry appetizer cups are near and dear to my heart!
Jump to:
The ingredients
*Please note that the exact measurements along with a new "shop the recipe" feature from Instacart is available in the printable recipe card.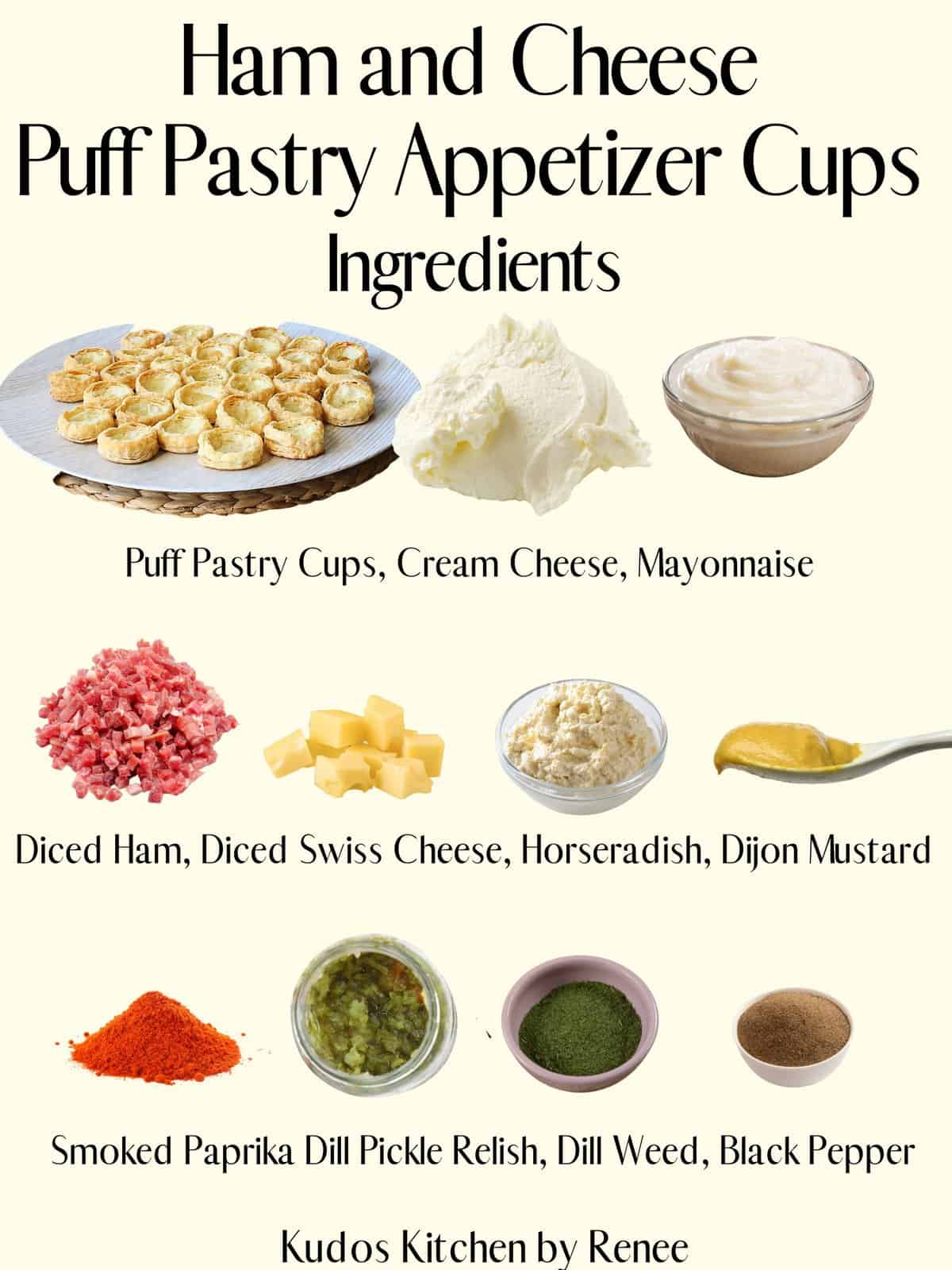 Ingredient information
PUFF PASTRY CUPS - These can either be homemade or store-bought. Either one is fine and either one is quick and easy to fill.
CREAM CHEESE - I used full fat cream cheese when writing this recipe but you can also use the lower-fat Neufchatel cheese, if preferred. Either will work.
DIJON MUSTARD - The Dijon mustard cuts through the richness of the cream cheese and brings a familiar ham and cheese "vibe" to these tasty little appetizers.
MINCED HAM - Leftovers work great in this recipe but deli ham slices will work too. Just make sure to dice the ham into small bits for easier piping.
DICED SWISS CHEESE - I love the nutty taste of Swiss cheese but feel free to substitute you favorite variety of cheese if Swiss isn't your favorite.
PREHARED HORSERADISH - This ingredient is optional, but I love the extra punch of flavor that the horseradish provides.
SMOKED PAPRIKA - It's the smoked paprika that gives the filling a slight pink tinge and a touch of smoky flavor. It's an optional ingredient, but I love the unique flavor it provides.
DILL PICKLE RELISH - Feel free to substitute sweet pickle relish if that's what you have on hand, or you can omit the relish altogether. I used the dill relish to tie in with the dill weed garnish.
DRIED DILL WEED - I love the additional brightness that the dill weed garnish provides. Fresh dill weed would be lovely, and had I had any on hand at the time I would have preferred using it. Either one works well.
Why no salt in this recipe
I opted to leave the salt out of the ingredients because there are many other salty components to this recipe. I didn't want these to become "salt bombs" so I purposefully omitted any additional salt.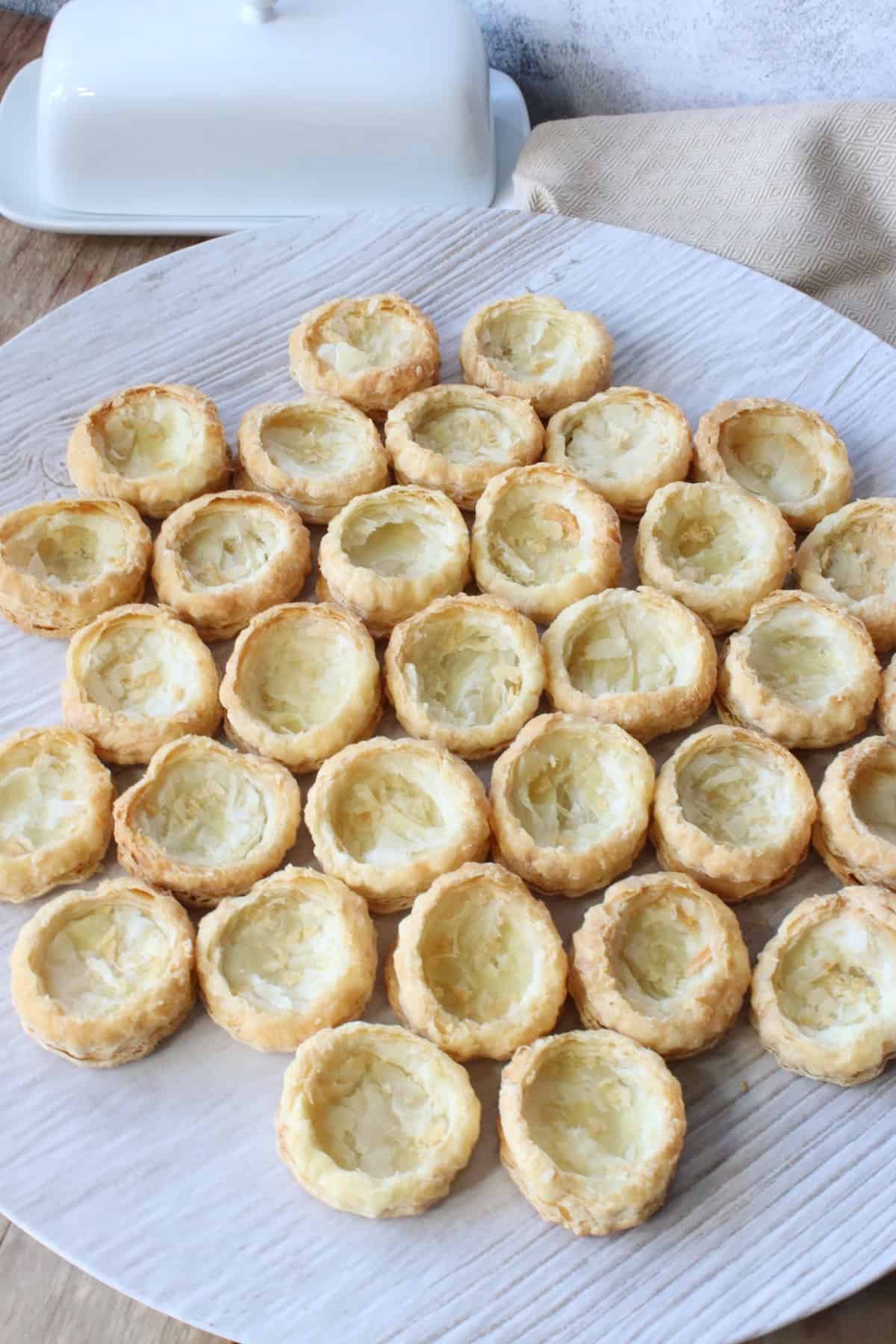 How many appetizers does this recipe make?
As written this recipe will make approximately 30, two and a quarter inch round filled ham and cheese puff pastry appetizers.
Do these cream cheese appetizers need to be kept cold for serving?
These appetizers can remain at room temperature for serving without concern, unless it's sweltering hot (say at an outside party during the dog days of summer), then I do not recommend they stay out for longer than a 1 hour period.
However, if these are to be served inside (or outside during comfortable conditions), then I find their flavor is best when served at room temperature.
Ingredient substitution suggestions
Feel free to substitute any type of sliced meat you enjoy. Leftovers work great for this recipe but so do sliced deli meats.
I'm a ham and Swiss girl, so naturally I gravitated to that flavor combo for these appetizers. Feel free to use whatever cheese you prefer. Cheddar is always a good substitution or a spicy jack cheese would make for a tasty treat.
If you're not a fan of horseradish, by all means leave it out, or feel free to include any other of your favorite condiments that you think would work well to the cream cheese filling. Trust your instincts. I believe in you!
What type of occasion is best for serving these puff pastry appetizers?
I can think of so, so many.
Weddings and showers pop into my head right off the top. Graduation parties, anniversary parties, birthday parties, holiday parties, church gatherings, PTA meetings, book club meetings, ladies luncheons, housewarming parties, dinner parties, backyard BBQ's, and even picnics.
You name the occasion, from fancy to casual, these savory puff pastry appetizers will fit right in!
Can these puff pastry appetizers be made in advance?
They sure can which make them perfect for parties and entertaining. You can store the filled ham and cheese appetizer cups in an airtight container in the refrigerator for up to 2 days before serving.
Or, store the filling in one container and store the puff pastry in another. Then shortly before you're ready to serve pipe the filling into the pastry cups.
How to store ham and cheese puff pastry appetizer cups
Store any leftovers in an airtight refrigerator container for up to 5 days.
Can these appetizers be frozen?
I do not recommend freezing the cream cheese filling as the consistency may become crumbly and grainy when thawed.
However, the unfilled puff pastry appetizer cups may be made, and frozen (if using my homemade recipe) in an airtight freezer container for up to 2 months.
FAQs
What can be used in place of a piping bag?
Feel free to use a gallon-size zip top bag. Place all the filling into the plastic bag and work it into one of the bottom corners. Now snip off the bottom corner on the filling side (the larger the corner snip, the more filling will pipe out) of the bag. Don't snip too little or you'll have problems piping out the ham and cheese.
What size piping tip is needed?
I used the largest size round piping tip I own which is a 2A. If you're using a zip top bag, cut the corner tip about ¼" and see how the filling pipes. If needed you can clip a little more until the filling is easily pipeable.
Can store-bought puff pastry shells be used?
You bet!
Top tips for success
Cream cheese blends and pipes best when it's at room temperature. Take the time to let it sit out on the counter for at lease 1 hour before mixing and/or piping.
Keep the size of the ham and cheese small and similar in size. If the dice is too large you'll have problems piping the mixture out of the bag without it getting stuck.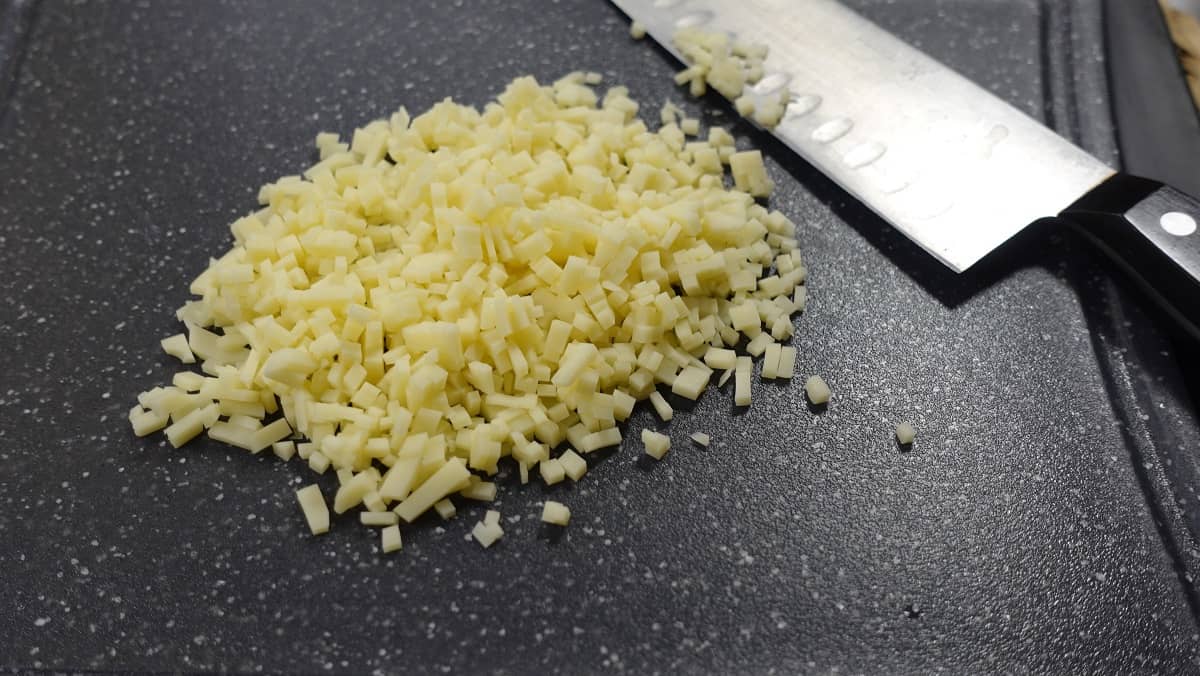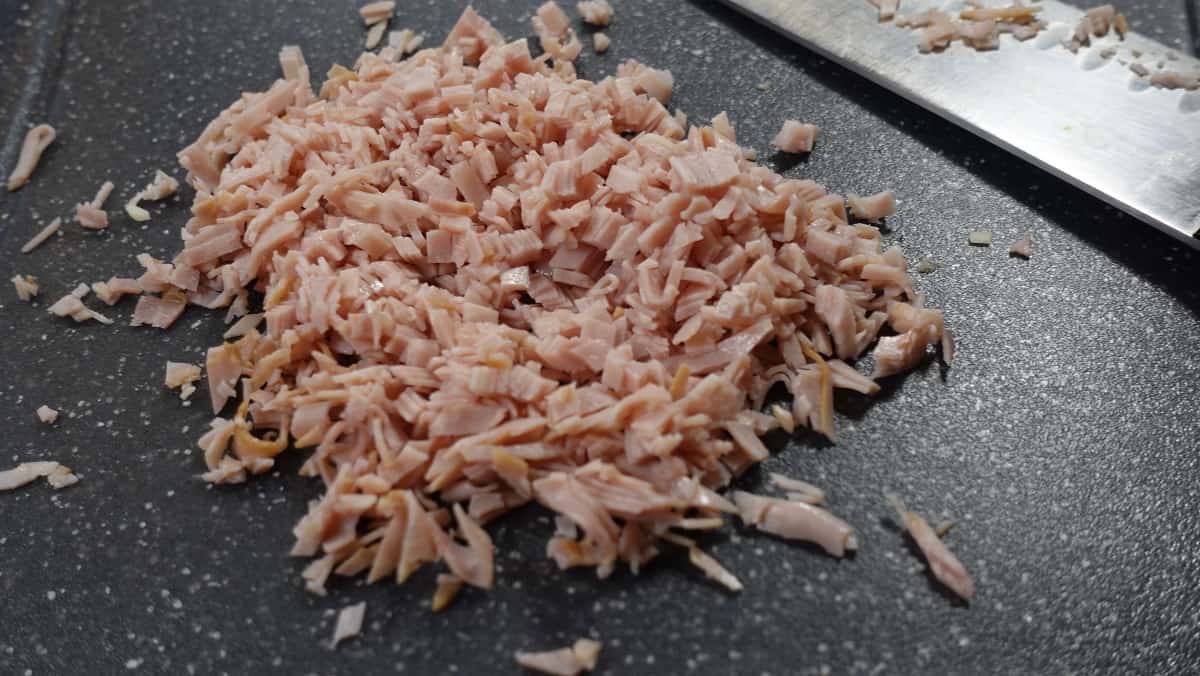 Additional appetizer recipes for you
Parmesan Onion Squares are an easy-to-make appetizer with a light oniony flavor, a crisp yet creamy texture, and a tiny and unexpected touch of sweetness that everyone loves!
Homemade Cornbread Crackers are everything you want in a snack cracker. They're crunchy, crispy, and loaded with wonderful corn flavor.
Everything you love about French onion soup is in these French Onion Crostini...except for the spoon.
Jalapeno Poppers Stuffed with Crab Rangoon are everything you'd hoped for! A combination of two of your favorite appetizers all in one (make that two) delicious bites. Yay!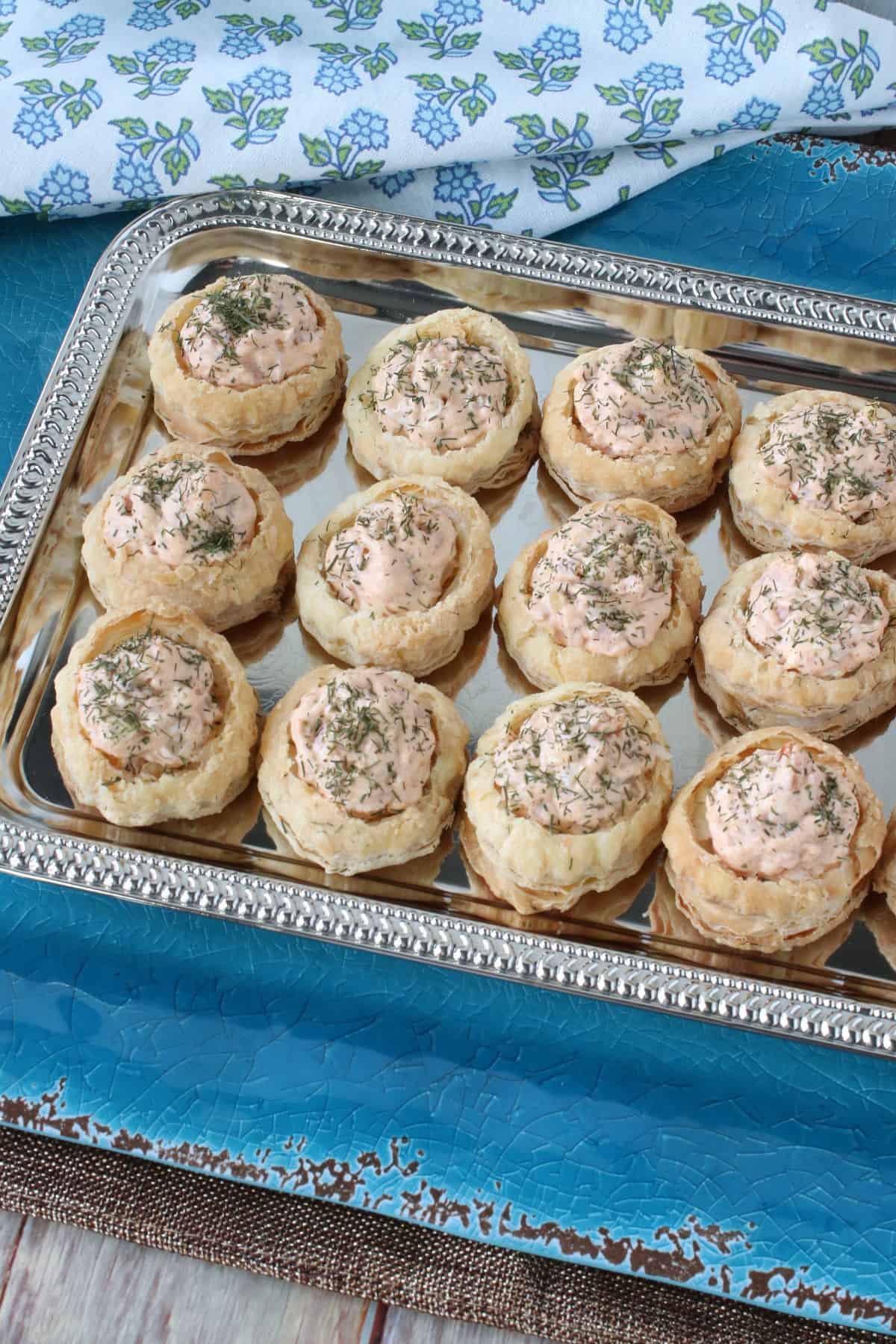 Become a member of the Misfits Market family and save up to 40% off organic produce and sustainably sourced groceries, delivered straight to your door.
When you make this recipe, and I hope you do, I'd appreciate it if you'd take a moment to leave a star rating on the recipe card and briefly comment on why you rated it as you did. FYI - Google appreciates recipe ratings and, in turn, will share my recipes with more people. Thank you so much!!
Printable Recipe Card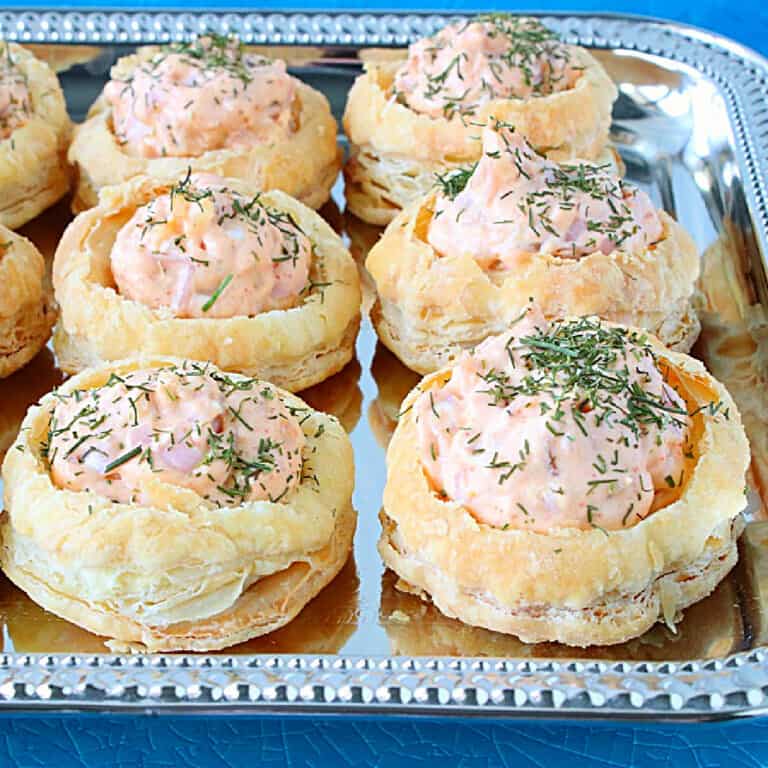 Ham and Cheese Puff Pastry Appetizer Cups
Ham and Cheese Puff Pastry Appetizer Cups will be the hit of any party or gathering. They'll disappear quickly, so you'd better have plenty on hand!
Ingredients
30

fillable

puff pastry appetizer cups

store bought or homemade

6

ounces

cream cheese

softened

2

tablespoons

mayonnaise

2

tablespoons

Dijon mustard

3

ounces

minced ham

3

ounces

finely diced Swiss cheese

1

tablespoon

prepared horseradish

1

teaspoon

smoked paprika

2

tablespoons

dill pickle relish

½

teaspoon

black pepper

1

tablespoon

dill weed

optional as garnish
Instructions
Place the fillable pastry cups in a single layer on a baking sheet or serving platter. Set aside.

In a medium-size mixing bowl, thoroughly mix together the cream cheese, mayonnaise, Dijon mustard, ham, Swiss cheese, horseradish, smoked paprika and dill pickle relish until completely combined.

Add the cream cheese mixture into a piping bag (or gallon-sized zip top bag) fit with a large round piping tip.

Pipe approximately 1 tablespoon of the cream cheese mixture into each of the puff pastry cups.

Sprinkle each appetizer cup with dill weed (as garnish) if desired.

Best served at room temperature.
Video
Notes
Store leftovers in a covered dish or container in the refrigerator for up to 5 days.
The filling may be made 2 days prior to serving and kept in an airtight container. Allow the filling to soften slightly before piping.
Freezing filled appetizer cups is not recommended.
Nutrition
Serving:
1
serving
Calories:
34
kcal
Carbohydrates:
1
g
Protein:
2
g
Fat:
2
g
Saturated Fat:
1
g
Polyunsaturated Fat:
1
g
Monounsaturated Fat:
1
g
Trans Fat:
0.002
g
Cholesterol:
5
mg
Sodium:
114
mg
Potassium:
24
mg
Fiber:
0.1
g
Sugar:
0.4
g
Vitamin A:
64
IU
Vitamin C:
0.2
mg
Calcium:
47
mg
Iron:
0.1
mg
Follow me across my social media platforms and join in on the conversation: FACEBOOK, INSTAGRAM, PINTEREST, TIKTOK, AND YOUTUBE.
Thank you so much for visiting me today in my Kudos Kitchen. I hope you found something you'll love and that you'll come back and visit me often. There is always room for you around my table!
Should you have any questions or comments regarding anything you've seen here on my blog, please don't hesitate to reach out to me. It is always my distinct pleasure to respond to you just as soon as I possibly can.
Until we eat again, I hope you have a delicious day!!