Here's a delicious low-carb, keto-friendly (optional) Grated Egg and Avocado Quesadilla breakfast sandwich that can be made in the air fryer, oven, or stovetop.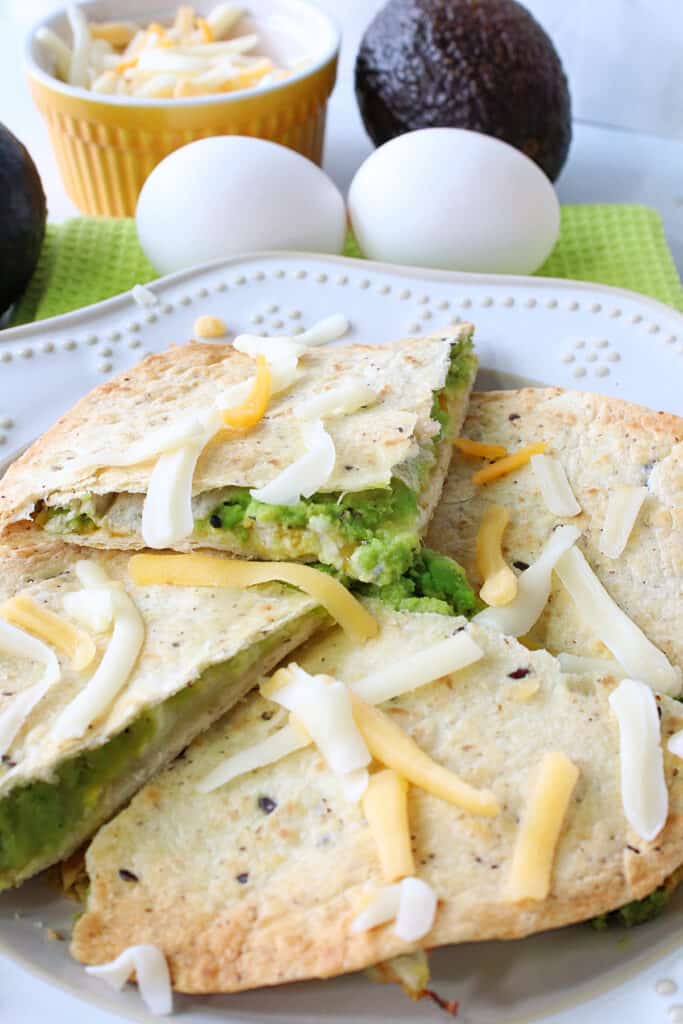 Jump to: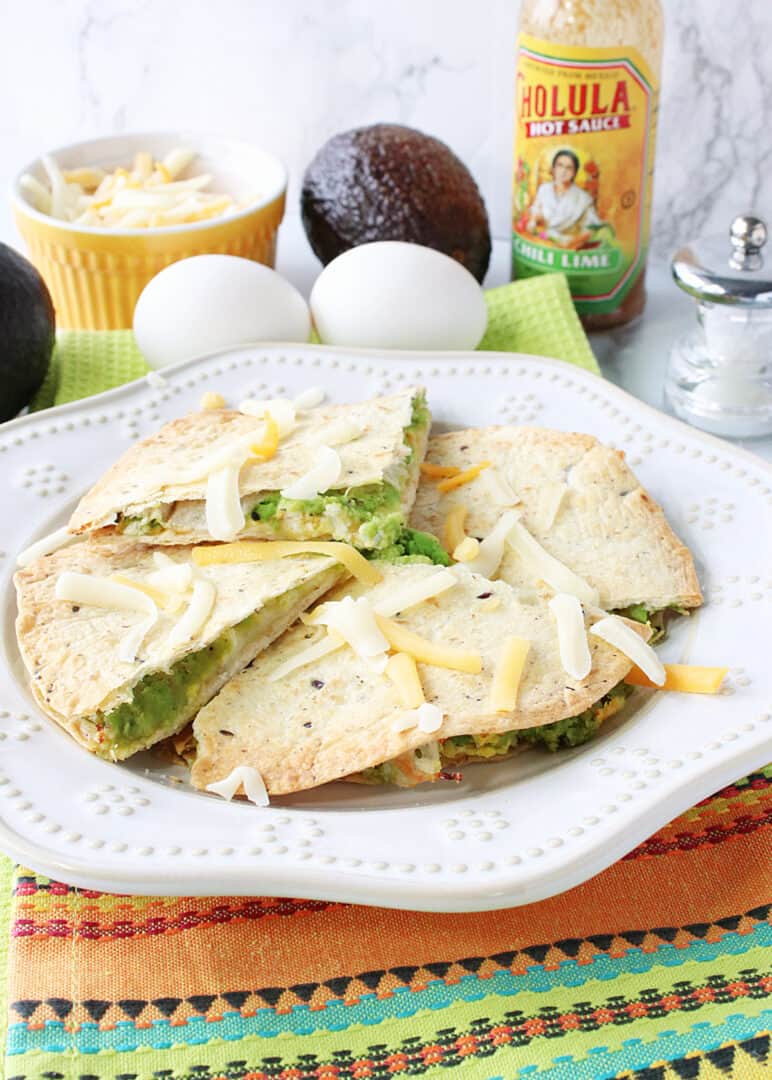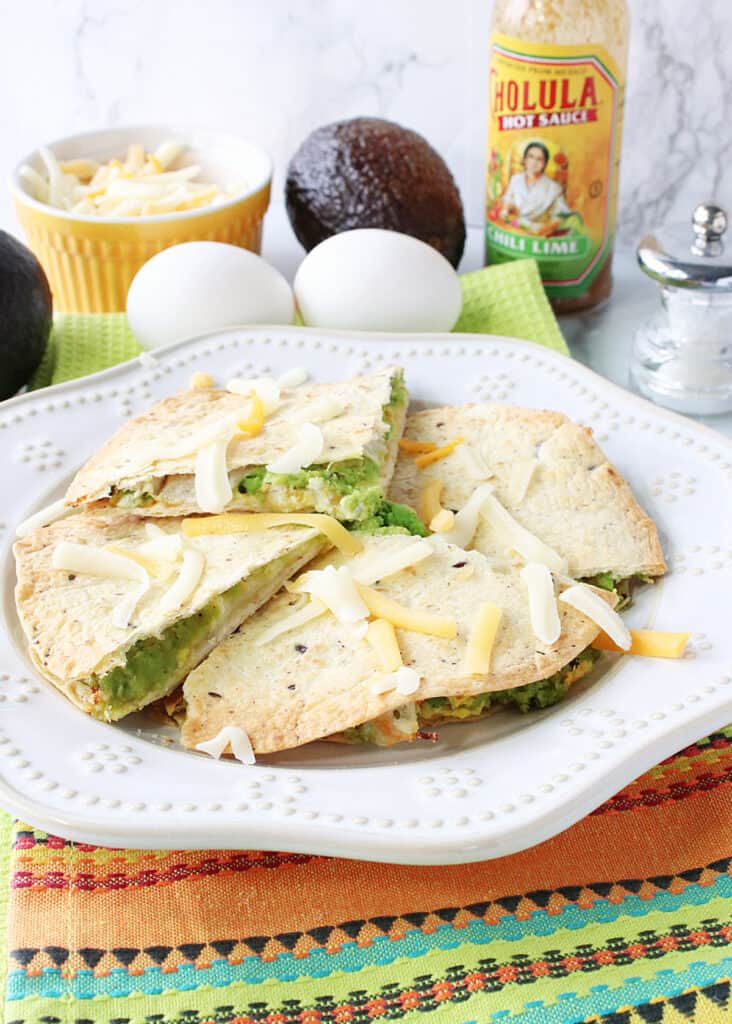 The ingredient list:
**Note - The following lists of ingredients plus kitchen tools and equipment contain affiliate links (highlighted in blue) for your consideration and shopping convenience. #CommissionsEarned
avocado
hard-cooked egg
8" tortillas (low carb shown)
shredded cheese
olive oil
hot sauce (optional)
salt and pepper
Kitchen tools and equipment needed:
air fryer (for air fryer method)
air fryer basket (for air fryer method)
small skillet (for stovetop method)
electric egg cooker (optional)
baking sheet (for oven method)
microplane
pastry brush
cheese grater (optional)
paring knife
fork or a pastry blender (for mashing avocado)
spoon
slotted spatula
chef's knife or cleaver (for cutting the cooked quesadilla)
kitchen timer (optional)
What makes this breakfast quesadilla recipe low carb and keto-friendly?
The brand of tortillas I used are from Olé Mexican Foods and they're called Extreme Wellness. My husband is following a keto eating plan and he loves this brand of low-carb tortilla.
Each tortilla has 4 net carbs per serving. They are also made with 100% whole wheat, have 11g of fiber, and are 50 calories per tortilla.
Can 8" flour tortillas be used in this recipe?
Feel free to use your favorite brand of tortilla (low carb or otherwise) for making this avocado and grated egg quesadilla. The choice is completely yours to make.
*Full Disclosure - Please be aware that the nutritional value and calorie count posted in the recipe card is calculated using standard 8" flour tortillas, even though the tortillas shown in the video (and in the photos) are the keto/low carb variety.
Can a fried egg be substituted for the grated egg in this breakfast quesadilla?
You bet!
Want to learn how to use your air fryer to fry eggs? I'm happy to show you how it's done!
What are the other methods for cooking this grated egg avocado breakfast sandwich?
The stovetop method:
Heat a medium-size skillet over medium heat.
Assemble the breakfast quesadilla (as described in the recipe card) and cook it on both sides (approximately 2 minutes per side) until crisp and golden.
The oven method:
It's basically the same as the air fryer method (written in the recipe card), except that you preheat the oven to 425-degrees Fahrenheit, and then place the assembled quesadilla on a baking sheet.
Slide the baking sheet into the oven and then cook for 5-7 minutes, flip, and cook for an additional 4-5 minutes until crisp and golden.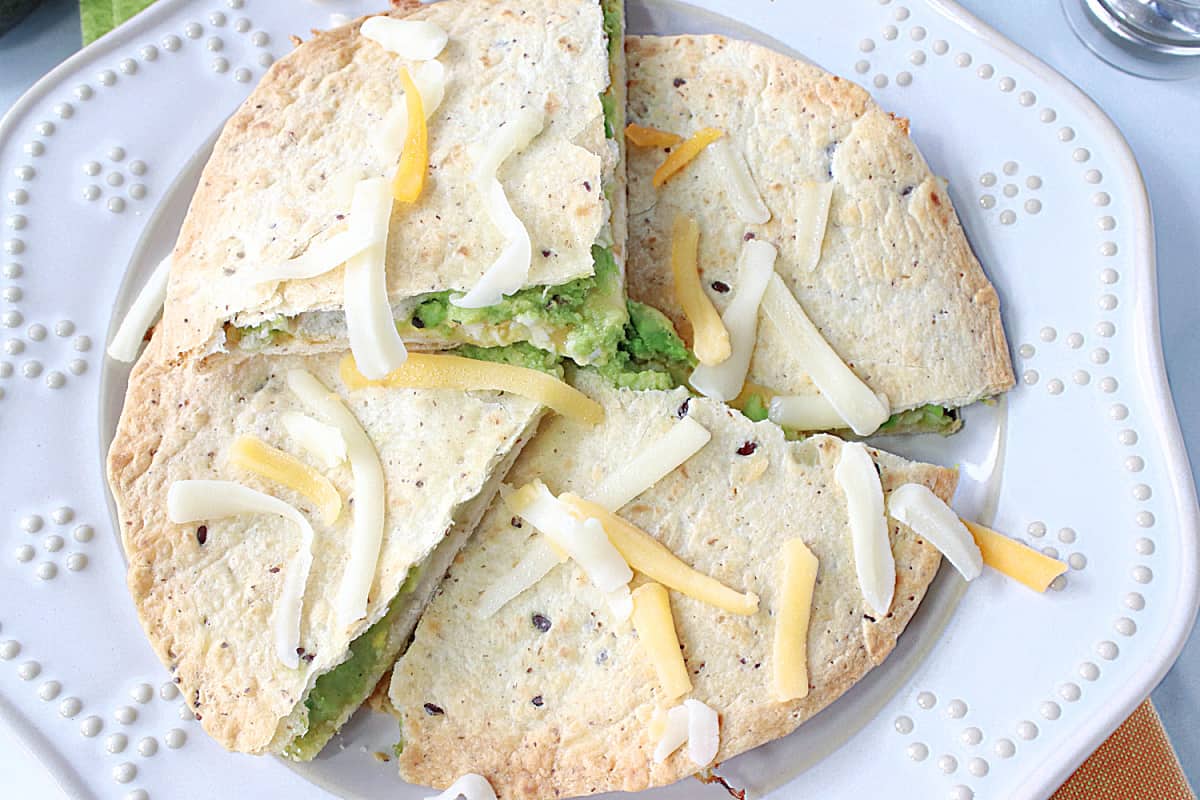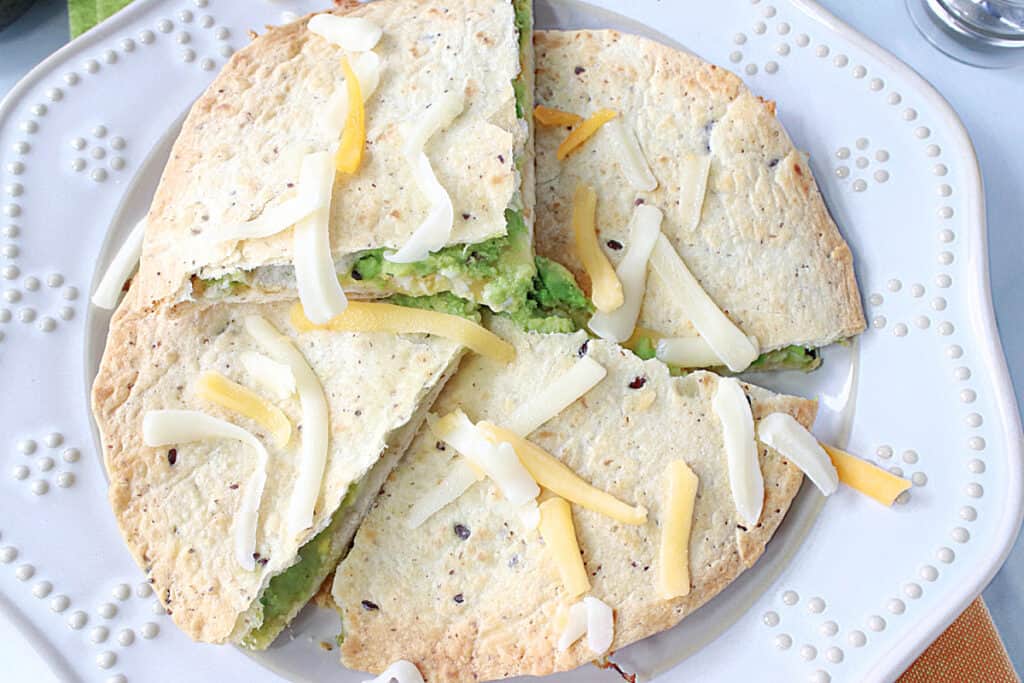 Is the hot sauce optional?
Of course.
If you're not a fan or if you happen to love hot and spicy foods, feel free to tailor this to your tastes and preferences. Either leave it out or knock yourself out by shaking like crazy!
Is there an alternative to the avocado in this recipe?
Yes and no.
If you don't use avocado, you're missing out on all those heart-healthy fats, and the entire purpose of the recipe title would be confusing. LOL
That said, if you must, feel free to either omit the avocado altogether (adding additional grated cheese if skipping the avocado) OR swap it out with your favorite brand or flavor of hummus.
Of course, if using hummus, this would no longer be a keto-friendly or low-carb breakfast quesadilla, but I think you'd have something mighty yummy on your hands anyway!
Can melted butter be used in place of the olive oil?
Butter is never a bad choice, so yes!
You can also use, ghee (clarified butter), homemade garlic ghee (because why not?), avocado oil, or even melted coconut oil.
How long will these grated egg quesadillas keep in the fridge?
You can store them in an airtight container (pre-cut), for up to 3 days.
How to reheat grated egg breakfast quesadillas?
For crispy quesadillas, reheat them in an oven or air fryer (uncovered) at 375-degrees Fahrenheit for 3-5 minutes.
Does the hard-cooked egg have to be grated?
Well, I wouldn't suggest putting it on whole (lol), but feel free to thinly slice the hard-cooked egg and place the slices in a single layer on top of the avocado.
My solution for making the very best hard-cooked eggs?
If I'm honest, I have to tell you that I've always struggled with this kitchen task.
I've either boiled them too long on the stovetop leaving them with that unsightly green/gray ring around the yolk, or I have issues with peeling them, in which case I leave half of the egg stuck to the shell and looking completely unsightly.
However, I've recently been using an electric egg cooker that my sister told me about, and my days of improperly cooking hard-cooked eggs are thankfully a thing of the past!!
How many grated egg avocado quesadillas does this recipe make?
As written, this recipe makes one quesadilla. One quesadilla equals one serving.
Additional air fryer recipes for breakfast, lunch, and dinner:
I've got you covered with some of my most popular air fryer recipes to date.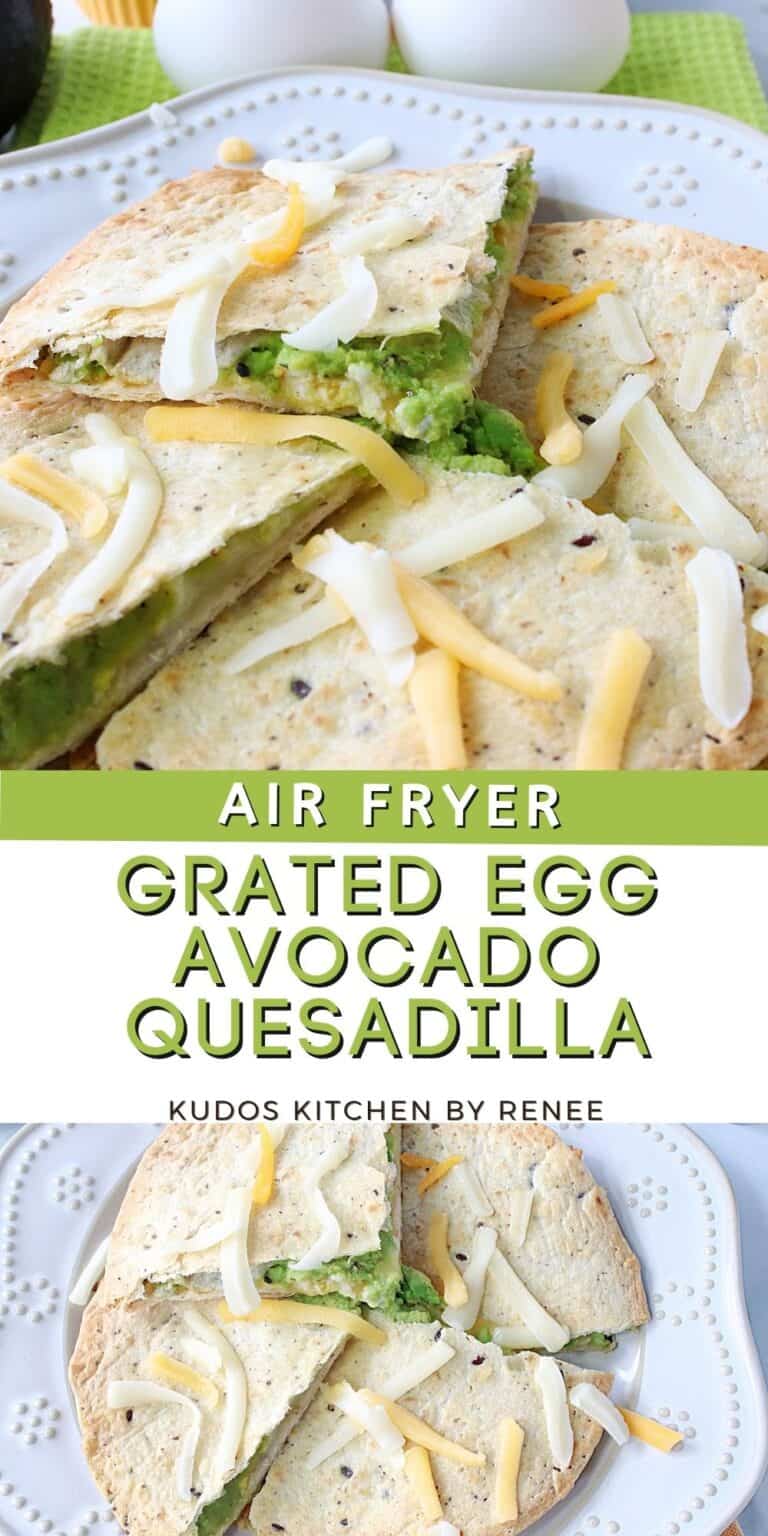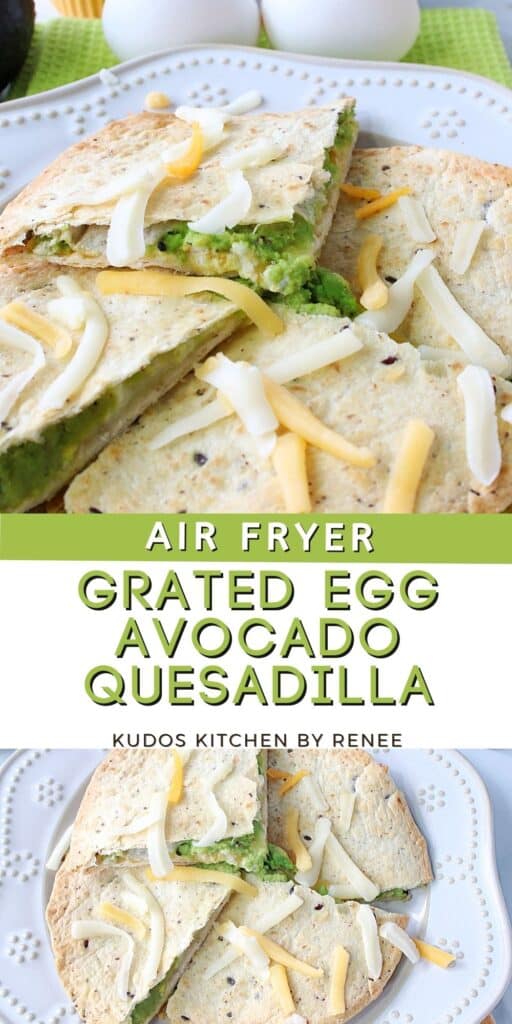 When you make this recipe, and I hope you do, I'd appreciate it if you'd take a moment to leave a star rating on the recipe card and briefly comment on why you rated it as you did. FYI - Google appreciates recipe ratings and, in turn, will share my recipes with more people. Thank you so much!!
Printable Recipe Card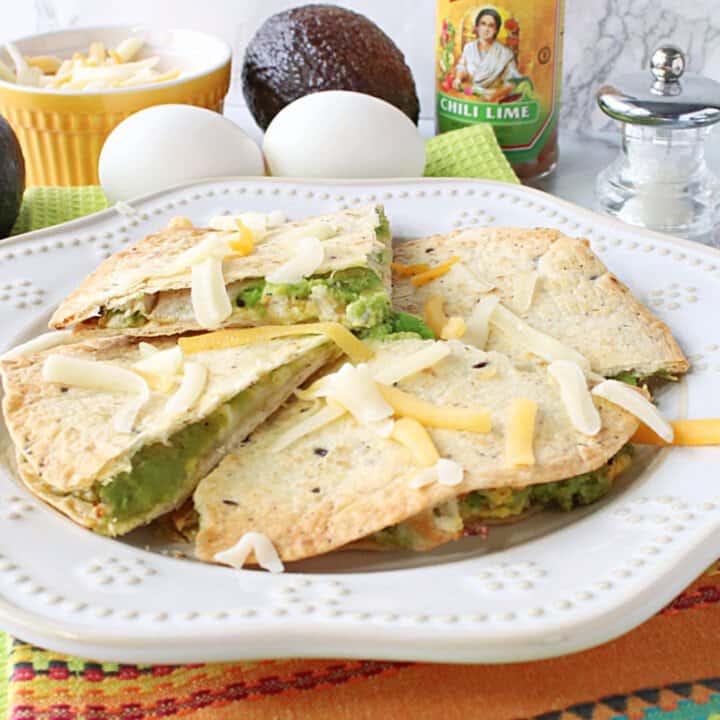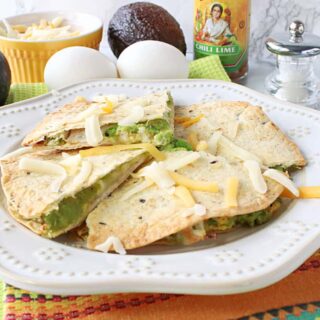 GRATED EGG AVOCADO QUESADILLA
Here's a delicious low-carb, keto-friendly Grated Egg Avocado Quesadilla breakfast sandwich that can be made in the air fryer, oven, or skillet.
Ingredients
1

hard-cooked egg

1

small

avocado

2

8"

quesadillas

keto-friendly shown

¼

cup

shredded cheddar cheese

2

teaspoons

olive oil

melted butter is also an option

hot sauce

to taste

½

salt

¼

black pepper
Instructions
Mash the avocado along with the salt and pepper. Set aside.

Brush one side of one tortilla with olive oil and then flip so the oil is side down.

Spread the mashed avocado evenly on the pre-oiled tortilla and shake on hot sauce if desired.

Grate one hard-boiled egg on top of the mashed avocado and top evenly with the shredded cheese.

Place the second tortilla on top of the shredded cheese and brush the top of the tortilla with additional olive oil.

Place the quesadilla on a rack of an air fryer and cook for 4 minutes at 400-degrees. Remove the quesadilla, flip, and return it to the air fryer to cook for an additional 4 minutes.

Remove, cut into triangles, and enjoy!
Notes
Oven method:
Preheat oven to 425-degrees Fahrenheit. Assemble the quesadilla as described above and bake on a baking sheet for 10-12 minutes, flipping once halfway through the baking process.
Stovetop method:
Assemble the quesadilla as described above. Heat a medium skillet to medium/high heat and then cook the quesadilla on each side for approximately 2-3 minutes, or until golden and crispy.
Nutrition
Serving:
1
serving
Calories:
592
kcal
Carbohydrates:
19
g
Protein:
17
g
Fat:
53
g
Saturated Fat:
13
g
Polyunsaturated Fat:
6
g
Monounsaturated Fat:
30
g
Cholesterol:
217
mg
Sodium:
271
mg
Potassium:
1063
mg
Fiber:
14
g
Sugar:
2
g
Vitamin A:
838
IU
Vitamin C:
20
mg
Calcium:
264
mg
Iron:
2
mg
I sincerely hope you've enjoyed today's easy breakfast quesadilla recipe (made for the air fryer, oven, or stovetop) as much as I've enjoyed bringing it to you!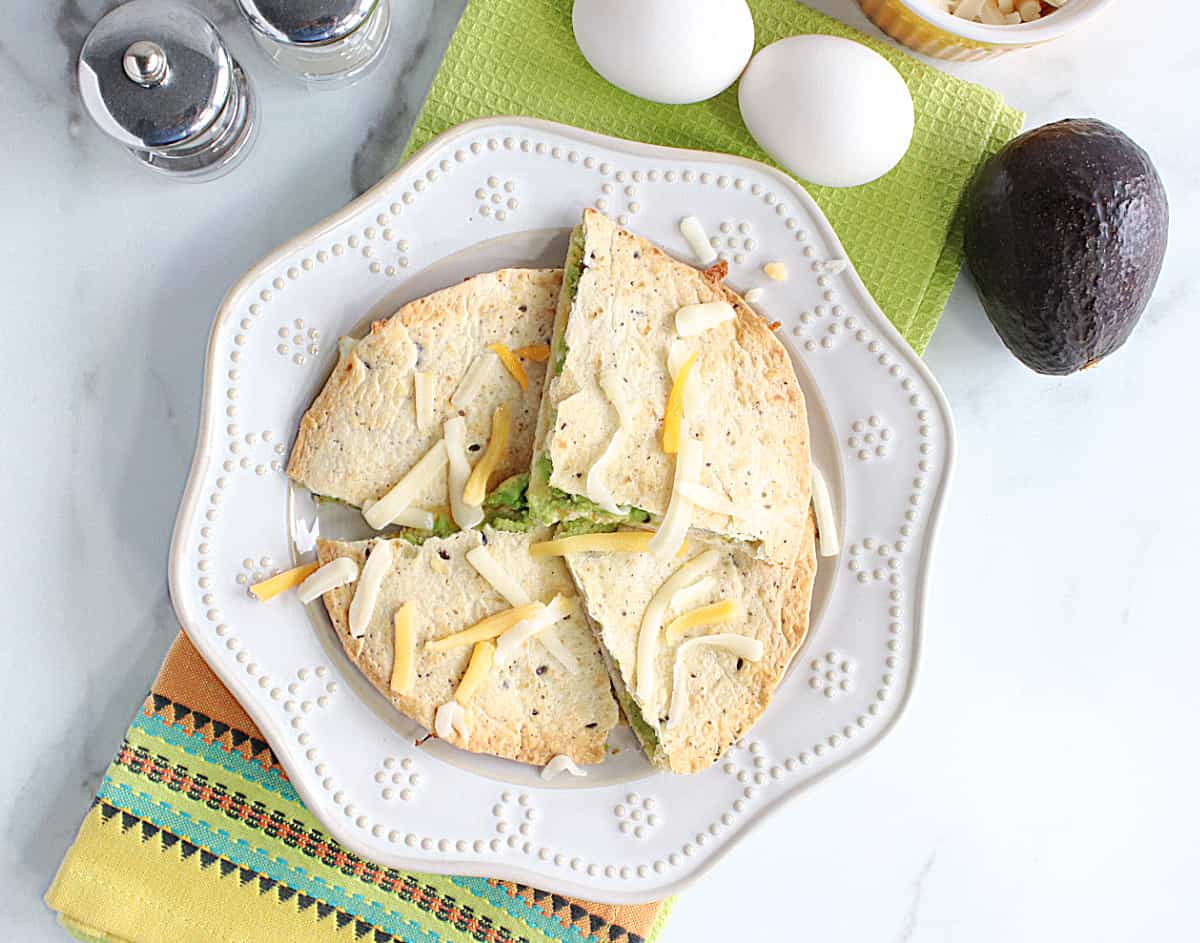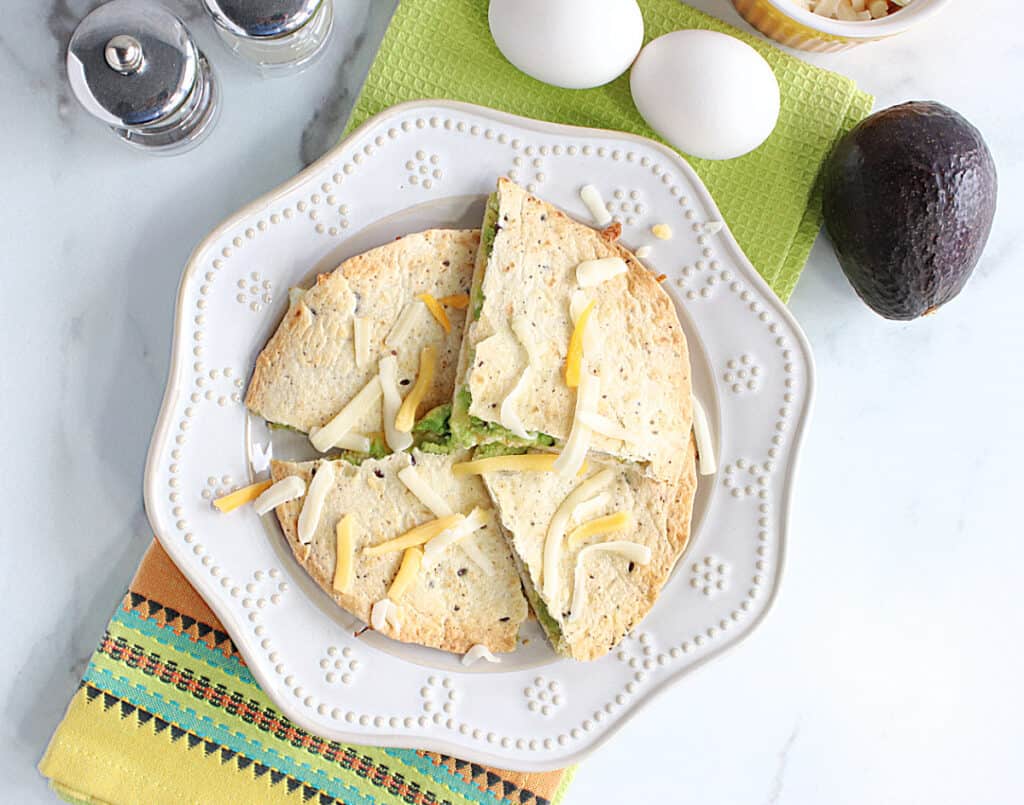 Follow me across my social media platforms and join in on the conversation: FACEBOOK, INSTAGRAM, PINTEREST, TIKTOK, AND YOUTUBE.
Thank you so much for visiting me today in my Kudos Kitchen. I hope you found something you'll love and that you'll come back and visit me often. There is always room for you around my table!
Should you have any questions or comments regarding anything you've seen here on my blog, please don't hesitate to reach out to me. It is always my distinct pleasure to respond to you just as soon as I possibly can.
Until we eat again, I hope you have a delicious day!!