Nothing speaks to the flavors of a German dinner more than pork and sauerkraut. This easy recipe for German Pork Ribs with Sauerkraut for the slow cooker brings the family to the dinner table with a minimum of effort.
As soon as the seasons change, my heart and taste buds travel to the flavors of Germany.
Although I've never been there, it's on my bucket list of places I dream of going. However, with recipes like German Pork Ribs with Sauerkraut, I like to imagine myself already there. 
**Please Note – The printable recipe card with detailed instructions, complete ingredient measurements, and nutritional information for making Crock Pot German Pork Ribs and Sauerkraut is available near the end of this post.
The ingredient list;
Pork Country Ribs

Prepared Sauerkraut

Carrots

Onions 

Baby Bella Mushrooms

Canola Oil

Butter

Apple Cider

Allspice

Brown Sugar

Caraway Seeds

Salt and Pepper
Why this recipe works;
For this recipe of German Pork Ribs with Sauerkraut, I used pork country ribs because they were on special at my grocery store. If you're familiar with country ribs, then you know that they tend to have a bit more fat than baby back ribs.
What I like about country ribs for the slow-cooker is that as the ribs cook, the fat slowly melts into all the other ingredients in the cooker, imparting everything with that great pork flavor.
If you're worried about this dish being greasy or fatty tasting, no worries. The acidic bite of the sauerkraut cuts through the fatty pork, and along with the sweet from the apple cider, balances all the flavors nicely.
However, if you'd like to use pork spare ribs for this recipe, go for it!!
Below is the full-length video of me in my Kudos Kitchen making this Slow Cooker Pork Rib and Sauerkraut dinner. I hope you'll enjoy watching. Also, check out my bloopers reel for this video at the end of this post. 🙂
Please don't forget to like and subscribe to my Kudos Kitchen channel on YouTube!
Is there a trick to getting the MOST flavor from this slow cooker meal?
Yes!

To give this German Pork Ribs with Sauerkraut for the slow cooker the most flavor possible, I encourage you to spend the time in preparation to brown the country ribs on all sides before adding them to the cooker.

Also take the time to cook down the onions, mushrooms, and cut carrots to intensify their flavor.  

Adding apple cider added to the pan will deglaze the pan and get up all the stuck on brown bits (fond) from the bottom of the pan imparting even more flavor to the sauce before adding it to the cooker.
What is sauerkraut, and is it good for you?
Sauerkraut is fermented cabbage.

During the fermentation process, beneficial probiotics are produced making sauerkraut great for gut health.

Sauerkraut is also a great source of fiber, vitamins C, K, potassium, calcium, and phosphorous.

Sauerkraut also produces lactic acid.
For more of sauerkraut's health benefits, please check out the following video from Dr. Eric Berg D.C.
Additional Kudos Kitchen German Recipes
I think you'll also enjoy these other German-inspired recipes.
The easy instructions for making Crock Pot Pork Ribs and Sauerkraut;
In a large skillet, brown the seasoned (salt and pepper) ribs on all sides in the oil over medium/high heat. 

Add the ribs to the slow cooker.

In the same skillet, add the butter to the skillet and saute the mushrooms and onions, stirring occasionally, until the onions are limp and slightly golden (approximately 5 minutes).

Season the mushrooms and onions lightly with salt and pepper. Stir.

Add the sauteed mushrooms and onions to the slow cooker along with the browned ribs.
Add the sliced carrots to the skillet and cook, stirring occasionally for 5 minutes. Season lightly with salt and pepper.

Reduce the heat to medium and add the apple cider, brown sugar, and the allspice to the skillet, making sure to scrape up the browned bits from the bottom of the pan.

Carefully pour the contents of the skillet into the slow cooker.
Add the prepared sauerkraut to the cooker and lightly stir to combine.

Cover the cooker and set for 6 hours on low, or 4 hours on high.

Spoon the German Pork Ribs with Sauerkraut onto a plate or bowl, and enjoy!
Make this delicious dinner year-round!
Even though this German Pork Ribs and Sauerkraut is a favorite for Oktoberfest, please don't feel like you have to wait until the end of the year to enjoy this tasty meal.
This is also a terrific dish in the spring and summer as well. Especially when you don't want to heat up the house by turning on the oven, but you're still looking for some food comfort but without all the heat!
This recipe for German Pork Ribs with Sauerkraut for the slow cooker has become one of the most popular recipes on my blog.
It's comforting, easy to make, and completely delicious! If you're a fan of German flavors, I do hope you'll try this recipe, and then come back and let me know what you think.
**The following affiliate links are some suggested products I've chosen that will aid you in the making and serving of this recipe for ribs and sauerkraut if desired.
As an Amazon Associate, I earn from qualifying purchases. When I find a great product or service I like to share it with my readers. For additional information please view my privacy policy.
Below is the printable recipe card for today's

German Pork Ribs with Sauerkraut for the Slow Cooker

.
If you enjoy this recipe and are anxious to give it a try, I'd appreciate if you'd take a moment to give this recipe some feedback by way of stars. Thank you so very much! 🙂
German Pork Ribs with Sauerkraut for the Slow Cooker
German Pork Ribs with Sauerkraut for the slow cooker with carrots, and onions. A delicious German meal with minimal hands-on preparation time.
Course:
comfort food, Main Course
Keyword:
pork ribs with sauerkraut, slow cooker German meal
Ingredients
6

pounds

pork country ribs

cut into 5" pieces, seasoned with salt and pepper to taste

2

tablespoon

canola oil

or other light colored oil

1

large

sweet onion

rough chopped

6

ounces

baby Bella mushrooms

halved or quartered

4

large

carrots

peeled and cut into large chunks or batons

1½

teaspoon

coarse salt

divided

3/4

teaspoon

pepper

divided

2

cups

apple cider

or apple juice

1½

teaspoon

allspice

1

jar (32-ounce)

sauerkraut with caraway seeds

1

teaspoon

caraway seeds

optional

2

tablespoons

brown sugar
Instructions
Brown the pork ribs in 1 tablespoon canola oil in a large skillet over medium/high on all sides. Once browned, transfer the ribs to a 6-quart slow cooker.

Reduce the heat in the skillet to medium and add the remaining oil.

Stir the onions and carrots into the skillet along with the apple cider, making sure to scrape up the browned bits from the bottom of the pan.

Brink the mixture to a simmer, stirring occasionally.

Add the brown sugar, caraway, allspice, mushrooms, and sauerkraut to the skillet. Stir well. Bring the mixture to a low simmer.

Carefully spoon the sauerkraut mixture over the pork ribs in the slow cooker.

Cover the slow cooker and set the timer for 6 hours on low. or 4 hours on high.

Remove the lid from the cooker for the last 30 minutes of cooking for the sauce to thicken slightly.

Remove the ingredients with a slotted spoon and pour over mashed potatoes or spaetzle to serve.
Recipe Notes
tools and equipment:
6-quart slow cooker, cutting board, chef's knife, large skillet, measuring cups, measuring spoons, vegetable peeler, slotted spoon
Nutrition Facts
German Pork Ribs with Sauerkraut for the Slow Cooker
Amount Per Serving (1 g)
Calories 396
Calories from Fat 207
% Daily Value*
Fat 23g35%
Cholesterol 119mg40%
Sodium 553mg24%
Potassium 828mg24%
Carbohydrates 15g5%
Protein 29g58%
Vitamin A 8145IU163%
Vitamin C 3.5mg4%
Calcium 62mg6%
Iron 1.6mg9%
* Percent Daily Values are based on a 2000 calorie diet.
Like bloopers? Cooking is easy, making videos…not so much! 😉
I sincerely hope you've enjoyed today's recipe for German Pork Ribs for the Slow Cooker as much as I've enjoyed bringing it to you!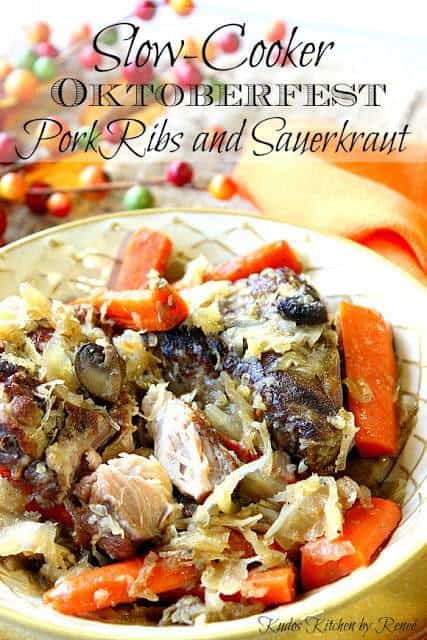 The wine glass I've chosen to coordinate with the above Oktoberfest recipes is one that was a special custom order from an x-ray technician. The quote on the base of the glass is from Anna Bertha Roentgen, who was married to Wilhelm Roentgen (a physicist), from Germany.
Wow, that's a long way for me to reach just to coordinate a wine glass to a recipe post.  But in all actuality, the glass reminds me a little of Halloween, and since its October…all's fair, right? HeHe!

Should you have any questions or comments regarding this or anything else you've seen on my site, please don't hesitate to contact me directly, or leave me a comment in the comment section below. It is always my distinct pleasure to get back to you with a reply just as soon as I possibly can!
For additional information regarding my Kudos Kitchen recipes, please follow me on;
FACEBOOK, PINTEREST, INSTAGRAM, TWITTER, YOUTUBE 
Kudos Kitchen by Renée ~ Cooking up artistically delicious family-friendly dishes from my Kudos Kitchen to yours!
Until we eat again, I hope you have a delicious day!
**Note – The post above includes affiliate links. As always, I truly thank you for your support!