Pan Seared Bratwurst in Pumpkin Curry Sauce is a quick meal that can be on the table in 30 minutes. This dish has an old world-flavor but with a seasonal twist you'll love!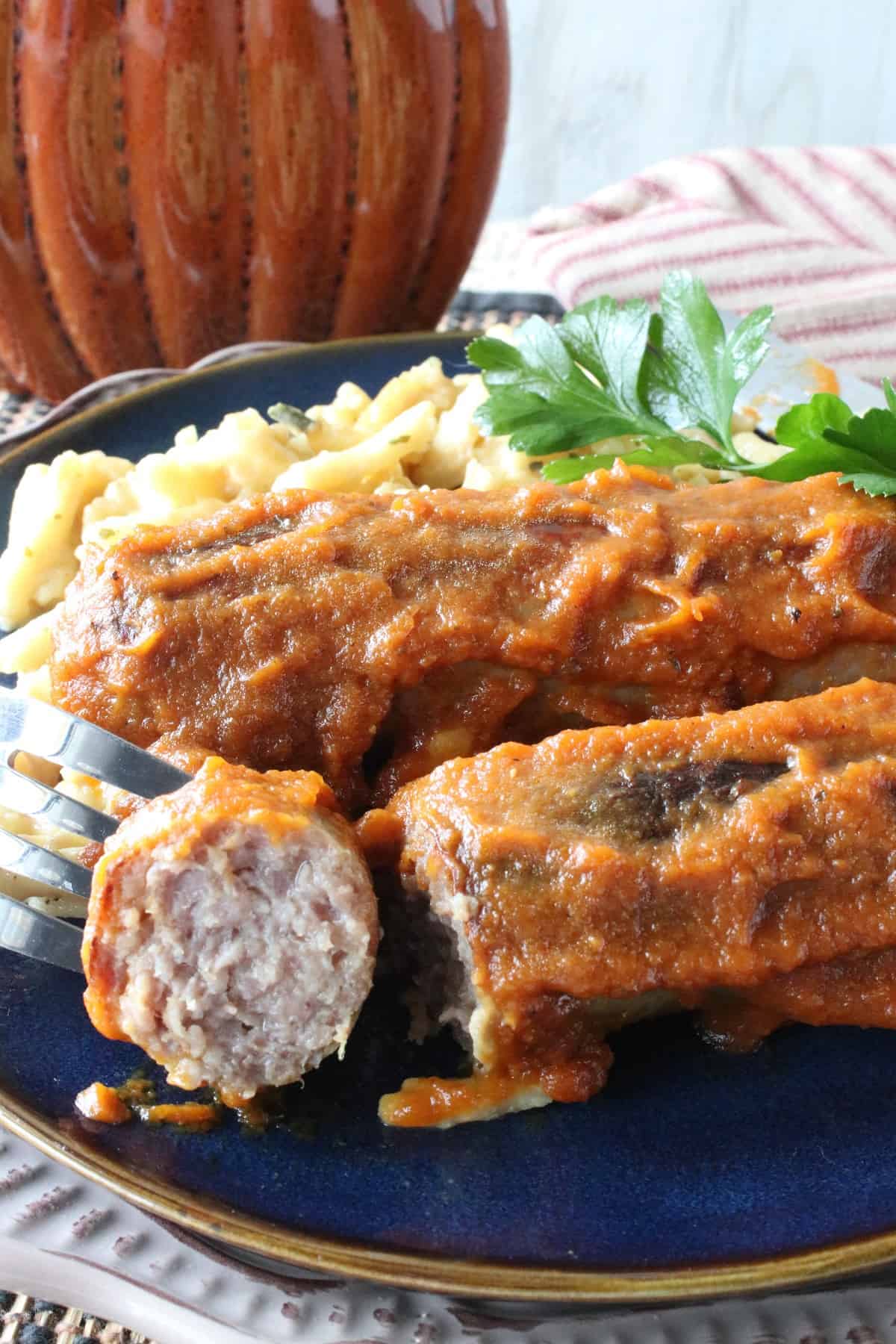 This German bratwurst skillet dinner can be served anytime of the year, but it's particularly good in the fall for an Oktoberfest celebration.
Jump to:
🎯Why this recipe works
Pumpkin curry brats are unique and some of the best sautéed bratwurst you'll ever make. Every component of this recipe plays a part in the final flavor, but none of them stand out obtrusively (except for the brat itself) or completely take over.
🛒The ingredient list:
Exact measurements are listed in the printable recipe card found below.
🍽️What to serve alongside these brats?
Of course, if you want to go full on German, I suggest serving these seared brats with a side of my Onion and Cheese Layered Spaetzle Casserole, and for dessert why not go all out and serve up this deliciously spectacular Bienenstich Cake (bee sting cake) for an Oktoberfest entire meal they won't soon forget!
📋The easy instructions:
Pan sear the bratwurst on both sides in a large skillet over medium/high heat.
Cover the skillet and allow the brats to cook for roughly 5 minutes.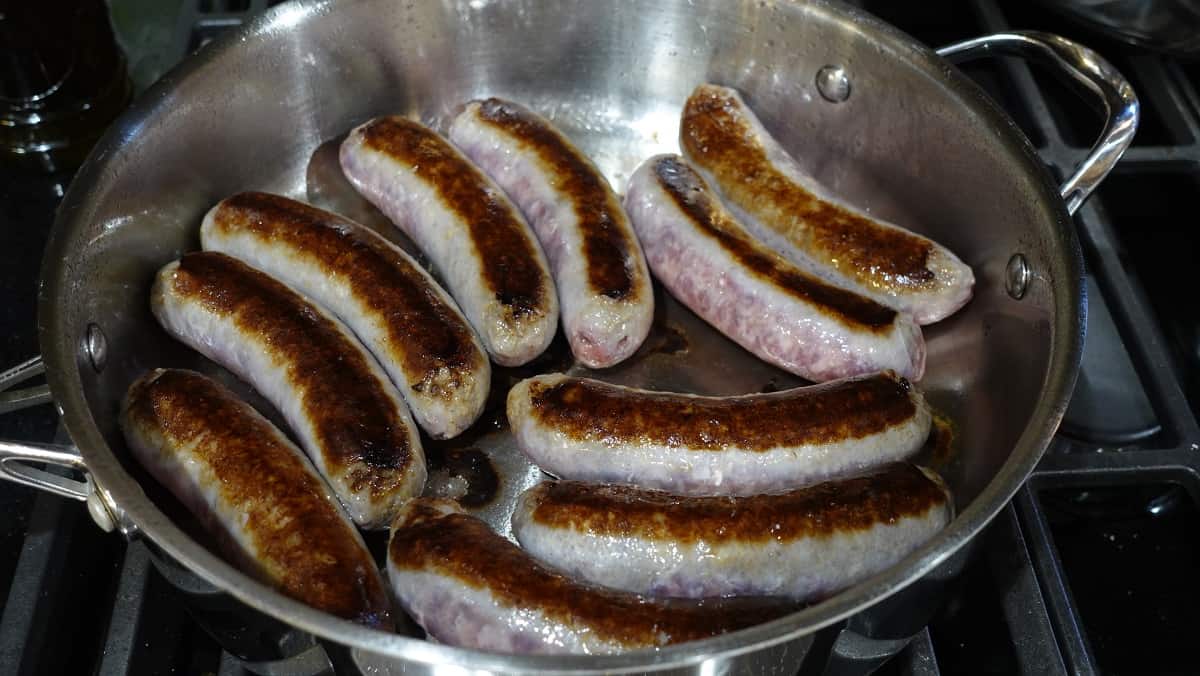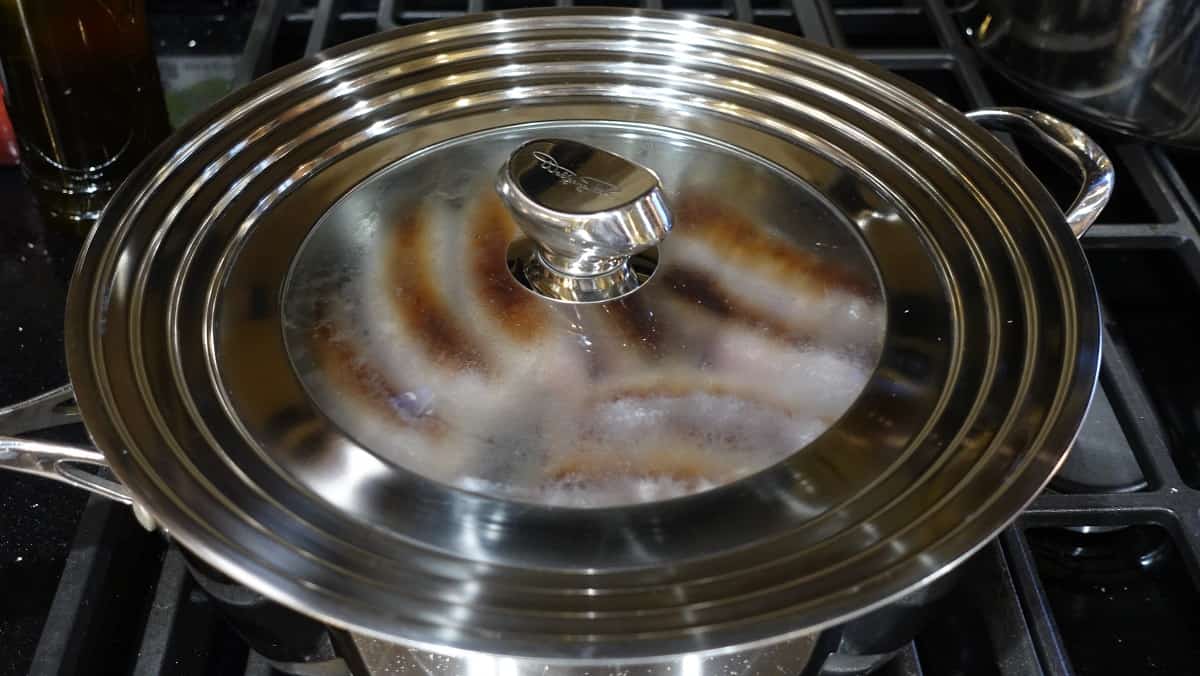 Remove the brats from the skillet. Add the tomato paste and reduce the heat to medium/low. Cook and stir the tomato paste for 3-4 minutes to develop it's flavor.
Add the pumpkin puree to the skillet with the tomato paste and stir well to combine.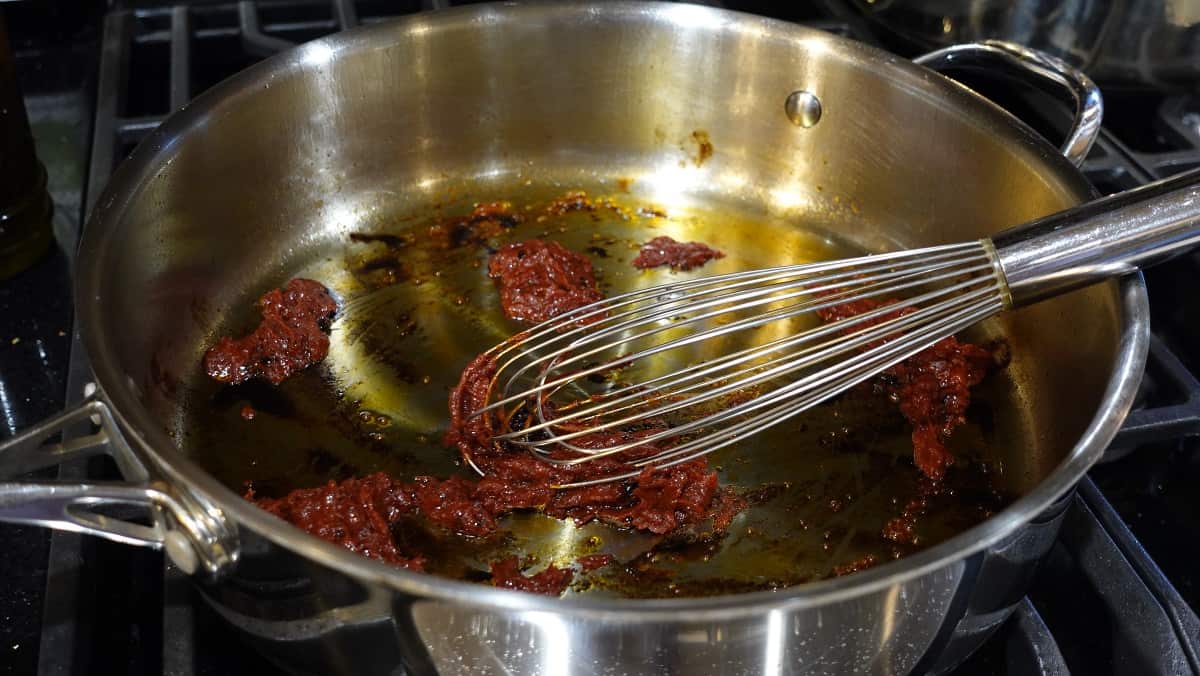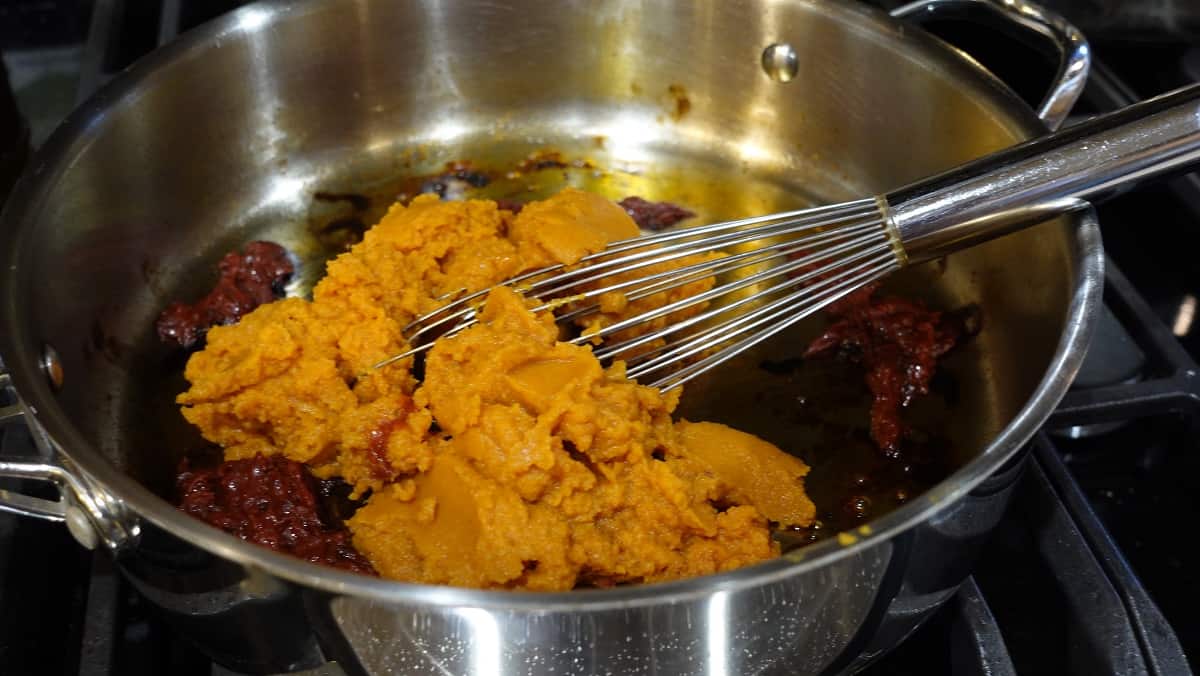 Time to add the curry powder...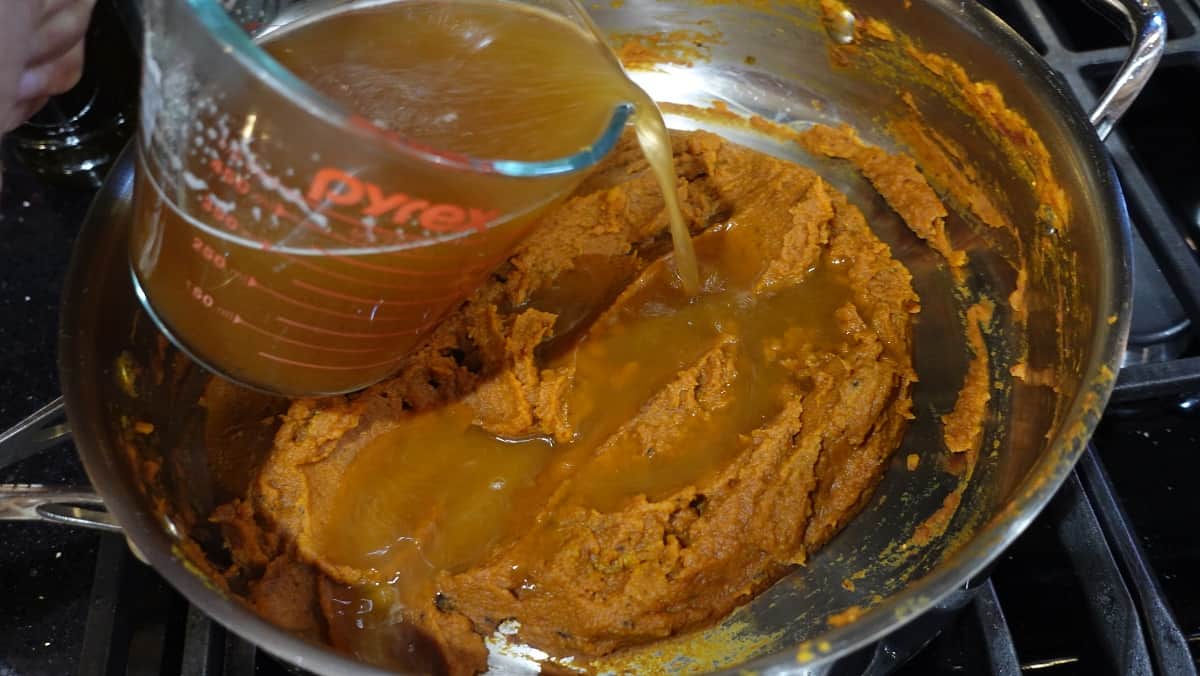 Whisk the pumpkin curry sauce well to combine.
Add the salt, pepper, and butter. Whisk again to combine, and cook for an additional 2-3 minutes.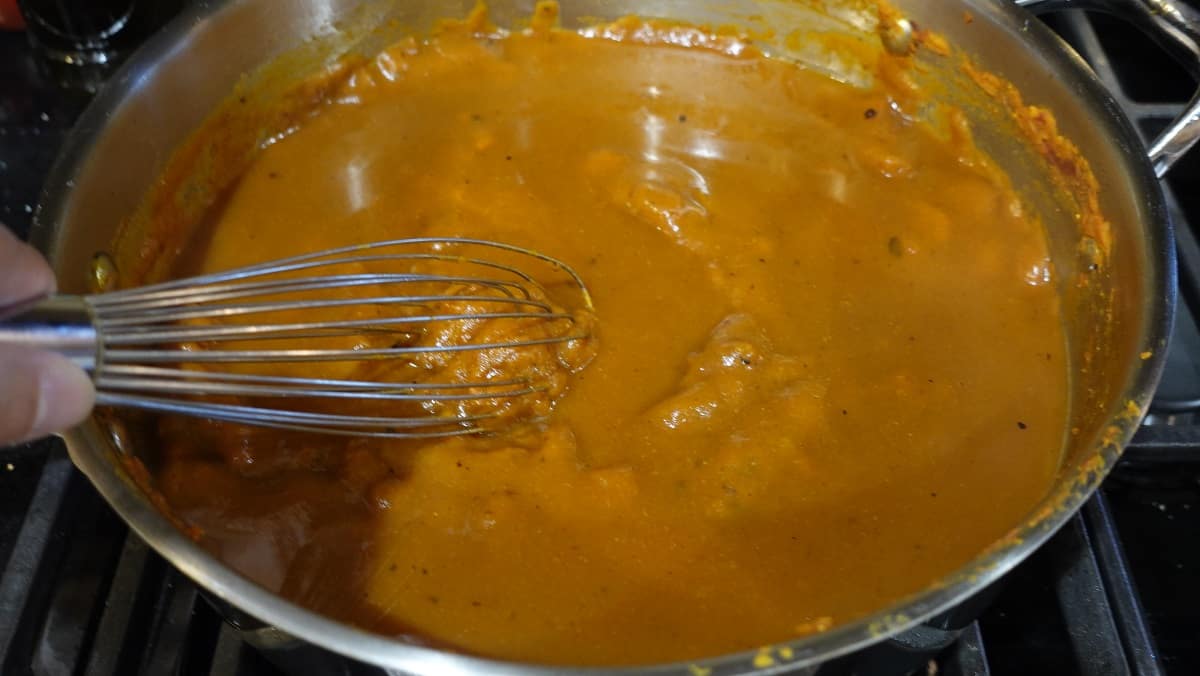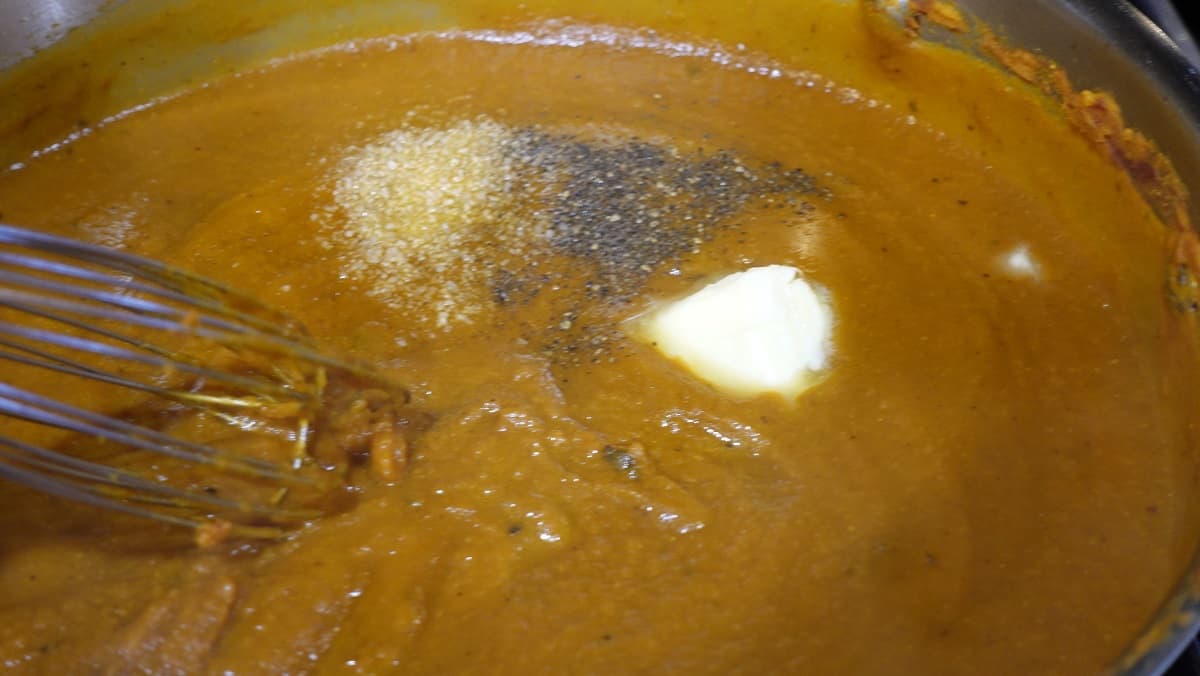 You can now add the seared bratwurst back to the skillet, cover and cook on the stovetop (medium/low heat) for 20-25 minutes until the brats are no longer pink in the center. (not shown)
OR, add the pan seared brats to an ovenproof dish, and pour the pumpkin curry sauce over the brats. Bake (uncovered) in a 350-degree Fahrenheit oven for 30 minutes. (shown below)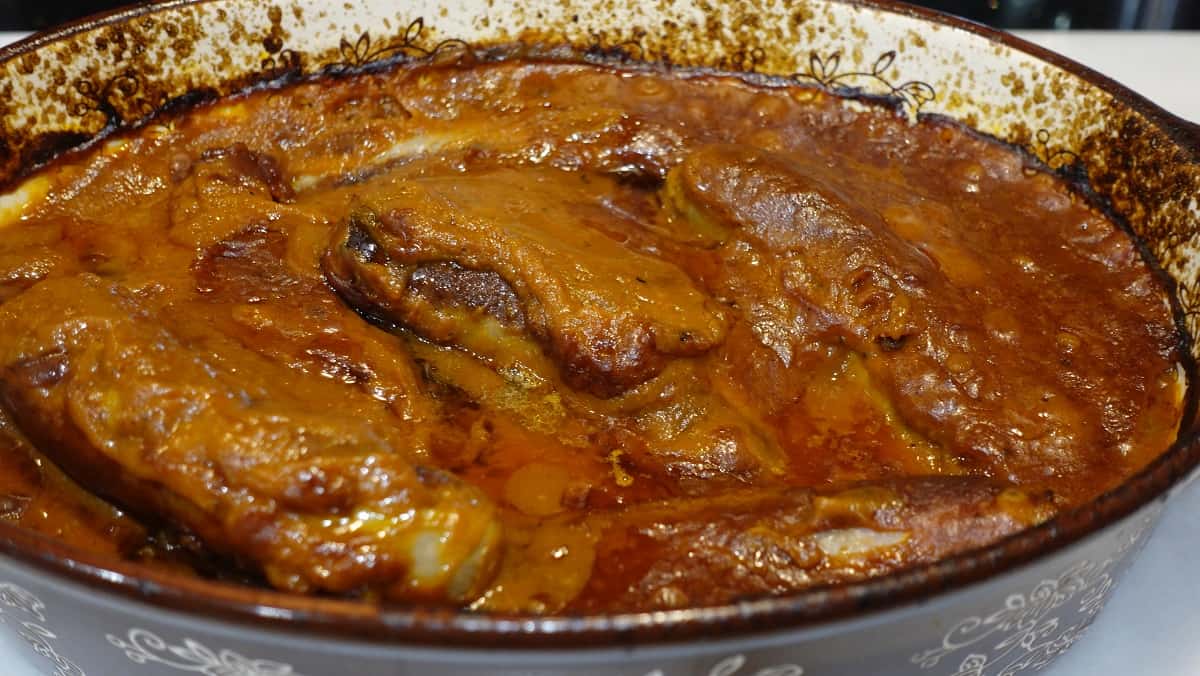 ❓What is curry powder made of?
The main ingredient in curry powder is turmeric which gives spice it's signature golden color. Other spices that are typically included in curry powder are cinnamon, ginger, cloves, mustard seed, fennel seed, cumin, and coriander.
🔍Learn more about the origins of curry:
If you're like me, you probably always thought that curry was primarily used in Indian cuisine. And while that is true, curry has deep roots in Britain as well. To learn more check out this article I found regarding the origins and history of curry.
🌭What are bratwursts made of?
Brats are typically made from pork, veal, and sometimes beef.
⭐Can other German sausages be used for this recipe?
Sure thing. Feel free to use your favorite German sausage. Polish sausage would be extra delicious smothered in the pumpkin curry sauce.
🧊Can these pumpkin curry brats be frozen?
You bet.
Cool them completely and store them in a large ziplock freezer bag or in an airtight freezer container and freeze for up to 4 months.
To reheat: Thaw the brats and sauce in the refrigerator overnight and reheat them in the microwave or oven at 350-degrees Fahrenheit, until hot.
🍻What is Oktoberfest, and why is it celebrated?
It's a yearly German folk festival that is an integral part of Bavarian culture.
Oktoberfest typically starts around the middle of September and runs through early October.
To learn more about Oktoberfest and its rich heritage, you can read more about it on the Britannica website.
❓FAQs
Can these skillet brats be served on a bun?
Of course! That would be delicious. Just make sure to spoon plenty of the pumpkin curry sauce over the top before serving.
Can sauerkraut top these pumpkin spice brats?
I say GO FOR IT! Of course, I LOVE sauerkraut so I'm all about it.
Does this dish need to go in the oven?
Nope. There really is no need except that I wanted to really permeate the flavor of the curry sauce into the brats, so I finished cooking them in the oven and wrote that into the recipe.

However, if you'd like to make this dish strictly on the stovetop, add the sautéed bratwurst back into the skillet (after making the pumpkin curry sauce), cover, and simmer for 20-25 minutes on a medium heat until the brats are no longer pink in the center.
What is the proper internal temperature for cooked bratwurst?

A properly cooked bratwurst will register 160 degrees Fahrenheit on an instant read thermometer.
Can beer be added to this pumpkin curry sauce?
I think that would be a tasty addition. I'd suggest only a splash (no more than ¼ cup) so the sauce doesn't get too runny.
What else would pumpkin curry sauce be good on?
If I'm honest, I think it would be delicious on any number of things. The first thing that springs to mind is mashed potatoes. Or what about egg noodles, or, naturally, spaetzle? I also would serve it over rice, chicken, and even a pork roast. The possibilities are endless!!
☑️Additional unique and easy bratwurst recipes you'll also enjoy:
Easy Bratwurst Appetizer Bites are just the thing to serve during a party or for game day. They're also super simple to make and everybody loves them! SCORE!
My creative recipe for Bratwurst on a Stick with Fried Cornmeal Beer Batter is a fun and deliciously different take on a corn dog. It's the best, make that WURST, corn dog you'll ever eat!
German Onion Soup has plenty of caramelized onions, beer, bratwurst, and pretzel roll croutons. This delicious and hearty caramelized onion soup with a German flair will soon become a family favorite!
💡Possible variations for the pumpkin curry sauce
Add some red pepper flakes for a little heat.
Add a little extra ground cinnamon or ground cloves for extra earthy warmth.
Add a touch of beer to the sauce (a little will go a long way).
Chicken stock or broth will work in place of beef broth.
🔔My top tip for making the best pumpkin curry sauce
Make sure to cook the tomato paste for a few minutes in the skillet in order to develop its flavor, and add depth to the completed sauce.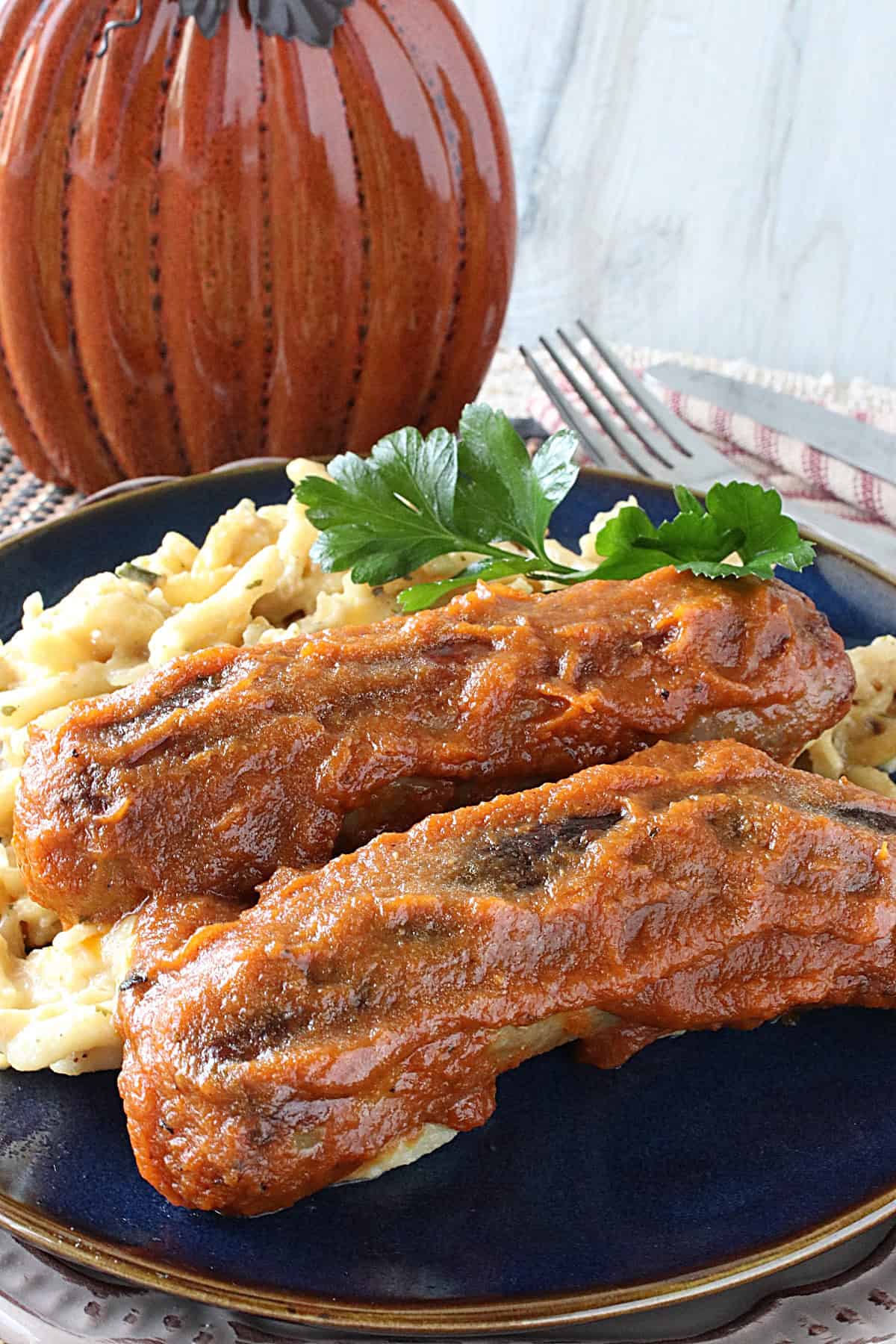 ⭐If you've made this recipe, or are excited to make this recipe, I'd appreciate it if you'd take a moment to leave it a star rating on the recipe card, along with a comment if you're so inclined. Thank you. 🙂
Printable Recipe Card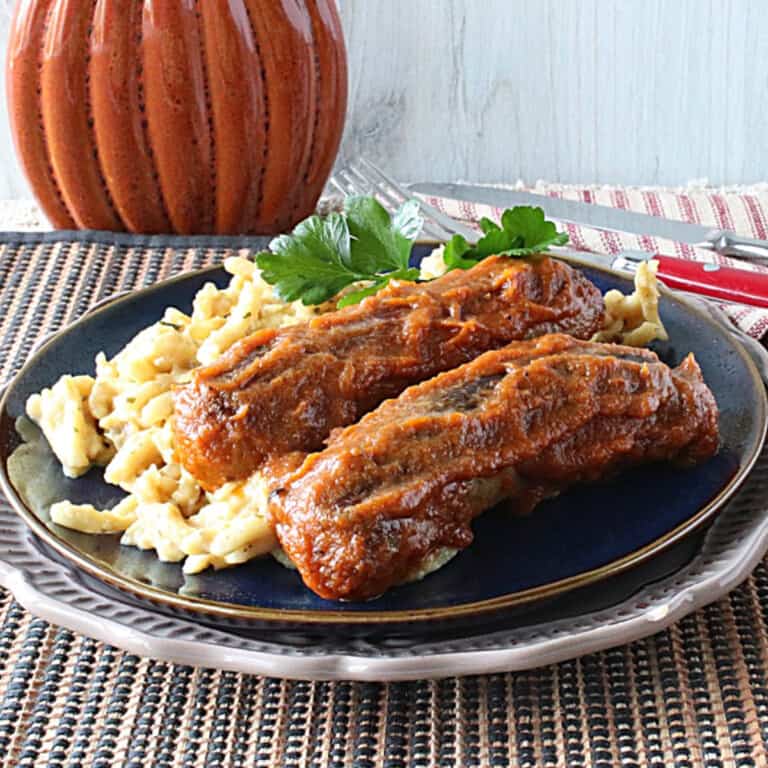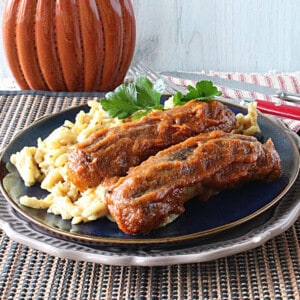 Pan Seared Bratwurst in Pumpkin Curry Sauce
Pan Seared Bratwurst in Pumpkin Curry Sauce is a quick meal with old-world flavor and a seasonal twist. It's an easy meal that everyone will enjoy!
Ingredients
1

tablespoon

olive oil

10

uncooked bratwurst

3

tablespoons

tomato paste

1

can (15 ounces)

pumpkin purée

1½

teaspoons

curry powder

2

cups

beef stock

1

teaspoon

kosher salt

½

teaspoon

black pepper

1½

tablespoons

butter
Instructions
Pan sear the bratwurst in the olive oil (on both sides) until brown over medium/high heat. Remove the seared bratwurst from the skillet. Cover the brats to keep warm. Set aside.

Reduce the heat in the skillet to medium/low and add the tomato paste. Cook, stirring occasionally, for 2-3 minutes to develop the flavor of the tomato paste.

Add the pumpkin purée to the tomato paste in the skillet and whisk well to combine.

Add the curry powder to the skillet along with the beef stock. Whisk again to combine, and cook and additional 3-4 minutes.

Add the salt, pepper, and butter to the sauce, stirring again to combine and heat through.

To complete this dish on the stovetop, nestle the seared bratwurst back into the skillet with the pumpkin curry sauce, cover, and simmer on the stovetop for 20-25 minutes until the bratwurst are no longer pink in the center or reach an internal temperature of 160 degrees on an instant read thermometer.

OR to finish these in the oven, add the bratwurst to a 3 quart casserole dish and pour the pumpkin curry sauce over the bratwurst. Cook in a preheated 350 degree Fahrenheit oven for 30-40 minutes (uncovered).
Notes
You can cook these pan seared bratwurst on top of the stove or finish them in the oven. The instructions for both are listed in the recipe card.
Beef broth or beef stock are interchangeable.
Feel free to use your favorite German sausage in place of the bratwurst if desired.
Nutrition
Serving:
1
serving
Calories:
259
kcal
Carbohydrates:
4
g
Protein:
10
g
Fat:
22
g
Saturated Fat:
8
g
Polyunsaturated Fat:
2
g
Monounsaturated Fat:
11
g
Trans Fat:
0.1
g
Cholesterol:
53
mg
Sodium:
938
mg
Potassium:
374
mg
Fiber:
0.3
g
Sugar:
1
g
Vitamin A:
149
IU
Vitamin C:
1
mg
Calcium:
27
mg
Iron:
1
mg
Thank you so much for visiting me today in my Kudos Kitchen. I hope you found something you'll love and that you'll come back and visit me often. There is always room for you around my table!
Should you have any questions or comments regarding anything you've seen here on my blog, please don't hesitate to reach out to me. It is always my distinct pleasure to respond to you just as soon as I possibly can.